Trader Joe's Just Added These 13 Late-Summer Foods to Stores
There are so many limited edition crowd-pleasers this time around.
Seasonal product releases are this neighborhood grocery store's forte. It's a large part of what keeps customers coming back to Trader Joe's each week, excited to find out what the crew is going to dream up next. The fleeting limited releases get quickly devoured by fans who are keeping tabs on all the latest food inventions.
This July, the Trader Joe's What's New page features all the latest grocery gems, so you can scope out what you want to put in your cart ahead of time. But we're giving you the breakdown of these brand-new buys so you don't have to sift through the shelves, or worse, miss out on any of the items that are bound to sell out. These 13 foods are here just in time to spruce up your summer menu!
Gluten Free Uncured Pepperoni Pizza
There seem to be more options for non-wheat eaters every day, and Trader Joe's adds to the list with this pepperoni, pepper, and olive pizza, covered in part-skim mozzarella cheese and seated on a cauliflower crust. A serving is one-third of the pie, and it's still not the healthiest option with 25% of your daily value of saturated fat. But at only $6.49, it's good for those occasional 15-minute, no-prep dinners.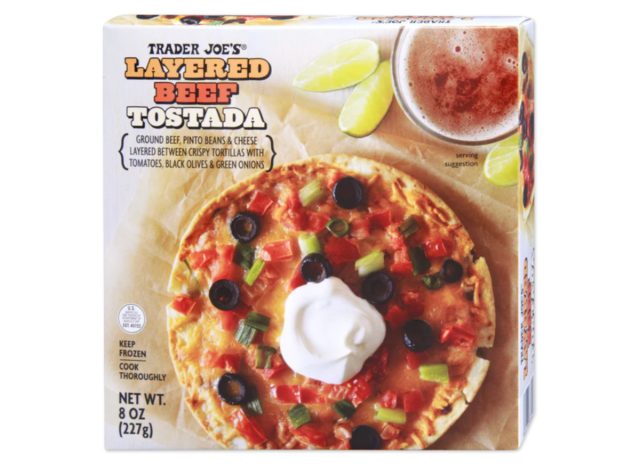 Another fully prepared meal, the tostada is almost like a Mexican pizza stacked with flavor. It features a bottom layer of tortilla filled with sauce, cheese, beans, beef, and a top layer coated with tomatoes, olives, and extra cheese. For $3.99, you can eat the whole box yourself. Although, with 70 milligrams of cholesterol and 12 grams of saturated fat, you may want to split this with a friend.
Unexpected Cheddar Chicken Sausage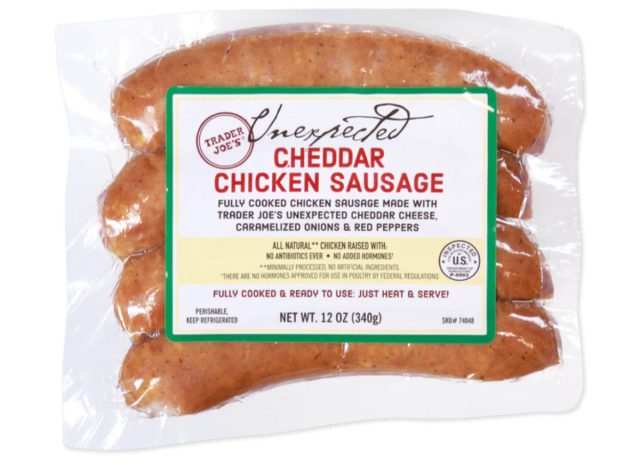 Named after Trader Joe's exclusive cheese, this meaty masterpiece is a marriage between the top-tier Unexpected Cheddar and a traditional chicken sausage link. The product page describes the experience: "Parmesan-like Cheddar pairs with the flavor of savory-seasoned, lightly smoked chicken, sweet bits of caramelized onions and red pepper."
If finding a dish for this sounds like an intriguing culinary challenge, the crew suggests using the sausage whole or sliced up and added into a pasta dish or a soup. You can get them for a little over a dollar each, with four included per $4.49 package.
Beehive Promontory Cheese
Looking for the perfect standout for your charcuterie board? This wedge in the cheese section might be your answer. The Beehive creamery in Salt Lake City, Utah teamed up with Trader Joe's to bring this to stores. It's supposed to taste slightly sweet, creamy, and fruity. Reviews from customers are in, and they're good. One commenter on TJ's Instagram post announcing the launch said, "OUTSTANDING. Hope it stays. It's [delicious]." The limited edition cheese is $9.99 per pound.
Blueberry Dream Frozen Dessert Bars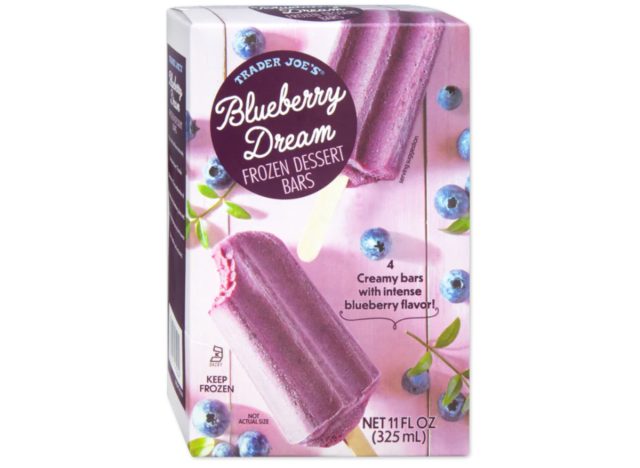 Because Trader Joe's manages to create so many delectable desserts each year, this summer treat is no surprise. Say hello to these blueberry-loaded ice cream bars. They're not dairy-free, but they are eye-catching. The only thing to keep in mind before you get too attached: these are a limited release, for this summer only. Probably for the best, since one serving of two bars contains a staggering 45 grams of sugar. Just stick to one, and you're in the clear. A box includes four bars for $3.49.
Out of the World Ice Pops
We might have missed the Fourth of July with these Bomb Pop dupes, but the red, white, and blue popsicles can be enjoyed on any hot summer day. Trader Joe's says that its version is free of artificial colors and flavors, making this a better choice than your childhood favorite. Six ice pops come in a box for $2.99. These are also limited edition, so get them from the freezer aisle while you can.
Seasoned Waffle Cut Fries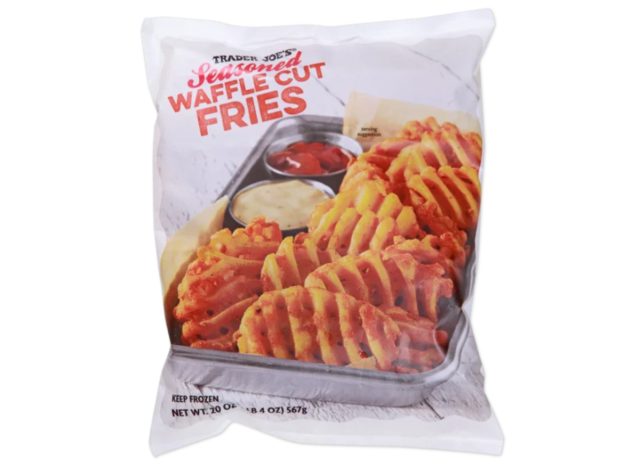 Could these be your substitute for Chick-fil-A's waffle fries? The addictive-looking munchies are loaded with seasoning and fried to a crisp and then frozen, so you can throw them in the oven or air fryer for convenient snacking. The only downside is that the batter contains wheat, so gluten-free eaters should leave it on the shelf. For others, a 20-ounce bag costs $3.49.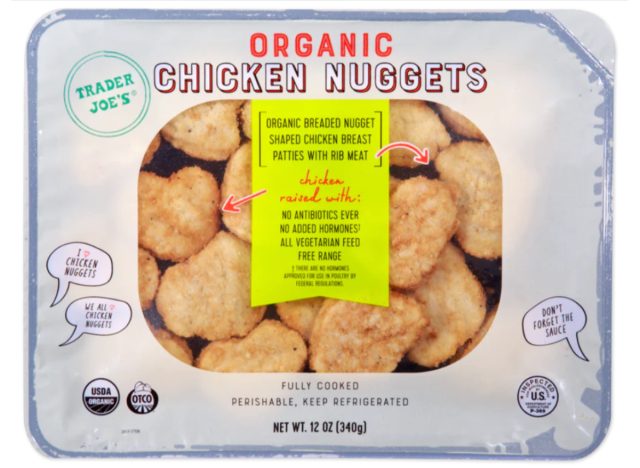 This is not Trader Joe's first foray into frozen nuggets, but this version gets the "organic" label because it uses organic chicken breast and rib meat, along with other all-organic ingredients, according to its product page. These breaded nuggets look like they're more spongy than crisp, perfect for soaking your sauce of choice. You can pick up a 12-ounce package for $4.99.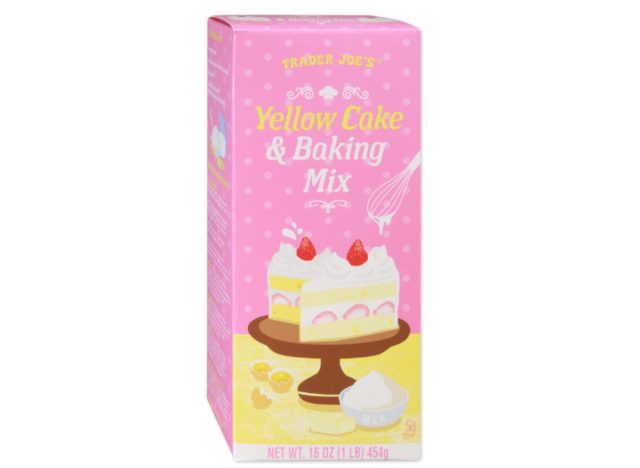 There is no shortage of cake possibilities at Trader Joe's. In fact, food blog Let's Eat Cake listed the 15 pre-made cakes and mixes you can find at the neighborhood grocery store. But there's one notable missing item, and that's the yellow cake mix.
There are slight differences between yellow cake and vanilla or white cakes. For this TJ's mix, you're supposed to yield a rich, moist base that can be used for a myriad of baked goods. It even contains egg yolks! You can buy this packaged mix for $2.99 to create 16 ounces of cupcakes, sheet cakes, banana bread, or anything else you can think of.
Peanut Butter Caramel Coated Popcorn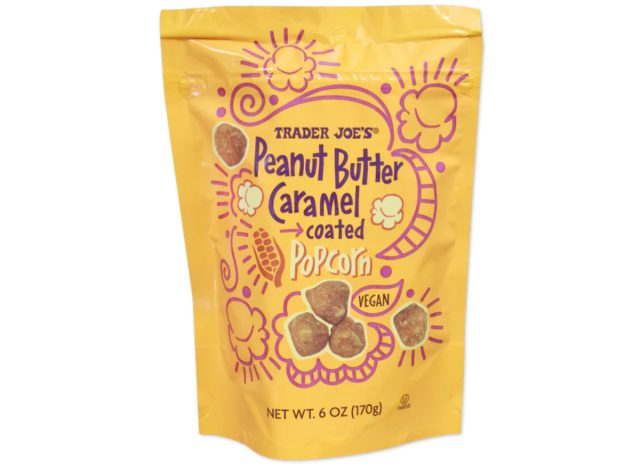 Looking for a dessert that rides the sweet-and-salty wave with crunch to boot? A handful of this sugary, savory popcorn is here to help. It's coated twice—once with cane sugar syrup, and another with salted peanut butter, so you can have the best of both worlds in a single bite. One 6-ounce package costs $3.49.
Watermelon & Peach Macarons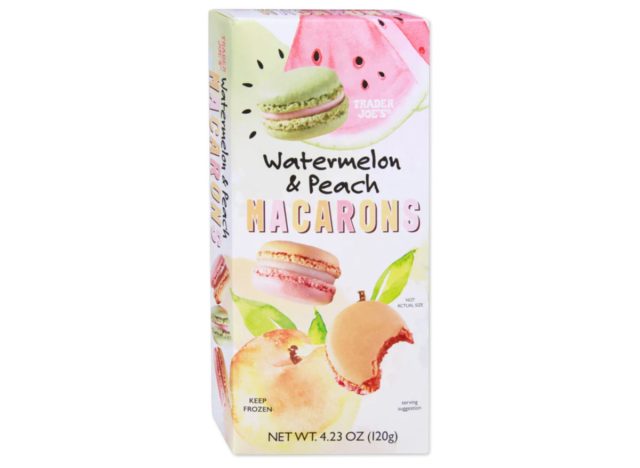 The perfect finisher for your picnic basket: a box of these airy French confections. Instagram fan account @traderjoeslist located the fruit-flavored cookies in the frozen dessert section. Each box contains around 10, and at $5.49 for the whole package, that's an affordable macaron, as most bakeries sell a single cookie for anywhere from $1.50 to $2.50.6254a4d1642c605c54bf1cab17d50f1e
The one downside, as noted by the Instagrammer, is that the sweetener used is derived from wheat. If you have a gluten allergy, you'll have to skip these. They're here for a limited time only.
This isn't the Thai Sweet Chili Sauce that many on Reddit wish Trader Joe's still sold, but if you're trying to add some bite to your Asian-style dishes, this sauce flavored with garlic and ginger and sweetened with coconut sugar will mix in effortlessly. But be warned – this product also contains wheat, according to @traderjoeslist's post. The 10-ounce bottle goes for $2.49.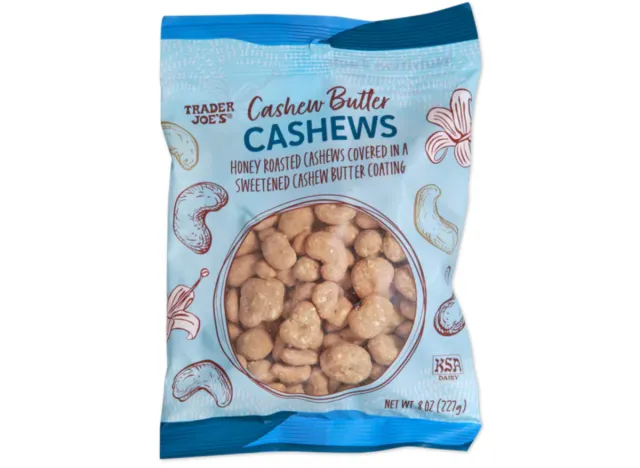 If you haven't already heard, cashews are great for improving your cholesterol levels. So…does grazing on this sweet-and-savory snack mean you get double the benefits? These might be a little too indulgent to count as a health food, but they're relatively low-guilt, with 6 grams of added sugar, and certifiably scrumptious.
Instagram account @traderjoeslist posted about the cashew butter-coated nuts: "The salty cashew is hugged by the sugary, creamy cashew butter that is contrasted by the salty cashew. These are going to be gone very soon!" If you can still find them in stores, you can pick them up for $4.99.
Sarah Wong
Sarah studied at Northwestern University, where she received a bachelor's degree in computer science and experimented with mixing tech and journalism.
Read more about Sarah