The Secret Trick to Walking in Heels, Says Oscar Nominee Glenn Close
The 8-time nominee and Hillbilly Elegy star offers up her trustiest tip.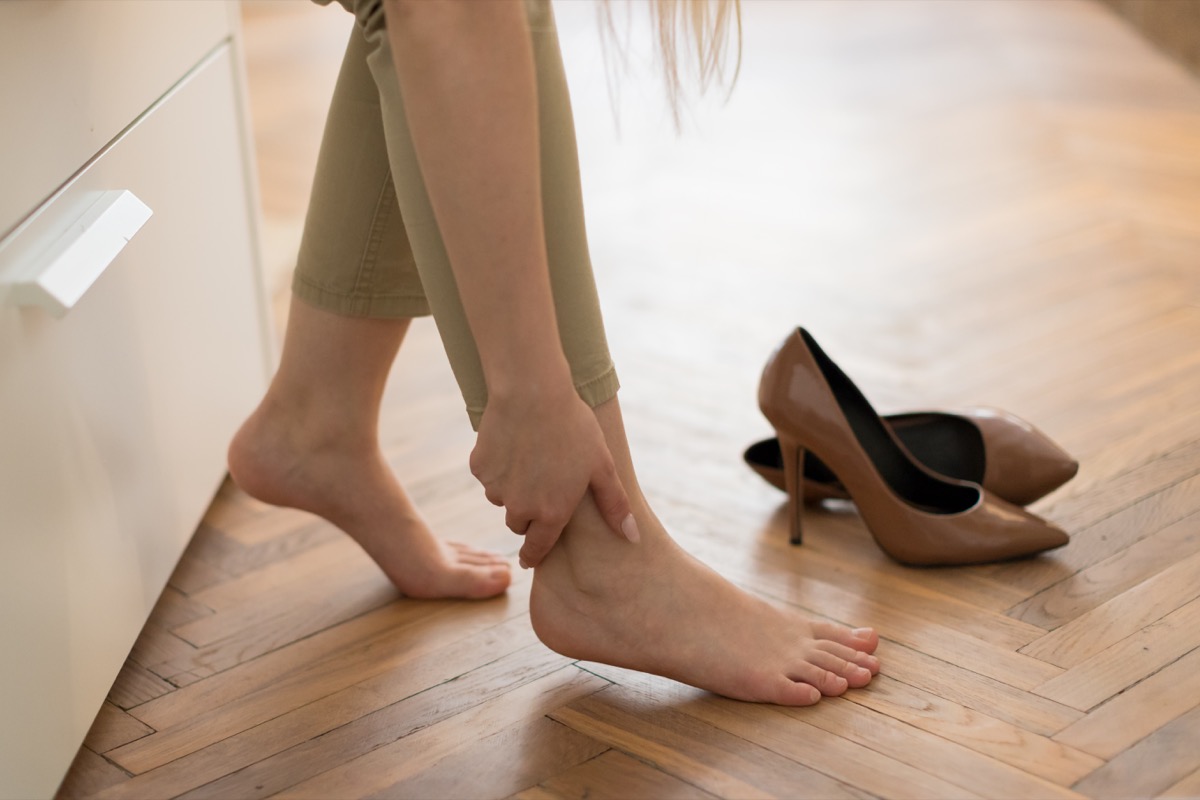 For many women, the past year has been an unusually heel-less one, as stay-at-home measures—and a clear lack of social activity—have relegated our most fashion-forward shoe-wear to the cobwebbed corners of the closet. Last night, the Hillbilly Elegy star and best supporting actress nominee Glenn Close offered at least one secret trick for wearing heels more comfortably before arriving at the 93rd Academy Awards ceremony at Union Station, in Los Angeles.
The actor took to Instagram during her pre-ceremony prep to expound on the importance of having her feet rubbed thoroughly with CBD-infused foot and body cream, along with a foot massage.
The star noted that she uses a CBD body cream by the brand Care by Design. "It's gotta be nice and comfy," the actress is overheard saying. "Because all of us have suffered terribly!"
Related: This 1-Minute Workout Builds Strength and Relieves Pain, Says Top Trainer
She's not the first to extol the benefits of using CBD-infused topical creams. Scores of topical CBD-related products have shown up in recent years and are gaining in popularity. "As it turns out, topical CBD products may offer some anti-inflammatory properties to help alleviate pain through cannabinoid receptors within the skin," says a report last year in published by Health. "These receptors are a part of the body's endocannabinoid system, or ECS, that governs functions such as our ability to process pain, as well as inflammation, mood, and sleep. The cannabis plant contains phytocannabinoids like CBD that interact with our ECS, which is why hemp has therapeutic properties."
According to a report by Discover Magazine, professional athletes across a wide spectrum of sports are using topical CBD ointments to soothe their aching muscles, and they refer to CBD topicals as "the next big thing in pain relief." "Becoming absorbed into the skin, cannabidiol helps with inflammation and joint pain, which if those are common symptoms to you, then topical CBD might not be a bad solution," observes Discover.
In 2019, one deeply skeptical writer for The New York Times took to the streets of New York's grueling Fashion Week wearing stilettos and CBD foot cream to see if this emerging trend was worth the hype. "I told myself to have an open mind," she wrote, "[Cindy Capobianco, the president and co-founder of Lord Jones, the maker of the foot cream,] said that each morning I should apply a nickel-size dollop of cream (which would contain the equivalent of about 4 milligrams of CBD) 20 minutes before putting on shoes."
She fully expected it not to work. "But in fact there was nary a niggle; my feet just felt quite … warm and fuzzy? By 3 p.m. there was still no soreness, and by 7 p.m., when I felt like the edges of my day had been given a nice cannabidiol-influenced buffer thanks to the peculiar lack of aching in my soles," she wrote. "Bottom line: My feet really did not really hurt. The worst they felt was a little sore. 'I think it's working!' I said all week to everyone who would listen. Mostly, they laughed and gave me looks that said: Are you actually high? I didn't care. Because I was: by at least three inches."
If you're sold on giving CBD-infused foot cream a go, consider trying that writer's brand: The Lord Jones + Tamara Mellon High CBD Formula Stilleto Cream. And for more ways to keep your body feeling better than ever, don't miss The One Popular Exercise That Can Cause Lasting Damage to Your Body, Says Top Trainer.
William Mayle
William Mayle is a UK-based writer who specializes in science, health, fitness, and other lifestyle topics.
Read more about William