5 Worst New Fast-Food Burgers To Stay Away From Right Now
Don't fall for these latest releases.
A burger every once in a while isn't detrimental to a person's health. But, every once in a while, fast-food joints release a new burger that ranks higher than the average (sloppy) Joe on the detrimental scale.
When it comes to evaluating the nutrition of burgers, it's all about looking between the buns. Because while red meat has its drawbacks—it can cause health issues like high cholesterol and inflammation—a single patty alone is pretty innocuous.
In the burger world, limited-time offerings and new releases that are advertised as being stacked with "the works" look enticing, but we had a hunch that many of these samplings were less than healthy. So we consulted our go-to expert, registered dietician Amy Goodson, about which of the new burgers on the market we'd be better off avoiding.
Here's her take on the new fast-food burger scene. For her expertise on the unhealthiest fast-food burgers of all time, check this ranking out.
Per burger
: 510 calories, 27 g fat (8 g saturated fat), 1,040 mg sodium
The new plant-based offering from McDonald's is currently only available in Texas and California. This highly-anticipated burger comes trailing many other plant-based options as numerous other fast-food chains have beaten McDonald's to the punch. The problem with plant-based patties, though? They can often end up being high in sodium.
"While the mayonnaise and slice of American cheese add some calories," says Goodson, "the plant-based patty itself is hiking up the fat and sodium."
For those who eat meat, she recommends sticking with the standard: a beef burger seasoned with just a pinch of salt and pepper, topped with pickle, chopped onions, ketchup, mustard, and a slice of American cheese. You'll save some serious calories, fat, and sodium.
Burger King's Whopper Melt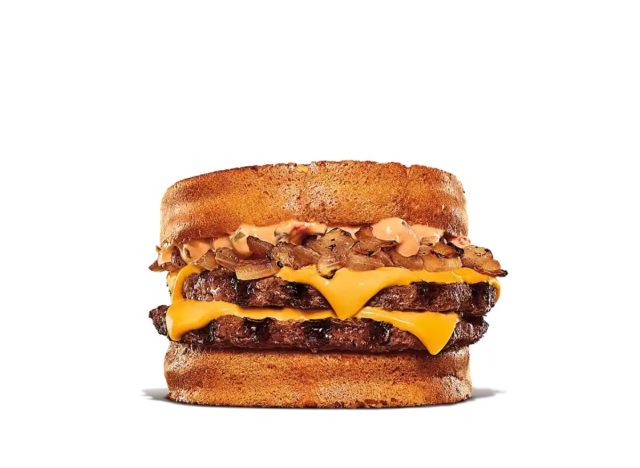 Per burger
: 604 calories, 36 g fat (16 g saturated fat), 981 mg sodium
Burger King released its new limited-time Whopper Melts to a share of fanfare. The smaller sandwiches are everything you love about a regular BK stacker (including the sauce) but between two pieces of toast instead of a bun.
"While it's not a huge calorie breaker," Goodson begins, "half the calories of this burger come from fat, which is a lot."
Instead, she recommends opting for a simple cheeseburger or hamburger from the chain—one that comes on a conventional bun! She would top it with just pickles, yellow mustard, and ketchup.
Sonic's Bacon on Bacon Quarter Pound Double Cheeseburger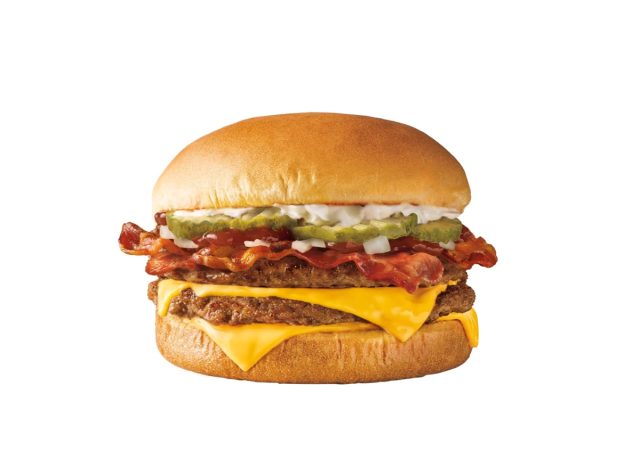 Per burger
: 780 calories, 54 g fat, 18 g saturated fat, 1,820 mg sodium
This might not come as a huge shock, seeing as the name of this Sonic release includes both the phrases "bacon on bacon" and "double cheese." This creation includes two patties, two slices of American cheese, four slices of bacon, mayonnaise, and a smoke sauce.
As Goodson advises, "one beef patty is fine," but between all of the doubling that's going on here, the calorie count starts to get a bit crazy.
"Not to mention," Goodson adds, "this burger provides you with well over half of the daily recommendation of sodium."
The good news? Sonic's Classic Grilled Chicken Sandwich, which has grilled chicken breast topped with crisp lettuce, tomatoes, and mayo on a brioche bun, is a Goodson-approved healthier choice.
Dairy Queen's Triple Bacon Two Cheese Deluxe 1/2 lb. Signature Stackburger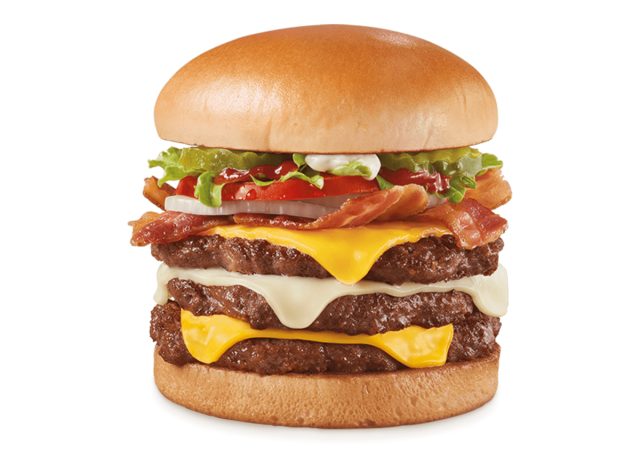 Per burger
: 920 calories, 63 g fat, 26 g saturated fat, 2,300 mg sodium
The Dairy Queen is making moves into burger territory with this new, highly-promoted round of Stackburger releases. But don't worry—they're still leaning into their penchant for dairy.6254a4d1642c605c54bf1cab17d50f1e
The Triple Bacon Two Cheese Deluxe 1/2 lb. Signature Stackburger contains exactly what you think it might: three beef patties, layers of both sharp American and white cheddar cheese, bacon, tomato, and mayonnaise on a toasted bun.
"Three beef patties is really two patties too many," says Goodson. With this burger, she points out, "you hit 920 calories and a day's worth of sodium intake!"
Instead, stick with simplicity and get either a regular cheeseburger or a plain grilled chicken sandwich. Either option will be less than half the amount of calories and sodium.
Hardee's Triple Bacon Beast Burger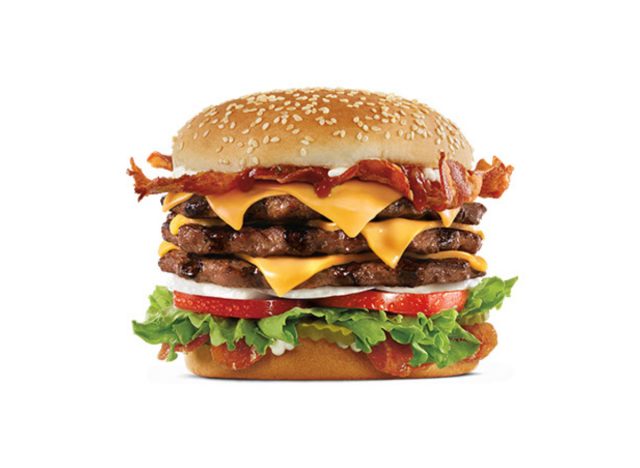 Per burger
: 1,410 calories, 97 g fat, 35 g saturated fat, 2,780 mg sodium
Once again, the name here doesn't exactly imply a desire to be healthy. Hardee's Triple Bacon Beast Burger sounds downright menacing, and when it comes to the ways in which it affects your health, it is. This burger also contains three 100% all-beef hamburger patties and is topped with mayonnaise, "special sauce," bacon, and melted American cheese. According to Goodson, this combination is clearly what's driving up the calories, fat, and sodium.
"Creamy sauces often tack on lots of added calories," she explains.
If you're at Hardee's and feel like being a bit more health-conscious, Goodson recommends going with the small cheeseburger or hamburger, which is just a single beef patty topped with dill pickles, ketchup, and mustard on a toasted seeded bun.