The Best Burger in Every State
Our friends at Yelp helped us find which burger joint reigns supreme in your home state.
Sure, you can pull through the McDonald's drive-thru when you're craving a beef patty on a bun. But there's something special about eating a gourmet burger—one that has fancy condiments, a special bun, or a slice of artisanal cheese. For those occasions, you'll want to head to a local restaurant. And lucky for you, we have plenty of recommendations. We've partnered with Yelp to bring you the best burger in every state.
To come up with this list, Yelp went through the "burgers" category and found the best burger restaurant in each state. In this case, "best" is defined by both Yelp's star ratings and by how many reviews each restaurant has. Using Yelp's list of best burger restaurants, we looked through the reviews to find the individual burgers that stood out at each establishment. Read on to see what the best burger was from your state!
If you're looking for a quick burger, just be sure to skip 8 Worst Fast-Food Burgers to Stay Away From Right Now.
ALABAMA: Bulgogi Burger at Peppered Pig in Huntsville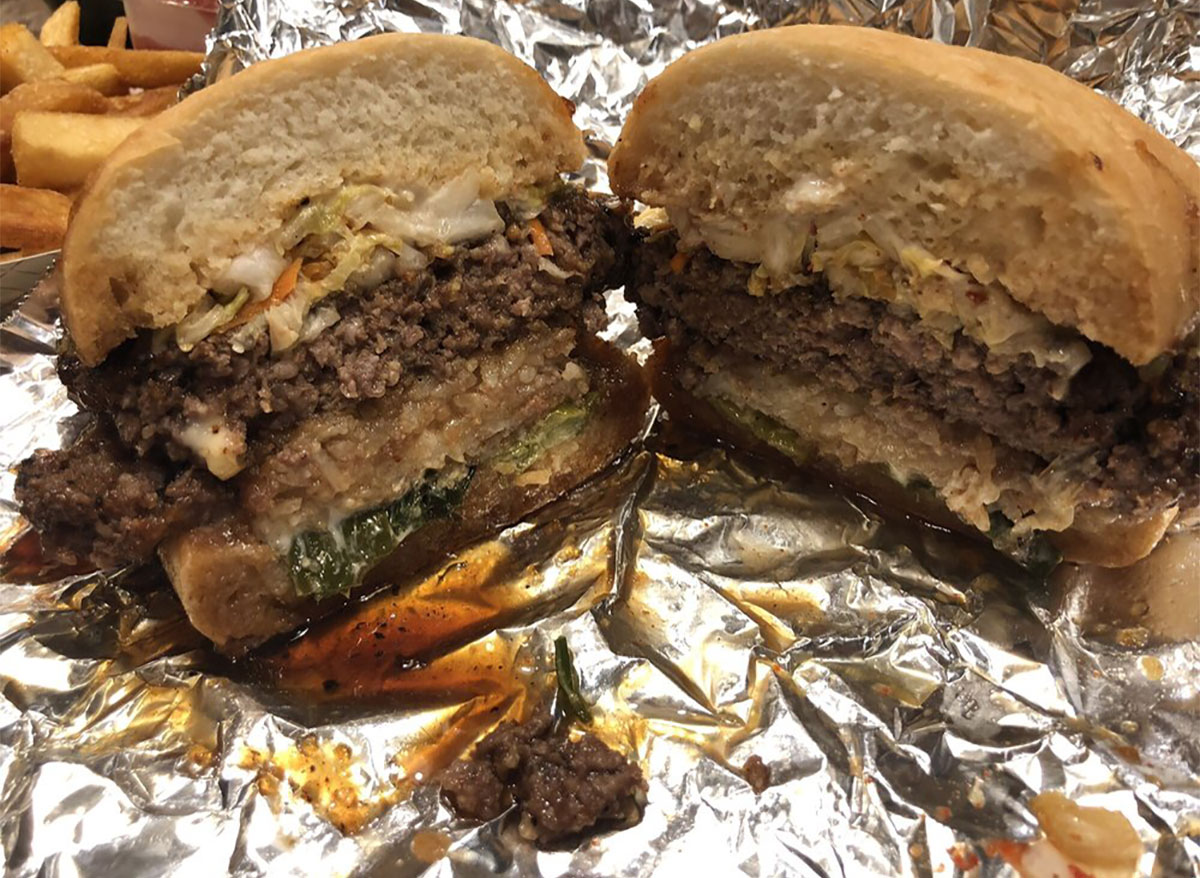 This food truck serves up inventive burgers and has a loyal following among Alabama locals. The Peppered Pig's Yelp reviewers seem to love the bulgogi burger, which comes loaded with rice, Korean barbecue sauce, and kimchi.
ALASKA: Bacon Cheeseburger at Tommy's Burger Stop in Anchorage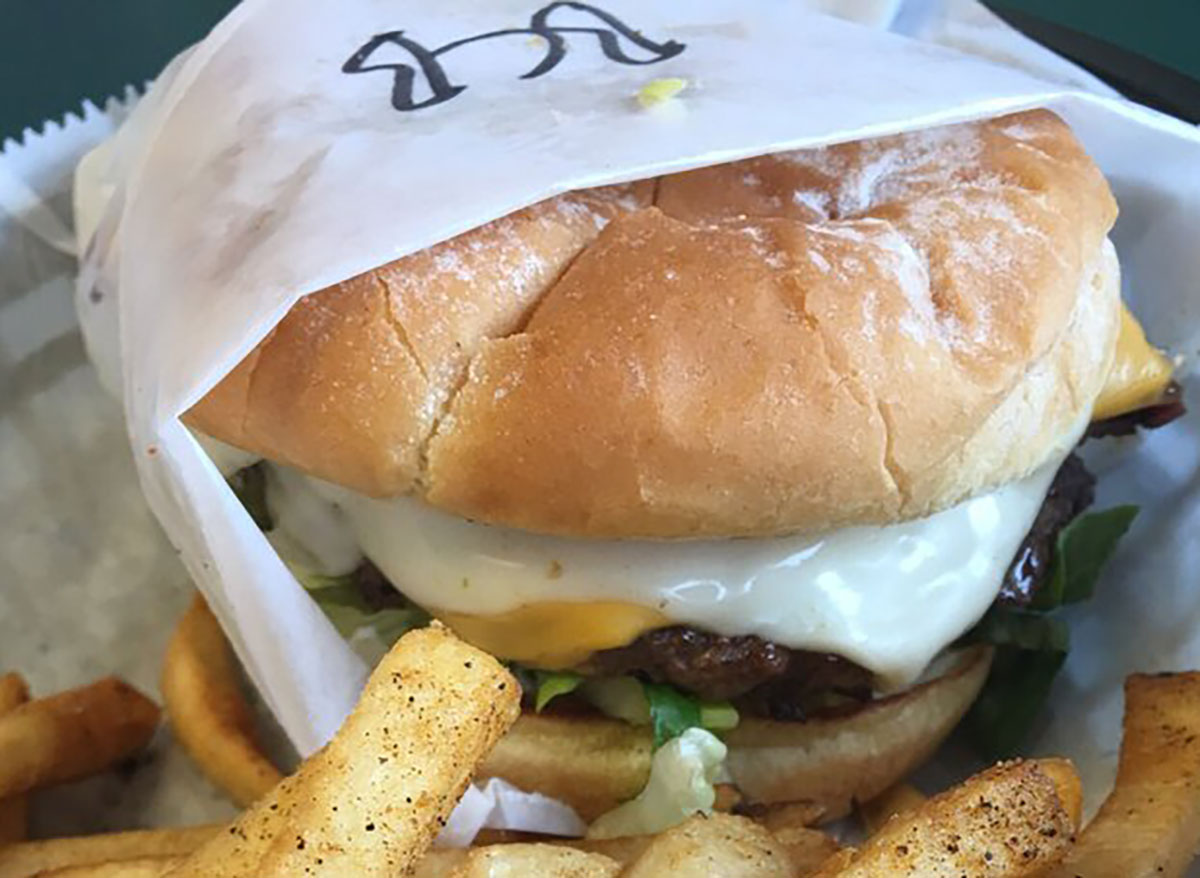 Tommy's Burger Stop offers plenty of inventive burger recipes. But based on the number of reviews and photos of the bacon cheeseburger, it looks like the classic flavor is a customer favorite. The melty cheese, the fresh lettuce…sometimes, simple is best.
ARIZONA: Thousand Island Burger at Laura's Burgers and More in Avondale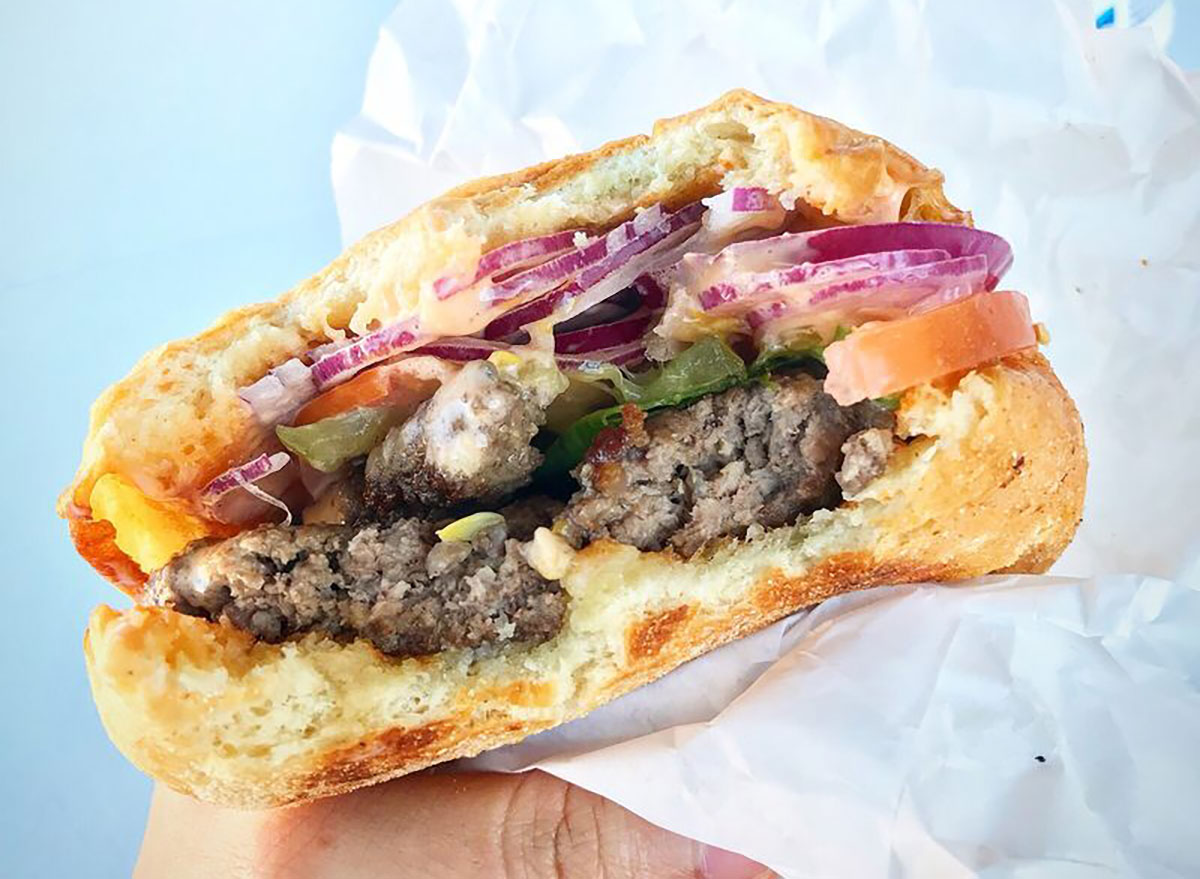 Salad dressing lovers, rejoice. This juicy patty from Laura's Burgers and More is topped with the seasoning, along with plenty of fresh veggies. Yum!
ARKANSAS: Jalapeño Burger at Tailgater's Burger Company in Hope
If you like a bit of spice with your burger, you'll love the jalapeño burger at this Hope burger joint. Tailgater's Yelp reviewers rave about the pepper-loaded burger, as well as other favorites like the avocado burger.
CALIFORNIA: Pie 'n Burger in Pasadena California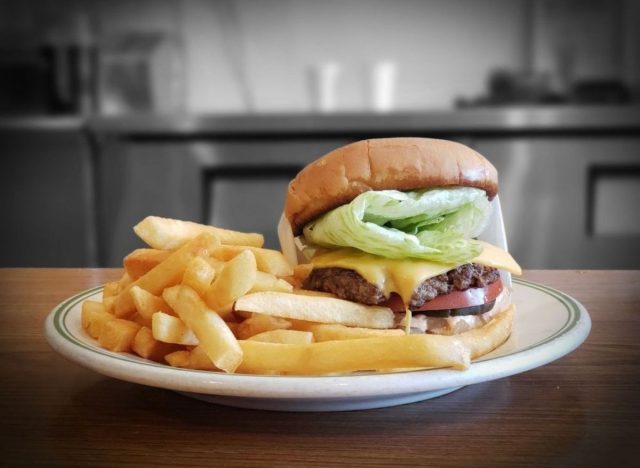 Diners rave about the classic burger at Pie 'N Burger, which has been a local institution in Pasadena since 1963. The burger comes with a toasted bun and homemade 1,000-Island dressing.
COLORADO: Island Burger at Meta Burger in Denver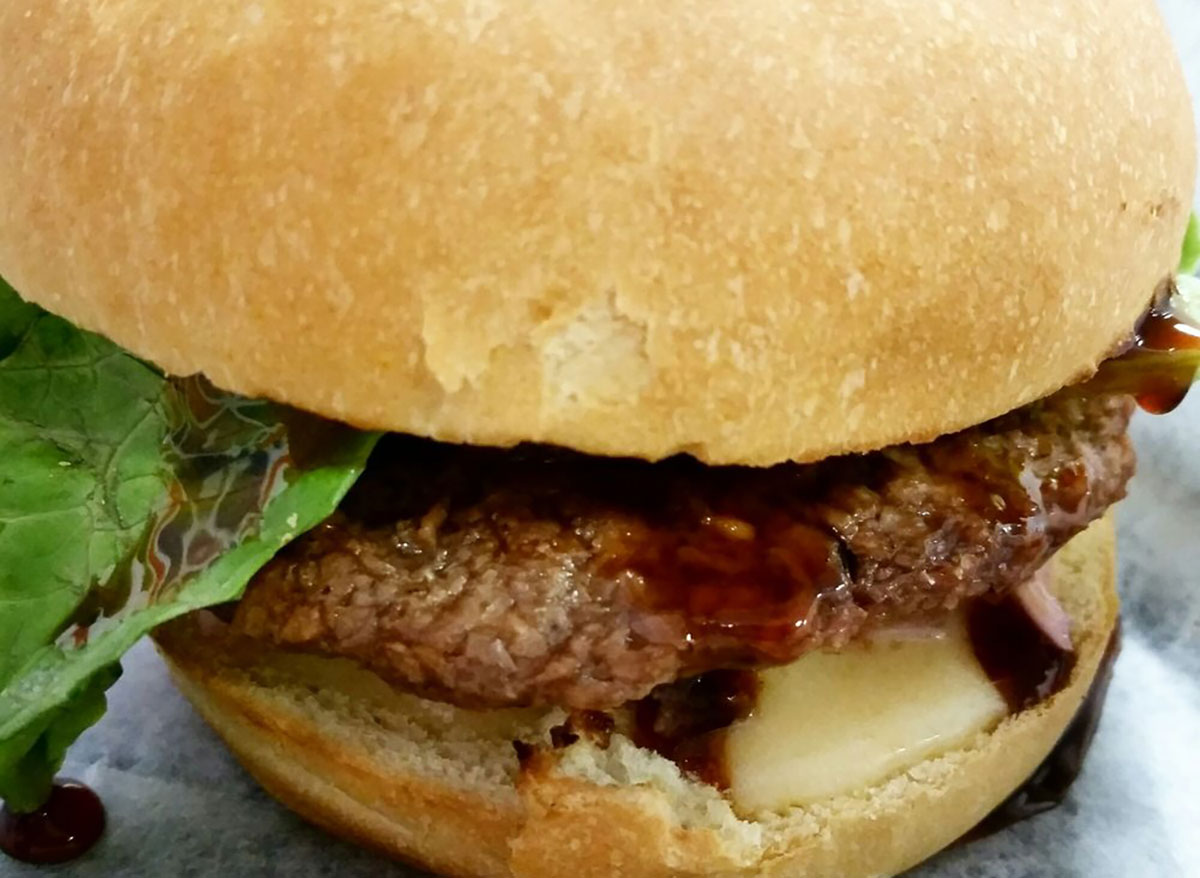 Yelp reviewers raved that this is one of the best burgers around. The Island Burger features grilled pineapple and "mahalo sauce," which might be the closest its fans will get to Hawaii.
CONNECTICUT: House Burger at Riley's Hot Dog & Burger Gourmet in New Britain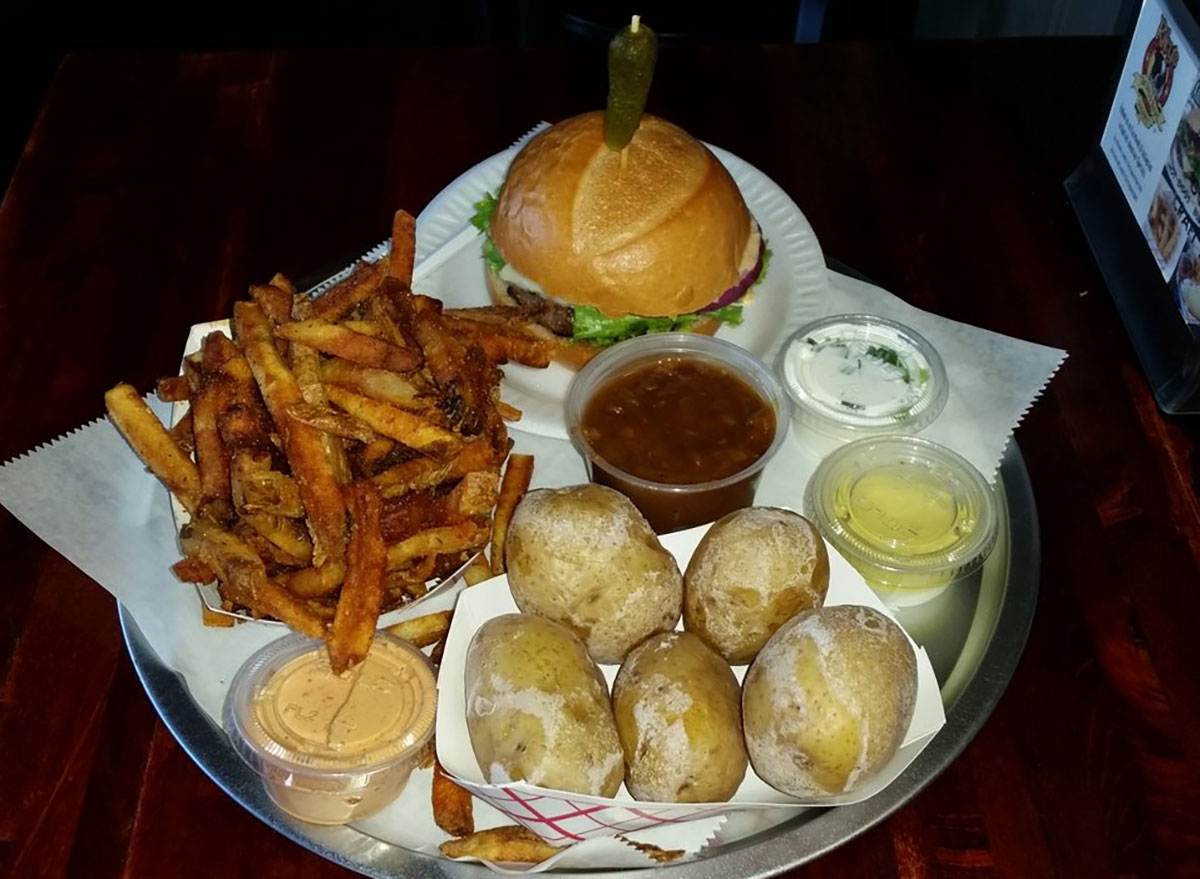 Riley's specializes in hot dogs and hamburgers, and Yelp reviewers rave about both. You can't go wrong with the restaurant's house burger, which features American cheese, burger sauce, lettuce, tomato, and onion. (If you want something more adventurous, Riley's also serves burgers topped with mac and cheese and jalapeño poppers.)
DELAWARE: Hudson Valley Foie Gras Burger at Two Stones Pub in Newark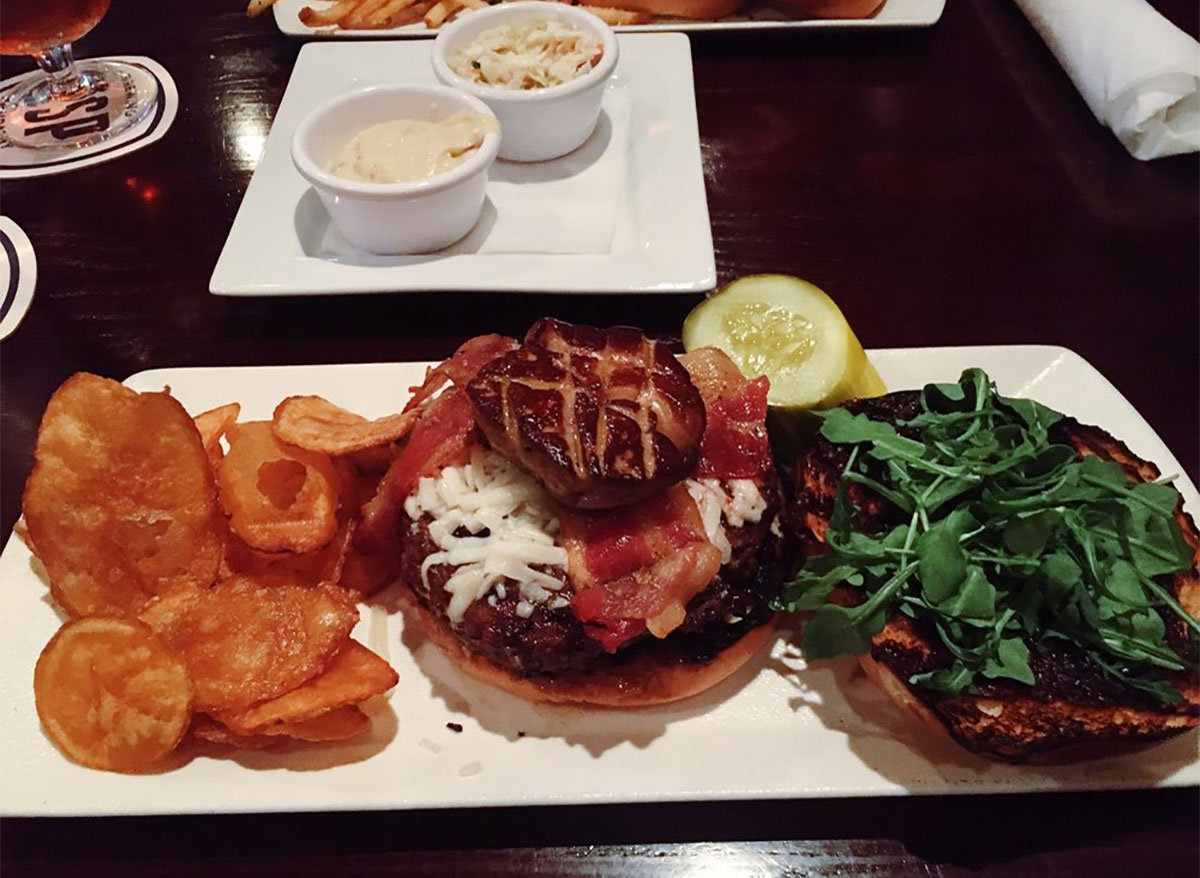 Foie gras on top of a burger? You'd better believe it! This Delaware spot also has an Impossible Burger on the menu for your vegetarian friends.
FLORIDA: Monday Remedy at Hate Mondays Tavern in Miami
Beat the Monday blues by ordering a burger and playing a round of pool in this cozy Miami spot. Hate Mondays Tavern's signature Monday Remedy burger stacks a beef patty with smoked pork belly and gouda and kicks up the heat with piquant jalapeños before simmering things down with sweet caramelized onions. You'll get a burst of both succulent and savory flavors in each juicy bite.
GEORGIA: Fox Burger at Fox & Fig in Savannah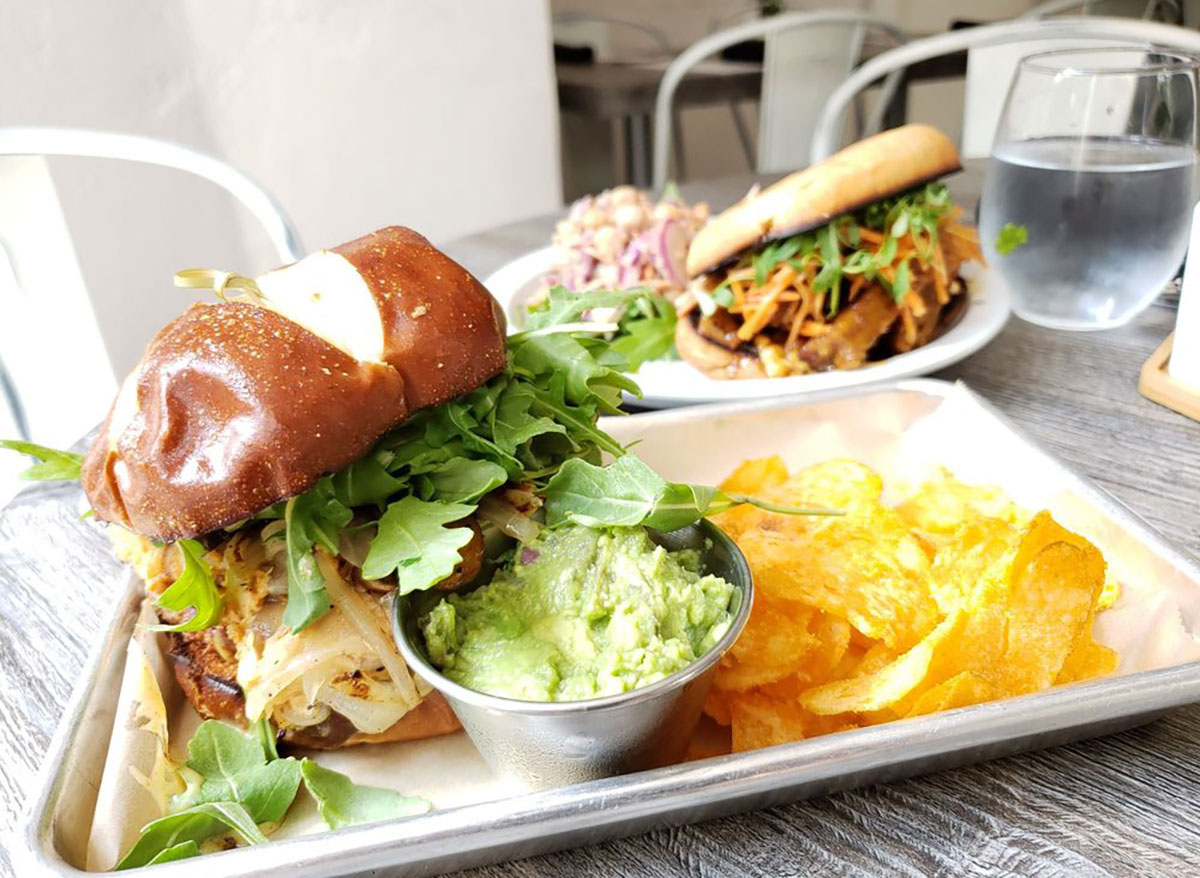 This vegan restaurant has one of the best burgers in the state, and it's plant-based. Pair this Beyond Burger creation with a coconut ice cream shake for a delicious, vegan meal.
HAWAII: Wrangler Burger at The Saddle Room in Waimea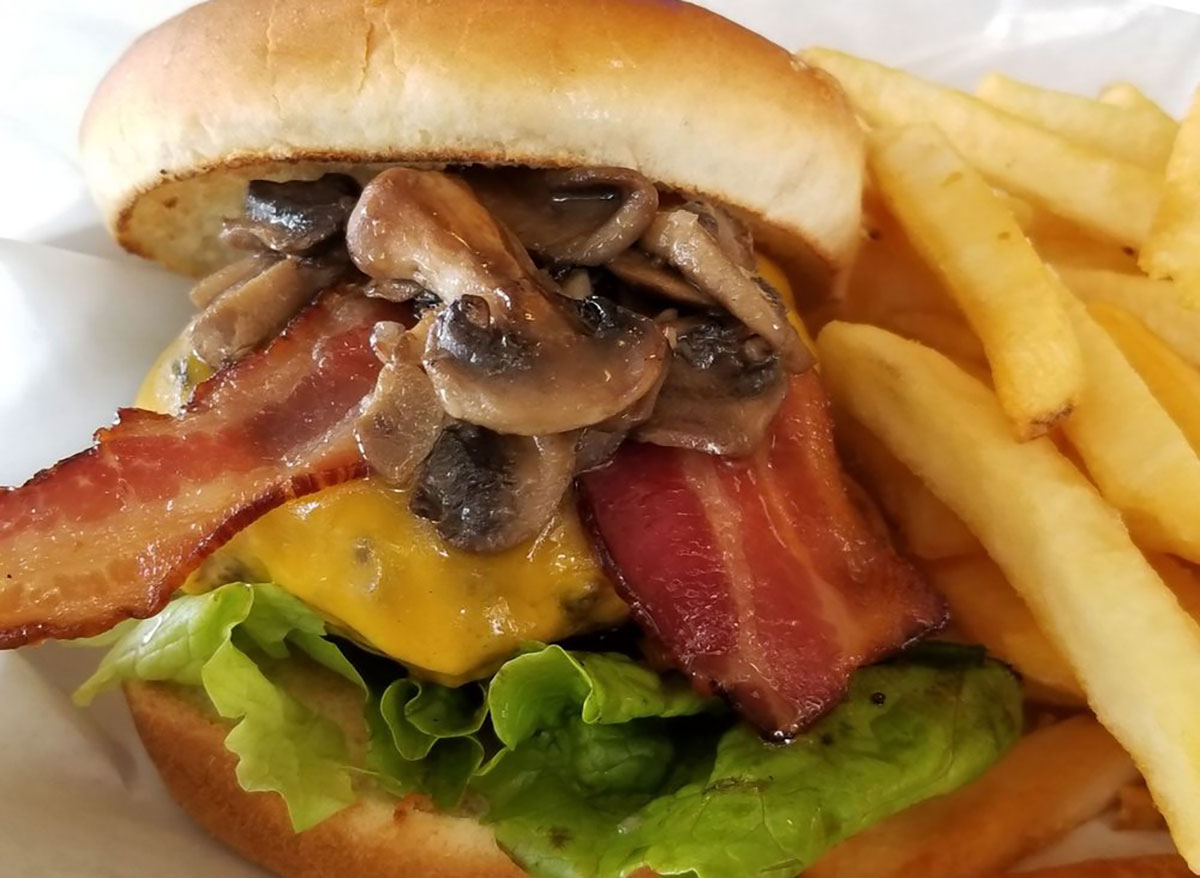 Love your burgers piled high with toppings? You can't go wrong with this bacon and vegetable-laden delight at The Saddle Room.
IDAHO: Bison Burger at Scooter's Chillin' and Grillin' in Twin Falls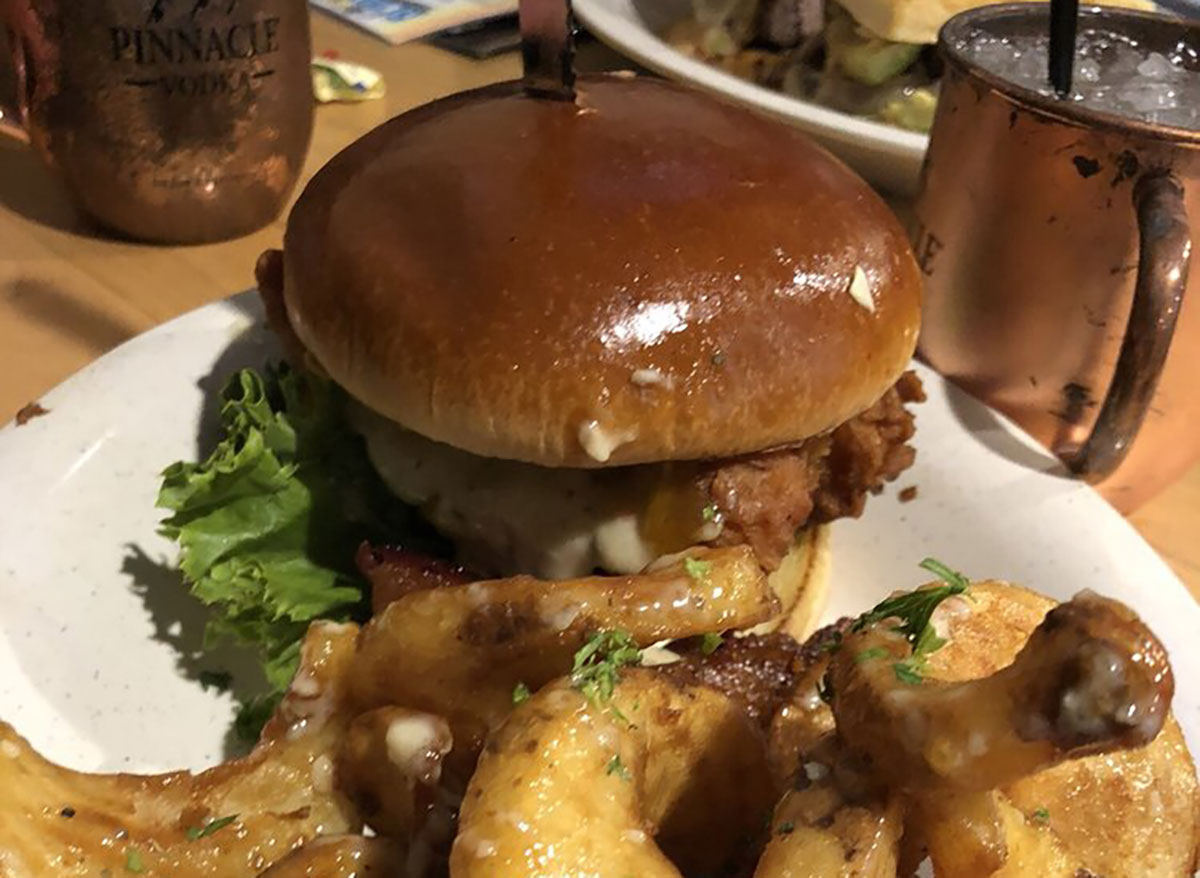 Based on the Yelp reviews for Scooter's Chillin' and Grillin', it looks like this low-key bar is serving some of the best burgers in town. You can't go wrong with the bison burger, served with waffle fries.
ILLINOIS: Philly Burger at Patino's Grill in Chicago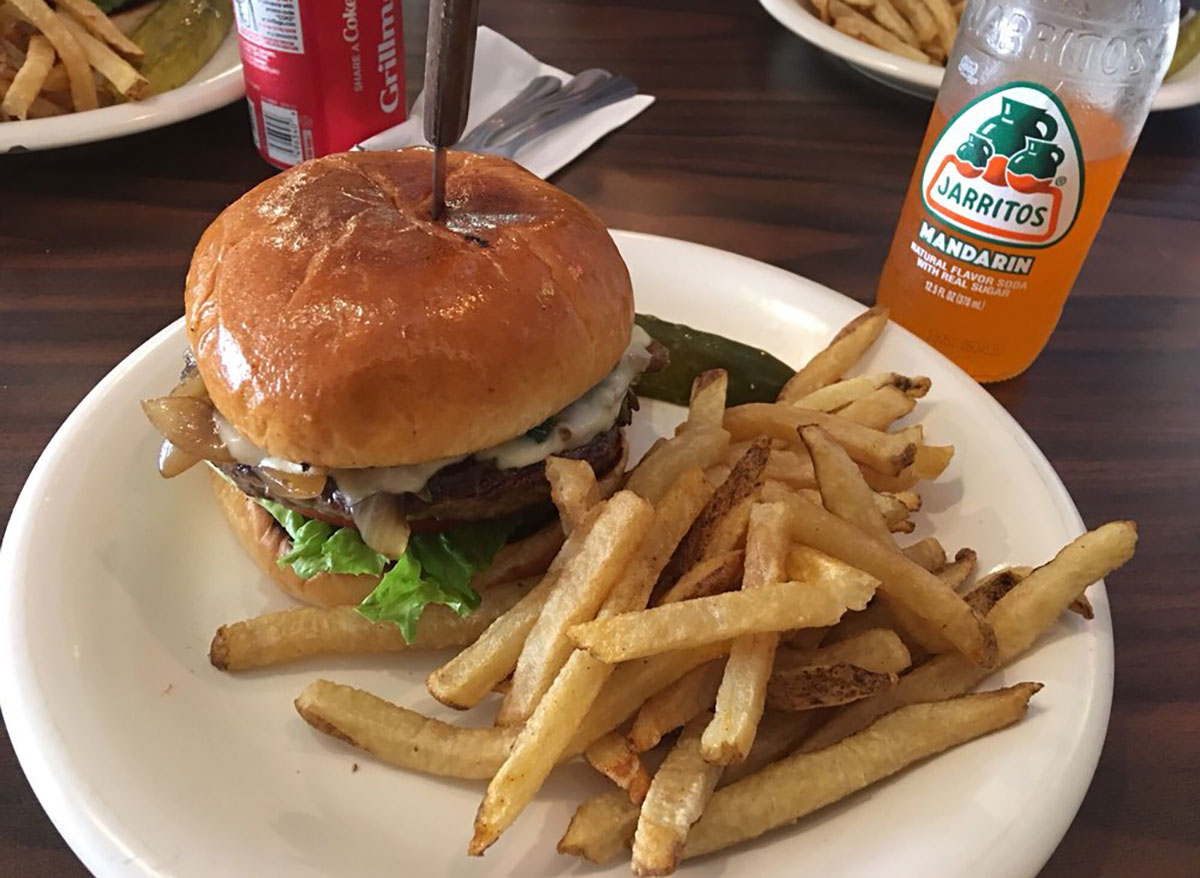 Topped with provolone cheese, onions, and peppers, this burger from Patino's Grill is the next best thing to a Philly cheesesteak.
INDIANA: Figgy Piggy at Octave Grill in Chesterton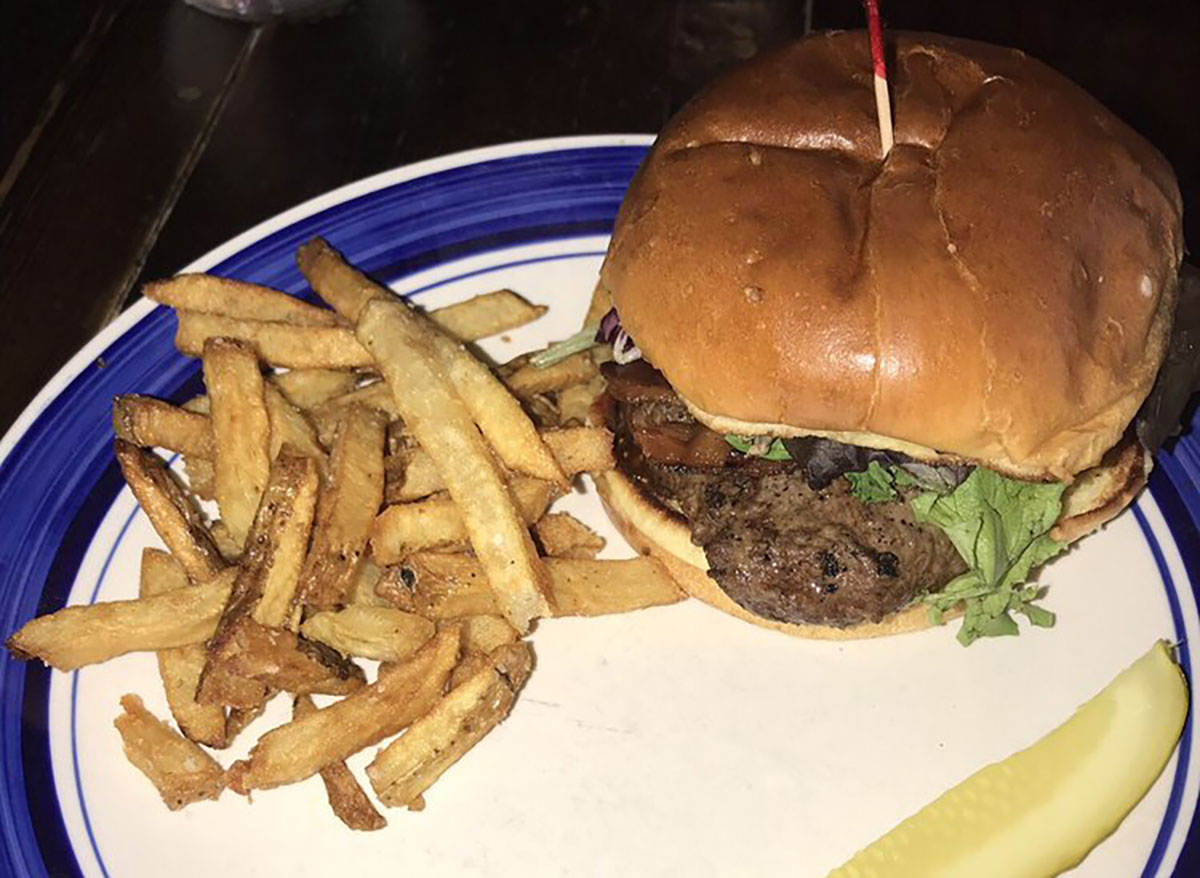 We're fans of this burger from Octave Grill for the name alone. And how good do those fries look?
IOWA: Napoli Burger at The Map Room in Cedar Rapids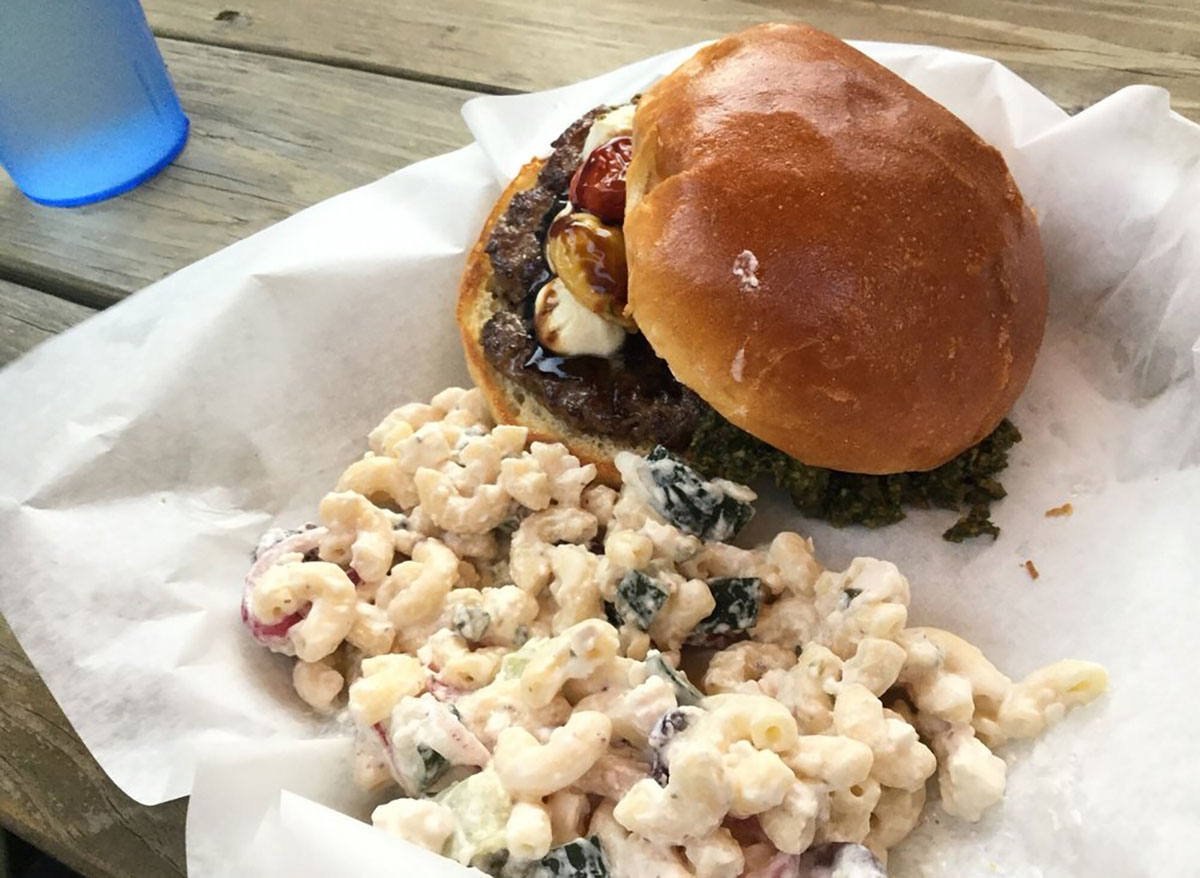 The Map Room lives up to its name: It serves burgers inspired by various cuisines across the globe. The Napoli burger features mozzarella, tomato, a balsamic reduction, and pesto sauce, for when you want Italian but also want a burger.
KANSAS: Creole Gouda Burger at Do-B's in Emporia
Do'B's simple, delicious burgers have plenty of local fans. The Creole Gouda burger is topped with an egg, Creole mustard, and, you guessed it, two slices of Gouda cheese.
KENTUCKY: Southern Bell at Mussel & Burger Bar Downtown in Louisville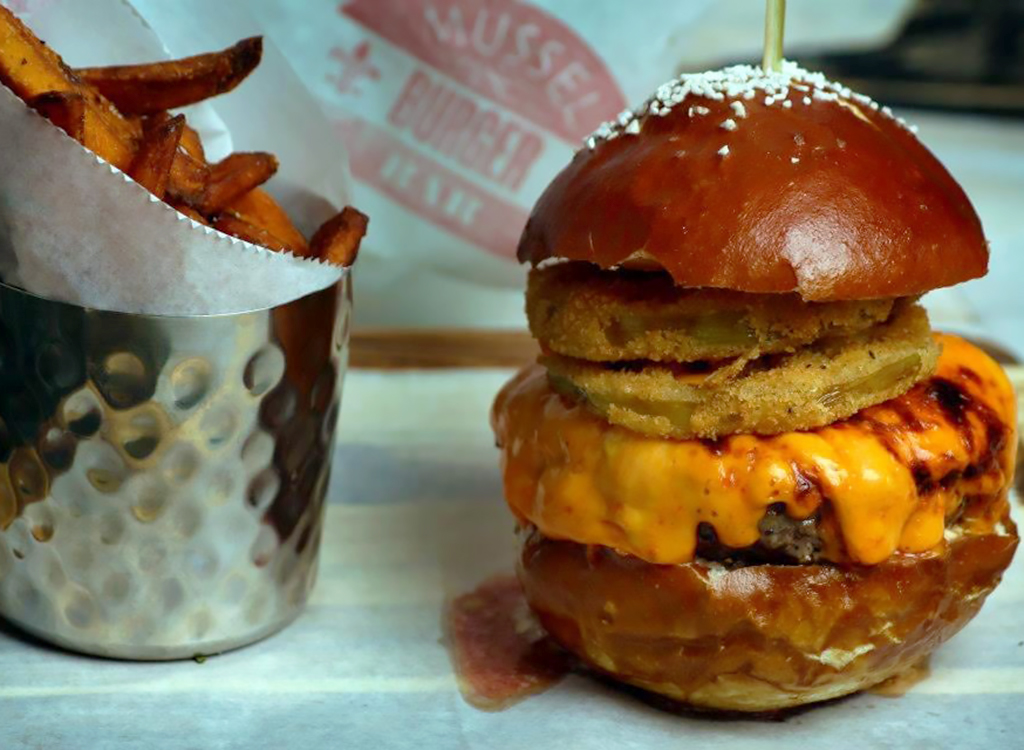 If you've ever wanted a burger topped with fried green tomatoes, Mussel & Burger Bar in Kentucky is the place to go. This decadent burger also comes with pimento cheese and rémoulade sauce, for maximum flavor impact.
LOUISIANA: Cali Burger at Fharmacy Nola in New Orleans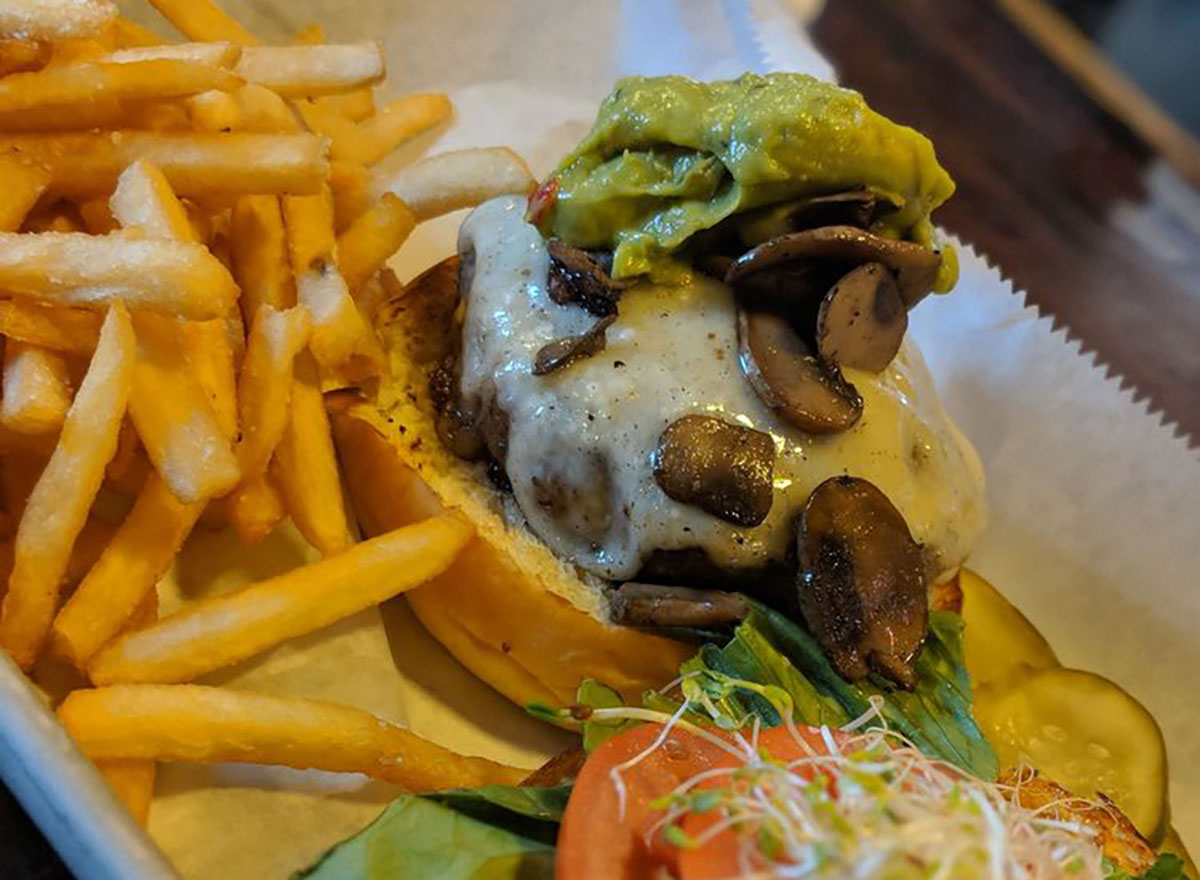 Bring a little bit of California into New Orleans with this fresh burger, topped with sliced mushrooms and sprouts from Fharmacy Nola.
MAINE: Palais Royale at Palace Diner in Biddeford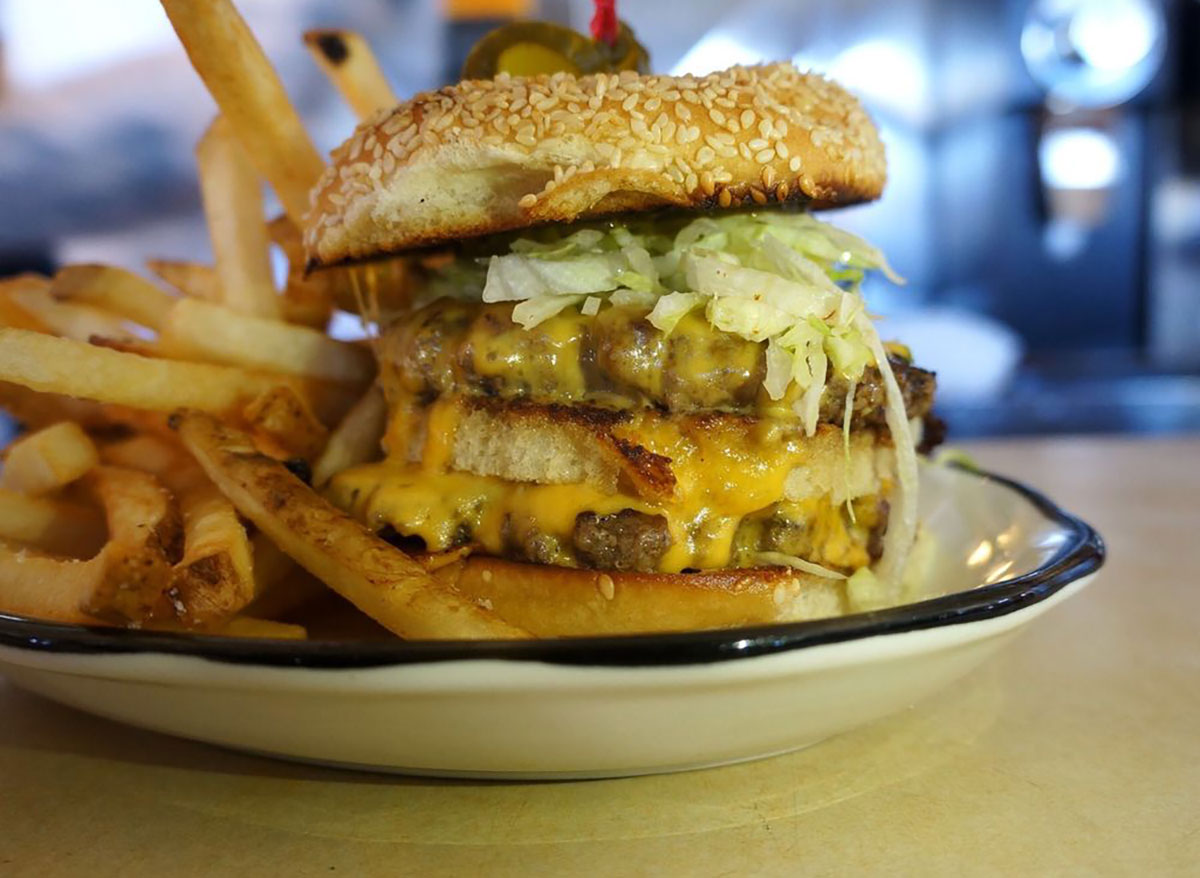 This brunch spot serves a mean burger, based on the Yelp reviews and photos. And if you're a vegetarian or vegan, they serve the Impossible Burger, too.
MARYLAND: McHenry Burger at Vagabond Sandwich Company in Bel Air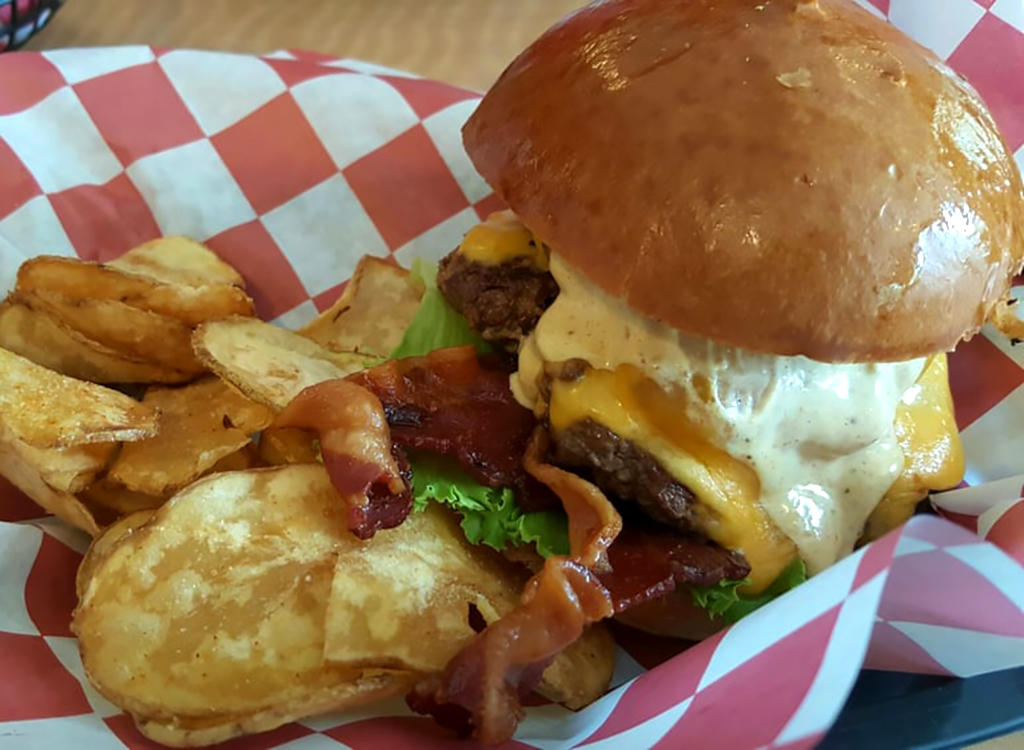 True to Maryland's reputation, this burger at Vagabond Sandwich Company comes topped with a crab cake and Old Bay remoulade. Now that's what we call surf and turf.
MASSACHUSETTS: Urban Cowboy Burger at Lexie's Newburyport in Newburyport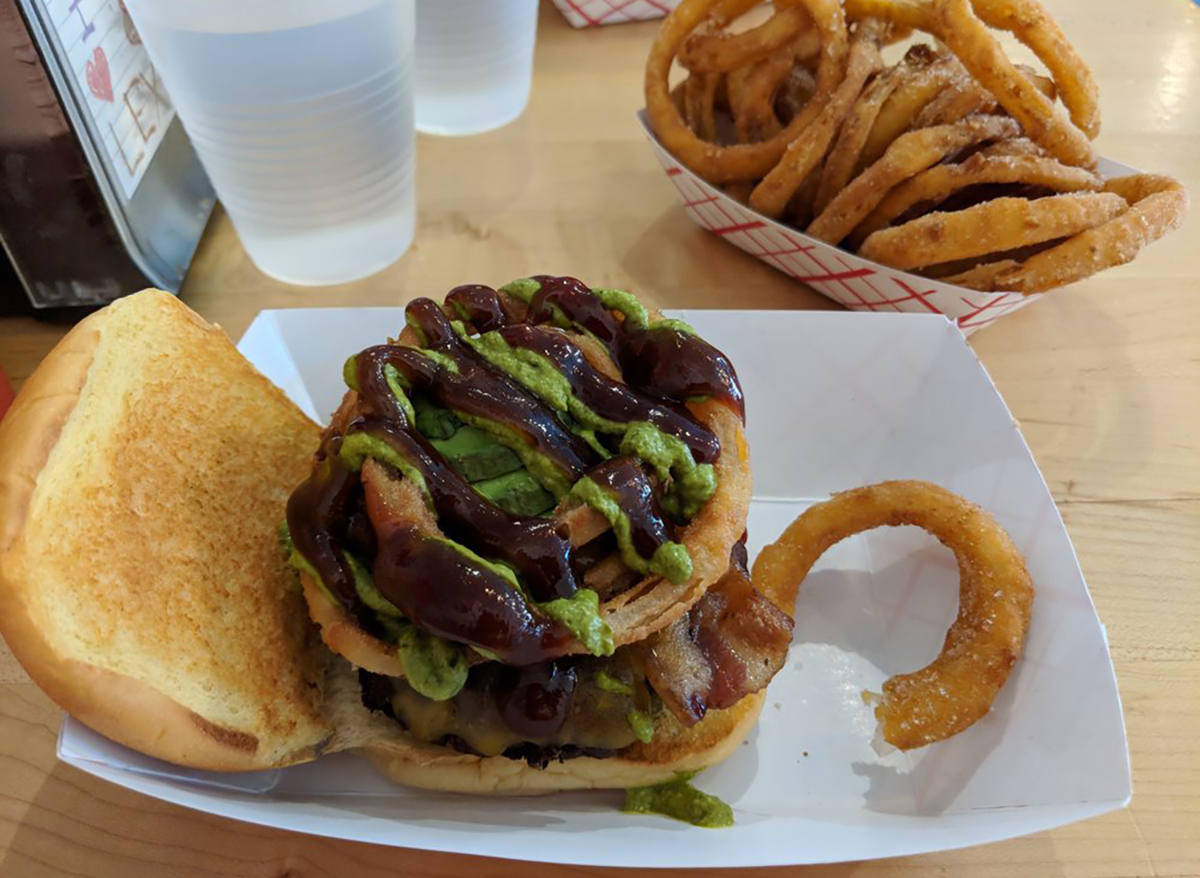 If you love burgers topped with onion rings, this is a must-try at Lexie's Newburyport. Just look at that perfectly layered sauce!
MICHIGAN: Southwest Burger at Zo's Good Burger in Dearborn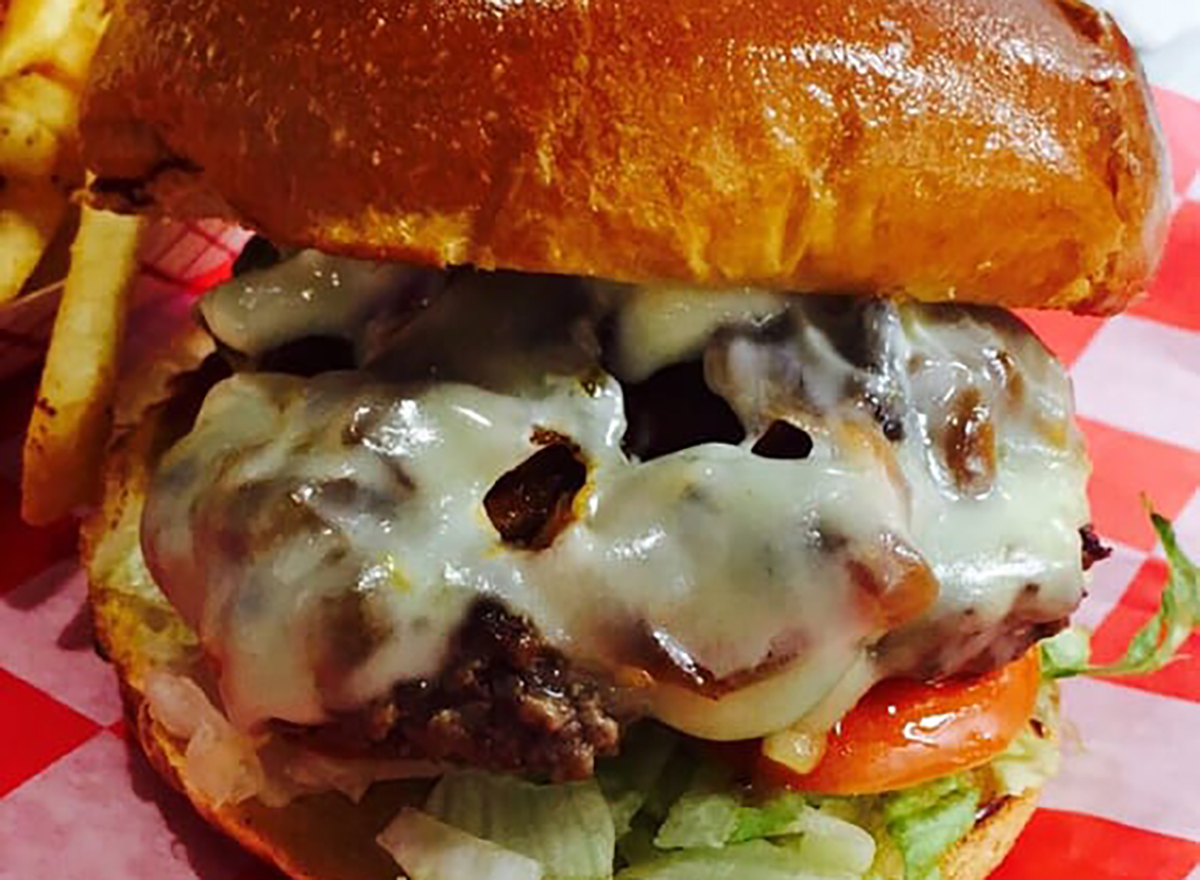 Take a bite out of this juicy burger at Zo's Good Burger in Dearborn. The melty cheese and buttery bun will send you to burger heaven.
MINNESOTA: The Schwietz Burger at Brunson's Pub in Saint Paul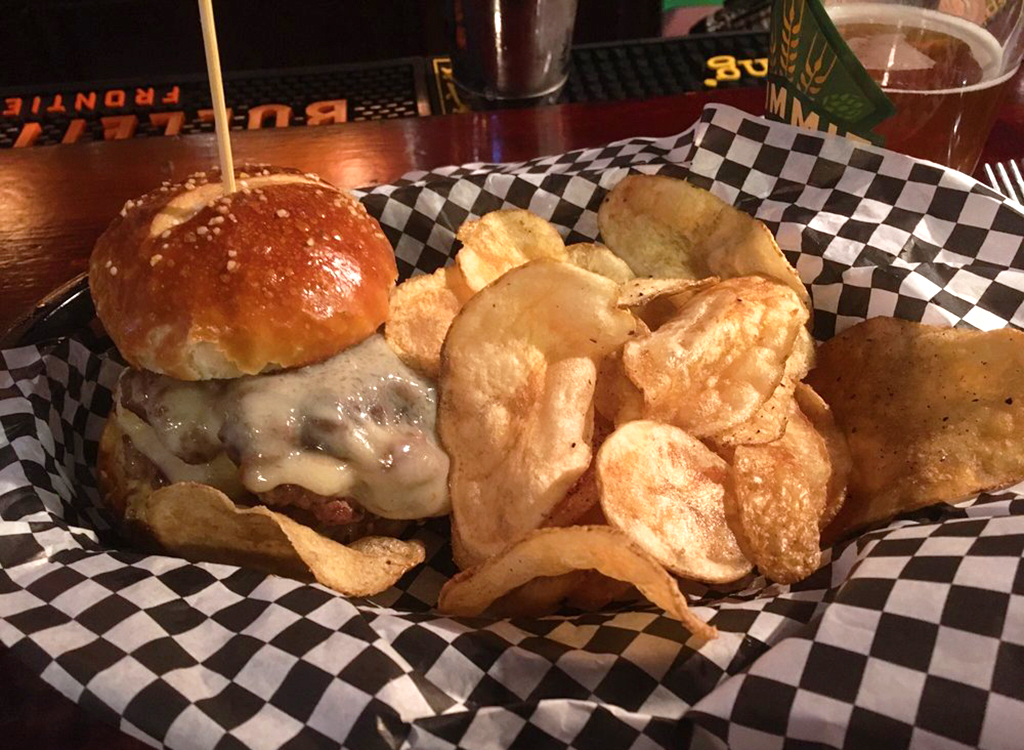 This double-patty burger is a meat lover's delight. The Schwietz burger features an "Angus patty, sausage patty, Swiss, onion, kraut, ale mustard, [and a] pretzel bun," according to Brunson's menu.
MISSISSIPPI: Super Cheeseburger at Stamps Super Burgers in Jackson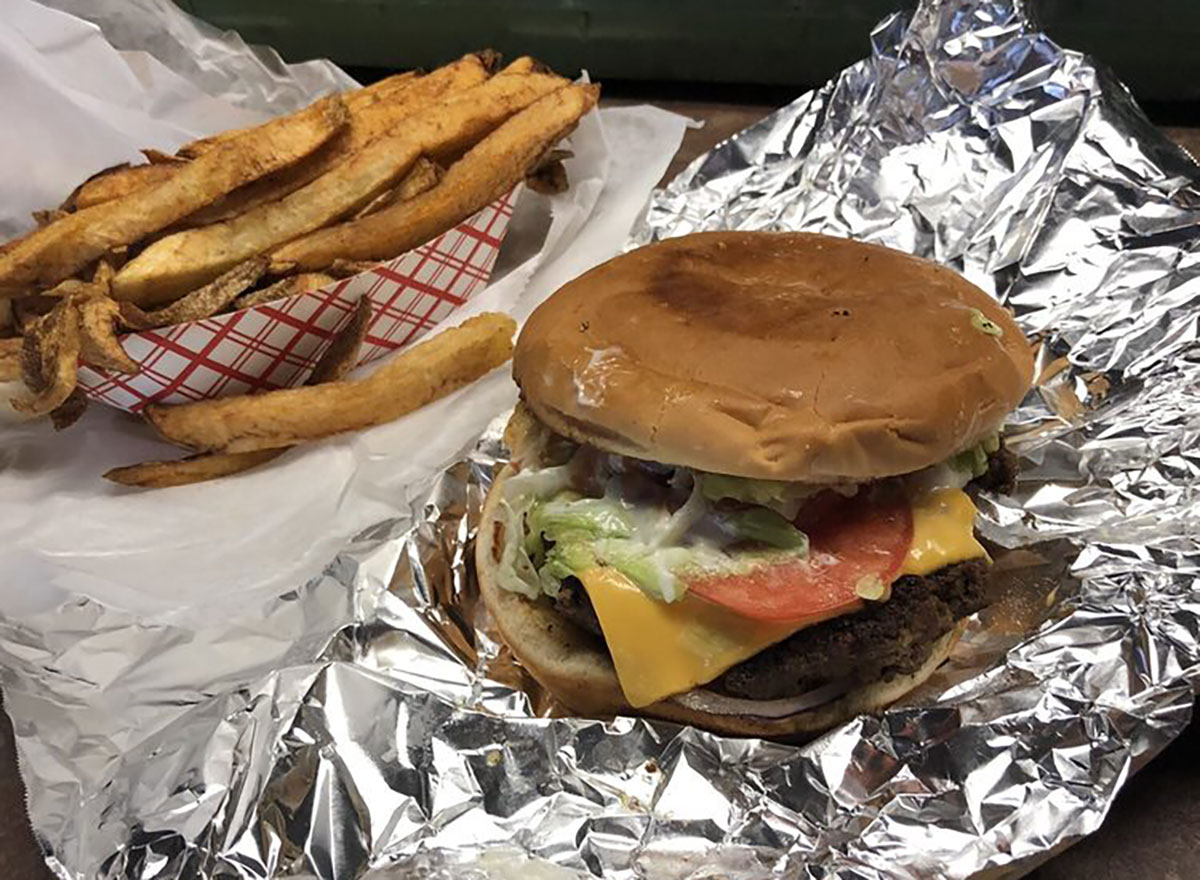 The menu at Stamps Super Burgers is simple, but that's not a bad thing. The joint knows how to do burgers well, as fans will see from the restaurant's Yelp reviews. The super cheeseburger features a standard set of burger toppings to accompany a whopping 14-ounce patty.
MISSOURI: JohnBoy at Mary Jane Burgers & Brew in Perryville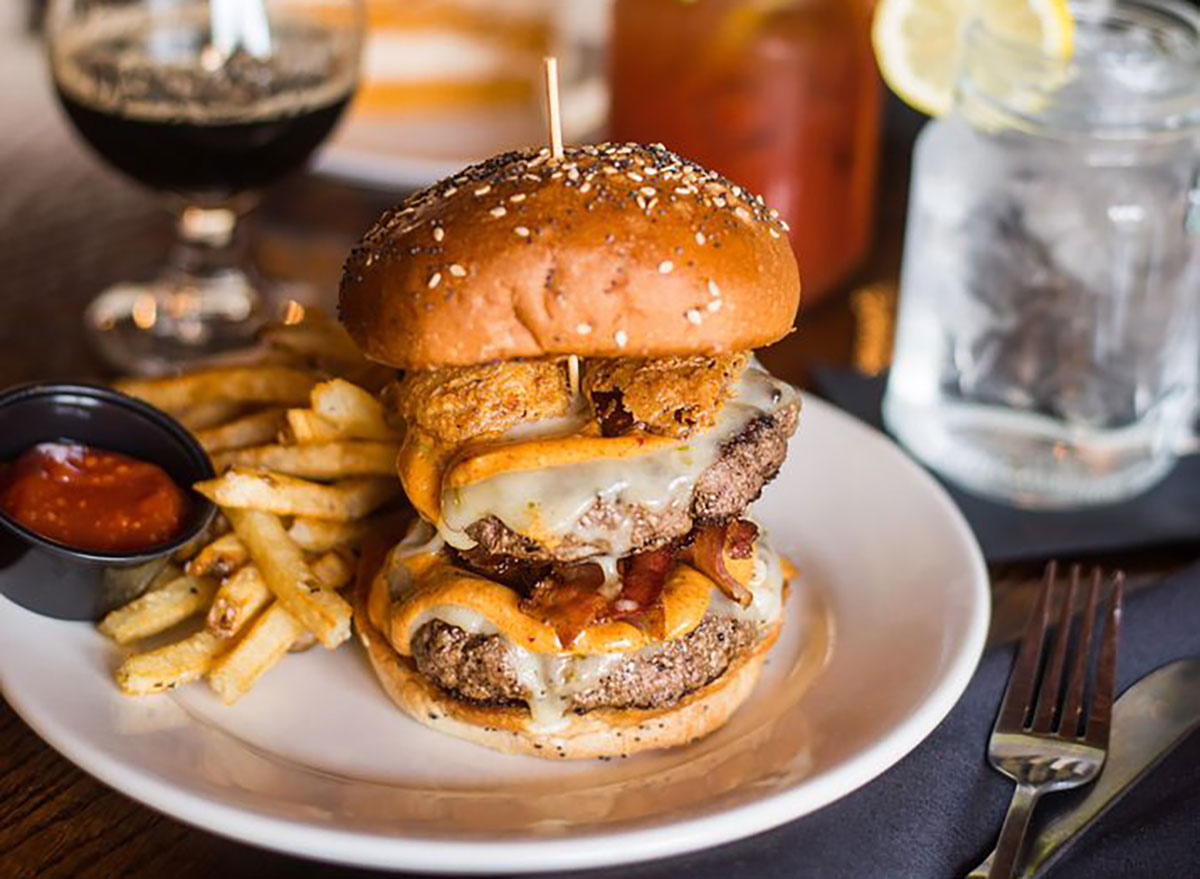 Almost all of Mary Jane Burgers & Brew's burger options come topped with even more meat. The JohnBoy is extra-loaded, piling on two patties, two slices of cheese, fried onions, and bacon.
MONTANA: Santa Fe Burger at The Burger Dive in Billings
This delectable burger is topped with "pepper jack cheese, chipotle mayo, roasted poblano pepper, [and] roasted red pepper," according to The Burger Dive's website. You can't go wrong with any of the burgers on this menu, though—and don't forget to pair them with one of the chain's many milkshake flavors.
NEBRASKA: Croque Garcon at Block 16 in Omaha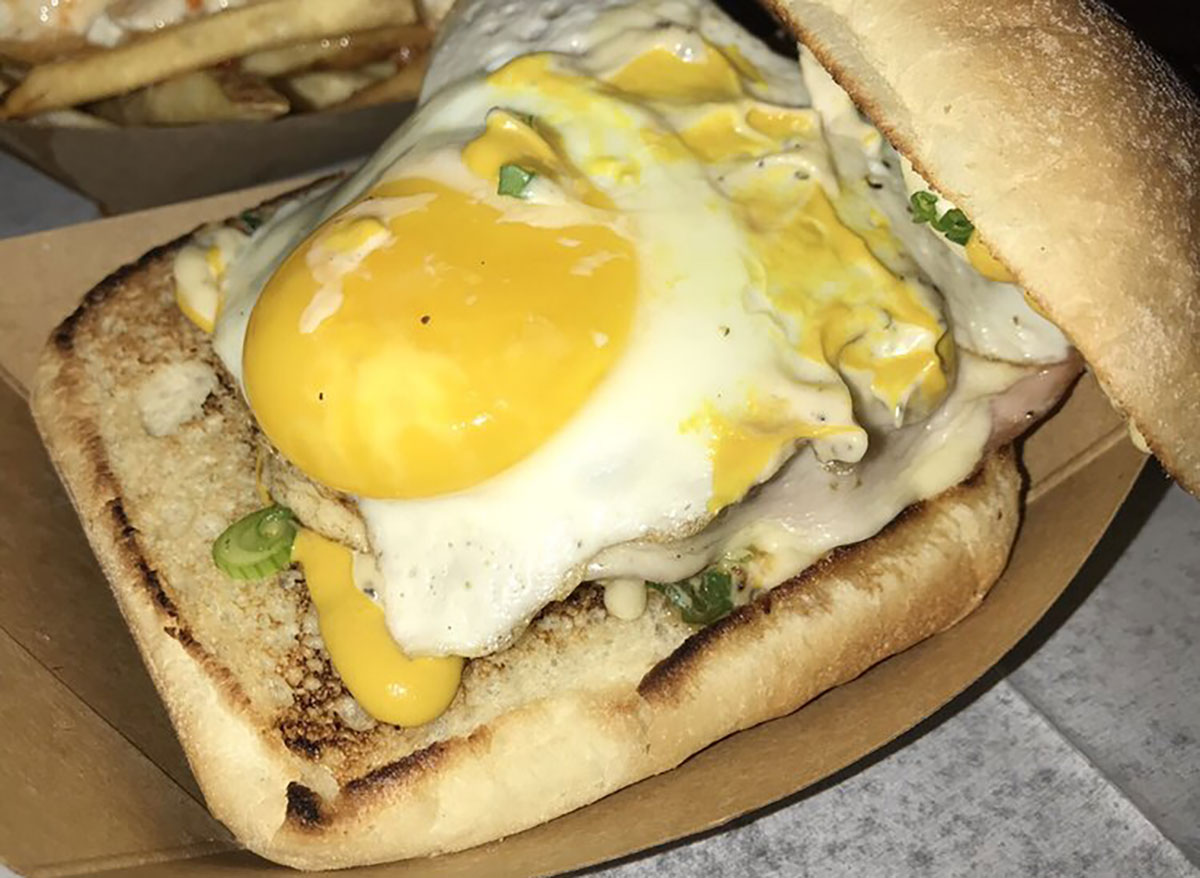 The decadent Croque Garcon comes topped with ham, cheese, an egg, and truffle mayonnaise. "The Croquet [sic] Garcon is possibly the best burger in America," Yelp user J.A. wrote of the burger. Now that's high praise for Block 16.
NEVADA: Inclined Burger at Inclined Burgers and Brews in Incline Village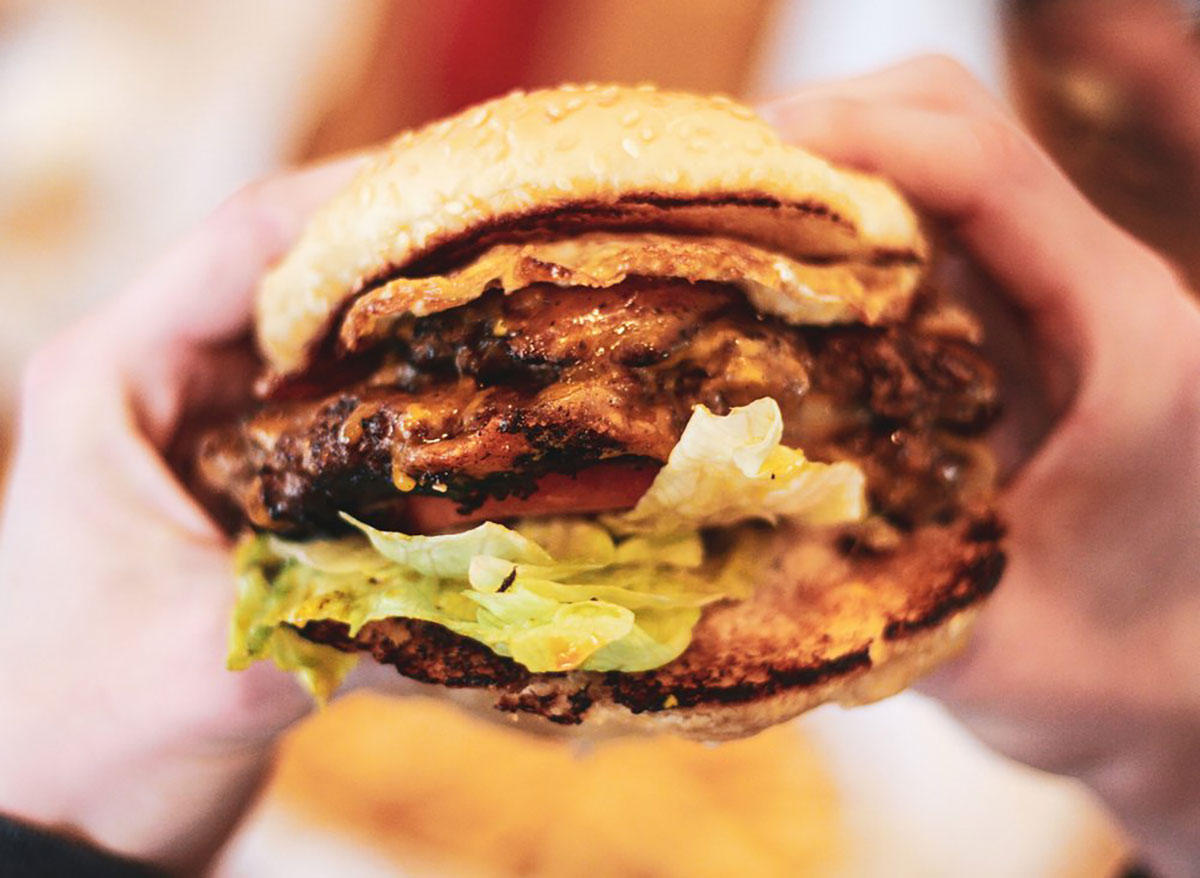 There are just three burgers on the menu at this joint: the Inclined Burger, the Double Inclined, and the veggie burger. (Customers can also choose to add extra cheese, avocado, fried egg, and bacon to their burgers.) But fans of the joint don't need fancy toppings; the juicy burgers speak for themselves. "By far the BEST burger around. This is a place that makes you want to come back time after time," Yelp user Aaron G. wrote on the Inclined Burgers Yelp page.
NEW HAMPSHIRE: Urban Cowboy at Lexie's Joint in Portsmouth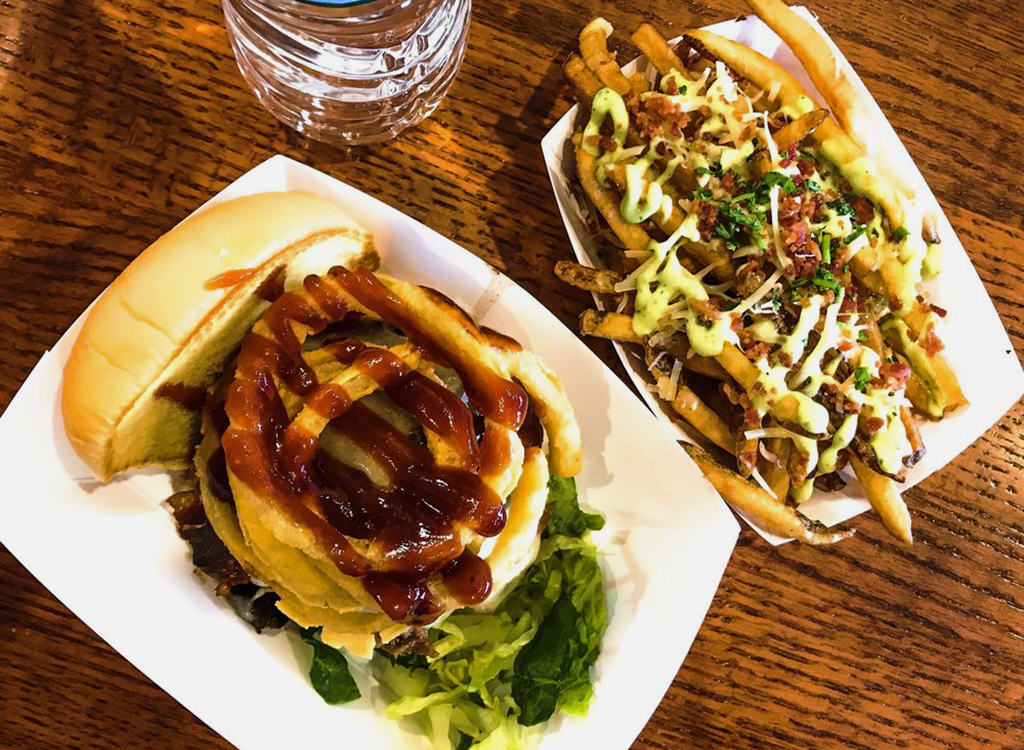 The Urban Cowboy burger is topped with bacon, avocado, crispy onions, and barbecue sauce, but the best thing about it (and the rest of Lexie's menu) might be the price point. This burger clocks in at just $6.75, which should leave you plenty of money to spend on fries or a shake to go with it.
NEW JERSEY: Holypeño at Diesel and Duke in Montclair
With spicy mayo, bacon, caramelized onions, and, yes, jalapenñs, this burger at Diesel and Duke is a delight for your taste buds. Don't miss this joint's fried Oreos, either.
NEW MEXICO: Green Chile Cheeseburger at Sparky's Burgers, BBQ & Espresso in Hatch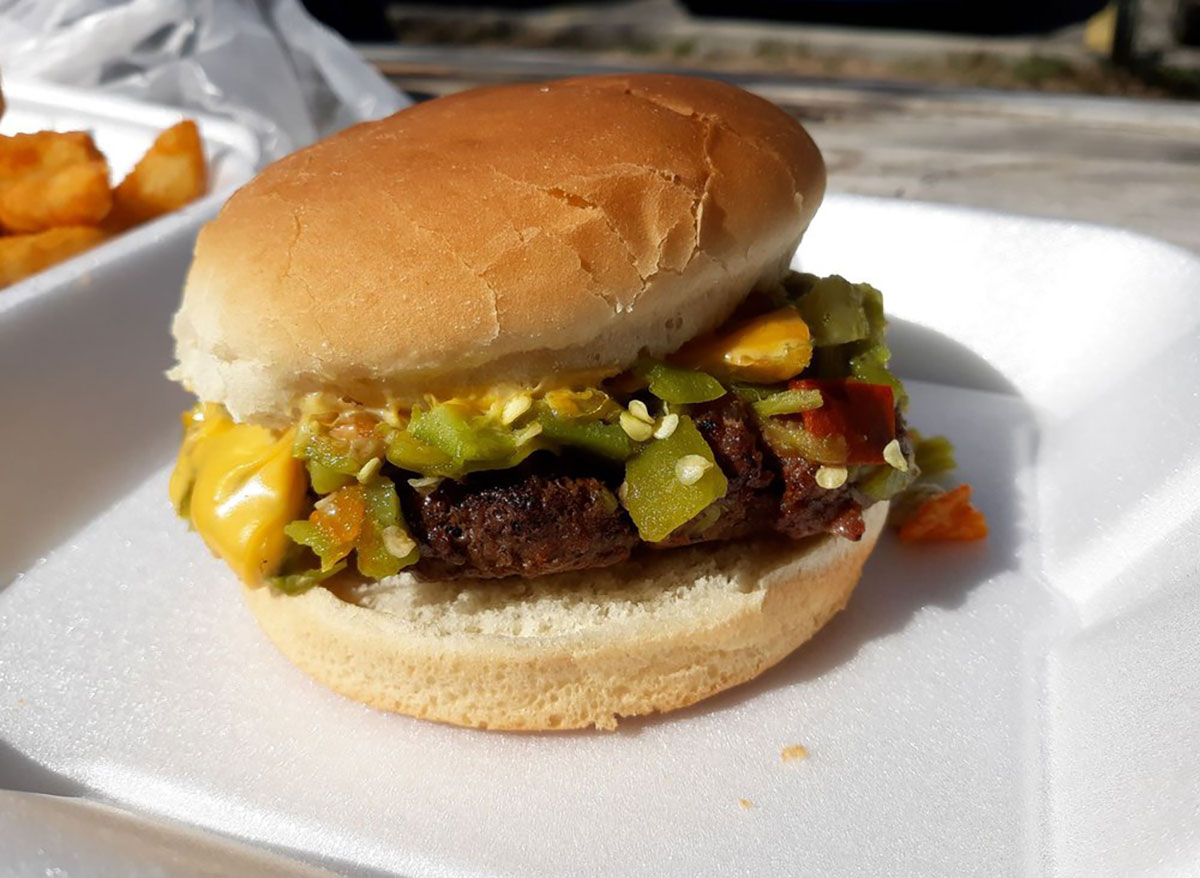 If you're looking for a burger that's on the spicy side, Sparky's has you covered. "The burger is topped with green chiles and a slice of cheese. Simple and to the point. The burger was fantastic," one Yelp reviewer wrote.
NEW YORK: The Emmy Burger at Emily in Clinton Hill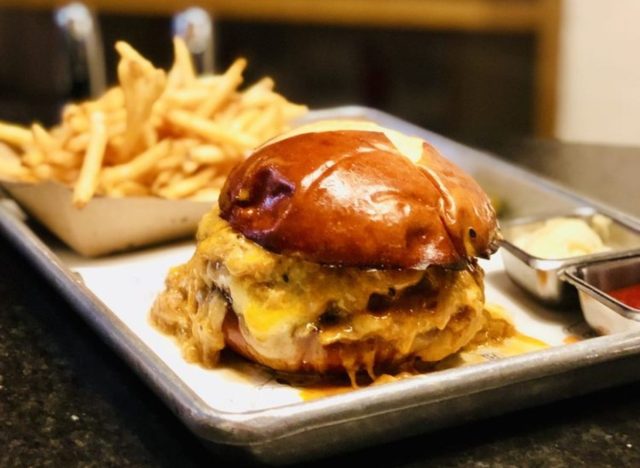 This legendary burger at Emily is widely considered one of the best in NYC and quite possibly the country. The burger is made from LaFrieda dry-aged beef, special Emmy sauce, a huge scoop of caramelized onions, and Grafton cheddar, all served on a pretzel bun. Get there early because this baby sells out fast.
Note: The original Yelp pick, Jane's Eatery, has closed
NORTH CAROLINA: Carolina Bro at Bros Sandwich Shack in Avon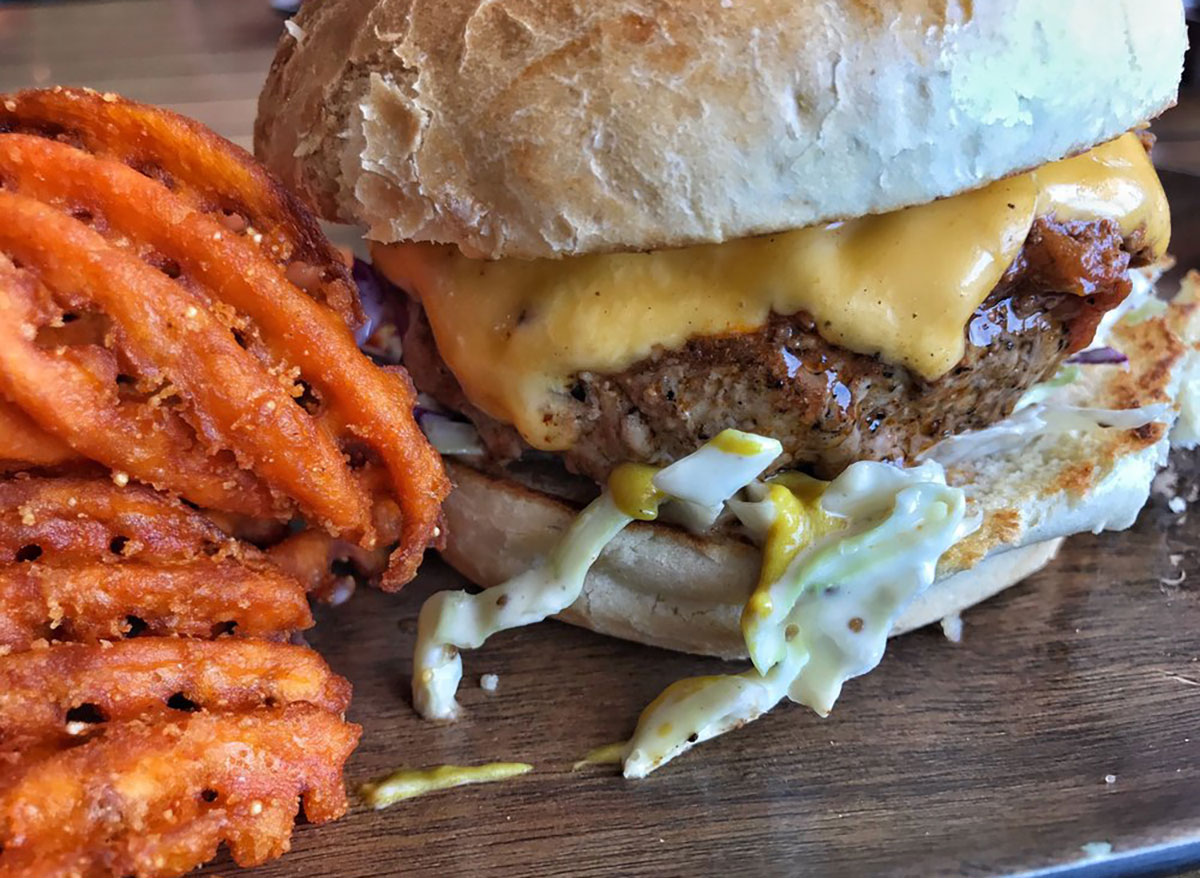 Run by two brothers, this casual joint specializes in tasty, fresh-cooked burgers. The Carolina Bro is topped with chili, cheese, coleslaw, and yellow mustard.
NORTH DAKOTA: Totally Slawesome Burger at JL Beers in Fargo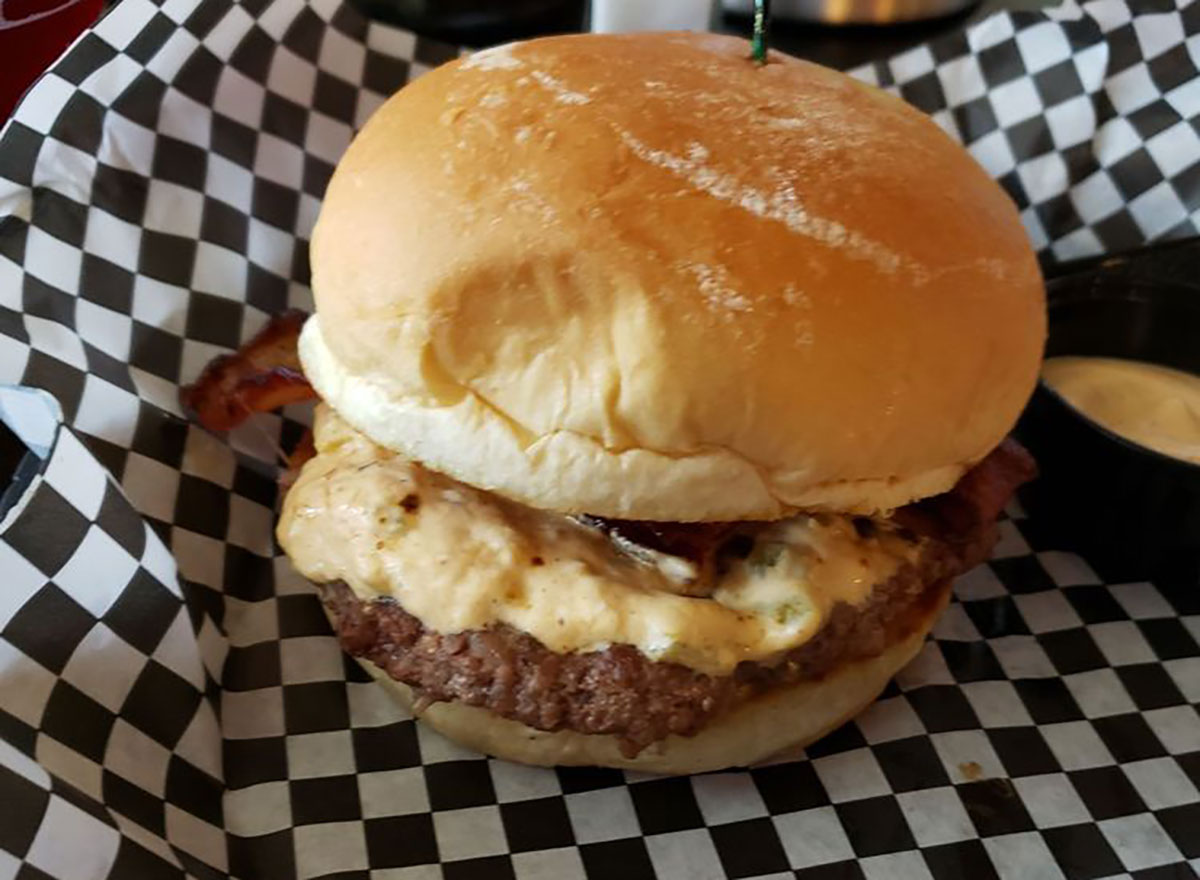 Sure, you can get a bacon cheeseburger plenty of places. But how many of them will serve a bacon cheeseburger that's also topped with coleslaw? JL Beers does!
OHIO: Ace Burger at Flavor 91 Bistro in Whitehall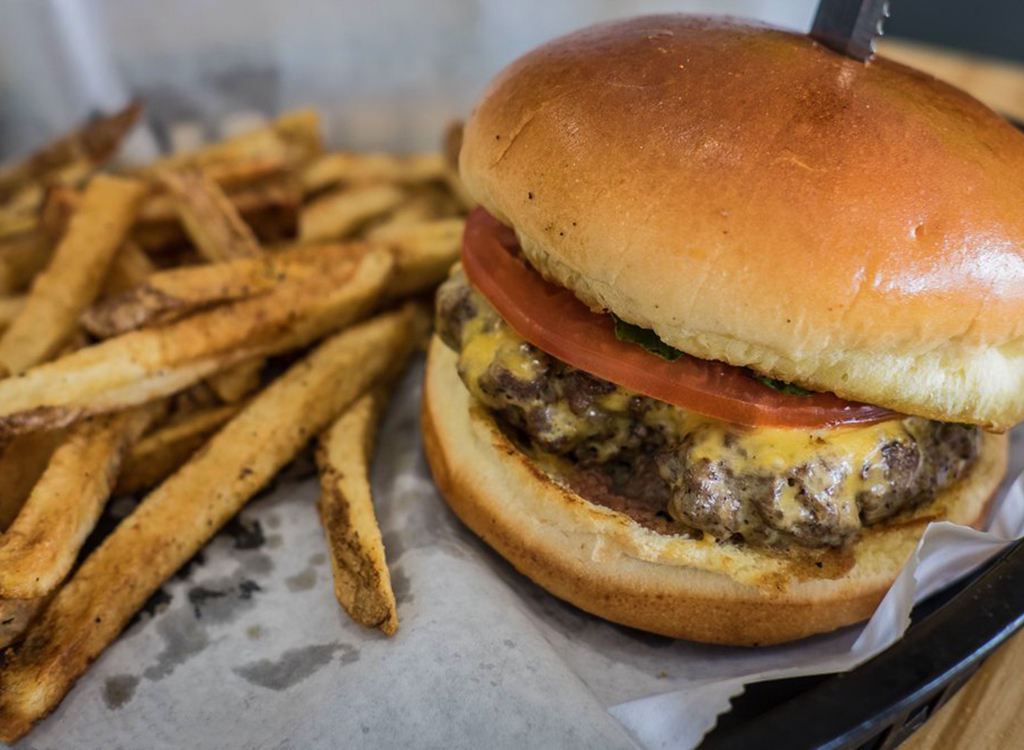 With a menu featuring fresh and local ingredients, Flavor 91 Bistro is the place to be for Whitehall dwellers. Juicy and flavorful, this burger could stand up to any competitor.
OKLAHOMA: Regular Cheeseburger at Nic's Grill in Oklahoma City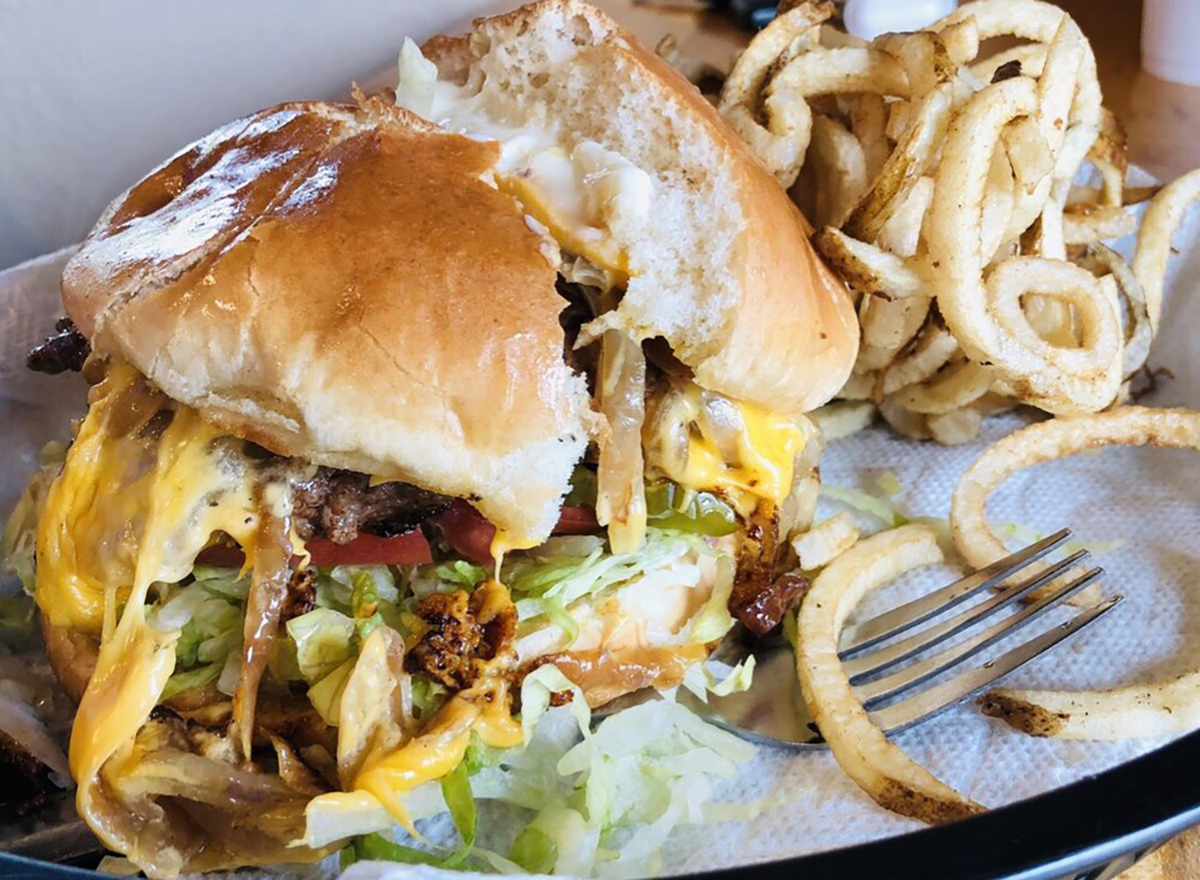 Simple and delicious, this juicy burger from Nic's Grill will hit the spot. Pair it with a side of shoestring fries for the ultimate meal.
OREGON: Hawthorne at PDX Sliders in Portland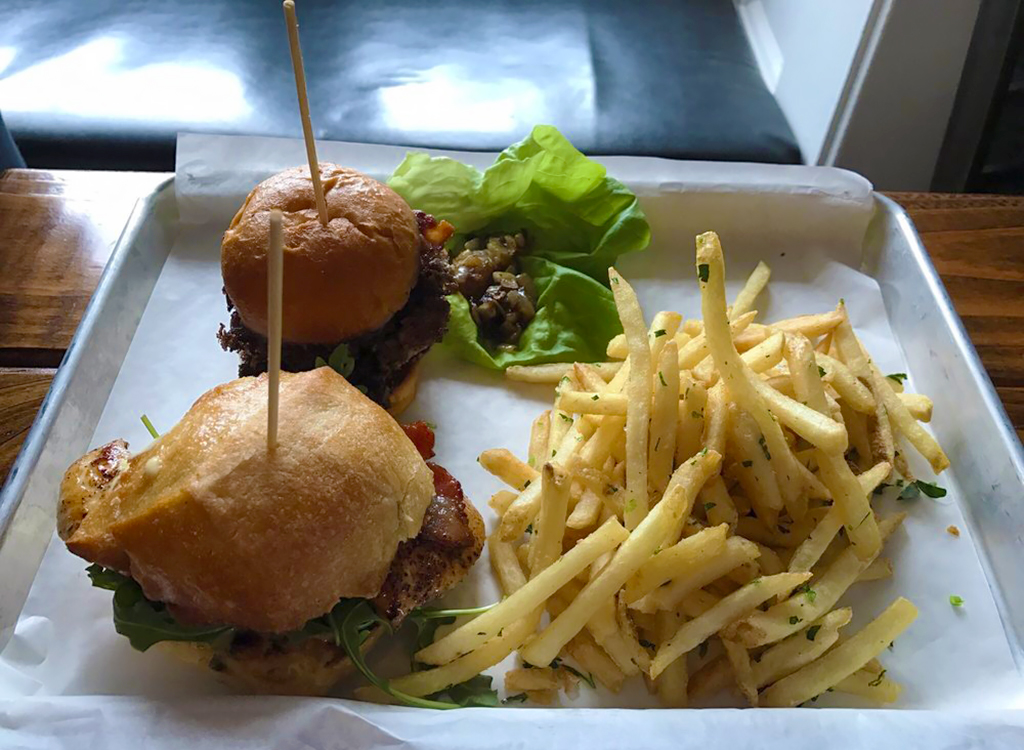 This restaurant specializes in—you guessed it—sliders, although you can also order full-size burgers there. The Hawthorne is a solid slider choice, with strawberry preserves, goat cheese, and bacon serving as the toppings for each mini beef burger patty.
PENNSYLVANIA: Stock Burger at Stockyard Sandwich in Philadelphia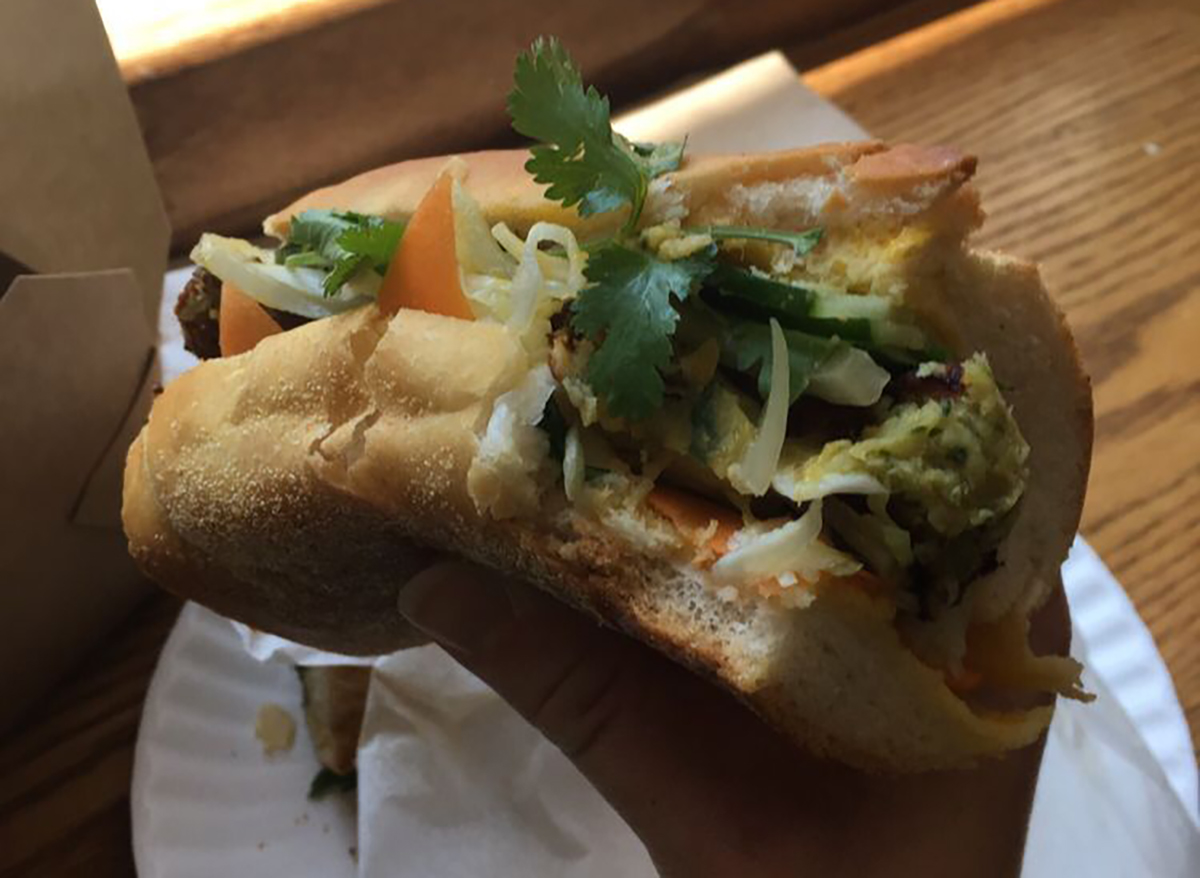 You can't go wrong with anything on the menu at Stockyard Sandwich, but these burgers are some of the best around.
RHODE ISLAND: Cheeseburger at Mission in Newport
This Newport joint doesn't sell much besides burgers and hot dogs. And that's perfectly fine with fans, who love both of those things. A number of Yelp reviews mention the fact that Mission's beef is ground in-house, so your burger will be super fresh.
SOUTH CAROLINA: Seoul Burger at Arden's Burger & Grill in Anderson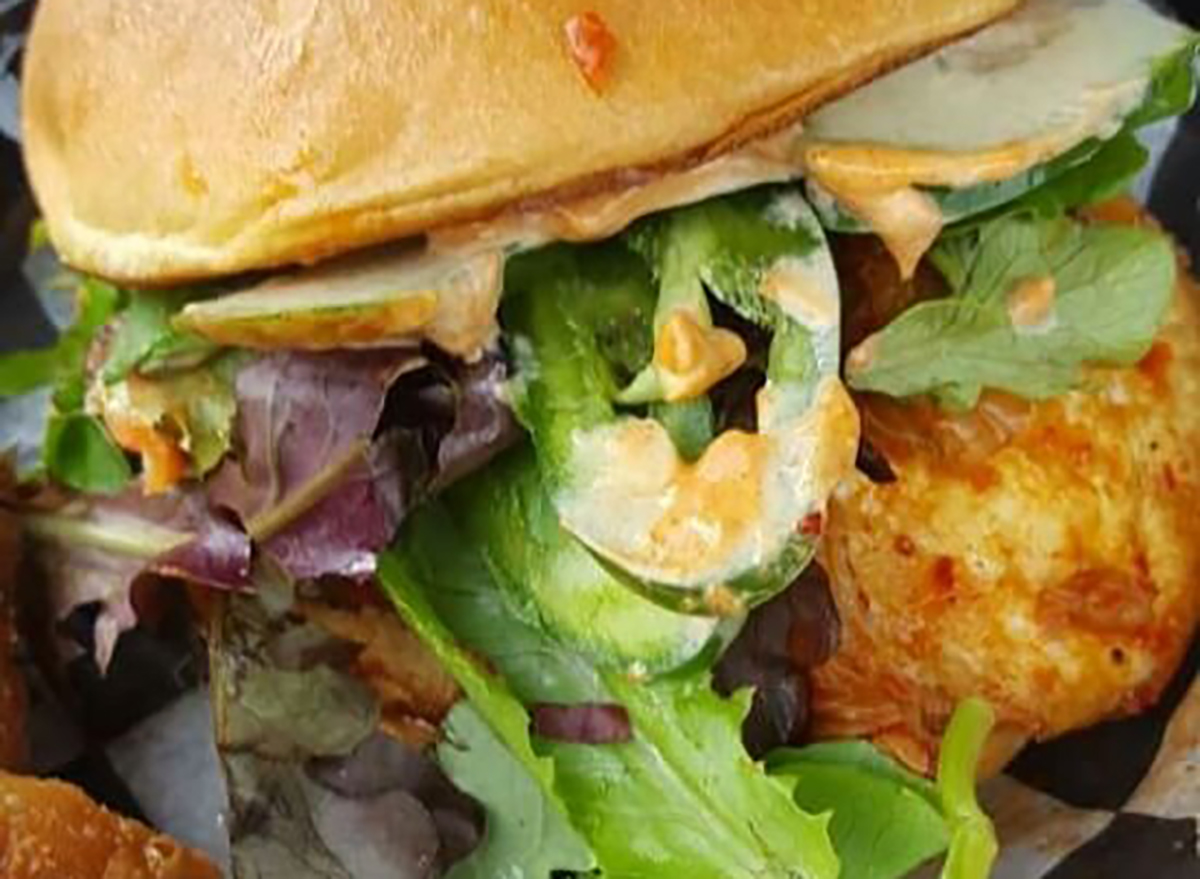 Arden's is known for its inventive burger creations, like this one inspired by Korean food. Topped with teriyaki sauce, it's a burger unlike any you've had before.
SOUTH DAKOTA: Hot Granny at Black Hills Burger & Bun Co. in Custer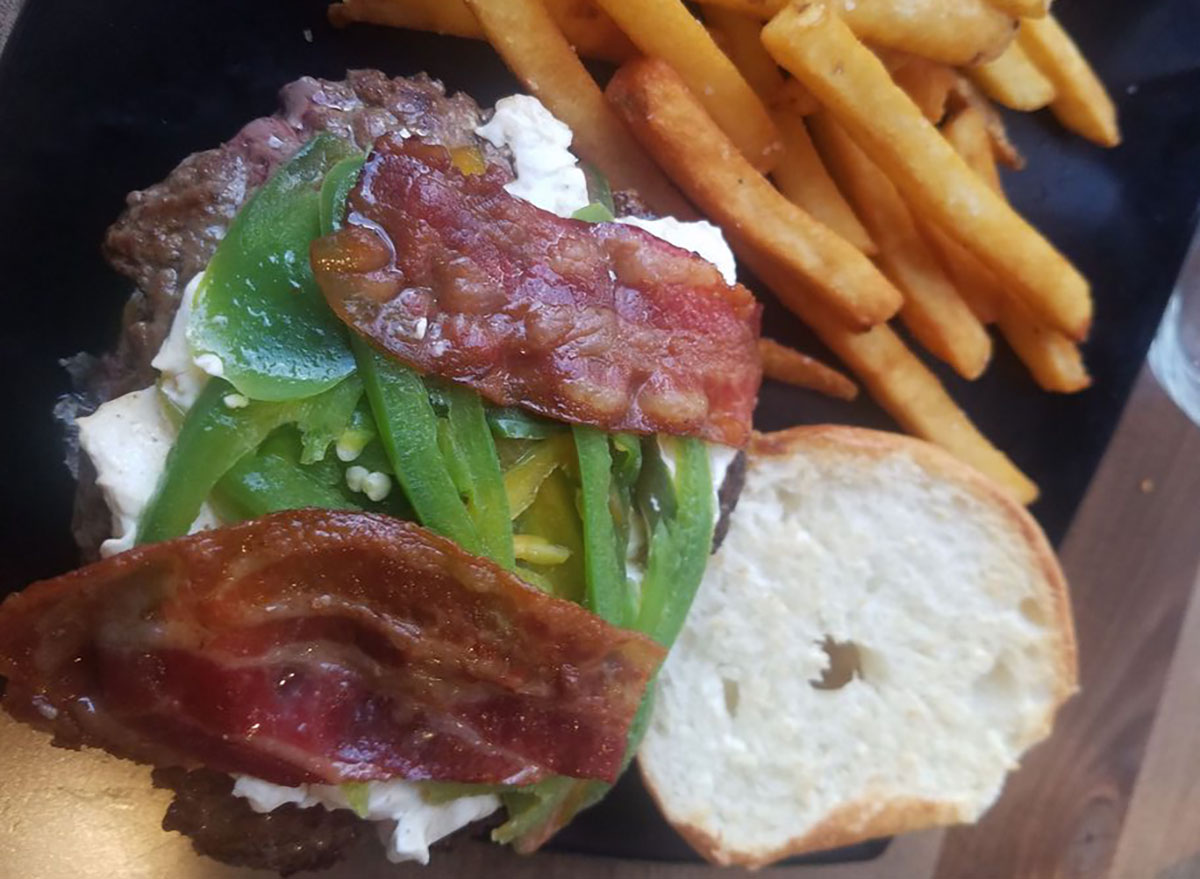 This cheekily named burger is loaded with jalapenos for a spicy bite. "The Hot Granny Burger was by far the best burger I have ever eaten," Yelp user Ashley B. wrote on the Black Hills Yelp page. If you live nearby, it's worth the trip.
TENNESSEE: 1/2 Pound Tasty and Stuffed Burger at Tasty and Delicious in Nashville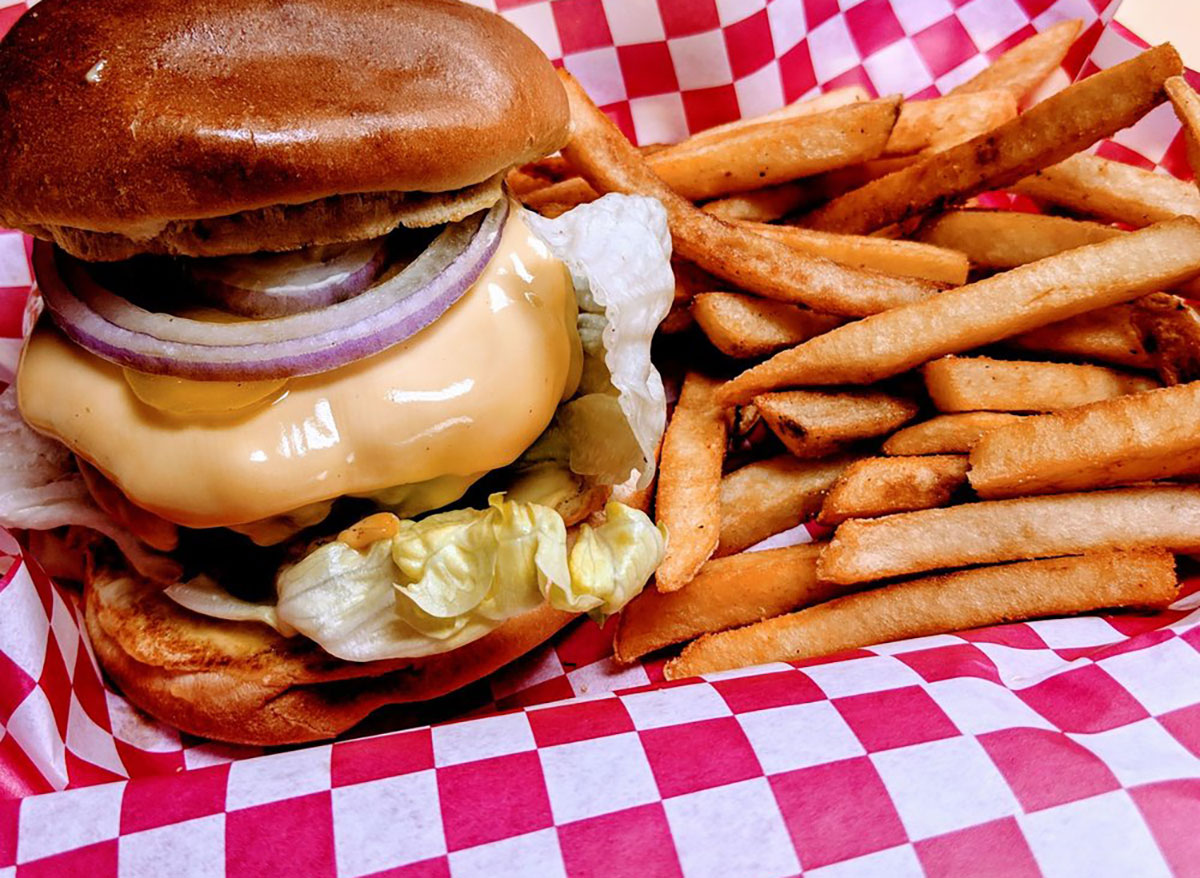 If the two slices of cheese inside the patty weren't enough, this burger is topped with even more cheese slices. "Juicy" doesn't even begin to describe it. Head to Tasty and Delicious in Nashville to try it.
TEXAS: El Caliente Burger at Papa's Burgers in San Antonio
Spice things up with this caliente burger and a side of crinkle-cut fries at Papa's Burgers.6254a4d1642c605c54bf1cab17d50f1e
UTAH: Whiskey Burger at Comb Ridge Eat and Drink in Bluff
This bacon-topped burger from Comb Ridge Eat and Drink is a simple, filling meal for when those burger cravings hit.
VERMONT: The Doc Burger at Doc Ponds in Stowe
This simple patty at Doc Ponds is perfectly topped with melted cheese and served with a pickle. What more could you want? One reviewer raved, "I've had the chain burgers, homemade burgers, my mom's burgers, but this was epic."
VIRGINIA: Empire Burger at Gourmet Burger Bistro in Portsmouth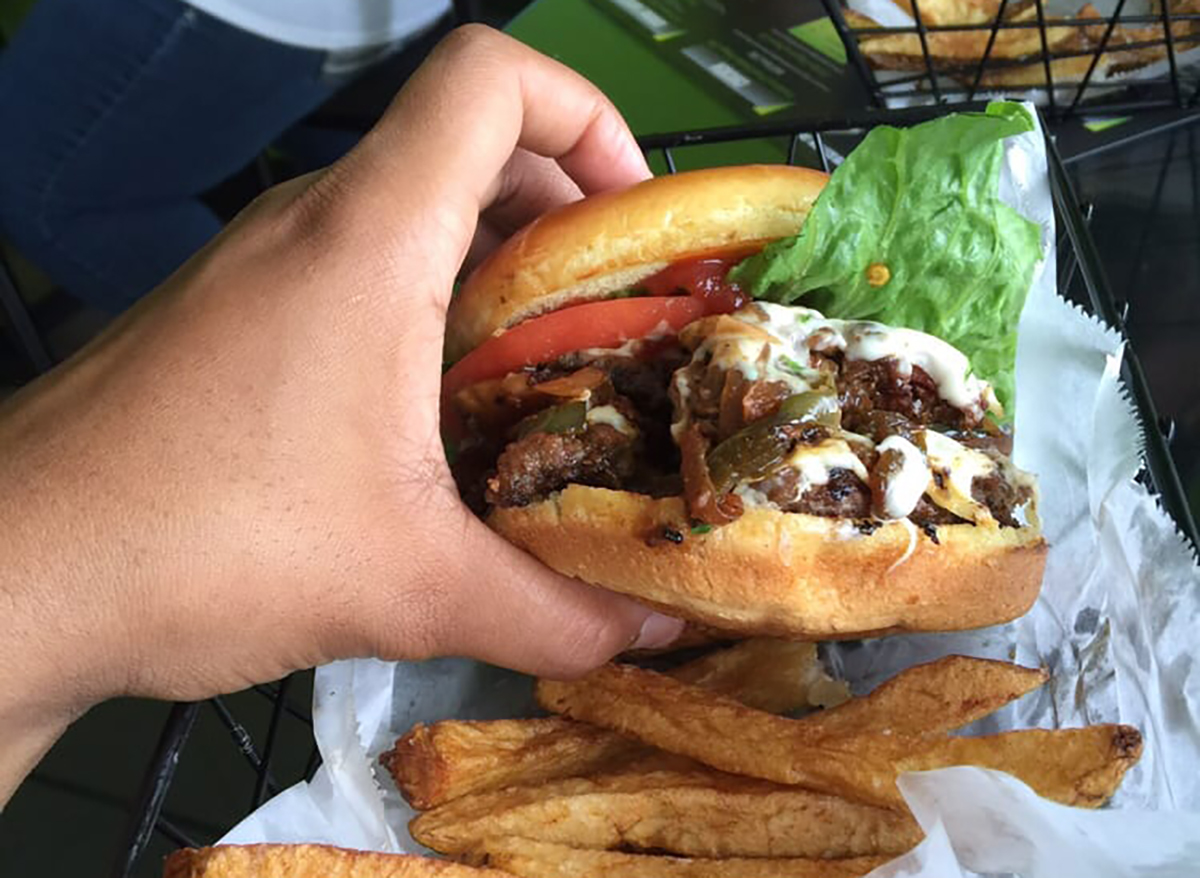 Did you ever think you'd be able to try a Philly steak-topped burger? You can get that meaty sandwich of your dreams at this Virginia restaurant.
WASHINGTON: Bacon Ranch Jalapeño Burger at Skagit Valley Burgers Express in Sedro-Woolley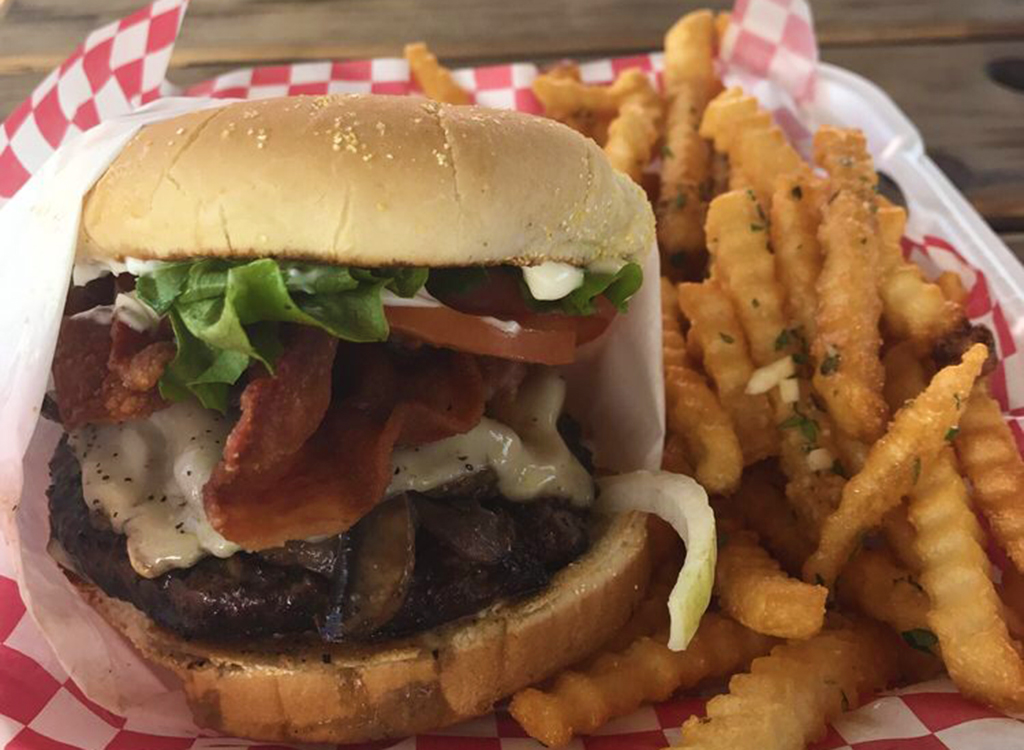 You can't go wrong with anything on the menu at Skagit Valley Burgers Express, but this bacon-loaded burger is particularly noteworthy.
WEST VIRGINIA: Dynamo at Secret Sandwich Society in Fayetteville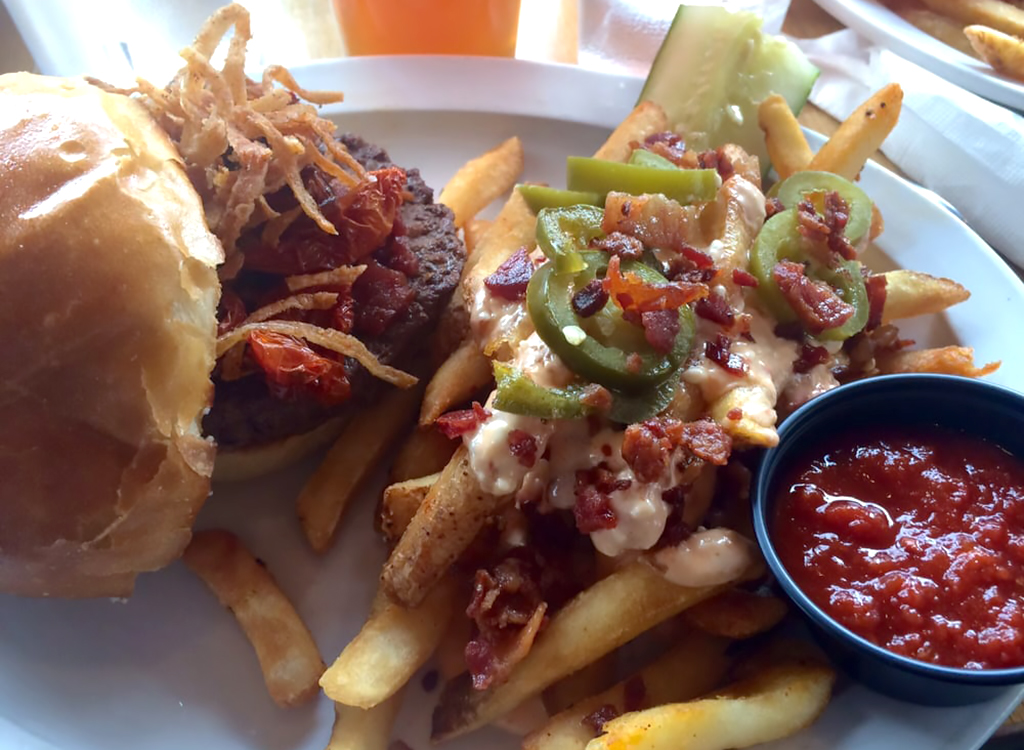 Bacon, bleu cheese, crispy onions, and red peppers load up this Southern burger. Another perk of visiting the Secret Sandwich Society? You can get pimento cheese-topped fries to go with your meal.
NOTE: Secret Sandwich Society's West Virginia location is temporarily closed following a November 2020 fire.
WISCONSIN: Cheeseburger at Kopp's Frozen Custard in Glendale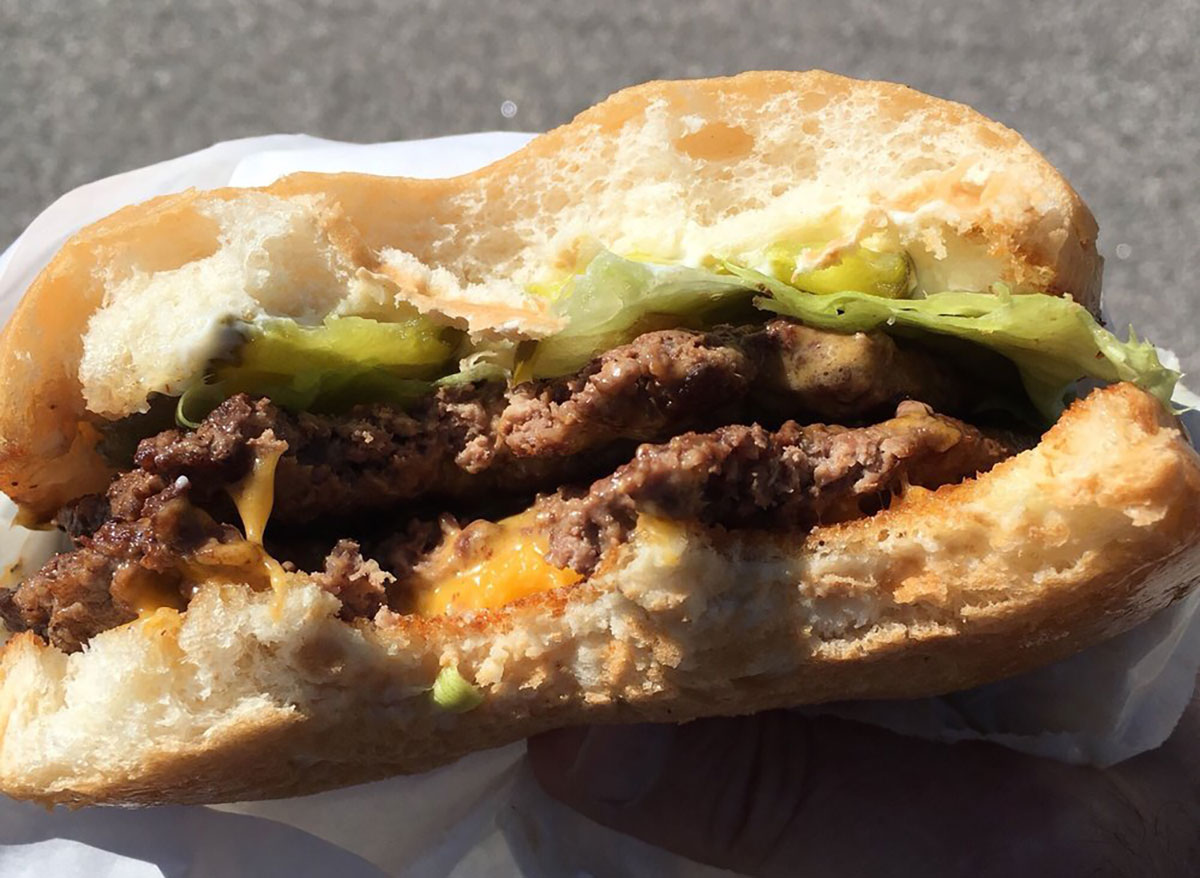 Yes, this is a creamery, but they also have delicious burgers, as Kopp's Frozen Custard's Yelp reviewers can attest. "This is my favorite burger stand in the United States," Yelp user Steve J. wrote on the site. It doesn't get much better than that.
WYOMING: Nooner at Liberty Burger in Jackson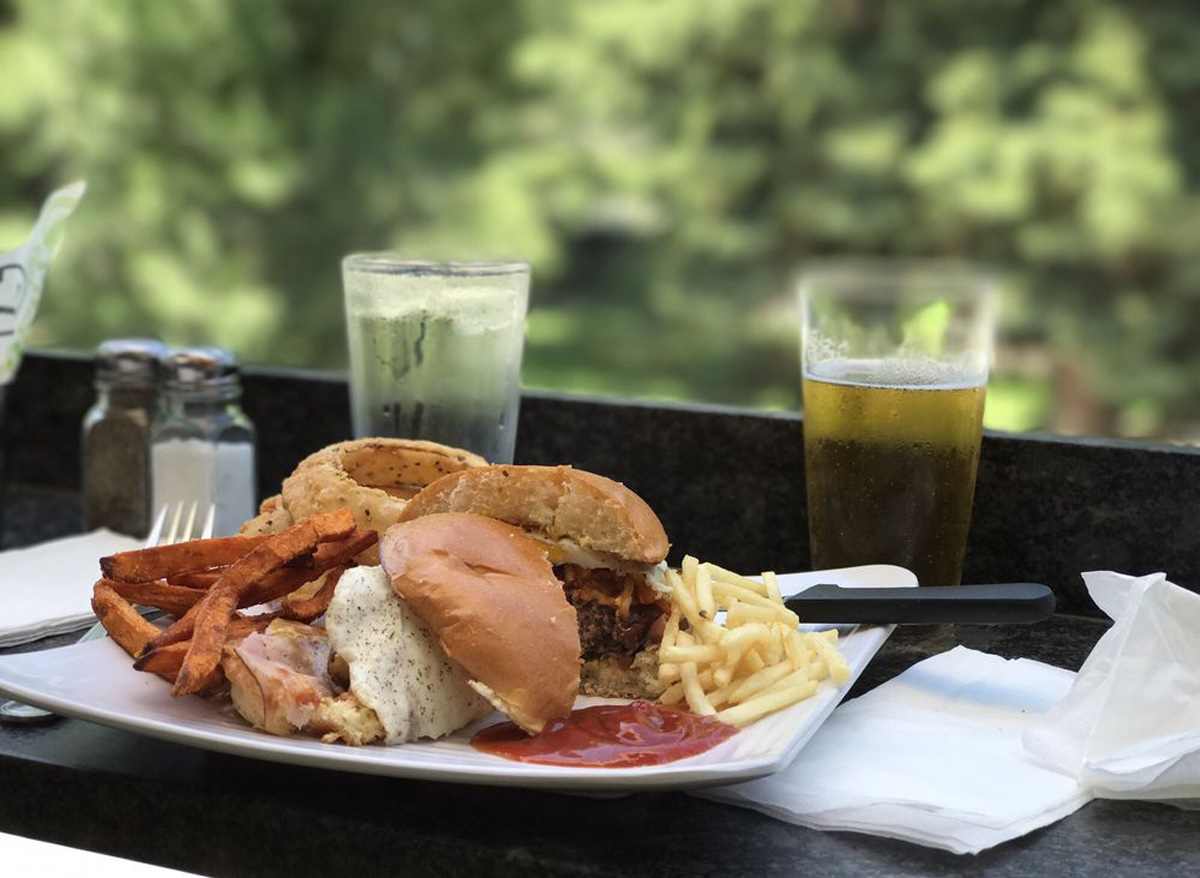 Think of this Liberty Burger in Jackson option as the burger for brunch lovers. Topped with a fried egg, bacon, hashbrowns, and ham, this is the perfect in-between option for diners who can't decide between breakfast and lunch.
Next time you're passing through some of these states and cities, it might be worth checking out some of the burgers on this list. Who knows—you just might find your new favorite meal.
Check out more of the best eats in your state:
The Best Mac & Cheese in Every State
April Benshosan
April is a born-and-raised Brooklynite who has a passion for all things health, wellness, and tastebud-related.
Read more about April