What's The Difference Between Non-GMO and Organic?
Are the two terms interchangeable? We spoke to two experts who explain what's organic and what's non-GMO.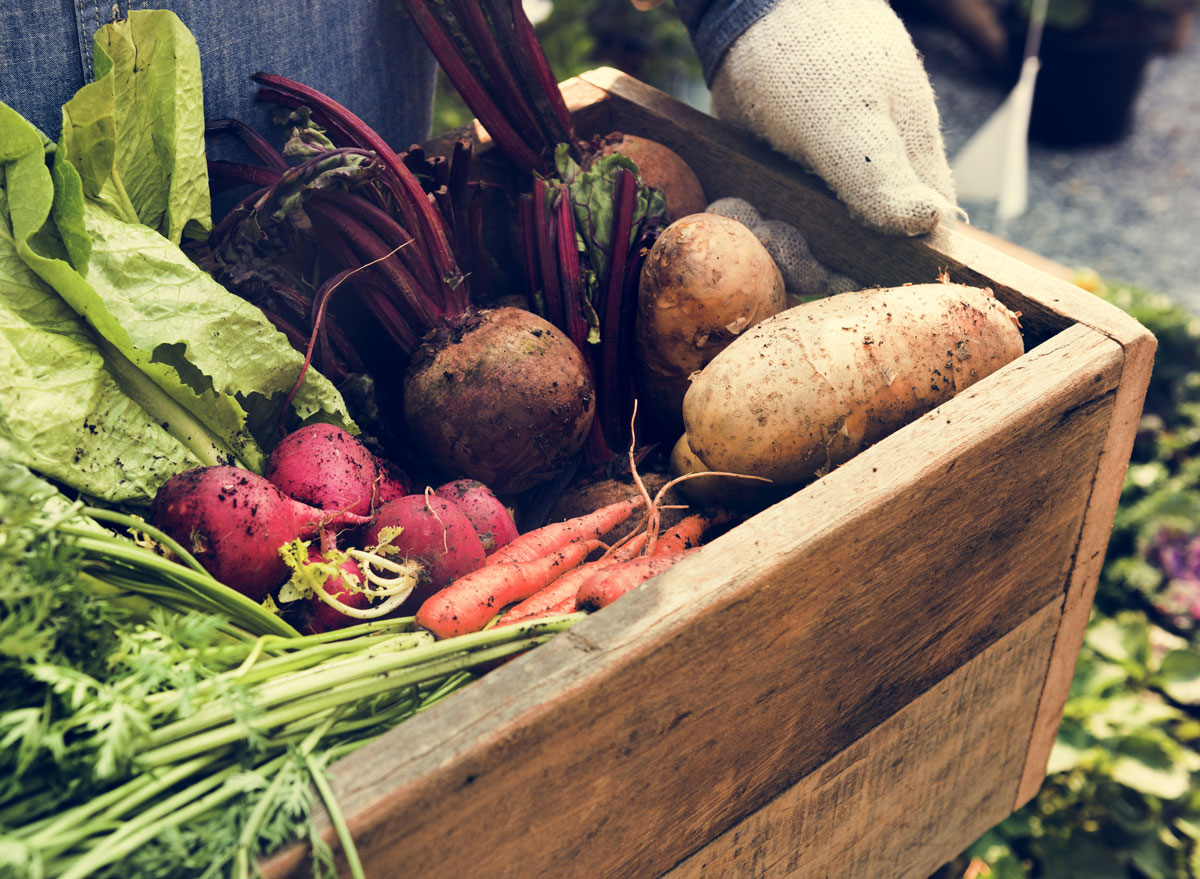 If you've used the terms "non-GMO" and "organic" interchangeably, you've unknowingly overlooked a notable difference. While you likely associate both of these terms with the picture of health, they're not quite the same.
To help demystify what organic is and how it differs from non-GMO, we spoke to Jackie Newgent, RDN, culinary nutritionist and author of The All-Natural Diabetes Cookbook, and Kate Geagan, MS, RD, and author of Go Green, Get Lean: Trim Your Waistline with the Ultimate Low Carbon Footprint Diet. Find out the key differences and whether one trumps the other!
What's the difference between non-GMO and organic foods?
"Organic refers to an agricultural growing method that meets stringent standards related to pest and weed management, soil quality, and animal raising practices," Newgent tells us. All foods that are 100% USDA Certified Organic are always non-GMO; however, foods that are non-GMO are not always organic.
"Organic is a far broader set of defined practices and rules set forth by the USDA around how food is produced. In order to be Certified Organic, a product is always non-GMO and must adhere to strict guidelines around pesticide use, synthetic fertilizers, hormones or antibiotics, responsible living conditions for animals, protecting biodiversity, and so much more," Geagan says.
"Non-GMO, in contrast, typically refers to a third party certification (by a non-profit group) that the product has met strict verification processes and testing standards to ensure ingredients are below the minimum threshold of genetically modified ingredients (GMOs)," Geagan says. You've likely noticed the "Non-GMO Project Verified" label on some foods before. "Since GMO-free is not a legal term, there is an inherent risk of some cross-contamination in our agriculture or supply chain," Geagan explains.
When should you shop for organic foods vs. non-GMO foods?
When it comes to shopping for organic vs. non-GMO foods, both registered dietitians agree that organic is the way to go. Compared to non-GMO, "organic is a much more robust label for consumers looking for confidence and transparency in how their food was produced," Geagan says.
"I advise going organic when possible and when it can be planned into your budget," Newgent says. "Not only will foods be non-GMO, but by doing so, you'll be supporting environmentally-conscious farming practices, which can lead to a more sustainable future for everyone, while significantly reducing exposure to pesticides." However, if you can't find the organic version of a certain food, check for non-GMO labeling.
Right now, there are only select food crops that are approved for genetic modification in the U.S., Newgent explains. These include apples, potatoes, corn, soybeans, sugar beets, squash, and papaya. "So, look for non-GMO labeling—or organic labeling to cover all the bases—on these whole foods or food products made with them in any form," Newgent recommends.
How can I save money while shopping organic?
When choosing between organic and conventional foods, go the organic route if you can. But if you're on a tight budget like most of us, there are ways to avoid spending your whole paycheck on organic groceries. Both Newgent and Geagan recommend shopping organic for foods on the Environmental Working Group's Dirty Dozen, which is a list of produce ranked by the amount of pesticide residue. You can also check out the foods with the least pesticides and buy those conventionally-grown to save money.6254a4d1642c605c54bf1cab17d50f1e
When it comes to buying meat and animal products, both dietitians recommend going organic. Grass-fed organic meats contain higher levels of fat-fighting CLA and anti-inflammatory omega-3 fats. Another major bonus: the animals are treated humanely—which also results in higher quality meat for us!
"Make the foods you rely on the most for your healthy routine organic," Geagan explains, adding that doing so will help minimize your family's everyday exposure to pesticides, synthetic hormones, and antibiotics, as well as help support a more resilient and sustainable food system.
April Benshosan
April is a born-and-raised Brooklynite who has a passion for all things health, wellness, and tastebud-related.
Read more about April