13 Old-Fashioned Steak Recipes You Need to Try Tonight
Flavorful, juicy steak recipes that only get better as they age!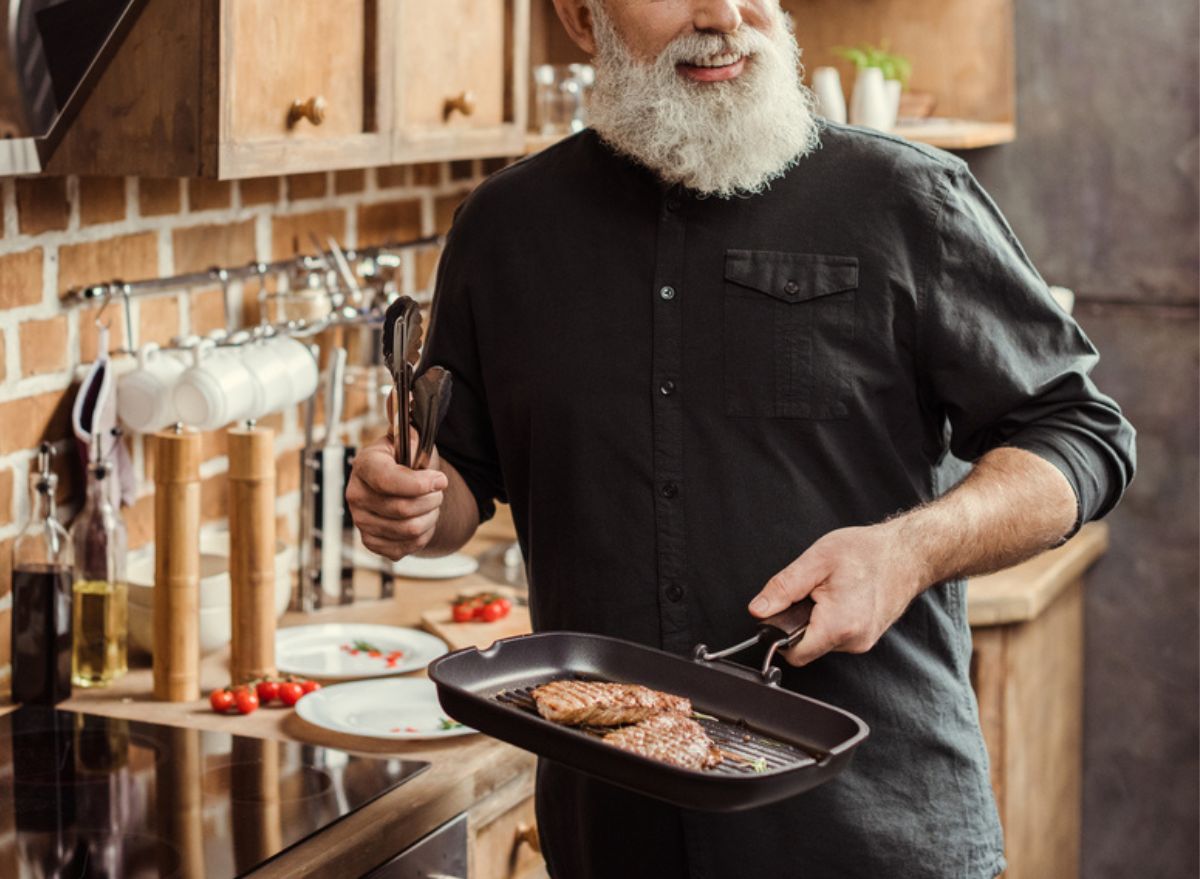 The stakes are high when it comes to the perfect steak recipe. And the key to any good steak recipe is choosing the right cut of meat. If you have that, it doesn't take much. Sometimes, the fewer ingredients the better—all you need is a little salt and pepper seasoning if you want to keep it simple. Sure, there are more complicated ways to prepare steak, and fancy restaurants will be happy to serve that to you (along with a giant price tag), but nothing beats a good old-fashioned homemade steak. From a classic bone-in ribeye to a perfect Salisbury, read on for 13 tried and true steak recipes that are a cut above the rest.
Classic Steak Diane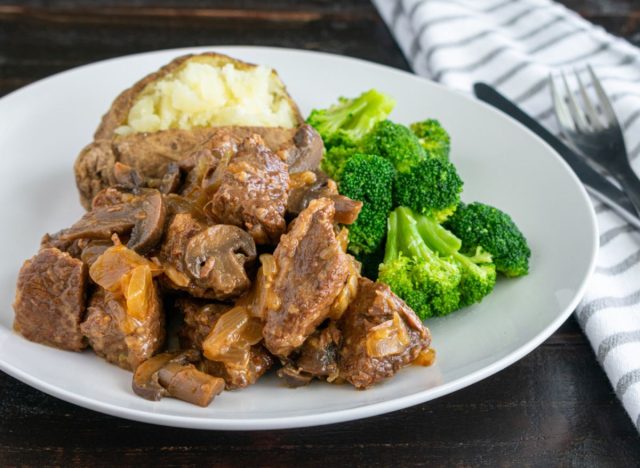 First things first. Who's Diane?
According to What's Cooking in America, Steak Diane was a popular dish in the 1950s/early 1960s, especially in New York City—in upscale restaurants, it was often prepared tableside with all the theatrics you'd expect from the flambéing of the cognac that is used to make the sauce. The iconic dish was supposedly named after the Roman goddess, Diana or Diane. Diana was the Goddess of the Hunt and also Goddess of the Moon, and Steak Diane was originally a way of serving venison.
Get the recipe from Chef Alex Reitz at Beef. It's What's For Dinner.
Grilled Cowboy Steaks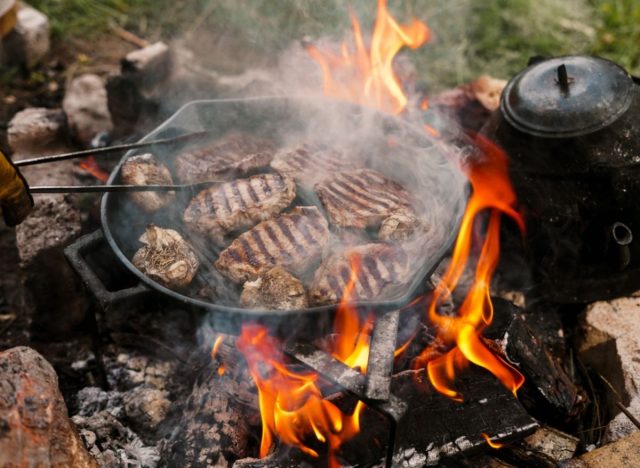 Giddyap! David Lewis runs a small kitchen, micro-bakery, and coffee roastery from his hometown in Alabama, and is the founder of Kitchen Ambition. And he knows a thing or two about a good cowboy steak.6254a4d1642c605c54bf1cab17d50f1e
"There are few meals more legendary in American lore than cowboys flipping steak over a campfire at the end of a long day on the range," says Lewis. "If you want to saddle up your own inner cowboy, cooking cowboy steak is fun and easier than you might expect."
For preparation over a campfire, you'll want to pick a steak with high fat content so that it doesn't dry out over the flames while you're cooking it, he says. Try a ribeye with the bone in, at least 1.25 thick and with visible fat marbling, he says. "Choosing the right steak makes all the difference."
Most Cowboy steak recipes only call for salt and pepper for seasoning. Here's a recipe we like from The Anthony Kitchen.
Tomahawk Steak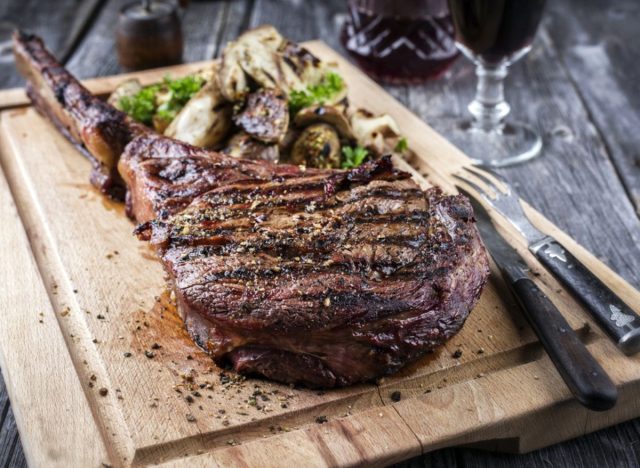 Tomahawk steak is the classic steak that Fred Flintstone ate, according to Omaha Steaks. It's an over-the-top, larger-than-life, bone-in ribeye steak, meant to impress. It's similar to the Cowboy Steak with one difference: The Tomahawk has a larger bone.
Emilee Mason of The Primitive Dish specializes in grilled and smoked meats and just debuted this new Tomahawk steak recipe.
Yankee Pot Roast
Pot roast has been a long-time popular dish in New England, especially appreciated on long, cold winter nights. Food world icon James Beard claimed that the dish's roots can be traced back to France—apparently, French immigrants displayed their cooking method, à l'étouffée, for tenderizing meats, and thus the pot roast was born.
New Englander Grace Vallo of Tastefully Grace shares her grandmother's pot roast recipe, which has been passed down through the generations, she says.
Salisbury Steak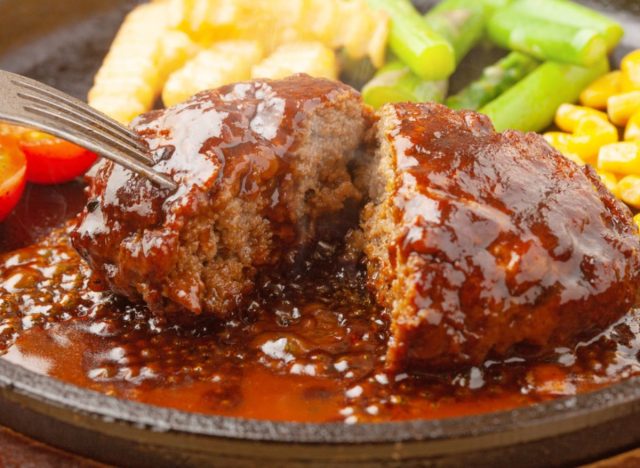 Basically a hamburger steak crowned with a rich mushroom or onion gravy, Salisbury Steak was a favorite especially in less affluent, rural areas because it was cheap to make yet filling and satisfying. Chef Alex Reitz offers this tip: Serve Salisbury steaks with gravy and your favorite vegetables and mashed potatoes. You can also substitute prepared beef or mushroom gravy for broth, cornstarch, Worcestershire, and bouillon granules in the recipe.
Get the recipe for Salisbury Steak from Ben Gorges of Fox Valley Foodie, or try this version of the classic homespun Salisbury steak from Chef Alex Reitz.
Grilled London Broil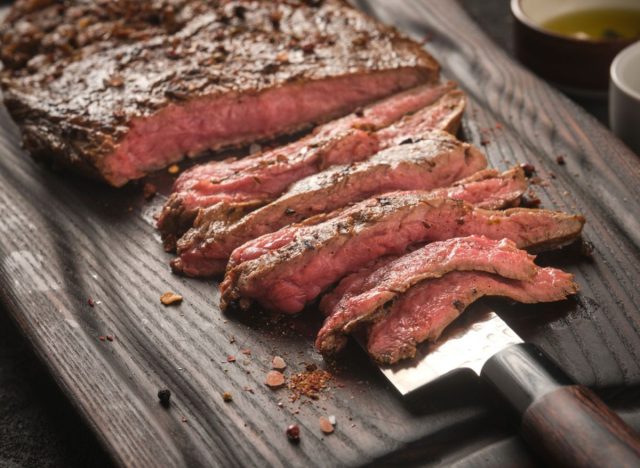 Another classic, London Broil showed up in 1931 in Philadelphia, according to Taste Atlas, and has nothing to do with England. The name London Broil referred to a flank steak that was first pan-fried, then sliced against the grain. This basic technique evolved over time to include the crucial element of marinating the steak, then broiling it, hence the name, according to the site.
Chef Reitz Tip: Skewer the steak and onions for an elegant presentation: Cut steak into 1-1/2-inch pieces, alternatively thread beef and onion wedges onto 10-inch metal skewers. Grill as directed.
Get the recipe from Chef Alex Reitz. 
Delmonico Ribeye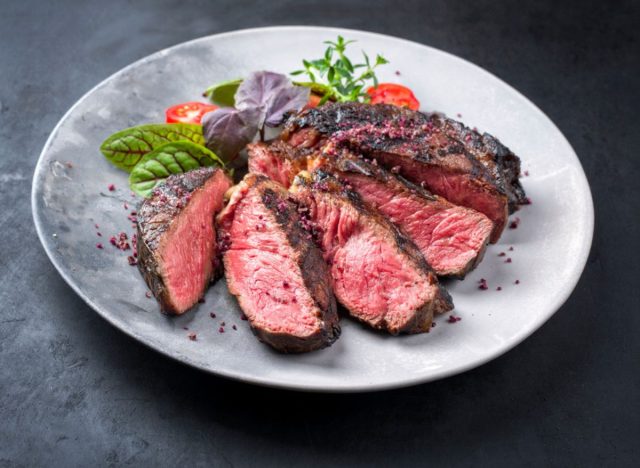 Recipe developer and cookbook author Brian Theis of The Infinite Feast shares his story and recipe for this classic, which is only a shade different from the way the country's first fine-dining restaurant, Delmonico's Steakhouse in New York City, makes their legendary ribeye today.
"In fact, when I was working on my cookbook, I sat down with Delmonico's renowned Executive Chef Billy Oliva in his dining room specifically to talk steak," says Theis. "His storied institution, older than the Statue of Liberty, is the birthplace of Lobster Newburg, some say, Baked Alaska, Eggs Benedict, and, of course, the Delmonico Ribeye."
And lest you think it a recent development, the Delmonico brothers were pioneers of the farm-to-table restaurant model we know today when they first opened their business in the 19th century, says Theis.
Get the recipe from The Infinite Feast.
Gallaghers Old-fashioned Steak Recipe
The nearly century-old Gallaghers Steakhouse is celebrated in New York City for its use of hickory coal grills. They also dry-age their own beef in-house in a display meat locker, a rarity these days. Owner Dean Poll notes that much of what makes a steak "old-fashioned" has to do with the traditional preparations that can now easily be "short-cutted"—and are, even at some of the best steakhouses, he says, "but not at places like Gallaghers." Here, he gives tips for how to bypass the on-site dry aging process because, as he puts it, most people "don't have a six-figure meat locker in their backyard."
STEP 1: The process actually starts 21-28 days out, when Gallaghers begins to dry-age their meat on the premises. A realistic workaround at home would be to order pre-dry-aged steaks online to replicate that classic aged flavor in your steaks.
STEP 2: Once they are portioned, sprinkle each cut with kosher salt before throwing them on the grill. Again, if you're preparing at home, pre-dry-aged steaks will already come portioned.
STEP 3: Every steak at Gallaghers is then prepared on its hickory coal grills, the restaurant's signature style of preparation that goes back nearly a century. At home, purchase charcoals with hickory to use on the grill to get as close to that flavor as possible.
STEP 4: Once the steak has been prepared to temperature on the hickory coal grills, it's time to serve it with a side of Gallaghers signature steak sauce, says Poll. "And although we all know that an amazing steak requires nothing to dress it up, New Yorkers in-the-know will tell you that this sauce is worth a little accessorizing."
Poll shares a simplified version of the sauce with us below.
Gallaghers Steak Sauce
Ingredients:
2 sticks of butter
2 medium chopped onions
1/4 cup brown sugar
8 chopped garlic cloves
3 tbsp molasses
3 white wine vinegar
1 pint of ketchup
1 ½ tsp Dijon mustard
1-2 anchovies
Preparation:
Mix the molasses, white wine vinegar, ketchup, Dijon mustard, and anchovies. Set aside.
In a stock pot, melt the butter and saute the garlic and onions until light brown.
Add the brown sugar and cook slowly, being careful not to burn.
Add the mixture from Step 1, bring to a boil, and simmer for 1 minute.
Remove from heat and let cool to room temperature before serving.
Grilled Prime NY Strip Steak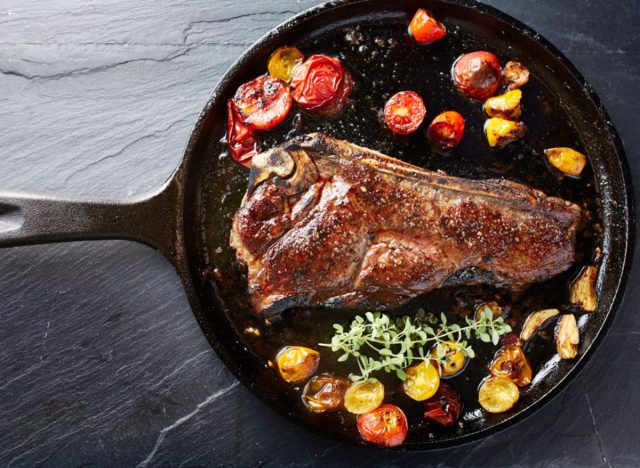 Porter House NY's Executive Chef and Managing Partner Michael Lomonaco shares his recipe for the perfect New York Strip. He says an outdoor grill with hard coal or lump coal is best if you can swing it.
Get the recipe from Wine Spectator.
Swiss Steak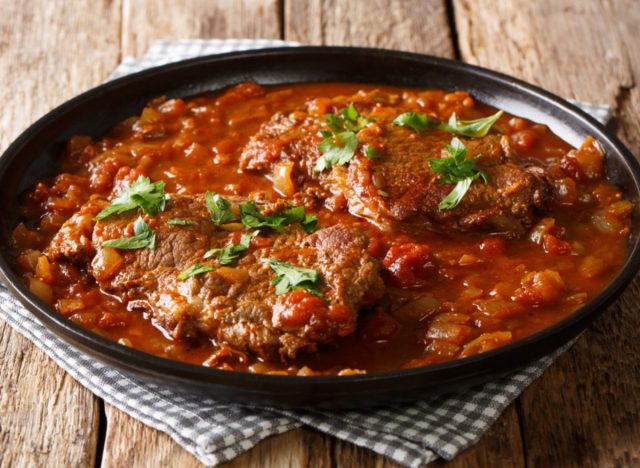 Swiss Steak is not Swiss. "Although many might think Swiss steak comes from Switzerland, in reality, the name comes from the 'swissing' technique for tenderizing meat," according to The Spruce Eats. "Tough cuts of meat go through a mechanical tenderizer, or a swissing machine, and come out the other end with cube-shaped indentations."
Get the recipe from The Spruce Eats.
Melissa Binig, recipe creator at My Homemade Roots, says Swiss Steak is the ultimate comfort food steak dish, and it makes her nostalgic for her childhood in Pennsylvania. Get her recipe on My Homemade Roots.
Old-Fashioned Stovetop Steak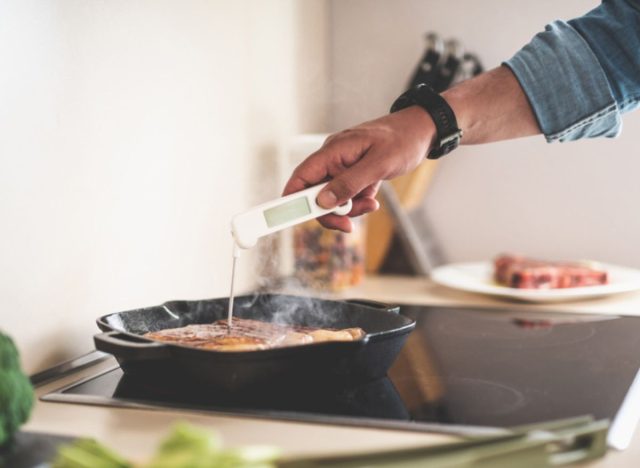 Chef K.C. Gulbro has worked in the dining industry for decades, and currently owns two restaurants in the Chicago area, FoxFire and Copper Fox. His passion for steak was recently recognized at the national level when he was named Ambassador for Certified Angus Beef.
Here's Chef Gulbro's recipe for classic Stovetop Steak:
Ingredients/what you'll need:
Steak of your choice (Certified Angus Beef Filet or Ribeye works best for this recipe)
Butter
Herbs–rosemary, thyme, garlic, and a shallot
Large spoon
Cast iron pan
White wine (optional)
Pre-roasted potatoes (optional)
Cook Time: 20 minutes
Preparation:
One of the best ways to cook a steak is on your stovetop– cooks have been doing this for generations, says Chef.
Get a flame going under your cast iron pan (or stainless steel, if that's what you have). Allow the pan to get really hot.
Throw in however much butter your heart desires. When it starts to bubble, add the steak.
Add in some rosemary, thyme, garlic, and shallots; let them get tender as the steak cooks.
Use a large spoon to scoop the butter and herb mixture onto the steak. Coat the steak evenly and often for about five minutes.
Flip the steak. As the steak makes contact with the pan, you will get a beautiful sear. Chef Tip: Don't turn the steak much, maybe twice, but be sure to baste it often.
Finish the steak in the oven at 450 degrees for 10 to 12 minutes, basting every so often, to your desired internal temperature. Chef Tip: Baste both sides while in the oven.
When the steak is done, take it out of the pan and let it rest for five to 10 minutes (depending on the steak's thickness).
Add some white wine and room temperature butter to deglaze it, then toss in pre-roasted potatoes to soak up the sauce for a tasty side.
Ribeye Steaks
Ribeye steaks need no introduction. Here's a recipe for this old-school favorite from Chef Alex Reitz of Beef. It's What's For Dinner. We know what we'll be cooking up this weekend.