The One Safety Rule Most Restaurants Keep Breaking
Not for a lack of trying, restaurants are having a hard time enforcing this mask rule.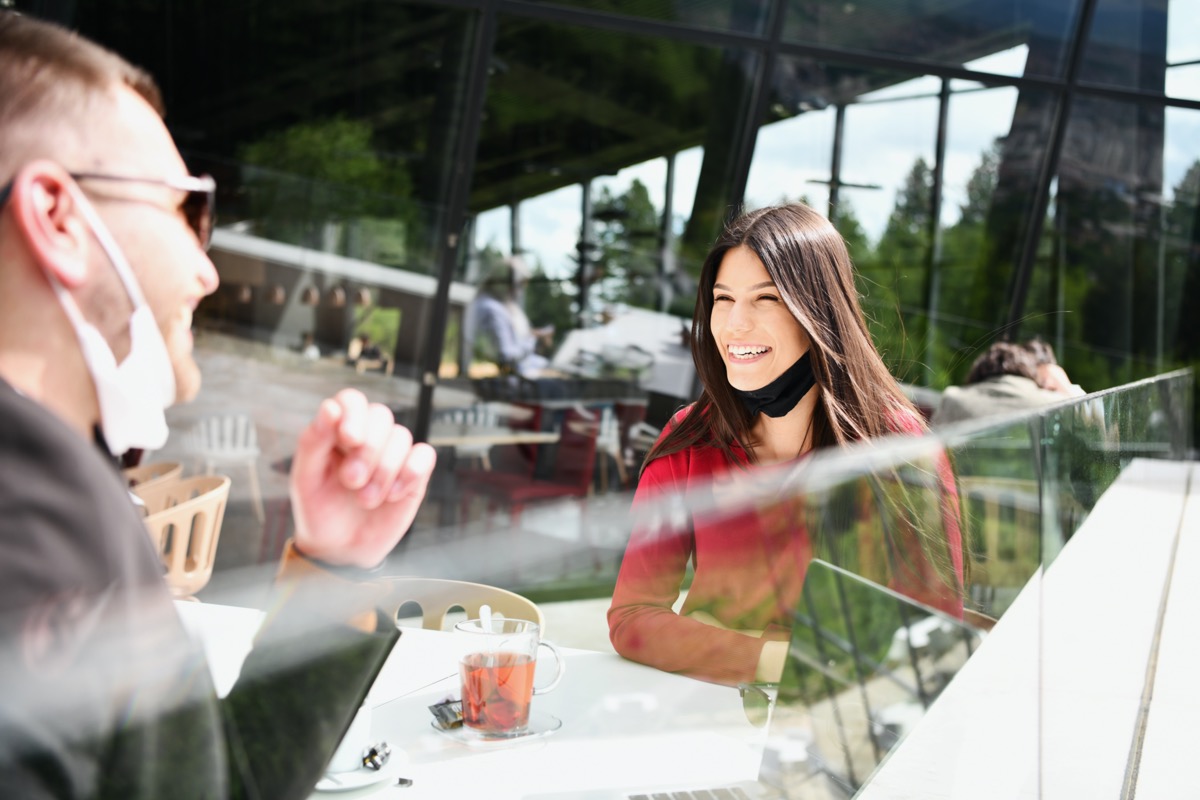 Although some strongly believe the opposite, face masks are providing a certain amount of freedom during this pandemic. We are now slowly able to return to restaurants in some parts of the country, we're shopping at grocery stores more comfortably, and we're generally able to move around without fearing complete exposure to the invisible enemy that is the virus.
However, best practices of mask wearing don't necessarily jive with all social situations. And most of the time, restaurants are the settings of rule-breaking behavior. But can restaurants really be held responsible for policing their customers at all times?
The restaurant mask rule that is rarely followed to a T
While guidelines may vary between states and agencies, most will advise you to keep your mask on at all times when not enjoying food and drinks. Now, how quickly you're placing the mask back on after taking a sip of your drink or a bite of your food is something left to your own discretion at most restaurants, who are balancing rule-enforcement with catering to their dwindling customer base.
But what exactly does it mean to keep your mask on at all times?
San Francisco's city-wide campaign #SHOWUSYOURMASKSF, launched by Golden Gate Restaurant Association, outlines several best practices. It urges restaurant patrons to keep masks on while waiting to be seated, reviewing the menu and ordering, socializing at the table before and after meals, as well as any time a server or busser approaches their table. A tall order indeed!
As SF Gate reports, these rules are proving difficult to follow, and even more difficult to enforce by the restaurants themselves. "There's not enough money to have five extra staff just lifeguarding everybody to have a mask on between every bite," restauranteur Ben Bleiman told the publication. "We're not kindergarten teachers. We're really good at making people follow the rules, but asking somebody to do something seven times is really hard when it doesn't rise to an egregious error."6254a4d1642c605c54bf1cab17d50f1e
Maximizing mask time at restaurants is the personal responsibility of each guest, and health agencies across the nation are echoing this. Dr. Ngozi Ezike, the director at the Illinois Department of Public Health recently urged diners to put their masks back on as servers approach their table. "The waitstaff all has to wear face coverings. When waitstaff come to your table, put your face covering on as well. They are wearing their face covering to protect the patrons and patrons we should do the same and give them the same courtesy. Let's do what's right and protect ourselves and protect others," he said.
Some states have taken matters into their own hands and issued state-wide mask-wearing executive orders for restaurant patrons. South Carolina is one such state, where governor Henry McMaster outlined masks are mandatory inside restaurants at all times, except when "actively engaged in eating or drinking or obtaining a service that requires access to or visibility of the face."
While highly inconvenient, remember that every extra minute you have your face covered at a restaurant is a minute you're minimizing your own exposure to coronavirus, as well as the exposure of those around you. Don't forget to sign up for our newsletter to get the latest restaurant news delivered straight to your inbox.
Mura Dominko
Mura is ETNT's Executive Editor, leading the coverage of America's favorite restaurant chains, grocery stores, and viral food moments.
Read more about Mura