15 Food Facts You Never Knew About Oprah
Discover Oprah's least favorite foods and the kitchen staples she always has stocked in her kitchen.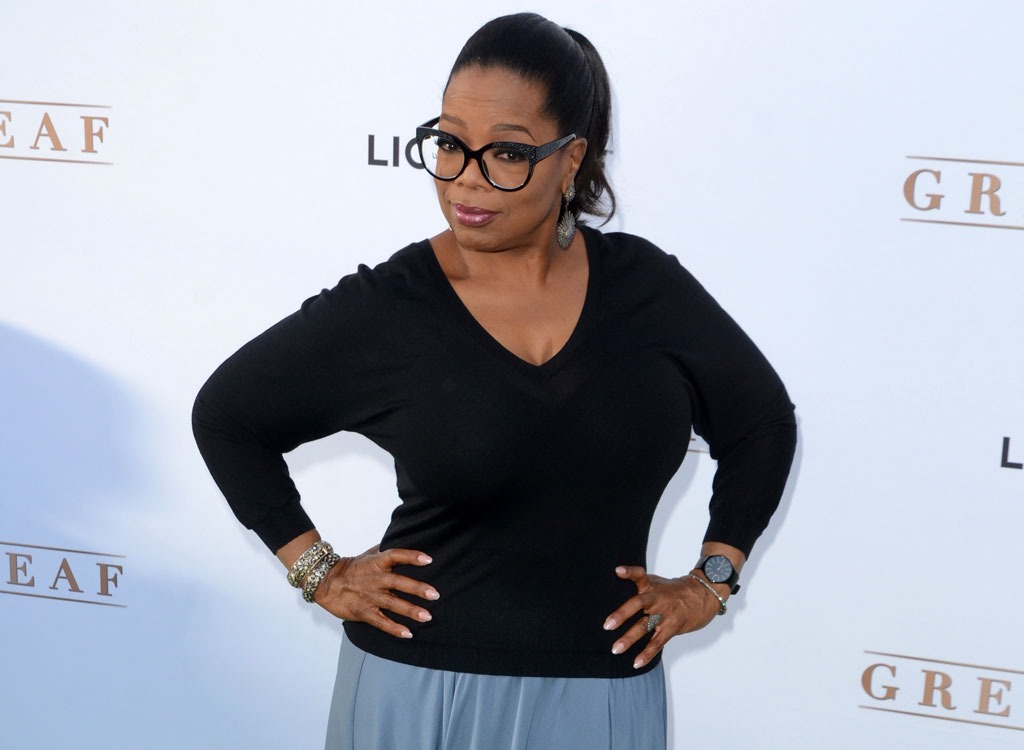 There's no denying that Oprah is one of the most relatable celebs in Hollywood. Sure, she hosted her own TV program for 25 seasons and is worth billions (yes, billions) of dollars, but unlike most other stars, she's struggled with her weight for the majority of her life. You know, like a real person.
Back in the 80's, Oprah lost a whopping 67 pounds on a liquid diet and then quickly regained 17 of those pounds the following year. This up and down pattern continued for decades as Oprah tried—and subsequently quit—just about every diet under the sun. Her struggles with her weight and her relationship to food wasn't a private one, either. Her weight loss ventures regularly came up on her television program and the issue remains a topic she publicly discusses to this day—especially since joining forces with Weight Watchers in late 2015. After purchasing a 10 percent stake in the company and joining the company's board of directors, the 62-year-old mogul went on to lose nearly 30 pounds on their Beyond The Scale program—and she looks amazing!
While an active lifestyle and exercise played a role in her slim down success (she loves hiking, spinning, skiing, and walking her dogs), Oprah's primary focus has been on maintaining her new, healthy eating habits—which left us wondering: What the heck is she eating!? To find out, we dug through a host of recent interviews and scanned her social media accounts to find out what she's been nibbling on. It was no surprise to learn that she's enjoying healthy things like veggies, but she also seems to be making room for some indulgences, too. Read on to learn more about Oprah's favorite fare (so you can stock up on some of her favorites) and don't miss these 40 Best and Worst Celebrity Weight Loss Tips to get even more intel on must-know celeb slim down secrets.
She Loves Turkey-Topped Avocado Toast
The entire nation is obsessed with avocado toast—and apparently Oprah is no exception. She reportedly builds her concoction on "crunchy 7-grain toast" and then tops it off with avocado, tomato, and turkey. "I bask in the fact that I can have every single thing I want in one meal," Winfrey says of her favorite breakfast. And it has an added perk, too: "I don't have to have bread anymore during the day because I have it in the morning, without fail. I just love it." For more toast-toppers that are sure to please, don't miss these 20 Avocado Toast Alternatives.
Her Favorite Treat is Popcorn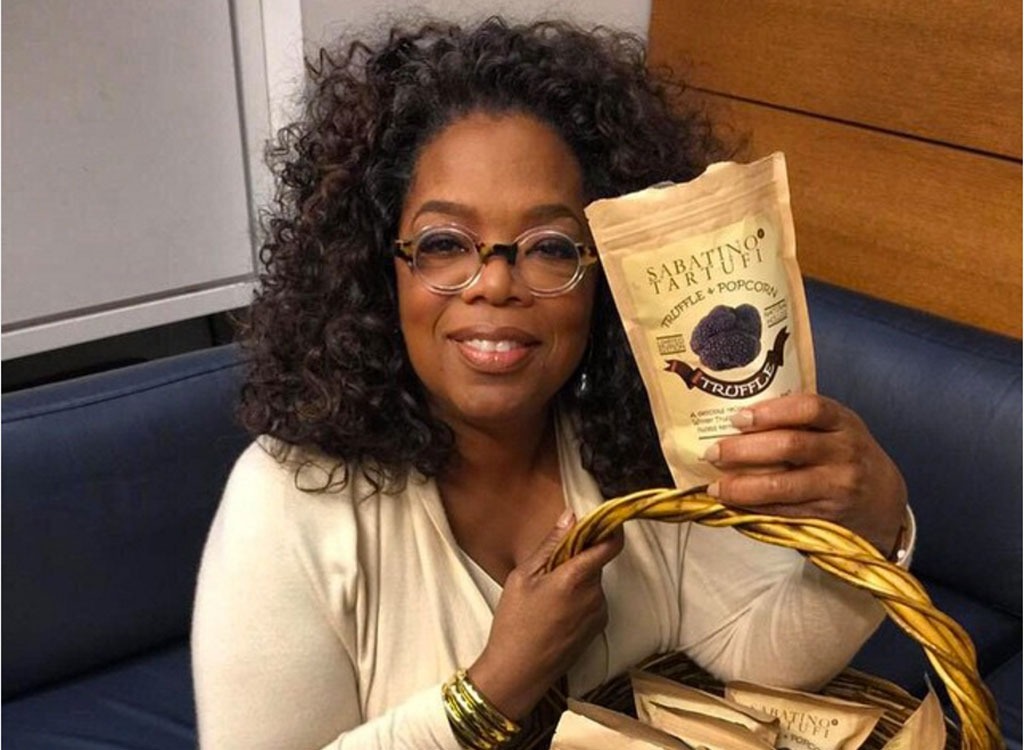 One of Oprah's favorite snacks is popcorn (a wholesome whole grain) sprinkled with truffle oil. If you can't get your hands on Oprah's go-to brand pictured above, air pop your own kernels and amp up the flavor with the help of these 20 Delicious Ways to Dress Up Your Popcorn.
Mashed Potatoes = Her Fave
Winfrey, who's admitted to being quite the mashed potato fan, has recently started mixing potatoes with cauliflower to ax some of the carbs and calories from her go-to recipe. To make a similar recipe at home, try out the recipe below:
2 medium potatoes, peeled and cubed
3 cups cauliflower florets
2 cloves garlic
1/3 cup 2% milk
3 Tbsp. grass-fed butter
Salt and pepper, to taste
2 Tbsp. finely chopped fresh parsley
STEP 1
Cover the cauliflower, potatoes, and garlic with water in a large saucepan. Bring to a boil over high heat.
STEP 2
After the water has come to a boil, reduce the heat and simmer uncovered for about 15 minutes, or until the vegetables are tender.
STEP 3
Drain the veggies and then return them to the saucepan. Mash and stir in remaining ingredients.
She's a French Toast Master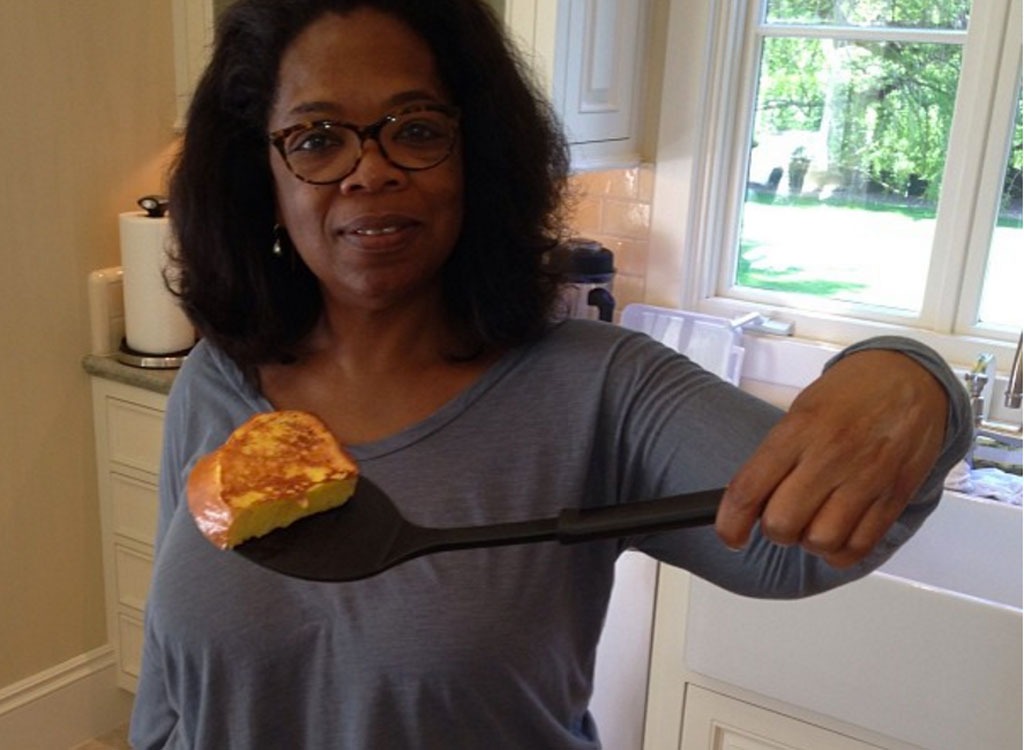 Anyone who's ever made french toast with Challah (Jewish braided bread) knows that it's far superior to the kind made with a regular ol' loaf. Though Oprah has likely shied away from making her famous challah french toast since becoming a Weight Watchers devotee, she used to love making the dish for weekend brunches. To lose weight like Winfrey—and get a similar taste for breakfast without breaking the calorie bank—consider making french toast inspired overnight oats instead. Here's how to make a batch:
1 cup rolled oats
½ banana, mashed
½ teaspoon cinnamon
½ teaspoon vanilla extract
½ tablespoon 100% pure maple syrup (read: no Aunt Jemima's or Mr. Buttersworth's)
1 teaspoon chia seeds
¾ cup water
Dash of cinnamon
STEP 1
In a medium-sized container or mason jar, mash the banana. Then, combine the rest of ingredients and let it soak for at least 2 hours or overnight. Enjoy cold or warm, with additional cinnamon or banana slices, to taste.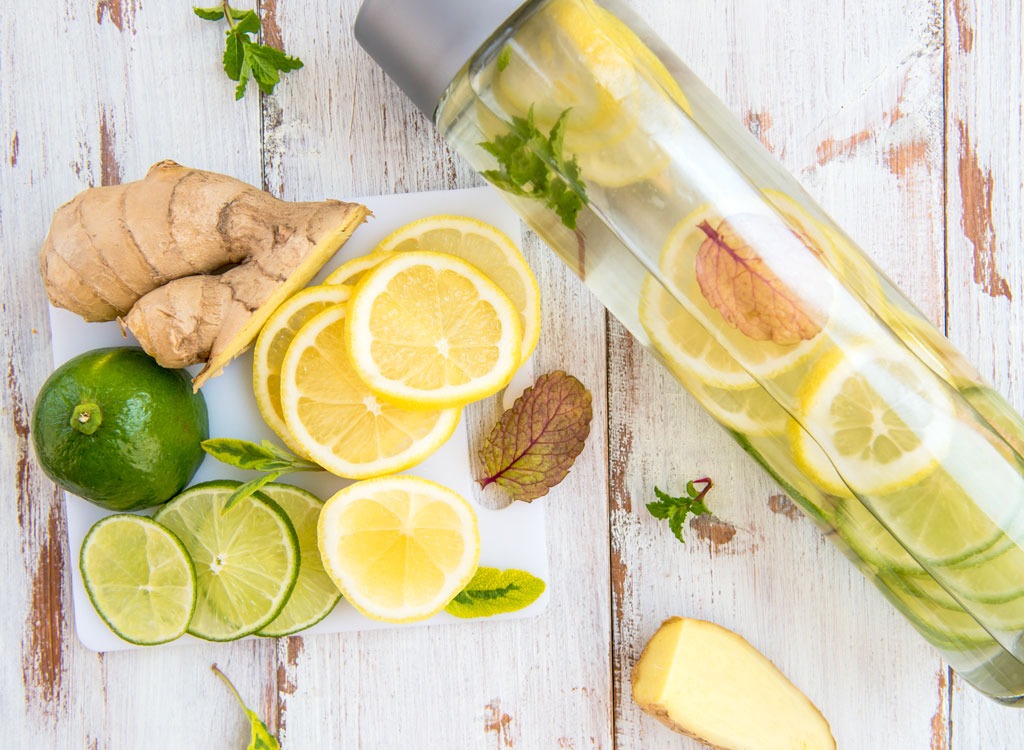 We all know that drinking water is a super important aspect of healthy living and weight loss, but many people, including Oprah, aren't fans of its bland flavor. "I don't like water," the media maven confesses, adding, "I trick myself into drinking ginger-vanilla infused water." To flavor your H20 à la Oprah, mix up some of these 50 Best Detox Waters for Fat Burning and Weight Loss.
She's Obsessed with Bread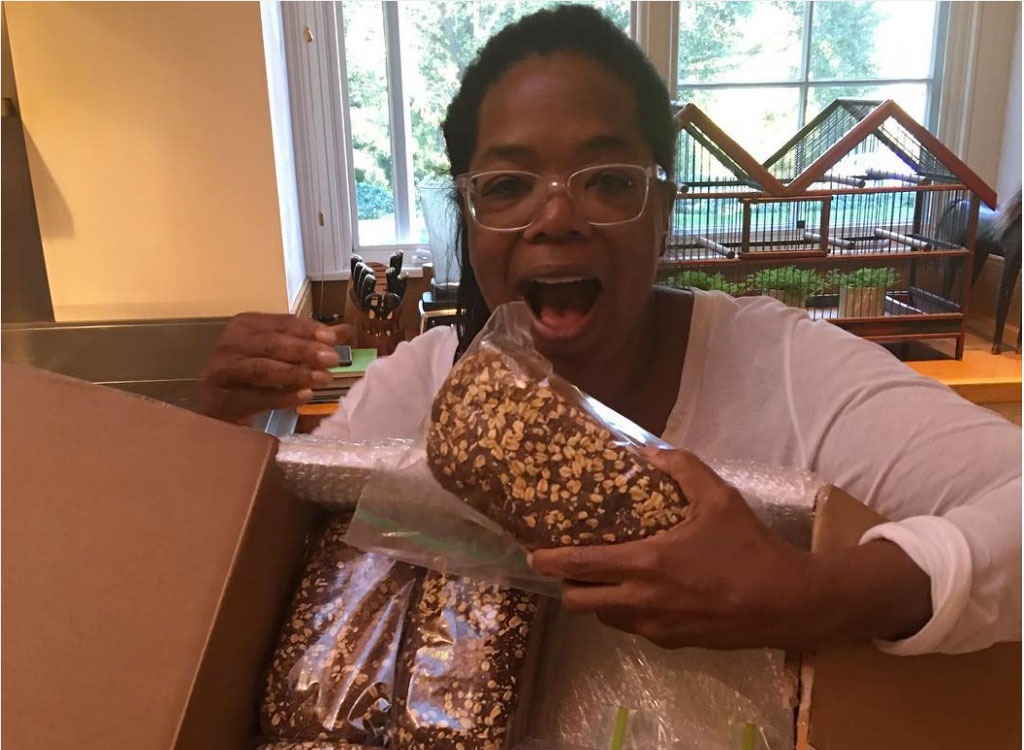 Soon after Oprah's involvement with Weight Watchers became public knowledge, new commercials for the company hit the airwaves. And they evoked quite the response! "I love bread. I love bread," Oprah proclaimed in the clip. "I now just manage it, so I don't deny myself bread, I have bread every day." Yes, that's right, she's eating bread, losing weight, and loving life. (The image above is actually Oprah posing with bread that she received as a birthday present from Daryl Roth.) And you can, too! The trick to having your skinny jeans and eating bread, too? Look for a loaf that has 1 gram of fiber for every 10 grams of carbs, advises Rebecca Lewis, RD. Don't feel like reading labels? Head to the freezer aisle and snag a sprouted grain loaf. "Sprouted grain bread goes through a process where enzymes are released and the protein and carbohydrates are broken down, which makes it easier for the body to digest and absorb nutrients," explains Lisa Hayim, MS, RD. Sprouted grain breads also tend to be free of weird additives and contain more fiber and protein than their conventional counterparts. For more ways to carb up and slim down, don't miss these 20 Secrets for Eating Bread Without Getting Fat!
Beecher's Mac 'N' Cheese is Her Go-To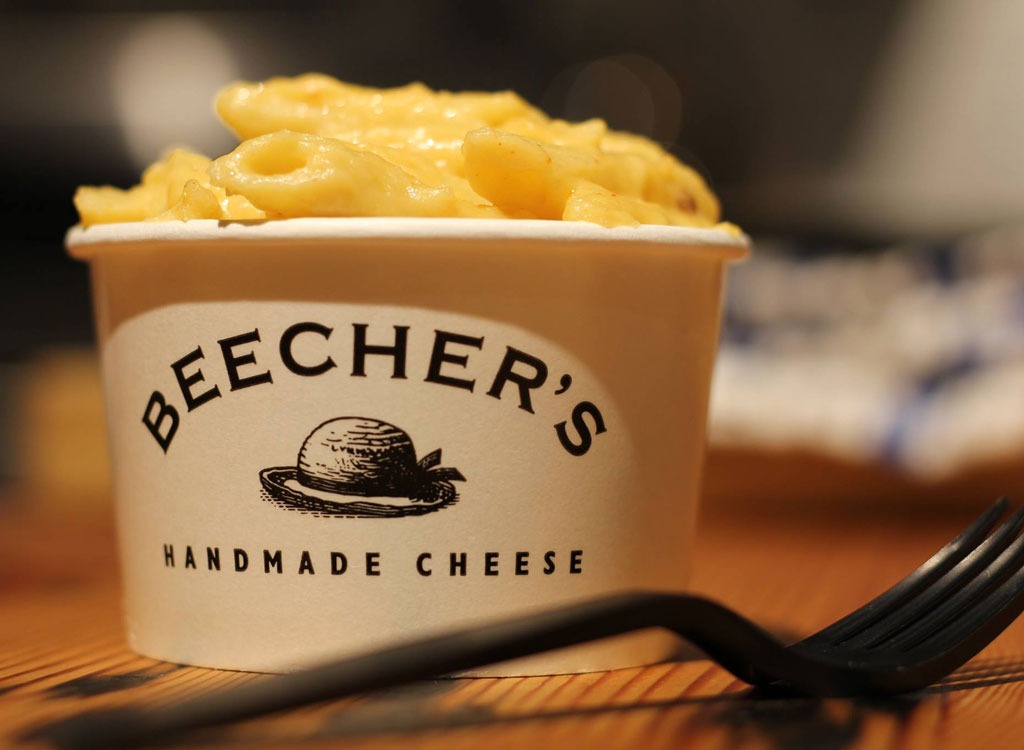 While Oprah isn't likely eating quite as much mac n' cheese as she used to, back in 2010 she declared that Beecher's cheese smothered noodles were her absolute favorite. If you ever find yourself in New York City or Seattle you can snag a steaming hot bowl of the stuff in one of their famed eateries. If not, don't sweat it. They ship frozen 6×9 platters across the country. Fair warning though: A mere cup, can contain up to 490 calories and 70 percent of the days fat so you may want to cut yourself off about a ¼ cup serving and fill the rest of your plate with more wholesome renditions of veggies and protein to offset the load of simple carbs.
She's a Spaghetti Squash Fan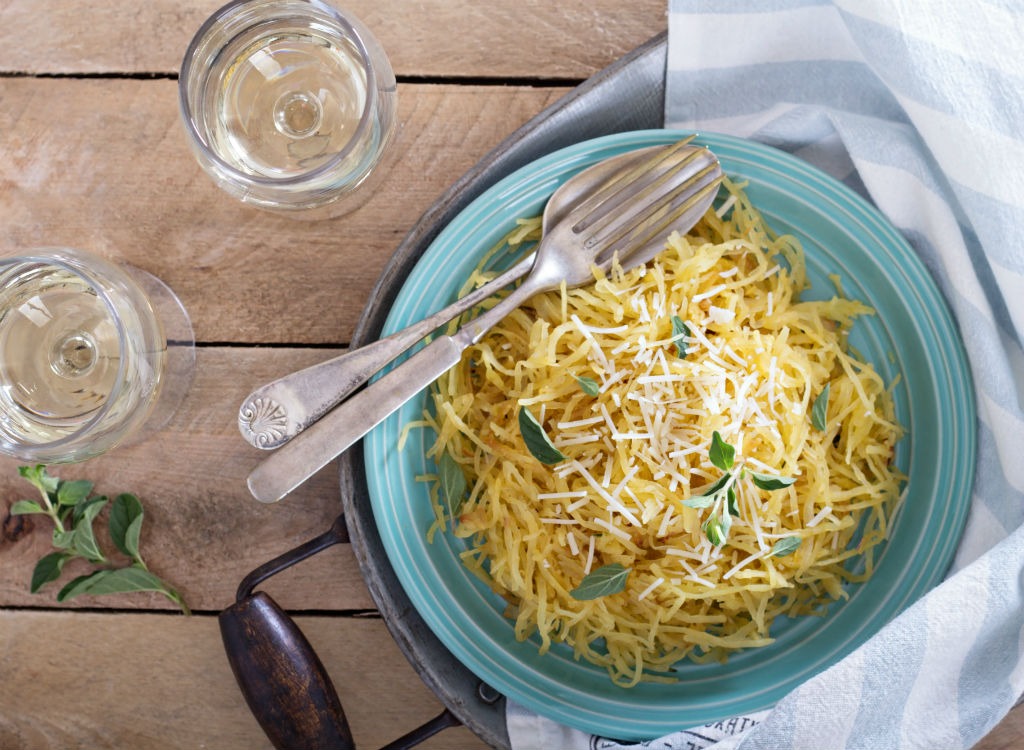 —but it's not because she particularly likes the taste. While she isn't willing to sideline carbs in her quest for a slimmer figure, she is willing to make some compromises by healthifying starchy grains like spaghetti. To add some nutrients and dial back on calories she mixes spaghetti squash—a yellow veggie that's filled with noodle-like strands—with 3/8 of a cup (which is two Weight Watchers points) of real noodles. If you wind up trying the same thing at home, be sure to flavor your meal with one of the better-for-you sauces from our special report, 40 Best and Worst Pasta Sauces—Ranked!
She Has a Vegetable Garden
All it takes is a quick glance at Winfrey's Instagram account to realize just how obsessed she is with her vegetable garden—and who could blame her!? Just look at that beautiful produce! She grows everything from kale, zucchini, and artichokes to fava beans, herbs, and vitamin C-rich strawberries. Yum!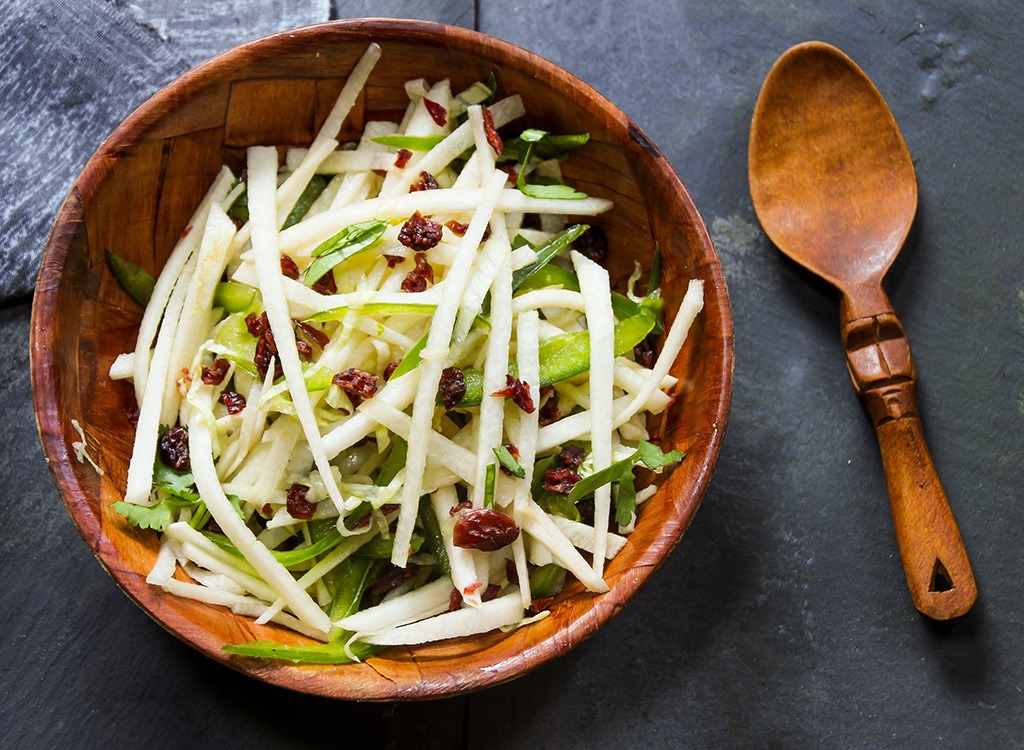 While she clearly has a love for all produce, one of Oprah's favorite veggies is the jicama (HE-kuh-muh). "I love jicama because you get a crunch," she recently said in an interview. The Central American root vegetable may look like a potato or turnip, but it's juicy and slightly sweet. One cup contains just 49 calories and is loaded with 6 grams of satiating fiber, so it's definitely a smart addition to her slim down diet plan. For even more foods that can help you shed the pounds for good, don't miss these 20 Best Full-Fat Foods for Weight Loss.
In 2014, with the help of Starbucks, Oprah, launched Teavana Oprah Chai tea, which features an infusion of cinnamon, ginger, cardamom and cloves. Winfrey, who's a self-proclaimed tea-lover, personally developed the tea along with the company. She's also said on record that she's a fan of unsweetened iced tea, but she's yet to stamp her name on a cold tea product.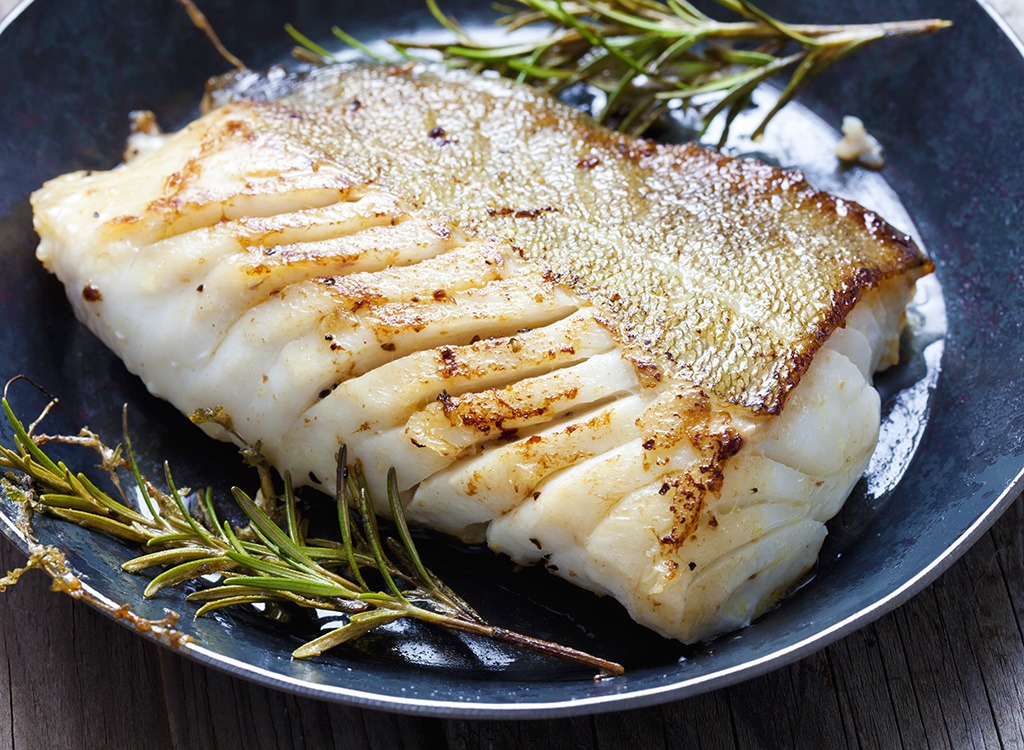 Early in 2016, Oprah participated in an hour-long private Q&A session with her fellow Weight Watchers members where she confessed her love for seafood. "Seafood is your friend!" she said, explaining that her go-to fish meals include cod, barramundi, and shrimp, a low-fat, low-calorie shellfish that can be enjoyed weekly, due to its low mercury content. For more must-know facts about all your favorite seafood, check out our special report, Every Popular Fish—Ranked for Nutritional Benefits!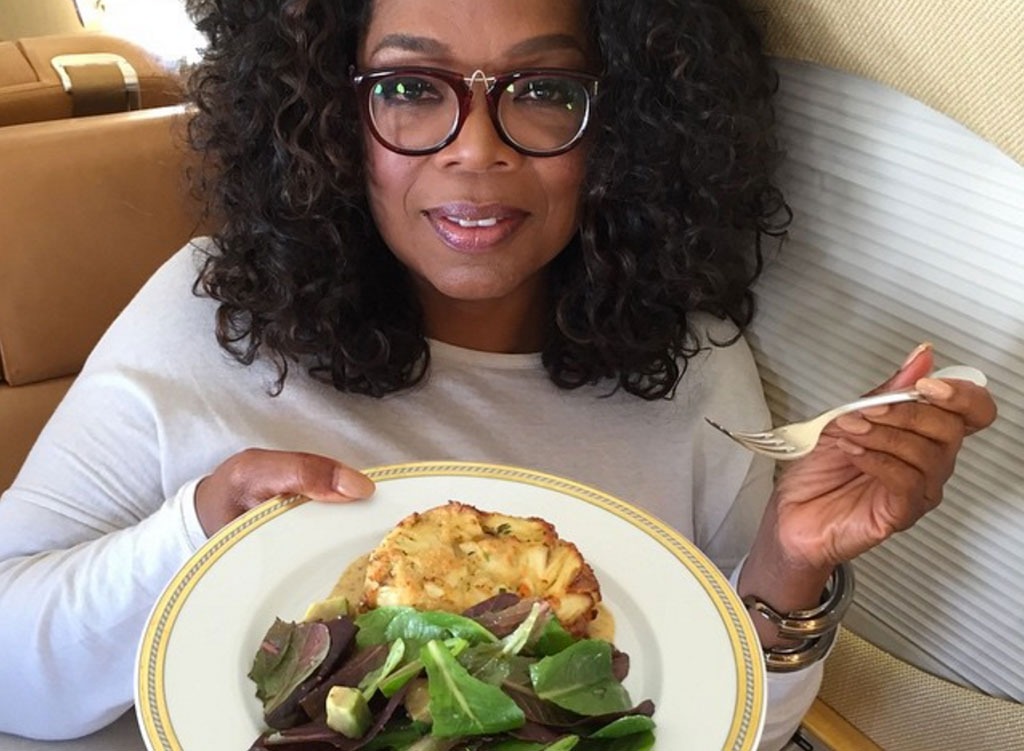 And speaking of delicious seafood, Oprah can't get enough of Pappas' Crab Cakes, which hail from Baltimore, Maryland. Their lump crab cakes can be shipped anywhere in the U.S from the restaurant so you can indulge Oprah-style no matter where you reside.
She "Pregames" With Microgreens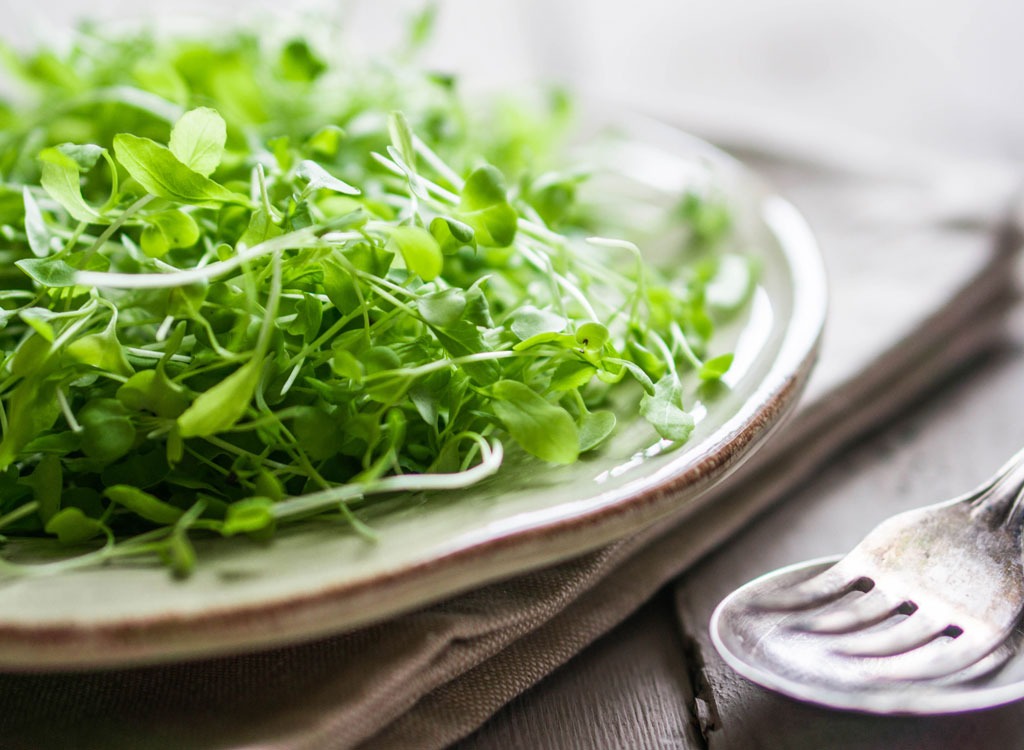 Before digging into her dinner, Oprah likes to pregame her meal with an olive oil dressed salad made from something called microgreens. Microgreens are the first shoots of plants like beet, collard, and mustard greens, and they pack higher concentrations of vitamins and phytochemicals than their mature counterparts. Not only is this habit a healthy one, it's one that's likely helped her lose weight. A University of Pennsylvania study found that volunteers who ate a large vegetable salad before their main dish ate fewer calories than those who didn't. Just make sure you keep it simple by foregoing creamy (read: caloric) dressings for simple oil and vinegar.6254a4d1642c605c54bf1cab17d50f1e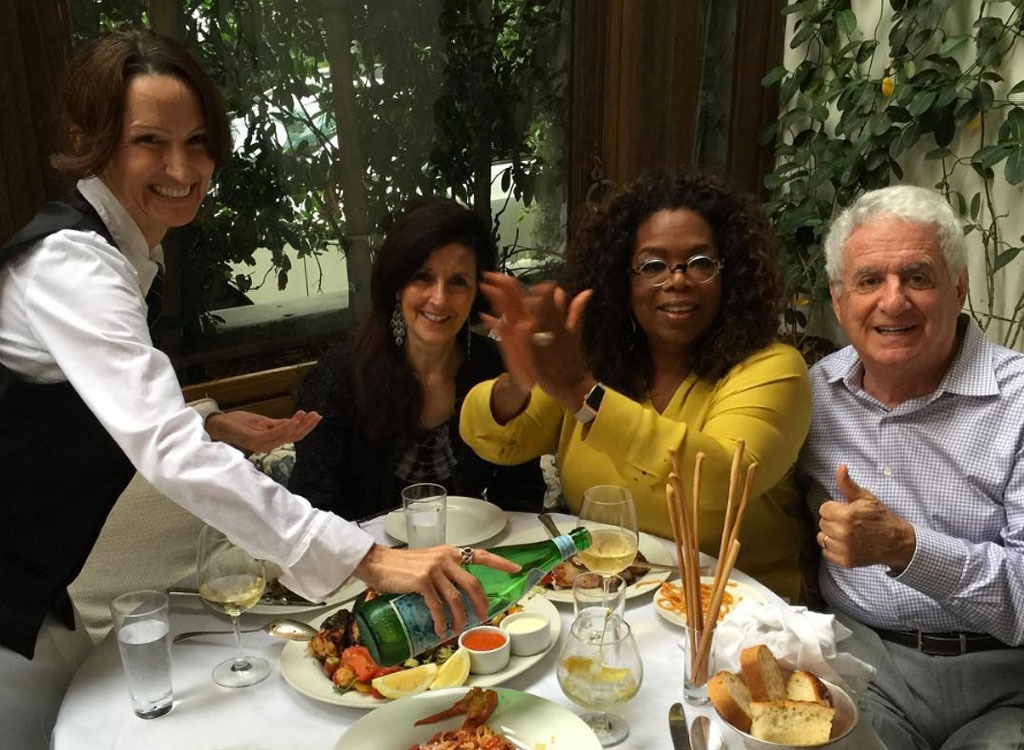 "O so delicious dinner @cecconiswh with my old pals Richard Sher and Annabelle. Waitress Lisa was outstanding. Loved the spicy chicken," Oprah captioned the Instagram snap copied above. While it may seem hard to believe, Winfrey's affinity for heat may be partly responsible for her slim down success. Purdue University researchers found that just 1 gram of red pepper (about 1/2 a teaspoon) was enough to help manage appetite and burn more calories after a meal. Scientists say the capsaicin found in spicy fare helps rev weight loss by altering key proteins found in fat. Who knew!?