Organic Doritos Could Be Coming to Whole Foods
All-natural and organic Doritos free from artificial dyes, ingredients, and preservatives? Yes, please!
It's not often you read "organic" and "Doritos" in the same sentence, but the popular junk food is getting a healthy makeover thanks to Frito-Lay's new line of snacks called "Simply." The Simply line includes cleaner versions of Frito-Lay snacks including all-natural Cheetos, Fritos, and Ruffles, and organic Doritos and Tostitos. Unlike their traditional counterparts, Simply snacks have no artificial flavors or colors and are made with organic ingredients.
Frito Lay, which is a division of PepsiCo Inc., is hoping this new snack lineup can help the company rebrand and find their way into natural food stores; namely, Whole Foods. The new Simply snacks meet all the requirements to be sold in Whole Foods says PepsiCo executive Jonathan McIntyre, according to Bloomberg. Expanding their food offerings is one of the 5 Reasons Why Amazon Buying Whole Foods Changes Everything.
After Amazon's acquisition of the upscale grocery store, analysts say it's likely Whole Foods will start carrying more products from Big Food companies, so long as they still fit their ingredient criteria. "The smaller brands just can't keep up with the spending and velocity required from Amazon anymore," Sanford C. Bernstein & Co. analyst Ali Dibadj told Bloomberg. "We expect Whole Foods to carry more—and more big brands too."6254a4d1642c605c54bf1cab17d50f1e
Whole Foods shoppers have already seen Amazon-influenced changes since the deal closed on Aug. 28. A bunch of grocery items went on sale, including organic bananas, organic brown eggs, organic avocados, and ground beef. Other perks of the acquisition include Amazon Prime members having access to special Whole Foods discounts and in-store benefits and the grocery store's private label, 365, being sold on Amazon.com.
Doritos: Traditional Vs. Organic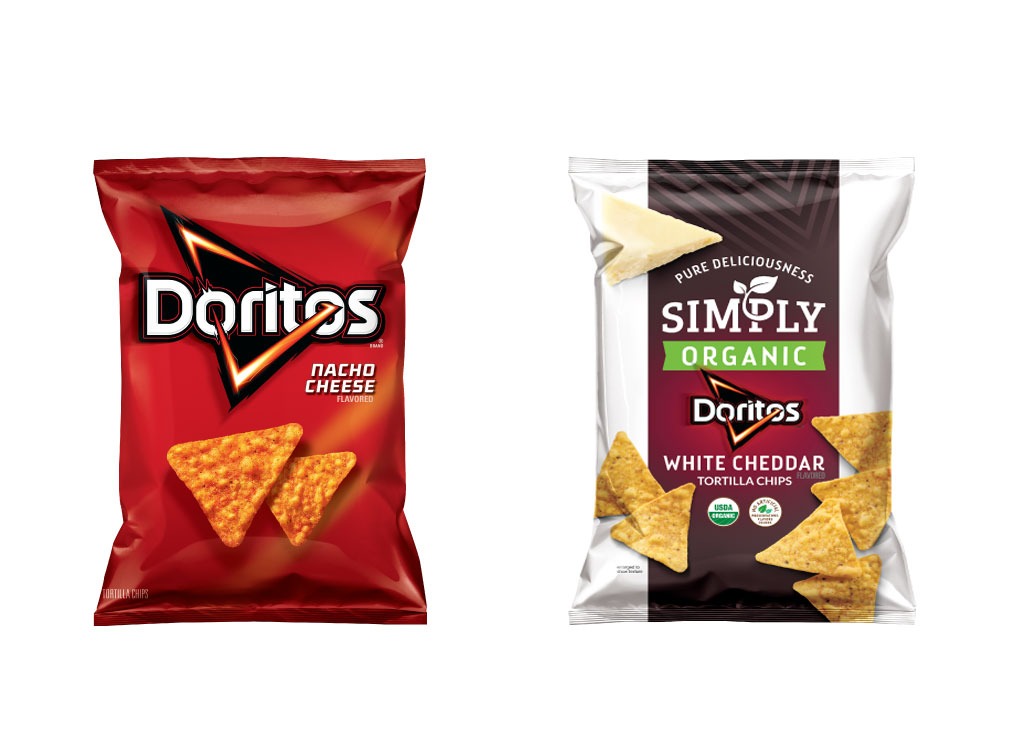 Regular Doritos
Corn, Vegetable Oil (Sunflower, Canola, and/or Corn Oil), Maltodextrin (Made from Corn), Salt, Cheddar Cheese (Milk, Cheese Cultures, Salt, Enzymes), Whey, Monosodium Glutamate, Buttermilk, Romano Cheese (Part-Skim Cow's Milk, Cheese Cultures, Salt, Enzymes), Whey Protein Concentrate, Onion Powder, Corn Flour, Natural and Artificial Flavor, Dextrose, Tomato Powder, Lactose, Spices, Artificial Color (Including Yellow 6, Yellow 5, and Red 40), Lactic Acid, Citric Acid, Sugar, Garlic Powder, Skim MIlk, Red and Green Bell Pepper Powder, Disodium Inosinate, and Disodium Guanylate
Simply Organic Doritos
Organic Corn, Organic Expeller-Pressed Sunflower Oil, Organic Cheddar Cheese (Milk, Cheese Cultures, Salt, Enzymes), Organic Maltodextrin (Made from Corn), Sea Salt, Organic Sweet Cream Buttermilk, Organic Tomato Powder, Natural Flavors, Organic Onion Powder, Organic Romano Cheese (Cow's Milk, Cheese Cultures, Salt, Enzymes), Organic Butter (Cream, Salt), Organic Skim Milk, Organic Spices, Citric Acid, Organic Garlic Powder, Organic Cream, and Lactic Acid
Aside from all the ingredients in the new Simply Doritos being organic, the new chips are missing quite a few sketchy additives from the original version. Traditional Doritos are made with MSG, an additive that's been linked to an increased appetite and weight gain.
The old Doritos are also made with artificial dyes, including Yellow 6, Yellow 5, and Red 40. These dyes have been linked to Attention Deficit Disorder (ADD) in children. The organic Doritos, on the other hand, are instead made with a blend of organic spices and lacking the bright orange hue of classic Doritos—after all, the flavor for the organic version is white cheddar instead of nacho cheese. And while it's listed further down in the ingredients panel, the traditional Doritos are also made with sugar, which is missing from the organic Doritos.
Comparing Nutritional Profiles
Regular Doritos
Per 1 oz (about 11 chips): 140 calories, 8 g fat (1 g saturated fat), 210 mg sodium, 16 g carbs (1 g fiber, 0 g sugar), 2 g protein
Simply Organic Doritos
Per 1 oz (about 11 chips): 150 calories, 8 g fat (1 g saturated), 170 mg sodium, 17 g carbs (1 g fiber, 0 g sugar), 2 g protein
The nutritional information is pretty similar for both types of Doritos, serving-for-serving. In fact, the organic chips have a little bit more calories and one more gram of carbs. But they do have less sodium, thanks to the omission of the MSG.
It's not just Doritos; the ingredients in the Simply snack line are cleaner than their classic counterparts, but the nutrition information is about the same across the board.
But if customers are looking to rid their diets of artificial dyes, ingredients, and preservatives, then Frito Lay's Simply line could be a good option. No word if Whole Foods will actually start carrying the line any time soon—Amazon and Whole Foods have yet to comment on the idea—but the new ingredients panel is a good start in the right direction.