The Worst Pizzas to Order from Domino's and Papa John's Right Now
As these chains report record sales, here's what to skip on their menu.
Despite major losses to restaurant businesses during the coronavirus pandemic, some companies have reported an increase in sales during the last few months.
Chains that already relied heavily on delivery and pickup were well-positioned to switch over to this business model exclusively during months of lockdown. This is partially why pizza giants Domino's and Papa John's both reported record-breaking sales in April and May, despite some companies reporting losses in the casual dining food space.
Domino's reported an increase in this quarter's same-store sales by 14 percent through May 17, which includes a 21 percent increase since April 20. Similarly, Papa John's reported a 27 percent increase in same-store sales in April, topping this with a record breaking increase of 33 percent in May.
These numbers prove that many of us are turning to pizza delivery as a life-saving dinner shortcut during the pandemic. Cooking fatigue may be setting in and limited restaurant options further push pizza forward as a safe and reliable takeout option. But while your consumption of pizza may be increasing, keep in mind that not all pizza is created equal. Here are unhealthiest pizza choices from Domino's and Papa John's—keep them in mind as you reach for the menu. Sign up for our newsletter to get the latest food and restaurant news delivered straight to your inbox.
Worst Pizzas at Domino's
ExtravaganZZa; Medium Pie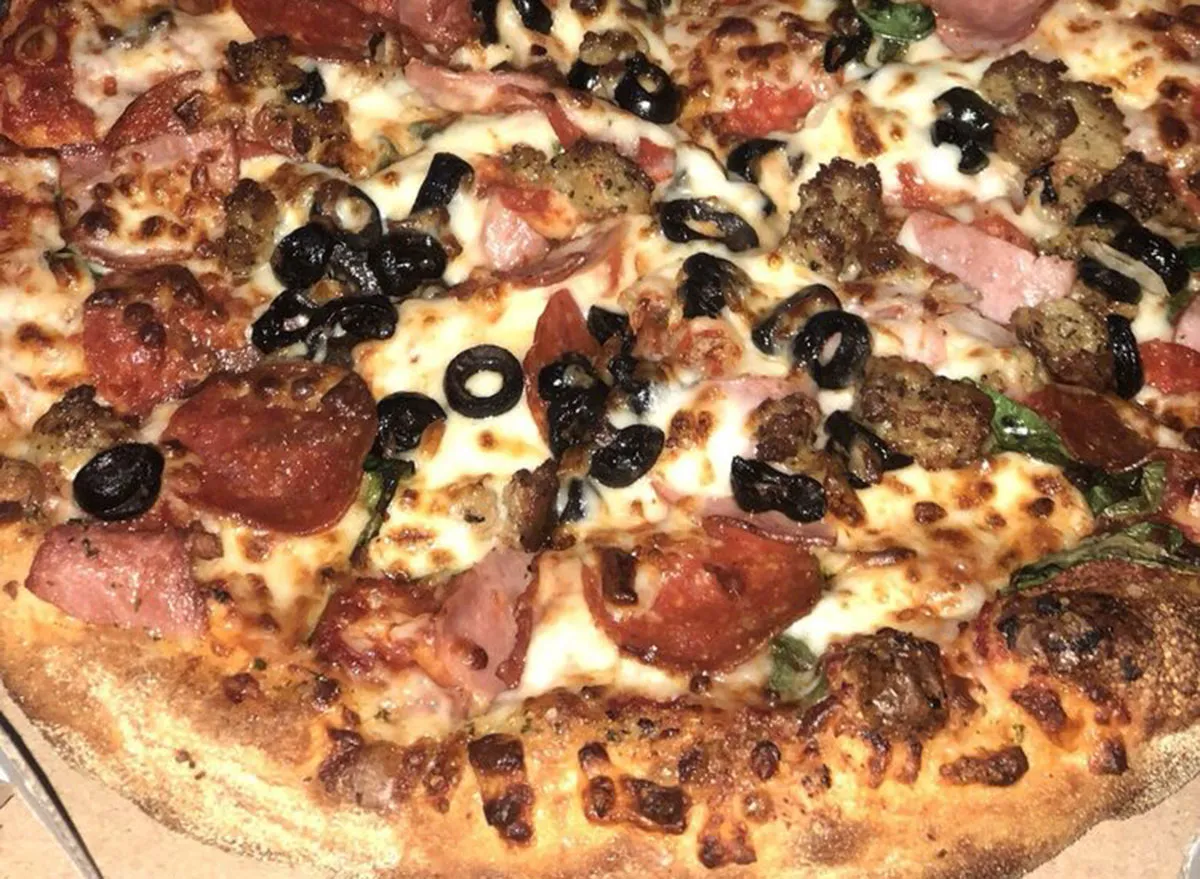 PER SLICE: 280 calories, 13 g fat (5 g saturated fat), 710 mg sodium, 28 g carbs (2g fiber, 2 g sugar), 9 g protein
The toppings on this pizza include green peppers, black olives, and meats like pepperoni, ham, and Italian sausage. However, this one may be worth skipping if you're looking to avoid high fat and sodium content. Looking for a healthy frozen pizza option to pick up on your next grocery run? Here are some best options.
Cali Chicken Bacon Ranch; Medium Pie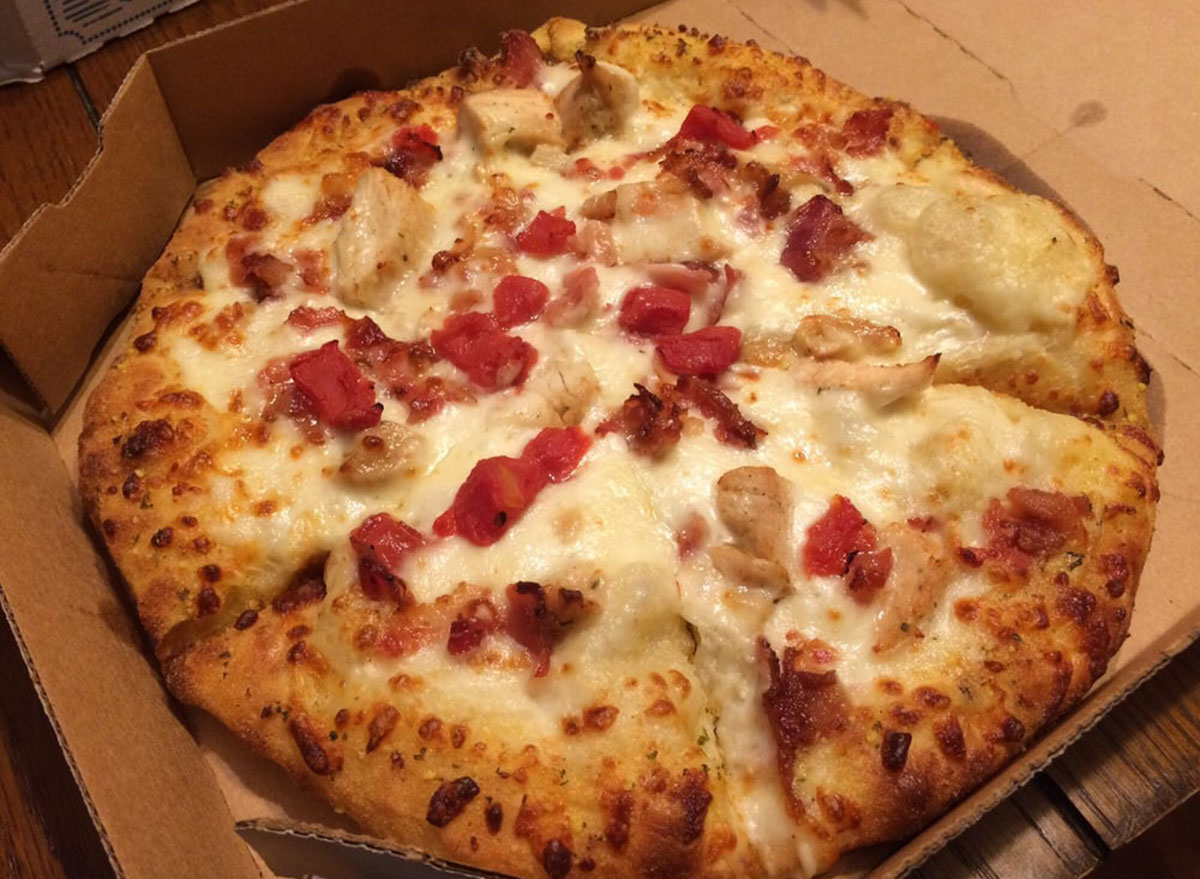 PER SLICE: 300 calories, 15 g fat (5 g saturated fat), 660 mg sodium, 26 g carbs (1 g fiber, 2 g sugar), 13 g protein6254a4d1642c605c54bf1cab17d50f1e
Bacon lovers may be all in on this pick, which features grilled chicken breast, provolone cheese, and smoked bacon. But aside from rewarding your taste buds with rich flavor, this pie doesn't do much for you nutritionally.
Ultimate Pepperoni; Medium Pie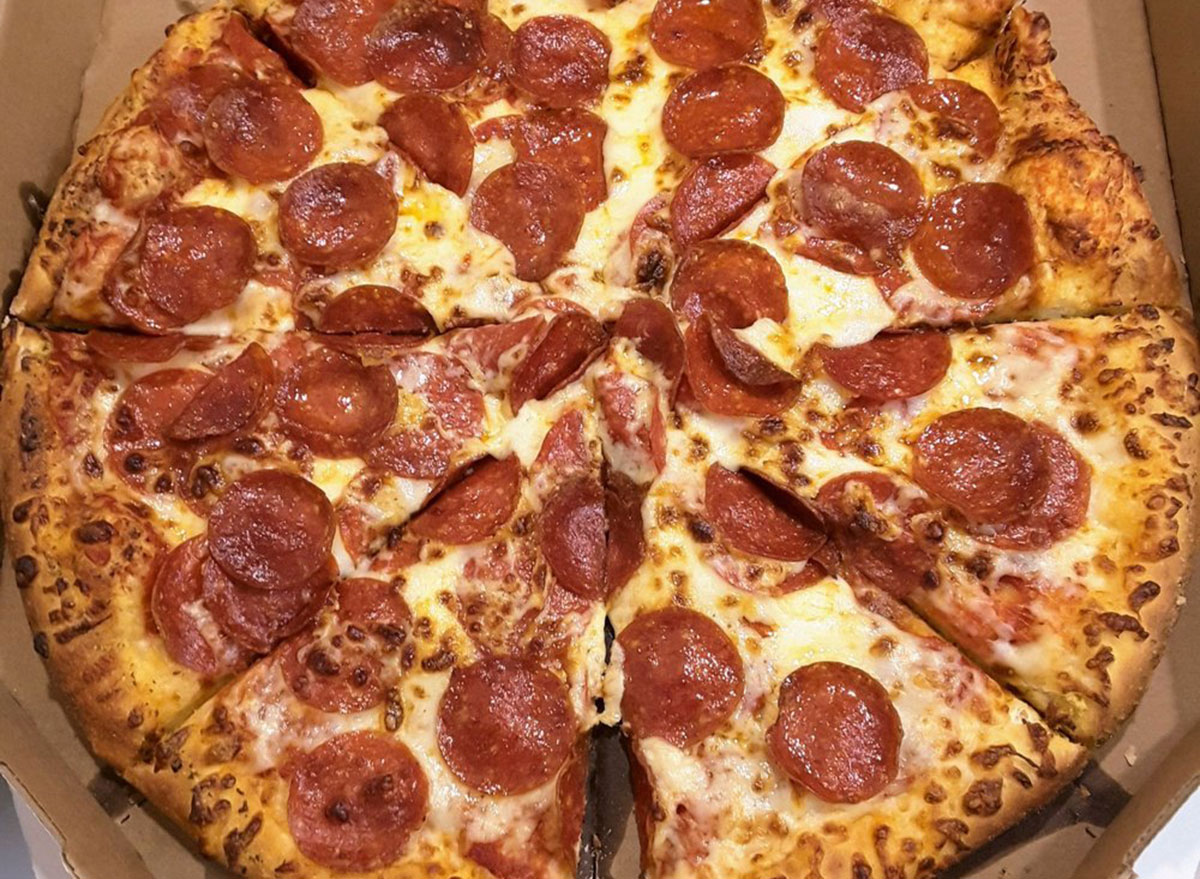 PER SLICE: 270 calories, 13 g fat (6 g saturated fat), 660 mg sodium, 26 g carbs (1 g fiber, 2 g sugar), 12 g protein
This filling pie features two layers of pepperoni sandwiched between a blend of parmesan, asiago, and mozzarella cheeses. But with so many layers of delicious toppings, you're also getting a high amount of fat, sodium, and carbs.
Worst Pizzas at Papa John's
PER SLICE: 270 calories, 13 g fat (5 g saturated fat), 660 mg sodium, 27 g carbs (1 g fiber, 3 g sugar), 10 g protein
This meat-lovers pizza features pepperoni and a double portion of spicy Italian sausage. It also pack the fat equivalent of about four slices of thick bacon, and is pretty high in sodium.
Pepperoni, Sausage & Six Cheese Pizza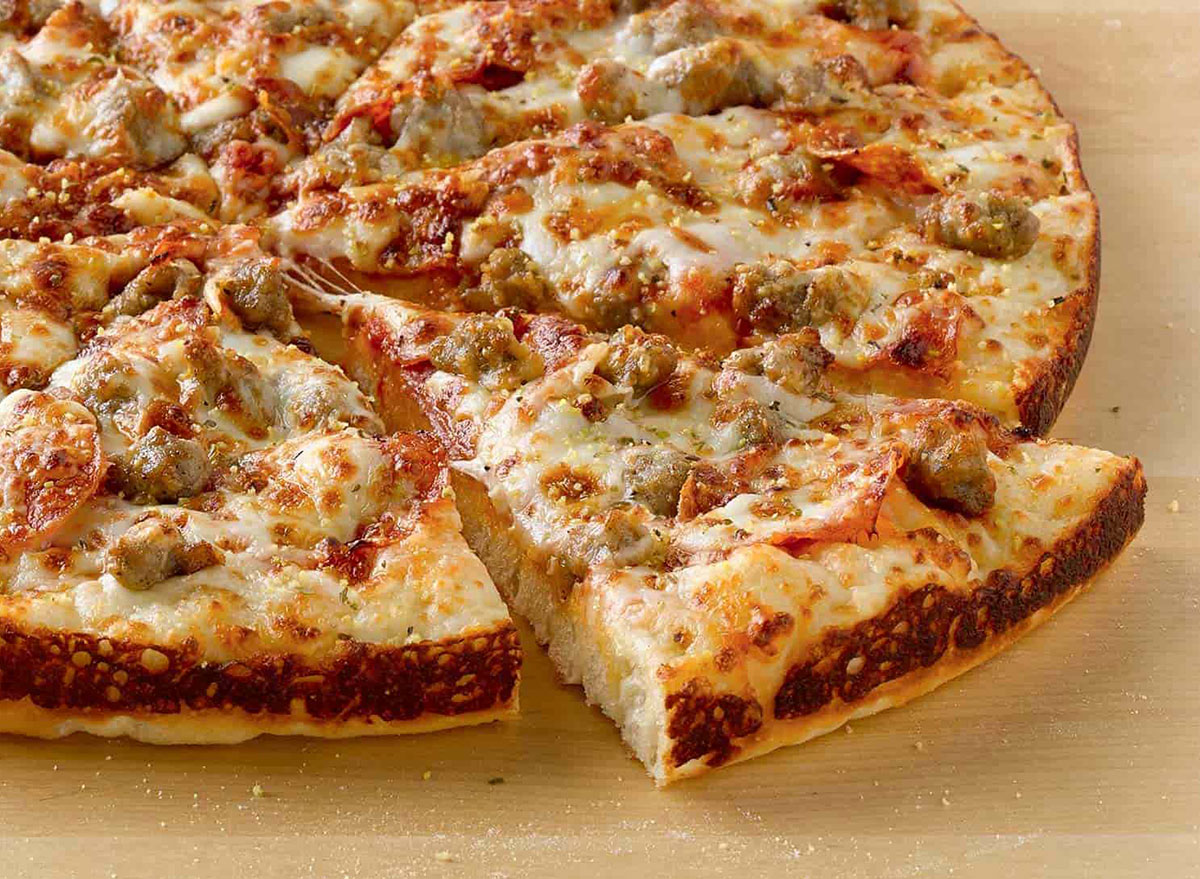 PER SLICE: 280 calories, 14 g fat (6 g saturated fat), 650 mg sodium, 25 g carbs (1 g fiber, 2 g sugar), 11 g protein
This pie is layered with pepperoni, sausage, parmesan, Romano, asiago, fontina, provolone, and mozzarella, and loaded with sodium and saturated fat. If you're looking for a lighter option that still packs enough protein, go for the Garden Fresh Pizza and add some grilled chicken—you'll cut 100 calories and still get 7 grams of protein.
Mura Dominko
Mura is ETNT's Executive Editor, leading the coverage of America's favorite restaurant chains, grocery stores, and viral food moments.
Read more about Mura