Panera Secret Menu Items You've Got to Try
Panera, home to an ever-growing stock of soups, salads & sandwiches, benefits from a few unique options.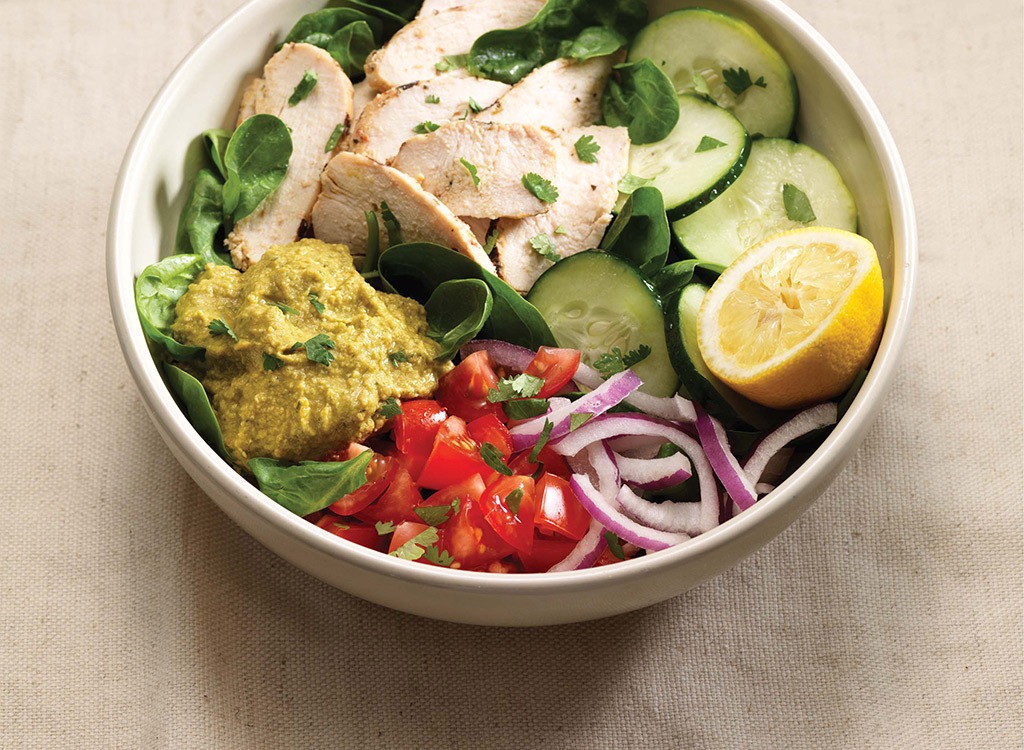 Any health-conscious customers of the chain who have taken a close look at the nutrition information know that if they want to lose weight, their options are a bit limited. To help you stay out of a repeat-order rut, we're sharing some secret healthy menu options that will keep you on track at the fast-casual restaurant—whether you're there for breakfast, lunch, or dinner. If some of the items look familiar, that's because Panera officially released a secret menu a while back. It has since been removed from the web, but you can still order the items at a fair number of Panera locations. Next time you're there, try one of the suggested orders below.
Power Breakfast Egg Bowl with Steak
230 calories, 15 g fat, 4.5 g saturated fat, 310 mg sodium, 5 g carbs, 3 g fiber, 2 g sugar, 20 g protein
To make this dish, Panera combines two sunny side up eggs, a few ounces of seared top sirloin and slices of tomato and avocado—a fruit that has been shown to quell hunger pangs and fry stubborn belly fat. This light meal resembles something that could easily be made in your own kitchen—generally a good indication that it's easy on your health. Those on low-carb or Paleo diets will definitely want to give this savory a.m. treat a try.6254a4d1642c605c54bf1cab17d50f1e
Looking for more low-carb additions to your diet? Pick up a few of these ETNT-approved low-carb snacks for weight loss.
Power Breakfast Egg White Bowl with Roasted Turkey
190 calories, 7 g fat, 1 g saturated fat, 500 mg sodium, 7 g carbs, 2 g fiber, 1 g sugar, 25 g protein
This flavorful, protein-packed breakfast bowl is filled with antibiotic-free turkey, basil pesto, egg whites, roasted peppers and baby spinach, a noted muscle builder that's rich in folate, a nutrient that reduces the risk of heart disease and osteoporosis. It's also one of the 10 salad greens healthier than kale. To boost the fat-burning potential of this dish further, ask if whole eggs can be used instead of just the whites. Egg yolks contain nutrient called choline that suppresses the output of the hunger-boosting hormone leptin, which is responsible for between-meal munchies.
The Power Chicken Hummus Bowl
330 calories, 13 g fat, 2 g saturated fat, 590 mg sodium, 23 g carbs, 8 g fiber, 3 g sugar, 33 g protein
It's hard to go wrong with a combination of antibiotic-free chicken, hummus, baby spinach, cucumbers, tomatoes, red onions, fresh-squeezed lemon and chopped cilantro. Besides the Classic Salad with Chicken (which is part of the traditional menu), this is the safest protein-topped salad for your waistline.
Power Mediterranean Roasted Turkey Salad
320 calories, 21 g fat, 3 g saturated fat, 830 mg sodium, 12 g carbs, 4 g fiber, 2 g sugar, 22 g protein
Mediterranean-style food is known for being heart-healthy and low-cal, and this salad is no exception. Panera mixes antibiotic-free roasted turkey, romaine lettuce, baby spinach, tomatoes, red onions, kalamata olives, extra-virgin olive oil (one of the healthy fats that help you lose weight) and freshly squeezed lemon juice to create this tasty, vitamin-packed dish. If you're worried about your fat intake, go light on the olive oil. It will be given to you in a packet so you can drizzle it on yourself and customize your greens.
Power Steak Lettuce Wraps
280 calories, 16 g fat, 5 g saturated fat, 310 mg sodium, 7 g carbs, 1 g fiber, 3 g sugar, 28 g protein
Think of this as a steak sandwich without the bread—and the guilt. This order comes with lemon and pesto-topped top sirloin, sliced cucumbers, onions, tomatoes (one of the best cancer-fighting foods out there) and lettuce that is meant to be a "wrap."
Image: Courtesy of Panera