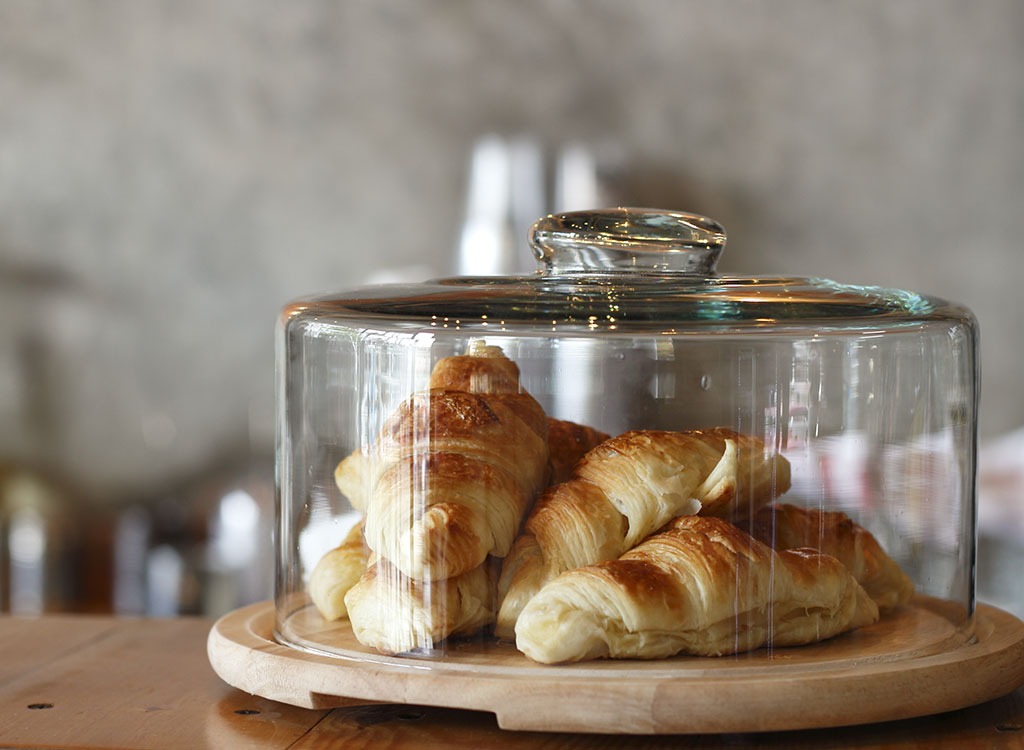 We've all been there—standing in line at the coffee shop, in need of a superhuman mid-afternoon boost, slowly realizing that coffee will not be enough, eyes wandering toward the pastry case. Good news: You don't have to look away.
If you make an informed choice, adding a pastry to your cup of joe can be a reasonable treat. (Specialty coffee drinks—loaded with syrups, sweet junk like whipped cream, calories and carbs—can ruin your weight loss much faster.) Here are the best low-sugar snacks at all the major chains.
Starbucks
Petite Vanilla Bean Scone
120 calories, 4.5 g fat, 2 g saturated, 95 g sodium, 18 g carbs, 8 g sugar, 0 g fiber, 2 g protein
The world's biggest coffee chain might have the most expansive offering of bakery treats, and you'll want to exercise appropriate caution. (The highest-cal item on the Starbucks menu is the innocent-seeming Old Fashioned Glazed Donut, with 480!) The best choice is this small scone, which is substantial enough for a quick pick-me-up.
Dunkin' Donuts
Blueberry Coffee Cake
190 calories, 6 g fat, 1.5 g saturated, 170 mg sodium, 31 g carbs, 17 g sugars, 1 g fiber, 3 g protein
Among Dunkin's famous fried rings, the Sugar Raised Donut is the lowest-cal option. But the best overall bakery item is the Blueberry Coffee Cake, with half the fat and 40 fewer calories than the Sugar Raised. Now avoid the Coolattas and syrups, and you've taken a guilt-free java break.
Tim Horton's
Sugar Loop Donut
180 calories, 6 g fat, 2.5 g saturated, 210 mg sodium, 28 g carbs, 8 g sugars, 1 g fiber, 4 g protein
At this donut shop, you'll naturally want to steer clear of the Cake and Filled varieties. But surprisingly, the Glazed and Plain donuts aren't the healthiest—the Sugar Loop donut takes that title, with about 20% fewer calories and half the fat. (If you're craving something flavored, the Maple and Chocolate Dips have only 10 more calories.)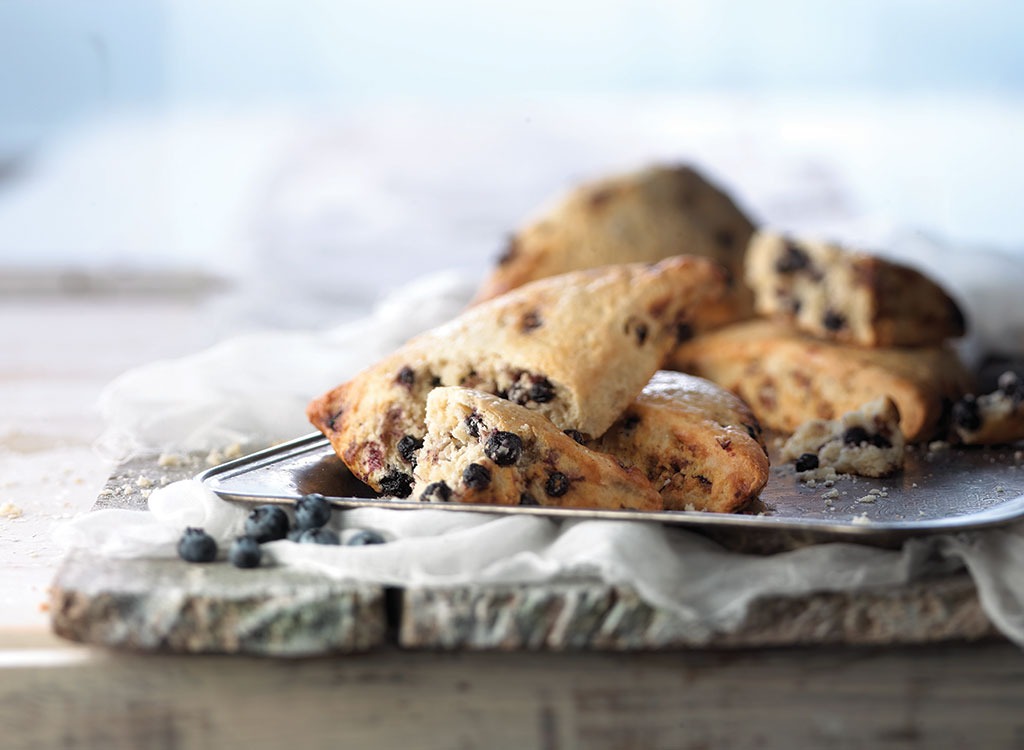 6254a4d1642c605c54bf1cab17d50f1e
Panera
Wild Blueberry Mini Scone
160 calories, 7 g fat, 4 g saturated, 300 mg sodium, 22 g carbs, 8 g sugars, 1 g fiber, 3 g protein
Panera's offerings on the treat tip include cookies, brownies and sweet rolls (avoid them—the pecan roll has 740 calories!), but here again the best option is a scone. But be sure you make it a mini—the regular-size Cinnamon Crunch Scone is 550 calories, or more than a Big Mac! And stick with just one, which keeps sugar counts to a remarkable low for baked goods.
Peet's
Blueberry Macaroon Cookie
140 calories, 10 g fat, 5 saturated, 80 mg sodium, 20 g carbs, 12 g sugars, 1 g fiber, 2 g protein
This coffee shop advertises "artisanal" treats made in small batches, and with this low calorie count, their Blueberry Macaroon is an atypical cookie indeed. It's a seasonal offering, so if it's not available in your area, opt for the Petite Chocolate or Lemon Currant Scones, which have 170 calories and 10 grams of fat.
Caribou Coffee
Banana Bread
280 calories, 12 g fat, 6 g saturated, 340 mg sodium, 38 g carbs, 8 g sugars, 2 g fiber, 4 g protein
While coffee cake and scones are the best choices at other coffee shops, that's not the case at Caribou, where the coffee cake runs 530 calories and the scones have 20% more calories than the Banana Bread, the option that also has the least amount of fat. (Even the Mini Donut muffin has 50% more!)
FOR HUNDREDS MORE WEIGHT-LOSS IDEAS, click here for our new book Eat This, Not That! 1,247 Awesome Slimming Swaps. Order now to get your FREE GIFT!
Michael Martin
Michael Martin is an experienced writer and editor in New York City. He specializes in helping people make life-improving decisions on their health, nutrition, finances, and lifestyle.
Read more about Michael