What 8 Diet Experts Eat at Panera
Navigate your way through the soups, salads, and sandwiches to find the best order for weight loss.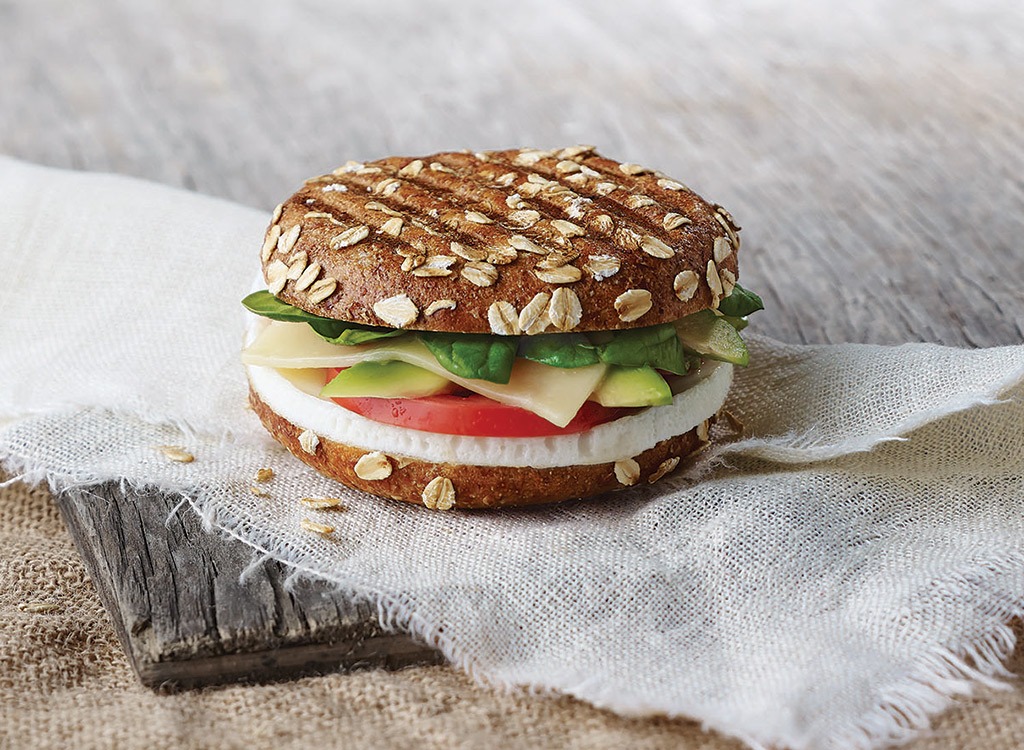 Though many of the Panera menu items are low in calories and packed with health-boosting nutrients, not all of their dishes are good for your health or your waistline. In fact, a number of their dishes carry up to half of the daily recommended amount of sodium and a day's worth of fat (Avocado Chicken Cobb with Ranch, we're looking at you!) That's not what you thought you were getting yourself into when you walked through their doors, was it? Didn't think so.
To help you steer clear of a dietary disaster, we asked a group of nutrition and weight loss experts what they order from the popular fast-casual chain. Their satisfying, RD-sanctioned picks can help you keep your calories in check while still enjoying the food you love. Next time you're there, pick up one of the suggested orders below.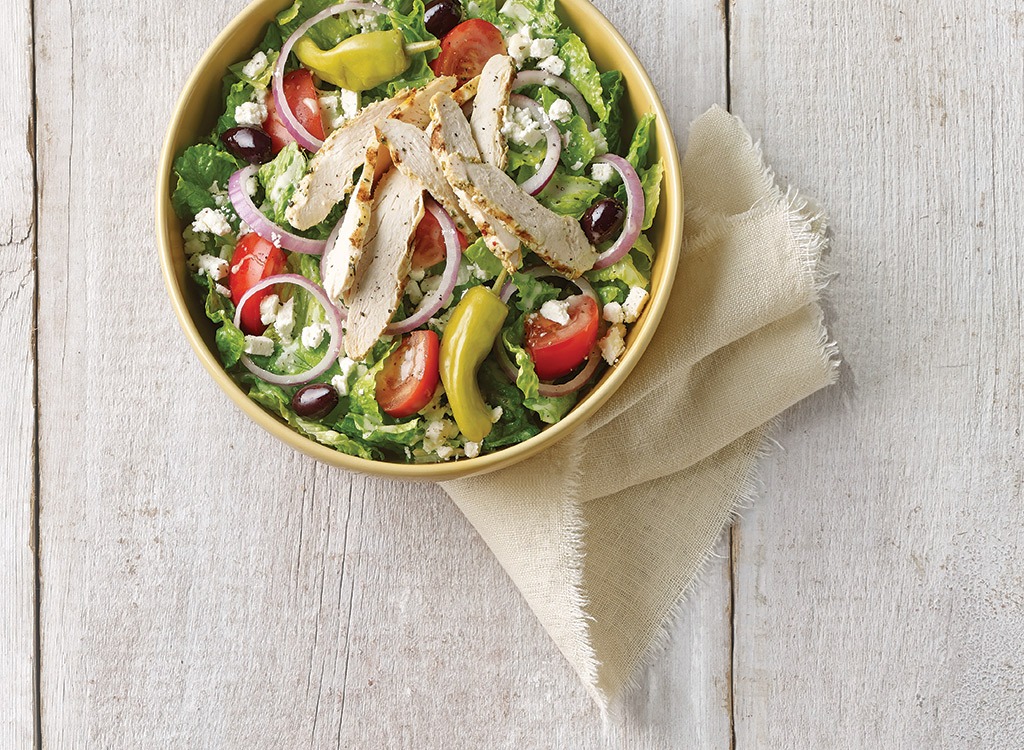 "The romaine lettuce in Panera's Greek Salad with Chicken contains vitamin C and beta carotene, two nutrients that work together to prevent the oxidation of cholesterol, making it a heart-healthy pick. The pepperoncinis add a spicy kick to help boost metabolism, and the feta contains calcium that helps build healthy bones. To keep the salad reasonably healthy, I ask for light dressing. I find that when people ask for dressing on the side, they're more likely to end up using more dressing themselves. – Dana Kofsky, nutrition consultant
"When it comes to mealtime, I am sucker for anything Mediterranean, so I would almost immediately go for the voluminous, heart-healthy Greek Salad with Chicken. It's chock-full of high-fiber veggies, serves up some anti-inflammatory olives and provides staying power thanks to the chicken's lean protein. With the dressing on the side, this 500 calorie salad goes down to about 300 calories, so I'd take a couple small spoonfuls of the high-calorie, oil-based dressing and leave the rest aside so I don't go over my 400-calorie meal limit." – Lisa Moskovitz, R.D., founder of The NY Nutrition Group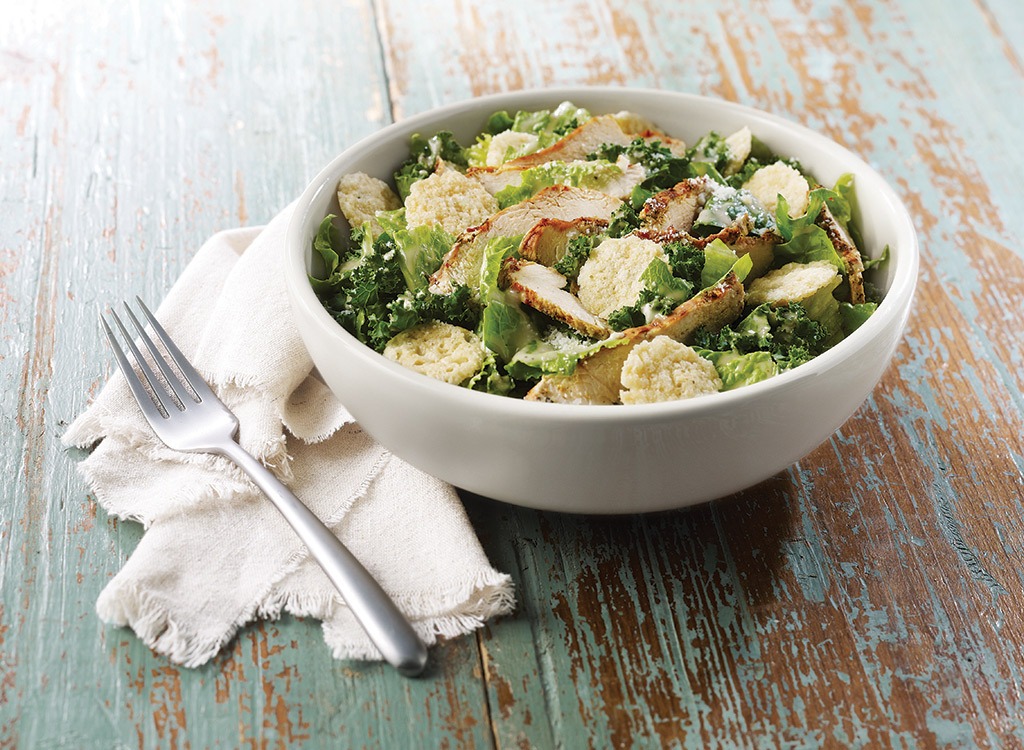 Low-Fat Lemon Chicken Orzo Soup + Power Kale Chicken Caesar Salad
"Regardless of whether I go to Panera for lunch or dinner, I usually order a cup of a broth-based soup. Two of my favorites are the Low-Fat Lemon Chicken Orzo and the Low-Fat Vegetarian Garden Vegetable Soup with Pesto. I typically pair the soup with a half-sized Power Kale Caesar Salad with Chicken. I request that they mix the salad with just half the dressing and then I add a squeeze of fresh lemon. Since the sodium can be a bit on the higher side at Panera, I typically only eat there on days that I've had a good sweaty workout!" – Christine M. Palumbo, MBA, RDN, FAND, a Chicago area registered dietitian and nutrition communications consultant
Tomato Mozzarella Flatbread with Chicken
"When I eat at Panera, I like to order the Tomato Mozzarella Flatbread. To boost the staying power of my meal, I typically ask them to add on some chicken or roasted turkey. The extra protein, along with the fresh fiber-rich veggies that are already on the flatbread, is filling without being high in calories. And the mozzarella provides some protein and calcium. – Elisa Zied, RDN, registered dietitian nutritionist and author of Younger Next Week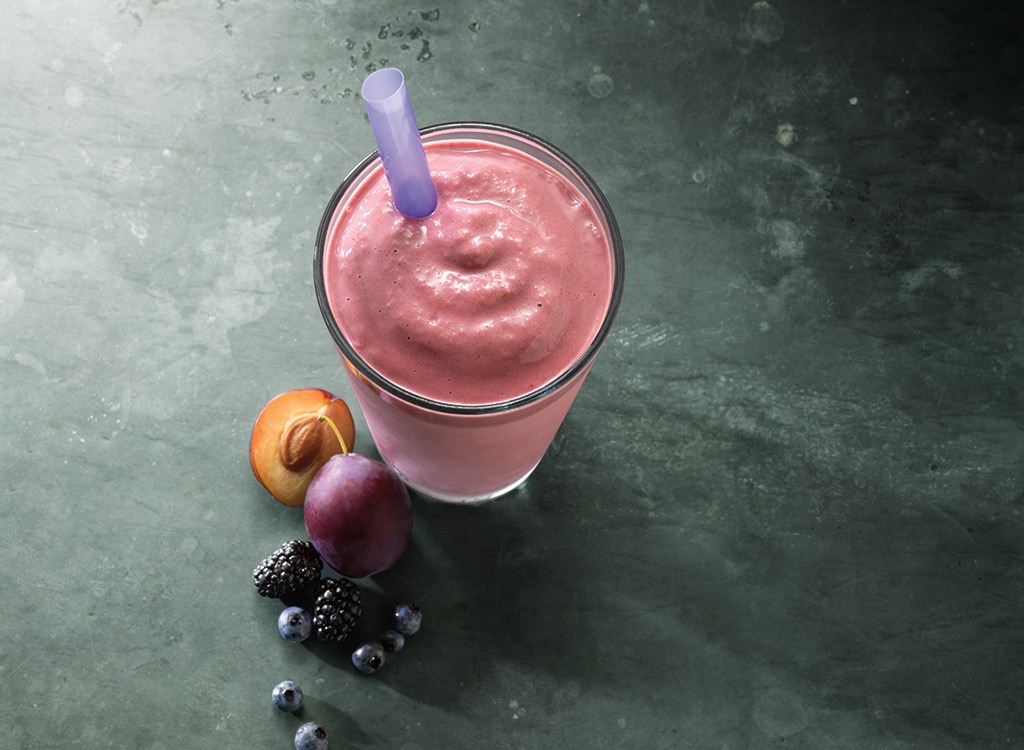 Small Superfruit Power Smoothie + Half Chicken Kale Caesar
"This is Panera's lowest sugar smoothie, so when I want something on the sweet side, this drink satisfies my craving without overdoing it. I pair it with a small Chicken Kale Caesar salad to make sure I'm getting adequate protein that helps prevent a blood sugar spike—and subsequent crash. I ask for the dressing on the side and then mix in about half of it myself." – Lauren Minchen MPH, RDN, CDN, a Registered Dietitian and Nutritionist based in New York City
Low-Fat Vegetarian Black Bean Soup + Classic Salad
"Panera can be a great place to eat, especially when you need something quick. I love that they post their nutrition information because it makes choosing what to eat a little easier for those of us who like to watch our calorie intake. On a cold day, I typically order a Low-Fat Vegetarian Black Bean Soup with a side salad or an apple. The soup alone has nine grams of fiber and 17 grams of protein, which keeps me full for hours. Plus, the beans are rich in energy-boosting iron." – Ilyse Schapiro MS, RD, a registered dietitian with private practices in New York and Connecticut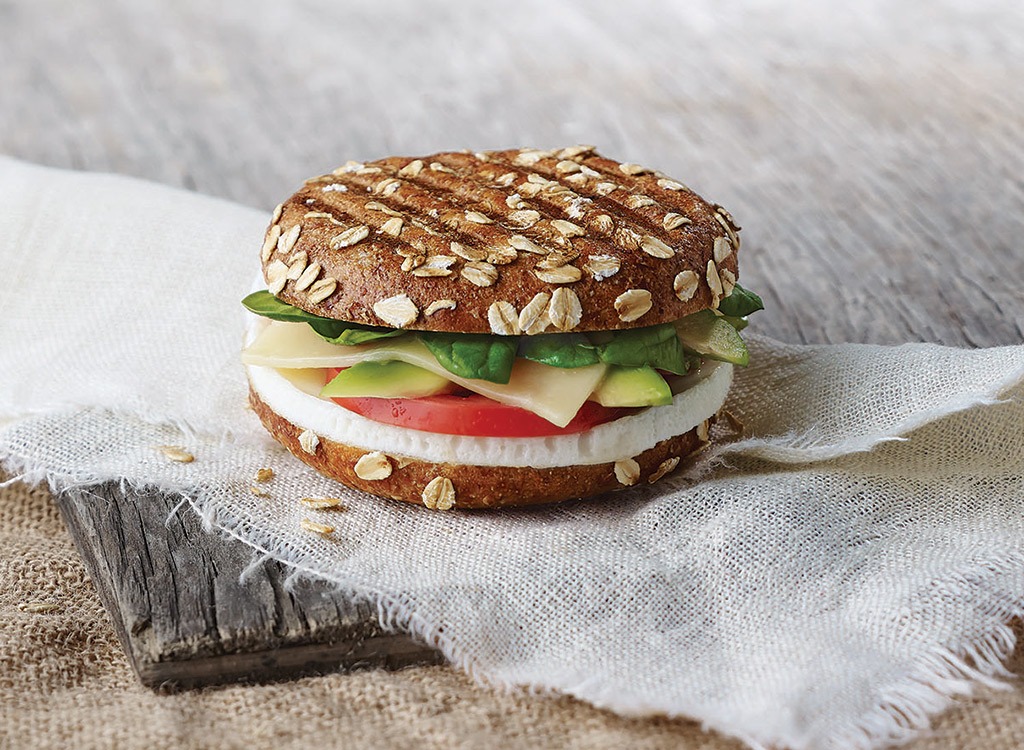 Avocado, Egg White & Spinach Breakfast Power Sandwich
"This 400-calorie meal is a great way to kick off your day. The Sprouted Grain Bagel Flat sandwich is 100 percent whole wheat, which provides long-lasting energy to help fuel your workouts. Plus, you get 12 grams of protein from the egg whites, which will help with lean muscle growth. To top it all off, the avocado is brimming with health-boosting monounsaturated fat and the spinach serves up vitamins A and C." – Jim White RD, ACSM HFS, Owner of Jim White Fitness and Nutrition Studios
Lentil Quinoa Bowl with Chicken
"If I found myself at Panera on a cold day, a Broth Bowl would be my top pick. For only 390 calories, the Lentil Quinoa Bowl with Chicken has everything I need for a filling and nutritious meal. The chicken provides a lean source of protein and the quinoa and vegetables serve up a ton of fiber and protein, too. The combination of nutrients is enough to keep my energy levels stable and my tummy happy for several hours." – Lisa Moskovitz, R.D.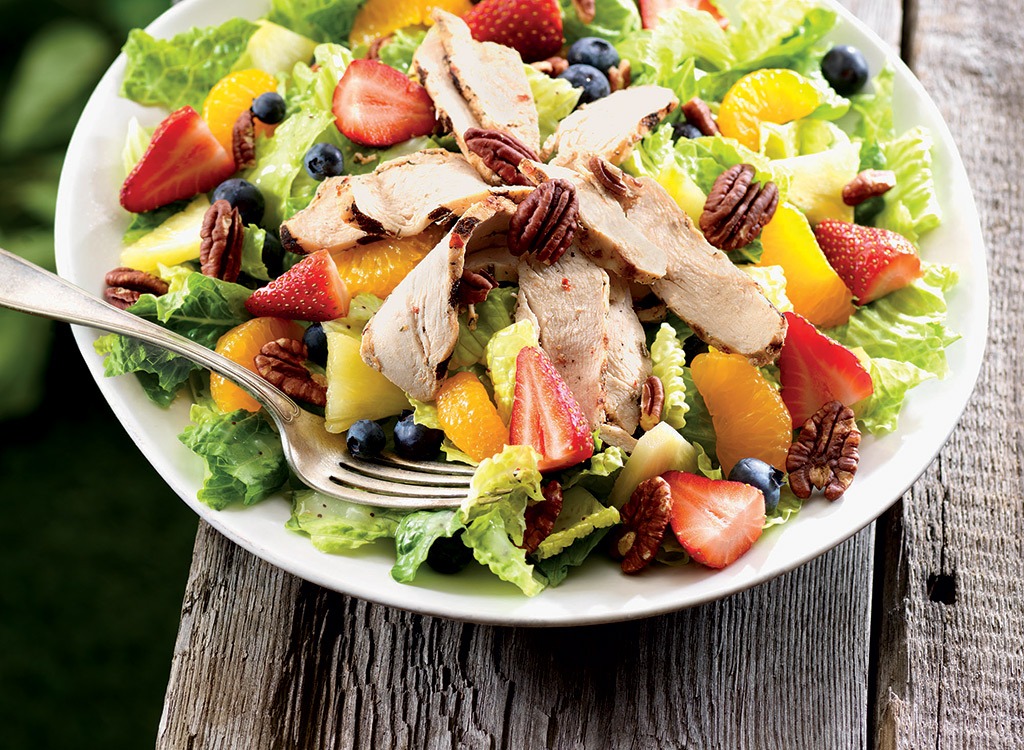 Strawberry Poppyseed and Chicken Salad
"I like this salad because it's satiating without being high in calories. The fruits and veggies are loaded with belly-filling water and fiber and the pecans provide a mix of healthy fats, fiber and protein — along with a satisfying crunch. This is a great pick for those who regularly eat out because it provides a nice dose of fruits and vegetables that many of us tend to fall short on when we're not preparing our own meals. I ask for dressing on the side and then use about two or three tablespoons worth to keep calories in check." – Elisa Zied, RDN
Ham, Egg & Cheese on Whole Grain
"When I'm at Panera for breakfast, I like to order the Ham, Egg & Cheese on Whole Grain bread. It only has 340 calories and is packed with protein and four grams of fiber, which helps fill you up. I typically eat it with a piece of fruit for a complete, well-balanced meal." – Sarah Koszyk, MA, RDN, founder of Family. Food. Fiesta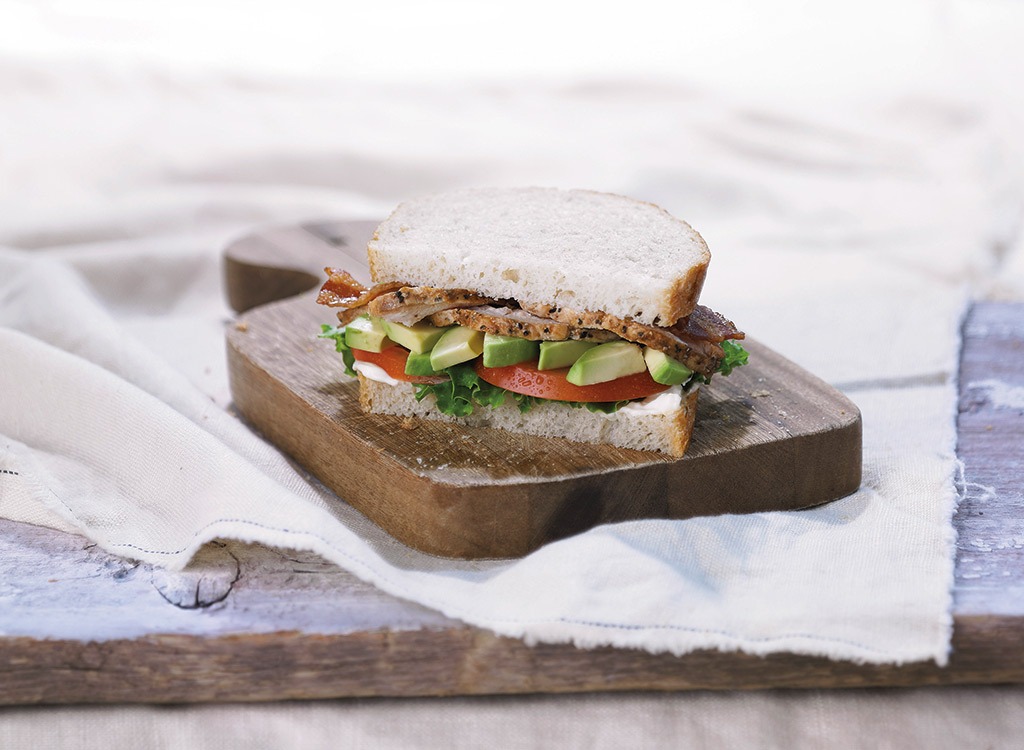 Garden Vegetable Soup + Half Roasted Turkey Avocado BLT
"I really like doing the pick two at Panera because it gives you a great variety and cuts the portion sizes—and calories—in half. For 393 calories, you can get a small Low-Fat Vegetarian and Garden Vegetable Soup, Half a Roasted Turkey Avocado BLT on wheat and an apple." – Jim White RD, ACSM HFS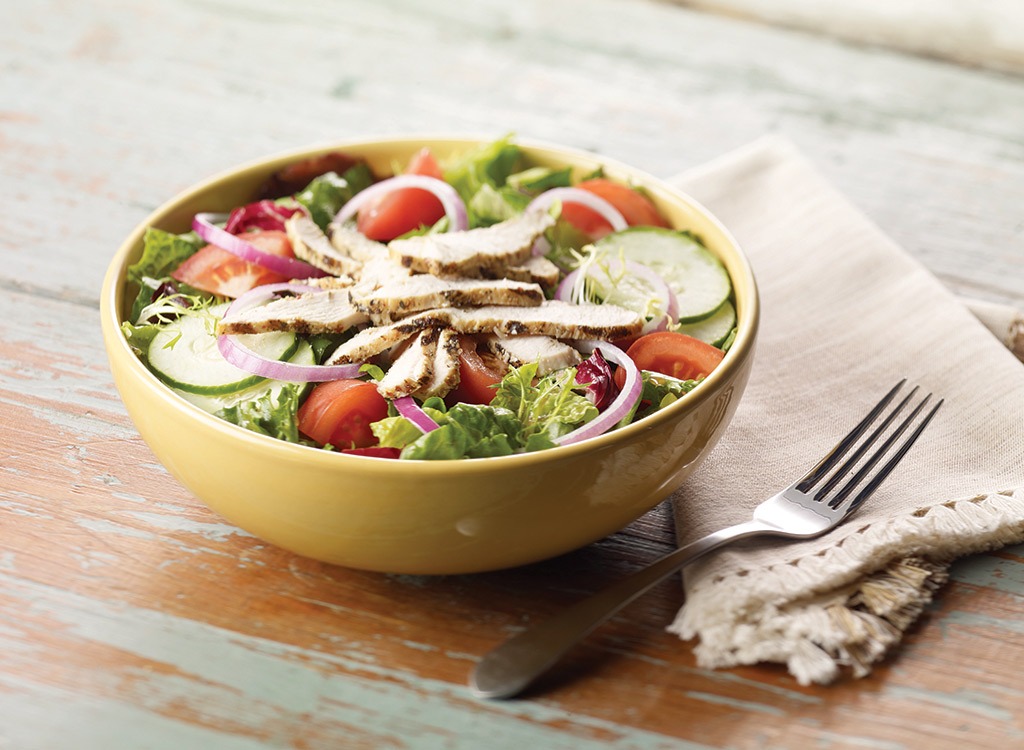 6254a4d1642c605c54bf1cab17d50f1e
Classic Salad with Chicken
"For salads, I tend to keep it boring at Panera. Sometimes romaine lettuce, tomatoes, cucumbers and grilled chicken are all I need. I know that I'm getting nutrients from the vegetables and lasting energy from the protein. Sometimes if I'm on the hungrier side, I pair it with an apple or a whole-grain roll (which you can ask for instead of chips). I order the balsamic vinaigrette on the side." – Ilyse Schapiro MS, RD
"The Classic Salad with Chicken is filled with wonderful leafy greens and cucumbers that provide vitamins A and C, beta-carotene, fiber and additional phytonutrients and antioxidants that prevent chronic disease. The cucumbers in the salad are 95 percent water, which keeps the body hydrated and eliminates toxins, and the protein in the chicken aids muscle growth. – Dana Kofsky
Typically dine out after your workout? These healthy meals aid recovery, fuel muscle growth and help you lose weight.
Images: Courtesy of Panera
Eat This, Not That!
Inspired by The New York Times best-selling book series, Eat This, Not That! is a brand that's comprised of an award-winning team of journalists and board-certified experts, doctors, nutritionists, chefs, personal trainers, and dietitians who work together to bring you accurate, timely, informative, and actionable content on food, nutrition, dieting, weight loss, health, wellness, and more.
Read more about Eat This