18 Peach Recipes To Keep You Peachy-Lean
You don't have to move to the country to eat a lot of peaches. Head to your farmers' market and make the most of this juicy summer fruit!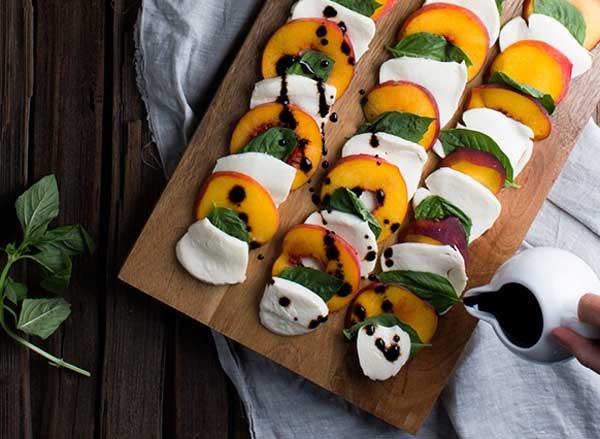 Peaches are one of the foods that gives you a tan, which is pretty dope—and that's not all the juicy fruit does for you bod. According to Texas A&M University researchers, peaches contain phenolic compounds that ward off obesity, high cholesterol, inflammation, and diabetes. Plus, they contain 10 different vitamins, including the essential vitamins A, C, E and K, which promote healthy vision, boost immunity, increase weight loss, and more! Enjoy the refreshing flavor of peaches along with their plethora of health benefits with the amazing recipes below. And for more ways to max out your summer bites while you still can, check out these 20 Best Picnic Recipes.
BACON WRAPPED GRILLED PEACHES WITH BALSAMIC GLAZES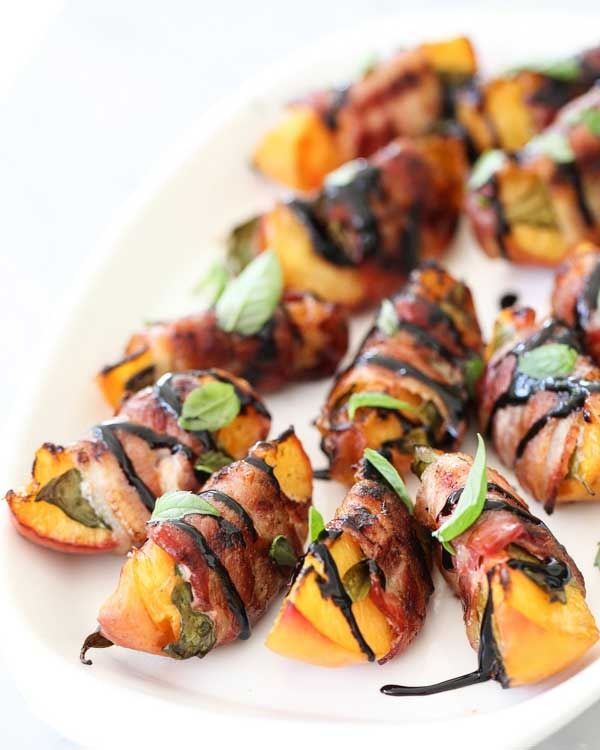 Nutrition: 281 calories, 19.9 g fat (6.1 g saturated), 568 mg sodium, 8.7 g carbs, 1.5 g fiber, 6.7 g sugar, 17.2 g protein
According to Sarah-Jane Bedwell, RD, LDN, a Nashville-based nutritionist and author of Schedule Me Skinny: Plan to Lose Weight and Keep it Off in Just 30 Minutes a Week, center cut pork bacon is considered the highest quality bacon in the meat industry. "In fact, it's actually similar in nutrition to turkey bacon—but tastes way better," she says. "The fatty portions from the top and bottom have been removed, resulting in leaner, more uniformed slices that include more meat and less fat. A serving of center cut pork bacon has only about 25 more calories than a serving of turkey bacon." And although turkey bacon is a bit leaner—only by about half a gram of fat per serving—it's quite a bit lower in protein; turkey bacon has about two grams of protein per serving, whereas center cut bacon has six grams of protein per serving. This is some amazing news, if you're wrapping around one of the top summer
superfoods.
Get the recipe from Foodie Crush.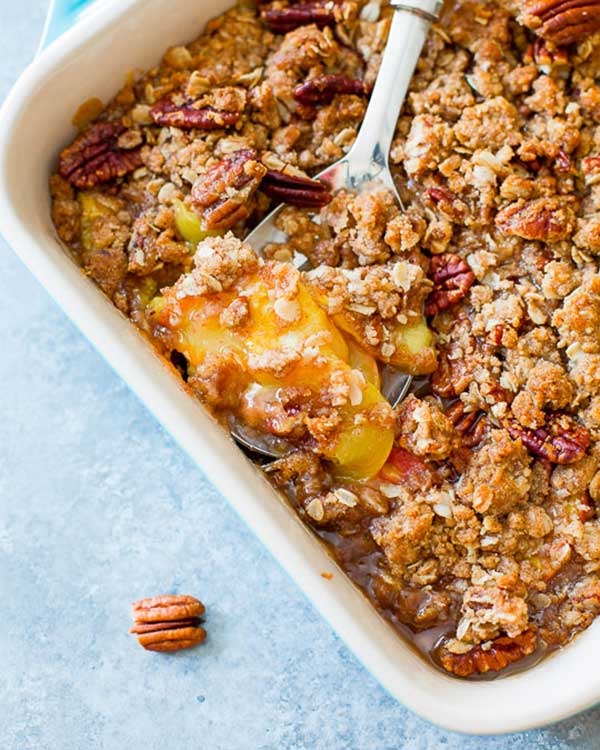 Nutrition: 306 calories, 16.9 g fat (6.7 g saturated), 71 mg sodium, 37.6 g carbs, 3.4 g fiber, 22 g sugar, 4 g protein
This recipe is brimming with heart-healthy pecans. Not only are the hickory nuts full of essential fatty acids, but they also fight harmful free-radicals, thanks to their excellent vitamin and mineral content. More specifically, pecans are rich in Vitamin E, responsible for maintaining healthy skin cell membrane and preventing cellulite. It's not too often a dessert does that! For more on making sure your skin doesn't get any more dimples than you want it to have, memorize these 21 Best and Worst Foods for Cellulite!
Get the recipe from Sally's Baking Addiction.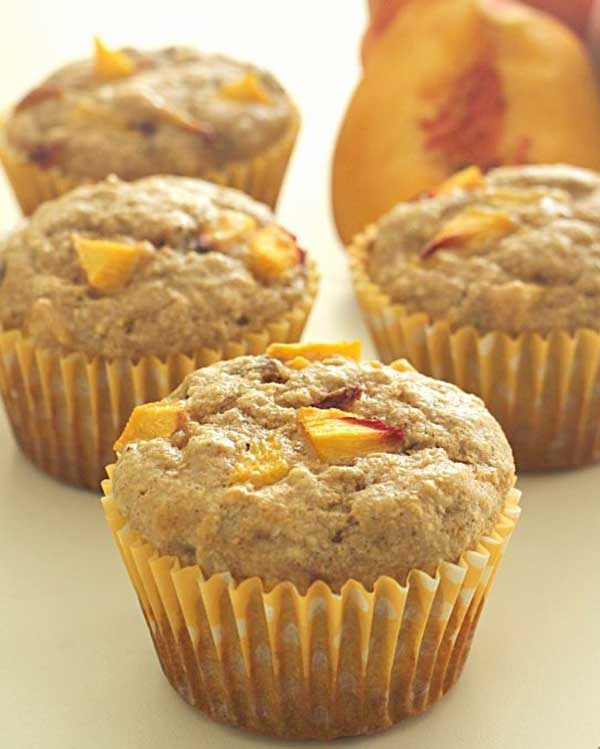 Nutrition: 218 calories, 2 g fat (<1 g saturated), 88 mg sodium, 45 g carbs, 2.2 g fiber, 19.7 g sugar, 6 g protein
We know—muffin tops haven't been "in" since the 90s. Fortunately, this recipe doesn't lend itself to the love handles they're named after. With just 218 calories and 2 grams of fat, you can start your morning with a healthy dose of wholesome oats and juicy peaches via this breakfast treat.
Get the recipe from Six Sisters Stuff.
PEACH BASIL MOZZARELLA FLATBREAD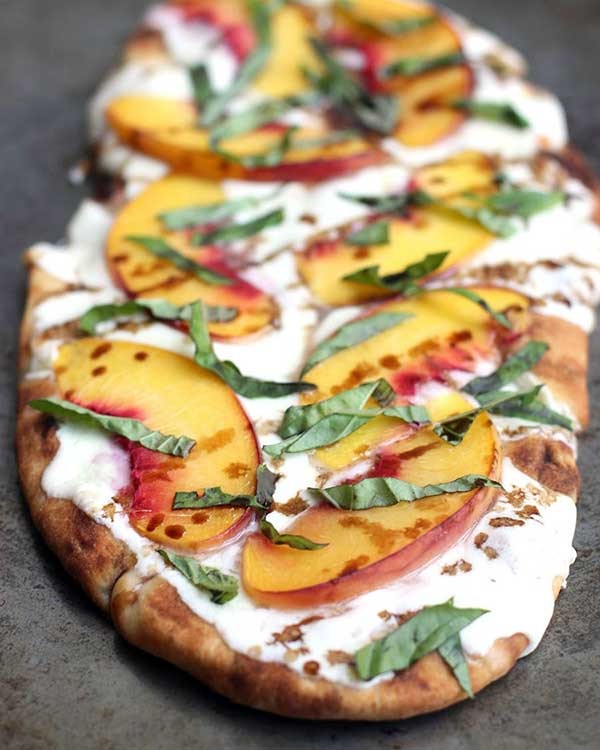 Nutrition: 225 calories, 11.8 g fat (6.1 g saturated), 414 mg sodium, 14 g carbs, 1 g fiber, 8 g sugar, 15 g protein
Tomato, basil, and mozzarella flatbread is a deli fave, but have you ever thought of swapping the fruits? The peaches' natural sugary flavor flawlessly complements the rich, creamy mozzarella and refreshing basil. So simple, yet so genius!
Get the recipe from My Recipe Magic.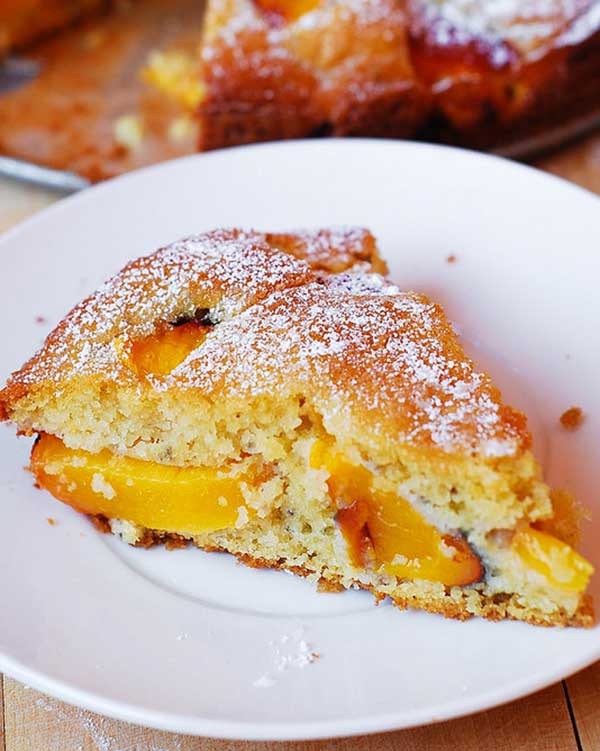 Nutrition: 293 calories, 9.6 g fat (5.4 g saturated), 187 mg sodium, 48.3 g carbs, 1.6 g fiber, 31 g sugar, 5.2 g protein
Aside from being gluten-free, this recipe is made with the superfood dairy god,
Greek yogurt. Between the muscle-building protein and gut-friendly probiotics, it's the perfect substitute for heavy cream, butter, or oil in dessert recipes like this one. And researchers have found that daily consumption of low-sugar, high-protein foods can help fuel weight loss efforts by boosting metabolism and minimizing hunger pangs. While we don't recommend eating cake regularly, here is one more opportunity to sneak the glorious yogurt into your day.
Get the recipe from Julia's Album.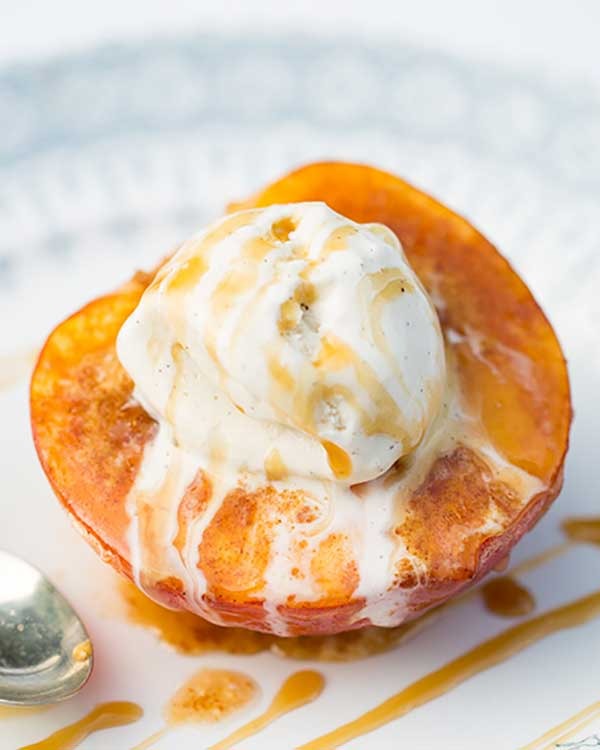 Nutrition: 95 calories, 4.1 g fat (2.5 g saturated), 15.4 g carbs, 1.6 g fiber, 14 g sugar, 1 g protein (calculated without ice cream)
At just 95 calories per peach, dessert doesn't get any sweeter than this. Not to mention all you need is three simple ingredients, an oven, and 15 minutes.
Get the recipe from I Heart Naptime.
PEACH SALAD WITH GRILLED BASIL CHICKEN AND WHITE BALSAMIC HONEY VINAIGRETTE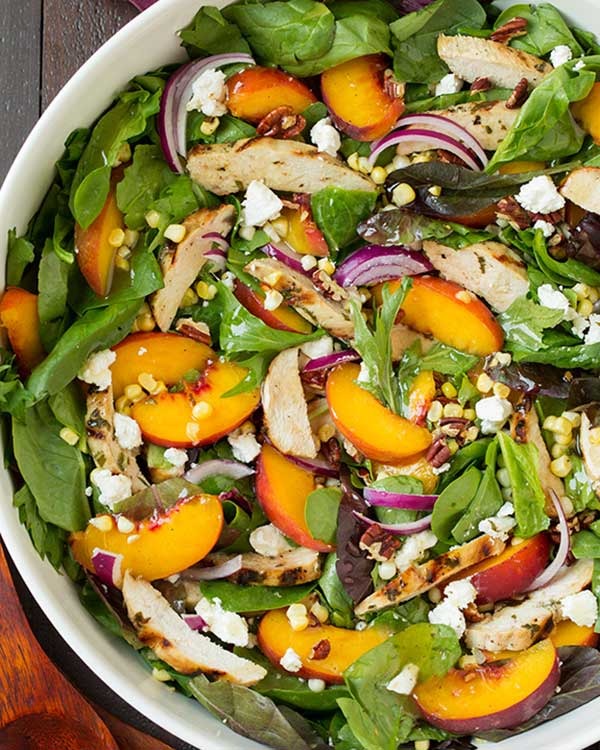 Nutrition: 277 calories, 18.5 g fat (5.3 g saturated), 117 mg sodium, 10.8 g carbs, 1.8 g fiber, 6.5 g sugar, 18.2 g protein
This salad is full of optimal, fat-burning foods—like chicken, olive oil, pecans, goat cheese, and more. Not to mention nutrients you want to fit into your everyday diet. In fact, basil not only knocks out stress, but also fights bacteria, protects cells from damage, and clears your complexion. Eating salads and trying to whittle your waist? Then you'll want to bookmark these 30 Salad Recipes for Weight Loss.
Get the recipe from Cooking Classy.6254a4d1642c605c54bf1cab17d50f1e
MAPLE PEACH BARBECUE SAUCE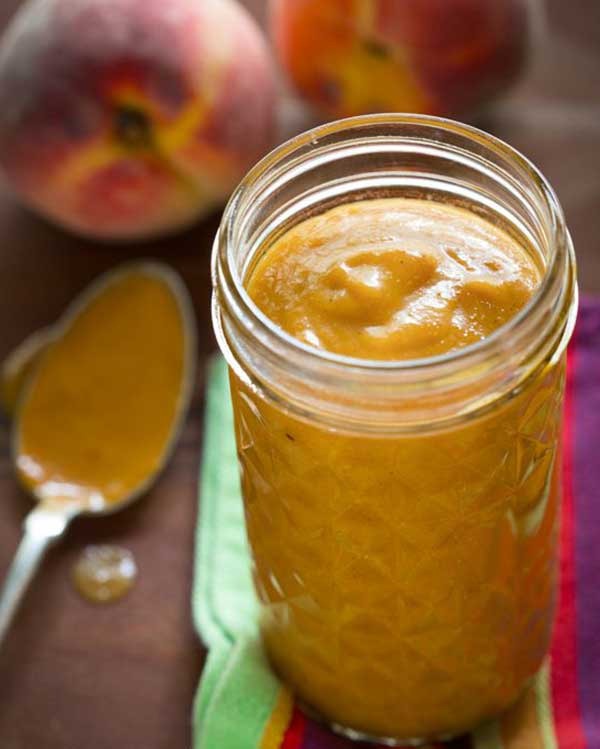 Nutrition: 59 calories, 0 g fat (0 g saturated), 7 mg sodium, 14.1 f carbs, 1.1 g fiber, 11.4 g sugar, <1 g protein
It's not too often (if ever), we stumble across a BBQ sauce with just seven milligrams of sodium. Sub it into one of these 18 Best BBQ Chicken Recipes That Won't Ruin Your Diet.
Get the recipe from Healthy Seasonal Recipes.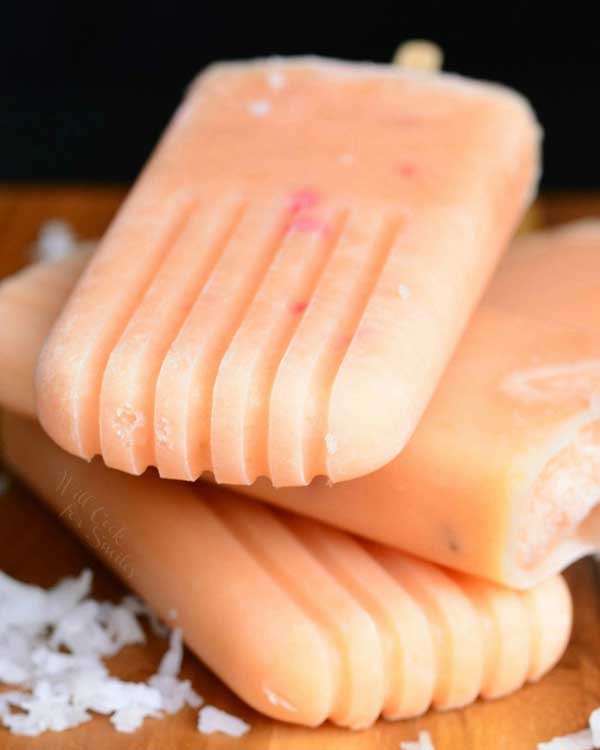 Nutrition: 74 calories, 4.2 g fat (3.6 g saturated), 3 mg sodium, 10 g carbs, 1 g fiber 9 g sugar, 1 g protein
These popsicles seem like they should be too good to be true! Aside from being an amazing way to cool down after an intense sweat sesh in the summer heat, they contain coconut milk, which provides electrolytes, prevents fatigue, scorches fat, and helps build muscle. According to a study done by the School of Dietetics and Human Nutrition at McGill University, a diet rich in medium-chain triglycerides (which coconut milk is packed with) causes greater belly fat loss than a diet rich in long-chain fatty acids. Experts suspect this is due to increased energy expenditure and fat oxidation observed with MCT intake.
Get the recipe from The 36th Avenue.
BALSAMIC PEACH CHICKEN SKILLET
Nutrition: 204 calories, 9 g fat (2 g saturated), 64 mg sodium, 9.2 g carbs, 1.4 g fiber, 7.4 g sugar, 21.5 g protein
Chicken is the go-to protein for many people and for good reason—it's packed with protein low in fat (as long as you choose the skinless stuff), making it an effective muscle-builder and hunger squasher for weight loss. But we'll admit that it can be kind of a bore, which is why we love this chicken skillet recipe. It's full of nutrients and flavor and we think you'll be pretty happy to have some leftovers!
Get the recipe from Cooking Classy.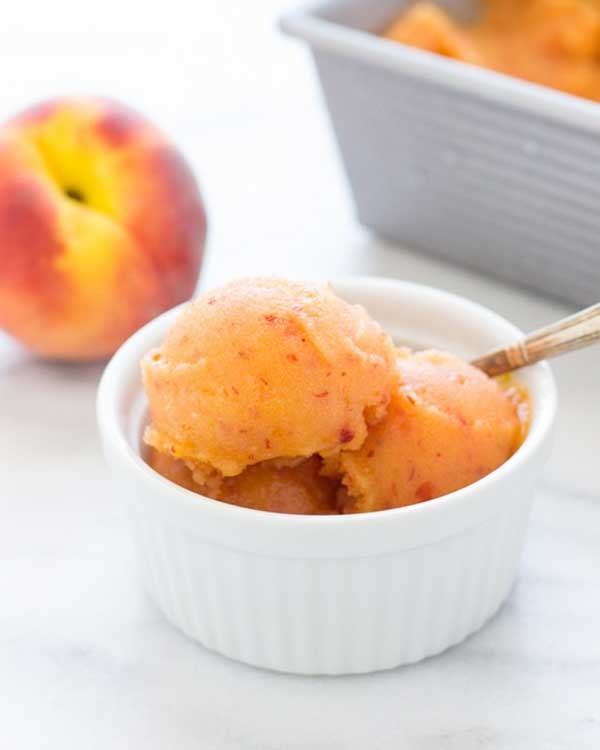 Nutrition: 99 calories, <1 g fat (0 g saturated), 0 mg sodium, 25.1 g carbs, 2.6 g fiber, 22.9 g sugar, 1.6 g protein
Although sorbet does not contain fat—like sherbet and ice cream—the sugar counts are often quite alarming. This recipe contains 22.9 grams of sugar; unlike the typical store bought varieties, the sugar comes from peaches and raw honey instead of fruit juice and artificial syrups. For more dairy-free treats, check out these 20 Dairy-Free Frozen Desserts.
Get the recipe from Making Thyme For Health.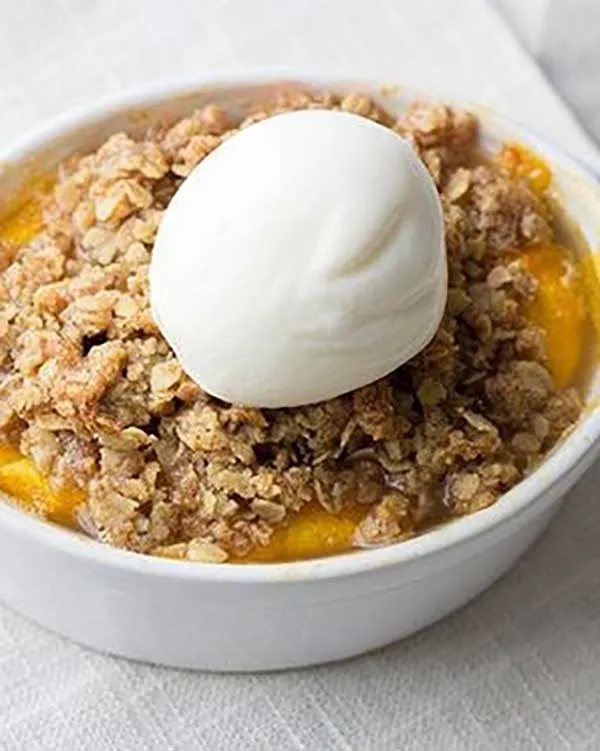 Nutrition: 144 calories, 5 g fat (3 g saturated), 73 mg sodium, 25 g carbs, 3 g fiber, 19 g sugar, 2 g protein
The same spice that gives sugary baked goods some extra flavor also fights diabetes by moderating blood sugar. Researchers theorize that cinnamaldehyde (cinnamon's active ingredient) works as a blood-sugar balancer by stimulating insulin receptors on cells and allowing excess sugar to move out of the blood. Luckily for us, nature's got our back.
Get the recipe from Skinny Mom.
Nutrition: 31 calories, 0 g fat (0 g saturated), 2 mg sodium, 7.1 g carbs, 1.5 g fiber, 5.6 g sugar, 1 g protein
Tomato, bell pepper, jalapeno, onion, and peaches are sliced and diced, tossed in lime juice, and sprinkled with cilantro. Pair this recipe with healthy chips for the perfect guiltless summer app.
Get the recipe from Natasha's Kitchen.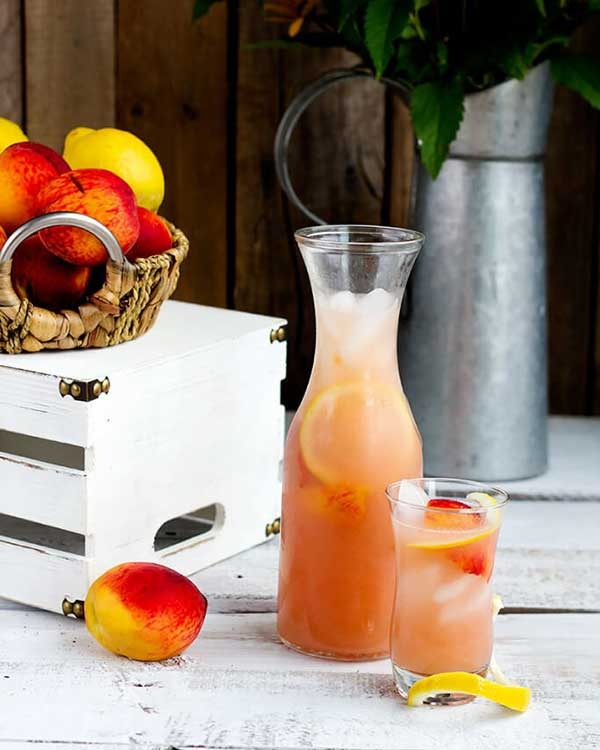 Nutrition: 77 calories, 0 g fat (0 g saturated), 1 mg sodium, 20.9 g carbs, 2.2 g fiber, 16.8 g sugar, 1 g protein
We've all spent at least one day of our lives under the hot summer sun selling lemonade. Back then, though, we were probably selling the kind you find in the grocery store aisles and had no idea just how much real lemons could benefit our bodies. From maintaining a healthy complexion and freshening breath to boosting immunity, increasing iron absorption, and fighting cancer, the fruit gives us more than a reason or two to squeeze and sip!
Get the recipe from Gather For Bread.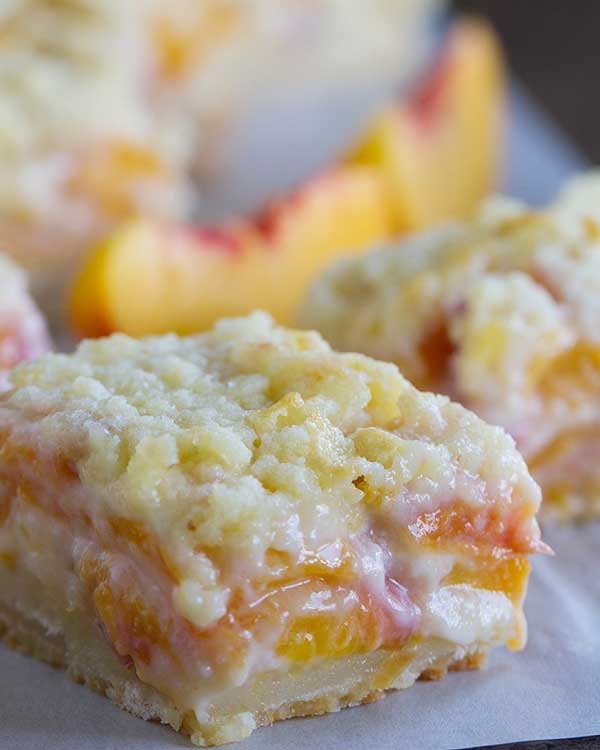 Nutrition: 265 calories, 13 g fat (7.9 g saturated), 88 mg sodium, 35.2 g carbs, 1 g fiber, 21.5 g sugar, 3.4 g protein (calculated with 2.5 cups of sugar total)
Move over pie; these peaches and cream bars practically fall apart in your mouth. Their shortbread crust, creamy peach filling, and crumble topping have your sugar cravings covered. For more ways to guiltlessly indulge, check out these 20 Desserts for Weight Loss.
Get the recipe from Taste and Tell Blog.
SUMMER PEACH CAPRESE SALAD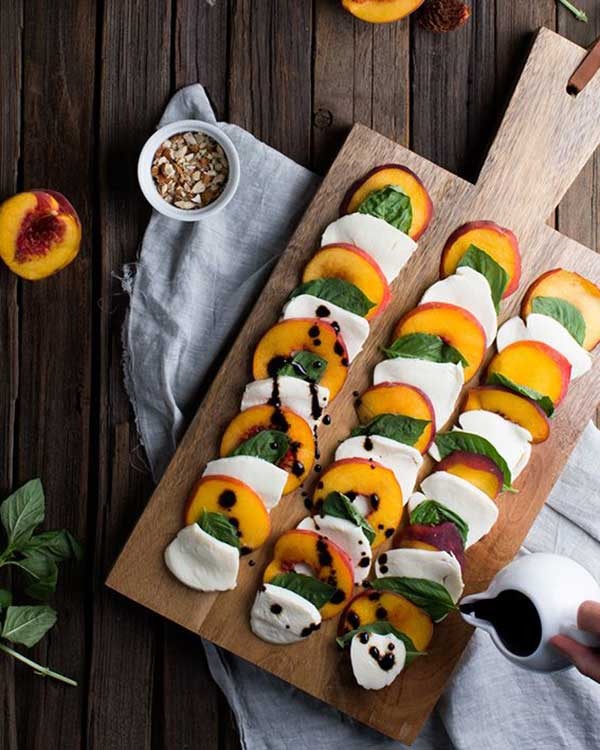 Nutrition: 122 calories, 5.3 g fat (3 g saturated), 171 mg sodium, 10.5 g carbs, 1.5 g fiber, 8.3 g sugar, 9 g protein
Once again, peaches steal tomatoes' spotlight in this summer-y Caprese salad. And with a nutritional profile like this one and a juicy twist done right, it's hard to disoblige.
Get the recipe from Say Yes.
SRIRACHA PEACH SHRIMP SKEWERS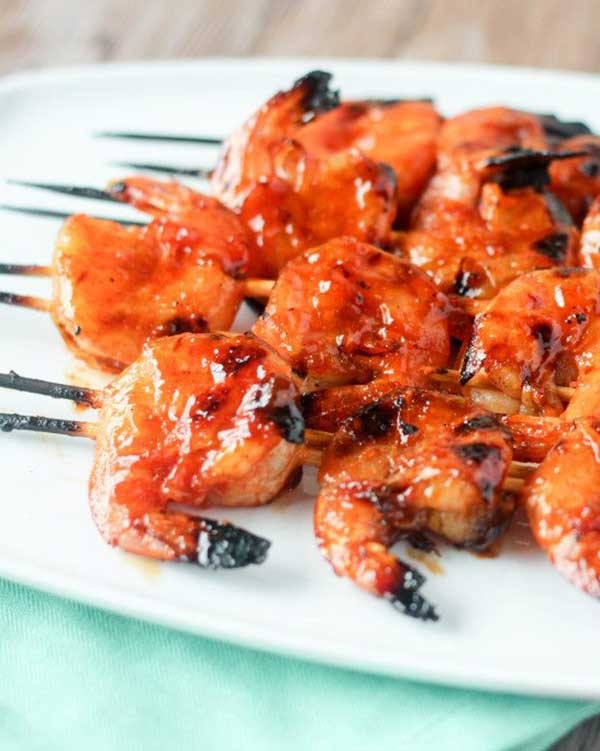 Nutrition: 321 calories, 2 g fat (<1 g saturated), 401 mg sodium, 47 g carbs, 1 g fiber, 29 g sugar, 16.3 g protein
Sriracha is hotter than Beyoncé's new album—thanks to its fiery low-cal flavor. And to be honest, there are far worse things America could be addicted to. Capsaicin—the compound that gives peppers their steamy hot sensation— is heating up our mouths and our calorie scorchin' ovens. And in this recipe, the metabolizing boosting stuff marinates one of the most protein-dense foods you can find.
Get the recipe from Blackberry Babe.
PEACH BALSAMIC ROSEMARY CHICKEN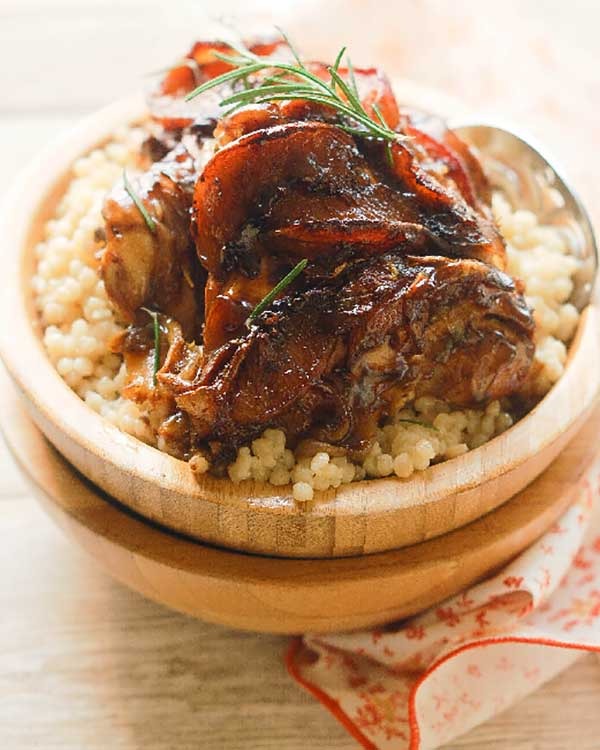 Nutrition: 314 calories, 10.8 g fat (2.9 g saturated), 122 mg sodium, 10.8 g fiber, 1 g fiber, 9.8 g sugar, 41 g protein
According to researchers, swapping avocado oil in for other cooking oils can spot reduce abdominal fat, thanks to its rich monounsaturated and oleic fatty acid content . In fact, a recent Penn State study found people who consumed 40 grams (about 3 tablespoons) of high-oleic oils on a daily basis for four weeks lowered their belly fat by 1.6 percent compared to those who consumed a flax/safflower oil blend, which is comparatively high in polyunsaturated fat. A second study in the journal Diabetes Care found similar results: A diet rich in monounsaturated fat may actually prevent body fat distribution around the belly by down-regulating the expression of certain fat genes. Sounds good to us!
Get the recipe from My Natural Family.