5 Pizzas You Have to Try At Least Once, According to Chefs
Make or order a chef-approved gourmet pie at home with these pro tips!
Pizza night just got a whole lot tastier. Sure, you can always order your go-to favorite, a loaded pepperoni pizza, or go out of the box with a barbecue chicken. But if you're looking for something a little more gourmet on your pizzas, these chefs know exactly what to cook or order up.
We asked four chefs what they order or make when it's time for pizza. It's no surprise that they prefer to make their own, but take these ideas from them and then ask your favorite spot to throw them together. You can also try your hand at their favorite ideas by picking up ready-made pizza dough from the store or even asking your local pizza joint to buy some of their fresh dough.
From gourmet classics to out-of-the-box originals, here are the chef-approved pizzas you have to try making at least once.
Then, for more tasty pizza creations, check out our list of 8 Healthy Homemade Pizzas Better Than Takeout.
Korean Inspired Pizza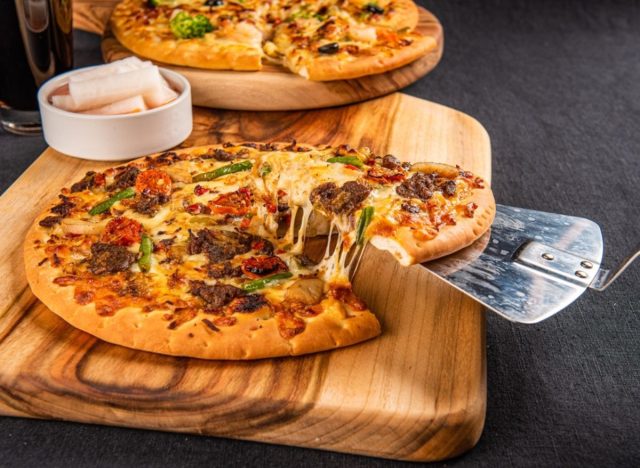 "I created this one day and it quickly became one of my favorite pizzas to make," says Chef Patrick Tanyag, a chef consultant for ALX Pizza. "[It has] a bit of everything here… spicy sweetness and loads of umami."
To make this pizza, Chef Patrick recommends using Neopolitan-style dough and cooking it in a brick oven if you have it, on high heat (500 degrees or more).
"Made a sauce of gochujang, brown sugar, sesame oil, gochugaru, and tomato paste," he says. "Simmer and reduce until thickened."
For toppings, Chef Patrick adds mozzarella cheese, thinly sliced garlic cloves, cabbage, and strips of fried chicken thigh.
"Get this in the oven until the crust turns a golden brown," he says. "Garnish with chopped green onion and chiffonade green cabbage. Kimchi works if you want extra spice and flavor!"
Cheesy Romesco Pizza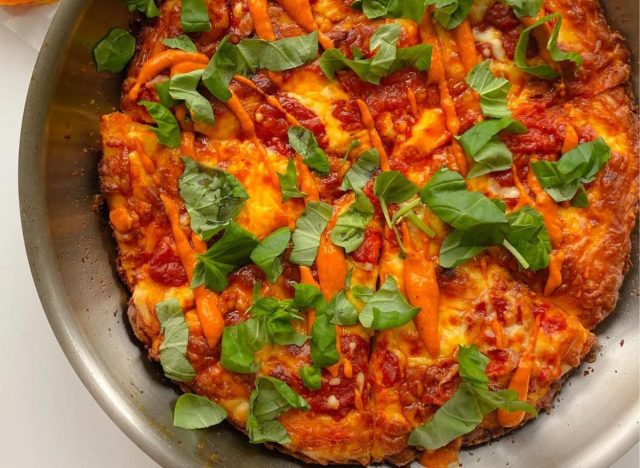 Alison Cayne, cooking expert and founder of Haven's Kitchen, recommends a Cheesy Romesco Pizza. And thanks to Haven Kitchen's Red Pepper Romesco, having a sauce ready to go for your pizza is as easy as unscrewing the top and squeezing the pouch.
This pizza is incredibly simple—just the romesco sauce, jarred tomato sauce, mozzarella cheese, basil, olive oil, and pizza dough. Chef's tip: Be sure to use room-temperature dough! This will make it easier to stretch and shape the dough for the pan. Pans that work well for pizza in the oven include baking sheets, cast-iron skillets, and 9×13-inch pans.
Oyster Mushroom and Homemade Ricotta Flatbread
For a unique, gourmet pizza experience, Chef Josh Tomson, culinary creative director at The Lodge at Woodloch, shares a flatbread recipe that will have you whipping up your very own homemade arugula pesto for a delectable sauce.6254a4d1642c605c54bf1cab17d50f1e
To make the arugula pesto, mix together 2 cups arugula, 3/4 cup walnuts, 1/2 cup canola or extra-virgin olive oil, 2 cloves roasted garlic chopped, 1/4 teaspoon kosher salt, 3 tablespoons grated Parmesan, and freshly ground black pepper to season.
For the tastiest results, Chef Josh recommends grilling a pre-packaged flatbread or naan first at 350 to 400 degrees. Then place the grilled flatbreads on a baking sheet and add 3/4 cup of the arugula pesto onto a packaged flatbread or naan bread. Then add shredded mozzarella, ricotta cheese, and sliced sun-dried tomatoes. You'll also want to top it with oyster mushrooms, which have been trimmed and sautéed in garlic-flavored olive oil. Bring the pizzas back to the grill for another 2 minutes, or until the cheese gets melty.
White Scallop Pizza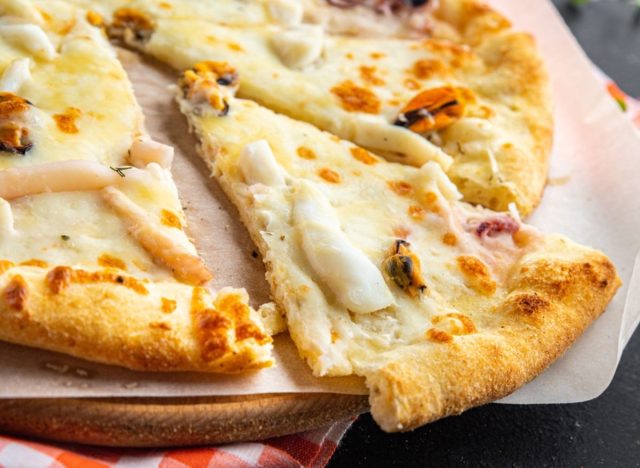 Chef Michael Sanguinetti, a personal and private chef with INTUEAT, recommends topping your pizza with Mornay sauce (a cheesy version of bechamel), scallops, pesto, and tomato confit (tomatoes that have been slowly cooked in fat) for a unique take on the usual white pizza.
Margherita Pizza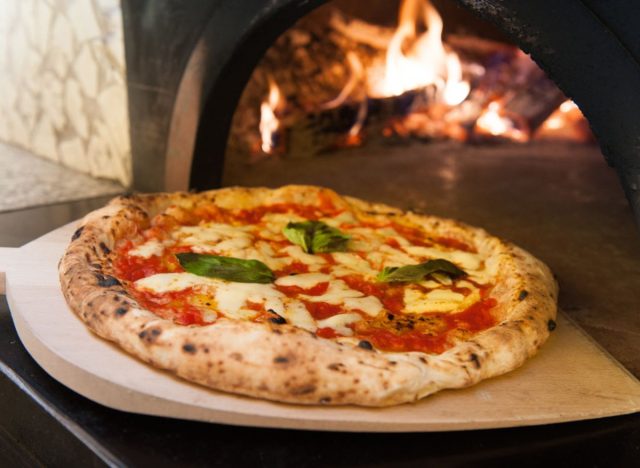 While a classic, Chef Michael says it's an easy go-to that every home chef should learn how to make.
What makes a Margherita pizza different from a regular cheese? Unlike a regular slice of cheese that contains shredded mozzarella, a Margherita—which hails originally from Naples, Italy—is served with crushed San Marzano tomato sauce, slices of fresh mozzarella, basil, and a drizzle of olive oil.
So what's the chef's secret for a perfect Margherita pizza? It's all about the dough and how to cook the pie. He recommends making your own dough from scratch. For the best result (without a pizza oven), Chef Michael says to carefully place the prepared pizza on a hot pizza stone in the oven, which has preheated on broil. Let the pizza broil for 3 to 4 minutes, then reduce the heat to 500 degrees and let the pizza bake for 6 to 8 minutes more. This will ensure the pizza gets that crusty texture without burning the bottom and unevenly cooking the pie.