The 15 Most Popular Fast Foods on the Planet
You may have your favorites, but what are the world's?
In a day and age where we rank pretty much everything, it's hard to believe no one has compiled a definitive list of the most popular fast foods on the planet; But alas, no such treasured document exists. However, that doesn't mean we weren't able to use some related data to compile a list of the most popular fast foods on our own.
We used this Forbes list of the top ten global fast food brands, which ranks fast-food restaurants based on the number of international units they have, to determine which restaurant chains have the best worldwide reach. We also looked at a QSR ranking of the top 50 brands in quick service and fast casual, which ranked by systemwide sales in the United States in 2014, to help fill in some gaps.
From there we researched the most popular item at several of those aforementioned chains, and our list of most popular fast foods on the planet began to take shape.
However, because this is not an exact science, we've also included some popular international fast food items that might not be familiar to American diners but are still making a splash around the world.
McDonald's French Fries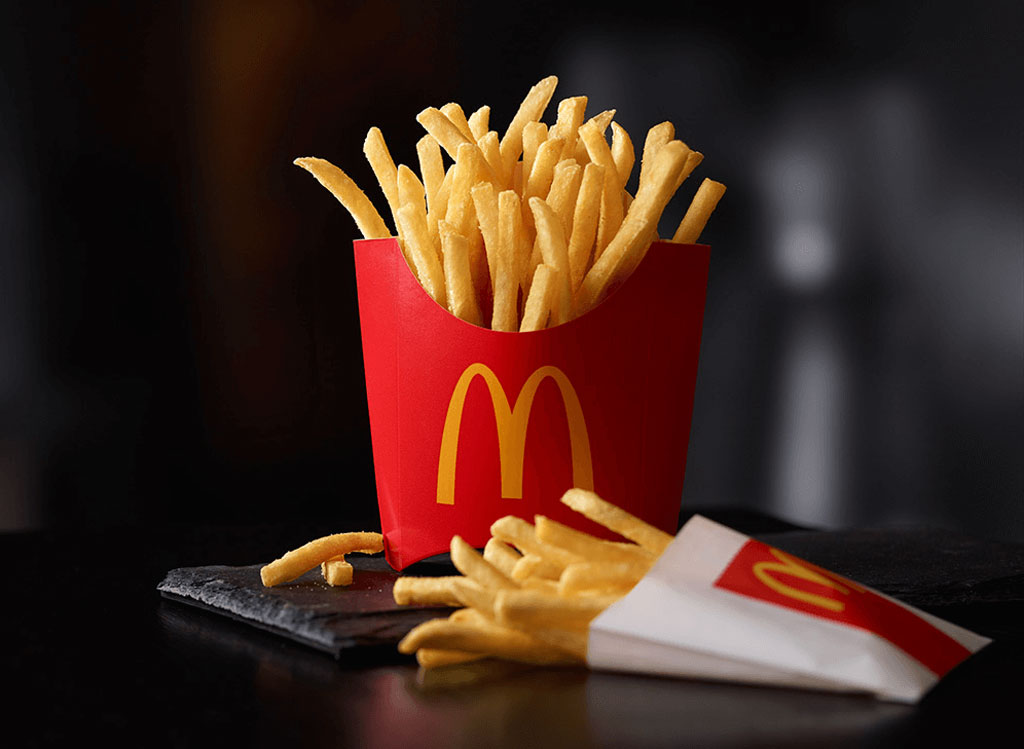 With nearly 37,000 restaurants worldwide, McDonald's is the most popular fast food chain on the planet. And what's the most popular item at the most popular fast food chain on Earth, you ask? According to Business Insider, that honor goes to the brand's iconic French fries, which are sold in all corners of the world. Though tasty, McD's fries are packed with sodium; still, they actually fared pretty well on our list of McDonald's menu—ranked!
McDonald's Big Mac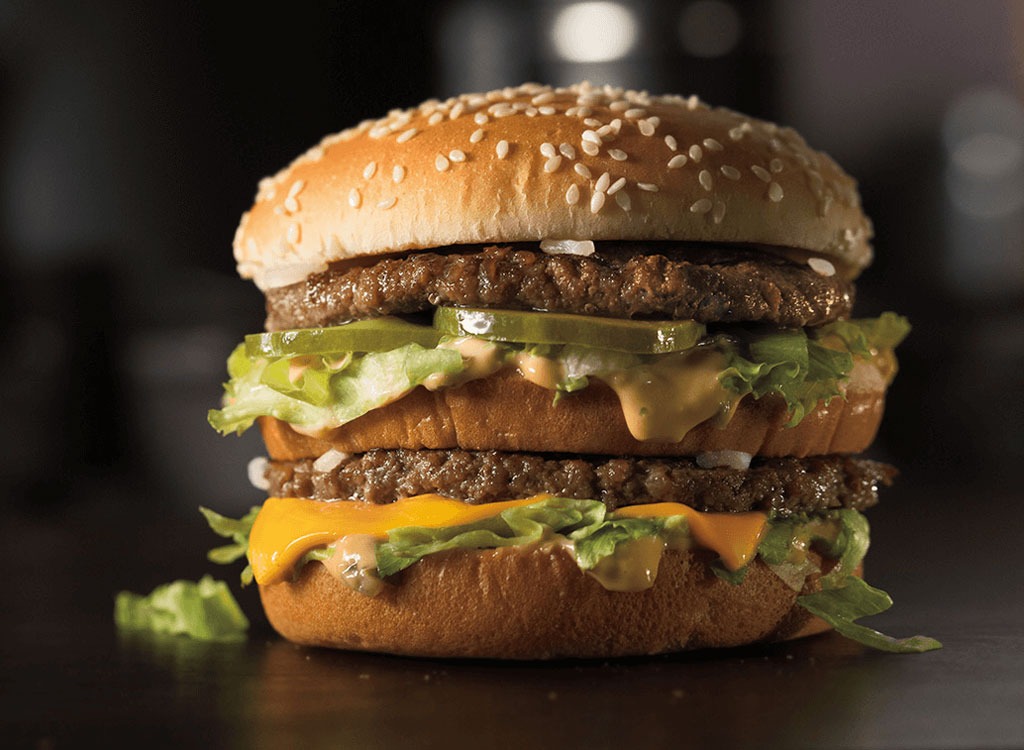 Since McDonald's is so popular—the chain has nearly 19,000 international outposts alone—it seemed only right to give it another spot on this list. Per Business Insider, the second most popular Mickey D's item of all time is the Big Mac. This sandwich made its debut in the late 1960s and has since been consumed well over 550 million times in the U.S. alone.
McDonald's Happy Meal
While you might be getting a bit of McDonald's fatigue, no fast food ranking would be complete without mentioning the Happy Meal—an entree marketed to children worldwide for the first time in the 1970s. Since kid's food had previously been an untapped market, the Happy Meal is now McDonald's fourth most popular dish of all time. Estimates suggest more than 3.6 billion Happy Meals have been sold worldwide.
KFC's Original Recipe Chicken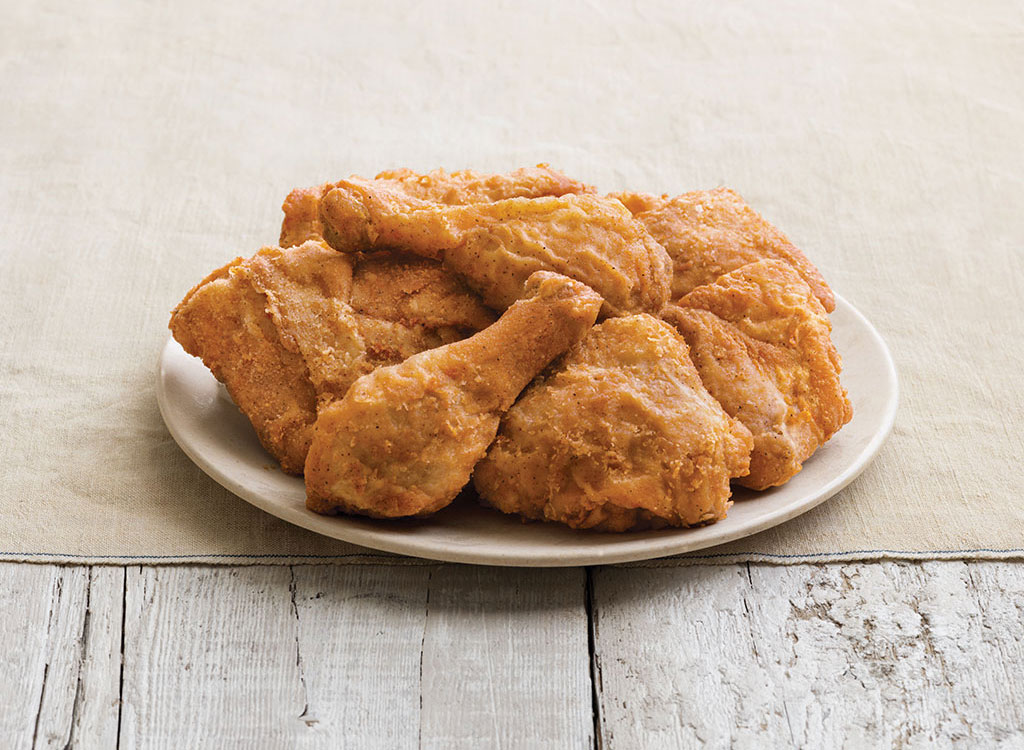 There are over 20,000 KFC outlets in more than 125 countries and territories around the world, and nothing beats the chain's Original Recipe Chicken. Made with a unique blend of 11 herbs and spices, it's not difficult to see why this classic is so beloved across the globe. In fact, in 2006 KFC sold more than one billion chicken dinners. Other popular KFC dishes include popcorn chicken, boneless wings, and the extremely unhealthy Double Down, where two pieces of fried chicken serve as the bun of the sandwich.
Subway's Italian BMT
Since there are 38 million subway sandwich options available for customers, it's difficult to determine which sandwich reigns supreme. However, the general consensus seems to be that the chain's most popular item is the Italian BMT—or "Big Meaty Tasty—sub, with salami, pepperoni, and ham. Check out this list of Subway subs, ranked by nutrition, to see how your favorites stack up.
Pizza Hut's Pepperoni Pizza
Pizza Hut is the most popular pizza chain in America, and that's to say nothing of the roughly 5,900 stores the company operates internationally. According to a 2012 Facebook post that came from the Hut itself, the chain's most popular item is a large pepperoni pizza.
Wendy's Frosty
6254a4d1642c605c54bf1cab17d50f1e
Wendy's currently has locations in 30 countries around the world, and though the chain is famous for its burgers, one of the most popular Wendy's items is a Frosty. According to How Stuff Works, the chocolate Frosty was one of Wendy's original five menu items and remains a top seller for the fast-food chain. In fact, Wendy's sells about 300 million of the milkshake-like beverages each year.
Burger King's Whopper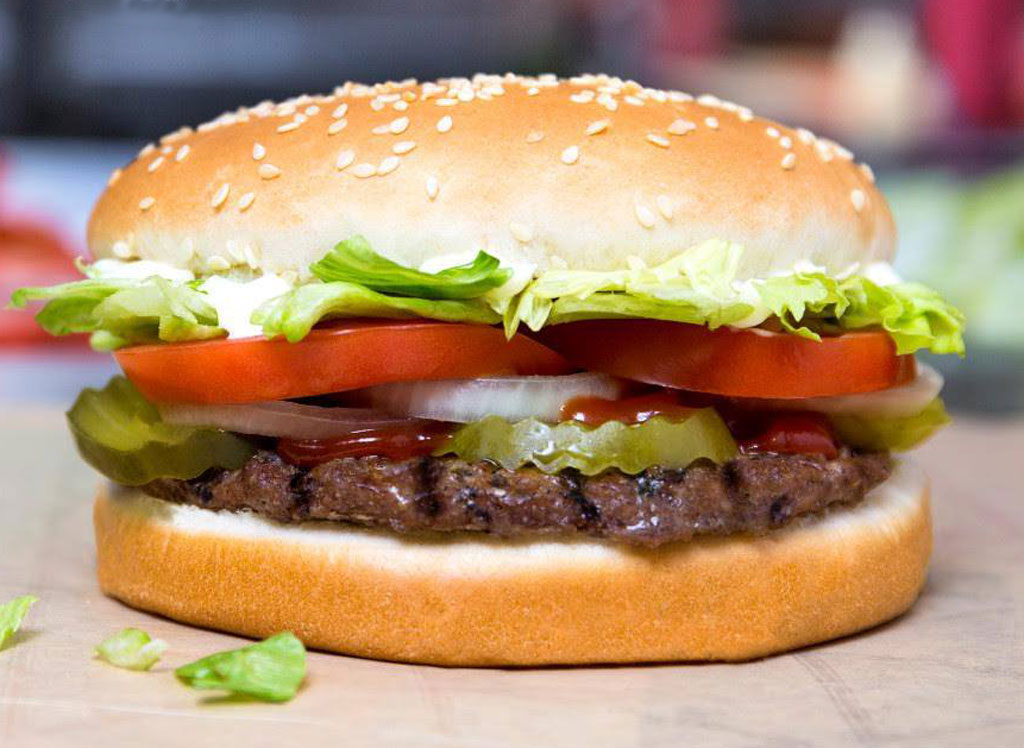 Though Burger King hasn't quite reached the popularity of rival McDonald's, the burger chain still has a hit on their hands with the flame-broiled Whopper, which consists of one-quarter pound beef patty between a sesame seed bun with mayonnaise, lettuce, tomato, pickles, ketchup and sliced onion. In addition to thousands of stores stateside, Burger King has franchises in 69 other countries around the world. It's estimated the chain sells millions of Whoppers each year.
Taco Bell's Crunchy Taco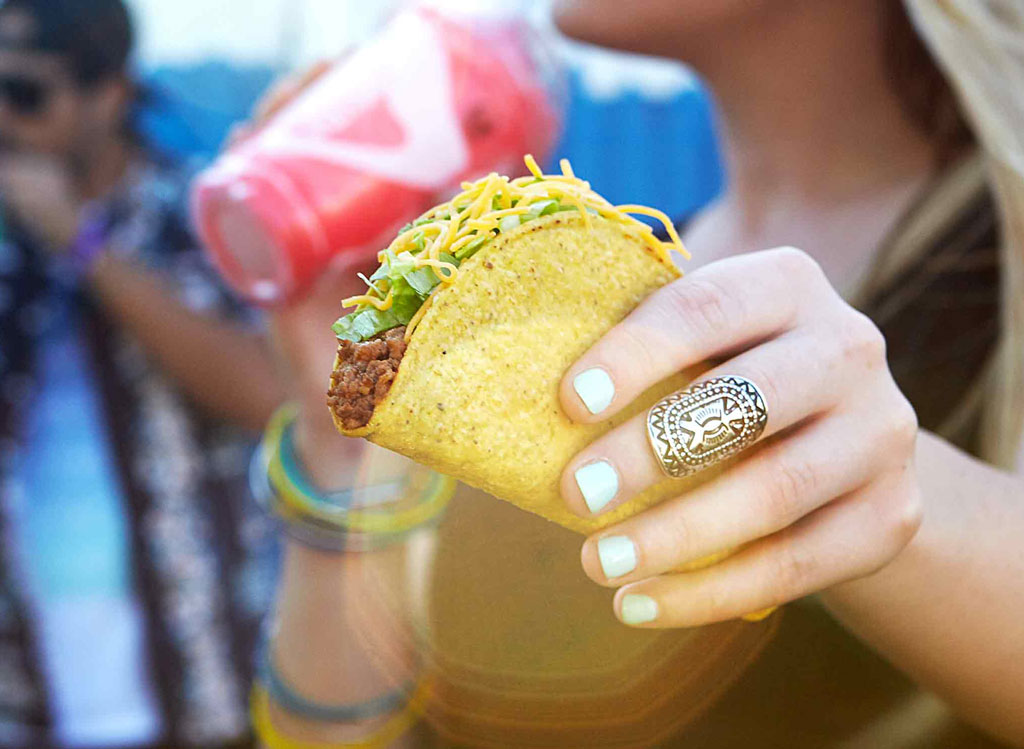 Taco Bell serves more than two billion customers each year and sells roughly the same amount of tacos via its 7,000 restaurants worldwide. Thrillist reports the crunchy taco was the most popular item on the Taco Bell menu in 2016, followed by the soft taco. The bean burrito, nacho cheese Doritos locos taco, and nachos round out the top five.
Chick-fil-A's Waffle Fries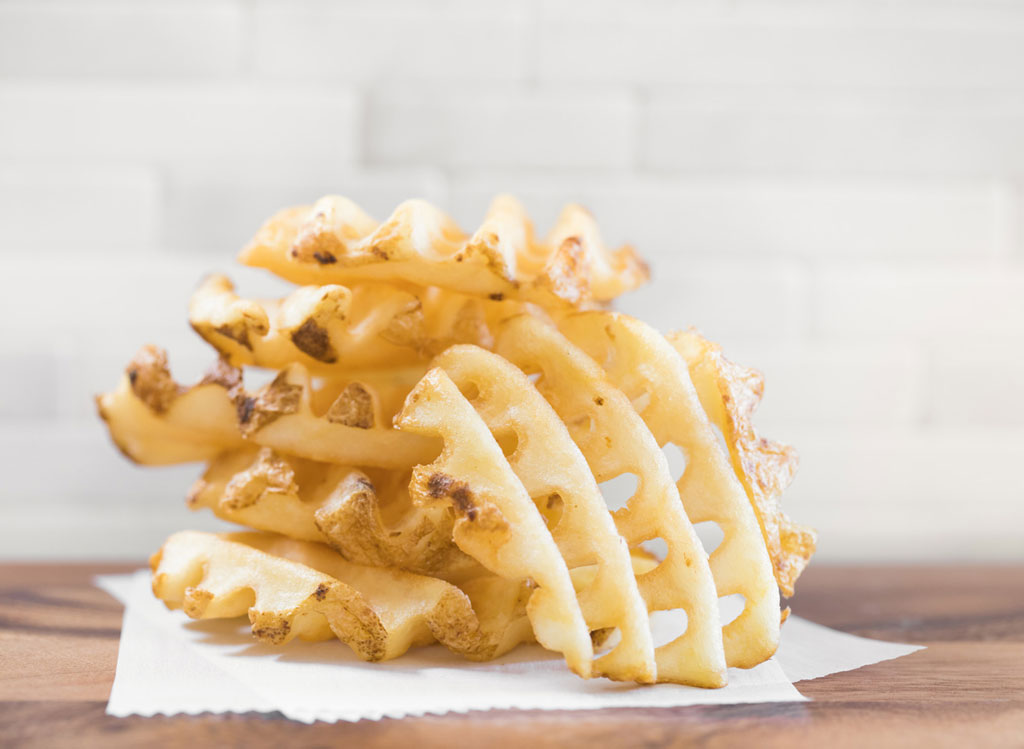 According to Chick-fil-A's blog, The Chicken Wire, the fan-favorite waffle fries placed first on the chicken chain's list of most-ordered menu items. Fun fact from Chick-fil-A itself: their waffle fry recipe has remained unchanged since its debut in 1985.
Chick-fil-A's Chicken Sandwich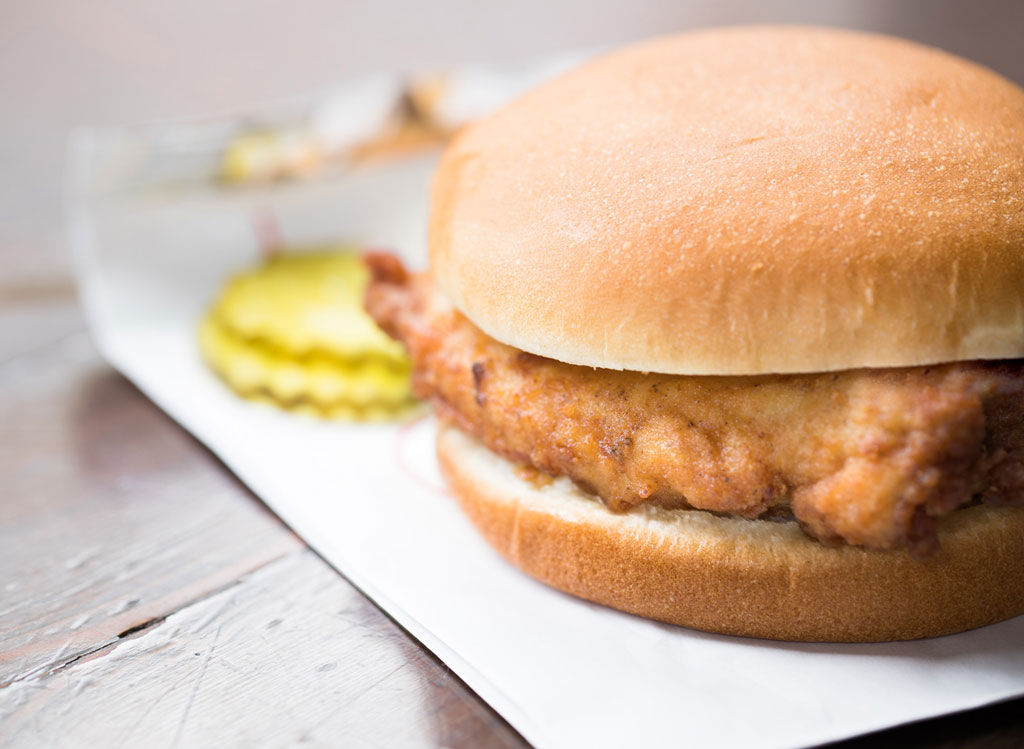 Chick-fil-A founder Truett Cathy is often credited with inventing the boneless chicken sandwich, so it makes sense the beloved fast food item would be amongst the most popular in the world. Though only operational in portions of the United States and Canada, those who love Chick-fil-A simply can't get enough of it. In fact, Business Insider reports Chick-fil-A's average sales per restaurant in 2014 were $3.1 million, while fried chicken competitor KFC sold $960,000 per restaurant, though they have many more stores. Even though Chick-fil-A sells more chicken sandwiches than other rival chains, according to the restaurant, their fried chicken sandwich only places third on their list of most-ordered menu items. (Right behind soda!)
Before you chow down on chicken, familiarize yourself with the menu with this comprehensive list of Every Item at Chick-fil-A—Ranked!
Dairy Queen's Blizzards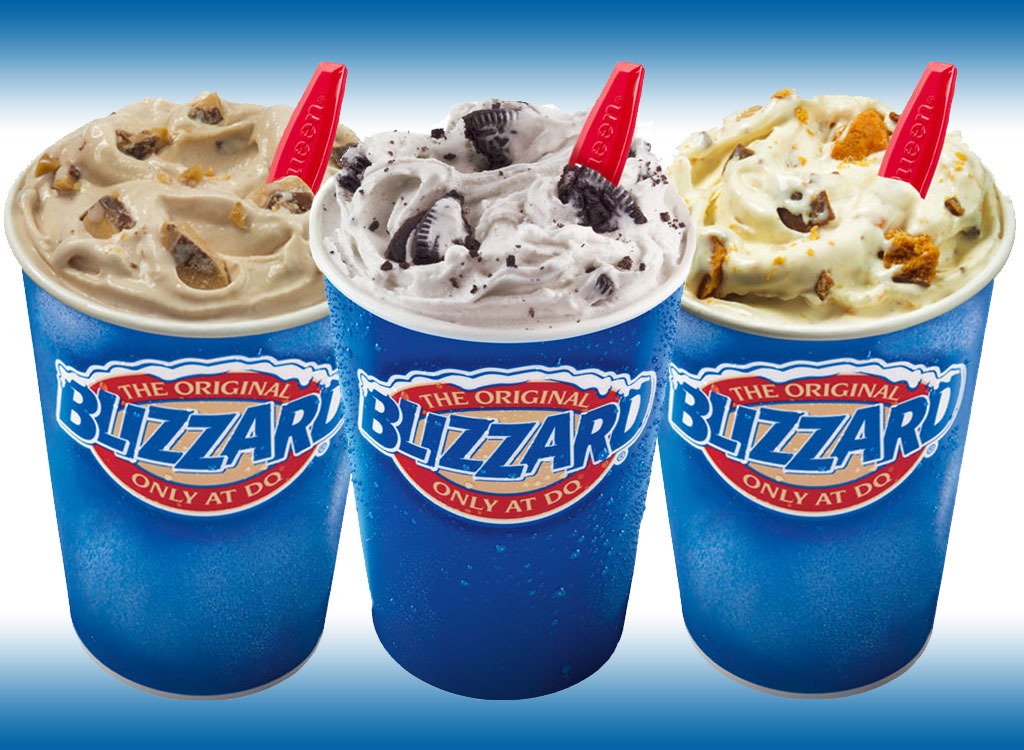 Dairy Queen has 6,400 stores in the United States (with 600 in Texas alone) and an additional 802 stores across the globe, making it one of the most popular fast food chains worldwide. Though DQ serves burgers, fries, and other savory items, its ice-cream based Blizzards are most popular. If you're curious as to how your favorite DQ sweet treats stack up, take a look at Every Dairy Queen Blizzard—Ranked!
McDonald's Japan's Ebi Filet-O
Of the 37,000 McDonald's restaurants worldwide, roughly 3,000 of them are in Japan—which is second only to the U.S. in the number of Golden Arch establishments per country. One of the most popular items on the menu is McDonald's Japan's Ebi Filet-O, which is akin to a Filet-O-Fish, but with shrimp.
KFC China's Shrimp Burger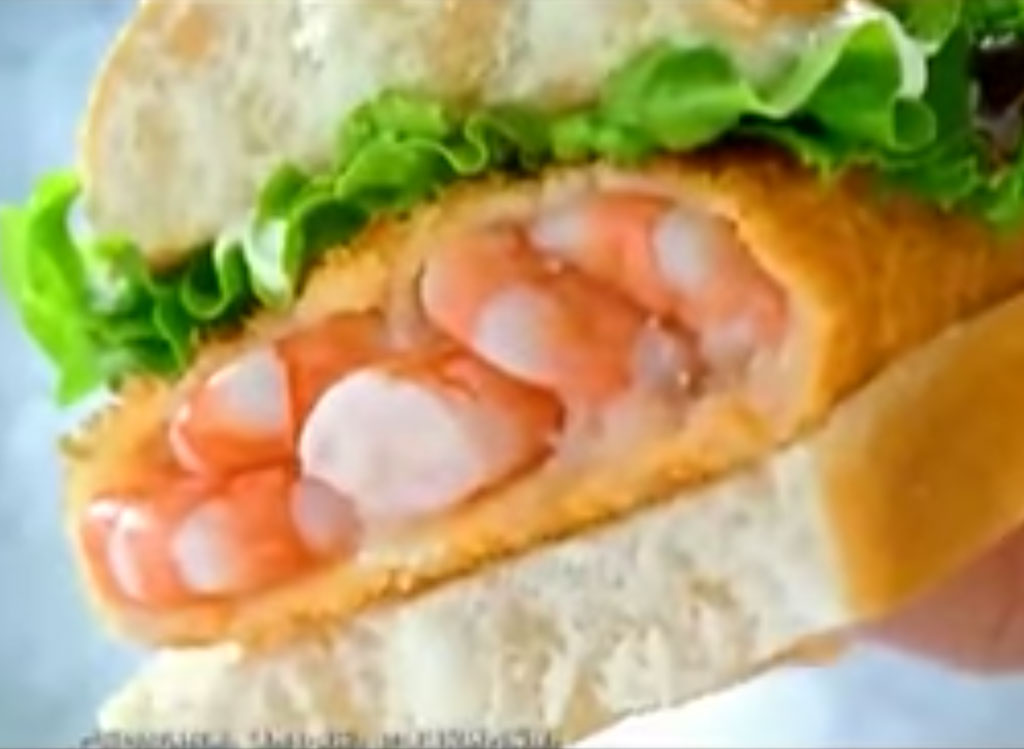 China is the most populous country in the world, and believe it or not, KFC is China's most powerful international brand. The shrimp burger (similar to McDonald's Japan's Ebi Filet-O) served there is one of the most frequently-ordered menu items, with billions estimated to be sold each year. Other popular KFC China offerings include a double Sichuan spicy chicken burger and a curry pork chop with rice.
KFC India's Potato Krisper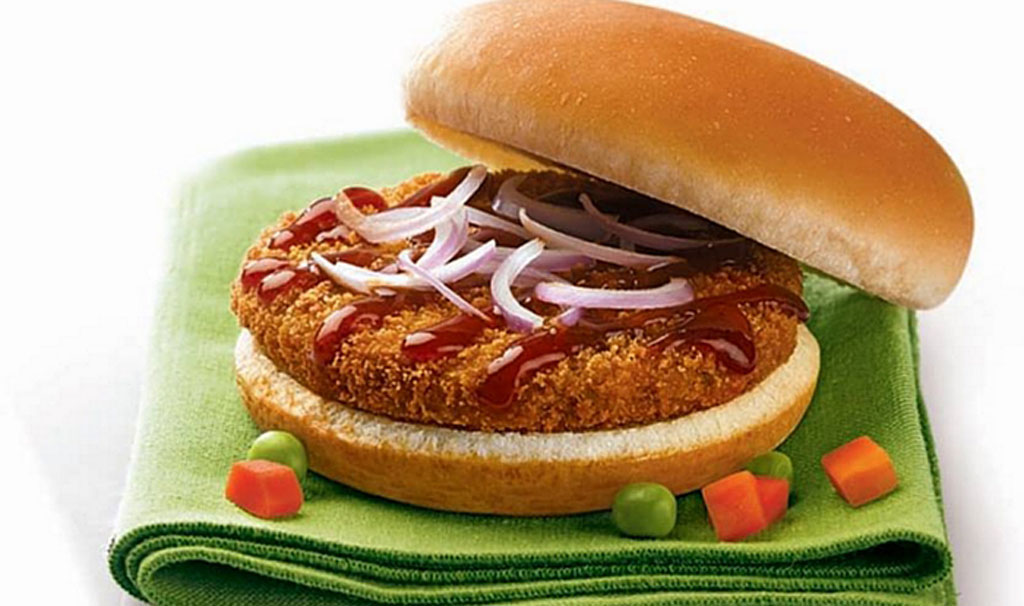 KFC has also made quite an impression on the world's second-most populated country—India. There, The Daily Meal reports you can order something called a potato krisper, which is essentially a sandwich consisting of a potato patty and a tangy sauce in a bun.
Unfortunately, potato krispers aren't great for your waistline, so if you're traveling internationally and looking to indulge, be sure to brush up on the best fat-burning foods!