10 Quick & Easy Meals Made Quicker With Trader Joe's Items
These TJ's finds make it even easier to whip up dinner in a matter of minutes.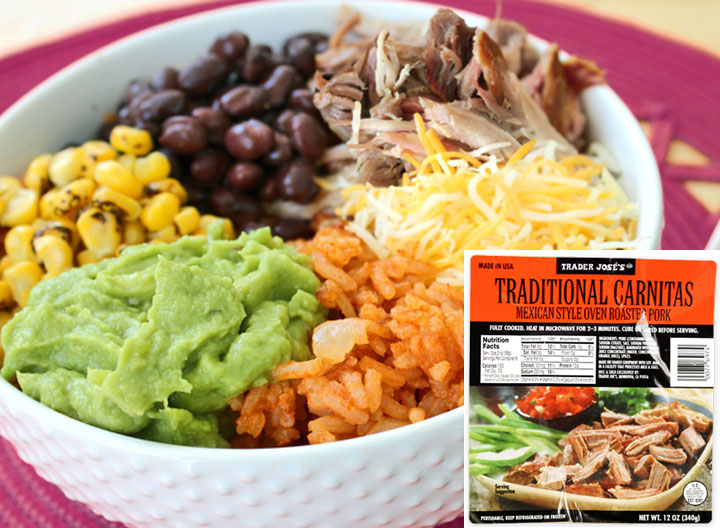 Trader Joe's is one of America's favorite grocery stores—and for good reason. The budget-friendly store has all the pantry staples you need and then some. In particular, TJ's has an impressive amount of packaged, prepared foods that can be heated up and ready to eat in a matter of minutes. While you could easily grab a ready-made meal from Trader Joes, if you want the satisfaction of making your own dinner, we've compiled a list of our favorite go-to recipes using Trader Joe's products.
These meals go from pantry to plate in minutes with the help of using these TJ's shortcuts. If you don't have time to cook at all and want TJ's to do all the work for you, don't miss these essential best frozen foods at Trader Joe's.
Butternut Squash Soup with Spicy Sausage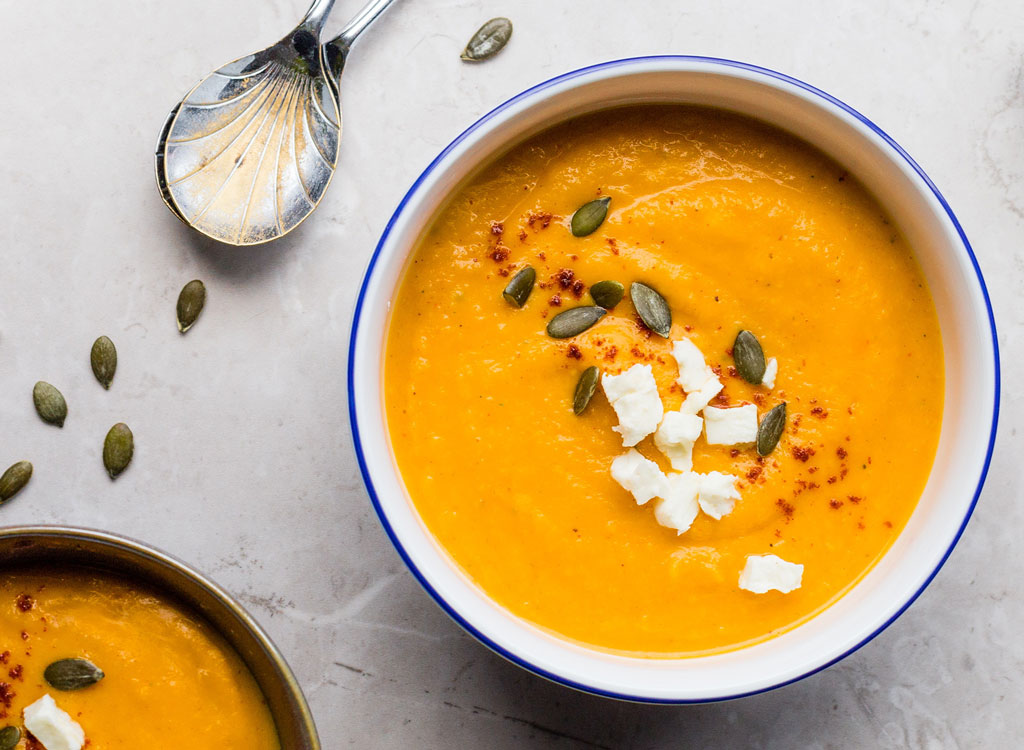 Trader Joe's has a great selection of boxed soups that can be eaten as is or easily spruced up with just a couple extra ingredients. Inspired by TJ's own recipe for Savory Butternut Squash Soup, you can add browned sausage, tangy feta cheese, pepitas, and a touch of earthy olive oil to your soup for a warming bowl of goodness.
Ingredients

TJ's Organic Butternut Squash Soup
TJ's Spicy Italian Sausage, casing removed
Extra Virgin Olive Oil
Feta crumbles
Pumpkin seeds

How to Make It
Heat soup in a saucepan over medium heat.
While soup cooks heat a large frying pan over medium heat. Add crumbled sausage to pan. Stir infrequently, allowing sausage pieces to brown on the bottom of the pan. Cook for 5-7 minutes or until the sausage is no longer pink. Toss on top of soup along with crumbled feta, pumpkin seeds, and a drizzle of extra virgin olive oil.
Carnitas Taco Bowl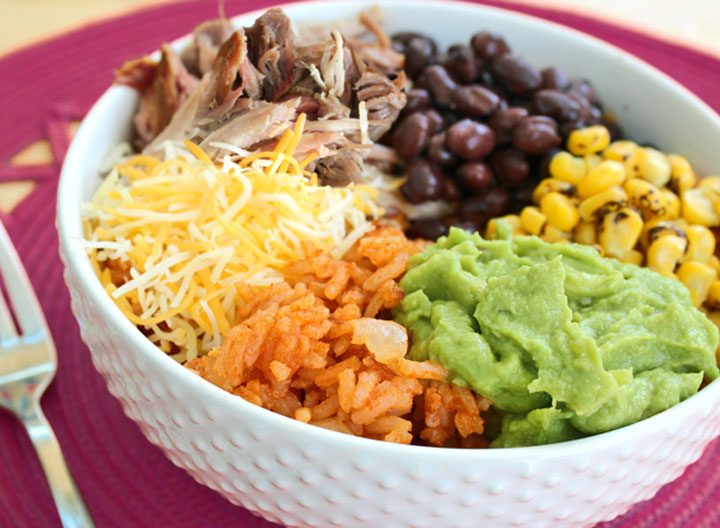 Why head to Chipotle when you can make your own burrito bowl at home? Trader Joe's makes it even easier with their pre-made, citrus-marinated carnitas.
Ingredients
How to Make It
Place carnitas on a microwave-safe plate and heat up for 2-3 minutes. (Optional: If you like your carnitas crispy, toss a serving onto an oven-safe sheet tray and cook under a high broiler for a couple minutes, or until browned to your liking.)
Assemble your bowl with whatever toppings you like! We like tossing the carnitas on top of a bed of romaine lettuce and garnish with lime juice-seasoned black beans, salsa, cheese, guacamole or avocado, and some leftover rice.
Sausage, Peppers, Onions and Potatoes
Sometimes, good old meat and potatoes is the only dinner that will satisfy you. Luckily, you don't have to make it from scratch thanks to our friends at Trader Joe's. Their frozen potatoes, peppers, and onions mix can be heated up in minutes in the microwave or skillet. We pair it with chicken sausage and some extra bell peppers because we love veggies.
Ingredients
How to Make It
Heat TJ's Potatoes with Peppers & Onions according to package instructions. Heat TJ's fully-cooked Sweet Italian Chicken Sausage in a pan until lightly browned. Slice into 1-inch sections.
After the sausage is warmed up, remove from pan and add a touch of olive oil to the same pan. Fry up slices of red and yellow bell pepper until softened, about 5 minutes. Combine all ingredients together and serve!
Middle Eastern Bean and Bulgur Salad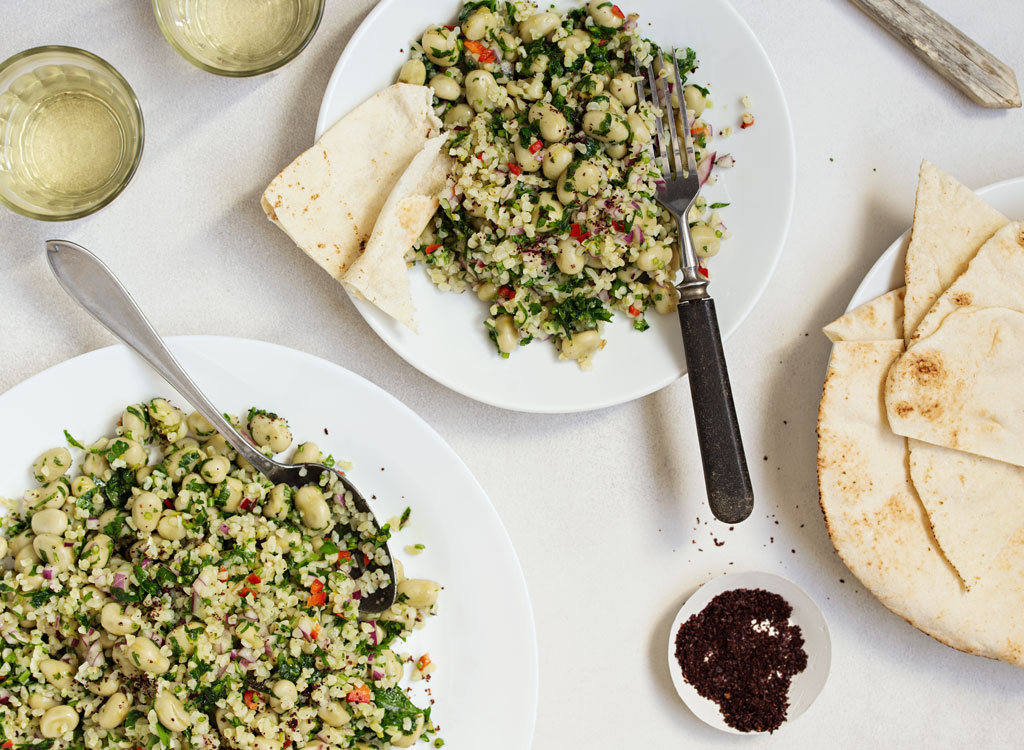 This bean salad is described as a "savory Middle Eastern salad with chickpeas, tomatoes, and black beans." It's seasoned with a touch of lemon juice, parsley, and mint. If your Trader Joe's also sells their Tabbouleh salad, grab that tub too and mix the two together in this herbaceous Middle Eastern bean salad.
Ingredients
TJ's Balela Bean Salad
TJ's Tabbouleh Salad
Feta cheese
Extra Virgin Olive Oil
Lemon juice
Pita chips
How to Make It
Mix the two salads together in a bowl. Top with a squeeze of lemon juice, crumbled feta, a drizzle of olive oil, and crushed pita chips.
Chicken Fried Cauliflower Rice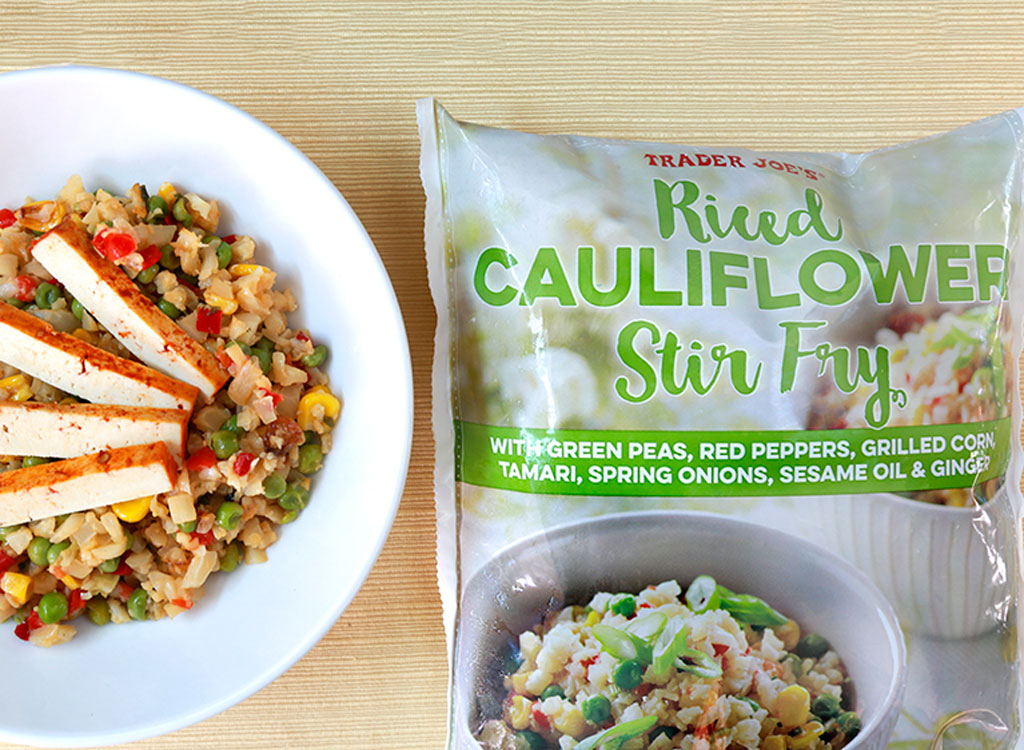 Chicken fried cauliflower rice, anyone? Trader Joe's does basically all the work for you here. All you'll have to add is your protein of choice (we like chicken), some scrambled egg, and top it all off with some Sriracha.
Ingredients

TJ's Riced Cauliflower Stir Fry
Boneless Skinless Chicken Breast
Eggs
Sriracha

How to Make It
Scramble an egg and set aside. Fry up your chicken, set aside. Heat a tablespoon of oil up in a pan, add cauliflower stir fry and cook until warm, 6 to 7 minutes. Add scrambled egg back in along with chicken. Mix together, top with Sriracha, sesame seeds, and chopped scallions.
Indian Curry with Chickpeas, Potatoes, Green Peas and Naan
Start your dinner with TJ's Indian-style simmer sauce. All you'll need to do is sear up some cubed chicken (or toss in a can of chickpeas). We like to add some frozen peas for a pop of color and a touch of sweetness. Serve it with either TJ's frozen brown rice or their frozen naan for a satisfying meal in minutes.6254a4d1642c605c54bf1cab17d50f1e
Ingredients
How to Make It
Cube chicken and sear in a large frying pan over medium-high in grapeseed oil or other neutral oil until it reaches an internal temperature of 165 degrees.
Once cooked, add a spoonful of ginger paste and fry until fragrant, about 20 seconds. Pour in the jar of curry simmer sauce, canned chickpeas, frozen cauliflower, and bring to a simmer. Reduce heat to low and add frozen peas. Simmer for a few more minutes until peas are warmed.
Meanwhile, heat up either the naan or brown rice. Serve curried chicken on top of rice or alongside naan.
Kale and Quinoa Bowl with Runny Egg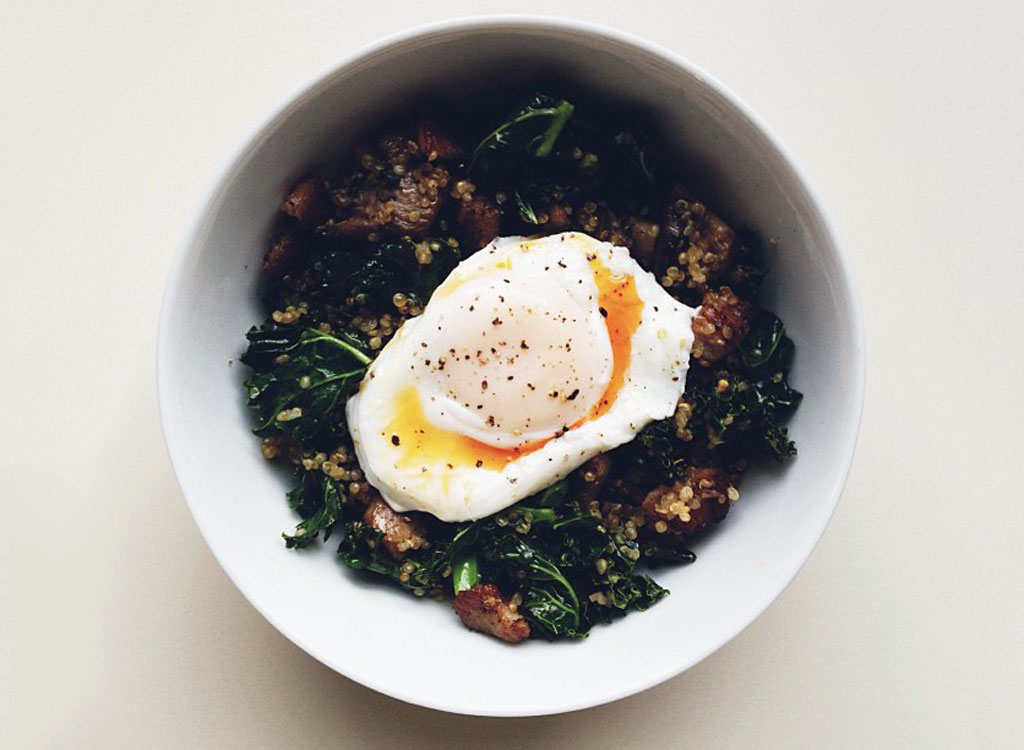 This product from TJ's is so good, there's not much else we're going to do with it. You get a tri-color organic quinoa, vitamin A-rich sweet potatoes, leafy green kale, and eye health-boosting carrots. The only thing we think it's missing? A beautiful runny egg on top.
Ingredients

TJ's Frozen Organic Superfood Pilaf
Egg

How to Make It
Fry, poach, or soft boil an egg. Heat up frozen superfood pilaf. Serve!
Spaghetti Squash and Meatballs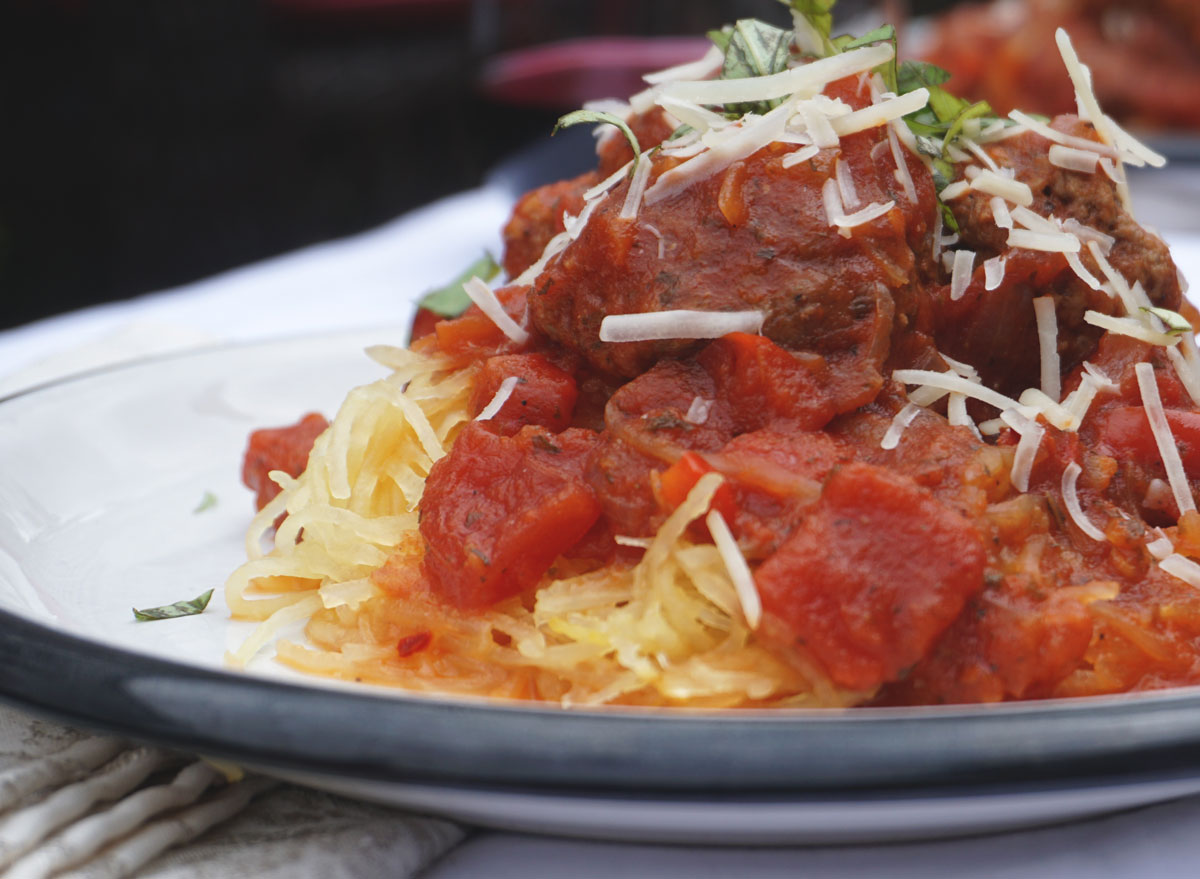 Your pasta dinner just got a veggie-filled makeover. Beef up the protein count with TJ's mini meatballs and dinner is served.
Ingredients

TJ's Party Size Mini Meatballs
Spaghetti Squash
Marinara Sauce

How to Make It
Cut spaghetti squash in half, scoop out seeds. Season with salt and pepper and roast in a 400-degree oven for 30 minutes, or until tender. Shred squash with fork until it looks like spaghetti. Top with warmed marinara sauce and reheated meatballs.
Asian Wild Rice Salad
Trader Joe's Frozen Rice Medley is the dinner shortcut you've been dreaming of. Pop it in your microwave for 3 minutes and dress it up as you'd like. Below is one of our favorite versions of a wild rice salad that's brought to life with many ingredients you already have in your pantry and some extra produce to freshen things up.
Ingredients
SALAD
TJ's Frozen Rice Medley
TJ's Frozen Edamame
 ($1.99), defrosted
TJ's Shredded Carrots
1 Red bell pepper, julienned
1/2 cucumber, diced
Peanuts
DRESSING
1 Tbsp Toasted Sesame oil
2 Tbsp Rice vinegar
1 Tsp TJ's Ginger Stir-In Paste
1/4 Tsp garlic powder (or 1 garlic clove, minced)
1 Tsp TJ's Low-Sodium Soy Sauce or TJ's
 Coconut Aminos
 ($2.99)
1/4 Cup Grapeseed oil (can substitute with canola or vegetable oil)
How to Make It
To make the dressing, whisk together the ingredients. Microwave rice medley according to package instructions. Add all salad ingredients in one bowl and drizzle with dressing.
Pesto 3-Cheese Ravioli with Roasted Red Peppers
Give your pasta night a makeover. A one-cup serving of these ravioli comes with an impressive 9 grams of protein. We like pairing them with herbaceous pesto and punchy fire-roasted red peppers. Adding extra greens and vegetables to your pasta is one of the ways to eat pasta without getting fat.
Ingredients
How to Make It
Prepare ravioli according to package instructions. Reserve a quarter cup of pasta water. In the same pot, add pesto, sliced red peppers, and a generous amount of parmesan cheese. Add pasta water to help thin out sauce, and serve with freshly-cracked black pepper.
Olivia Tarantino
Olivia Tarantino is the Managing Editor of Eat This, Not That!, specializing in nutrition, health, and food product coverage.
Read more about Olivia