An Easy Raspberry-Peach Swirled Smoothie Recipe
Just a few naturally sweet ingredients and a blender is all you need.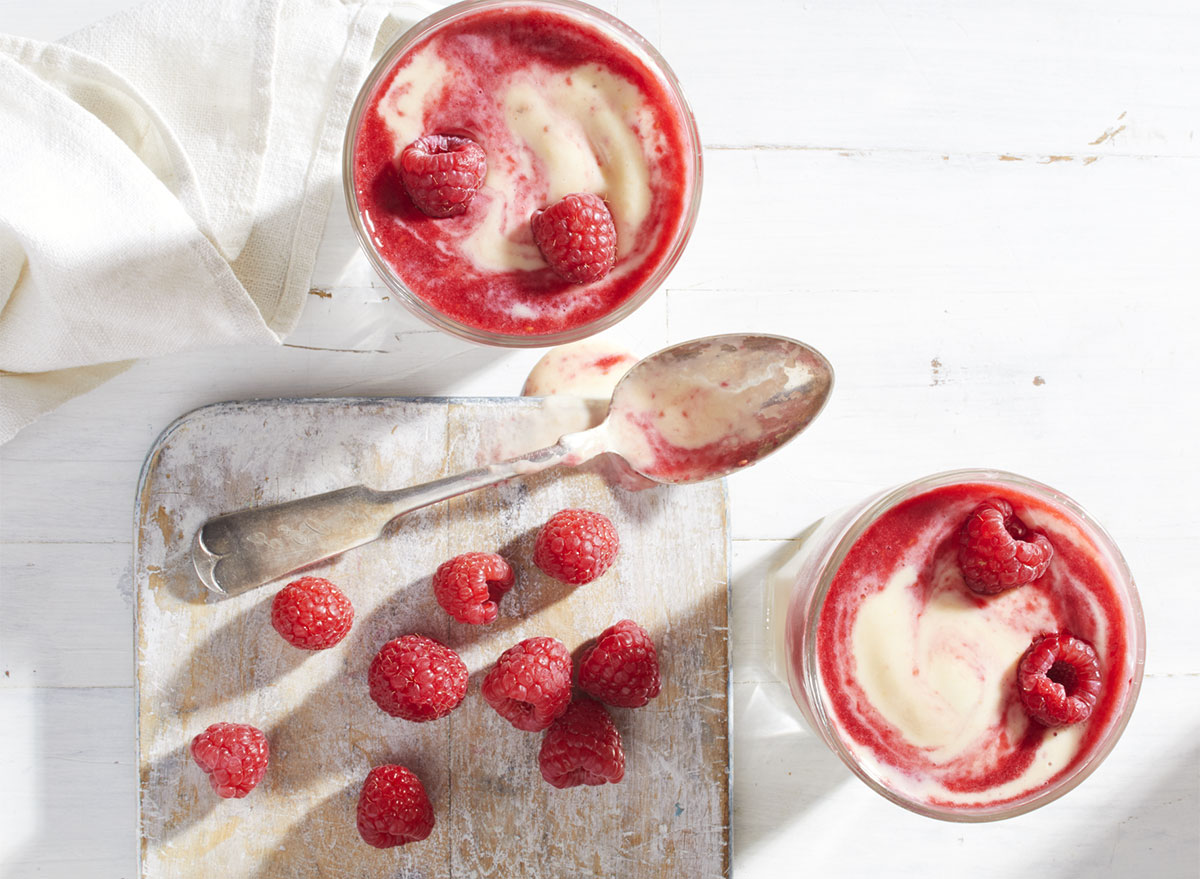 It's been said time and time again that breakfast is a rather important meal, and if you choose to eat something in the morning, you want to make sure it's filling, is genuinely good for you, and, let's be honest here, doesn't take up too much prep time. We know you're busy and don't have tons of time to spend in the kitchen in the morning as you're heading out for the day. But that's why a smoothie is always a solid option, and here, we have a recipe for a raspberry-peach swirled smoothie that incorporates tons of fresh, naturally sweet flavors in your glass.
Besides the frozen raspberries and peaches, we combine a banana, orange juice, and Greek yogurt—along with some honey and ginger, too—to create a satisfying sweet way to kickstart your day with a healthy breakfast. All you have to do is put all the ingredients in the blender and once it's smooth, you're ready to sip away. And in case you were wondering, frozen fruit (freeze-dried too!) is just as healthy for you as fresh fruit. So you're still getting all the important nutrients you need from these fruits for a cheaper price that will last longer in your freezer and work perfectly for making this frozen drink. And because you're only using one appliance, you don't have to worry about having much to clean up either.
Enjoy this raspberry-peach swirled smoothie recipe below!
Nutrition: 353 calories, 1 g fat (0 g saturated), 53 mg sodium, 60 g sugar, 14 g protein, 7 g fiber
Makes 2 servings
Ingredients
1/2 cup frozen unsweetened raspberries, thawed
1/3 cup orange juice
2 5.3-oz cartons nonfat vanilla Greek yogurt
1 1/2 cups frozen peach slices
1 ripe banana, cut into 2-inch chunks and frozen for at least 2 hours
1 Tbsp honey
1/4 tsp ground ginger
Fresh raspberries (optional)
How to Make It
In a blender, combine raspberries and orange juice. Cover and blend until smooth. Divide between two glasses.
Wash out the blender. In the clean blender, combine yogurt, peaches, banana, honey, and ginger. Cover and blend until smooth. Pour over raspberry mixture in glasses.
Swirl with a spoon. If desired, top with fresh raspberries. Serve immediately.
Eat This, Not That!
Inspired by The New York Times best-selling book series, Eat This, Not That! is a brand that's comprised of an award-winning team of journalists and board-certified experts, doctors, nutritionists, chefs, personal trainers, and dietitians who work together to bring you accurate, timely, informative, and actionable content on food, nutrition, dieting, weight loss, health, wellness, and more.
Read more about Eat This