We're 99% Sure This is the Real KFC Chicken Recipe
Straight from Kentucky, we believe this is the magical list of 11 spices for some finger lickin' good chicken.
As writers and journalists, we know exactly what it's like when you accidentally discover something interesting or when someone reveals a little-known truth that is genuinely mind-blowing. And while the best stories often come from clandestine missions—one of our editors frequently poses as a diabetic to extract need-to-know nutritional information from cagey restaurants—even the most routine efforts can unveil crazy insights. Case in point: When a Chicago Tribune reporter visited Corbin, Ky., to do a travel piece on the destination, he had no idea he would wind up being shown what many are saying is the secret recipe of Colonel Sanders, KFC's founder. We're really watering down that whole story, which you can read about on the Trib's site.
Here's the nutshell version: Colonel Sanders' nephew showed the travel reporter a photo album during an interview. In the back of it was his uncle's last will and testament—with a recipe written on the other side of it. When the reporter questioned if he was looking at the perfected, real KFC chicken recipe, the nephew confirmed he was; the white pepper is the secret ingredient that differentiates this vintage, documented recipe from other people who have claimed to have it. White pepper wasn't as popular back in the Colonel's day and still isn't that buzzed about; it is a tasty addition to the numerous beef jerky options on the market, though.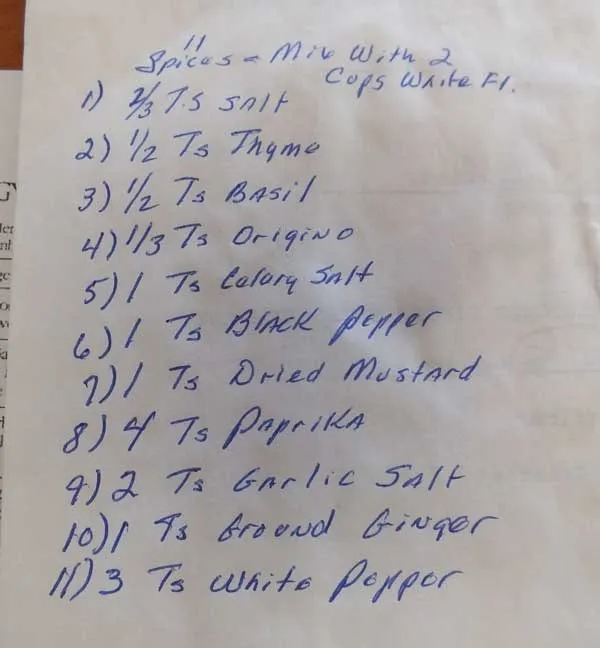 The Trib went on to test the recipe—thoroughly—and can confirm those Ts in the photographed recipe stand for tablespoons. They also go into some in-depth instructions, which we don't want to take away from them; you'll have to visit their site for exact instructions. (#SorryNotSorry. Consider it journalism karma.)
For an easy reference, though, here's the quick line-up of ingredients (flour + 11 spices) for what we believe to be the real KFC chicken recipe:
•2 cups all-purpose flour
•2/3 tablespoon salt
•1/2 tablespoon dried thyme leaves
•1/2 tablespoon dried basil leaves
•1/3 tablespoon dried oregano leaves
•1 tablespoon celery salt
•1 tablespoon ground black pepper
•1 tablespoon dried mustard
•4 tablespoons paprika
•2 tablespoons garlic salt
•1 tablespoon ground ginger
•3 tablespoons ground white pepper
We'll let you see for yourself if this mix tastes like the real deal. But since fried chicken isn't exactly a healthy choice, we can't leave you without first sharing these 21 Flat-Belly Hacks for Southern Cooking!6254a4d1642c605c54bf1cab17d50f1e
Eat This, Not That!
Inspired by The New York Times best-selling book series, Eat This, Not That! is a brand that's comprised of an award-winning team of journalists and board-certified experts, doctors, nutritionists, chefs, personal trainers, and dietitians who work together to bring you accurate, timely, informative, and actionable content on food, nutrition, dieting, weight loss, health, wellness, and more.
Read more about Eat This