20 Flat-Belly Hacks for Southern Cooking
Get all the taste of southern food—without all of the gut-busting calories.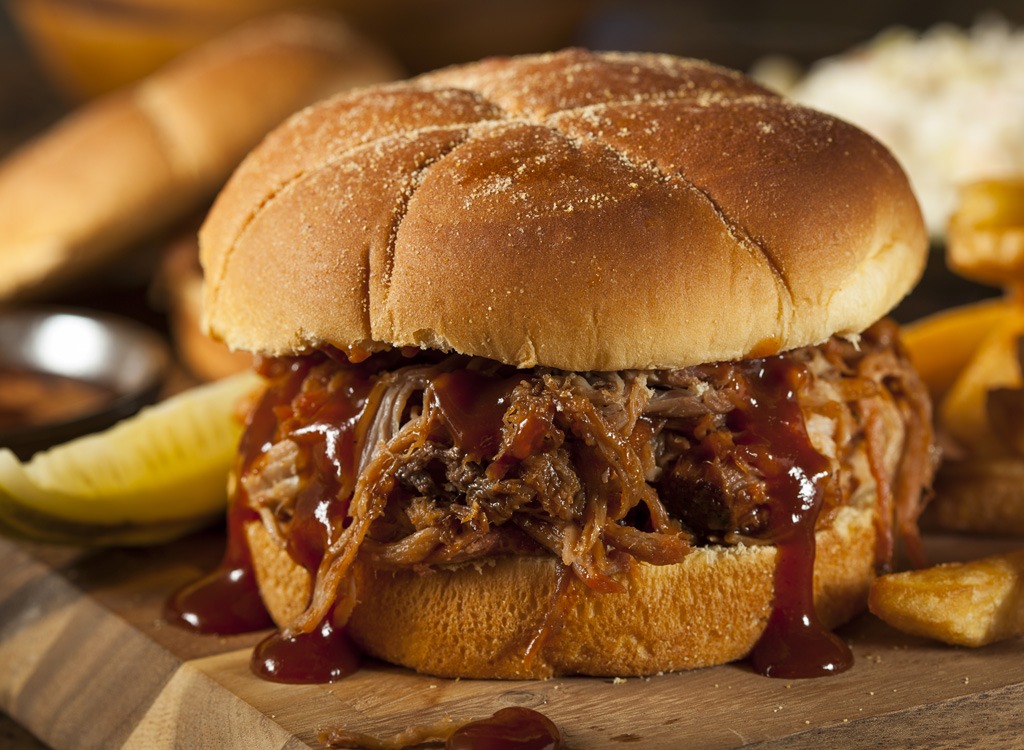 Southern food might as well be called comfort food because it reminds us of warm-fuzzy things like grandma's cooking, neighborhood block parties, and the simpler things in life.
And while food might be a nice way to feel comfy and satisfied, not worrying about that stick of butter thrown into a pan or that piping hot vat of oil can mean you'll spend your time worrying about buttoning your pants tomorrow, instead. Does that mean you have to give up your beloved fried catfish, jambalaya, and coleslaw? No way! Just follow these hacks to "healthify" your southern faves—and beat the flabby arm wings and fat belly before they start! For more small changes to make a big difference, don't miss these 50 Little Things Making You Fatter and Fatter.
A nice-sized (read: large) serving of fried catfish can set you back several hundred calories. Not to mention, the traditional versions coated in cornbread and other batters add a bunch of sodium and fat when pan fried. The solution? Create a lighter batter—like one made with a little flour, salt, baking powder, milk, and water—and bake in the oven. If you must fry it, be sure to pick oils that are low in saturated fats, like canola oil. (Vegetable oil is high in omega-6s, which isn't a good thing.)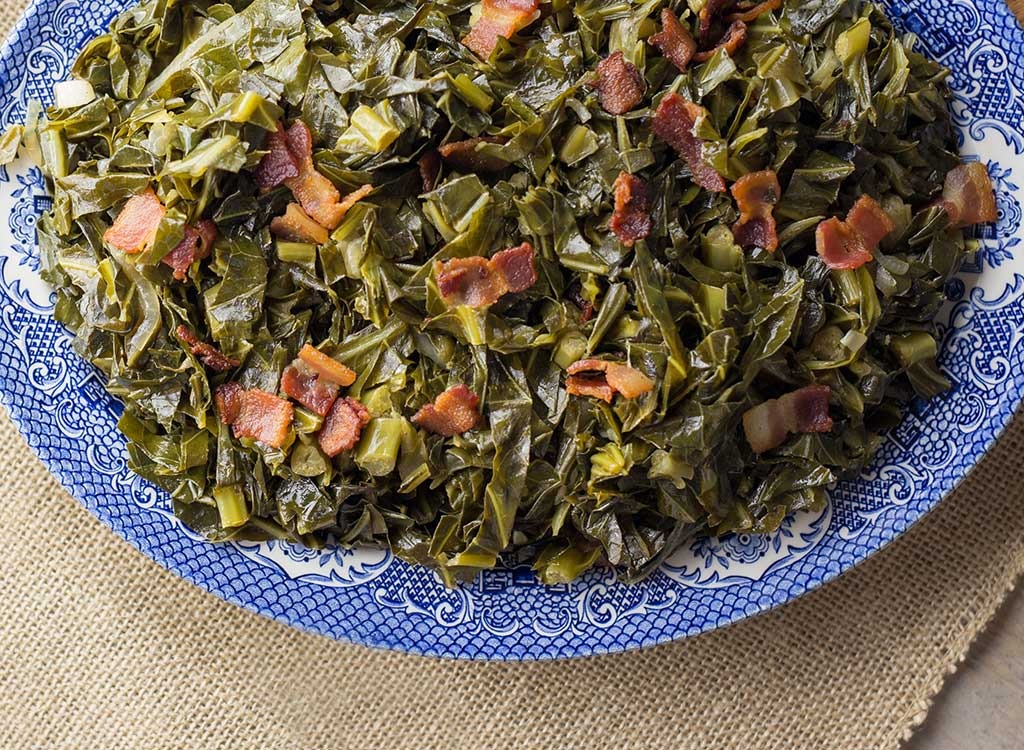 Collard greens on their own aren't unhealthy; but many recipes call for added calories, fat, and sodium in the form of ham hocks, bacon, and butter. Luckily, boiled greens are still delicious when you just add a little salt to the mix. You can also kick the taste up a notch by adding red pepper flakes, garlic, and onion. You'll probably love the taste even more but get far fewer calories!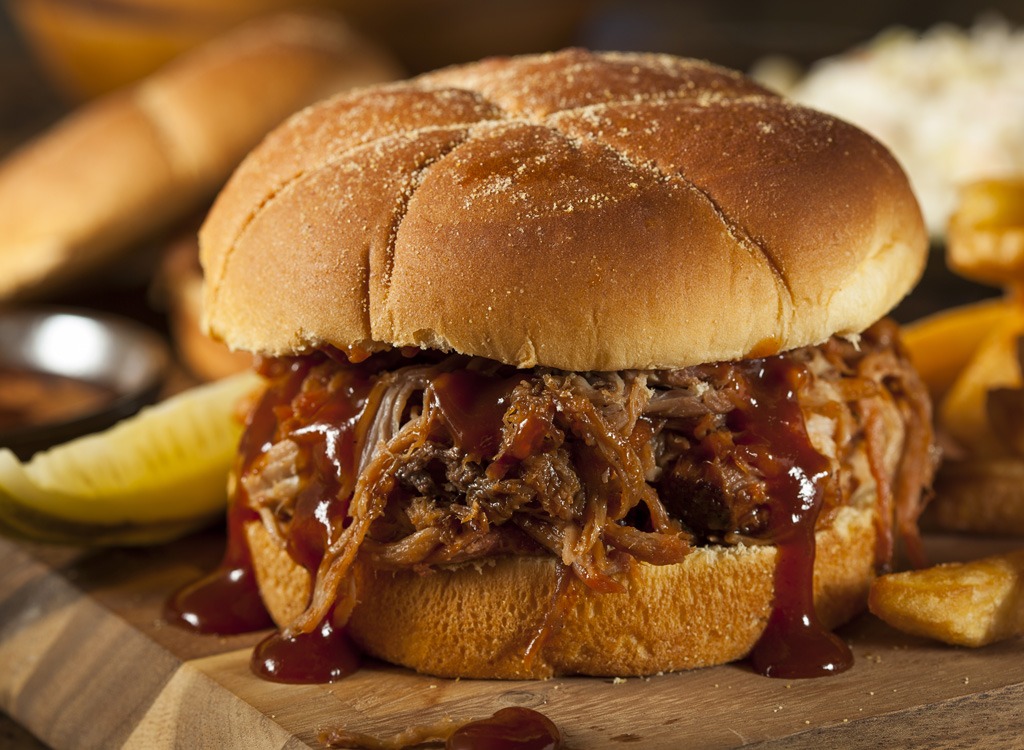 BBQ pork, like collard greens, is both healthy and protein-packed. That said, the calories and sugar content shoot through the roof when you add the zesty flavor of barbecue sauce. Instead, forego the sweeter versions of BBQ for low-sugar options, or make your own tangy BBQ sauce with a mixture of tomato paste, apple cider vinegar and maple syrup. Or, forego it entirely for some hot sauce instead. Learn about where else sugar is hiding and how to cut down on it with these 30 Easy Ways to Stop Eating So Much Sugar!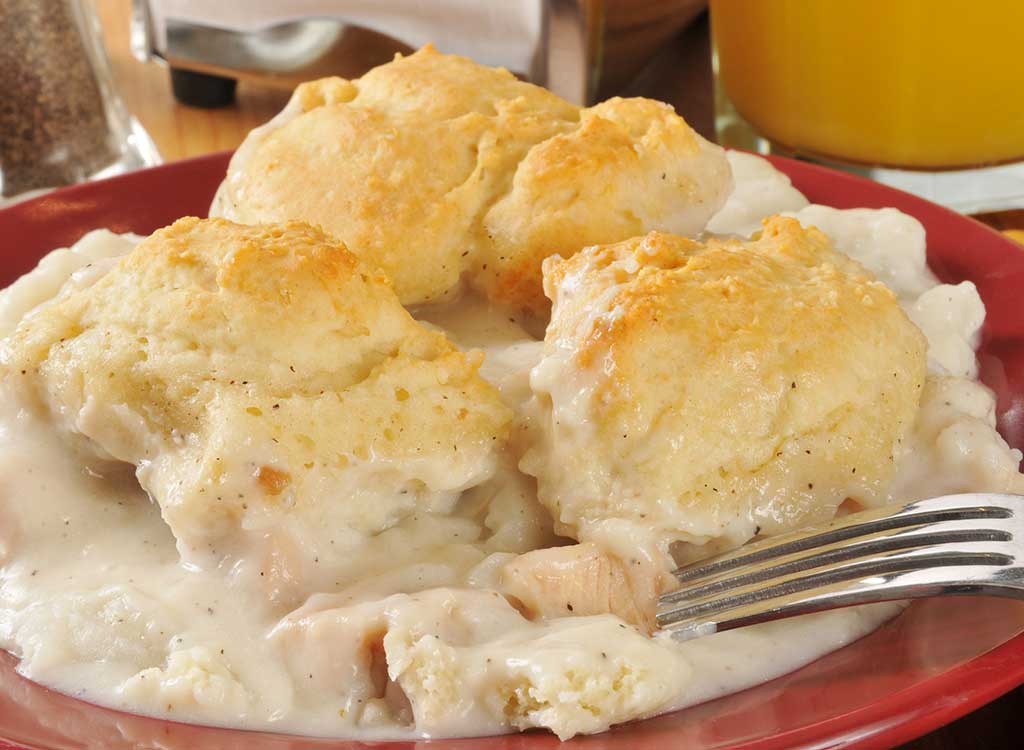 Biscuits and gravy are the ultimate southern brunch food, but the dish can set you back over 500 calories with an astounding 50 grams of fat—and that's just for one biscuit! Plus, it's not true southern biscuits and gravy without a side of molasses. You probably assume it's impossible to improve the health profile of this fat-soaked southern specialty, but luckily it's not! One recipe we found replaces the fat in the gravy with cashews and almond milk and swaps out the sausage with pork seasoning. And as for the biscuits? Replace the white flour with whole wheat—and just ditch the sugar, because it's not even necessary.
The issue with the coleslaw isn't the shredded cabbage and carrots; it's the mayo-based dressing that makes up the bulk of the 300-ish calories that come in one cup of this classic side. This one is easy to hack to keep your belly flat and happy; just swap out the mayo with low- or nonfat Greek yogurt. You won't believe how similar it tastes! Check out these 20 Side Dishes That Make Any Meal Instantly Healthier for more tasty, nutritious ideas.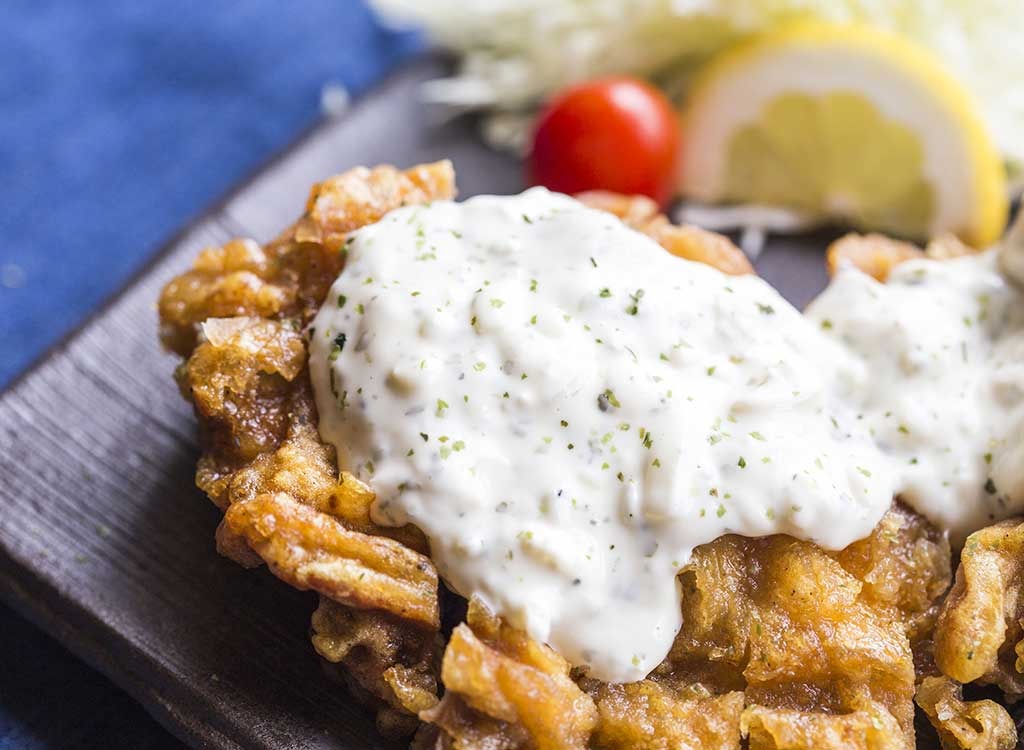 If southern food had a mascot, chicken fried steak would be it. The deep-fried and breaded hunk of meat is a calorie and fat bomb—and the gravy added on top doesn't help things. To lighten things up, cut the white flour with a whole wheat version and bake instead of pan fry.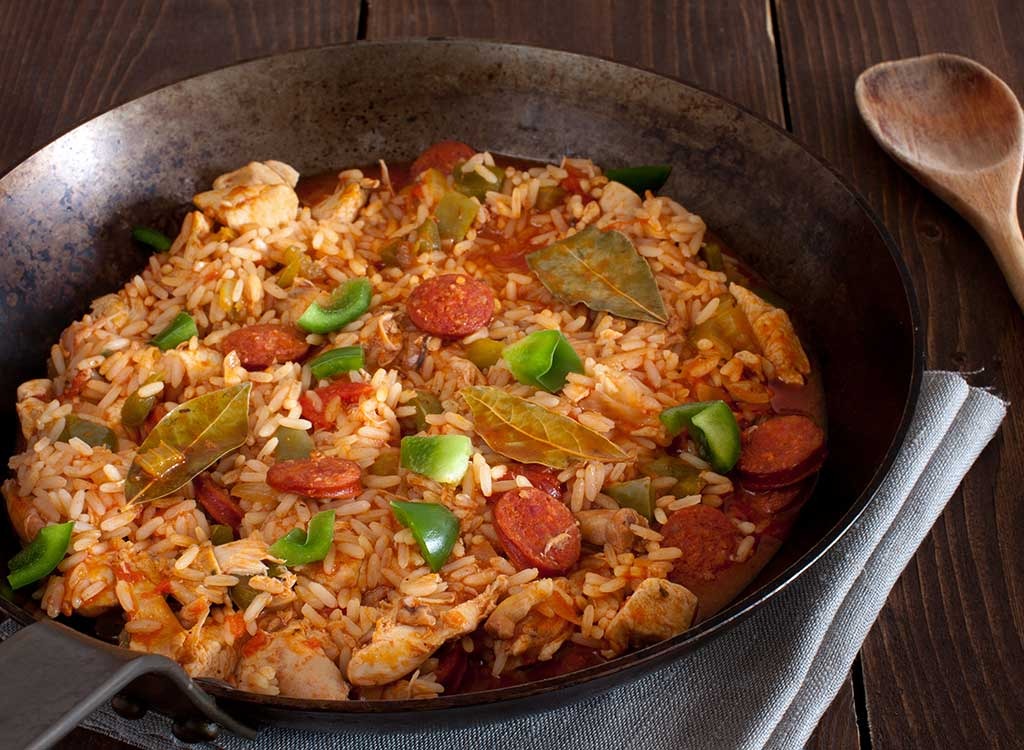 While Jambalaya—a cajun favorite—isn't too terrible for your waistline at 393 calories a cup, it can be hacked a bit to make it even healthier. First, swap out the white rice for a healthier carb like brown rice. Then, switch up the andouille sausage with lower-fat chicken or turkey sausage. Oh, and add an extra pinch of cayenne pepper to amp up the flavor and your metabolism at the same time! You'll still love it and you'll love these 20 Spicy Recipes That Will Fire Up Your Metabolism, too!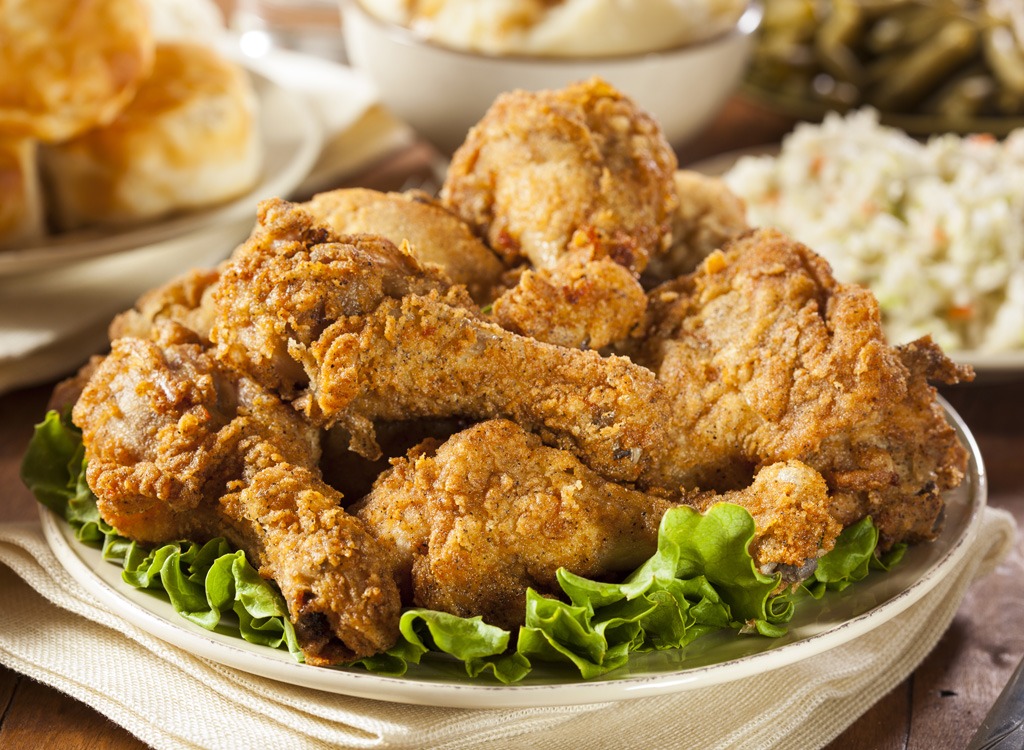 Fried chicken—like chicken fried steak and fried catfish—is like dropping a huge caloric bomb on your waistline every time you eat it. But, like the other fried foods, it's easily lightened by swapping out part of the white flour (used for the batter) with whole wheat flour. Baking it also lightens the load; but if you must fry, use a healthier oil like canola.6254a4d1642c605c54bf1cab17d50f1e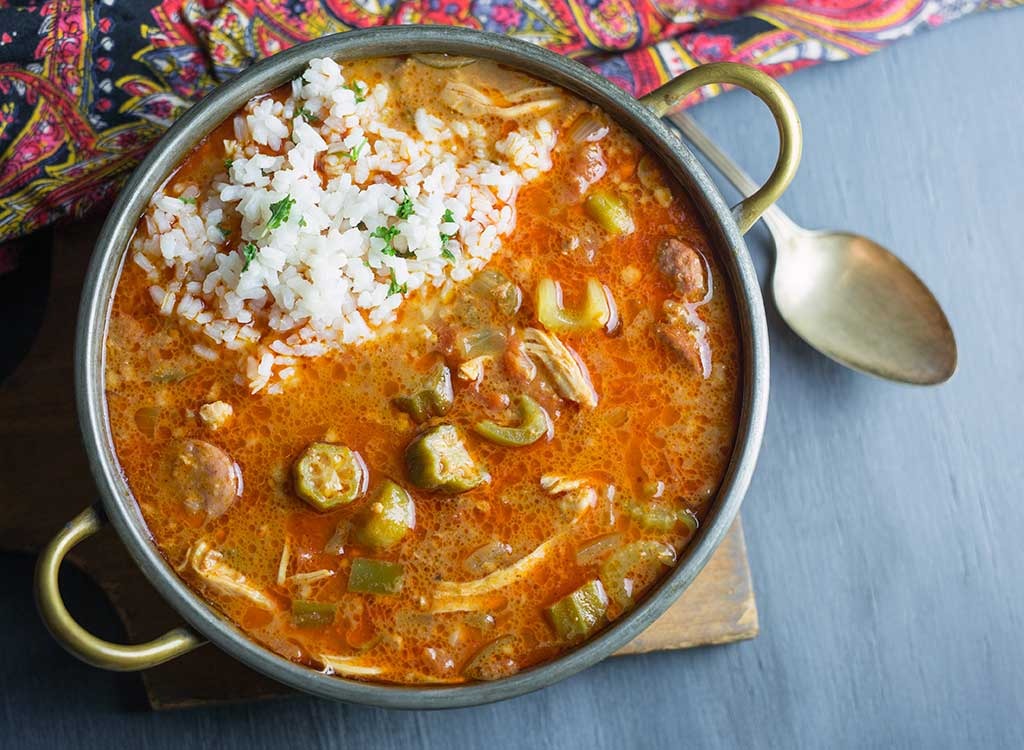 Like jambalaya, this cajun favorite is actually pretty healthy with its rice, shrimp, and sausage combination. But to make it even more flat-belly friendly, swap the andouille sausage with chicken or turkey varieties and switch the white rice to brown. (Are you seeing a pattern yet? Good; that means you're learning!) Also, making the roux—the brownish-red broth—from a dry mix will add less fat to the gumbo.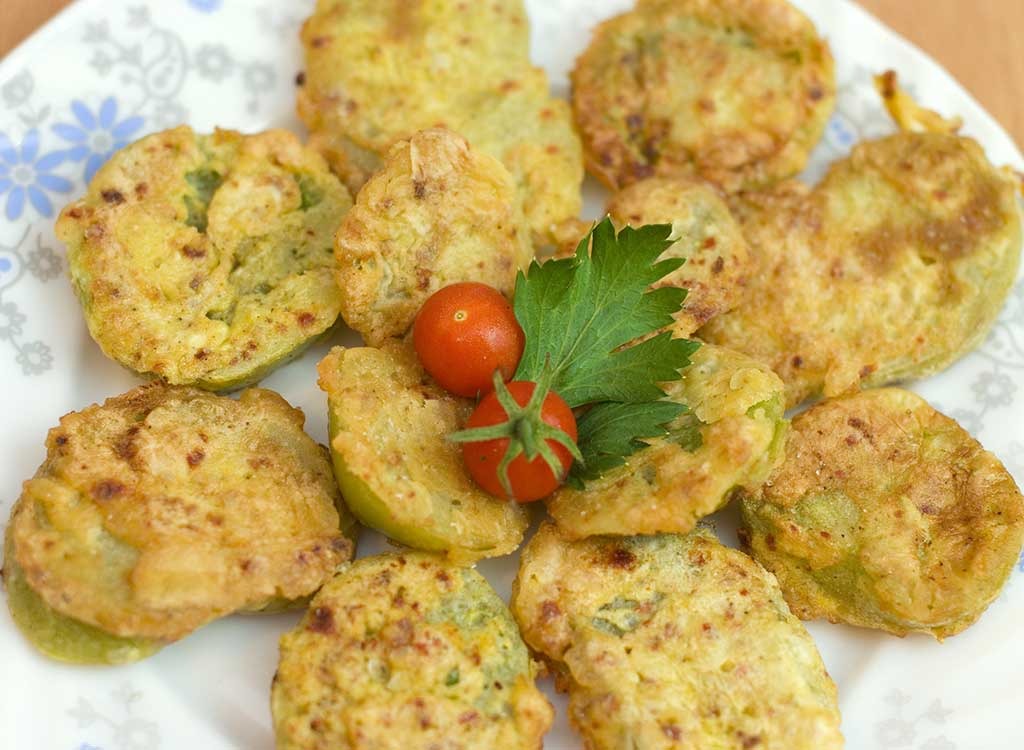 The problem with fried green tomatoes isn't the tomato; it's the cooking process. The green goodies are typically battered, fried in bacon fat, and then served with a mayo cooking sauce. Yikes. Instead, coat with a batter made of egg whites, flour, and panko and then pan sear using olive oil. Besides, didn't you hear that fried foods are one of the 23 Foods That Ruin Date Night?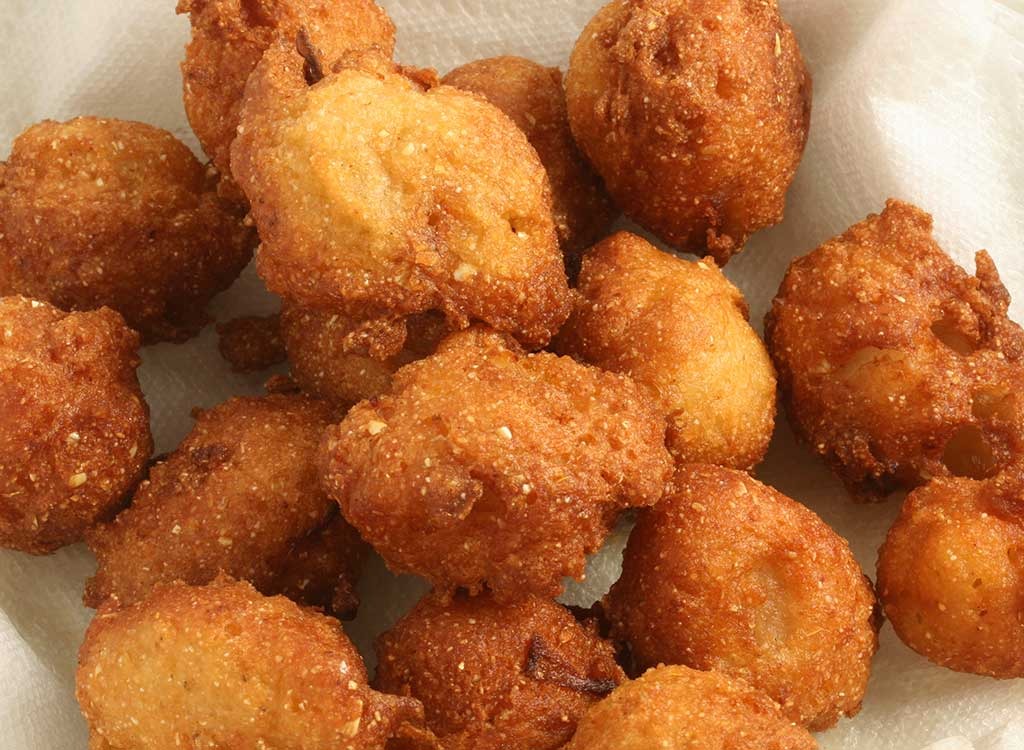 Hush Puppies might be delicious, but you'll swear off them for good after you read this. Why? A typical one-cup serving of the fried cornbread balls weigh in at 512 calories—and it's easy to eat a bunch of them because they're so small. The key to making these flat-belly friendly is to bake them, of course; but the most important thing with these are to only allow yourself one or two, tops.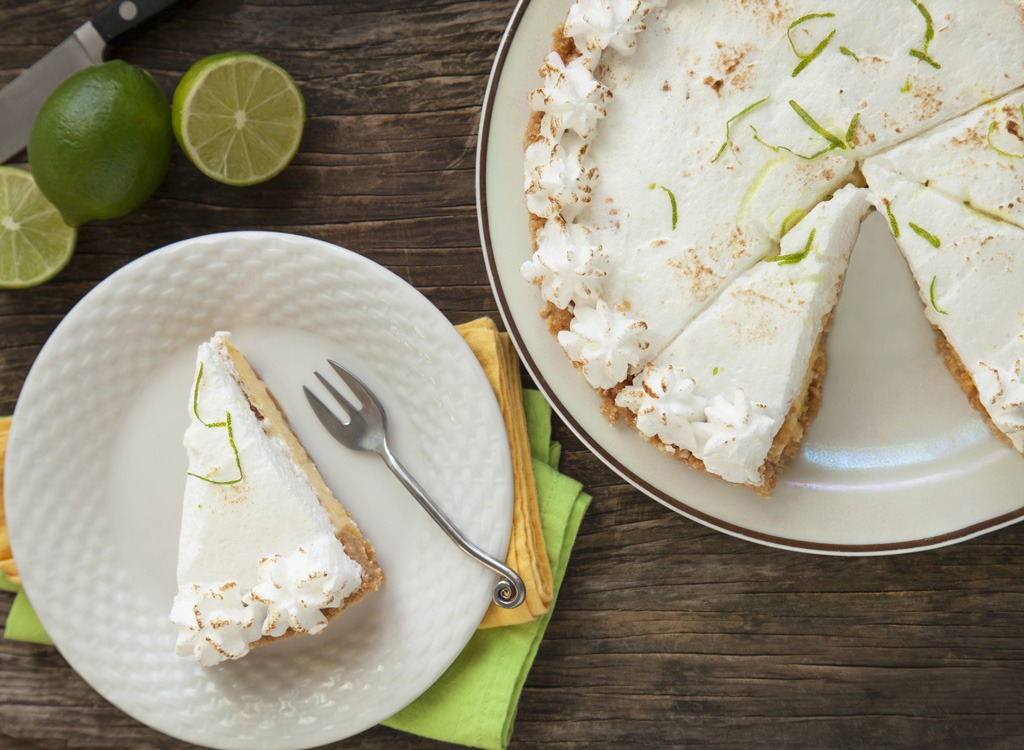 Key Lime Pie is a tricky southern treat because it has a deceptive look of being light and airy. In reality, the eggs, sour cream, and other goodies added in the recipe push it to 500 calories a slice. Lighten the calorie load without losing the taste by swapping the eggs for egg whites, the condensed milk for the fat-free version, and the sour cream for tangy Greek yogurt. To be clear, though, egg yolks aren't bad for you; in fact, the choline can help you burn fat. But using only whites will indeed lower the calorie count.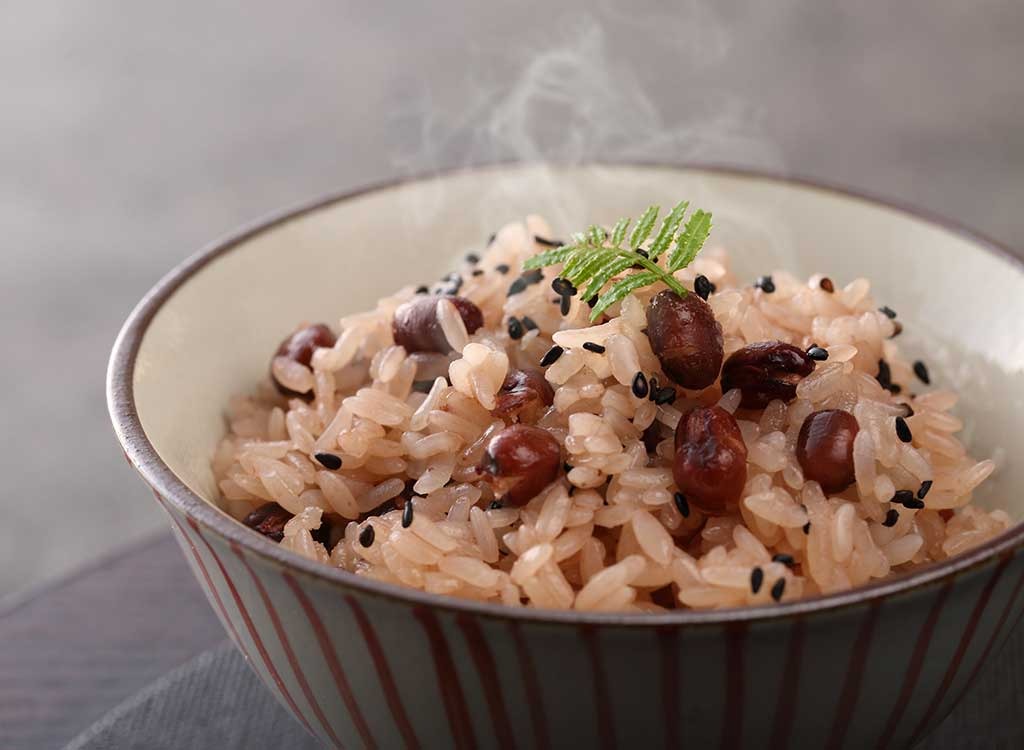 Red beans and rice is a southern fave packed with protein, but the high carb count (thanks to the rice) makes it bad for your belly. Instead, cook with brown rice and then swap out the andouille sausage with chicken sausage. If you really want to get crazy, forego the red beans altogether and go for ultra-healthy black beans instead. Yes, that totally changes the name of this food, but no one will fault you.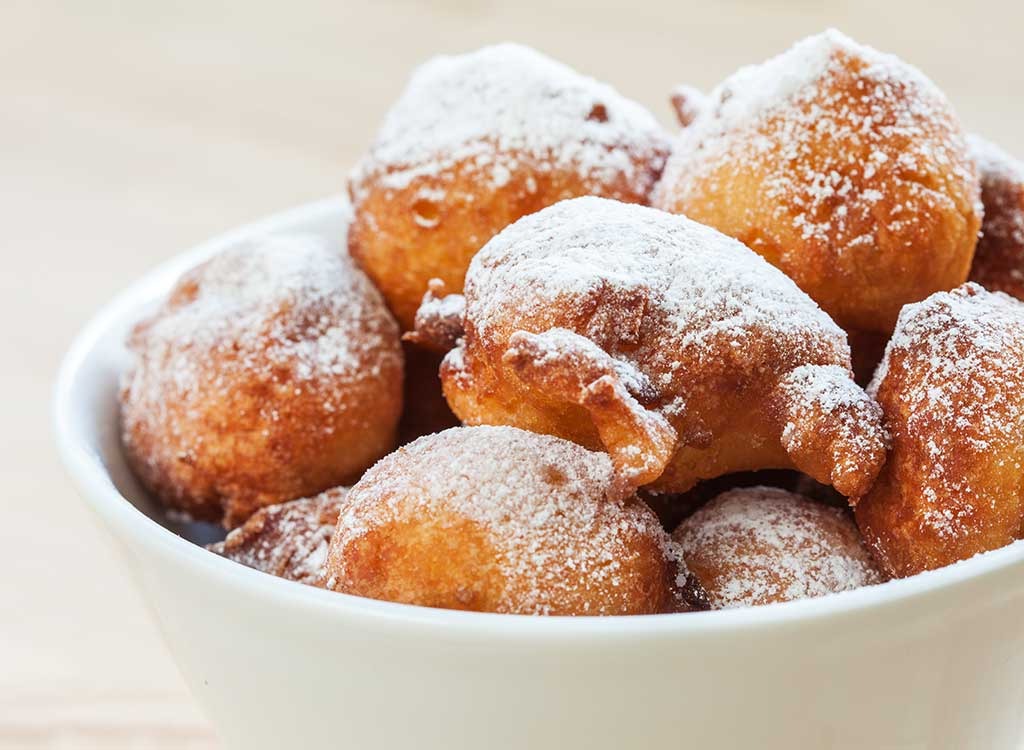 Beignets are basically a fancy creole word for fried fritters topped with powdered sugar. And while, yes, they're super delicious, they're also filled with saturated fat and plenty. What's a dessert lover who wants a flat belly to do? Bake them without all the oil! They taste just as good, especially when you lightly dust them with powdered sugar for added taste. See? You can have your beignet and eat it, too!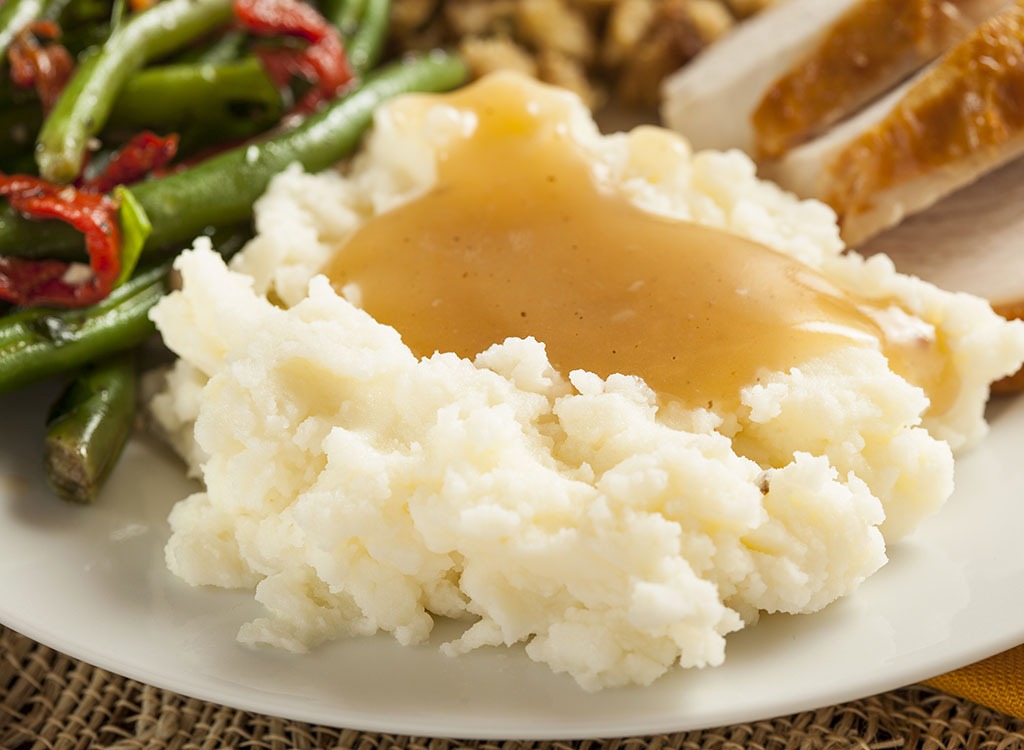 Mashed potatoes—drenched in butter and gravy—are definitely a gut-buster. There's a ton of fat and calories in the butter and gravy, but the white potatoes definitely aren't helping things. Instead, opt for a complex carb like sweet potatoes to get in your mashed goodness without adding excess calories. And if you must have regular mashed potatoes? Skip the butter and gravy (or only add a little if you have to have it).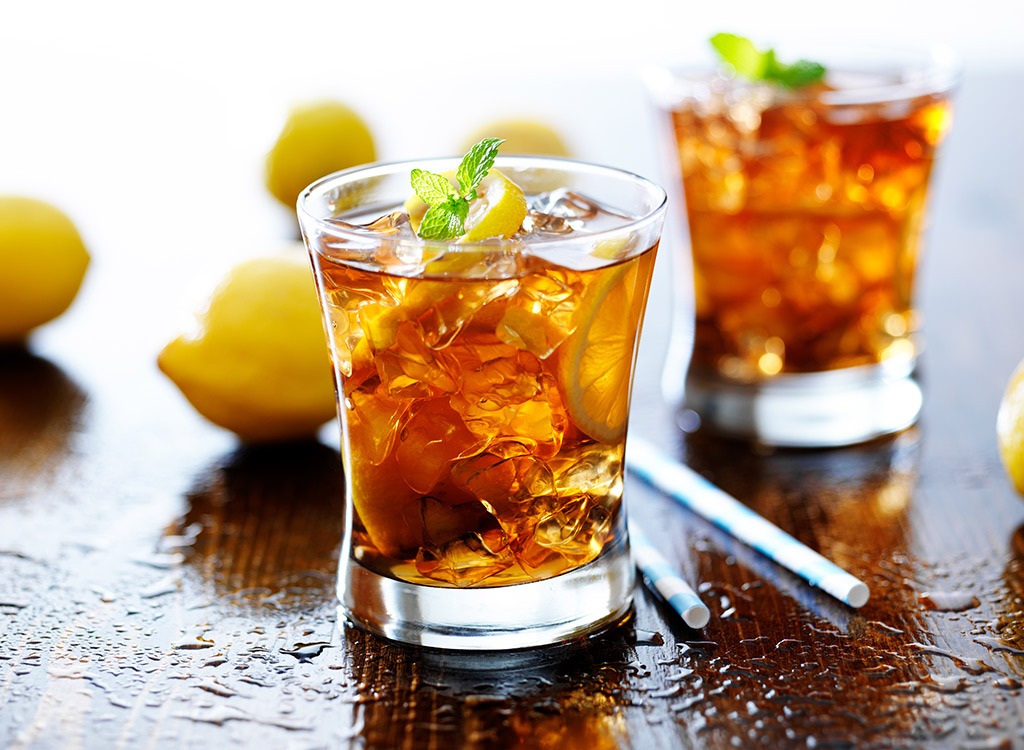 Some southerners seem to feel that sweet tea isn't really sweet tea unless you can almost chew it, thanks to all the sugar. But, as we know, sugar is bad for our bellies—and our overall health. What should you drink instead? Unsweetened tea is a health and antioxidant-filled option—but if you want to have some sweetness add a bit of honey or stevia. Tea—the kind you steep and drink out of a mug, not the kind you dump sugar into—can be an incredible weight loss aid. In fact, test panelists for The 7-Day Flat-Belly Tea Cleanse lost up to 10 pounds in a week!
No southern meal is complete without a piece of sweet potato pie. But adding 350 calories per slice to an already heavy meal isn't going to help your belly get—or stay—flat. Save on some calories by making it more like a pumpkin pie by mixing sweet potato puree, coconut milk, a pinch of stevia, and maple syrup. You'll get all of the taste for only some of the calories.
Nothing hits the spot better on a balmy summer evening than a dollop of peach cobbler while visiting with friends. The bad news? The 500 (or more) calories in a serving are made up mostly of carbs and fat. Here's how to solve your summer conundrum: Swap out the sugary breading for a mixture of rolled oats, cinnamon, agave, flour, and a bit of butter—it tastes the same and doesn't bloat your belly. And since we know you'll have oats in your pantry, try any one of these 50 Best Overnight Oats Recipes while you can!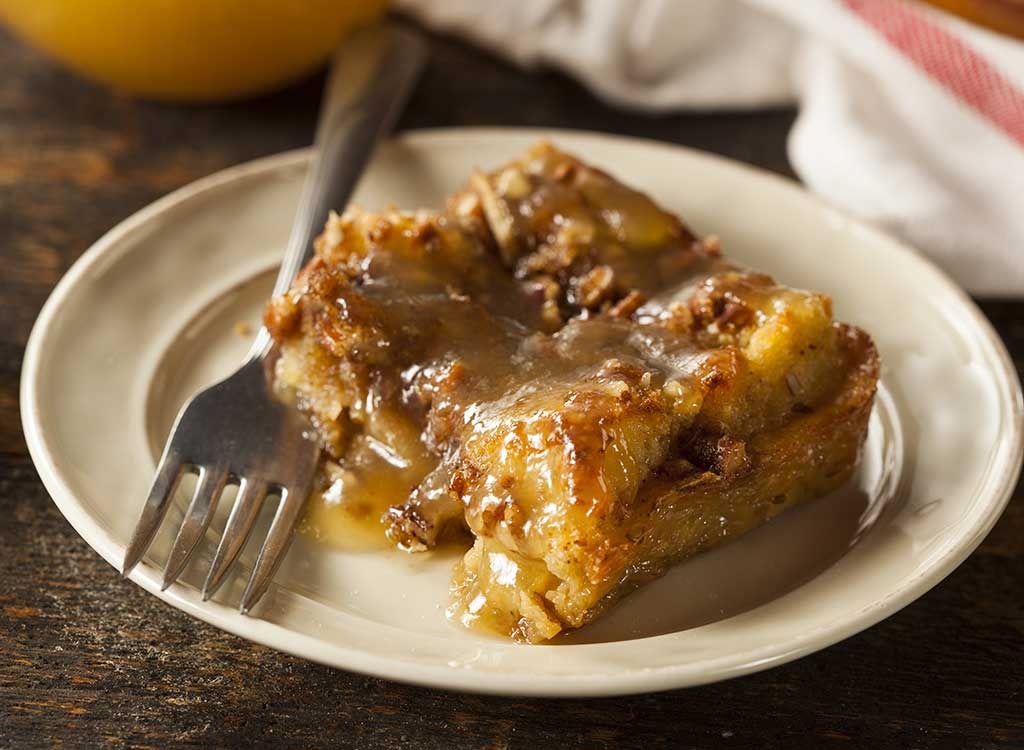 Another southern-cajun favorite, bread pudding is a carb bomb—and that's putting it mildly. One serving of traditional bread pudding is almost 60 percent carbohydrates. Yikes! Not to mention, the gooey, creamy topping adds a ton more sugar and fat. To cut down on the future pudge around your middle—but still keep the taste—swap out the French bread with whole wheat, coconut milk instead of evaporated milk, and unsweetened applesauce for the sugar. For the sauce, whisk together coconut milk, vanilla protein powder, and Greek yogurt.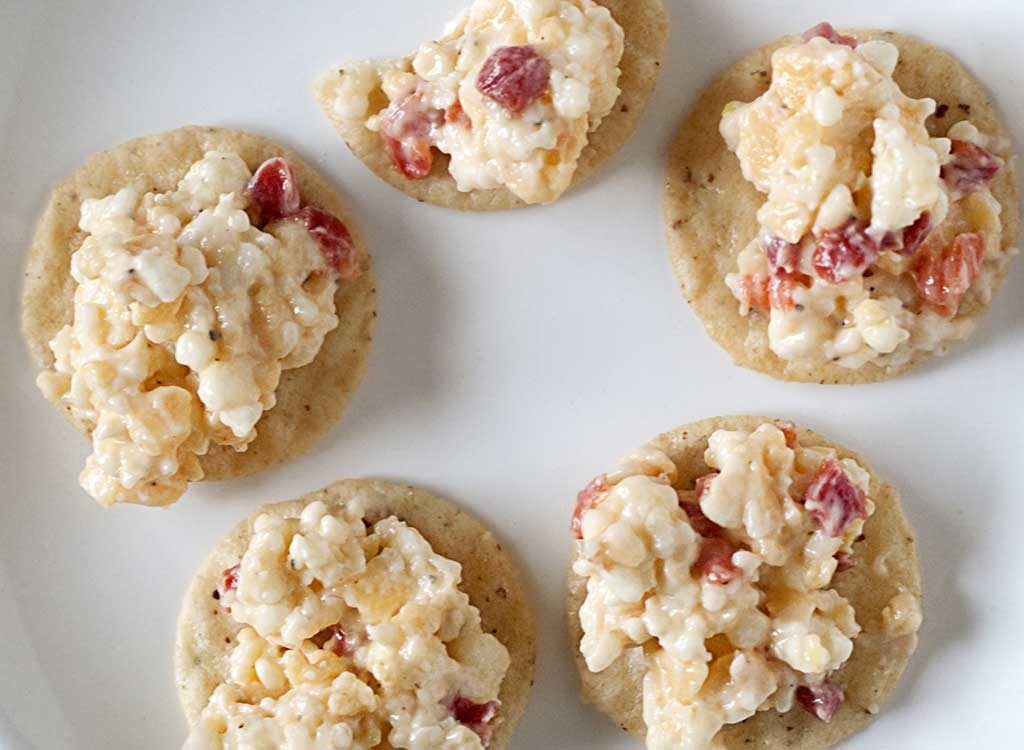 Pimento Cheese is a southern fave that actually won't set you back too badly. The problem? Cheese, of course, comes from milk—and dairy is shown to bloat the belly. Instead, cut the cheese considerably and make up the volume difference with (what else?) tangy Greek yogurt. We guarantee that you won't be able to tell the difference. And for an instant way to beat bloat, find out The Best Fruit to Eat to Beat Bloat !