Zucchini oatmeal is the veggies-for-breakfast recipe you didn't know you needed.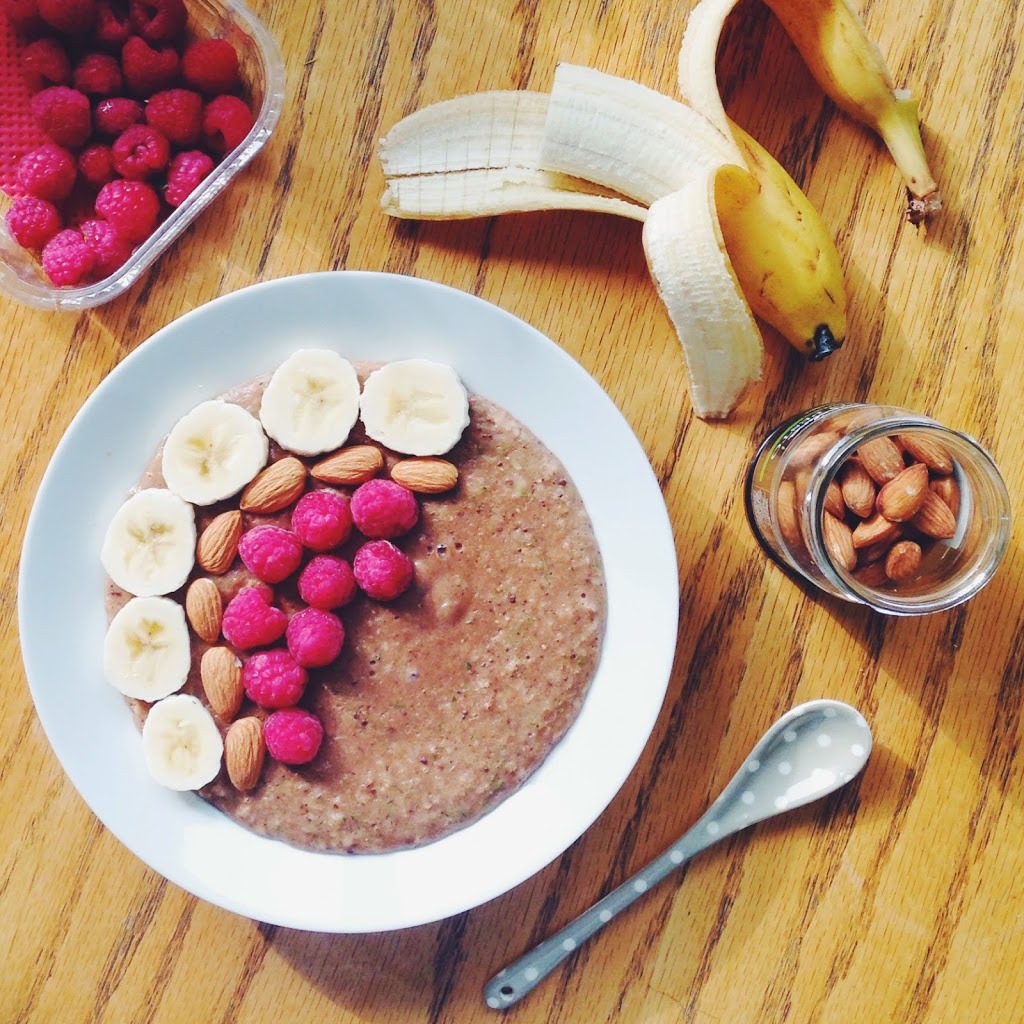 Fitting veggies into breakfast is a bit like trying to pull dinner together with a near-empty refrigerator. It may seem impossible, but all you need to make it happen is a little creativity. Zucchini oatmeal—or as some people call the dish, zoats—is the ingenious (and delicious) way to sneak veggies into your morning meal. Made from shredded zucchini, oatmeal, milk or water, spices, and a variety of add-ins, it's easy to whip up ahead of time for a healthy and slimming breakfast on the go. Even better: like its cousin overnight oats, this dish can be enjoyed reheated or cold.
While the zucchini may give your oats a bit of a green tint, don't let that put you off; the funny color is a small price to pay for its nutritional benefits. The green squash is low in calories, packed with hunger-busting fiber, and boasts more blood pressure-lowering potassium than a banana.
Thankfully, there's no shortage of ways to prepare the delicious dish. Scroll down to check out our go-to flat-belly zoats recipes and beat breakfast boredom for good.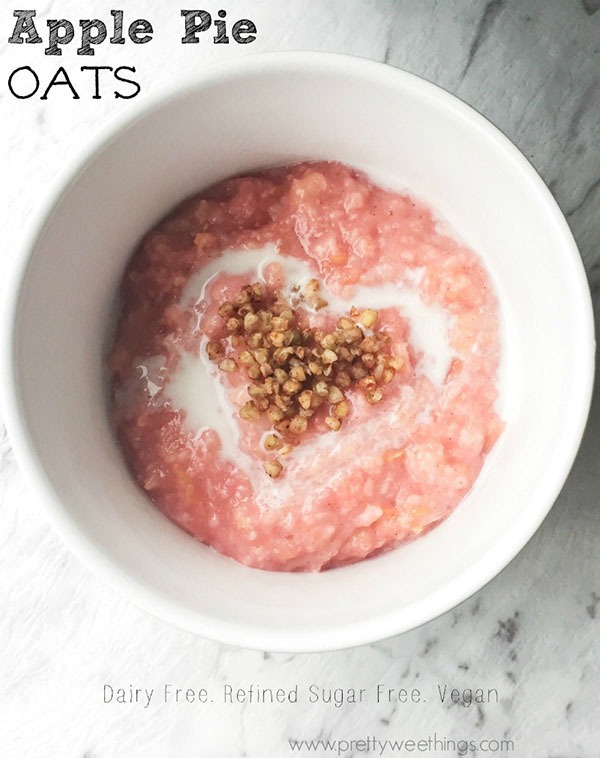 Serves: 1
Nutrition: 239 calories, 3.1 g fat, 0.9 g saturated fat, 245 mg sodium, 41.5 g carbs, 6.9 g fiber, 11.8 g sugar, 17.4 g protein (calculated without maca powder or buckwheat)
If you're a fan of all things fall, you're sure to love this cinnamon-packed, applicious cereal. Krissy, the blogger behind the tasty dish, suggests using Pink Lady apples over other varieties—a suggestion we can totally get behind. This rosy-hued fruit is one of the best produce-based sources of fiber, a nutrient proven to reduce health-harming belly fat, according to researchers.
Get the recipe from Her Nourished.

Image courtesy of: Angela Liddon | OhSheGlows.com
Serves: 1
Nutrition: 418 calories, 20.2 g fat, 2.7 g saturated fat, 215 mg sodium, 54.5 g carbs, 9.3 g fiber, 26.3 g sugar, 8.5 g protein
Once the water boils, this dish only takes 10 minutes to make. It gets better: this healthy dish tastes just like zucchini bread. Because this recipe calls for a tablespoon of chia seeds—a nutritious food filled with a blood-sugar stabilizing ratio of protein, fats, and fiber—you can be certain this dish will help you full until lunchtime.
Get the recipe from Oh She Glows.
Carrot Cake Zucchini Bread Oatmeal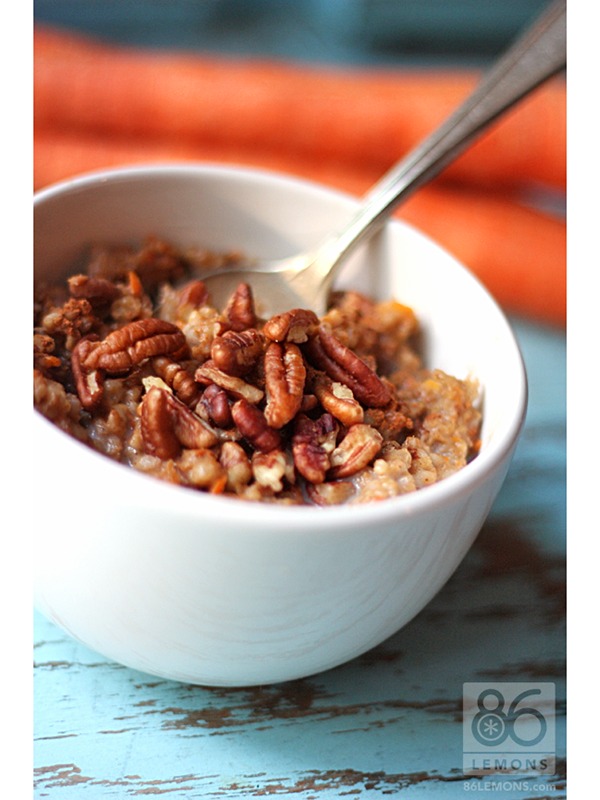 Serves: 4
Nutrition: 175 calories, 5.7 g fat, 2.4 g saturated fat, 103 mg sodium, 26.2 g carbs, 3 g fiber, 10.1 g sugar, 3.7 g protein
Wake up to the sweet smell of carrot cake with this crock-pot overnight zoat recipe. While adding carrots to oats may seem even more unusual than adding zucchini, the orange addition will keep your cereal moist and contribute a fair share of the day's vitamin A. Once vitamin A makes it way down to your belly, the body converts it to beta-carotene, which it can then use to prevent cataracts and macular degeneration.
Get the recipe from 86 Lemons.
Serves: 1
Nutrition: 335 calories, 11.3 g fat, 3.5 g saturated fat, 602 mg sodium, 39.9 g carbs, 12 g fiber, 9.9 g sugar, 26.2 g protein
This comforting bowl of zoats proves that, if done right, you can have a chocolaty breakfast without derailing your healthy eating streak. Thanks to the addition of eggs, which are filled with the fat-fighting nutrient choline, this is one of the most protein-filled zoats recipes we've come across.
Get the recipe from Nutrition Stripped.
Zucchini Oat Quinoa Porridge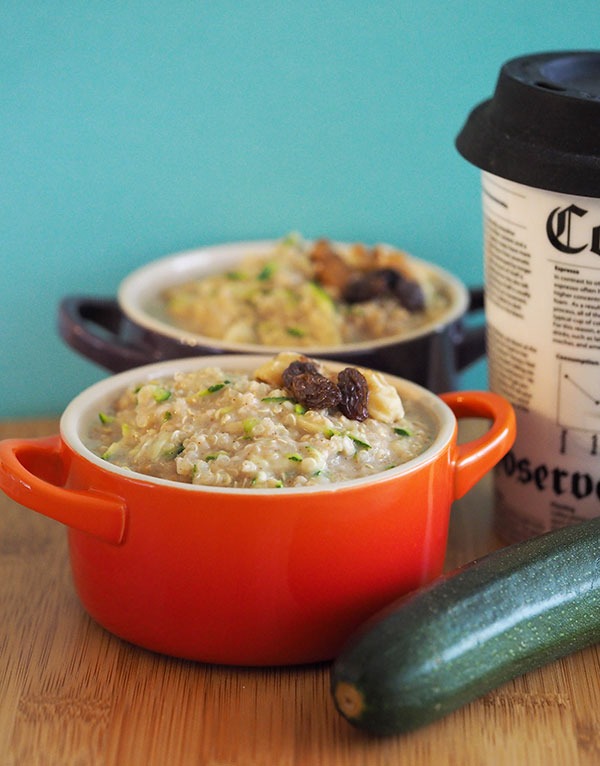 Serves: 2
Nutrition: 342 calories, 8.9 g fat, 0.8 g saturated fat, 241 mg sodium, 57.5 g carbs, 7.8 g fiber, 18.2 g sugar, 10.6 g protein
Who knew you could combine oatmeal with quinoa? This ingenious blogger. With the addition of quinoa comes a hit of complete proteins and slow-digesting fiber that's sure to keep you satiated for hours.
Get the recipe from Breakfast Drama Queen.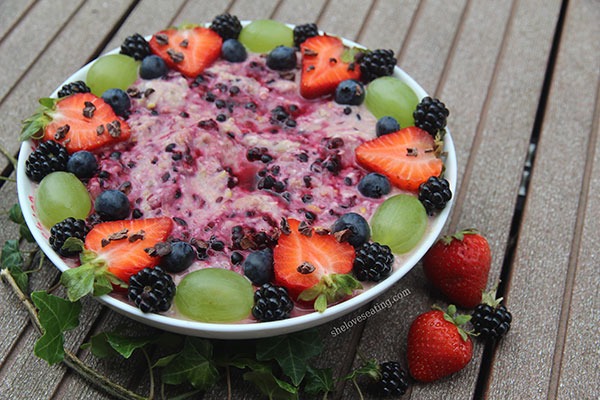 Serves: 2
Nutrition: 323 calories, 5.8 g fat, 0.8 g saturated fat, 106 mg sodium, 62 g carbs, 11.5 g fiber, 10.8 g sugar, 10.5 g protein (calculated with almond milk and ½ cup raspberries)
We get it, some mornings just call for something sweet. Unfortunately, most sweet breakfast options like pancakes come with a ton of extra calories, but not these Berry Zoats. Though the blogger behind this recipe says it yields just one serving, three cups of oatmeal is best broken into two servings—each of which carries just under 11 grams of sugar. In addition to contributing natural sweetness to this recipe, the berries are packed with polyphenols, a class of micronutrients that burns fat and prevents it from forming.
Get the recipe from She Loves Eating.6254a4d1642c605c54bf1cab17d50f1e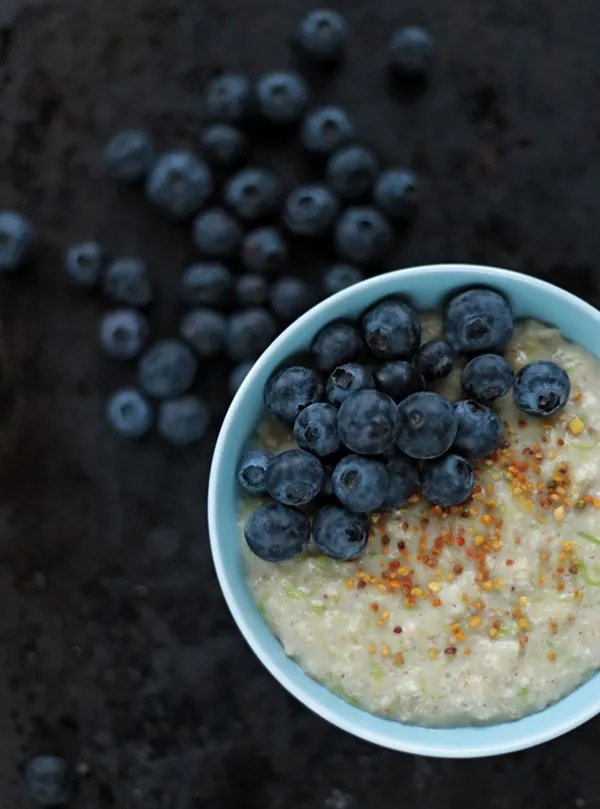 Serves: 2
Nutrition: 265 calories, 8.5 g fat, 0.9 g saturated fat, 87 mg sodium, 40.8 g carbs, 5.3 g fiber, 9.9 g sugar, 7.6 g protein (calculated without blueberries)
This recipe calls for just seven easy-to-find ingredients and can be made on the stovetop in just five minutes flat. The addition of almond butter, a creamy spread rich in a compound that limits the amount of fat absorbed by the body, takes the waist-whittling potential of this healthy breakfast to an entirely new level.
Get the recipe from Green Evi.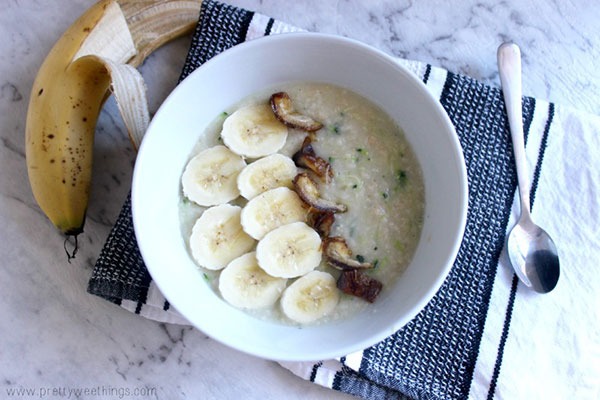 Serves: 1
Nutrition: 333 calories, 21.4 g fat, 13 g saturated fat, 67 mg sodium, 29.9 g carbs, 6.1 g fiber, 3.4 g sugar, 22.1 g protein (calculated without pictured toppings)
This protein powder-enriched oatmeal is perfect for busy mornings, requiring just three minutes to make in the microwave. If you typically eat breakfast at work, simply combine the six ingredients this recipe calls for in a microwave-safe container and zap it in the break room microwave. It doesn't get much easier than that.
Get the recipe from Her Nourished.
Chia and Fruit Overnight Zoats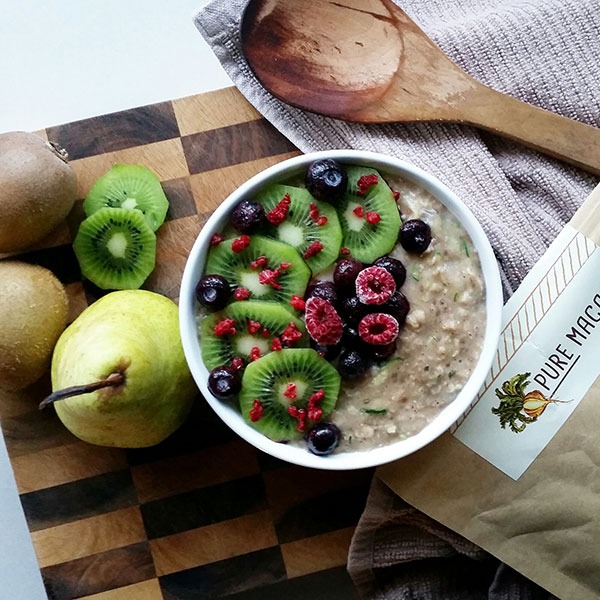 Serves: 1
Nutrition: 254 calories, 4.3 g fat, 0.5 g saturated fat, 87 mg sodium, 51.7 g carbs, 7.3 g fiber, 18.9 g sugar, 6.3 g protein (calculated with one banana and 1/2 cup almond milk for cooking)
This simple recipe is both nutritious and tasty thanks to the addition of chia seeds and your fruit of choice. Though any piece of produce would contribute a pleasing taste, we suggest using tart cherries, which have been shown to benefit heart health and burn belly fat. In one University of Michigan study, rats fed tart cherries for 12 weeks showed a 9% belly fat reduction over rats fed a "Western diet." The researchers also noted that cherries also seemed to have a profound ability to alter the expression of fat genes.
Get the recipe from Everyday Simple Health.