10 Healthy Pasta Salad Recipes for Weight Loss
Carb-lovers, rejoice! These tasty dishes allow you to dig in without derailing your weight loss efforts.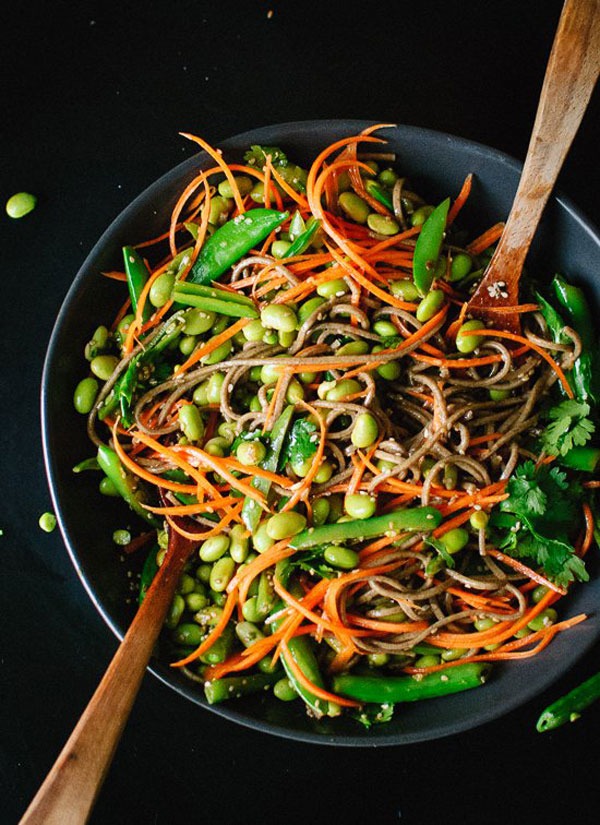 Each year, the average American slurps up 20 pounds of noodles—most of it the refined white stuff—and gains about a pound. With those numbers, it's easy to see why people made pasta the unofficial scapegoat of America's obesity epidemic.
But saying that pasta is a contributor to America's collective weight gain is an oversimplified statement—and not totally accurate. It's the type of pasta we're eating, and how we're preparing it, that's adding inches to our waistline. Ditching refined noodles and heavy sauces can slim down pasta dishes—that's obvious.
A less obvious strategy: enjoying noodles chilled instead of hot off the stove. When pasta cools, the drop in temperature changes the chemical structure of wheat flour's starches into something called "resistant starch," according to Indian researchers. Consuming resistant starches can promote feelings of fullness and weight loss, according to researchers.
The best part is, there are tons of chilled pasta salad recipes that make eating a plate of cold noodles delicious and satisfying. Here, some tasty and healthy pasta salad recipes on the net.
Mandarin Pasta Salad with Teriyaki Dressing
Serves: 4
Nutrition: 377 calories, 14.6 g fat, 2.3 g saturated fat, 397 mg sodium, 51 g carbs, 3.2 g fiber, 7.37 g sugar, 10.3 g protein (calculated with 1/3 recipe of olive-oil based dressing, no craisins)
Next time a craving for Chinese food strikes, whip up this pasta salad instead. It packs muscle-building spinach and cashews and is light in calories, sugar, sodium and fat—something orange chicken and Kung Pow shrimp can't claim.
Eat This! Tip: To ensure the sugar count of this dish stays low, nix the craisins. There are so many other strong flavors mixed in with the noodles that you won't even miss 'em—promise!
Get the recipe from Creme de la Crumb.
Asparagus and Arugula Pasta Salad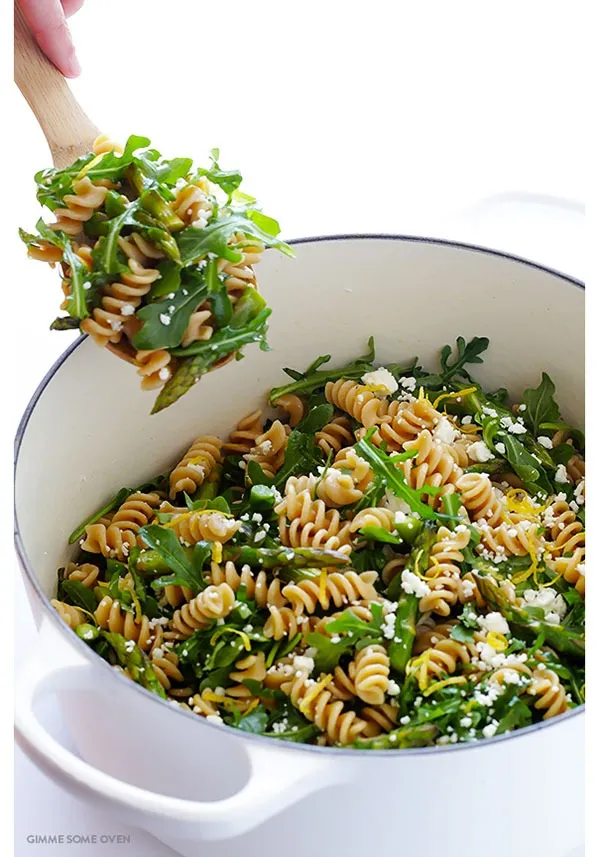 Serves: 8
Nutrition: 301 calories, 9 g fat, 2.4 g saturated fat, 153 mg sodium, 45.7 g carbs, 6.5 g fiber, 4 g sugar, 10.8 g protein (calculated with crumbled feta and toasted pine nuts)
Packed with peppery arugula, creamy feta and crunchy asparagus, a potassium-rich veggie that helps the body flush out bloat, this tasty salad is a nutritional winner that can help give you that flat-belly look you crave.
Get the recipe from Gimme Some Oven.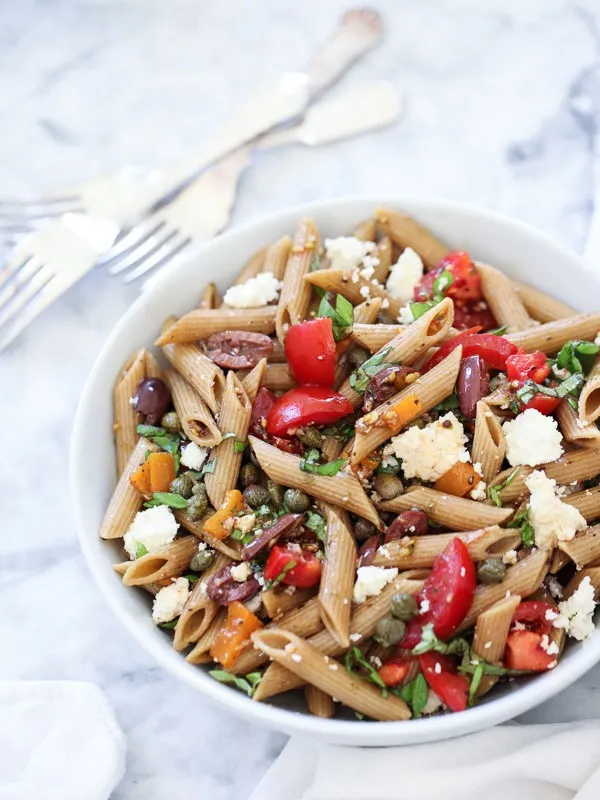 Serves: 4
Nutrition: 353 calories, 16.7 g fat, 3.3 g saturated fat, 430 mg sodium, 45 mg carbs, 7. 4 g fiber, 2.9 g sugar, 11.3 g protein
What do you get when you combine classic Greek ingredients like kalamata olives, capers, and tomatoes (a veggie that can lower your risk of cardiovascular disease and skin damage) with fiber-rich whole-grain pasta? This crowd-pleasing Mediterranean-style healthy pasta salad. This dish makes a tasty, nutritionally-sound addition to any outdoor barbecue.
Get the recipe from Foodie Crush.6254a4d1642c605c54bf1cab17d50f1e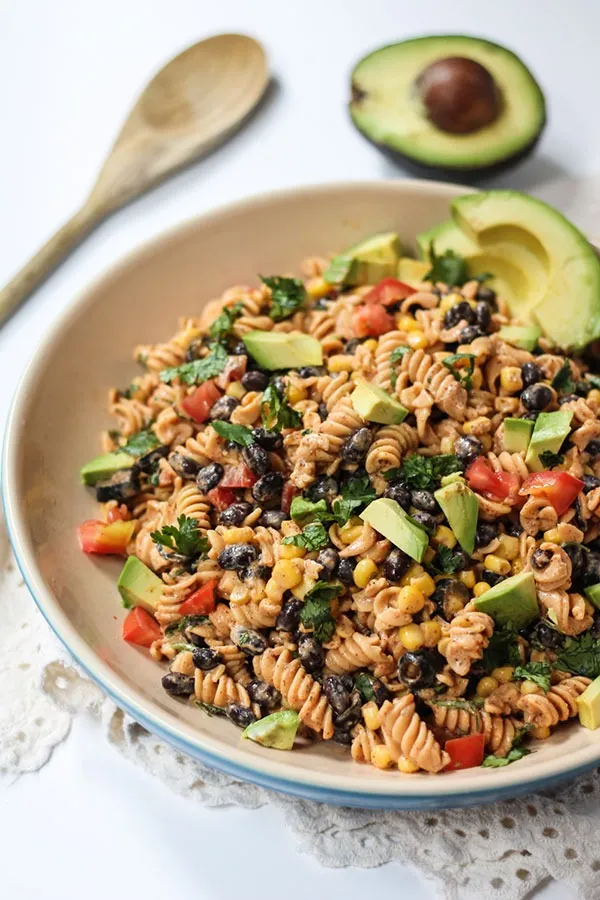 Serves: 6
Nutrition: 515 calories, 2.4 g fat, 1.8 g saturated fat, 175 mg sodium, 79 g carbs, 20.4 g fiber, 9.1 g sugar, 28.1 g protein (calculated with one avocado for garnish)
This creamy pasta salad relies on black beans, Greek yogurt and Ancient Harvest Red Lentil & Quinoa Pasta to deliver its massive protein- and fiber-filled punch. The addition of chipotle pepper and chili powder adds a kick of Southwestern spice and will send your metabolism soaring.
Get the recipe from Ambitious Kitchen.
Sugar Snap Pea and Carrot Soba Noodles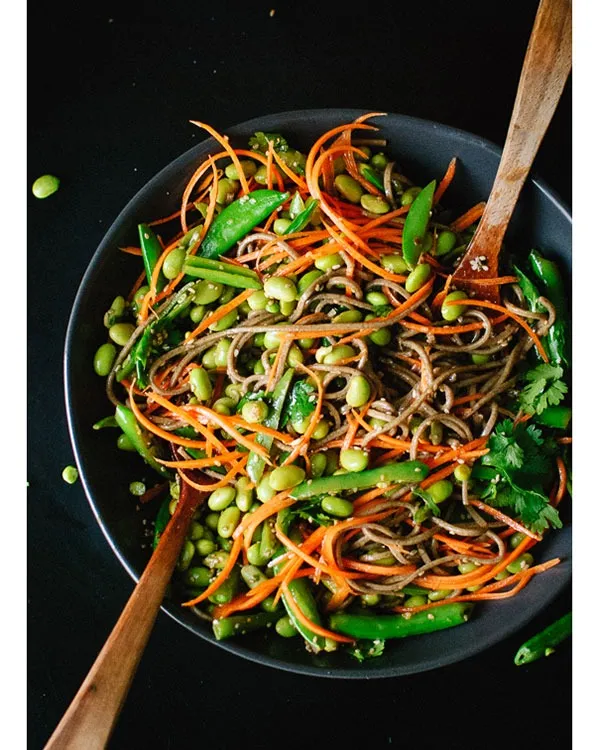 Serves: 6
Nutrition: 336 calories, 13.6 g fat, 1.6 g saturated fat, 740 mg sodium, 44 g carbs, 7 g fiber, 8.4 g sugar, 16 g protein (calculated with peanut oil)
At Eat This, Not That! we're big fans of soba noodles. Made from naturally gluten-free buckwheat, a complete protein that boasts magnesium (which aids protein synthesis and increases lean muscle mass) and satiating fiber. The addition of snap peas, carrots and edamame contribute a huge nutritional punch—and a satisfying crunch—to this healthy pasta salad recipes.
Get the recipe from Cookie & Kate.
5-Ingredient Simple Green Pasta Salad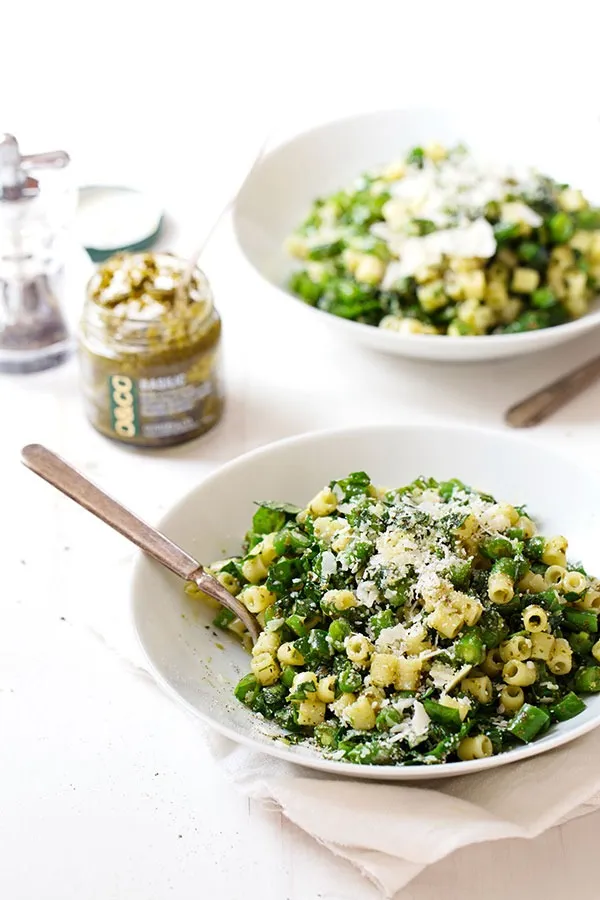 Serves: 6
Nutrition: 259 calories, 15 g fat, 4.8 g saturated fat, 367 mg sodium, 19.8 g carbs, 2.7 g fiber, 2.5 g sugar, 12.2 g protein (calculated with pesto and macaroni)
With just five ingredients and a mere 260 calories per serving, this recipe makes it beyond easy to whip up a healthy flat-belly dish. If you can't get your hands on a jar of Oliviers and Co. Basilic—the pesto-esque sauce the recipe calls for—simply sub in traditional pesto and ease up on the parm.
Get the recipe from Pinch of Yum.
Serves: 8
Nutrition: 243 calories, 5 g fat, 0. 5 g saturated fat, 116 mg sodium, 41.9 g carbs, 2 g fiber, 10.1 g sugar, 8 g protein (calculated with agave and grapeseed oil)
Macaroni salad is a summer staple, but it can be hard on the waistline, and it's not vegan-friendly by any means. This spin on the classic dish is light on fat and — thanks to the addition of tofu — heavy on protein, a nutrient that boosts satiety and aids weight loss.
Get the recipe from Minimalist Baker.
Spinach Orzo Chicken Salad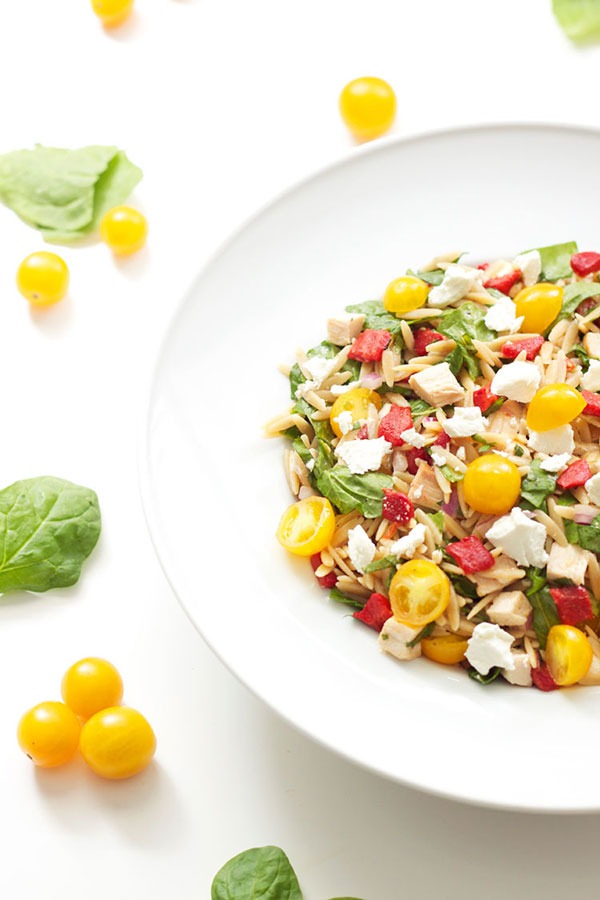 Serves: 8
Nutrition: 219 calories, 6.8 g fat, 2.5 g saturated fat, 236 mg sodium, 22.6 g carbs, 3.7 g fiber, 1.9 g sugar, 16 g protein
Spinach and chicken have not only complementing flavors but also waist-whittling superpowers. While spinach owes it muscle-growing powers to its iron levels, chicken has its sky-high protein content to thank. This recipe pairs both ingredients with orzo, onions, tomatoes, basil, goat cheese and a homemade vinaigrette—and we must say, the result is quite delicious.
Get the recipe from Recipe Runner.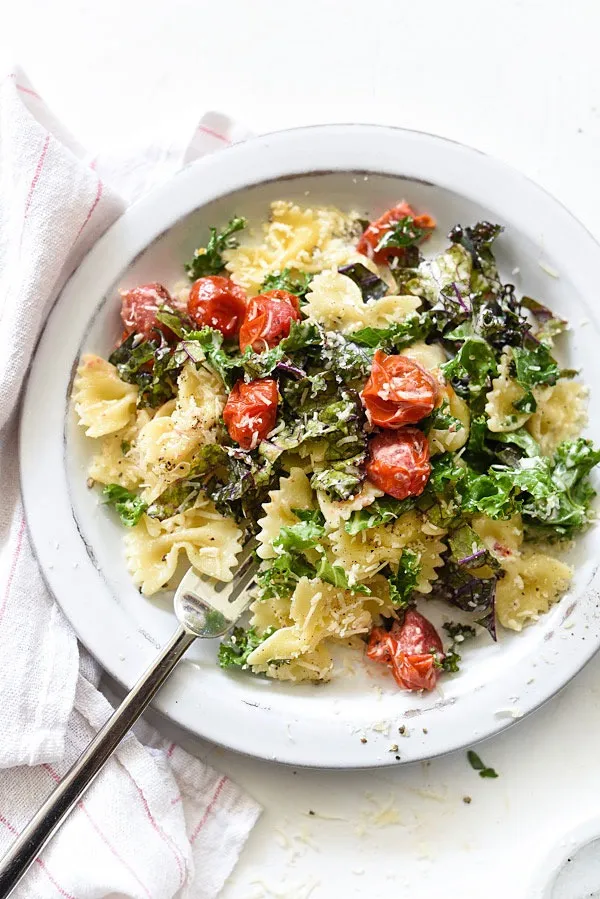 Serves: 8
Nutrition: 359 calories, 9 g fat, 2.5 g saturated fat, 424 mg sodium, 56 g carbs, 4.1 g fiber, 9.9 g sugar, 13.9 g protein
If you're a fan of the classic salad for which this recipe is named, you're sure to love this savory, flavor-packed dish. The best part—besides the taste—is that it's packed with vital nutrients. Just one serving provides 70 percent of the day's vitamin A and 15 percent of the day's calcium, a bone-building electrolyte that promotes satiety. Sounds like a great excuse to dig in!
Get the recipe from Foodie Crush.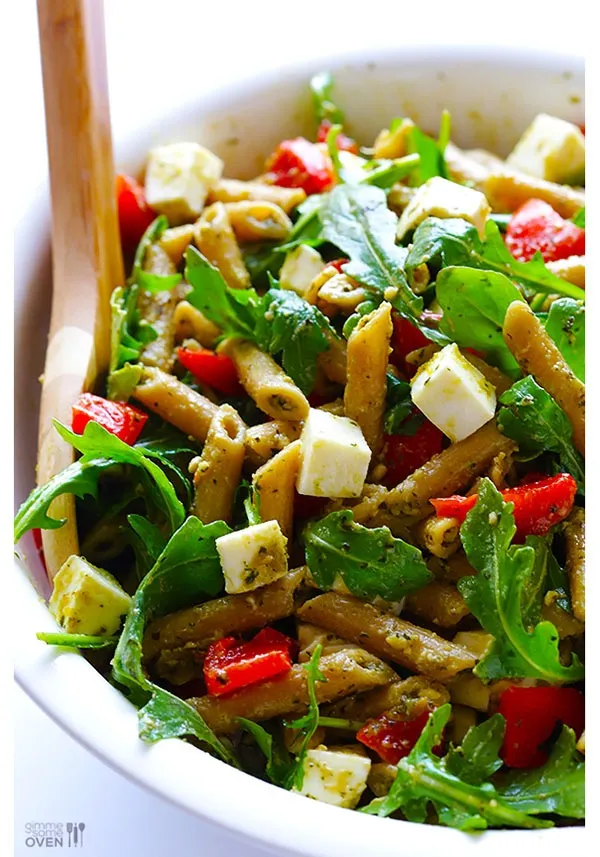 Serves: 8
Nutrition: 395 calories, 15 g fat, 4.8 g saturated fat, 416 mg sodium, 47 g carbs, 6 g fiber, 5 g sugar, 18 g protein
Five ingredients and 15 minutes are all you need to whip up this easy, pesto- and mozzarella-infused recipe. Pair with flame-grilled chicken or garlic butter mussels (both primo sources of metabolism-revving protein) to round out your fat-fighting meal.
Get the recipe from Gimme Some Oven.