4 Best Healthy Chinese Food Orders, According to Dietitians
Unsure of what to include in your next Chinese food takeout order? Here's what nutritionists suggest.
When you have a hankering for some quality American-Chinese food takeout, it's a hard craving to shake. The only solution is to break out that giant pile of Chinese food menus tucked away in your kitchen drawers, or scan the web until you find the perfect place to appease your appetite. However, if you're trying to maintain a healthy diet, the prospect of placing a Chinese food order may lose its luster, as egg rolls, crab rangoons, sweet and sour chicken, and other deep-fried fare seem to dominate many menus.
"Chinese meals are notorious for being high in fat, calories, and sodium," The Nutrition Twins, Tammy Lakatos Shames, RDN, CDN, CFT, CLT, and Lyssie Lakatos, RDN, CDN, CFT, CLT, tell Eat This, Not That!
As delicious as these caloric foods may be, you don't have to succumb to this temptation to enjoy Chinese takeout, nor do you need to opt for a different kind of cuisine altogether. You just have to be able to identify those dishes that are a bit more nutritious than the rest, and also have a few healthy tricks up your sleeve that can help you manage the generous portion sizes of any dish you choose.
"Anywhere that you can save calories is helpful," the Twins continue.
Below are a few examples of delicious, healthy Chinese food orders you can place along with advice on how to work any Chinese food order to your nutritional advantage, courtesy of The Nutrition Twins. Then, you can put these healthy eating best practices to the test after also reading The Best Chinese Takeout in Every State.6254a4d1642c605c54bf1cab17d50f1e
4 Healthiest Chinese Food Dishes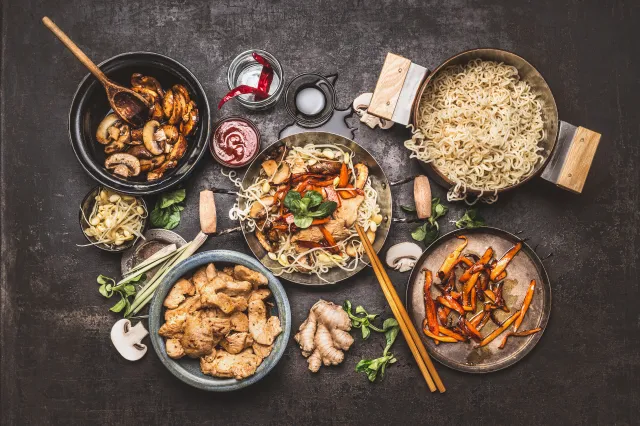 Broth-based soups
If you frequently find yourself debating whether or not it's a good idea to start your meal with a soup course, do not let calorie concerns stop you from enjoying a warm, delicious bowl of either egg drop or wonton soup. According to Tthe Nutrition Twins are great low-calorie Chinese food menu options.
"Broth-based soups like this are typically 60 to 100 calories per cup and take an edge off hunger, potentially helping you to eat less at the rest of the meal. They are typically high in sodium, so be aware of that."
Moo goo gai pan
A stir-fry, moo goo gai pan is an Americanized take on a traditional Cantonese staple "móh-gū gāi-pin," which literally translates to "mushrooms and chicken slices." In addition to thinly-sliced chicken and button mushrooms, it often contains soy sauce, oyster sauce, cooking wine, and a medley of vegetables like bok choy, snow peas, water chestnuts, carrots, and bamboo shoots. This dish is also thickened with cornstarch and served with rice at most American-Chinese restaurants.
According to The Nutrition Twins, what makes this dish a healthy pick is that "it's packed with antioxidant-rich vegetables and lean protein (chicken)."
"It's lower in sugar and fat than many other dishes," the Twins also add.
Though moo goo gai pan is generally considered a healthy Chinese food order, the Nutrition Twins suggest that you still be mindful of some of its less healthy recipe components, particularly the oil and cornstarch involved in the stir-frying process.
"Whenever possible request 'light on the oil,' the sauce on the side, or light on the sauce," they advise.
Shrimp with Chinese vegetables in a black bean or white sauce
"This dish is great for providing lean, satisfying protein, antioxidants, and fiber," say the Twins.
In fact, around three ounces of average-sized shrimp (or approximately four pieces) yields a little over 20 grams of protein—so you know this order will keep you full enough to avoid any disruptive tummy growls and grumbles later on. Also, the antioxidants and fiber from the vegetables can aid in cholesterol management, maintain regularity, and help your body defend against free radicals in the environment that can compromise your health and subsequently lower your risk for disease.
The sauces, on the other hand, can be a bit of a double-edged sword, depending on how they are cooked into the dish. Generally speaking, the ingredients for each are fairly nutritious. Almost like gravy, white sauce often includes garlic, ginger, onion, and either vegetable or chicken stock. Black bean sauce consists of fermented black beans—which can be great for digestion—along with spices, sesame or vegetable oil, rice wine, shallots, and garlic. But both sauces are often used as a stir-fry base, including in this dish, and the use of oil can up the ante on the fat content of these menu picks.
However, the Nutrition Twins suggest a way around this that can help you capitalize on the nutrient-dense elements this Chinese food order provides.
"The key is to get the sauce on the side when possible and keep it to a small portion of rice (brown when available)," the Twins explain. "Again, if possible, request light on the oil."
Chicken with a green veggie
Other healthy Chinese food orders the Nutrition Twins recommend include chicken dishes accompanied by a green vegetable, like chicken with broccoli, chicken with snow peas, or chicken with green beans.
"All are good options for getting lean protein and nutrient-rich vegetables," they explain. "Always order dishes that include vegetables for extra fiber, antioxidants, and nutrients and to help keep the calories low."
3 Tips to Make Any Chinese Food Order Healthier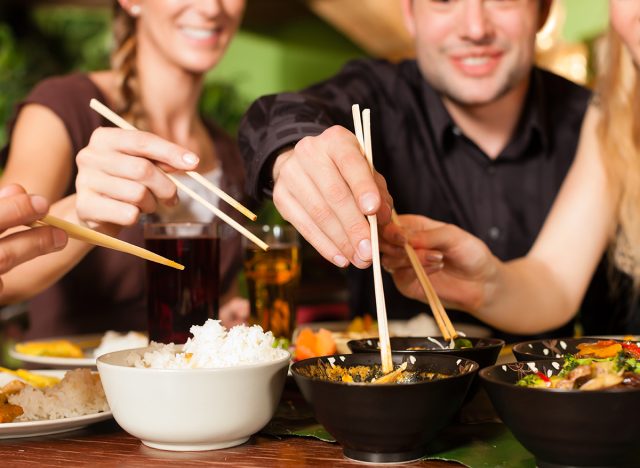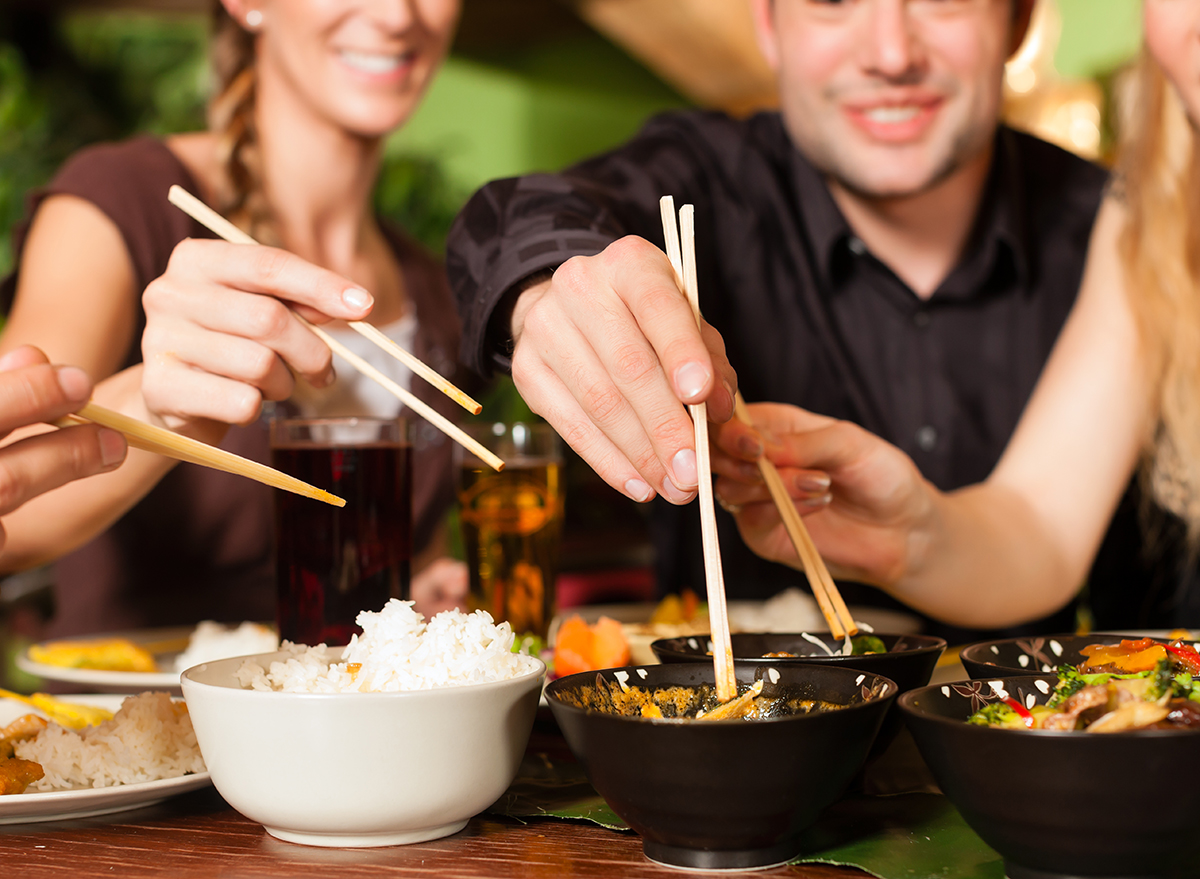 Go for steamed over fried & get sauce on the side
"Order the sauce on the side, so you can use it more sparingly and control the amount of sauce on the dish," the Twins suggest. "Dipping your fork in the sauce and stabbing the food is one of the best ways to keep the calories low."
"[Also,] ordering the sauce on the side or light on the oil is helpful," they add.
When ordering rice
"No matter what you order, stick to only about a half cup of rice," say the Nutrition Twins. "If you can order brown rice instead of white rice, that helps to boost antioxidants, nutrients, and fiber."
Veg out & have plenty of leftovers
"Request that your dish be made with extra vegetables or even an extra side of steamed vegetables, so your portion is bigger," the Nutrition Twins advise. "Then divide the meal in half and save half for another meal. This way, the high-sodium, high-calorie meal will be divided amongst two meals—but you'll feel full and get extra nutrients from the low-calorie, fiber-filled veggies."
Sources referenced in this article