5 Chicken Chains That Never Freeze Their Chicken
Freshness is on the menu at these joints, and chicken is the star.
An impressive number of fast-food chains offer burgers made with meat that has never been frozen. Wendy's, for example, extolls its "fresh, never frozen" beef at every opportunity. Five Guys touts the fact that its locations don't even have freezers, only coolers. In-n-Out, Smashburger, Shake Shack, and many other chains offer burgers made with fresh beef.
Now, if you want to find a restaurant that offers fresh, never frozen chicken, you have to look a lot harder. This makes sense, really, as the safe refrigerated life of raw chicken is less than half that of beef, lasting only two days in the fridge, per Reader's Digest, but is safe for up to nine months when frozen. (Raw beef, on the other hand, is safe for up to five days in the fridge.)
The costs and logistics associated with using only fresh chicken preclude almost all chains from so doing, including those that pride themselves on quality food, like Chick-fil-A or Zaxby's. (The former used to use fresh poultry, per a 2018 Business Insider article, but no longer makes any such claims.)
Here are five chains that don't freeze their chicken.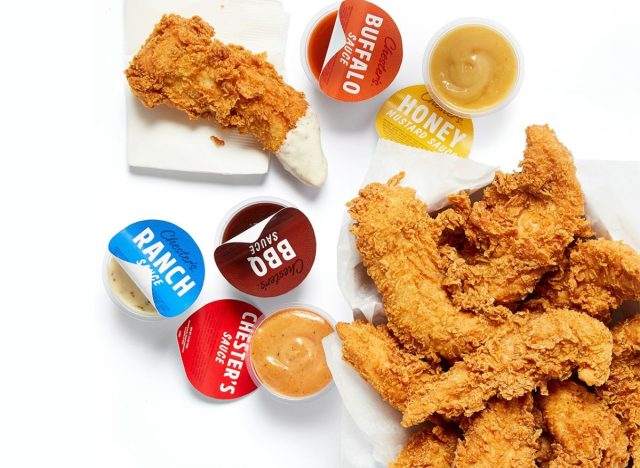 Chester's is far and away the largest chicken chain proclaiming to only offer fresh chicken. Chester's has over 1,200 locations across the U.S. That's an impressive footprint, especially given the logistics involved with getting fresh poultry to each unit so regularly.6254a4d1642c605c54bf1cab17d50f1e
But that's what the chain does so that it can live up to its claims of meat that's "fresh, never frozen [and] made fresh throughout the day in our locations." Chester serves chicken pieces, chicken tenders, sandwiches, and more, all marinated using a proprietary recipe and double-breaded for the juiciest chicken ever. For the adventurous, it even serves gizzards and livers.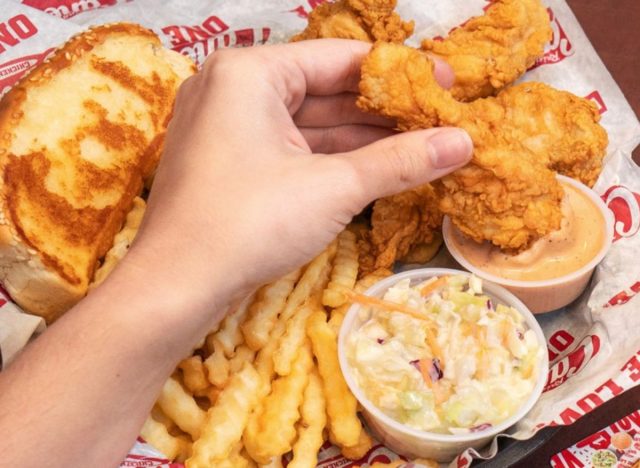 Raising Cane's is the second-biggest chicken chain proclaiming to offer fresh, never frozen chicken. Raising Cane's currently has 677  locations in the United States, with only New England and the greater Northwest being largely devoid of its presence.
Atop a Raising Cane's menu shared online, you can read the words: "We use Always Fresh, Never Frozen, premium chicken tenderloins." The copy goes on to talk about a 24-hour marinating process and hand-battering. Clearly, this is a chain that wants to serve only the freshest chicken and that's not willing to cut corners.
And clearly, Cane's customers appreciate that. Among many positive comments about the chain's food left on Reddit in the past year, one gem was this comment comparing the chain to a restaurant prized for fresh burgers: "It reminds me of In N Out. Nothing fancy, simple menu, affordable, and just exceptionally well done, but basic and fresh."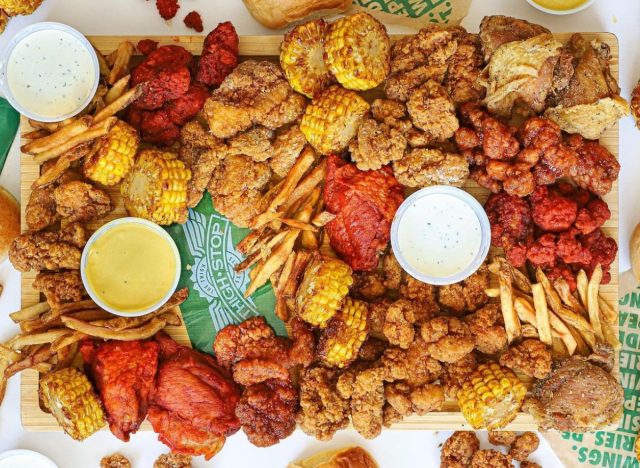 Known for its chicken wings and delicious variety of sauces, Wingstop uses fresh, bone-in wings with a few rare exceptions, according to an interview in Restaurant Business. The chain is also known for its many sauces and rub flavors ranging from sweet to super spicy. While the newish chicken strips are frozen at Wingstop, the chain's signature item is always fresh. Job postings for positions at the restaurant even tout this highlight of the chain.
The chain also serves fresh, hand-cut fries. Wingstop's concept continues to do well, beating out the post-pandemic dip that many chicken chains are seeing. Wingstop reported that sales grew 16.8% in 2022.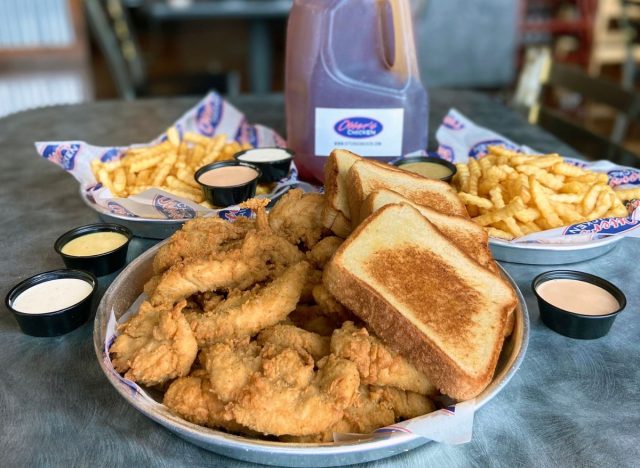 If you want to try the very fresh and very well-liked chicken from Otter's Chicken, you'll need to head to Georgia. And specifically, to Kennesaw or Marietta, Georgia, because at present there are just two Otter's locations. This restaurant is prized by locals for its chicken that is indeed never frozen—on Yelp, people poured out praise saying things like: "Otter's is awesome! Fresh, juicy, great sauces and sides" and "I now only go to Otter's. The chicken is so fresh [and] plump."
That said, Otter's used to have more locations, with a unit in Atlanta and Carrollton, Georgia. It remains to be seen if the small chain will grow and thrive in the coming years or if its days are numbered. (And note that the Carrollton location closed pre-pandemic; there was no major external cause.)
Mom's Touch is yet another chicken restaurant with big fans but a very small footprint. In fact, like Otter's Chicken, this chain is limited to just two locations at the time of this writing: one is in Gardena, California, and the other is relatively nearby in the City of Industry.
While out of the way for most Americans, the little chain is worth a visit to those who live in or visit SoCal. Per the restaurant's site, it is: "Committed to providing the best fried chicken experience out there, [using] fresh, never frozen chicken that's marinated for 24 hours and then fried to achieve the perfect crunch on the outside and juicy tenderness on the inside."
Steven John
Steven John is a freelancer writer for
Eat This, Not That!
based just outside New York City.
Read more about Steven