8 Most Enormous Fast-Food Sandwiches Available Now
These sandwiches so big you'll definitely need to share.
Many of the fast food sandwiches on the market right now may make you wonder, is bigger always better? Remember, more ingredients that get stuffed in an oversized loaf of bread, also means an overwhelming amount of nutrition red flags.
Even somewhat concerning calorie counts haven't stopped the top sandwich chains in America from having a major fan following. Subway, for example, had the highest U.S. sales of approximately $9.4 billion in the year 2021 alone, Statistica reports. And while Subway may lead the pack, not far behind in 2nd and 3rd came Panera Bread with approximately $5.73 billion in revenue and Arby's with nearly over $4 billion. 
Other spots have also begun to soar in popularity, including Jersey Mike's and Firehouse Subs, likely due to hand-sliced meats  (which Subway isn't known for having, but has made an effort to change that). 
If you were to eat one of the giant subs a lot of fast-food sandwich chains advertise in just one sitting, there's a chance you could consume almost 1,400 calories and over 4,000 milligrams of sodium—we're talking about you, Jersey Mike's. Speaking of the fast food sandwiches listed below, they are enormous for a number of reasons—like their overall size, having excessive layers of meat and/or toppings, and, obviously, an extra-high calorie count.
Here are eight of the most enormous fast food sandwiches available right now. 
Arby's Half Pound Beef 'N Cheddar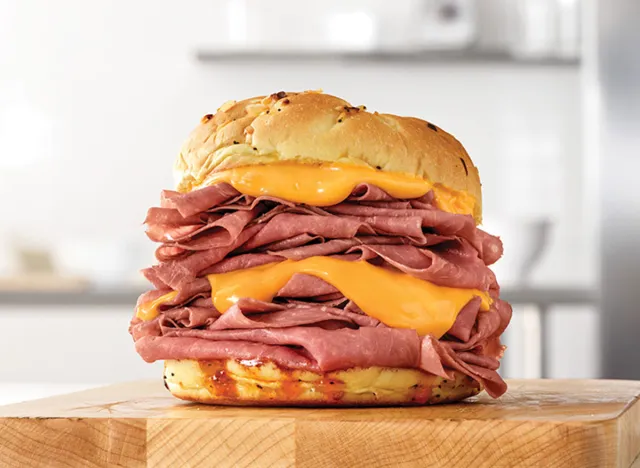 Per Sandwich
: 740 calories, 39 g fat (14 g saturated fat), 2,530 mg sodium, 48 g carbs (2 g fiber, 9 g sugar), 49 g protein
Arby's prides itself on the famous slogan "We Have The Meats," and without doubt, this sandwich packs a whole lot of it. The Half Pound Beef 'N Cheddar sandwich says it all in the name—you actually receive half a pound of roast beef between an onion roll bun, in addition to a hefty amount of cheddar cheese and red ranch sauce. While the roast beef at Arby's is definitely tender and tasty, this order in particular, also serves up over 700 calories. Be sure to treat yourself to this mouthful of a sandwich only every once in a while. 
Panera's Smoky Buffalo Chicken Melt (Toasted Baguette)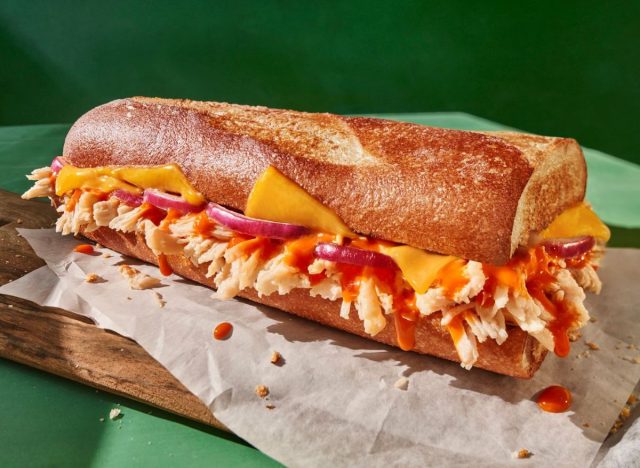 Per Sandwich
: 830 calories, 19 g fat (9 g saturated fat), 3,010 mg sodium, 115 g carbs (4 g fiber, 4 g sugar), 50 g protein
When Panera dropped its line of Toasted Baguettes in 2022, they were something very different, and very large, for the chain which has somewhat of a healthy reputation. When it comes to the chain's Smoky Buffalo Chicken Melt version, get ready to devour an extra long, extra-loaded sub. A toasted French baguette gets a thick layer of shredded, pulled chicken (raised without antibiotics!), which is then topped with American cheese, red onions, and spicy buffalo sauce. This giant sandwich is full of flavor and probably won't leave you much room to be hungry for anything else. However, consider the fact that you would be eating an entire baguette in one sitting, making up 830 calories and 115 grams of carbohydrates!6254a4d1642c605c54bf1cab17d50f1e
Subway's Supreme Meats Sub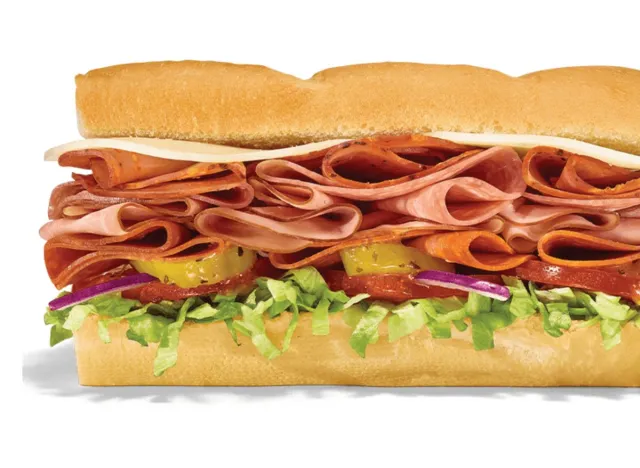 Per Sandwich
: 1,440 calories, 88 g fat (31 g saturated fat), 5,550 mg sodium, 89 g carbs (4 g fiber, 13 g sugar), 82 g protein
For those who can't decide what protein to put on a sandwich, Subway created a sub with everything under the sun. The Supreme Meats sandwich is loaded with ham, salami, pepperoni, and capicola, as well as toppings like provolone cheese, lettuce, tomatoes, red onions, banana peppers, and the chain's fan-favorite Parmesan Vinaigrette. However, take note that with all that meat comes a whole lot of calories—1,080 to be exact, and over 5,000 milligrams of sodium! Consuming too much sodium and processed meat (which deli meat is) can increase one's risk of heart disease, cancer, and diabetes. 
Jimmy John's J.J. Gargantuan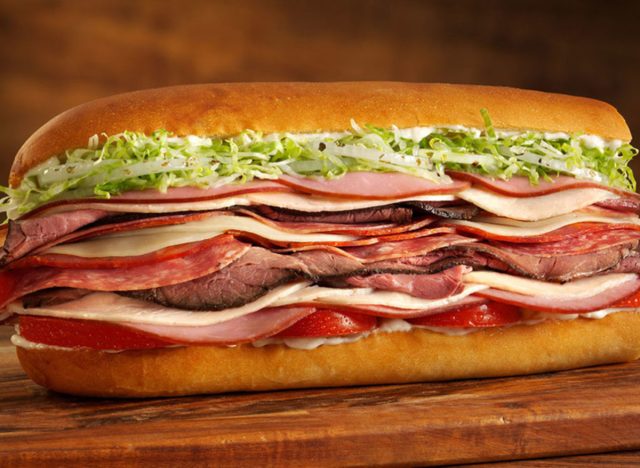 Per Sandwich
: 1,080 calories, 49 g fat (15 g saturated fat), 3,870 mg sodium, 78 carbs (6 g fiber, 5 g sugar), 78 g protein
Jimmy John's created the J.J. Gargantuan sub with the intention of it being "big enough to feed the hungriest of humans," according to the chain's website. Similar to Subway's meaty sandwich, Jimmy John's take includes five different hand-sliced proteins—salami, capocollo, turkey, roast beef, and ham—all stacked on top of each other. But the sub doesn't stop there, after the meats come various layers of fresh ingredients like provolone cheese, onion, lettuce, tomato, mayo, oil and vinegar, and an oregano-basil seasoning. This sandwich is the definition of enormous, and possibly, might be best to share with a buddy. You will be able to split the 1,080 calories in half, along with the 49 grams of fat.
Firehouse Subs Smokin' Triple Stack
For a limited time only, customers have the opportunity to try Firehouse Subs' new sandwich concoction that is nearly double the size of the rest of the menu. The Smokin' Triple Stack is a hot specialty sub packed with beef brisket, smoked turkey breast, honey ham, melted cheddar, a sweet and tangy slaw, a drizzle of barbecue sauce, and mayo on a toasted roll or bun. Coming from a family that's decades full of firemen and policemen, Firehouse Subs founders are constantly creating sandwiches that encompass their fanbase and using "a winning combination that satisfies ravenous appetites." Firehouse Subs did not disclose the nutrition information on the website, but this big sandwich is likely to pack a punch.
Potbelly's Pizza Melt Sub
Per Sandwich
: 750 calories, 35 g fat (14 g saturated fat), 2,200 mg sodium, 70 carbs (4 g fiber, 7 g sugar), 39 g protein
Pizza or a sandwich? Can't decide? Don't worry, Potbelly has a special order just for you. The chain's Pizza Melt Sub takes America's favorite pizza ingredients and throws them inside a fluffy loaf of bread. From pepperoni, capicola, and crumbled meatballs, to a saucy spread of marinara, slices of provolone, a dash of Italian seasoning, and mushrooms (where available). In comparison to Potbelly's classic subs, this one is bigger and fuller. It also has 750 calories and 35 grams of fat, which makes up about half of the daily recommended amount of fat one should consume. 
Jersey Mike's Portabella Chicken Cheese Steak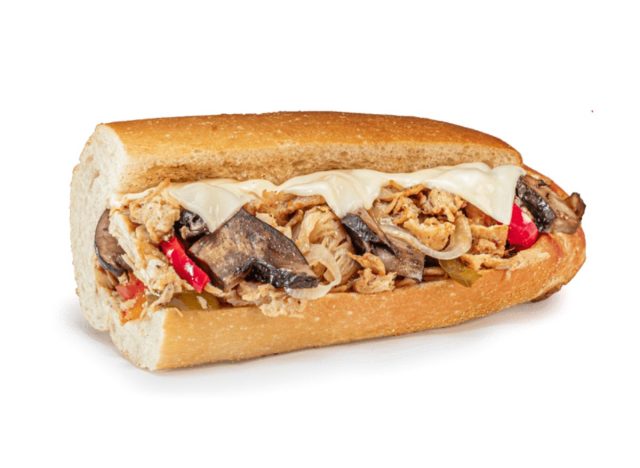 Per Sandwich
: ~1,370 calories, 51 g fat (20 g saturated fat), 4,058 mg sodium, 131 carbs (6 g fiber, 19 g sugar), 96 g protein
Jersey Mike's has taken the cult classic, Philly Cheesesteak sub, and upgraded it to a jumbo chicken-centric sandwich (great for those trying to avoid red meat!). When you order the chain's Portabella Chicken Cheesesteak, you'll get a hoagie roll filled with grilled-to-order chicken fresh portabella mushrooms, peppers, onions, and melted white American cheese. The blend of tender chicken and large slices of portabella mushrooms takes this sub from normal-sized to epic in proportions, adding up to almost 1,400 calories when ordered as Jersey Mike's "giant" size (said to feed 4 people).
Which Wich's Wicked Sub
Per Sandwich (Large size)
: 1,350 calories, 80 g fat (30 g saturated fat), 3,610 mg sodium, 98 carbs (2 g fiber, 13 g sugar), 62 g protein
The signature sandwich at Which Wich also happens to be one of its largest subs on the entire menu. The Wicked is extra tall and extra full of nearly every ingredient and topping the chain has to offer. Inside your choice of bread, you'll find turkey, ham, roast beef, pepperoni, bacon, cheddar cheese, provolone cheese, pepper Jack cheese, lettuce, tomatoes, red onions, and mayonnaise—that adds up to a grand total of five different types of meat and three varieties of cheese! With the variety of proteins and an alarming amount of cheese, you're consuming over 3,000 grams of sodium and 80 grams of total fat.
Jordan Summers-Marcouillier
Jordan Summers-Marcouillier was born and raised in San Jose, California and now works as a writer in New York, NY.
Read more about Jordan