5 Eating Habits Sarah Jessica Parker Swears by To Look Good at 57
And just like that, SJP is in her late 50s and looking just as amazing in her new movie Hocus Pocus 2 as she was in Hocus Pocus.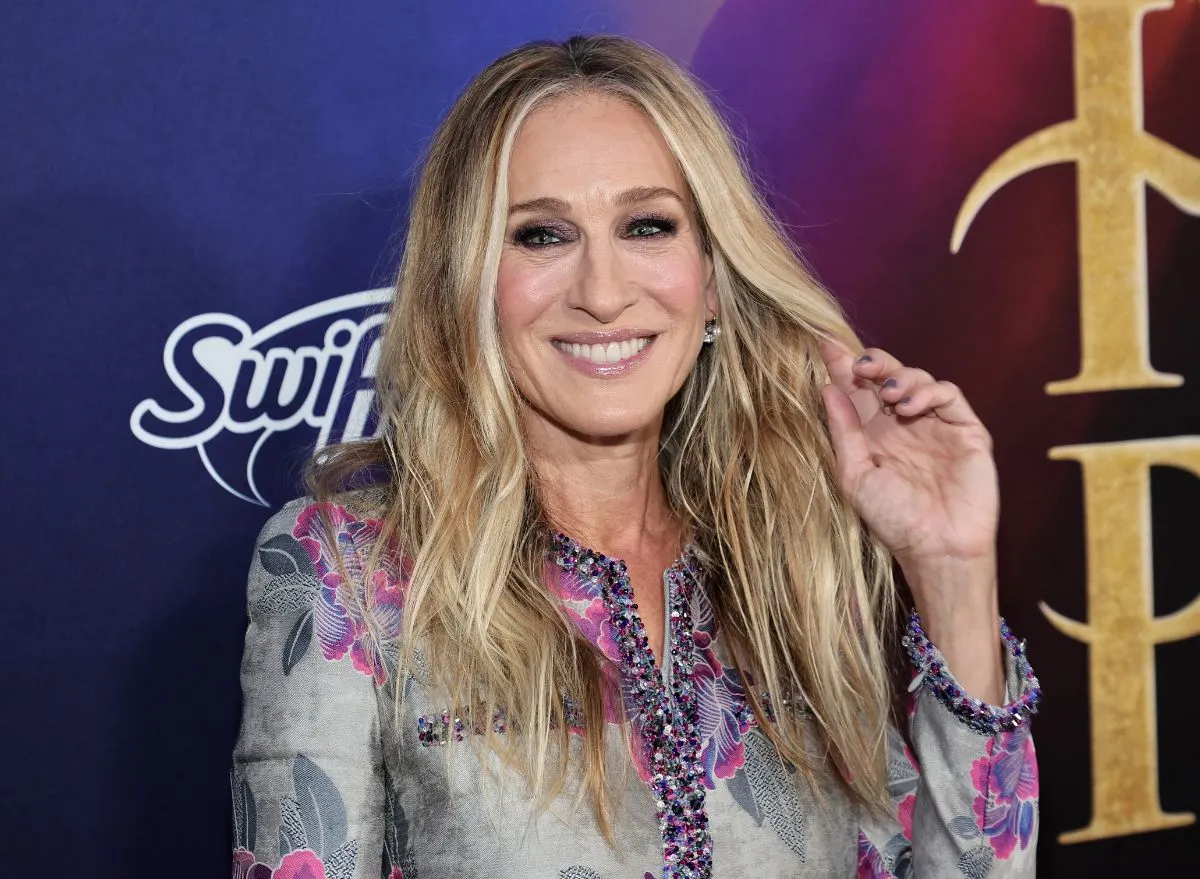 Sarah Jessica Parker has become one of the most iconic women in Hollywood since her start as Carrie Bradshaw in Sex and the City back in 1998, and with Hocus Pocus 2 set to release on September 30th and the Sex and the City spin-off And Just Like That currently filming for season 2, SJP isn't slowing down anytime soon.
As a 57-years-old actor, businesswoman, wife, mother, and fashion icon, SJP gets plenty of questions about how she looks so great and has maintained such good health through the years.
Parker has pursued more "natural" aging compared to what is normal in Hollywood today, with experts guessing she's had "minimal work done," and her natural grey hair almost breaking the internet earlier this year.
So how has SJP stuck to such a busy, thriving life while maintaining such good health in her late 50s? Back in 2011, Parker talked about following the Hampton Diet, which is known as being a combination of the Mediterranean Diet, the Atkins Diet, and the South Beach Diet. However, there aren't many sources that say she's still following this plan of eating.
Read on to learn some of Parker's more recent discussions about her eating and health habits, and for more celeb news check out Viola Davis Swears by These 5 Healthy Habits To Look Amazing at 57.
She treats herself
In Vogue's 73 Questions with Sarah Jessica Parker, it's clear within the first few minutes that SJP knows how to enjoy her favorite things, especially when it comes to food. The interviewer asks his rapid-fire, food-related questions, and SJP quickly answers while sitting on her velvet green couch.
"What's your favorite food?" "Barbuto's Roast Chicken," she says. "What do you love on your pizza?" "Sausage, peppers, onions," she replies. "What's your favorite drink?" "Coke-a-cola." "What's your favorite dessert?" "My sister's brownies." And finally, "dark chocolate or milk chocolate?" "Milk chocolate," she answers.
In a 2021 interview with Grub Street of New York Magazine, SJP shares how she feels about savoring her favorite foods with her husband, Matthew Broderick.
"One-hundred percent, eating food I love feels like a luxury. In our house, we're constantly paying attention to the level of enjoyment at the table," she says. "I don't want to suggest our entire conversation at dinner is grading the meal, but we definitely are consciously enjoying it."
It seems that Parker knows how to balance her love of food with caring for her health, as she's been very vocal about her love of walking. In her 73 Questions interview, when asked, "what's your favorite activity in New York City?" she replies, "walking."
And in a 2016 interview with The Doctors, SJP says of her secrets to beauty in her 50's, "I walk, I live in the city. I walk a lot. Right now that's all I have time for but I also live in a house with like four or five flights of stairs. And I have a fit bit."
She makes cooking an enjoyable experience
In her interview with Grub Street, SJP emphasizes just how much she loves to cook. When talking about what she made for dinner earlier in the week, she says, "I used a recipe from Julia Moskin, and I made soup with Joan Nathan's matzo-ball recipe. I love both of those writers; I love their whole history. They are people I go to all of the time for recipes. I have my Fannie Farmer Cookbook, which I've had since I was 18. It's super old-fashioned. It's probably super out of style, but I love it because it's what I've known."
Parker also mentions that she and her husband like to save food and use it to cook a lot of things from scratch. "We make chicken stock all the time here. We freeze it, and we like to use it in our rice," she tells Grub Street. "We save everything here. Matthew saves every Parmesan rind. If we have shrimp, we always try to make a stock with the shells, because it's so good and smells incredible. We always save the bacon grease. We have fat from a Spanish ham that Matthew bought for my son for Christmas, which we saved for cooking."
In an Instagram post from November 2021, SJP shares how much she loves cooking with a video of some sort of tomato concoction simmering on the stove. She says in the caption, "A short break from shooting, the rare opportunity when my husband isn't using every burner, my daughters aren't baking and I have it all to myself! We all want our hands on the Thermador. X, SJ."
She eats a big breakfast on busy days
Research has continually shown that eating a healthy, protein-heavy, nutrient-dense breakfast can help with things like better metabolism, and while SJP doesn't always start her day with breakfast, it seems that she at least finds the time to fuel up before busy shooting days.
"I have weird eating habits. I don't usually eat breakfast unless I'm shooting, and when I'm shooting, I have a full, massive, crazy breakfast. When I'm home and going to work on my own, I'll get up really early and just have coffee," she tells Grub Street.
She enjoys wine and cocktails
"I drank Invivo X, SJP Sauvignon blanc, my own wine. We drink wine, but I still love a cocktail," SJP tells Grub Street. "To be honest, I really do love a Cosmopolitan. I don't know how to make them well, but I genuinely love them."
Parker's love for wine is made apparent by the success of her wine collaboration with Invivo Wines, called INVIVO X, SJ.
She sticks to one cup of coffee
With someone as busy as Sarah Jessica Parker, it comes as no surprise that she's a coffee drinker. She tells Grub Street, "I drink Nespresso pods or — are you ready for this? — Nescafé instant coffee. It's like being in Greece. If I was in Miami, I could go to Little Havana for Cuban coffee. Sometimes I make Cuban coffee. I have the sock for it."6254a4d1642c605c54bf1cab17d50f1e
Although she's a coffee lover, SJP always limits herself to just one cup a day. "I like making coffee at home, though I only drink one cup in the morning. If I drank it all day, I would be a mess. I would be like a whippet."
With all of these healthy habits, it's no wonder why Parker looks stunning at 57!