A Low-Calorie Short Ribs Braised in Guinness Recipe
Why pay for this dish when you're out to eat when you can make a low-cal version right at home?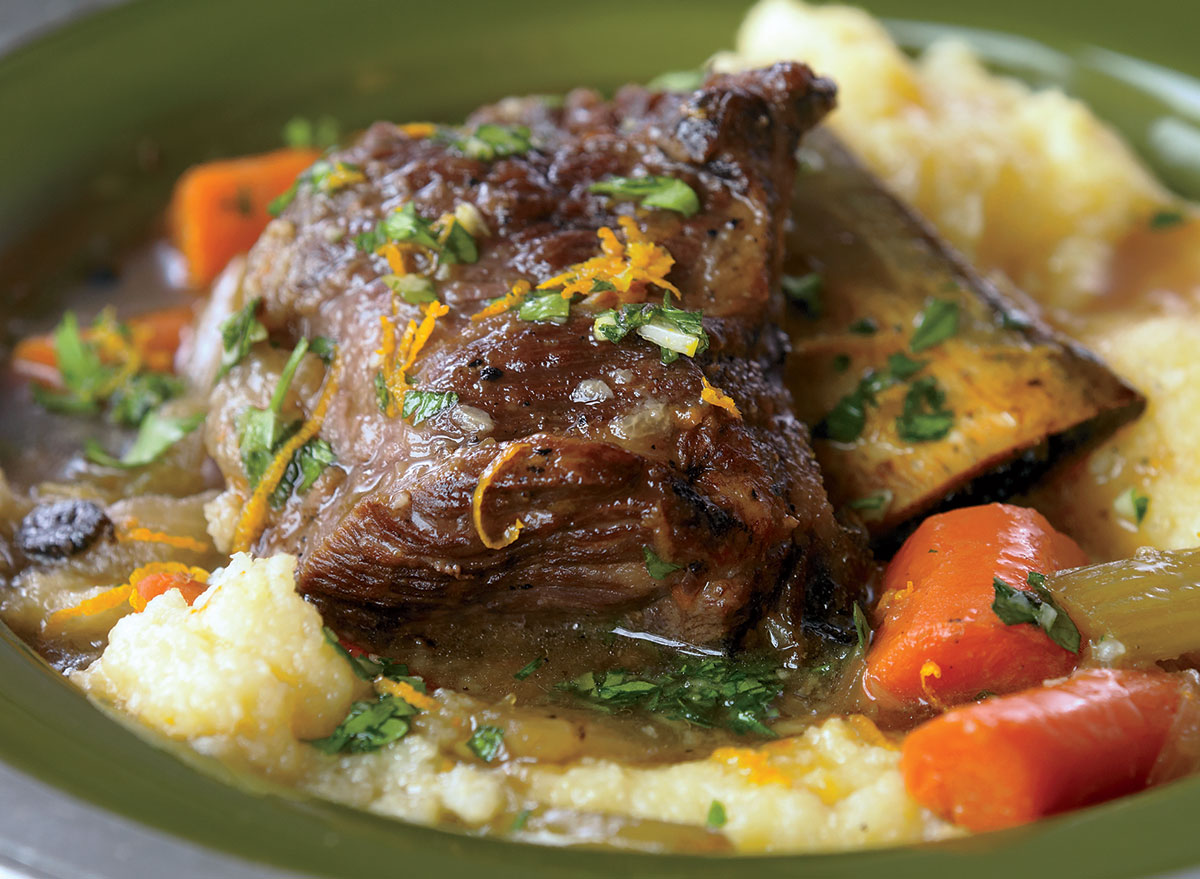 Seems like braised short ribs adorn every French and Italian menu in the country these days. And why not? It's an inexpensive dish that takes minimal effort from the chef but that can still fetch a $20+ price tag wherever it's served. Why pay the money for something you can do just as well at home, especially if you can cut the calories in half with this short ribs recipe?
Nutrition: 540 calories, 26 g fat (9 g saturated), 660 mg sodium
Serves 4
You'll Need
1 Tbsp canola oil
2 lb boneless short ribs
Salt and black pepper to taste
2 cans or bottles (12 oz each) Guinness Draught
2 cups low-sodium beef broth
3 large carrots, cut into large chunks
2 onions, quartered
2 stalks celery, cut into large chunks
8 cloves garlic, peeled
2 bay leaves
GREMOLATA (optional)
1⁄2 cup chopped parsley
2 cloves garlic, minced
Grated zest of 2 oranges or lemons6254a4d1642c605c54bf1cab17d50f1e
How to Make It
Heat the oil in a large skillet or sauté pan over high heat.
Season all sides of the ribs with salt and pepper.
Cook them until a rich brown crust develops on the outside.
Remove the ribs and place in a slow cooker.
While the pan is still hot, add the beer and scrape up any bits stuck to the bottom with a wooden spoon.
Pour the beer over the short ribs.
Add the broth, carrots, onions, celery, garlic, and bay leaves to the short ribs and set the slow cooker to high.
Cook for 4 hours, until the beef is tender and nearly falling apart.
Discard the bay leaves.
If using gremolata, mix the parsley, garlic, and orange zest.
Serve the beef (along with some of the reduced sauce) over soft polenta or mashed potatoes.
Sprinkle with the gremolata (if using).
Eat This Tip
Step by Step: How to Braise Anything
Any tough cut of meat can be transformed into a delicious dinner through the alchemy of braising. It's a simple three-step process:
Step 1: Sear the meat until brown all over.
Step 2: Deglaze the pan with a flavorful liquid.
Step 3: Add vegetables and stock to cover; simmer.
Love this recipe? Subscribe to our Eat This, Not That! magazine for even more at-home cooking and healthy eating ideas.