This Shrimp Scampi With Linguine Pasta Recipe Is Garlicky Perfection
Attention, garlic lovers! You are going to absolutely love this recipe.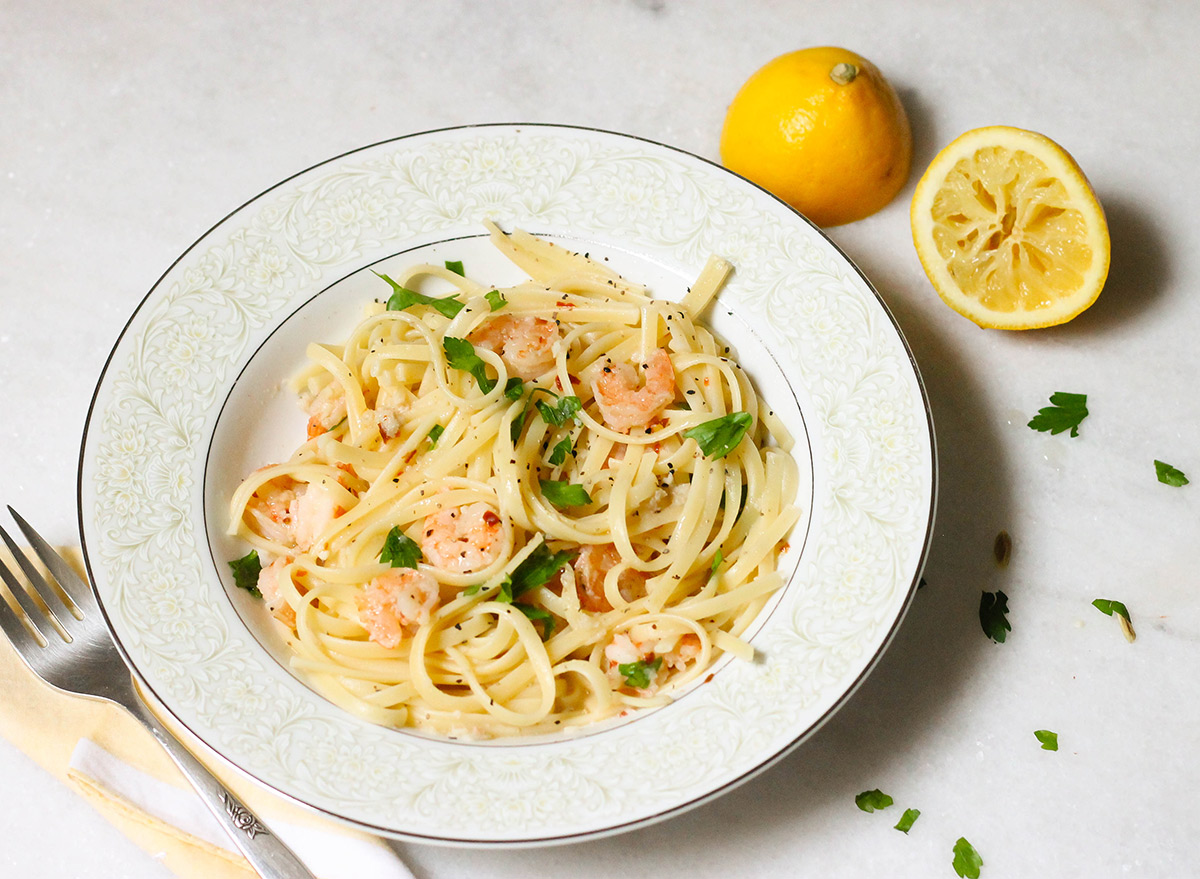 I am a huge fan of garlic—which I will happily blame my Italian grandmother for. My love for garlic runs deep. Give me any kind of meal with minced garlic in it, and I am the happiest woman in the world. So you can imagine my utter excitement when I made a shrimp scampi linguine pasta recipe that had so much garlic in it, it made me cry happy tears.
Now most shrimp scampi dishes are made with dry white wine. However, not all of us have a bottle of white open to cook with, so I have an easy shrimp scampi pasta without wine! You simply substitute the dry white wine for vegetable broth instead. It will give the shrimp scampi sauce a nice salty finish that pairs well with the shrimp.
What is the best pasta for shrimp scampi?
I find the most common go-to pasta used for shrimp scampi is linguine. However, that doesn't mean you have to always use linguine in your recipe—especially if you're looking for a gluten-free or low-carb alternative. You can try one of these healthy pasta brands, give it a try with this gluten-free linguine, or even this linguine made with spinach!
Do you need to have shrimp scampi over pasta?
Now, usually this dish is served with pasta, but if you don't want it, this recipe is delicious on its own! You could always make this shrimp scampi recipe with some roasted vegetables. Also, that shrimp scampi sauce is so delectable, a fresh loaf of crusty bread would be perfect for dipping! All you have to do is skip making the pasta in the instructions.
Here's how to make shrimp scampi for an easy weeknight dinner option!
Makes 4 servings
Ingredients
2 tablespoons olive oil
2 tablespoons butter
4 garlic cloves, minced
1 pound large shrimp, shelled and deveined
1/4 cup vegetable broth (or dry white wine)
1/4 teaspoon red pepper flakes
8 oz. linguine
1 lemon
parsley, to garnish
How to Make It
Boil water and cook the linguine.
Meanwhile, in a large skillet, heat up the olive oil and the butter.
Add in the minced garlic and cook until the garlic is fragrant, about 30 seconds.
Add in the large shrimp. If it the shrimp is pre-cooked, you only need to heat it through for a few minutes. If not, cook the shrimp until it is pink (around 5-10 minutes).
Pour in the vegetable broth (or dry white wine) and sprinkle in the red pepper flakes. Cook until the sauce starts to simmer.
Add in the linguine. Cut the lemon in half and squeeze the juice into the pasta dish.
Serve with garnishes of chopped parsley.