The Easiest Slow Cooker Beef Goulash Recipe
If you need more proof the slow cooker is a true gift to your kitchen, here it is.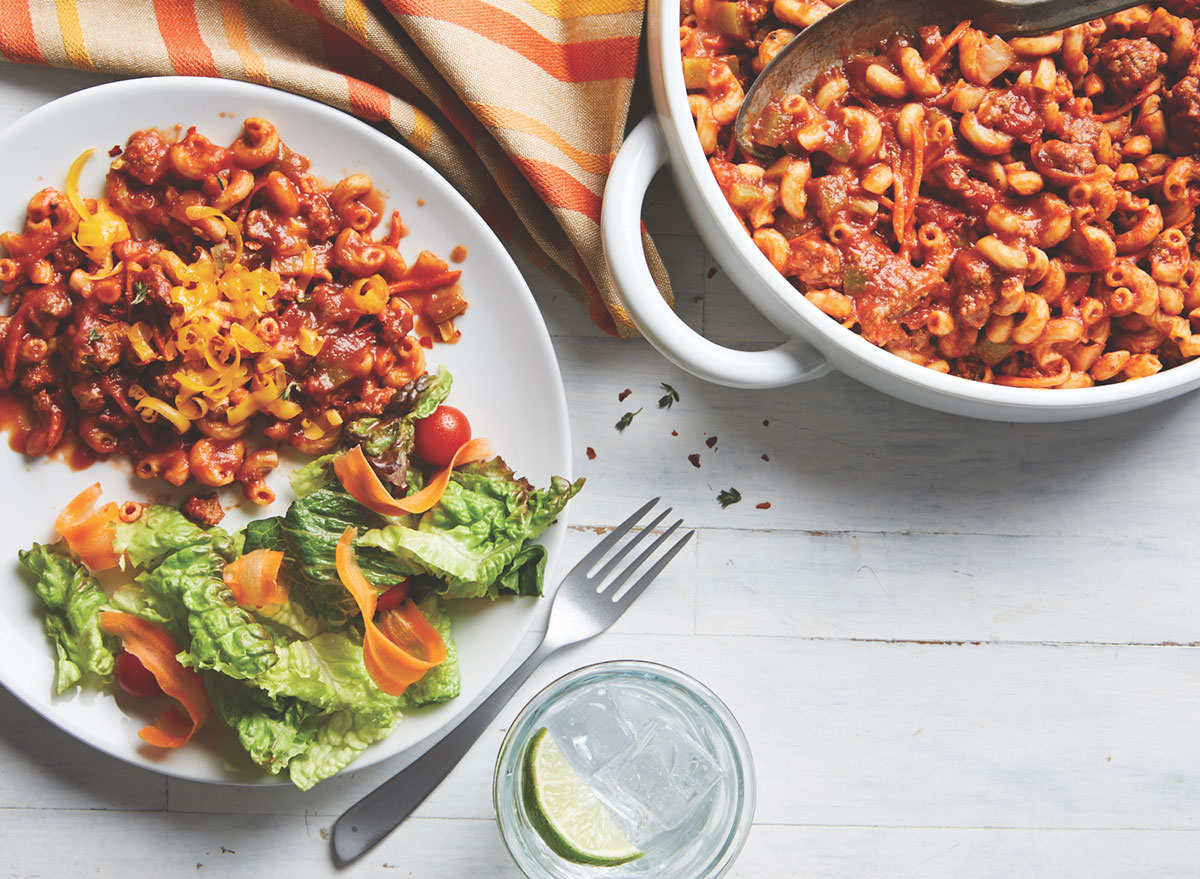 When you don't have a ton of time on your hands to cook, you might be tempted to hit up the drive-thru or place a takeout order. It's quick, convenient, tastes good, and you don't have to worry about doing any dishes, right? Well, what if we told you there's a way you can make a meal that not only tastes great, but requires minimal effort on your part and is healthy for you? Enter our hearty slow cooker beef goulash recipe.
Now, you might be thinking that a goulash—which is a meat and veggies stew—would require a lot of time, but our recipe is made for your slow cooker. All you have to do is combine all of the ingredients into it, and let the time-saving appliance work its magic while you do whatever it is you need to do. It's that easy! Any dish that is made in a slow cooker is one we fully support, and this beef goulash recipe will leave you with plenty of leftovers you can eat during the week. Go ahead—dig in!6254a4d1642c605c54bf1cab17d50f1e
Nutrition: 378 calories, 12 g fat (5 g saturated), 559 mg sodium, 12 g sugar, 27 g protein, 9 g fiber
Makes 6 servings
Ingredients
1 pound 90% lean ground beef
21/2 cups reduced-sodium beef broth
8 ounces dried multigrain high-protein elbow macaroni (2 1/3 cups)
1 15-ounce can no-salt-added tomato sauce
1 14.5-ounce can no-salt-added diced tomatoes
1 6-ounce can no-salt-added tomato paste
1/2 cup finely chopped onion
1/2 cup shredded carrot
1/2 cup finely chopped green sweet pepper
1/2 tsp salt
1/4 tsp black pepper
1/2 cup shredded cheddar cheese
How to Make It
In a 5- to 6-quart slow cooker combine the first 11 ingredients (through pepper). Stir to break up the ground beef. Cover and cook on high 2 hours, stirring once halfway through cooking.
Sprinkle with cheese. Cover and cook for 10 minutes more, or until the cheese is melted and the pasta is tender.
Eat This Tip
As a rule of thumb, your dinner plate should be made up of one part protein, one part starch, and two parts non-starchy vegetables. Pair this recipe with a salad!