The Ultimate Tomato Sauce Recipe
Your homemade pasta and pizza dishes just found their perfect match.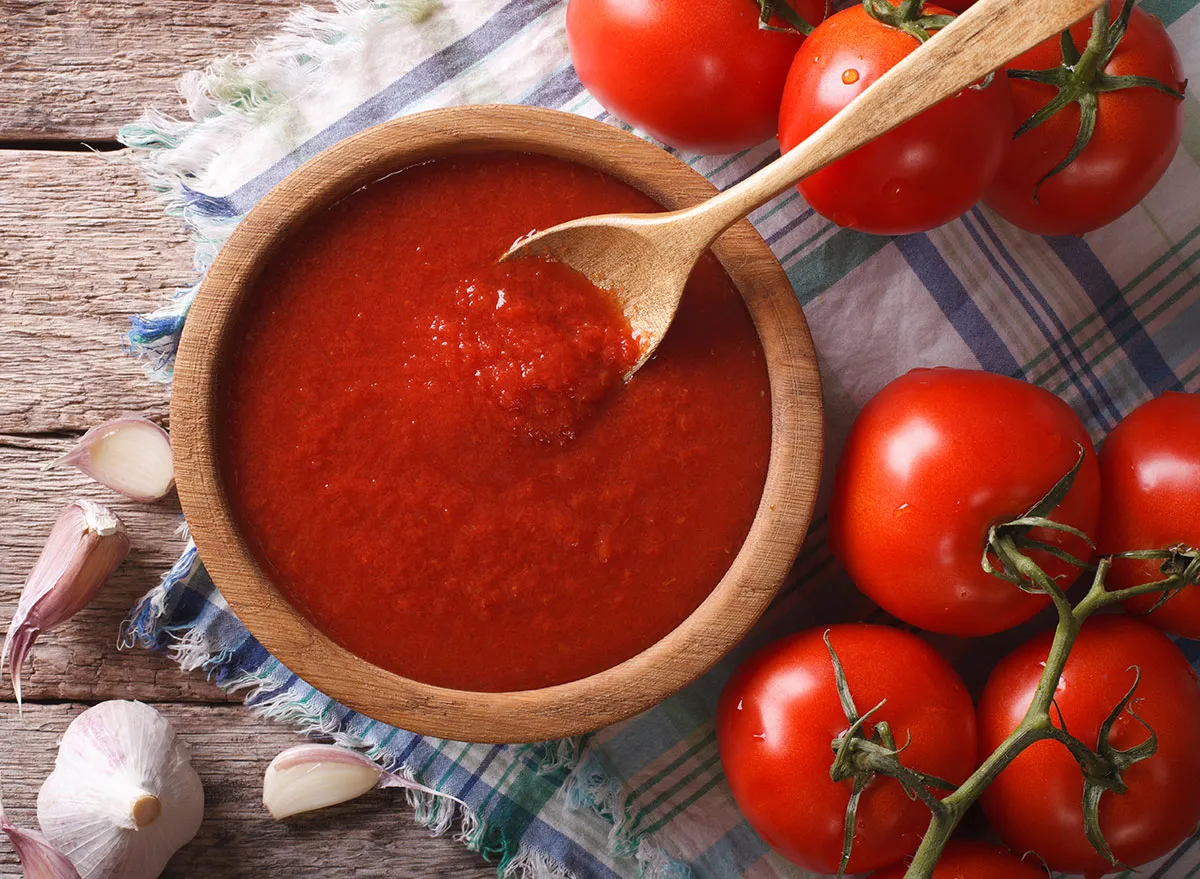 This classic tomato sauce recipe is vegan-friendly and versatile, and you simply won't find a simpler recipe in all our files. This basic, but bright, sweet, and lightly acidic tomato sauce is perfect for pizzas, spaghetti and topping dishes like chicken parm, or keeping it vegetarian and pouring it over polenta or grits and roasted vegetables. To make this tomato sauce recipe into a real marinara, simmer the mix below in a saucepan with garlic and onions, then accentuate with flavor boosters like red pepper flakes, extra garlic or fresh basil. You could even try these additions when using this sauce for a pizza with some extra core flavor and bite. For more suggestions on how to adapt this recipe to make all kinds of sauces for all different kinds of pasta dishes, check out our Eat This Tip, below. And of course, if you'd like to keep your spaghetti and pasta meals lower on the calorie scale, or even convert it a gluten-free dish, there are tons of whole wheat, rice or quinoa-based pastas to try. Think these are all enough options for you? Yes, we said this recipe was simple, but that doesn't mean you don't have lots of complex options. Find your favorites and dig in!
Makes About 2 Cups
You'll Need
1 (28oz) can whole peeled tomatoes, liquid discarded
1 Tbsp olive oil 1⁄2 tsp salt
How to Make It
Use your hands to lightly crush the tomatoes through your fingers (careful, juice can spray out).
Stir in the oil and season with salt.
Eat This Tip
Just like all of our favorite sauces and dips in this collection of recipes, tomato sauce is quite adaptable depending on your mood, your taste or the taste of those you're cooking for. Here are a couple of very simple ways to make a completely different version of this tasty dish:
Use heirloom tomatoes to bring a more delicate taste (and brighter color) to your basic tomato sauce
Add 1/2 a cup of half-and-half to make into a vodka sauce
Add a few chopped chilies to convert to an Arrabbiata sauce
Love this recipe? Subscribe to our Eat This, Not That! magazine for even more at-home cooking and healthy eating ideas.