Healthy Smoked Paprika Potato Chips
This is how you can snack on chips, the right way.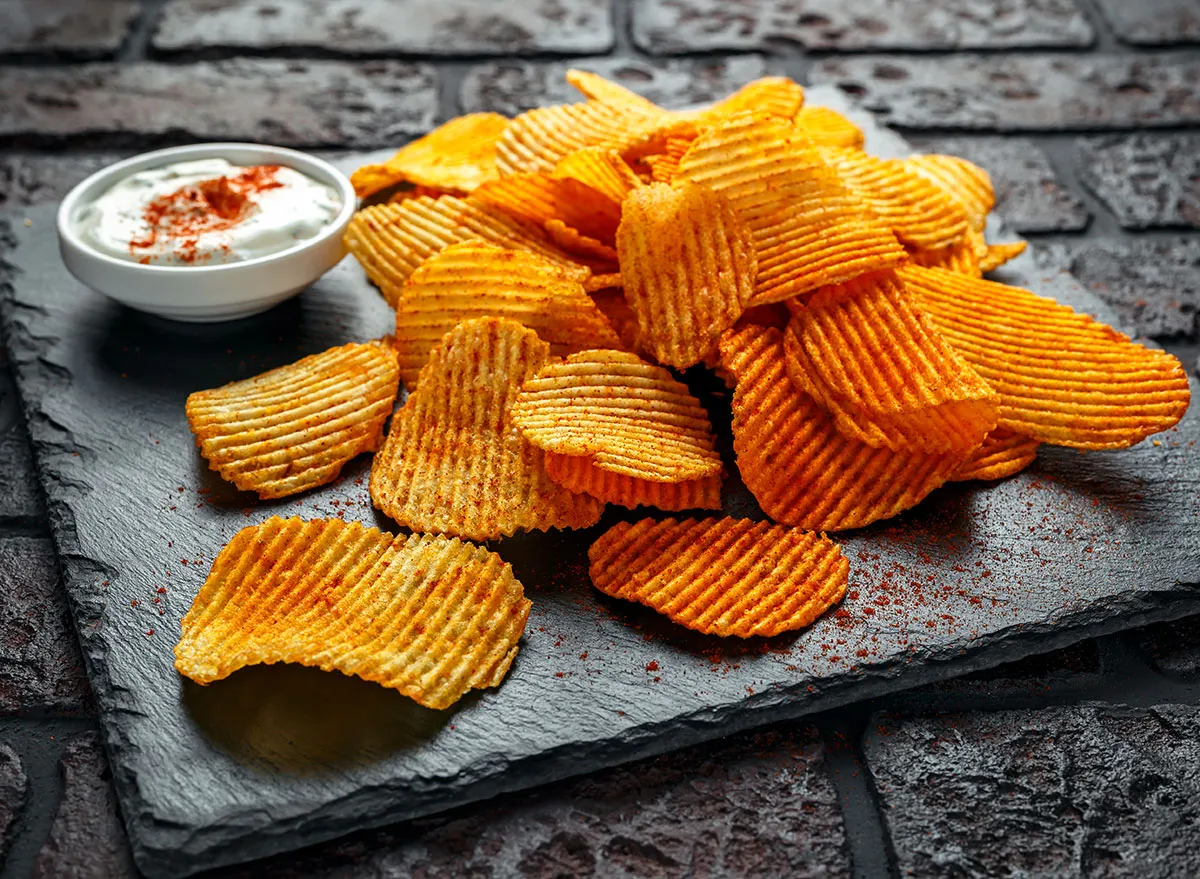 When it comes to eating healthy, the thing that can push us off track more often than not are cravings for unhealthy snacks in-between meals. Snacks are more often than not loaded with fatty oils, phony flavoring and greasy, empty calories. Can you guess the biggest culprit? Yep, potato chips. Nearly impossible to resist and more often than not, potato chips come in near-bottomless bags that are equally impossible to put down. And before you know it you've consumed an entire meal's worth of calories in just one snack! But why should we have to avoid snacks entirely? There's room in our diets for snacks that aren't so bad, right? So here's a recipe for a snack that is not only healthy, it also happens to be in potato chip form. These chips aren't just considerably better for you than the standard supermarket fried variety, they're also about three times as delicious, thanks to the fresh potato flavor and a smoky touch from paprika. Eat them as a snack, or serve alongside a grilled steak or a burger.
Nutrition: 210 calories, 9 g fat (2 g saturated), 430 mg sodium
Serves 4
You'll Need
1 large russet potato
2 Tbsp olive oil
1 tsp smoked paprika
Salt and black pepper to taste6254a4d1642c605c54bf1cab17d50f1e
How to Make It
Preheat the oven to 350°F.
Peel the potato and slice as thinly and uniformly as possible. (If you have a kitchen mandoline, now's the time to use it.)
Soak the potato slices for at least 5 minutes in cold water.
Drain and pat dry, then toss in a bowl with the olive oil, paprika, salt, and pepper.
Lay the potatoes out on an oiled baking sheet. (The slices can overlap.)
Bake until the potatoes are golden brown and crunchy, about 30 minutes.
Eat This Tip
Staying on Track and Packing Snacks:
So you know we're all about meal planning, but what about snacks? You can't always plan for when you'll have a craving, but planning to have extra healthy snacks on hand for when you do is a great way to stay healthy for all day, including the bites taken in between meals.
This recipe (and hundreds more!) came from one of our Cook This, Not That! books. For more easy cooking ideas, you can also buy the book!