20 Spicy Recipes That Fire Up Your Metabolism
Can you handle the heat? These spicy recipes can help you finally shed those unwanted pounds.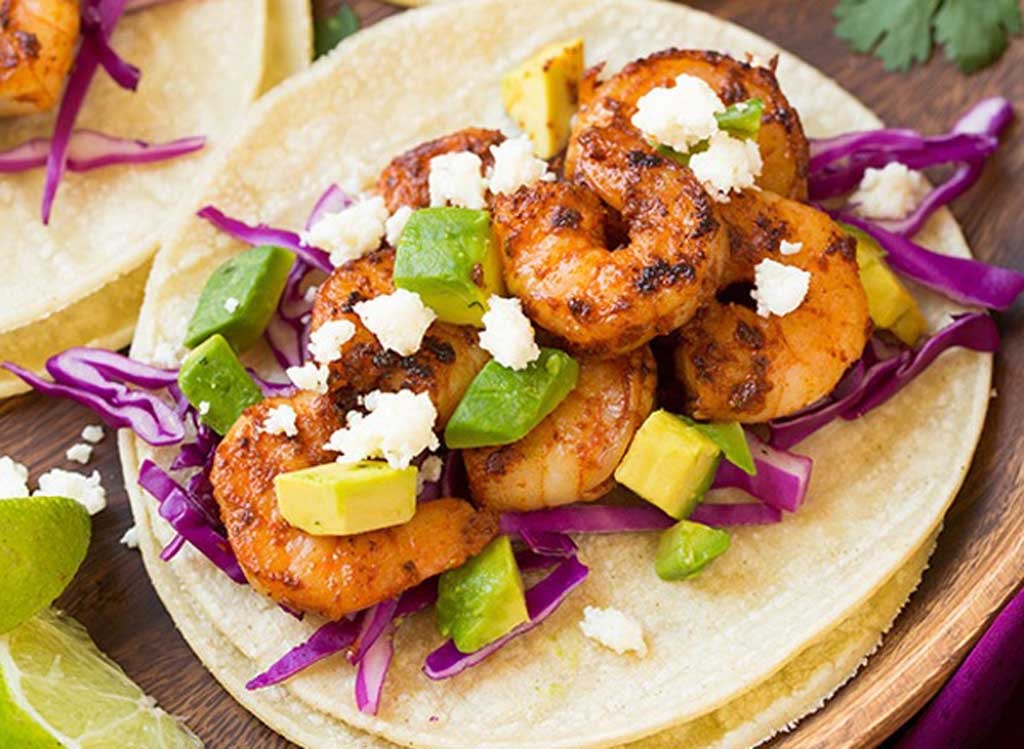 Whether you like it mildly spicy or tongue-burning-hot, there are plenty of ways to add some kick to your meals. Along with adding some serious flavor to your diet, spicy food is a great way to boost your metabolism and drop those unwanted pounds!
Peppers contain a chemical called capsaicin which gives them those hot-hot-hot properties we love so much! It has been shown to speed up metabolism and fight off inflammation. Capsaicin is found in a variety of peppers that each have different levels of the chemical. Some of the classic favorites are chili, jalapeno, Tabasco, paprika, bell, and habanero peppers (just to name a few). There are plenty of ways to get some of these spicy little peppers into your meals, such as via powders, sauces, or even whole form; but regardless of how you incorporate them, you're sure to get tons of health benefits.
Asian Jalapeno Chicken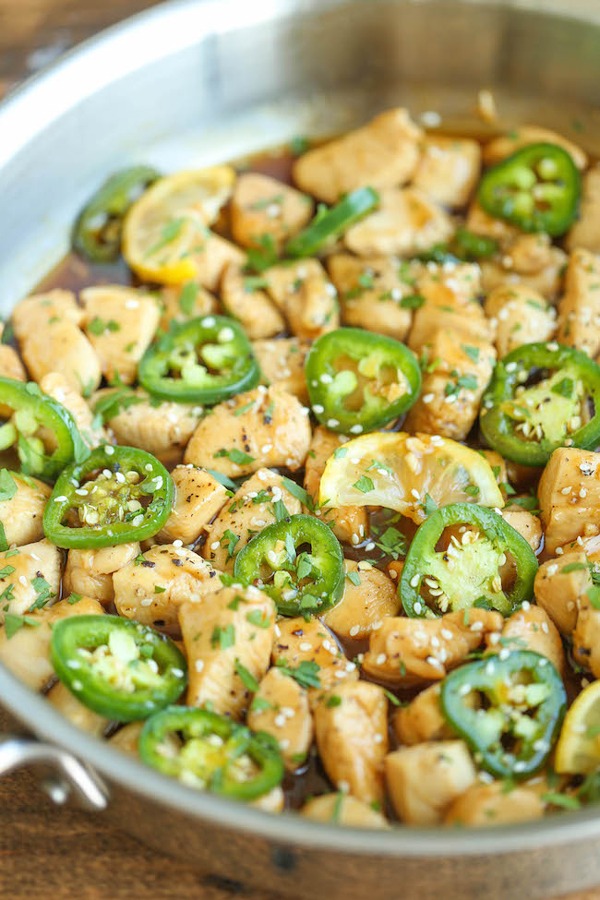 Serves: 4
Nutrition: 344 calories, 13.2 g fat (3.2 g saturated fat), 408 mg sodium, 22.5 g carbs, .7 g fiber, 18.1 g sugar, 33.7 g protein (calculated with ¼ cup of honey)
The jalapeno pepper is one of the top heat-lover favorites! When eaten, it gives a warm burning sensation that aids weight loss and has disease-fighting properties. The spicy honey lemon sauce is sure to make your taste buds go wild. A little tangy, a little spicy, and a lot delish!
Get the recipe at Damn Delicious.
Spicy Thai Peanut Chicken Sweet Potato Noodle Stir Fry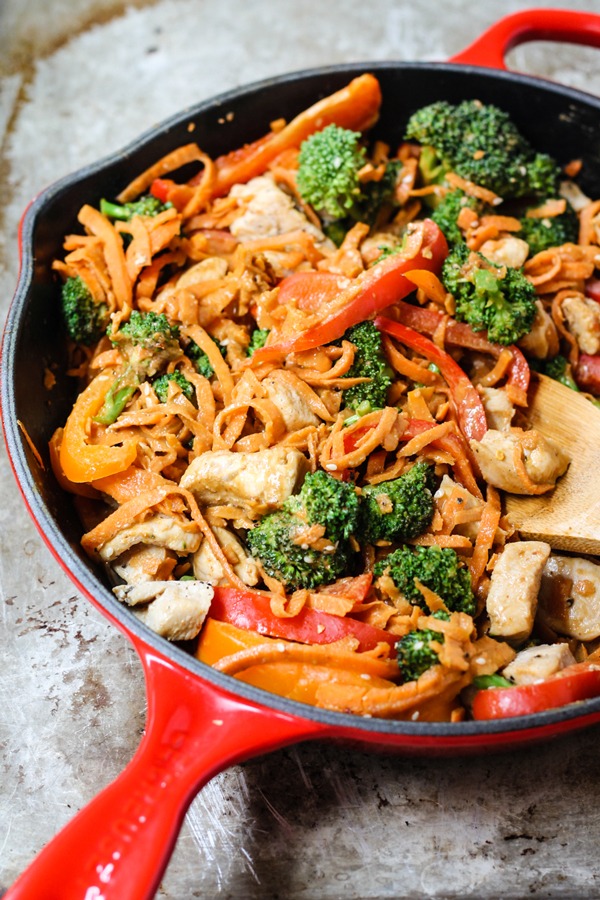 Serves: 4
Nutrition: 548 calories, 22 g fat (4.5 g saturated fat), 660 mg sodium, 45.3 g carbs, 8.2 g fiber, 7.4 g sugar, 41.8 g protein (calculated with unsweetened almond milk)
This quick, healthy dinner is a combination of unforgettable flavors. Sweet potato noodles are an easy at-home carb swap for the greasy noodles you'd be served at the takeout place around the corner. They're going to give you more nutritional benefits and add a nice texture to the plate.
Get the recipe at Ambitious Kitchen.
Spiced Raw Chocolate Mousse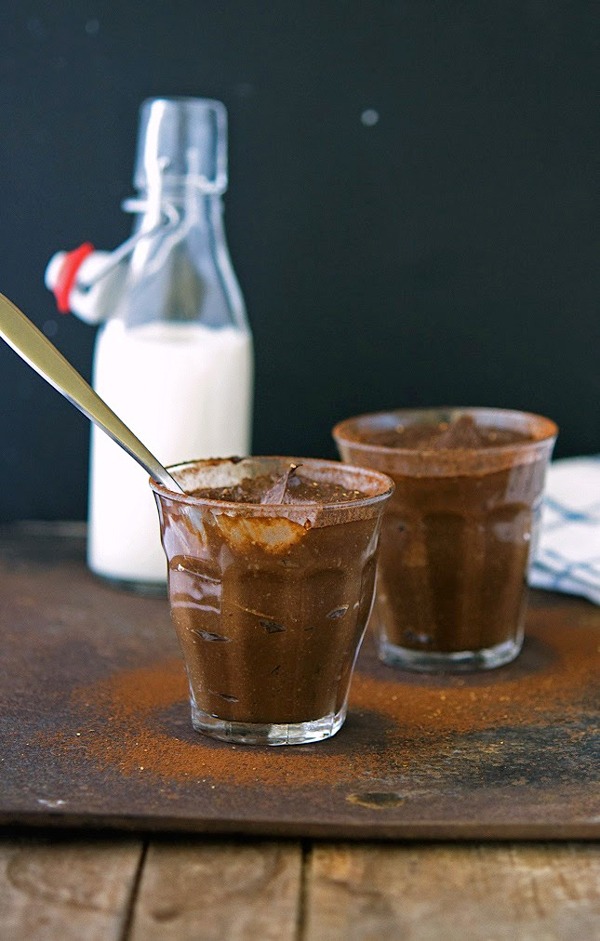 Serves: 4
Nutrition: 209 calories, 13.7 g fat (3 g saturated fat), 5 mg sodium, 23.5 g carbs, 5.2 g fiber, 12.9 g sugar, 2.9 g protein
Here's a nutritional dessert that's loaded with flavor—and no baking necessary! How much better can it get? This creamy, dreamy, little treat made from avocado, nuts, banana, and chocolate is perfect for those after dinner cravings. This will not only satisfy your sweet tooth but also give you a little spicy goodness to melt away that belly fat.
Get the recipe at The Iron You.
Chipotle Hemp Kale Chips
Serves: 6
Nutrition: 94 calories, 4.5 g fat, 188 mg sodium, 10.7 g carbs, 1.8 g fiber, 1.6 g fiber, 4.3 g protein (calculated with light Agave)
Kale chips are one of the latest food crazes because of their incredible health benefits and perfect crunchy goodness. But these go far beyond expectations by adding more superfood ingredients like hemp seeds, which are a complete protein with a high fiber count. Chipotle powder and smoked paprika make for the ultimate spicy topping. You can always add a little more if you're a big fan; I say there's no such thing as too spicy!
Get the recipe at Alkaline Sisters.
Spicy Veggie Bean Chili
Serves: 5
Nutrition: 395 calories, 11.9 g fat (2.1 g saturated fat), 233 mg sodium, 58.5 g carbs, 16.3 g fiber, 8.4 g sugar, 17.2 g protein (calculated with 1 15 oz. can of black beans)
This wholesome vegetarian chili is packed full of protein and flavors with a spice blend that will make it hard to put down. Ideal for a cold day to keep you warm today and tomorrow (hello, leftovers). The fresh veggies, black beans, and quinoa make for a hearty meal that is sure to become a go-to in your house!
Get the recipe at The Glowing Fridge.
Spicy Buffalo Cauliflower Popcorn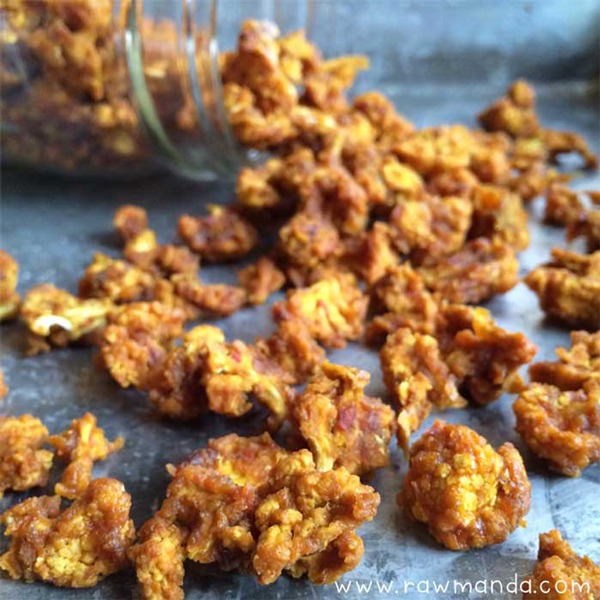 Serves: 4
Nutrition: 214 calories, 4.9 g fat (.7 g saturated fat), 56 mg sodium, 70.2 carbs, 9.2 g fiber, 25.6 g sugar, 8.8 g protein
Popcorn who? Skip those processed grocery store popcorns and go for these cauliflower bites. The sugar may seem high here, but don't go running yet—it's strictly coming from the naturally high sugar content in dates, which are great for digestion and rich in essential nutrients. If you want to cut back on some of that sugar, we recommend using just half a cup. The blend of hot spices like cayenne and turmeric will also help suppress your appetite until dinner and burn those unwanted love handles. A University of Maryland Medical Center study shows that turmeric is another spice that helps fight infections and some cancer, reduce inflammation and treat digestive problems.
Get the recipe at RawManda.
Chipotle Shrimp Tacos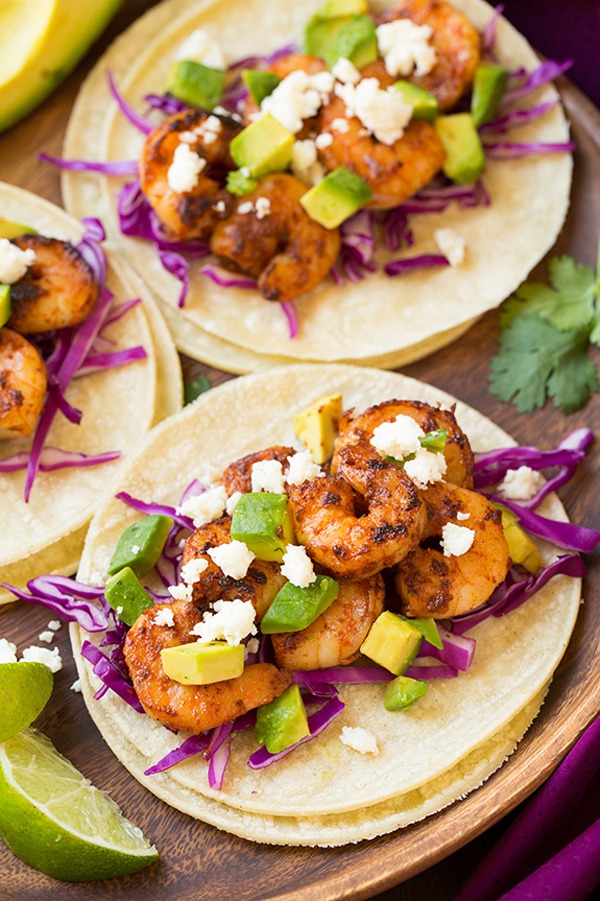 Serves: 4
Nutrition: 508 calories, 25.4 g fat (5.9 g saturated fat), 538 mg sodium, 36.1 g carbs, 10.5 g fiber, 3.3 g sugar, 36.9 g protein (calculated with 4 oz. greek yogurt)
Taco Tuesday's calling your name, but afraid you'll go overboard on the sour cream and heavy meats? Try out these light and fresh spicy shrimp tacos; they won't have you running for your fat pants from any excess bloating. But we do recommend switching out the sour cream for full-fat greek yogurt. The Nutrition Institute at the University of Tennessee suggests that calcium helps metabolize fat quicker, plus probiotics in yogurt are a great way to keep your gut clean to help you lose weight.
Get the recipe at Cooking Classy.
Watermelon Salsa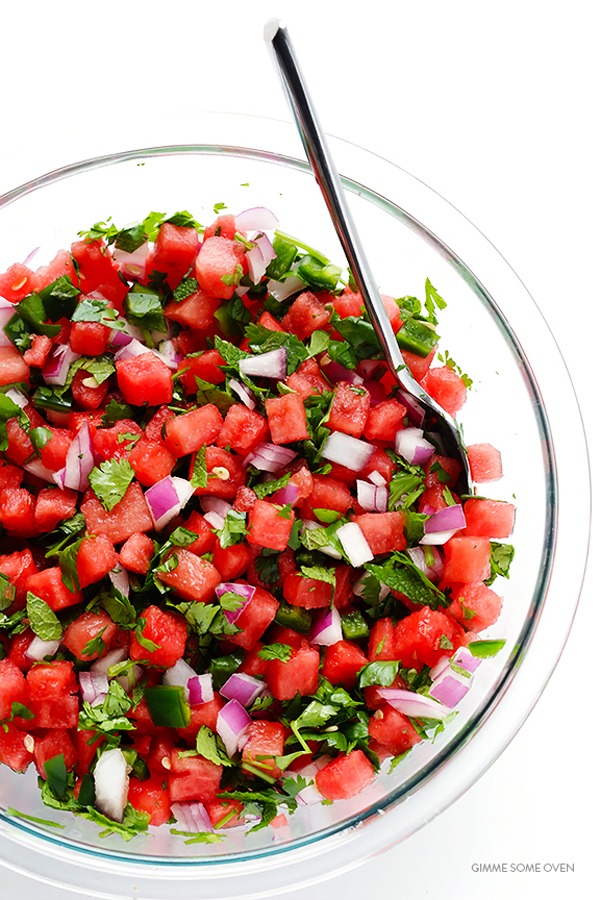 Serves: 6
Nutrition: 43 calories, .3 g fat, 5 mg sodium, 10.6 g carbs, 1.6 g fiber, 7 g sugar, 1.1 g protein
This low cal fresh and fruity salsa is perfect for a refreshing snack! It's quick, easy and only a few ingredients that will have the whole crowd cheering. Watermelons are super high in lycopene and according to research conducted at the University of North Carolina at Chapel Hill, men who consumed a diet rich in lycopene were half as likely to suffer a heart attack compared to those who had little to none in their diets. Along with those juicy things, jalapenos add a nice spicy touch to balance out this semi-sweet dish.
Get the recipe at Gimme Some Oven.
Oven Roasted Jerk Chicken Kabobs
Serves: 6
Nutrition: 413 calories, 14.9 g fat (1.9 g saturated fat), 571 mg sodium, 22.1 g carbs, 2.8 g fiber, 12.1 g sugar, 49.8 g protein
Here's a summer dish you don't have to wait four more months for. Slather these kabobs with spices and tangy fruit juices and you've got yourself a tropical plate in February. The duo of refreshing fruits and spicy meat is one that will leave you completely satisfied.
Get the recipe at Real Food by Dad.
Spicy Rosemary Tomato Peach Chutney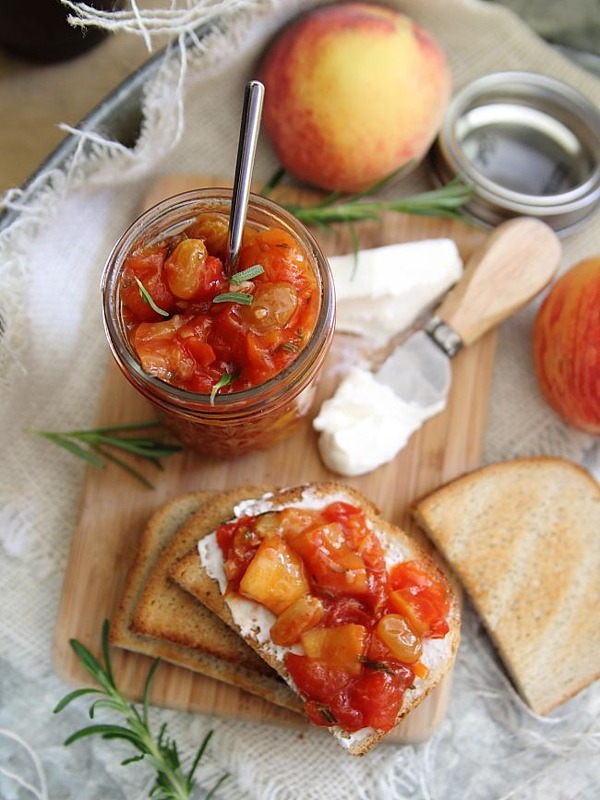 Serves: 8
Nutrition: 75 calories, .2 g fat, 151 mg sodium, 16.5 g carbs, 1.3 g fiber, 14.4 g sugar, .9 g protein
This homemade chutney is great on top of a potato, your favorite meat, or even some small cracker. Heck, whip out your toast and avocado and you can even top that! It goes perfectly with just about anything. The sweet peaches and spicy jalapeno are a match made in heaven. Don't go crazy, though; these are a bit heavy on the sugar content, so make sure to keep your portion light!
Get the recipe at Running to the Kitchen.
Spicy Squash Soup
Serves: 4
Nutrition: 128 calories, 7.3 g fat (1.1 g saturated fat), 588 mg sodium, 17.2 g carbs, 3.2 g fiber, 1.2 g sugar, 1.6 g protein (calculated with water and no garnishes)
Acorn squash may be seen as a fall time staple but it's winter squash. Perfect for those cold, snowy days or a night in watching your favorite movie, this fat-burning soup is sure to please. Top with your favorite seeds or some extra spices to get that burn.
Get the recipe at Cookie and Kate.
Spicy Cranberry Salsa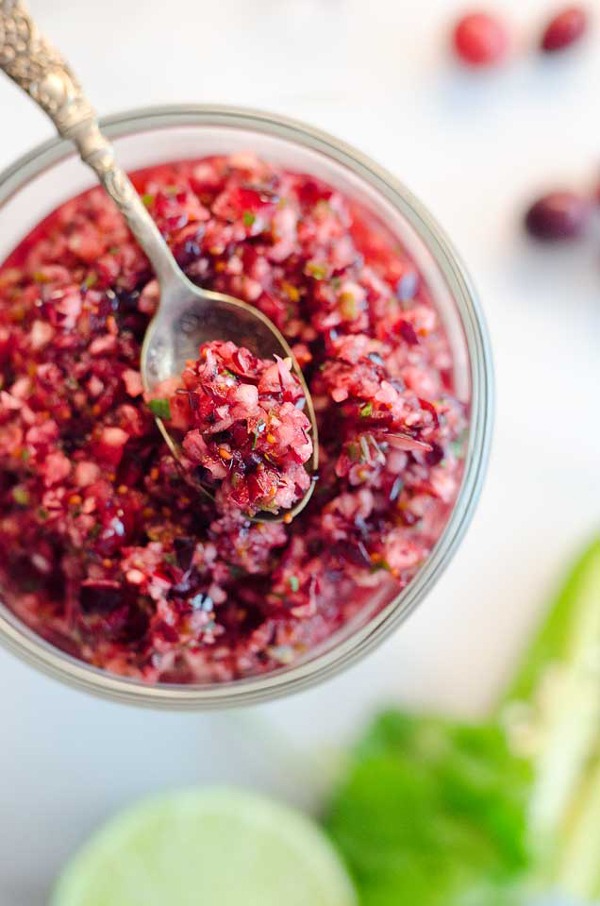 Serves: 6
Nutrition: 49 calories, 195 mg sodium, 11 g carbs, 1.6 g fiber, 7.8 g sugar, .2 g protein (calculated with 2 tbsp. honey)
A spicy salsa that goes with just about anything. The tangy punch from the cranberries and fruit juice go so well with the jalapeno, and these bright little additions to a meal are sure to bring its flavor to a whole new level. We recommend cutting back on the honey to lower the sugar intake, but don't forget about it totally.
Get the recipe at The Creative Bite.
Easy Skinny Spicy Orange Chicken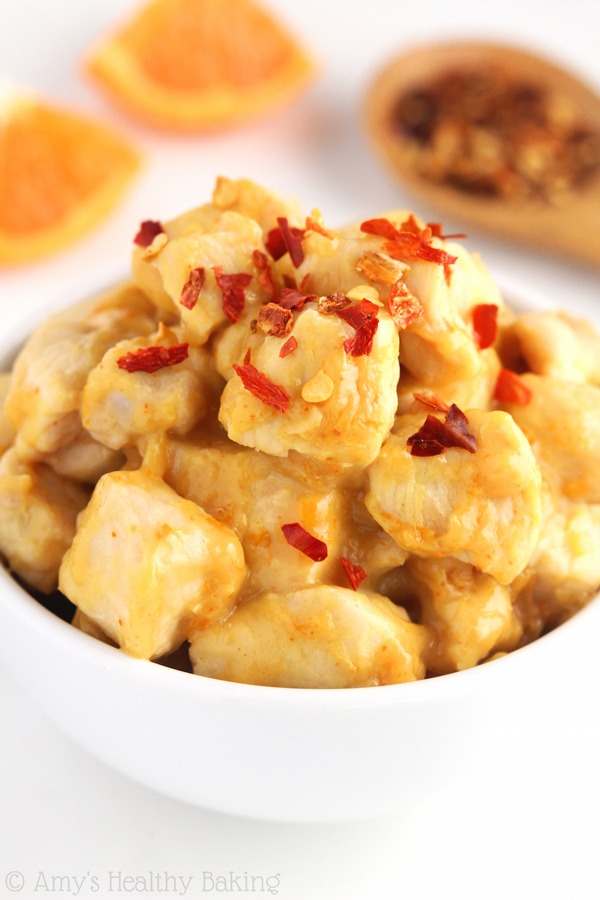 Serves: 4
Nutrition: 182 calories, 1 g fat, 476.5 mg sodium, 16.5 g carbs, 11.3 g sugar, 26.3 g protein
Fear no more! A healthy version of your favorite Chinese takeout dish is finally here. We're all a little guilty of wanting that high sodium stuff they sell, but why go for that when there's this simple dish you can make in your own kitchen? High in protein and low in calories, you'll have this ready faster than you can find the takeout number.
Get the recipe at Amy's Healthy Baking.
Bacon Wrapped Jalapeno Poppers
Serves: 8
Nutrition: 270 calories, 21.9 g fat (8.4 g saturated fat), 450 mg sodium, 9.3 g carbs, 2.1 g fiber, 1.4 g sugar, 10. 5 g protein (calculated with 8 strips of bacon)
These are a Paleo twist on the jalapeno popper, minus the normal dose of excess cheese and bread crumbs. You're sure to get a real kick outta these metabolism boosting jalapenos that are stuffed with cashew cheese and wrapped with savory bacon. The bursting flavors and texture will have your taste buds going crazy. These little poppers will have you feeling good about what you're eating.
Get the recipe at Paleo Parents.
Mexican Hot Chocolate
Serves: 2
Nutrition: 131 calories, 10.9 g fat (6.2 g saturated fat), 180 mg sodium, 9.2 g carbs, 2.7 g fiber, 2.4 g protein (calculated with 2 packets of stevia)
Just looking at these makes me feel all warm inside. Hot chocolate is an old time childhood favorite that came around whenever the temperature went down, but usually involved heavy milk and sugary chocolate additions. This spicy Mexican hot chocolate is an after dinner treat that won't leave you with guilt, made with rich ingredients that are actually beneficial to you. We say go for the addition of the superfood—maca powder—but opt out of the honey to cut back on sugar.
Get the recipe at Vegu Kate.
Jalapeno and Lime Hummus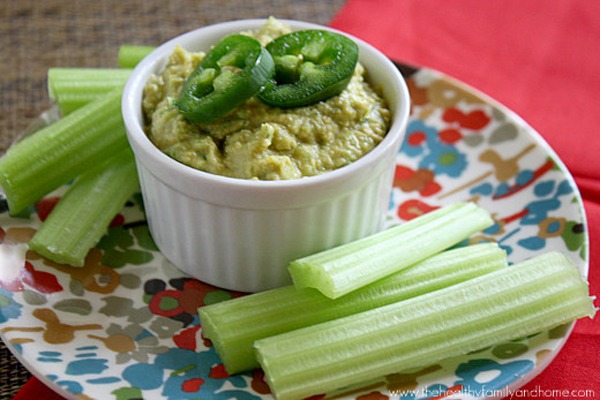 Serves: 4
Nutrition: 189 calories, 8.4 g fat (1.1 g saturated fat), 34 mg sodium, 20.9 g carbs, 5.1 g fiber, 7.3 g protein
Hummus is a dip I always say yes to—and by adding jalapeno and lime to the creamy texture of blended chickpeas and hummus, I'm even more excited! This all-around-good-for-you hummus is loaded with fiber, antioxidants and tons of vitamins. Dip your favorite veggies in it for a snack to give them some extra flavor and keep you full til your next meal.6254a4d1642c605c54bf1cab17d50f1e
Get the recipe at The Healthy Family and Home.
Bell Pepper Pizzas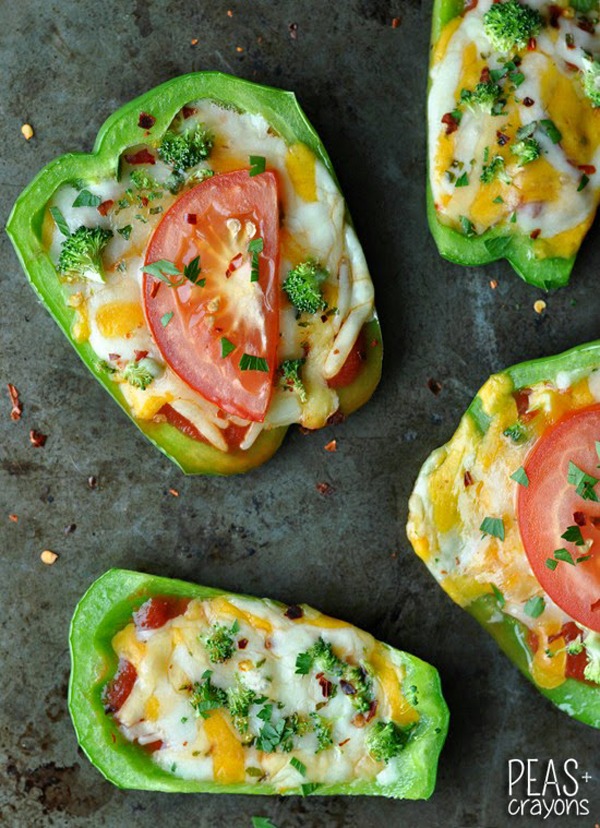 Serves: 1
Nutrition: 200 calories, 10.8 g fat (6 g saturated fat), 412 mg sodium, 16.2 g carbs, 4.9 g fiber, 11 g sugar, 9.7 g protein
Pizza is everyone's favorite dish (me being completely biased), but sometimes hard to stand by because of the low nutrients that come with it. But, check out this great way to lower the carb count and up the nutrients with these bell pepper pizzas! They are the perfect size for portion control and packed with flavors. Bell peppers give such a great bite to these saucy, cheesy little dishes that you won't even miss the bread. With the addition of red pepper flakes, you'll get that kick you're looking for and an increase in health benefits. In traditional Chinese medicine, red pepper flakes have been used to treat digestive problems, a circulatory problem, infections, and arthritis. Combine that with the weight loss properties and you have the perfect meal to get you to that body goal.
Get the recipe at Peas and Crayons.
5-Minute Spicy Chili Almonds
Serves: 3
Nutrition: 158 calories, 14.2 g fat (1.2 g saturated fat), 1 mg sodium, 5.2 g carbs, 3 g fiber, 1 g sugar, 5 g protein (calculated without salt)
Almonds are an awesome source of protein and good fats, but they have a semi-bland flavor on their own. By adding spices, you'll not only up the taste but also sneak in some extra nutrients without the calories, fat or sugar. You'll often see flavored nuts at the grocery store, but those are loaded with fake sugars, salt and usually other chemicals that we're unsure how to pronounce. Make these at home to get in on all the great taste—and none of the suspicious ingredients.
Get the recipe at Chef Savvy.
Spicy Roasted Chickpeas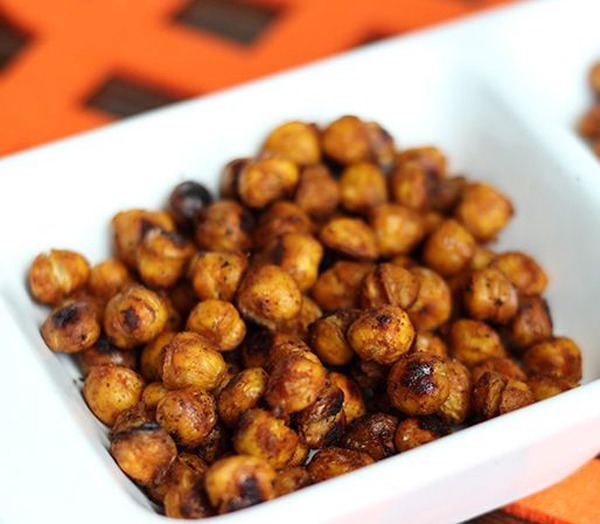 Serves: 3
Nutrition: 139 calories, 5 g fat, 553 mg sodium, 18 g carbs, 6 g fiber, 2 g sugar, 6 g protein
Roasting chickpeas is a new and inventive way to snack without all the icky additives. These crispy little bites are perfect to bring to work or to put on top of your salads and soups. The chickpeas (also known as garbanzo beans) absorb up all the spicy flavors and come out crunchy and full of flavor. This recipe is sure to make an impression on your average snacks that will have you coming back again and again.
Get the recipe at Skinny Mom.
Spicy Vegan Sweet Potato Casserole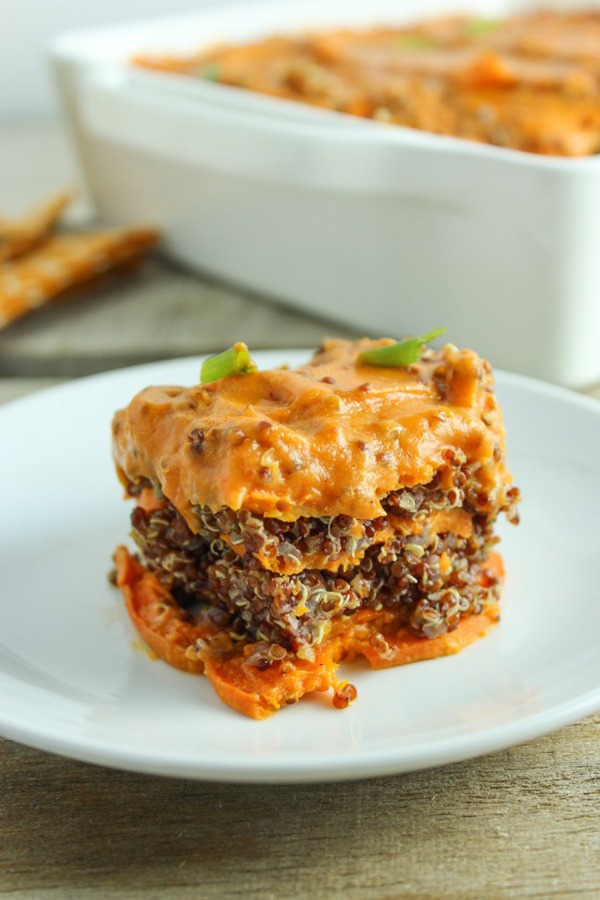 Serves: 6
Nutrition: 233 calories, 4.7 g fat (.6 g saturated fat), 454 mg sodium, 42.6 g carbs, 6.7 g fiber, 2.5 g sugar, 6 g protein
An entirely vegan casserole made with sweet potato and quinoa (the only grain that is a complete source of protein) that has the perfect texture combo. A super diet-friendly side dish or even meal that won't leave you feeling those guilty blues. Sweet potato recipes have become some of our faves because of a number of nutrients they bring to the table (and how unbelievably delicious they are).
Get the recipe at The Fitchen.