18 Sweet Potato Recipes for Weight Loss
For only 162 calories per spud, sweet potatoes are a perfect weight-loss food. Learn what you can create with them.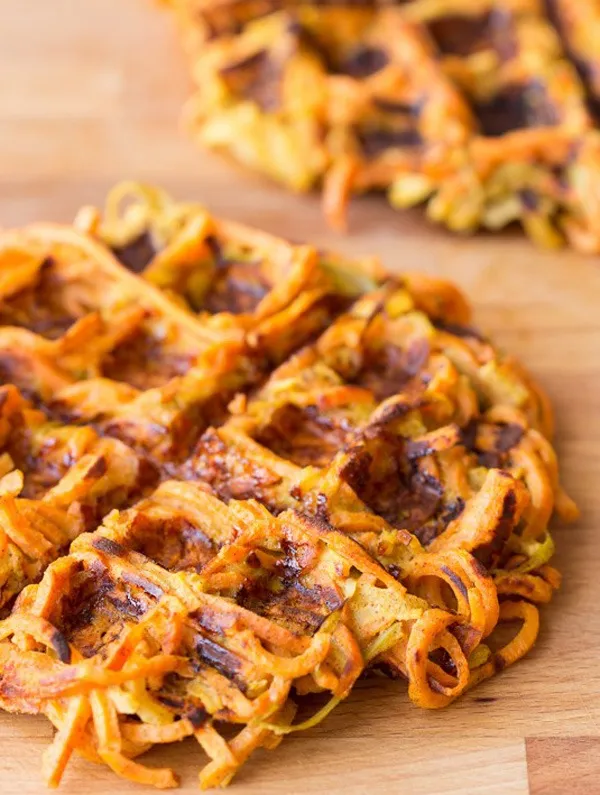 Sweet potatoes aren't just a must-have dish for gathering the family around the holiday table—they're incredibly good for your health and can aid weight loss efforts, too. Just don't ruin them with a bucket of brown sugar and marshmallows, Mom. Here's why:
One large, flavor-packed sweet potato serves up 4 grams of satiety-boosting protein, 25 percent of the day's belly-filling fiber and 11 times the recommended daily intake of vitamin A, a nutrient that aids immune function, vision, reproduction and cellular communication. The most impressive part is that you can reap all of these benefits for a mere 162 calories—it's truly a nutritional champion!
But, beyond that, these sweet spuds are versatile and easy to cook with. They can be roasted, used to make burgers and quinoa cakes, added to mouthwatering salads and much, much more! To help you stay healthy while enjoying healthy, delicious dishes we found some of the very best sweet potato recipes from around the web. For even more weight loss inspiration, find out the ways to lose 10 pounds.
Sweet Potato Pancakes with Coconut Cream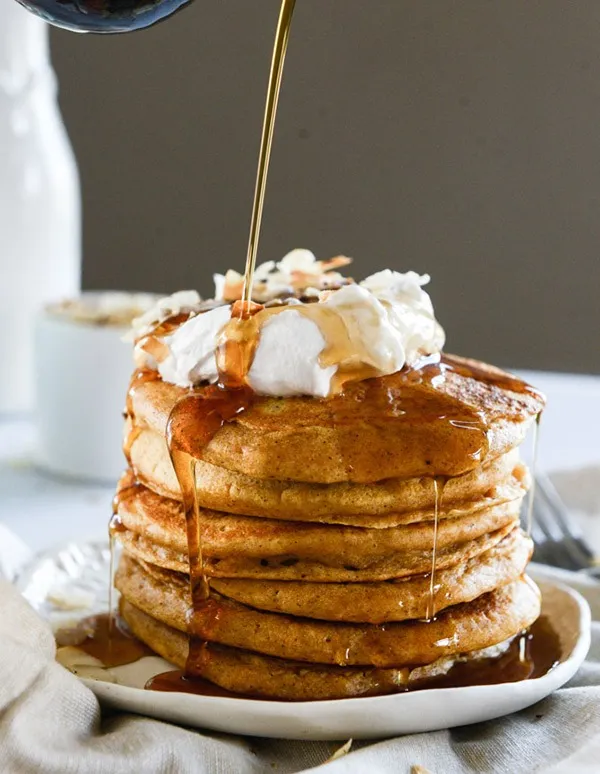 Yields: 16 pancakes
Nutrition: (per pancake) 192 calories, 10.5 g fat, 8.4 g sat fat, 148 mg sodium, 21.3 g carbs, 1.2 g fiber, 3.4 g sugar, 3.7 g protein
If these fluffy, slightly sweet pancakes can't convince your kids to eat their veggies, we're not sure what will. They're made with an entire cup of mashed sweet potatoes and topped with coconut cream and toasted coconut. Pretend that stream of syrup isn't in the pic because you totally don't need it!
Get the recipe from How Sweet It Is.
Orange Sweet Potato Whole Grain Pancakes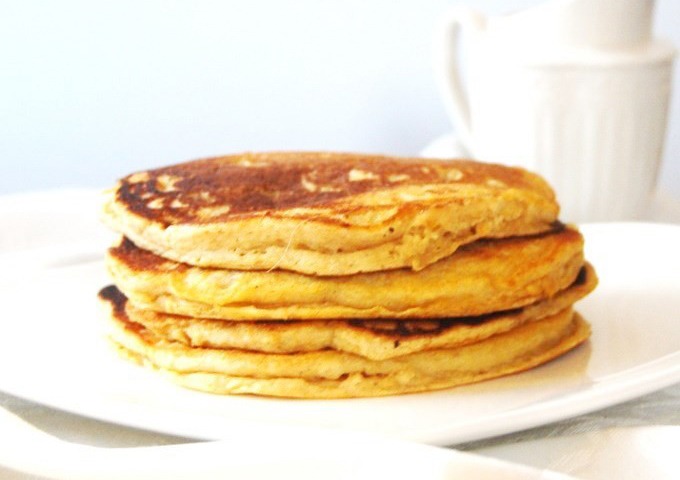 Serves: 2
Nutrition: 249 calories, 2.5 g fat, 0 mg cholesterol, 388 mg sodium, 50.6 g carbs, 3.6 g fiber, 7.7. g sugars, 6.4 g protein
Made with whole-wheat flour, sweet potatoes, applesauce, orange juice and other wholesome ingredients, this sweet treat is a guilt-free breakfast. Give your short stack an extra helping of fat-fighting fruit for a breakfast worth waking up for.
Get the recipe here on Holy Cow!
Spicy Mashed Sweet Potatoes
Serves: 4
Nutrition: 130 calories, 6 g fat (4 g saturated), 360 mg sodium
Heat and sweet conspire here to make one of our favorite side dishes of all time, compliments of a classic Cook This, Not That! recipe. Serve these as a bed for yummy turkey meatloaf or any other grilled or roasted meat.
WHAT YOU'LL NEED
2 large sweet potatoes, peeled and cut into quarters
Salt and black pepper to taste
1 cup milk
2 Tbsp butter
1 Tbsp minced chipotle pepper
Step 1
Place the sweet potatoes in a pot and fill with enough cold water to cover. Add 1 teaspoon salt and bring to a boil. Cook until the sweet potatoes are tender, but not mushy, about 15 minutes.
Step 2
Drain and return to the pot.
Step 3
Heat the milk and butter in a small saucepan.
Step 4
Slowly stir into the sweet potatoes, using a wooden spoon to vigorously incorporate the liquid (this will help create a smooth puree).
Step 5
Stir in the chipotle pepper and season with salt and pepper.
Grilled Sweet Potato Fries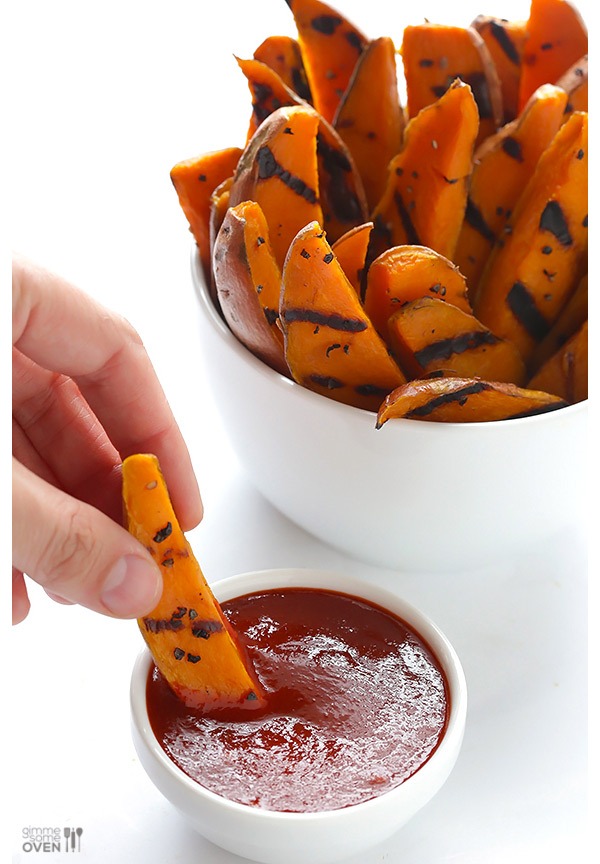 Serves: 8
Nutrition: 255 calories, 6.6 g fat (1 g sat fat), 483 mg sodium, 7 g fiber, 0.8 g sugar, 2.6 g protein
Fries don't have to be fried to be totally addictive. You can give sweet potato fries a tasty smoky flavor by grilling them; the twist on your tastebuds helps balance the spud's natural sweetness.
Get the recipe from Gimme Some Oven.
Mason Jar Quinoa Salad With Sweet Potatoes and Thai-Style Dressing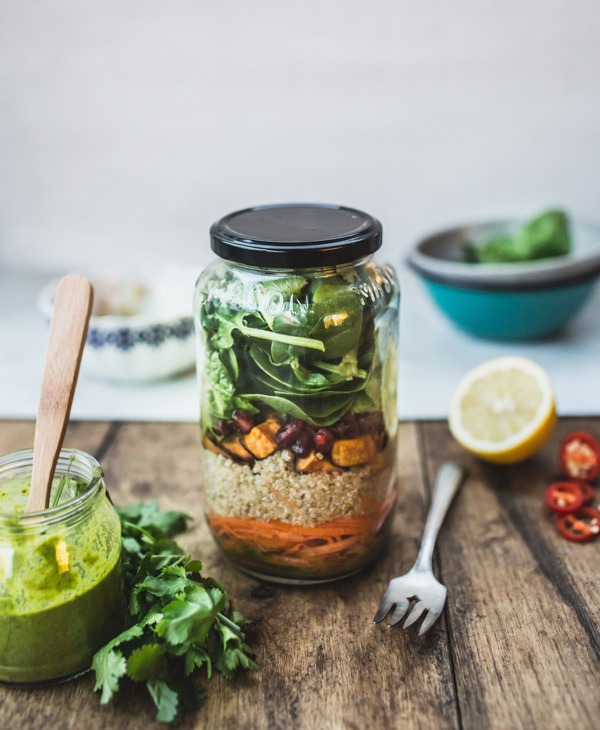 Serves: 1
Nutrition: 505 calories, 22 g fat (10.4 g sat fat), 358.2 mg sodium, 10.6 g fiber, 14.37 g sugar, 12.6 g protein
This one's more about quinoa and the brilliant mason jar salad, a genius way to get complex flavor on the go. But it's sure to keep you full until dinnertime. Pack as much spinach as you can at the top and use a scant teaspoon of coconut oil to prepare the sweet potato.
Get the recipe from Top with Cinnamon.
Masala Khicdi
Serves: 8
Nutrition: 288 calories, 2 g fat, 0 mg cholesterol, 45 mg sodium, 58 g carbs, 12 g fiber, 9 g sugars, 12 g protein
If you love Indian food, this is a must-try sweet potato recipe. Indian food is often made with ghee (clarified butter), but this savory entree substitutes it with healthier vegetable oil. This one-pot dish also gets some freshly grated ginger, cayenne and turmeric spices, lentils, and veggies like eggplant, sweet potatoes, and green peas.
Get the recipe here on Holy Cow!
Sweet Potato, Black Bean Quinoa Bowls
Serves: 3
Nutrition: 460 calories, 5.1 g fat (0 g sat fat), 613 mg sodium, 14.9 g fiber, 9.5 g sugar, 23.1 g protein
Channel your favorite Mexican restaurant without the extra oils that come in those tortillas. This recipe packs in the protein to keep you satisfied hours past supper.
Get the recipe from Recipe Runner.
Sweet Potato Carbonara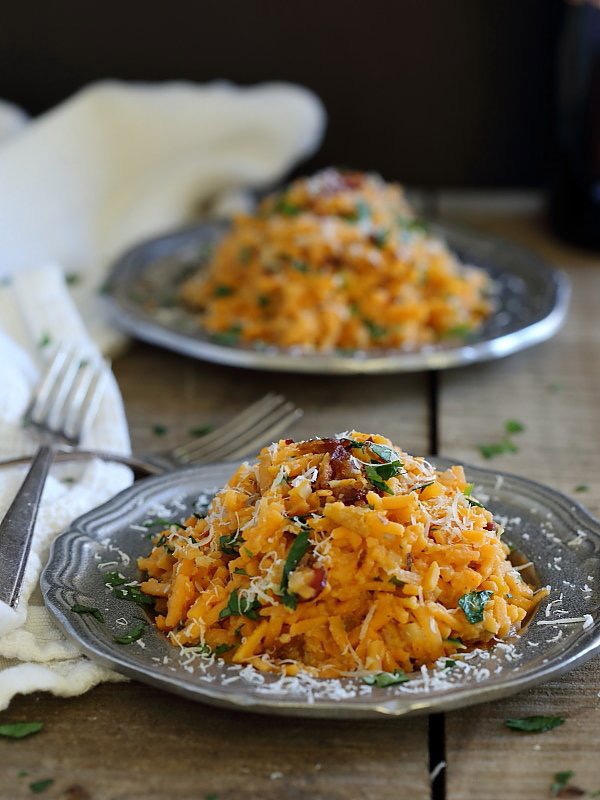 Serves: 4
Nutrition: 213 calories, 11.2 g fat (5.7 g sat fat), 489 mg sodium, 1.7 g fiber, 3.5 g sugar, 15.8 g protein
Plates of pasta topped with bacon aren't diet-damaging fare when you make your pasta from spiralized sweet potato. Bonus: This version has a healthy dose of Sriracha to get your metabolism kicking.
Get the recipe from Running to the Kitchen.
Healthy Sweet Potato Nachos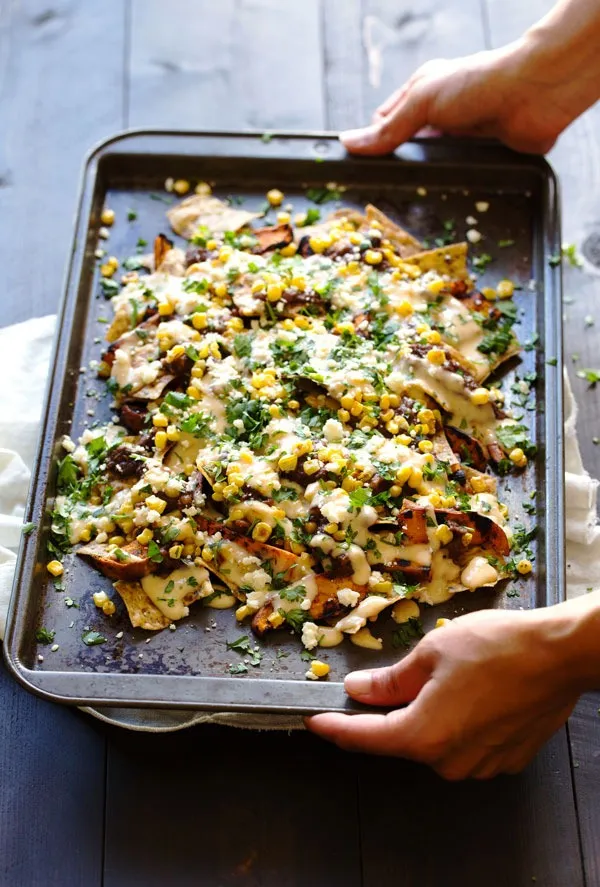 Serves: 6
Nutrition: 315 calories, 10.3 g fat (3.5 g sat fat), 268.9 mg sodium, 8.3 g fiber, 6.6 g sugar, 13.4 g protein
Before you whip up a batch of these bad boys, make sure you invite some friends. You won't want to share, but it keeps the cheesy calories manageable. Just don't skimp on the black beans; that's where you'll get filling fiber that will help you stop before you polish off the whole pan.
Get the recipe from Pinch of Yum.
Egg-Stuffed Sweet Potatoes
Serves: 4
Nutrition: 486 calories, 15.3 g fat (7.2 g sat fat), 594 mg sodium, 12.2 g fiber, 2.6 g sugar, 25.3 g protein
If you haven't learned how to poach an egg yet, don't worry; this recipe makes the trial and error worth it. Gooey poached eggs act like a sauce for the dish and help all the flavors meld. Don't care for peppery arugula? Feel free to substitute in your favorite green, or any of these 10 Greens Healthier Than Kale.
Get the recipe from How Sweet Eats.
Sweet Potato, Kale & Corn Chowder
Serves: 2
Nutrition: 463 calories, 9.4 g fat (6.3 g sat fat), 865 mg sodium, 12.5 g fiber, 11.7 g sugar, 10.6 g protein
You may be packing away the soup bowls for the season, but this recipe will convince you to break them back out. Corn chowder gets a cream—and healthy—upgrade with sweet potato and leeks. You'll never go back to the canned stuff again.
Get the recipe from A House in the Hills.
Sweet Potato Enchiladas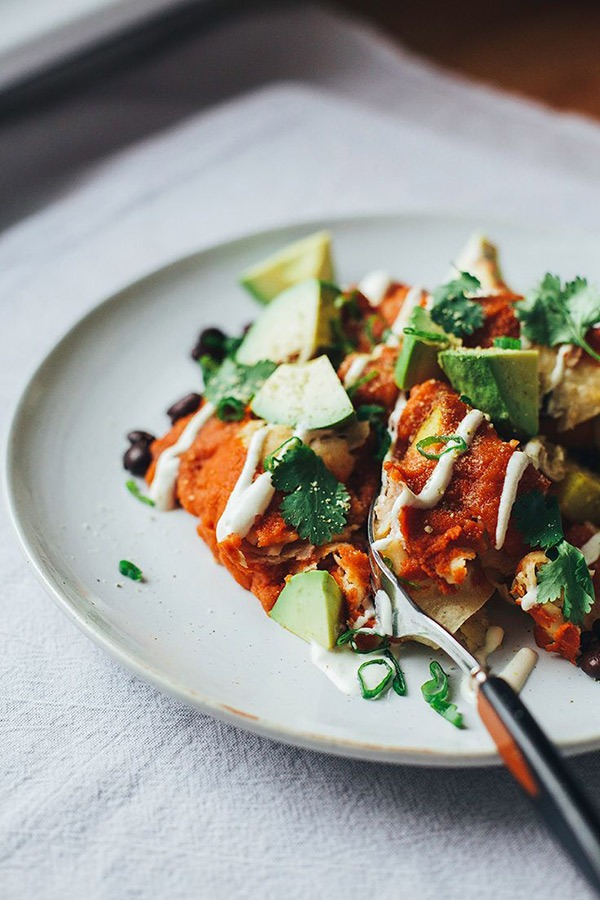 Serves: 6
Nutrition: 518 calories, 17.5 g fat (3.1 g fat sat), 283 mg sodium, 15 g fiber, 8.5 g sugar, 20 g protein
Some nights nothing can be compared to a cheesy casserole. The problem is, the calories are rather lofty, too. This vegan remix on the classic may take out the meat and cheese, but it delivers on flavor. One bite and you'll have a hard time believing it's actually good for you.
Get the recipe from The First Mess.
Sweet Potato-Quinoa Cakes & Berry Salsa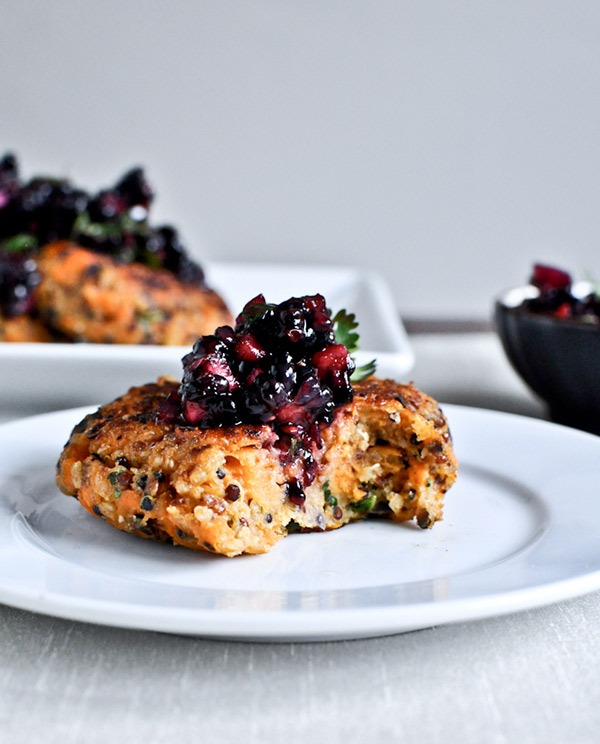 Serves: 4
Nutrition: 285 calories, 9.9 g fat (3.1 g sat fat), 527 mg sodium, 7.9 g fiber, 8.1 g sugar, 12.5 g protein
Paired with a blackberry salsa, these quinoa cakes are so beautiful no one will guess you whipped them up in 40 minutes. Don't underestimate them because of their size; blackberries pack more fiber than most other fruits, and sweet potatoes and quinoa pair up to deliver a hunger-crushing dose of protein and fiber.
Get the recipe from How Sweet Eats.
Sweet Potato Shepherd's Pie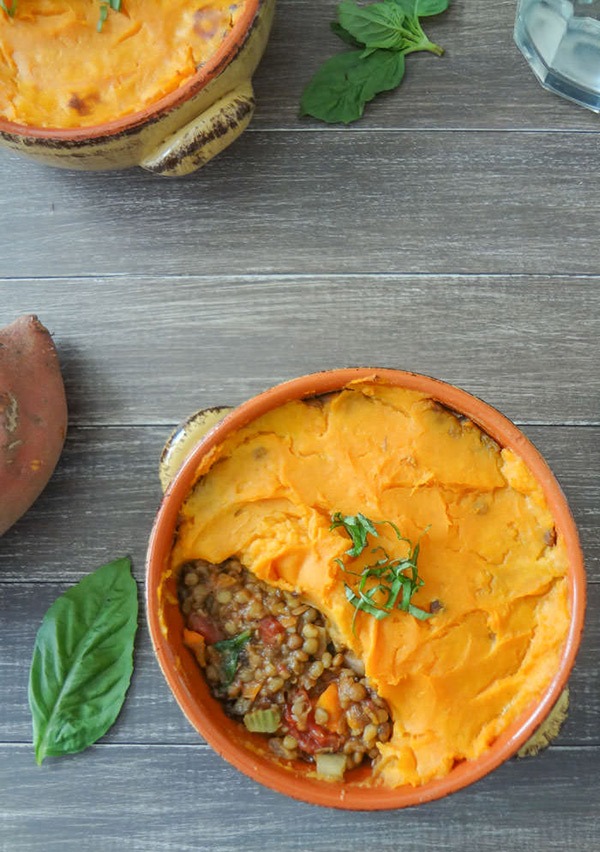 Serves: 6
Nutrition: 636 calories, 2 g fat (0 g sat fat), 654 mg sodium, 49.4 g fiber, 8.1 g sugar, 40.2 g protein
A comforting classic goes vegan in this recipe, but—trust us— you won't miss the meat. Stewed lentils dish up plenty of flavor on top of their fiber and protein, without any of those after-feast feelings of diet guilt.
Get the recipe from One Ingredient Chef.
Honey-Lime Sweet Potato Tacos
Serves: 6 (1 corn tortilla each)
Nutrition: 562 calories, 11.4 g fat (1.7 g sat fat), 413 mg sodium, 17.1 g fiber, 13.3 g sugar, 18.9 g protein
We calculated the nutrition for just the corn tortillas and filling because, with stuffing this delicious, you won't even need toppings. Add plenty of water-rich veggies for satisfying crunch and extra weight. For an easy metabolism boost, top each of them with a dollop of hot sauce.
Get the recipe from Cooking Classy.
Quick Sweet Potato Hash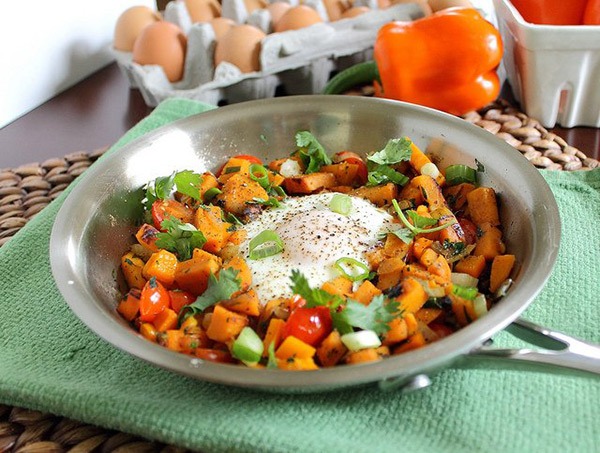 Serves: 1
Nutrition: 278 calories, 18.8 g fat (3.4 g sat fat), 324 mg sodium, 4.6 g fiber, 9.4 g sugar, 8.2 g protein
When you've had one of those days and you're looking for comfort at the bottom of a chip bag because you're too exhausted to cook, this recipe is your saving grace. It takes just 10 minutes to whip up and will keep you away from the cookies and chips all night.
Get the recipe from Running to the Kitchen.
Baked Sweet Potato Fries
Serves: 4
Nutrition: 80 calories, 3.5 g fat (0 g saturated), 230 mg sodium
French fries can be boring. Tell someone you're serving sweet potato fries, though, and watch eyebrows rise in anticipation. Beyond being healthier than white potatoes (loaded with vitamin A and fiber), the sugars in sweet potatoes make them the perfect candidate for a superior fry.
WHAT YOU'LL NEED
2 medium sweet potatoes, peeled and cut into wedges
1 Tbsp olive oil
Pinch of cayenne
ó tsp smoked paprika (optional)
Salt and black pepper to taste
HOW TO MAKE IT
Step 1
Preheat the oven to 425°F.
Step 1
Combine all the ingredients, plus a generous amount of salt and pepper, on a baking sheet and toss to coat evenly.
Step 2
Bake until the sweet potatoes have browned on the outside, are crisp to the touch, and are tender inside, about 25 minutes.
BREAKFAST HASH WITH SWEET POTATOES AND PEPPERS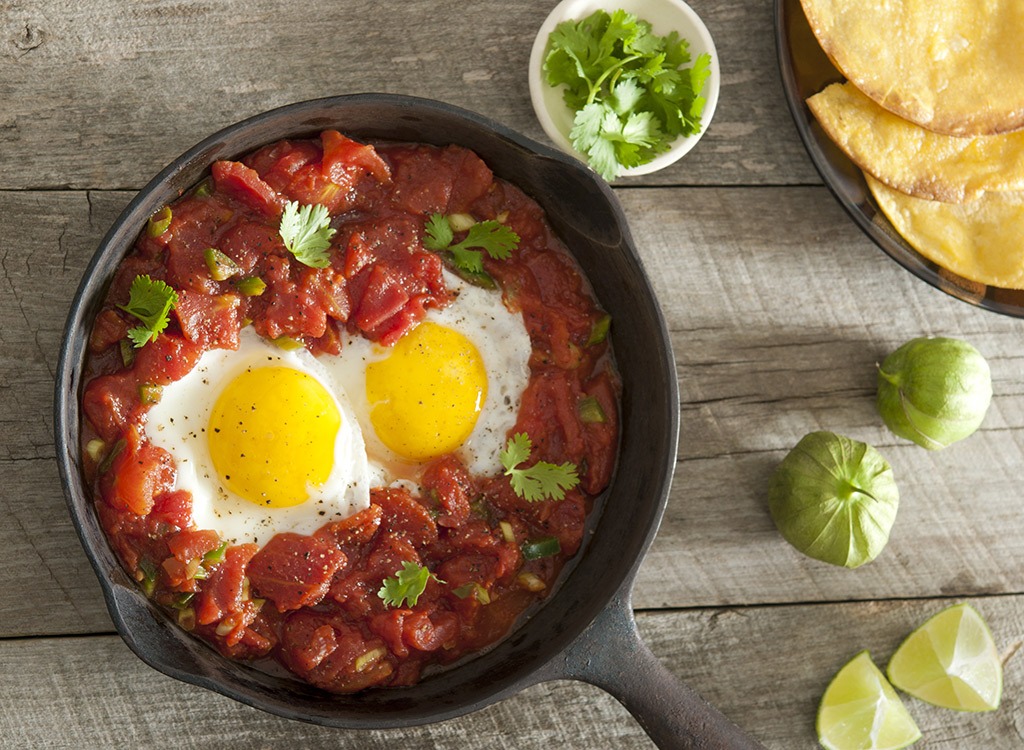 6254a4d1642c605c54bf1cab17d50f1e
Serves: 4
Nutrition: 187 calories, 8 g fat, 5 g fiber, 10 g protein
This Zero Belly Diet recipe became test panelist Morgan Minor's go-to breakfast: After just 3 weeks on the program, the female firefighter lost 11 pounds and 4 inches from her waist!
WHAT YOU'LL NEED
1 sweet potato, peeled and cut into 1/4" cubes
1/2 tablespoon olive oil, divided
1 yellow onion, chopped
1 red bell pepper, chopped
1/8 teaspoon cayenne (optional)
salt and pepper to taste
1/2 cup black beans, drained and rinsed
4 eggs
HOW TO MAKE IT
Step 1
Microwave cubed potatoes for 5 minutes in microwave, or until slightly soft. Heat half the oil in a large nonstick skillet and add the potato, onion, and bell pepper; sautee till they begin to brown, about 7 minutes. Add the cayenne, salt, and pepper. Meanwhile, in a separate skillet, fry the eggs sunny-side up in the remaining oil.
Step 1
Divide the hash among four plates, top with eggs, and serve.
Eat This, Not That!
Inspired by The New York Times best-selling book series, Eat This, Not That! is a brand that's comprised of an award-winning team of journalists and board-certified experts, doctors, nutritionists, chefs, personal trainers, and dietitians who work together to bring you accurate, timely, informative, and actionable content on food, nutrition, dieting, weight loss, health, wellness, and more.
Read more about Eat This