10 Healthy Spring Foods In Season Now & How To Use Them
Slim down and rev your metabolism with these delicious seasonal eats!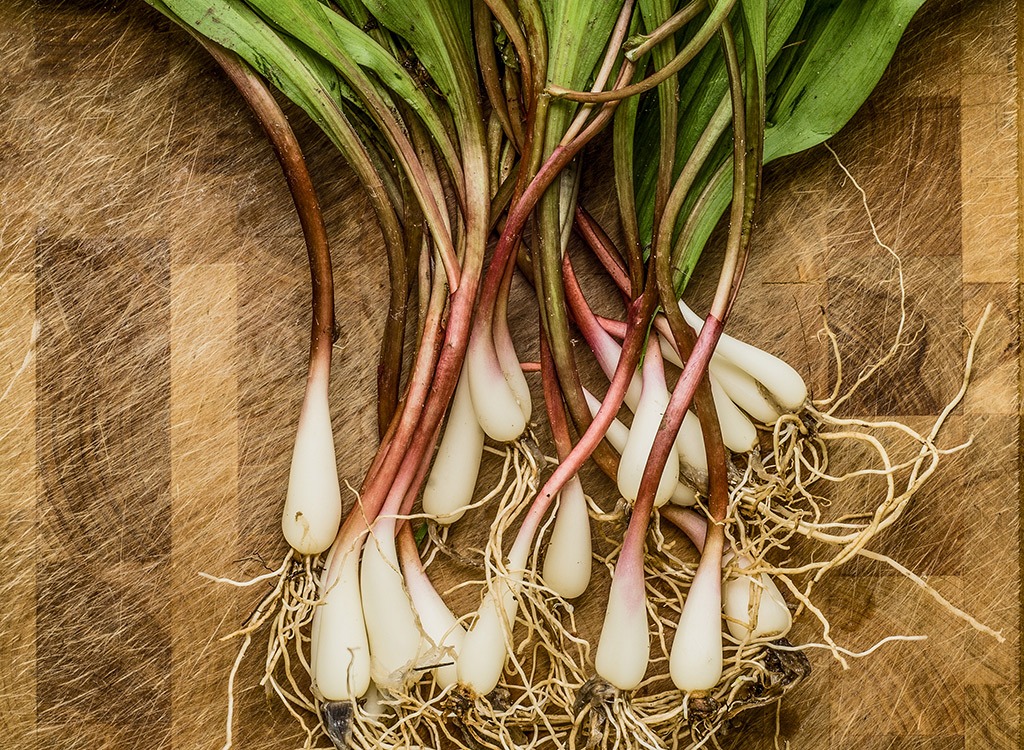 If the thought of coming out from beneath your baggy cold-weather sweaters is making you break out in a cold sweat, relax! You still have plenty of time to lose weight and look your best before sundress season arrives. Spring is actually the best season to find foods that are packed with the weight-loss-super star, fiber. This macronutrient helps fill you up, can clean you out, and makes achieving your weight loss goals a whole lot easier. What's more, these particular foods are also bursting with micronutrients that help turn off your fat-storage genes, leading to even more rapid, sustainable weight loss.
When you eat foods that are in season, they're not only more affordable, but they're also fresher and packed with the highest amount of flavor and nutritional value. We've compiled a list of 20 fruits and veggies that are in peak season every spring—they're all easy to find, too! Since many of them will only be on sale for a few weeks of the season, you better act fast.
So, say goodbye to stews and slow cookers and start blasting away those extra winter pounds with these spring foods. To help you incorporate them into your diet, we've also included our favorite recipes and ways to enjoy them. And to discover how to get a washboard stomach in record time, don't miss this essential list of the 25 Best Carbs for Weight Loss!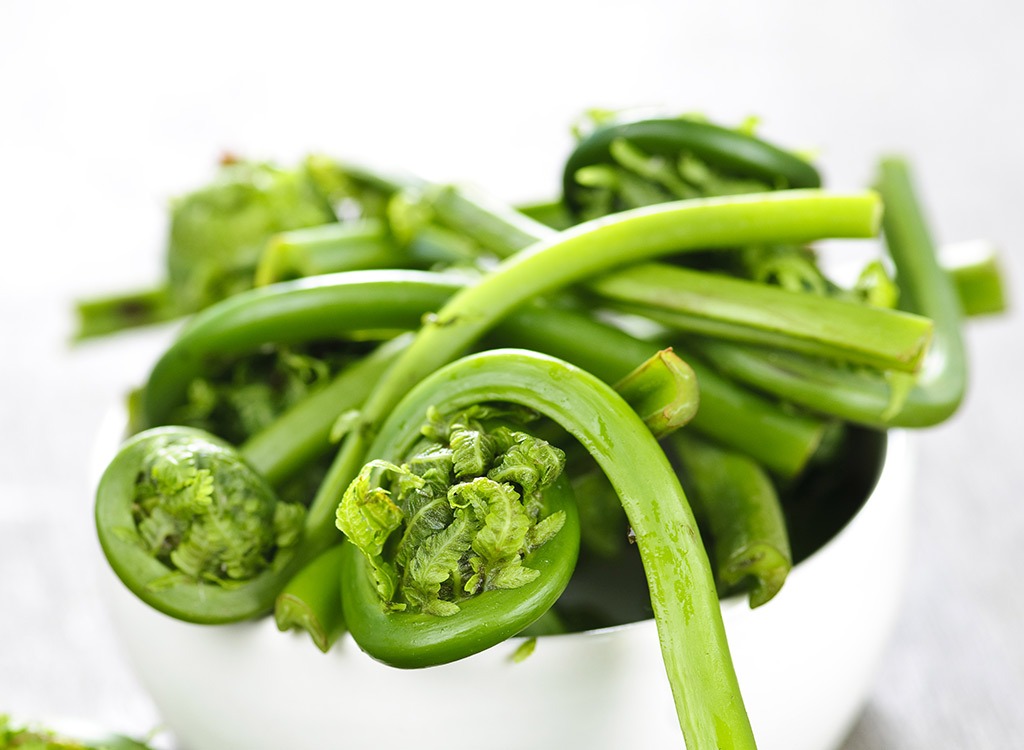 These delicate spirals are the furled fronds of a young fern, which is why they are only around for a few weeks in early spring. They're packed with manganese, vitamin C, vitamin A, omega-3 fatty acids, and fiber, which inhibits the release of the hunger hormone ghrelin, helping you to minimize munching. And if you thought bananas were the potassium powerhouse, then you'll be interested to know these give the yellow fruit a run for its money. Fiddleheads actually have more of the bloat-banishing mineral per gram than bananas, which can also help lower blood pressure and protect against heart attack and stroke.
How to Best Eat It: Clean the veggie by removing any of the papery outer coating; then soak it briefly in a bath of cold water with a bit of lemon and salt. Drain and then steam them for four or five minutes. Add the steamed fiddleheads to a skillet with a couple of tablespoons of unsalted butter and cook on each side for a minute or two. They'll turn golden like asparagus. Add salt and pepper to taste, and enjoy!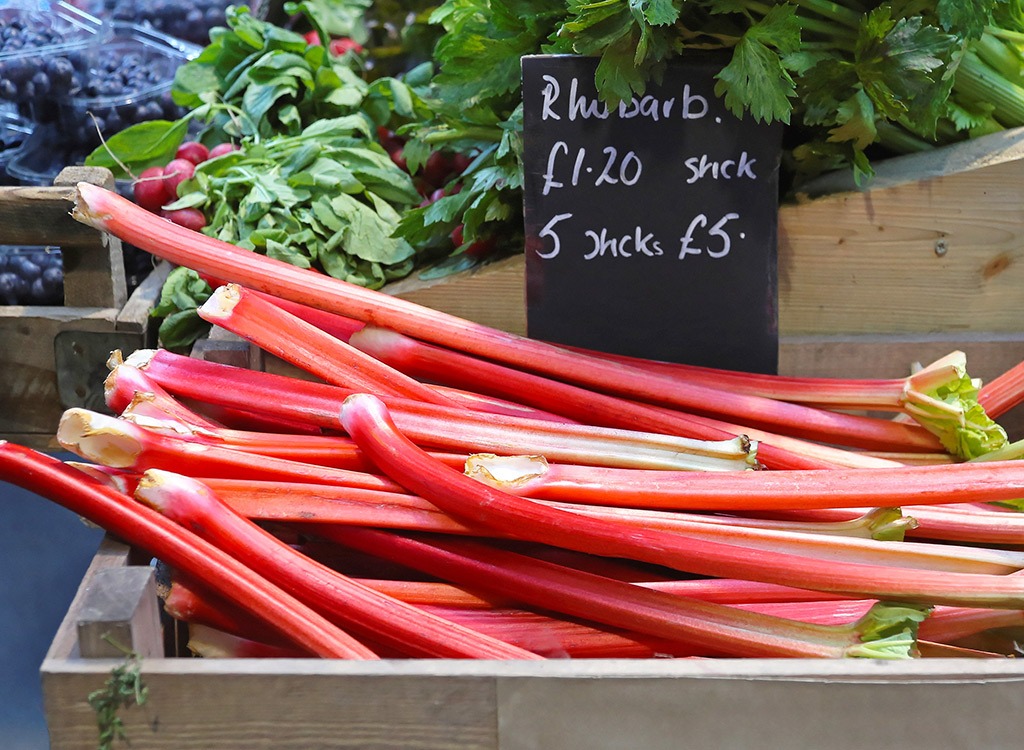 This plant might look like a red-hued celery, but if you've ever been adventurous enough to cook with it, you know that this vegetable is much more flavorful than its vibrant twin. Tart rhubarb loves to partner with fruit to become a sweet treat. (Just don't eat the leaves—they're poisonous!) Rhubarb is high in catechins, the same compound that gives green tea its belly-fat fighting properties. Catechins blast adipose tissue by triggering the release of fat from fat cells (particularly in the belly) and then speed up the liver's capacity for turning that fat into energy.
How to Best Eat It: Wash, dry, and trim the stalk at the root and leaves. Cut a slit under the edge of the rhubarb skin at one end and pull down the remove the stringy fibers, similar to what you would do with celery. Cut stalks into 2-inch pieces, toss with cinnamon, honey, lemon zest, and vanilla extract and roast in a 350-degree oven until the rhubarb is tender, about 30 minutes. Serve on top of some full-fat Greek yogurt and top with crunchy pistachios.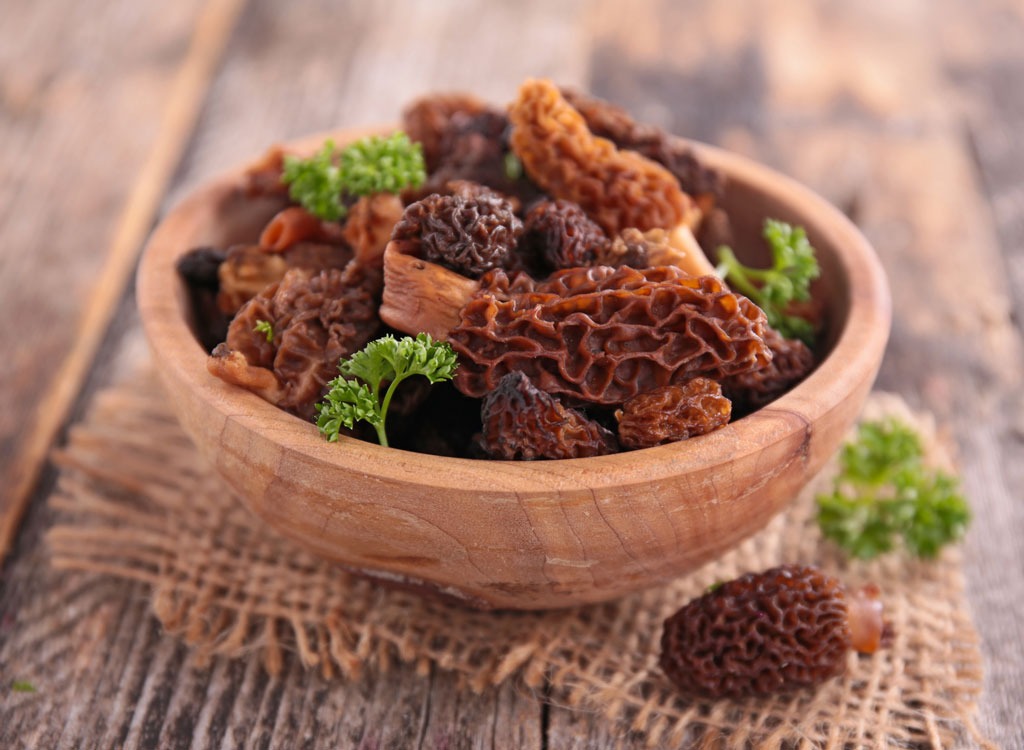 These mushrooms are the third highest vegetable source of vitamin D (only behind two other mushrooms), serving you 23 percent of your daily value in a single cup. This vitamin has many biological functions beyond its classic role in bone metabolism, one of which is regulating your immune system. One study found that when vitamin D concentrations were low in a group of runners hey had a biomarker for increased inflammation. When your body is in a state of chronic inflammation, it can lead to clogged arteries, worsened insulin resistance, and even weight gain. So besides climbing out of that cold, dreary hole that you dug yourself into this winter and catching some Vitamin-D-producing rays, make sure to grab some morel mushrooms!
How to Best Eat It: These wild mushrooms are prized for their smoky, nutty flavor, which pairs well with Parmesan in a risotto. First, because of their folds and ridges, they'll need to be washed under cool water and scrubbed thoroughly. Sautée them up with olive oil, a little butter, and chopped garlic until golden brown. Season with salt, pepper, fresh thyme, and a drizzle of balsamic vinegar. Throw on top of a risotto, like this one from Pinch of Yum, with freshly grated parmesan and some lemon zest.
The ultimate spring vegetable, asparagus is rich in potassium and low in sodium, which helps your body achieve proper electrolyte balance and works to reduce bloating. Add the plant's anti-inflammatory phytonutrients and health-promoting antioxidants—like glutathione, a detoxifying compound that helps break down carcinogens and other harmful free radicals—and you've got yourself a powerful weight-loss arrow in your quiver. That's why asparagus is one of the 30 Healthiest Foods for Women.
How to Best Eat It: You probably already know that these delicious veggies don't need much to make them taste great, but feel free to shake things up a bit with a quick vinaigrette. Whisk together olive oil, lemon zest, dijon mustard, white-wine vinegar, and minced garlic. Pour half the vinaigrette over the spears and grill until tender. Once cooked, plate and drizzle the rest of the vinaigrette on top.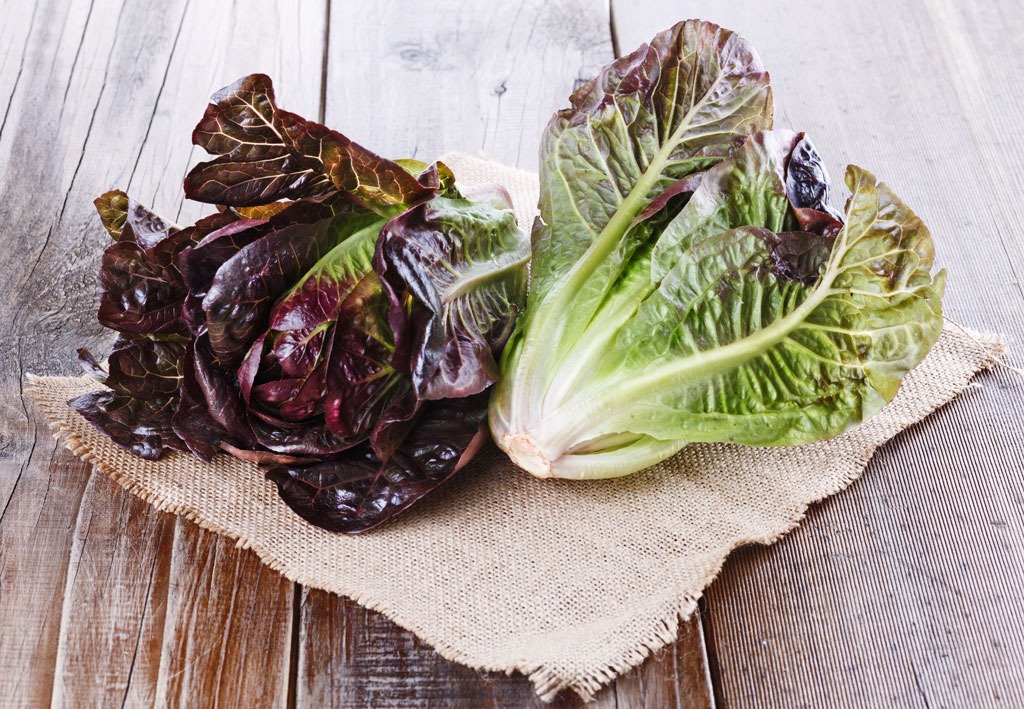 One serving of red leaf lettuce is only 14 calories, but it's bursting with fiber. It's one of the world's greatest weight loss foods because it will fill you up and keep you feeling full for hours after you eat it. Even better, two generous cups of lettuce provide 100 percent of your daily vitamin K requirement for strong, healthy bones. A report from the Nurses' Health Study suggests that women who eat a serving of lettuce every day cut the risk of hip fracture by 30 percent than when compared with eating just one serving a week.
How to Best Eat It: Create a simple vinaigrette with red wine vinegar, dijon mustard, olive oil, minced shallots, a touch of honey, salt, and pepper. Combine roughly chopped red leaf lettuce with arugula, another spring lettuce, and top with spring veggies like roasted beets, orange slices, and walnuts.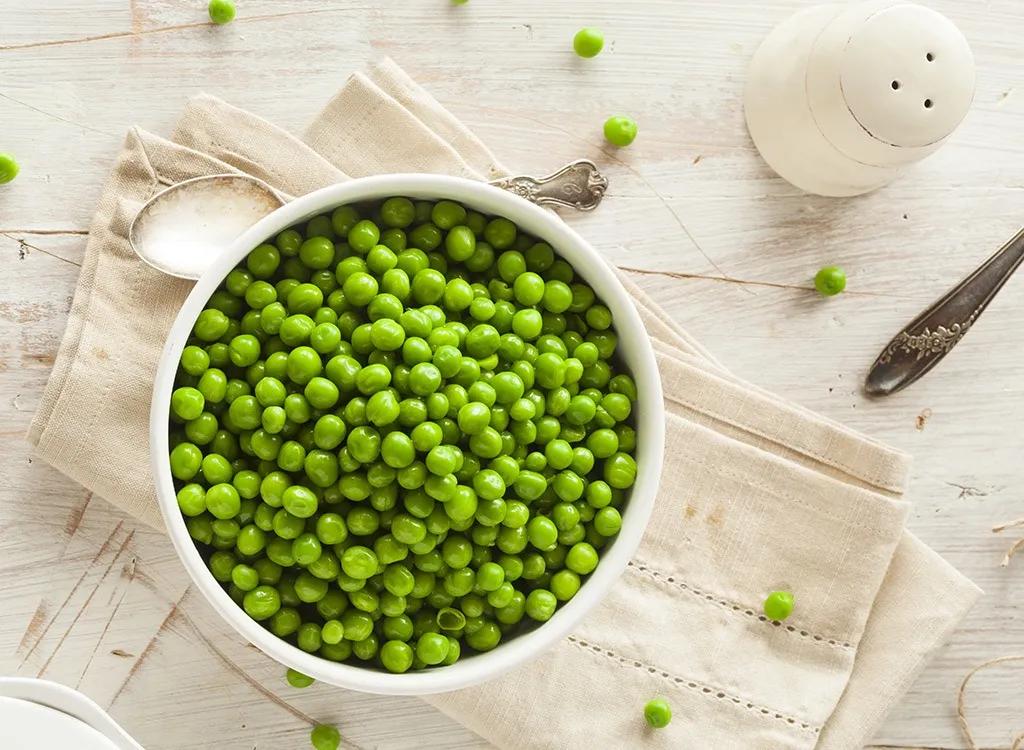 You may have pushed them around your plate as a kid, but we're hoping that stopped when you learned of their anti-aging, immune-strengthening, and energy-boosting antioxidants. Besides teeming with carotenoids and polyphenols, these little green poppers contain a hefty 7 grams of hunger-quelling fiber and 8 grams of muscle-building protein per cup! Check them out on these 30 High Fiber Foods That Should Be in Your Diet. (They're number 12!)
How to Best Eat It: To elevate the humble pea, saute up some crispy prosciutto. Add some finely chopped white onion and a bit of minced garlic. Once tender, add in your peas, and a little bit of chicken stock, and simmer until peas are tender. Add back in the prosciutto, chopped fresh parsley, and mint, and toss it all together with your favorite pasta and freshly grated parmesan.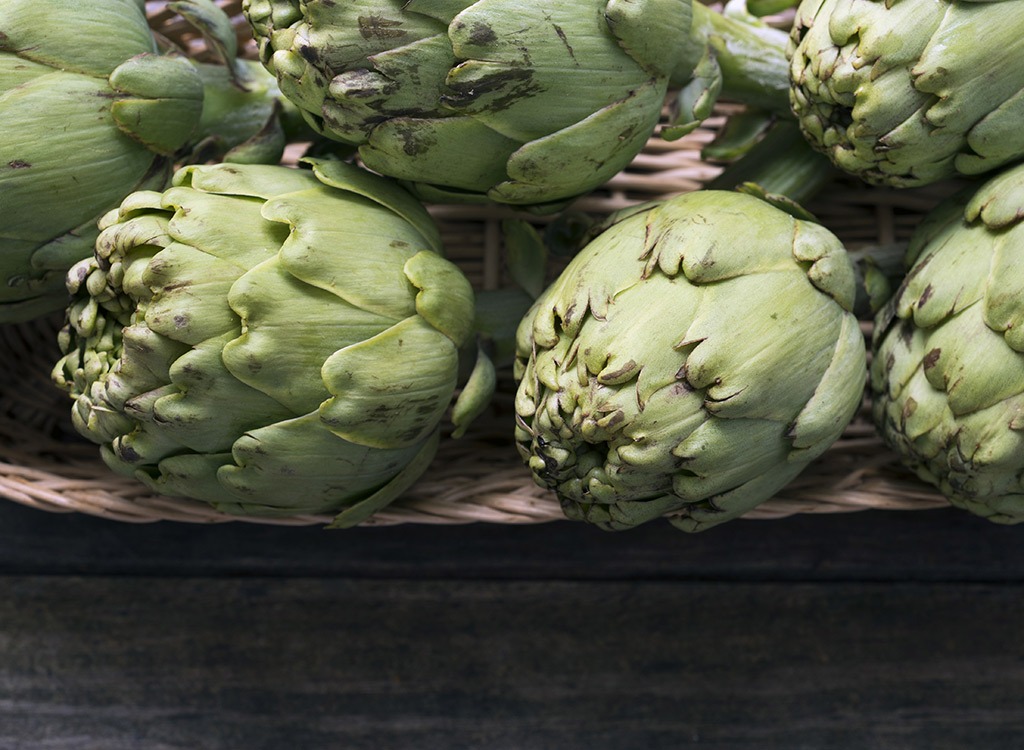 Unfortunately, a hefty, creamy artichoke dip will never make it onto any diet-friendly list, but one of its main ingredients does! One medium artichoke boasts an impressive 10.3 grams of fiber, including inulin, a prebiotic soluble fiber that helps promote the growth of beneficial intestinal bacteria. Incorporating it into your diet may also aid weight loss efforts—for every 10 grams of fiber you eat daily, your middle will carry almost 4 percent less flab, according to researchers. On top of that, artichokes contain a compound called cynarine, which promotes fat digestion and can serve as a natural diuretic by helping to eliminate water retention.
How to Best Eat It: When was the last time you ate a whole artichoke (if ever!)? Well, with whole artichokes fresh and in season, now's the perfect time. Follow blogger Camille Style's recipe for Grilled Artichokes with Lemon Garlic Aioli. She walks you through how to cut, trim, cook, and dress them with her deliciously simple parsley oil. If you feel the aioli is a little too heavy, sub it out for a plain, full-fat Greek yogurt and combine with roasted, caramelized garlic and fresh lemon juice.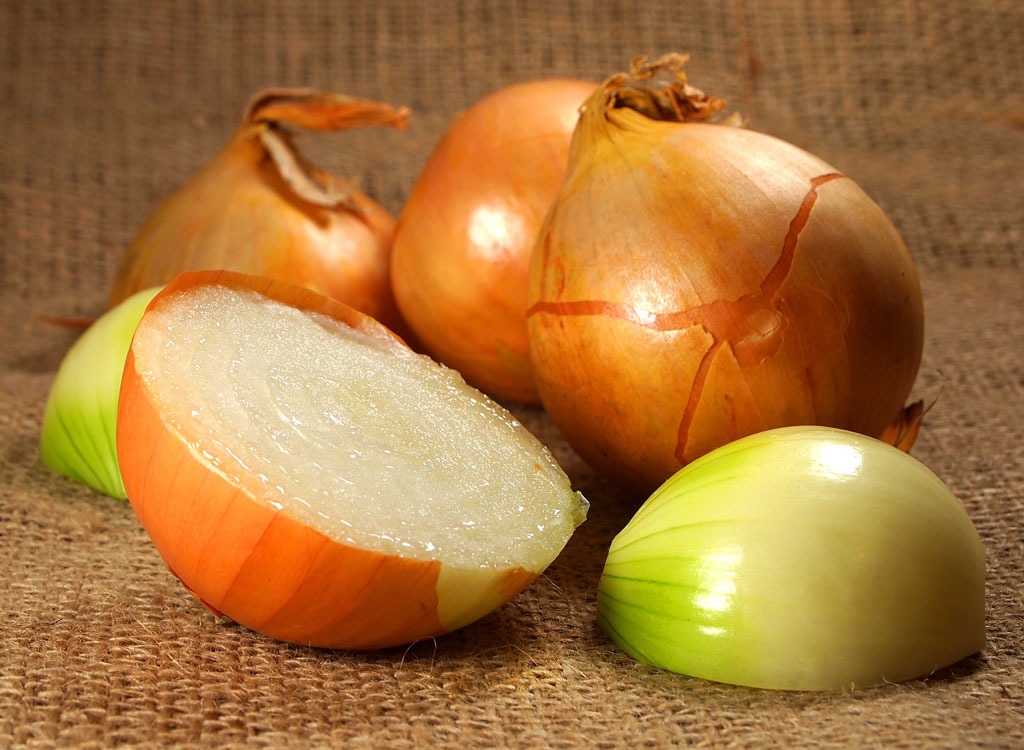 The Vidalia Onion earns the title of one of the nation's most iconic agricultural products, having been discovered accidentally in the state of Georgia and rocketing to popularity. And just like Champagne has to be from France, a Vidalia onion has to be from Georgia. These onions are a rich source of fructooligosaccharides, a cluster of fructose molecules that lead to better gastrointestinal health and improved digestion by stimulating the growth of healthy bacteria and suppressing the growth of harmful ones. Want more ways to improve your gut health? Check out these 14 Probiotic Products!
How to Best Eat It: Vidalias are so sweet, delicious, and versatile, it's hard to pick just one recipe to share. For starters, they're the perfect onion to add to your summer BBQ: lightly coat with canola oil, salt, and pepper and throw on the grill to get some good caramelization before adding to your burger. Looking to indulge a little? Make these Healthy, Baked (not fried!) Onion Rings from How Sweet It Is.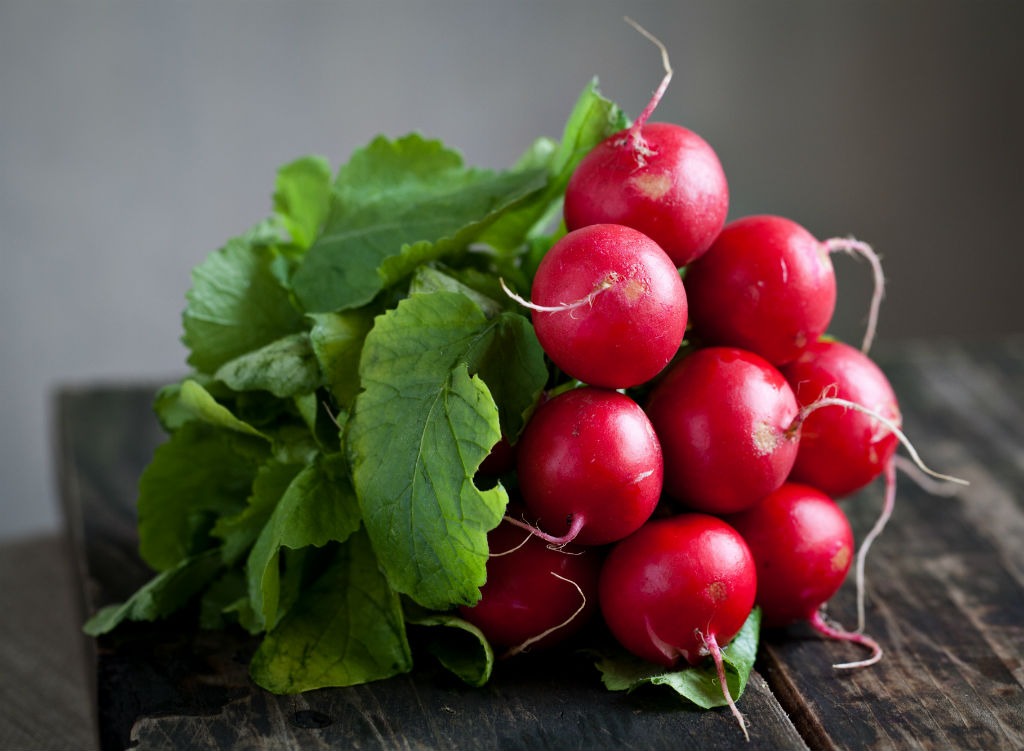 After a winter of blues and grays, it's nice to get a little pop of color in your life. Colorful vegetables are key to weight loss, and radishes are no exception. Their red hue is due to anthocyanins, a phytochemical that has been shown to burn fat and reduce the risk of diabetes. They've also been shown to reduce cholesterol, insulin resistance, and inflammation. In a Japanese study, rats fed radishes for three weeks showed reduced levels of bad cholesterol and insulin and a boost in good HDL cholesterol.
How to Best Eat It: Eat radishes whole as a high-fiber, belly-filling snack, add a layer of slices to a goat cheese toast, use them as a salad garnish, or make them the star of the salad alongside another seasonal veggie, the carrot, in this Ginger Carrot Radish Salad by blogger, Healthy Seasonal Recipes.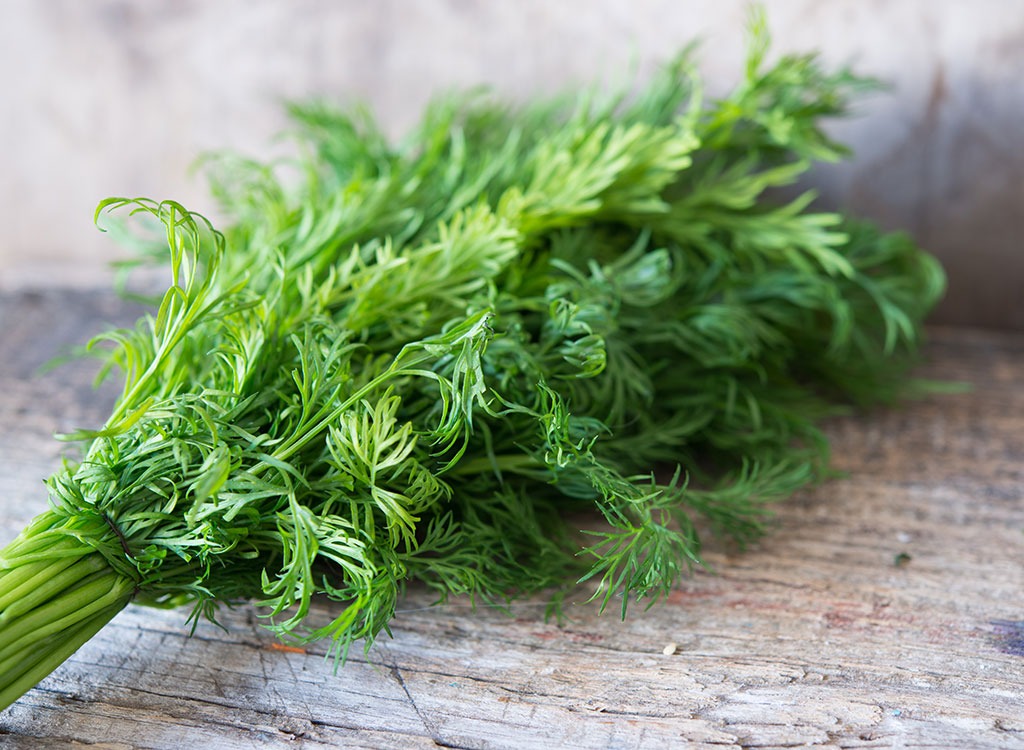 Shimmy into those cute spring fashions with confidence by adding fennel to your meals. Although it's known to be a winter veggie, it's still in peak season during the early spring. Cherished for its licorice-like flavoring, fennel contains a unique blend of phytonutrients—including the flavonoids rutin and quercetin—that make it a powerful antioxidant. These active compounds help to reduce inflammation, and when combined with the fiber that's already present in fennel, they can help eliminate potentially carcinogenic toxins from the colon to prevent colon cancer.
How to Best Eat It: Make its fronds into a pesto, and use the rest in a raw fennel, apple, and celery salad or roast it up and add it to your creamy mashed potatoes.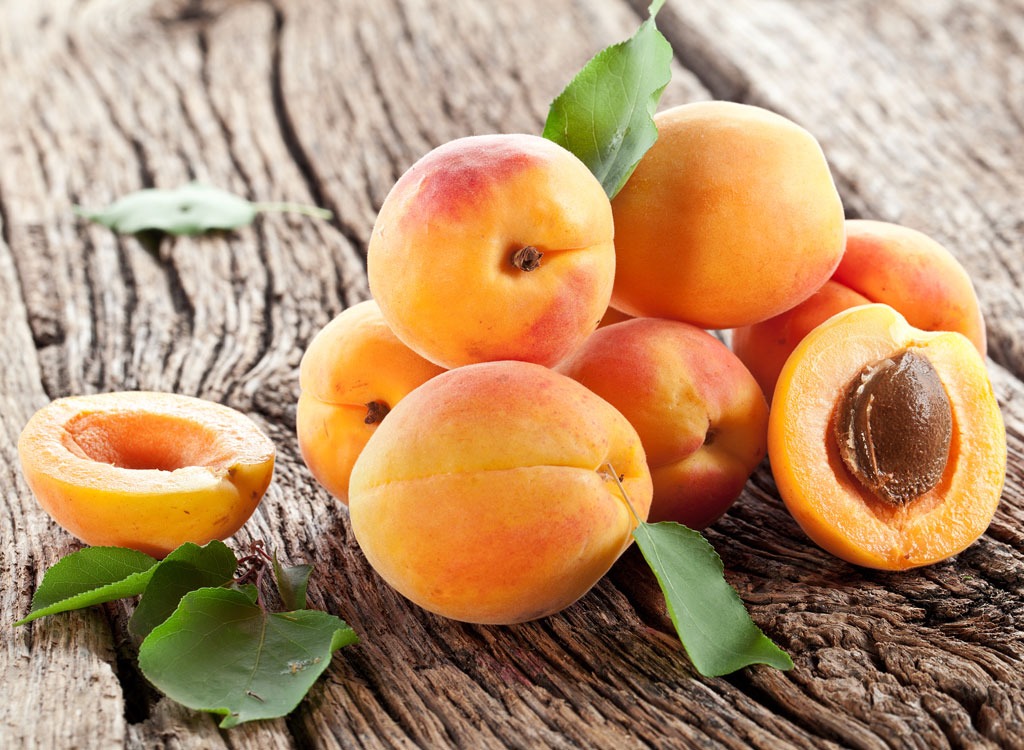 These sun-like fruits are sure to brighten your day. While dried apricots are a good source of fiber and iron, they're also more concentrated in sugar—which is why they're one of the 20 Healthy Foods You Better Eat in Moderation. Pick up some fresh ones during their short season in late spring to load up on vitamin A (a nutrient that helps your skin glow) and potassium. When you don't have enough of this essential mineral, it can make your body hold onto water, resulting in weight gain. Besides flushing out extra water weight, potassium also keeps your metabolism running high, and is crucial for the digestion of nutrients such as carbohydrates and fat, as well as the absorption of energy from these nutrients.
How to Best Eat It: These juicy sweet and tart fruits are such rarities fresh, so allow them to be the star of your dish. Combine them with blueberries to make a fruit crisp, saute them up to make an apricot compote you can serve over ice cream or yogurt, make a batch of apricot jam you can enjoy throughout the summer, or eat them whole with this Roasted Apricots with Ricotta and Honey recipe from Kitchen Repertoire.
Spinach might be available year round, but the freshest, most tender spinach is easily obtainable in the spring. We love it because it's rich in muscle-building protein and iron, satiating fiber and vitamins A, C, and K. It's truly one of the healthiest greens out there. It also contains powerful appetite-suppressing compounds called thylakoids to keep your bikini body diet on track. A recently published long-term study at Lund University in Sweden found that having a drink containing thylakoids before breakfast could significantly reduce cravings and promote weight loss. Add this leafy spring green to your meals liberally throughout your day, and you'll feel your cravings start to vanish.
How to Best Eat It: Spinach is undoubtedly one of the most versatile foods out there. Due to its subtle flavor and texture, spinach can be added to many meals undetected. Toss it in your morning smoothies, whip up a lunchtime salad or soup, use it in sauces, pasta dishes, dips, and stir-fries, or sauté for a healthy side dish.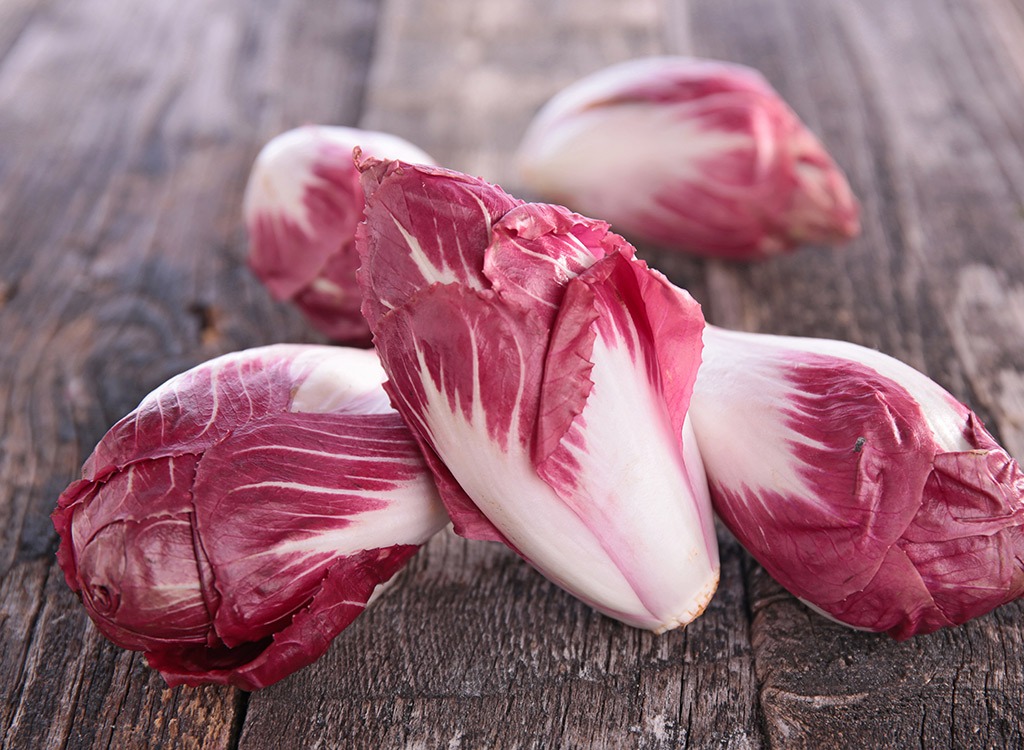 Radicchio is the small red or purple leaf that comes in a head about the size of a softball. It's one of the best dietary sources of polyphenols—powerful micronutrients that serve a role in preventing disease and losing weight. A study in the Journal of Nutrition found that people who consume 650 milligrams a day of polyphenols have a 30 percent chance of living longer than those who consume less than that. A cup of chicory leaves clocks in at about 235 milligrams, so consider adding a little leafy red into your leafy greens.
How to Best Eat It: Firm heads of lettuce, like radicchio, take well to the transformative powers of the grill. Halve or quarter the heads and drizzle with olive oil. Grill over high heat until the outer leaves are blackened and wilted, and the center is softened. Serve radicchio drizzled with balsamic. Get the whole recipe for Grilled Radicchio with Fig Balsamic Syrup, Parmigiano, and Honey-Roasted Almonds from A Beautiful Plate.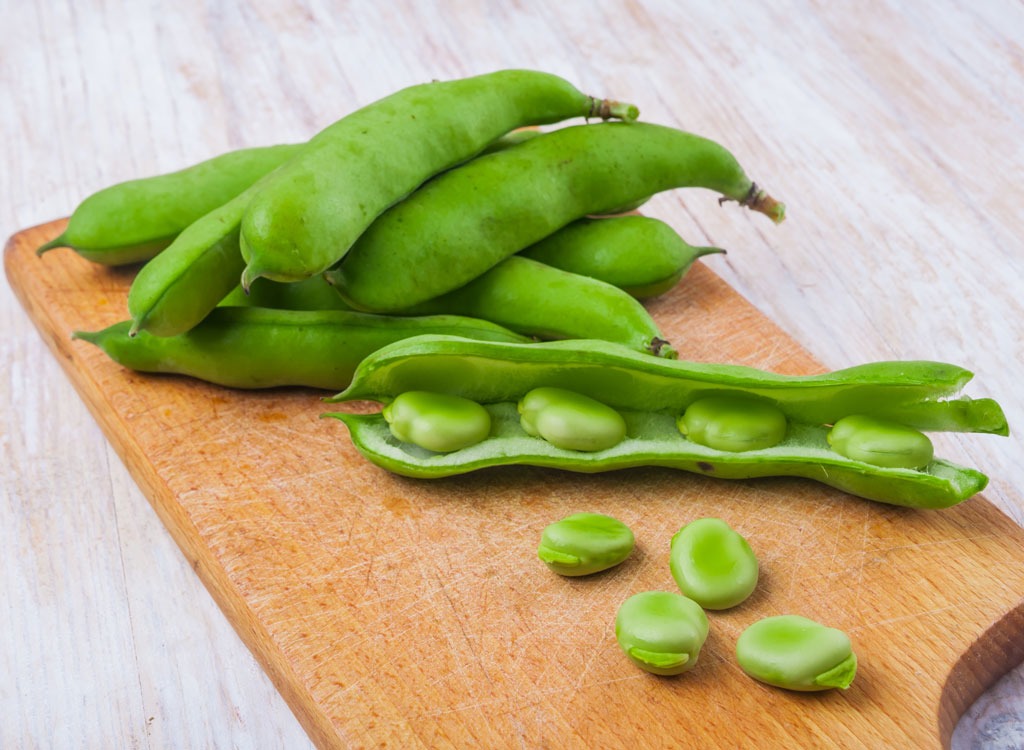 Similar in likeness to edamame, these green legumes come in their own pod. Besides containing a high concentration of thiamin, vitamin K, vitamin B6, selenium, and magnesium, they're a great source of lean protein with a whopping 10 grams per cup. Protein is essential not only for bulking your biceps; it's also essentially in increasing feelings of fullness, as well as helping the body retain its muscle while scorching fat to increase your weight loss. For more slim down tips, don't miss these 30 Fascinating Weight Loss Tricks You Haven't Tried.
How to Best Eat It: Fava beans have a buttery texture and a lovely, nutty flavor, making them a great addition to soups. But when you get them fresh as you would in the spring, they can really shine in a salad, like From the Land We Live On's Golden Beet and Fava Bean Salad with Fresh Mint and Crumbled Ricotta.6254a4d1642c605c54bf1cab17d50f1e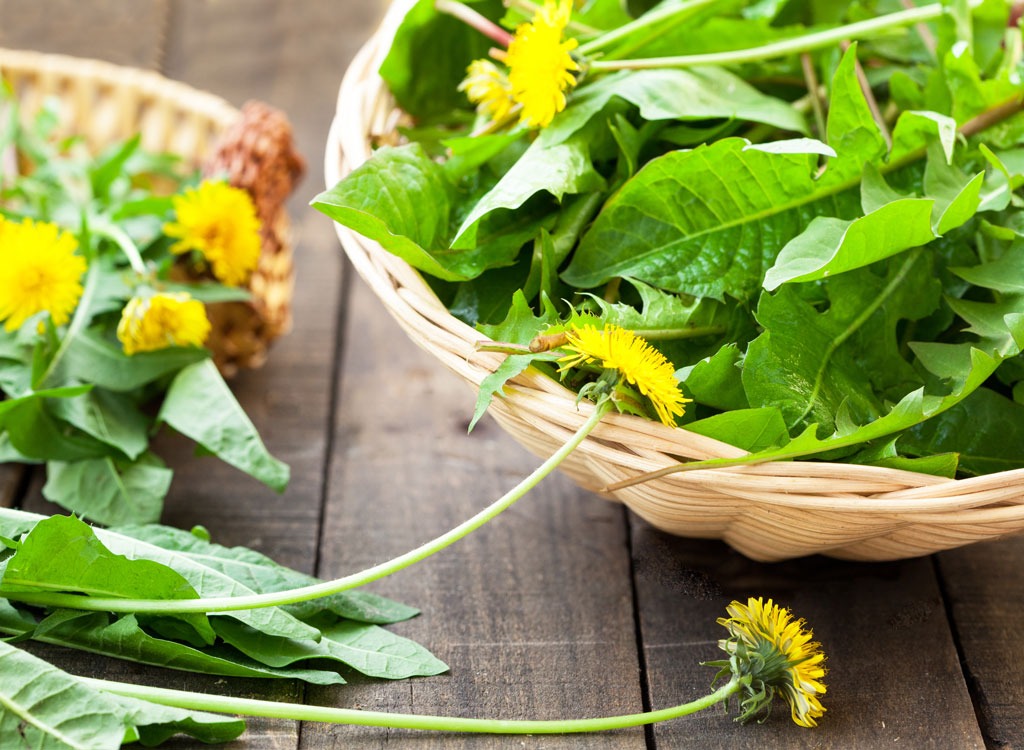 Seeing those orangey yellow dandelions pop up is definitely one of the first signs of spring. But did you know that besides being a bit of a pest in the garden, they also make a great snack? These bitter-sweet spring greens are bursting with fiber, antioxidants, vitamins, and minerals. They are also a diuretic, which means they can help blast excess weight by helping your body get rid of extra fluids. A recent study found that steaming the greens increased their total antioxidant properties by 67 percent. And studies have found that this plant is protective against obesity as well as depression, fatigue, immune system problems, and even cancer.
How to Best Eat It: Sub dandelion greens for spinach in salads, soups, smoothies, and quiches, or blend them into a pesto.
Don't be fooled by its diminutive size—this tiny herb is a powerhouse of vitamins and minerals. In fact, it's one of the most nutrient-dense foods on the planet making it our reigning healthiest vegetable. Gram for gram this slightly peppery green contains four times more beta carotene than an apple, and a whopping 238 percent of your daily recommended dose of vitamin K per 100 grams—two compounds that keep skin dewy and youthful. What's more, it might help diminish your risk of cancer. Results from a study in the American Journal of Clinical Nutrition suggest daily supplementation of 85 grams of raw watercress (about two cups) could reduce DNA damage linked to cancer by 17 percent.
How to Best Eat It: Exposure to heat may inactivate its cancer-fighting compounds, so it's best to enjoy watercress raw in salads, cold-pressed juices or smoothies, and sandwiches.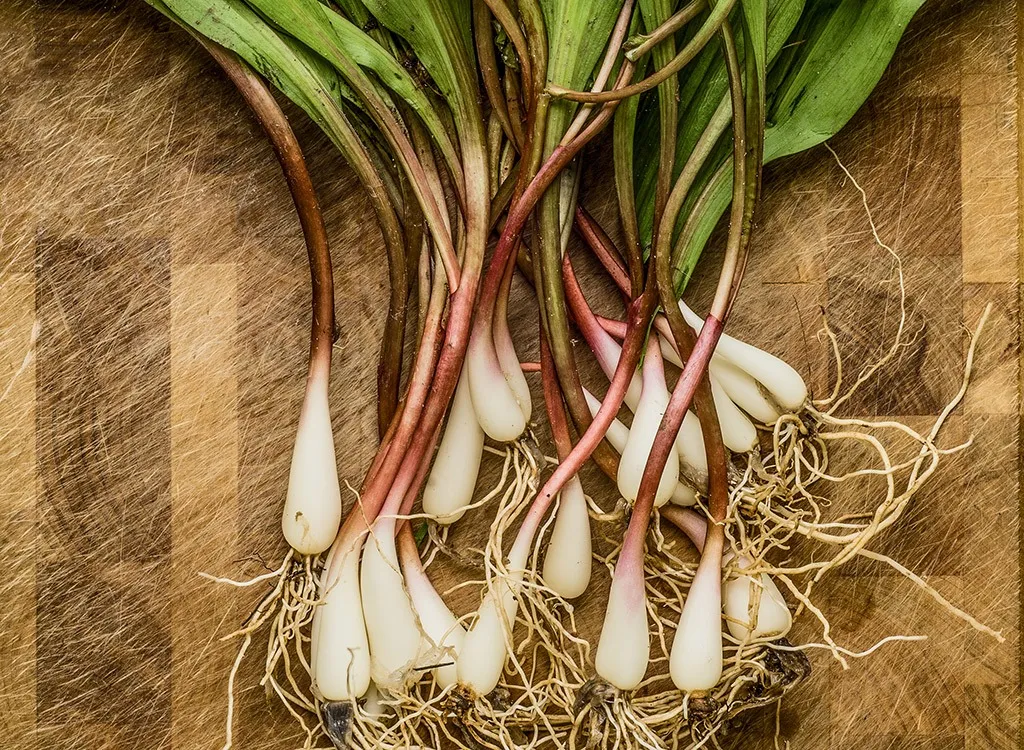 With a mildly sweet flavor, these wild leeks are loaded with vitamins A and C and taste similar to onions and garlic. Like all variations of onions, ramps are also a great source of chromium—a mineral that helps with the metabolism of fats, carbs, and insulin. What's more, they can pack up to a gram of satiating fiber a pop.
How to Best Eat It: You can eat them raw, make a pesto, or add them to eggs (with asparagus!) for an amazingly fresh tasting spring treat. We love them in Katie at the Kitchen Door's protein- and fiber-packed Quinoa & Cauliflower Cakes with Wild Ramps. Ramp season is quick, so grab them when you see them or else you just might miss them.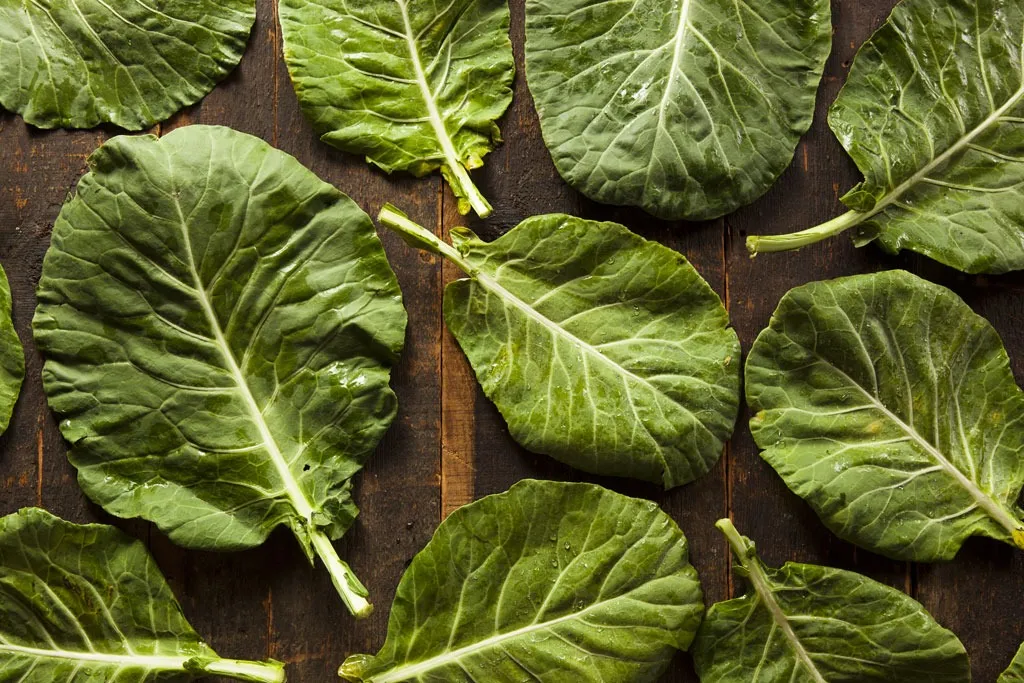 A staple vegetable of Southern U.S. cuisine, collard greens boast incredible cholesterol-lowering benefits—especially when steamed. A recent study published in the journal Nutrition Research compared the effectiveness of the prescription drug Cholestyramine to steamed collards. Incredibly, the collards improved the body's cholesterol-blocking process by 13 percent more than the drug!
How to Best Eat It: The traditional way to cook these southern greens is to boil or simmer slowly with a piece of ham hock for a long time to temper their tough texture and smooth out their bitter flavor. You can also try them in Vanilla and Bean's Black Eyed Peas with Smoky Collards and Grits.
Contrary to what you might think, the common nettle is more than a pesky, stinging weed. Since ancient times, it has been used as an important source of food, fiber, and nutraceuticals. An abundant spring green, nettles are also a powerful diuretic. This plant has been used for years in the UK as a springtime cleanse to rid the body of toxins after a winter filled with fatty foods.
How to Best Eat It: Stinging nettles are best enjoyed as a hot tea for cleansing the liver and ridding the body of excess fluids. By steeping the leaves in water and straining (a French press pot works great for this) you can avoid being stung by the tiny hairs that coat the leaf stems.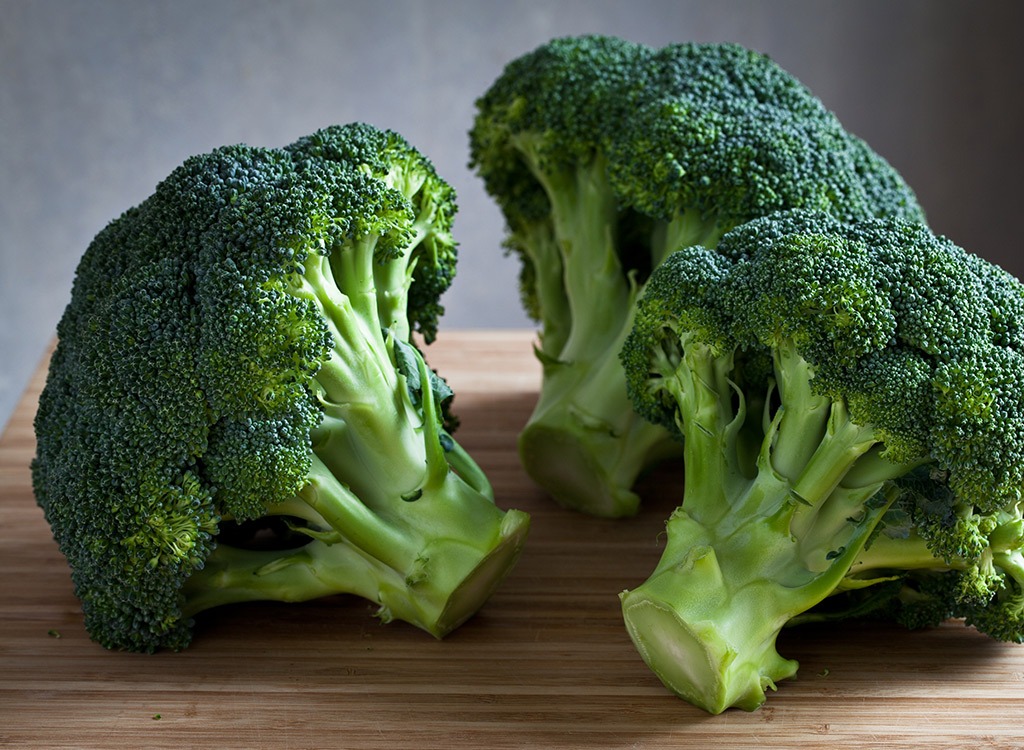 There's a reason almost every diet includes a hefty dose of broccoli. The green superfood is rich in sulforaphane, a compound that not only increases testosterone and fights off body fat storage, but also blocks enzymes linked to joint destruction and inflammation. (These 30 Best Anti-Inflammatory Foods can also help.) And if you want to stay lean and active for life, maintaining healthy joints is a must! Bonus: The green veggies is also rich in vitamin C (a mere cup of the stuff can help you hit your daily mark), a nutrient that can lower levels of the stress hormone cortisol, which will further aid your toned body efforts.
How to Best Eat It: You've probably been cooking broccoli since you learned how to whip up a bowl of pasta. And with the global market extending its season year-round, we know there's no short supply. However, if you can get your hands on this spring-season-grown cruciferous veggie, we'd recommend eating it root-to-leaf, like Sassy Kitchen does in this Shaved Broccoli Stem Salad with Lemon and Pecorino.
Olivia Tarantino
Olivia Tarantino is the Managing Editor of Eat This, Not That!, specializing in nutrition, health, and food product coverage.
Read more about Olivia