I Tried Starbucks' Newest Cold Brew & It's One of the Best Drinks On the Menu
With both delicate and powerful notes of caramel and cinnamon, there's not a lot that's wrong with this drink.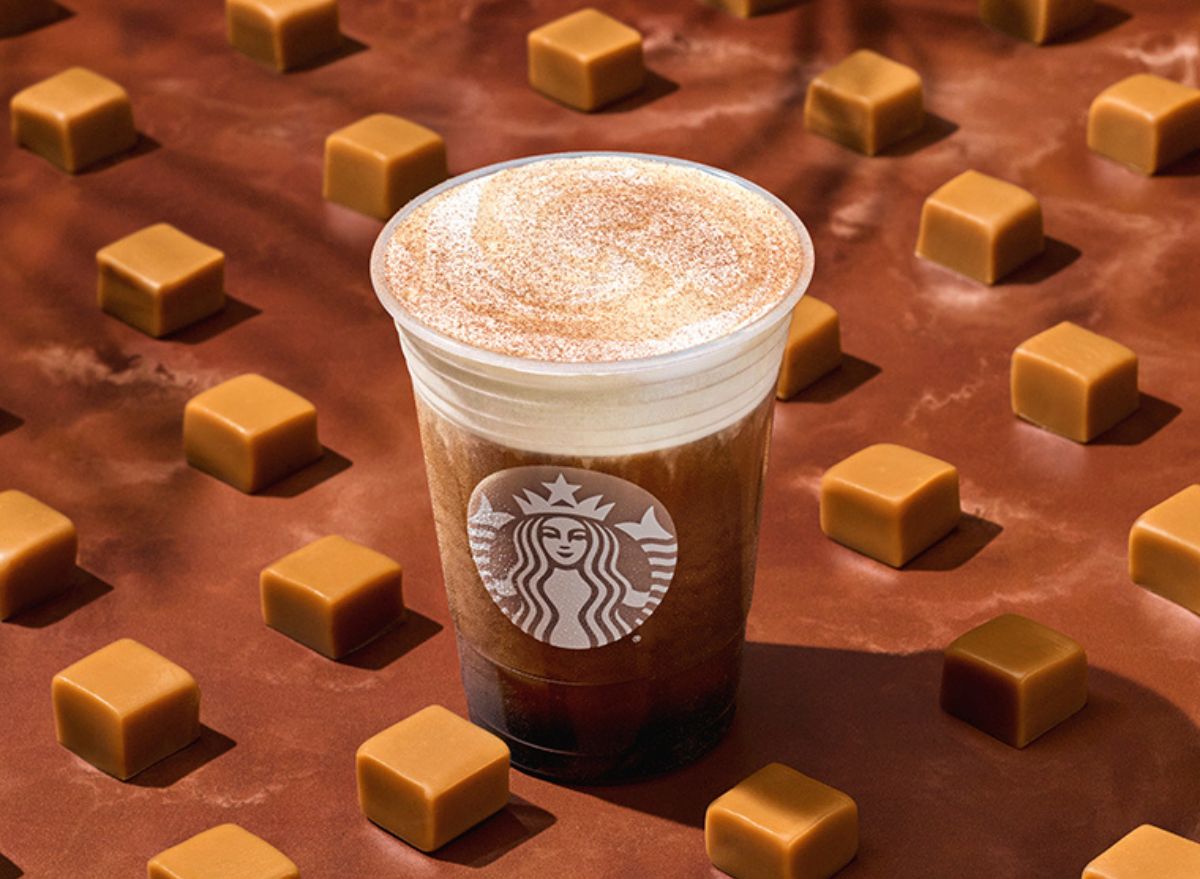 Once again, America's largest coffee chain has created a new beverage to set the scene for another (hopefully) sunny spring season. Starbucks is saying goodbye to the winter menu, with fan favorites like the Pistachio Latte and Irish Cream Cold Brew taking a backseat to a brand new bakery-inspired drink. The new Cinnamon Caramel Cream Nitro Cold Brew is coming to Starbucks stores everywhere today.
The exciting new drink features the chain's signature Nitro Cold Brew or regular Cold Brew with a few pumps of caramel syrup and then is topped with the new cinnamon sweet cream cold foam and a generous sprinkle of cinnamon dolce topping. For cold foam lovers, this is a big deal, as you will be able to order the spectacular cinnamon sweet cream cold foam on any drink of your choosing (with an additional charge) and not just the new menu item.
According to Erin Marinan, a Starbucks beverage developer, "this velvety smooth Nitro Cold Brew provides customers with a fresh take on the fan-favorite caramel flavor." And with that in mind, after the new beverage hits menus nationwide today, it will be available all year round.
"Taking inspiration from salted caramels and gooey sticky buns, the new Cinnamon Caramel Cream Nitro Cold Brew is a lovely balance of decadent baking flavors with a delicate and creamy cold foam topping that seamlessly blends into the coffee with each sip," Marinan adds.
I got a sneak peek at this new drink before launch day, to give it a try and share my honest review with the biggest Starbucks fans.
The look: The layers on this cold brew drink are beautiful to look at—this is especially true, as the cinnamon cold foam beings to drip and blend into the dark coffee base in a picture-perfect way. The nitro cold brew is darker than the chain's iced coffee, but not as dark and scary as espresso shots over ice. Looking at the new cinnamon cold foam got me the most excited because it was sparkling with specs of golden cinnamon, plus, it looked so fluffy and creamy like opening up a fresh carton of vanilla ice cream.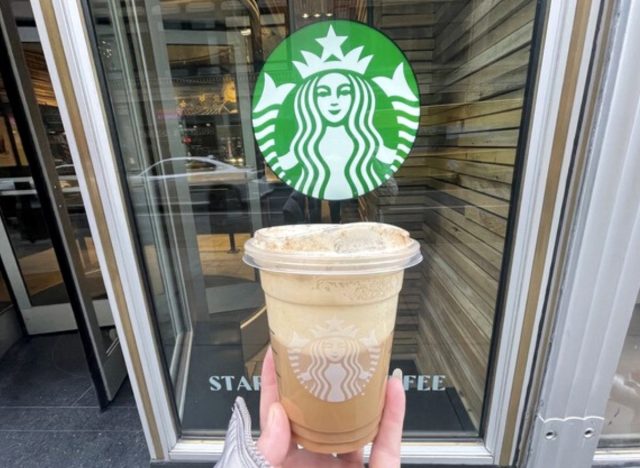 The taste: Overall, the taste of this cinnamon caramel cold brew shocked me. If you've ever had the classic cereal Cinnamon Toast Crunch, this drink is nearly identical but without the overload of sugar. At first, I thought the combination of the two different syrups and a thick clump of sweet cold foam would make this beverage far too sweet but I was dead wrong.6254a4d1642c605c54bf1cab17d50f1e
It tasted wonderful and was light and smooth with every sip. I got subtle hints of rich caramel from the coffee and a satisfying cinnamon-roll-like taste from the creamy cold foam. When it came to the proportion of cold brew to cream and sugar, everything worked together and not one aspect overpowered any of the others.  I could still taste Starbucks' potent nitro cold brew coffee, as it's not completely covered by the flavorful additions, but it was forgiving since I got a sip of sweet cold foam to mellow it out each time. It was nothing like drinking espresso shots straight up.
Final thoughts: I would recommend this new nitro cold brew concoction to anyone I know. Even if you're not a huge coffee drinker, try it in the regular cold brew version, as the strongness of black coffee is very toned down and delightful when it's hand in hand with just enough caramel and dashes of cinnamon. Also, the cinnamon sweet cream foam is the perfect amount of cream for the amount of cold brew given in the cup, so you don't have to worry about finding the right combo on your own!
As for the rest of the menu: Spring at Starbucks this year doesn't entail a lot of new or returning items. Other than the Cinnamon Caramel Cream Nitro Cold Brew, the coffee chain isn't making any additional changes or offering limited-time products like many other seasons. There will be a new line of spring-inspired drinkware and seasonal coffee beans/blends, both of which can be found on the Starbucks website and will vary in price.
Jordan Summers-Marcouillier
Jordan Summers-Marcouillier was born and raised in San Jose, California and now works as a writer in New York, NY.
Read more about Jordan