Starbucks Wants to Save the World By Going All In on Sustainability
It's a noble goal, but the coffee giant's track record suggests a rough path forward.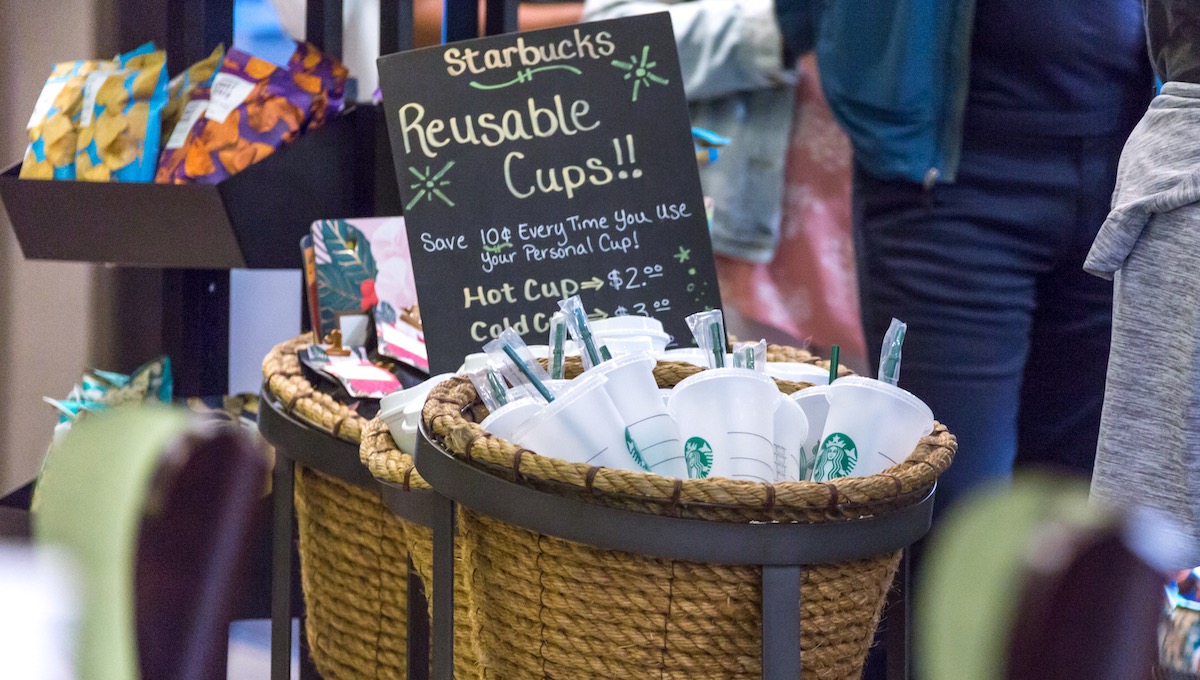 Starbucks aims to be as green environmentally as its logo (a siren of lore) is literally.
This week, in a public letter, Kevin Johnson, the coffee giant's CEO, announced a massive company-wide push toward sustainability. Rather than merely switching to efficient light bulbs or phasing out straws, the goal is for Starbucks to become "resource-positive"—actually operating on a carbon and freshwater deficit, essentially "giving back" those resources to the planet. Johnson outlined a five-step plan for hitting that lofty benchmark:
Expanding plant-based offerings
Migrating from single-use to reusable packaging
Investing in "innovative and regenerative" supply chain practices, from forestation to agro to water replenishment
Investing in more sustainable waste management measures, including recycling
Innovating "to develop more eco-friendly stores" and other operations
In addition, Starbucks is gunning for a 50-percent total reduction in water withdrawal, carbon emissions, and landfill waste by 2030.6254a4d1642c605c54bf1cab17d50f1e
To be sure, this all sounds very noble. It's no secret that the environment is in dire straits, and that the food and beverage industries contribute heavily to the current crisis. Even McKinsey & Company, the massive management consulting firm, released a recent report declaring global sustainability at "a tipping point," pinpointing the agro industry—an umbrella the Starbucks supply chain falls squarely under—as reportedly responsible for 70 percent of worldwide freshwater withdrawals.
And then there's the fact that the coffee industry conducts most of its farming business in tropical climates, regions that have been ravaged by climate change. According to data cobbled by Global Forest Watch, forest cover in Guatemala, one of the world's leading producers of coffee beans, has declined by 20 percent since 2001. Throw in the heavy use—by the coffee industry writ large—of cardboard cups and milk jugs, plastic straws and utensils, pine wood stirrers, paper filters, paper sugar packets, paper napkins, paper takeout bags, and aluminum coffee bean bags, not to mention shocking food waste, and you've got one doozy of a planet-punching industry.
So, yeah, every effort helps. But the question stands: Can Starbucks pull this off?
Earlier this year, Starbucks did expand their nondairy milk offerings; now, depending on your zip code, you can get flat whites and other espresso drinks made with almond milk, oat milk, soy milk, or even coconut milk. (No word yet on when, if ever, the increasingly popular cashew milk trend will infiltrate the menu.)
The food options, on the other hand, leave much to be desired. Of the eight breakfast sandwiches on the menu, seven include animal protein. Just one, the spinach, feta, and egg white wrap, is vegetarian. None are wholly plant-based. And the lunch paninis and wraps either feature cheese or lean protein—or both. Today, if you want to eat plant-based at Starbucks, you're pretty much stuck with a choice between classic oatmeal and blueberry oatmeal. (Don't add milk!)
There's also the omnipresent specter of food waste, an issue the company is notorious for. (Disclosure: I worked as a Starbucks barista in 2012 and 2013, and can attest firsthand to the astronomical amount of food waste at the end of each shift. Some nights, I'd take home well over two dozen pastries and pre-packaged wraps, yogurts, and bento boxes that were destined for the dumpster. Good news for a perpetually starving college student. Bad news for a company that trumpets green-minded initiatives.)
In 2016, as a matter of course correction, Starbucks announced FoodShare, a plan to end all food waste by the end of 2019. Rather than toss every scrap of slightly stale food at the end of each night—or let hourly wage employees bring it home—any leftover ready-to-eat meals would be donated to the Food Donation Connection, ultimately providing close to five million meals in the first year, and 50 million total by the end of 2019. Two years later, Starbucks publicly pushed back that self-imposed deadline to the end of 2020 (though, to be fair, the company has donated 10 million pre-packaged meals to date since the program's start).
So how's FoodShare going? According to a New York Post report from last week, plenty of Starbucks locations in Manhattan are nakedly abstaining from the food donation program. When pressed, a company rep confirmed to the Post that just 60 percent of the thousands of company-owned storefronts actively participate in the initiative.
Even the signature Starbucks eco-friendly initiative ("serve drinks in reusable containers") isn't quite what appearances suggest. Yes, each year, those beloved reusable red cups—which give patrons a discount on holiday beverages through the winter—run out of stock in hours flat. And if you bring your own tumbler in, you'll score a 10-cent discount on any drink, any day. Surely, such incentives directly translate to a higher percentage of Starbucks beverages served in reusable containers, right? The company sure thought so. In 2008, Starbucks laid out a plan to serve a whopping 25 percent of all drinks in reusable cups by 2015. Then 2015 rolled around, and just 5 percent of all drinks were served in reusable cups.
That same year, Starbucks revised the target. The new plan? Serve 5 percent of all drinks in reusable cups. (In 2019, the figure hovered anywhere from 2 to 6 percent.)
At least no one can reasonably knock the company's infrastructure investments. In 2018, for instance, Starbucks built a solar farm the size of nearly 300 football fields—enough to power 600 stores. That's just a small fraction of the nearly 9,000 Starbucks-owned U.S. storefronts, but, hey, every effort counts. And the company already makes use of wind turbines to source energy for hundreds of stores in both the Chicago metropolitan area and the Pacific Northwest region.
Then there's the most tangible hallmark of eco-friendliness: trees. Since 2016, Starbucks has planted more than 30 million coffee trees in three key farming regions (El Salvador, Guatemala, and Mexico). It's a testament to the sheer size of the company's carbon footprint, though, that such efforts still don't bring Starbucks to carbon neutrality. Nespresso, a major European competitor, plans to plant just five million coffee trees in major farming regions—a move that, according to the company, puts Nespresso on-track to achieve carbon neutrality by the end of the year.
No matter how you cut it, this is all one daunting task, going green while also keeping the green rolling in. But Starbucks appears ready to answer the siren song of sustainability—at least publicly. "Today is a milestone for our business as we declare our concern for our planet's future," Johnson wrote in his letter, "and commit to do more."
Next up? Starbucks plans to phase out straws.