Here's What It's Like Inside the Biggest Starbucks on the Planet—Photos
We took a trip to the world's largest Starbucks—the new Starbucks Reserve Roastery in Chicago.
On Friday, Nov. 15, the world's largest Starbucks opened up in Chicago. The Chicago Starbucks Roastery sits right on Michigan Avenue (famously known as the "Magnificent Mile"), and comfortably sits amongst high-end shopping, hotels, and trendy restaurants.
Luckily for me, I was able to stop by during its first day in business. Here's what it's like inside the Chicago Starbucks Reserve Roastery.
What is a Starbucks Reserve Roastery?
Even though this location is officially the world's largest Starbucks, this is actually the sixth Starbucks Reserve Roastery to open up. You can find other roasters in New York City, Tokyo, Shanghai, Milan, Seattle, and now Chicago.
According to a Starbucks press release, this Chicago Starbucks roastery is 35,000 square feet. It employees almost 200 workers, including baristas, mixologists, bakers, commessas, roasters, and more. Known as an "immersive coffee experience," this roastery has five-floors and serves a plethora of trendy Starbucks Reserve products. The fifth floor is a rooftop terrace, with incredible Michigan Avenue views.
What's it like inside?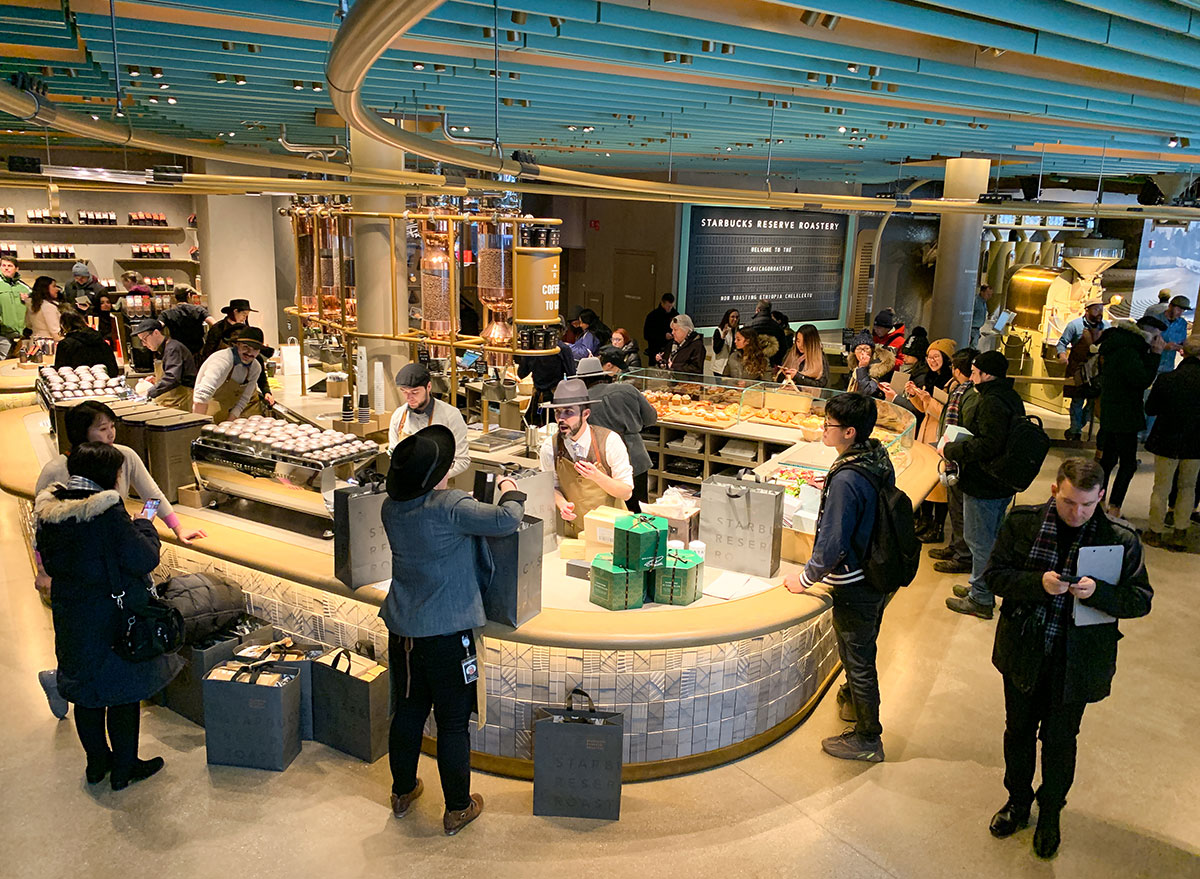 Walking into the Chicago Starbucks Reserve felt dreamlike. Right in front of you, you run into your first coffee bar, with some of their food on display. On the left is a small Starbucks shop with some of their high-end Starbucks Reserve products—like coffee tumblers, T-shirts, and coffee paraphernalia (Chemex, pour overs, French presses, and much more).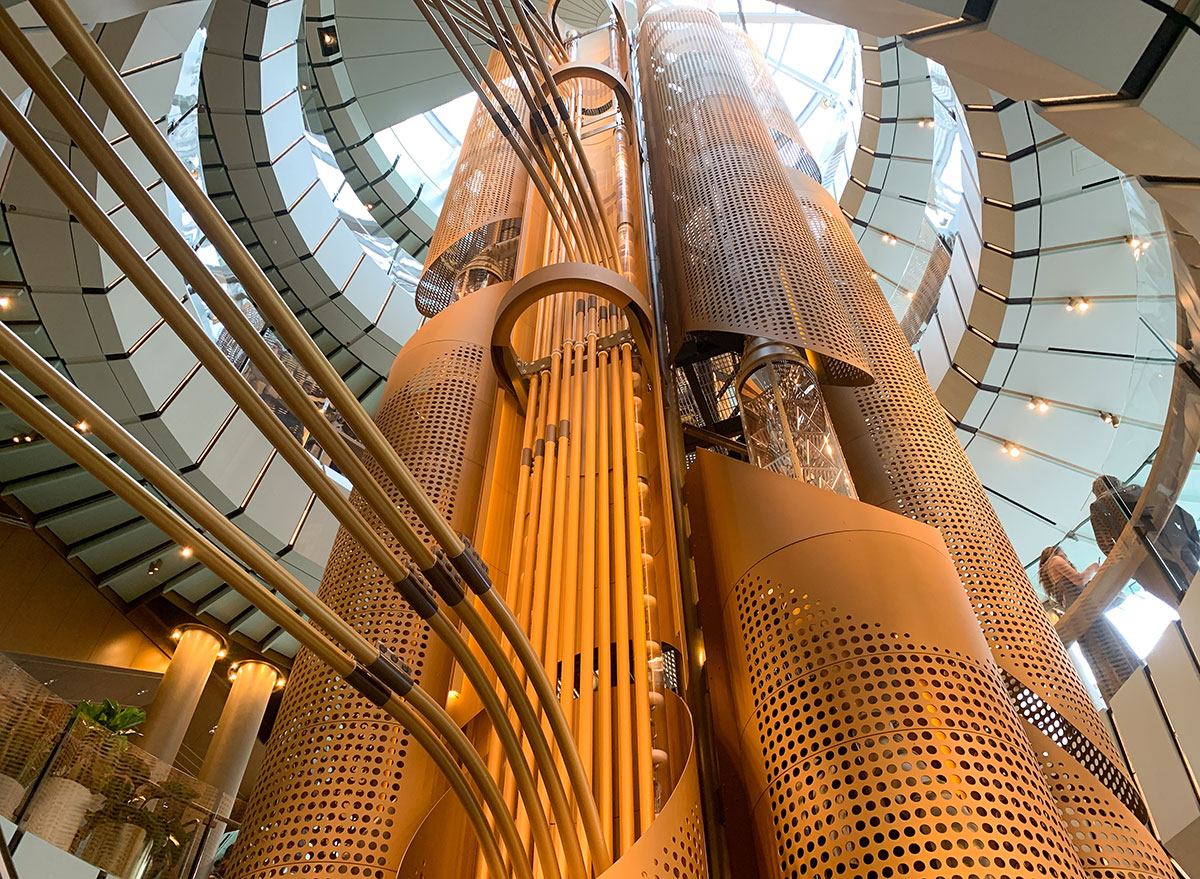 On the right is the coffee roasting machine (above), which stands four stories tall inside the building. This machine is expected to roast 200,000 pounds of coffee annually, and if you sit around long enough, you'll hear some of the roasted beans fly through the tubes that line the ceiling of the second floor.
The first-floor escalator circles around the roasting machine and brings you to the second floor. On the second floor of the Chicago Starbucks Roastery, you find the Princi Bakery & Café.
This gourmet food area serves a variety of pastries, pizza, salad, pasta, and desserts. Each item is inspired by the spirit of Milan, all served with seasonal ingredients.
The third floor is the Experimental Coffee Bar, which is where you can go to taste some eclectic coffee drinks. Between the coffee flights, clever coffee creations, and nitrogen-infused gelato, customers can get an eclectic coffee experience.
The space is covered in original artwork, including a five-story mural by famous Chicago artist Eulojio Ortega along the side stairwell.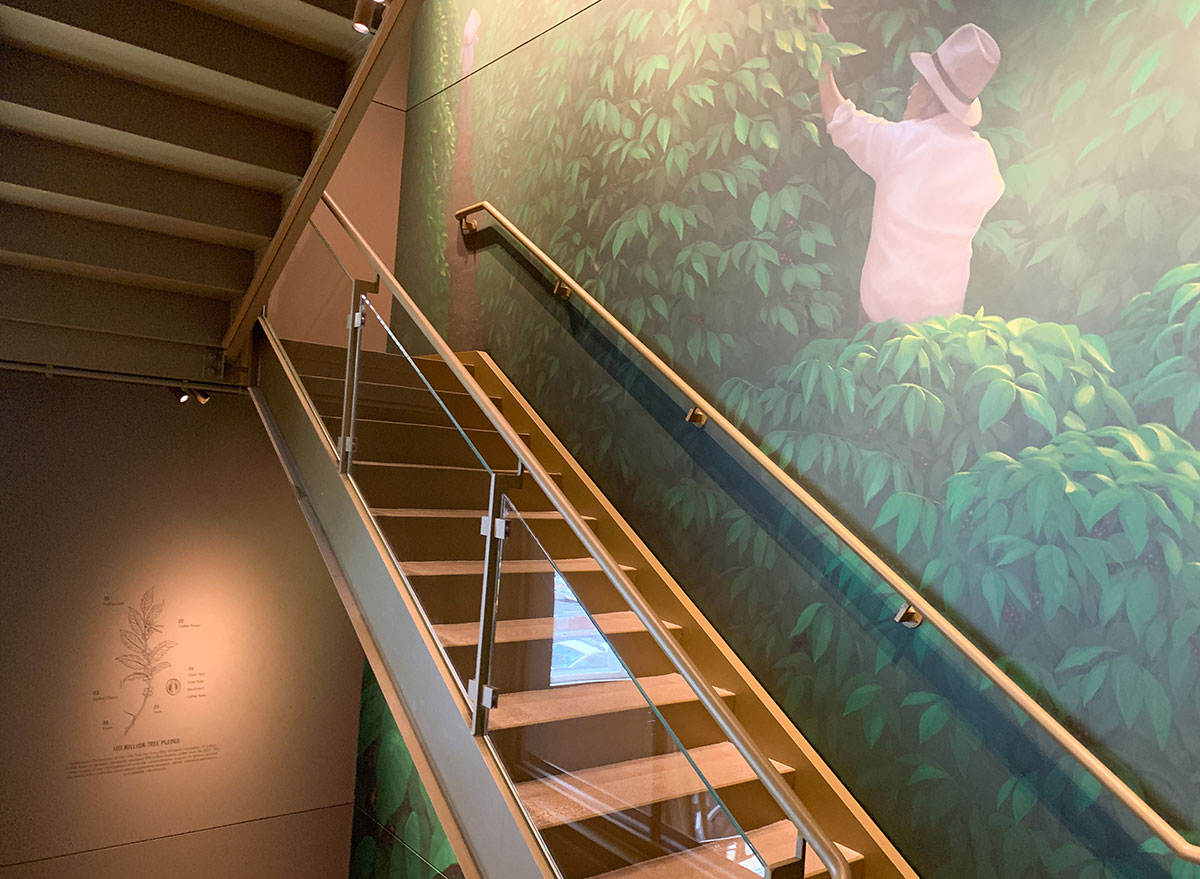 How is it different from other Starbucks?
"Starbucks" may be in the title, but it's nothing like your neighborhood 'bucks. No Peppermint Mochas or Pumpkin Spice Lattes here. The Chicago Starbucks Roastery has a menu of specialty drinks including brewed coffee, espresso drinks, and even cocktails. The brewed coffee is from the Starbucks Reserve line. The espresso drinks are limited, similar to what you would see at a small coffee shop. They have some normal drinks on the menu, like a Latte and a Cappuccino. But they also serve a Dark Chocolate Mocha and a Hazelnut Bianco Latte.
In terms of alcoholic beverages, they serve red, white, sparkling, and rosé by the glass and by the bottle. There are beer and cider options on the menu, as well as a few selective cocktails. They also serve a large variety of cocktails at the Arriviamo Cocktail Bar on the fourth floor, including barrel-aged coffee beverages and signature and classic cocktails. This cocktail bar is similar to the one found at the Starbucks Reserve in New York City.
Every worker has on some kind of trendy hat, instead of the traditional Starbucks ball cap or visor. This is to follow a health code in Chicago that says heads must be covered when working as a "food employee." Everyone's hats and outfits are different, each to fit their individual personalities. Wearing light canvas Reserve aprons instead of the classic green or black aprons, these Starbucks Roastery employees look more like the baristas at the local coffee shops sprinkled all around Chicago. For such a large corporation, and especially for being the largest Starbucks in the world, this flagship store surprisingly felt cozy and down-to-earth.
What's the food like?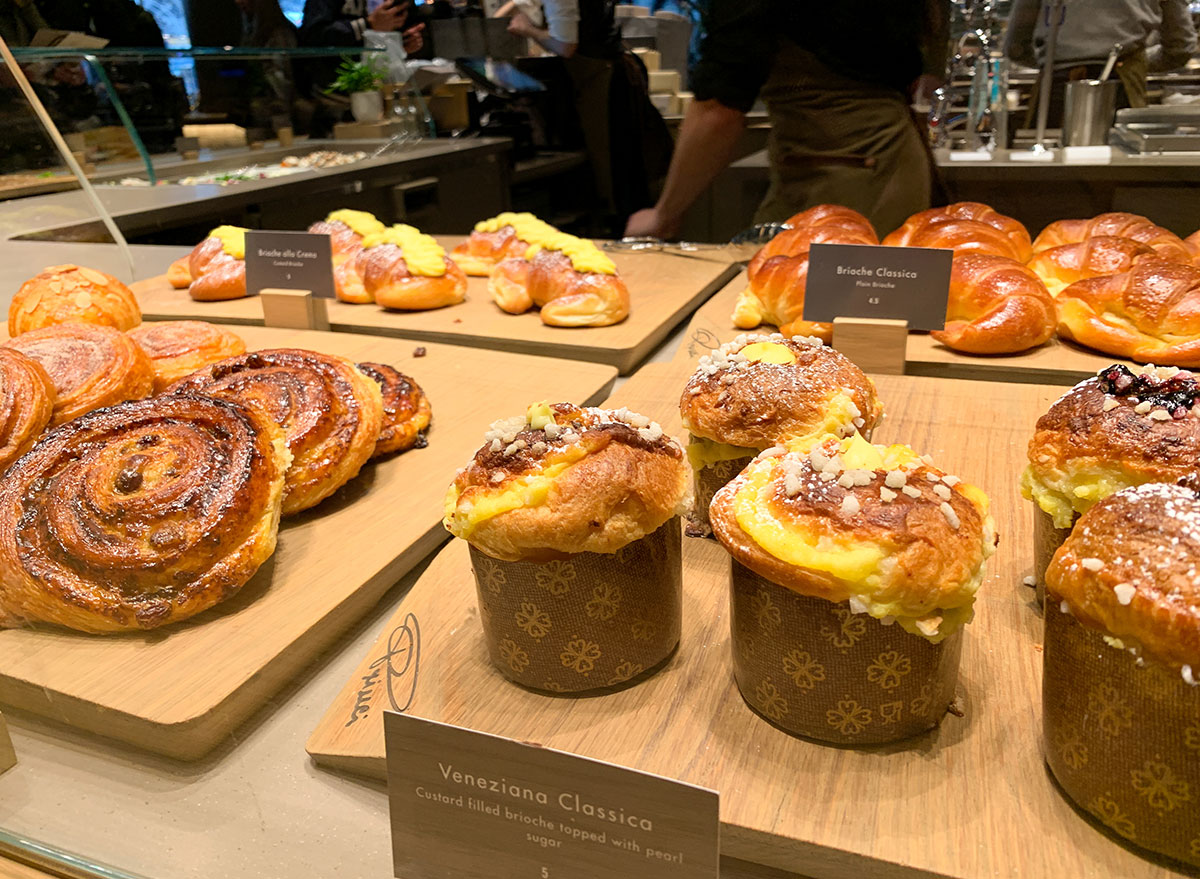 Just like an authentic Italian bakery or café, the food sits out on glass cases for customers to peruse. All of the food looks incredibly fresh and colorful, making it incredibly hard to decide what to even eat. While it took me a while to decide, I ended up tasting a Panino Caprese (buffalo mozzarella with tomatoes, arugula, on fresh-baked focaccia bread), Cornetto al Lampano (raspberry croissant), and a Brioche a la Crema, and then washed it all down with a Dark Chocolate Mocha.
I admit, I've always found the croissants at Starbucks to be decent—especially for a chain. But the croissants at the Chicago roasters turn it up a notch. They are buttery and pull-apart like a flaky croissant you would enjoy in Paris. With a dollop of raspberry and sprinkled powdered sugar, this pastry just melts in your mouth. It's the perfect pastry to go with your mocha.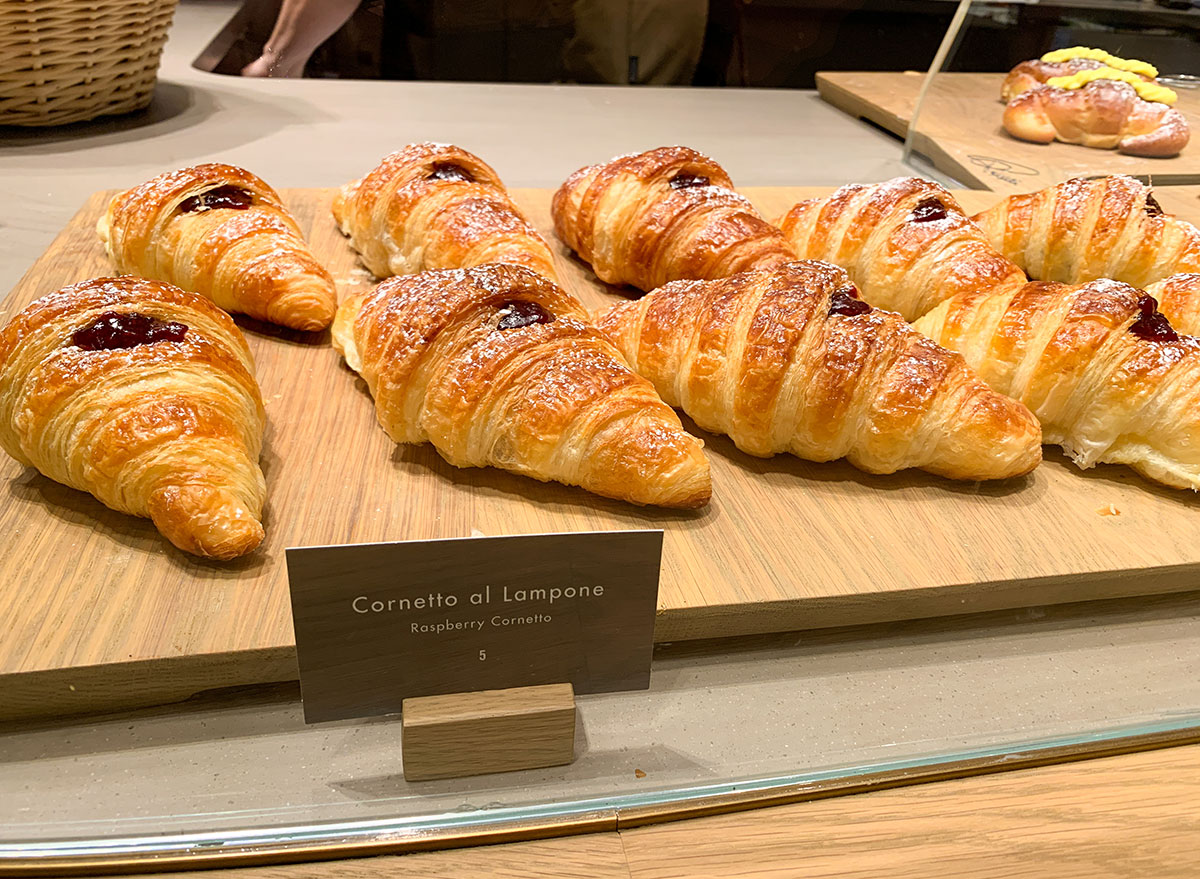 6254a4d1642c605c54bf1cab17d50f1e
But while the croissants are divine, and their Brioche a la Crema are a delicious (and apparently popular) treat, I would consider the main event to be the focaccia bread. The bread was crunchy and salty, yet still spongy like true focaccia should be. While I wanted to devour it, I decided to take my time enjoying my sandwich and coffee as I took in the scene—sitting at a table watching residents and visitors of Chicago get giddy over the food, the shops, and, most importantly, the coffee.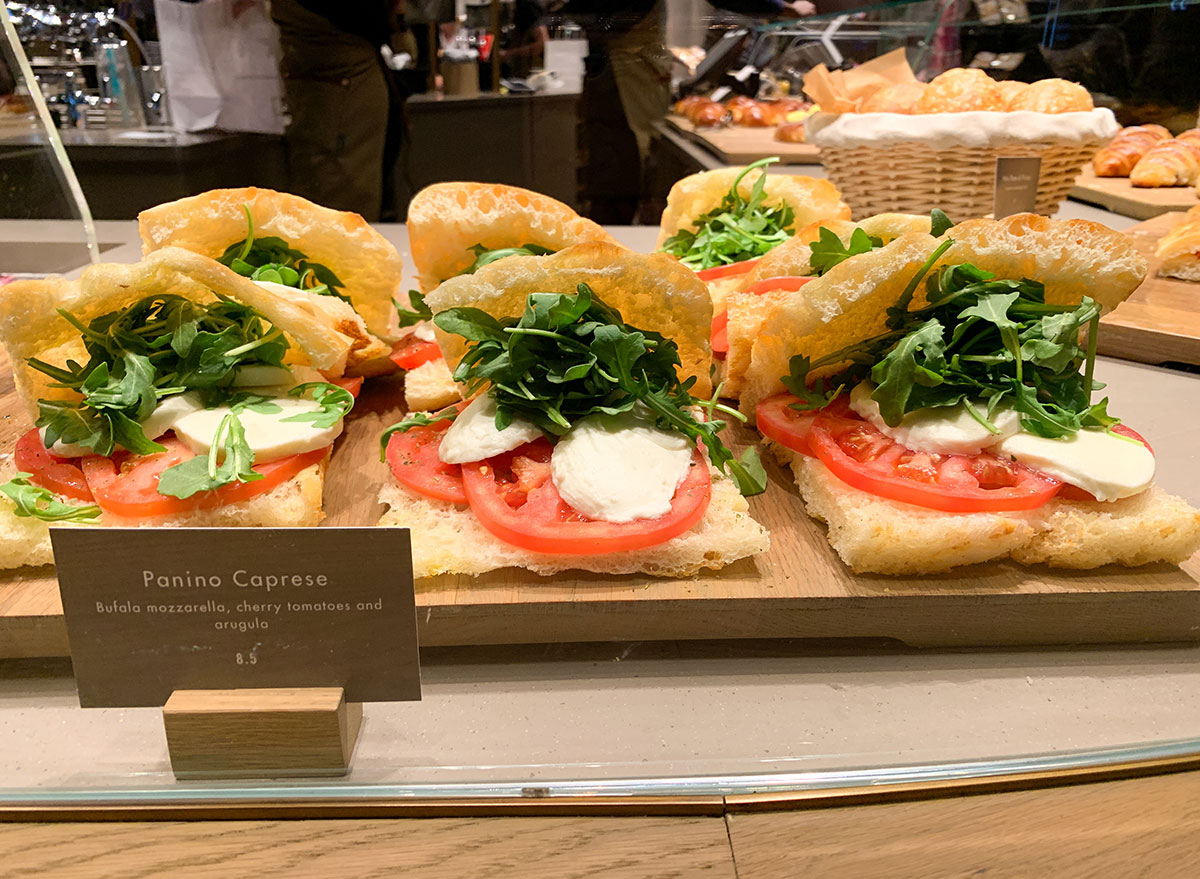 Is it worth a trip?
Besides the long lines and the initial buzz for the world's largest Starbucks opening, I'm excited for this trendy spot in Chicago. I worked on the Magnificent Mile in Chicago for almost 2 years, and I'm a little jealous that I won't have this Starbucks Reserve for a lunch spot, especially since I'll be missing those heavenly focaccia paninis.
So should you stop by? Absolutely. Add it to your Chicago bucket list, and make sure to order a Dark Chocolate Mocha in my honor.