8 Store-Bought Burgers That Use 100% Pure Beef
These pre-made burger patties will have you chowing down in a jiffy without getting your hands messy.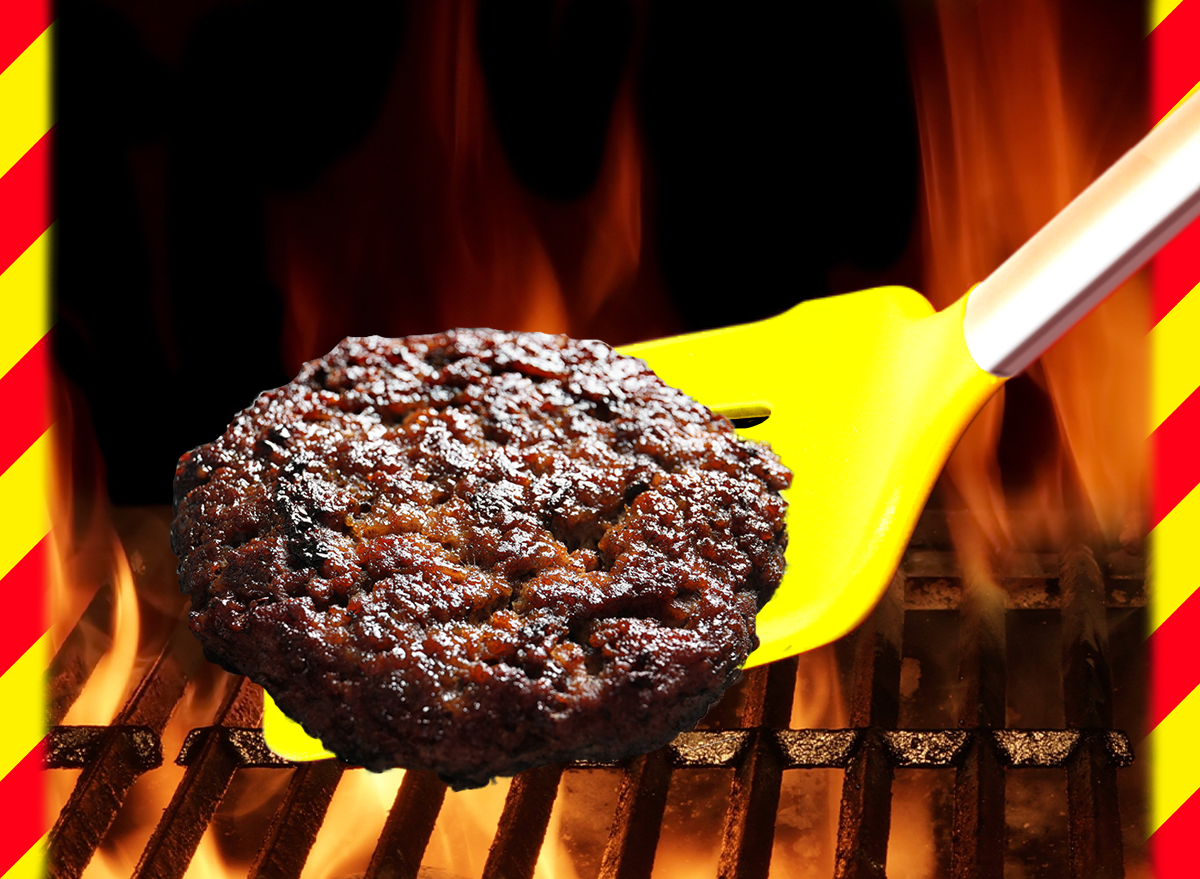 The product recommendations in this post are recommendations by the writer and/or expert(s) interviewed and do not contain affiliate links. Meaning: If you use these links to buy something, we will not earn a commission.
Burgers are better than hot dogs for one simple reason: math. Hot dogs usually come in packages of 10, yet the buns inexplicably arrive eight per bag!
With burgers, it's easier. Just buy your meat and make your own patties. Even easier and more convenient, though, are frozen burger patties that are available from your favorite local grocery. Grab the exact number you need from the package and cook them straight from frozen in a skillet, an air fryer, under the broiler, or on the grill. Simple and straightforward, right?
Another advantage is that producers have begun to focus on using 100% beef in their frozen patties. It says so right there on the list of ingredients: "ground beef." If you see anything else listed on the package, you might want to steer clear. Instead, thanks to these 100% "pure" frozen beef patties that are readily available from major grocery chains, you'll be enjoying a burger in a jiffy without getting your hands messy crafting the perfect meat puck.
"Many people forget that a proper beef serving is three to four ounces. And it is easy to overdo it when making your own patties," explains registered dietician and nutritionist Lauren Manaker, MS, RDN, LDN, of Nutrition Now Counseling. "Having a pre-portioned patty can not only make cooking burgers easier, but it can also help people stick to proper portion sizes."
Manaker recommends that shoppers spend more time reading the back of the package instead of being tempted by the (probably unrealistic) photograph on the front. She advises, "Frozen burgers should be relatively low in saturated fat and have limited added sodium. People should also decide what their priorities are when they are picking their burgers—it is easy to find burgers that are organic, made with prime meat, and more."
What specifically should consumers be looking for? "People can ensure that the burgers do not include fillers or artificial ingredients if this is a priority for them," Manaker says. "Calories, saturated fat, and sodium are three nutrients that are good to focus on."
With these suggestions in mind, here are some of the most popular frozen 100% beef burgers options on the market right now. Note that shoppers certainly might find these products in stores other than the chains listed.
Bubba Foods Angus Beef Burgers
⅓ lb. patty, 430 calories, 35 g fat (15 g saturated fat), 90 mg sodium
Not just 100% beef, but 100% USDA Angus Beef sets these burgers apart from many of their competitors. The fact that they are not pressed into perfect circles makes them appear more like a homemade burger, and their relatively high calorie, fat and sodium numbers are due, in part, to the fact that the ⅓ lb. burger is 33% larger than a quarter-pounder by weight. Find these at Target and other major retailers.
Nature's Rancher Angus Beef Burgers
¼ lb. patty, 290 calories, 23 g fat (9 g saturated fat), 75 mg sodium
The beef in these burgers comes from cattle sourced from Animal Welfare Certified ranches, specifically from vegetarian-fed cows which are raised naturally without antibiotics or added hormones. Find these burgers exclusively at Whole Foods.
Tribali Foods Mediterranean Style Beef Patties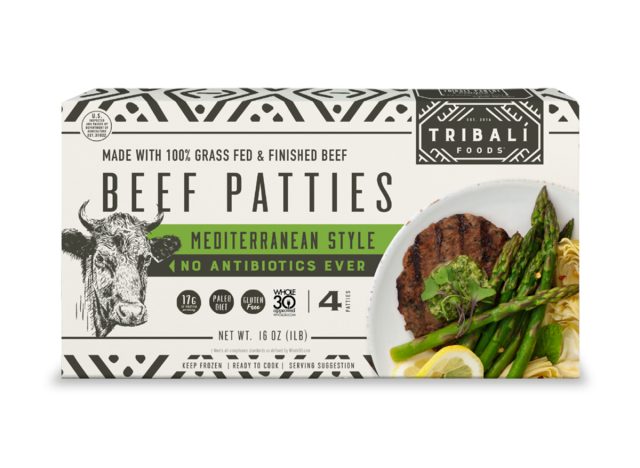 ¼ lb. patty, 220 calories, 15 g fat (6 g saturated fat), 470 mg sodium
A favorite among our taste testers, Tribali's high-sodium number reminds you that when television cooking competition judges admonish chef contestants to "season your food," they're talking about sodium chloride. Salt equals flavor. Pick these up at Natural Grocers.
Sam's Choice Angus Seasoned Beef Patties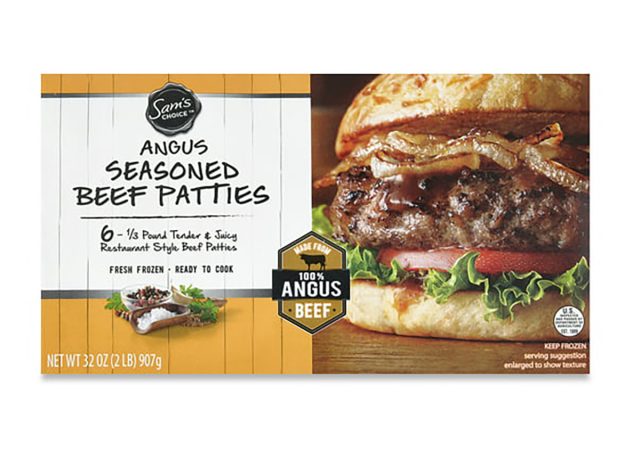 ⅓ lb. patty, 400 calories, 33 g fat (13 g saturated fat), 470 mg sodium
Walmart's private-label frozen beef patties are another Angus entry. The packaging describes them as "restaurant style," but if your favorite local burger joint is cooking from frozen, you could just as well do it yourself at home.
Cattlemen's Ranch Unseasoned Black Angus Patties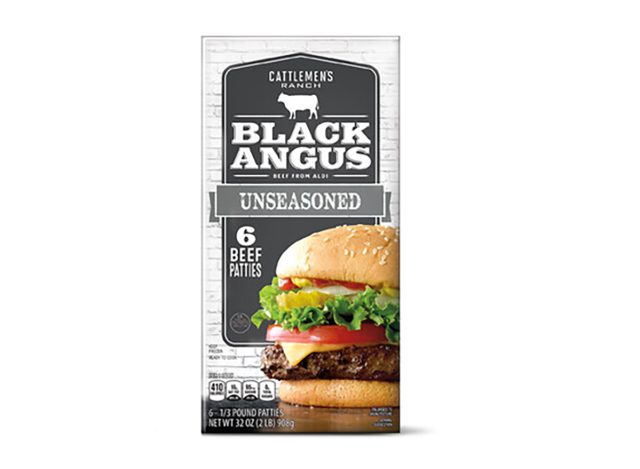 ⅓ lb. patty, 410 calories, 36 g fat (16 g saturated fat), 95 mg sodium
Available at Aldi, Cattlemen's Ranch also offers a bacon and cheddar version of this product, but it comes at the cost of extra calories and fat. We suggest you add those to the burger on your own.
Ball Park Flame-Grilled Patties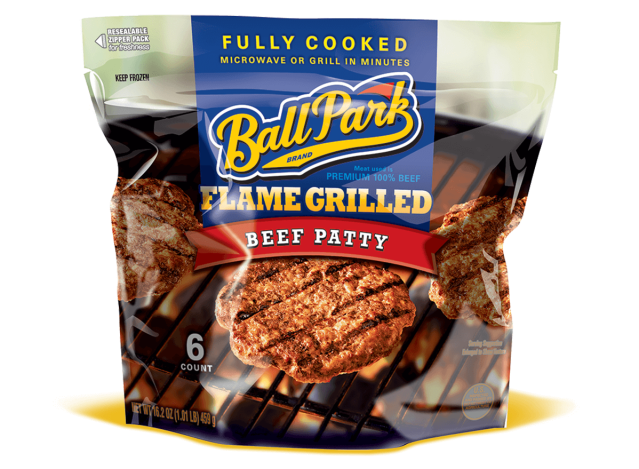 ⅙ lb. patty, 240 calories, 21 g fat (8 g saturated fat), 470 mg sodium
Ball Park's burgers differ from the rest of the entries in this list in two significant ways. First, they're pre-cooked before flash freezing, so all you really have to do is warm them up instead of trying to heat them above the safe temp of 160 degrees. Secondly, at ⅙ of a pound, they are considerably lighter than their competitors, yet they still manage to cram a lot of sodium into that small package. Caveat emptor. Find these at Dollar General, Shoprite, and other retailers.
Rastelli Antibiotic-Free ⅓ lb. Wagyu Beef Craft Burgers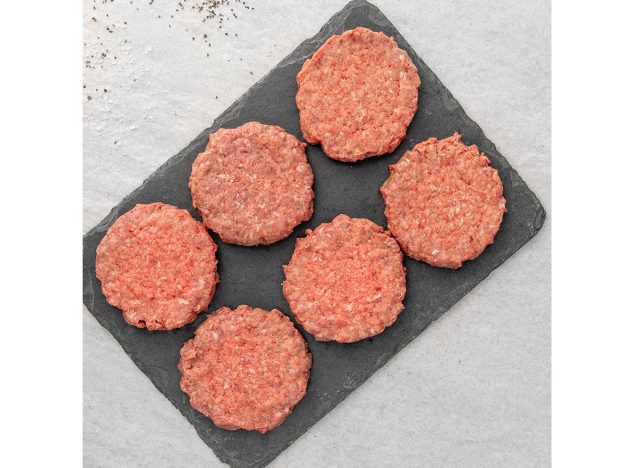 ⅓ lb. patty, 450 calories, 38 g fat (15 g saturated fat), 105 mg sodium
Save yourself a trip to the crowded warehouse and order these top-qualities patties from Costco online. "Rastelli's beef is known to be high-quality," says Manaker. "While the portion size of these burgers are on the larger side, the quality of the wagyu beef is top-notch."6254a4d1642c605c54bf1cab17d50f1e
Grass Run Farms 100% Grass Fed Natural Ground Beef Patties
⅓ lb. patty,380 calories, 30 g fat (11 g saturated fat), 100 mg sodium
"100% grass-fed burgers means that the cattle were fed grass throughout their life, which can result in a unique-tasting meat that is nutritious and delicious," says Manaker. "These burgers are made from grass-fed and grass-finished beef, and they are easy to prepare." Find these at Sprouts, H-E-B and other retailers.
Chris Chamberlain
Chris Chamberlain is a food, drink, wine, spirits, travel and personal interest writer based in Nashville, Tennessee.
Read more about Chris