We Tested 5 Frozen Burgers, and This is The Best!
Which package of patties should you keep in your freezer? We tried five different brands to find out.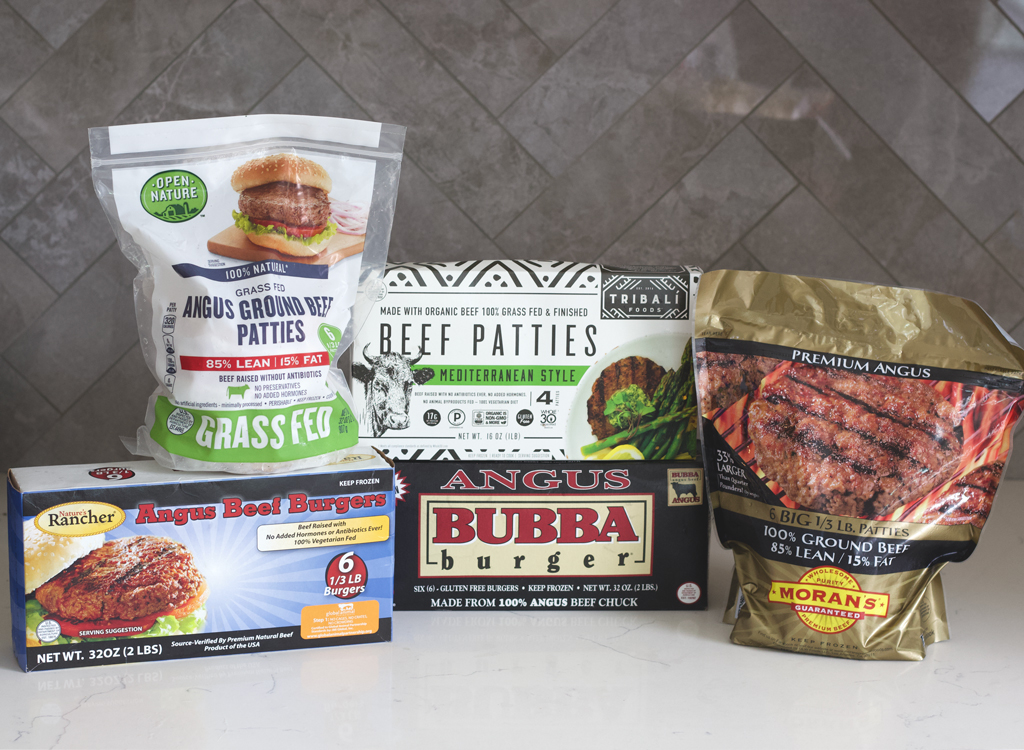 If you're in charge of feeding a hectic household, you're likely well aware of the importance frozen food plays in last-minute lunches and dinners. For example: Did your child spontaneously decide to invite a few friends over midday? No problem. You know that the best solution is to feed their rumbling tummies with that cost-effective pack of frozen burgers you keep in the freezer. And we all know there's no better crowd-pleaser than burgers.
With that being said, you'll probably want to fuel those kiddos (and yourself, of course—you deserve a burger, too!) with the best-tasting, best-for-you burger you can find in stores.
To keep you from wasting hard-earned money on buying a batch of sub-par patties, Eat This, Not That! has done the dirty work for you.
We bought, cooked, and taste-tested five frozen burger brands you can find at your local grocery store to find the best one. We detail the methodology behind our taste test below.
Tips for how to cook frozen burgers.
Before we see the winners and the losers, we wanted to share some tips on how to cook frozen burgers. After preparing five different brands of frozen hamburger patties, we have a few tips to share when it comes to cooking the best meat.
Cook from frozen. Keep that meat in the freezer! Do as most instructions advise, and cook the patties from frozen. When they have time to warm up, the outside of the patty thaws and gets mushy, and you won't get a good sear. Plus, the patty will cook unevenly since the middle of the burger is still frozen solid.
Preheat your (preferably cast-iron) pan. Turn your stove to medium, and get that pan at an even heat so that when you throw your frozen burger on there it sizzles.
Leave it be. As for how long to cook frozen hamburger patties, you're going to base the cooking time on sight rather than a specific time. (That being said, you're looking at around 10-12 minutes cook time per frozen patty.) Let the burger get a nice even sear on the first side—don't poke it, prod it, or press it. Once natural beef juices start to appear on the top of the patty, that's your sign to give it a flip.
Use a meat thermometer. You're cooking raw beef from frozen. Sometimes you're not going to get it right. To avoid a frozen hockey puck of a patty, use a meat thermometer to test the inside. It should register a minimum of 160 degrees Fahrenheit for medium doneness (and for food safety).
Use an air fryer. Yes, the air fryer really can do it all. Add your frozen hamburgers in a single layer to the air fryer basket. Then, all you have to do is cook on 375 degrees Fahrenheit for 20 minutes and flip halfway through cooking time.
Use the broiler. If you're wondering how to cook frozen burgers in the oven, the answer is all in the broiler. Preheat the broiler to high. Place your frozen patties on a tray about four inches from the heat source. Broil for five to six minutes per side, or 10-12 minutes total.
The grill method: Yes, burgers and grills go together like milk and cookies, but the same can't really be said for frozen burgers. The uneven heat of a charcoal grill can result in charred outsides and raw insides. Your best bet is a gas grill. Bring the grill up to a medium 325 degrees Fahrenheit. Cook the patties for six to seven minutes each side.
Note: We prepared our five patties using the pan method described above and they came out perfect!
How we rated the frozen burgers.
Here are the three metrics we used to determine each burger's ultimate ranking.
Nutrition & Size: The blend of beef determines whether a burger will be high in fat, saturated fat, and trans fat. Nutrition didn't play a huge factor in our burger taste test, but it did help to move the needle in favor of the more nutritious burger in the case of a tie.6254a4d1642c605c54bf1cab17d50f1e
Appearance & Consistency: What is the texture of the patty? Is the meat basically minced? Is the texture similar to that of a gently-shaped, fresh ground beef burger? Our preference went to patties with larger pieces of meat over those that tasted like they were made out of finely-ground beef. In terms of shape, it's all about preference here. The thinner patties are quicker to cook but easy to overcook. Thick patties have more leeway with cooking times but are more apt to remain frozen in the middle. It's more about preference here, so we'll discuss shape in the review, but it didn't play a major role in ranking.
Taste: Of course, perhaps the most important part of the ranking: how does the burger taste? Is it similar to cafeteria beef that's been sitting in a sheet pan for hours or does it taste like an actual burger? With that, let's dig in!
The best frozen burgers—ranked from best to worst.
TRIBALI Foods Organic, 100% Grass-Fed & Finished Mediterranean-Style Beef Patties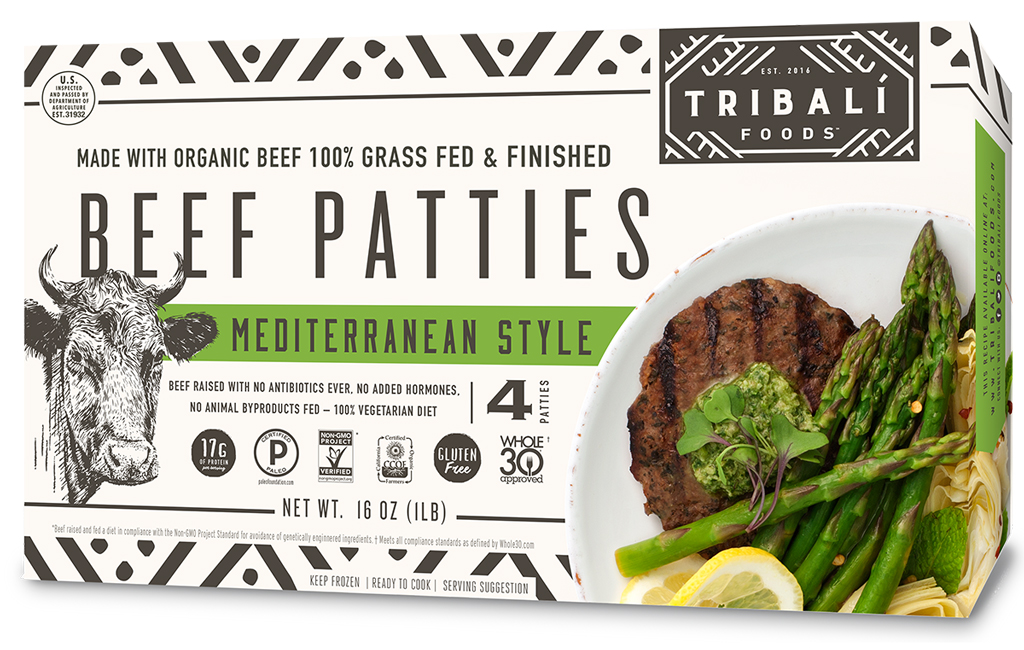 Nutrition (¼-pound patty): 220 calories, 15 g fat (6 g saturated fat, 0 g trans fat), 470 mg sodium, 5 g carbs (2 g fiber, 1 g sugar), 17 g protein
Appearance & Consistency: The patty comes individually-wrapped, which makes it really easy to pull only one out to sear. The patty is pretty thin and small (it's only a quarter of a pound) which means it's dwarfed by a regular-sized hamburger bun. Due to the blend of seasonings and ingredients, this is definitely more of a meatball patty than a burger.
Taste: Immediately you get this rich meaty taste that's lifted by acidic notes from the lemon peel and pairs nicely with the herbal notes of spearmint, parsley, and rosemary. It is certainly heavily seasoned and tastes a little on the salty side. I added some feta cheese to it and the combination was magical.
Eat This, Not That! Verdict: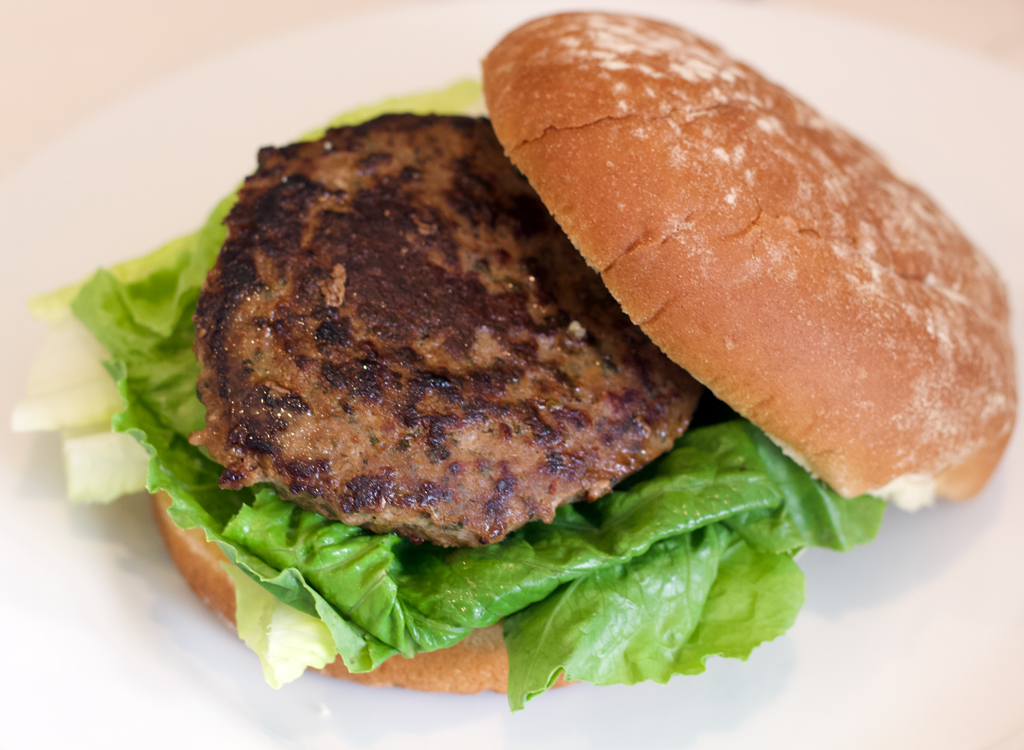 Tribali Foods makes a darn good patty, so much so that it tops our list of best frozen burgers. It ties with Nature's Rancher because they both taste equally good. While Tribali's burger is less versatile, it packs an amazing flavor punch that encourages you to leave the bun in the bag.
I recommend pairing it with a nice cucumber, onion, tomato salad with feta cheese. It's Whole30-approved, Paleo-friendly and perfect for those following a low-carb diet. Throw it in your freezer and add it to your weekly dinner rotation!
Nature's Rancher Angus Beef Burgers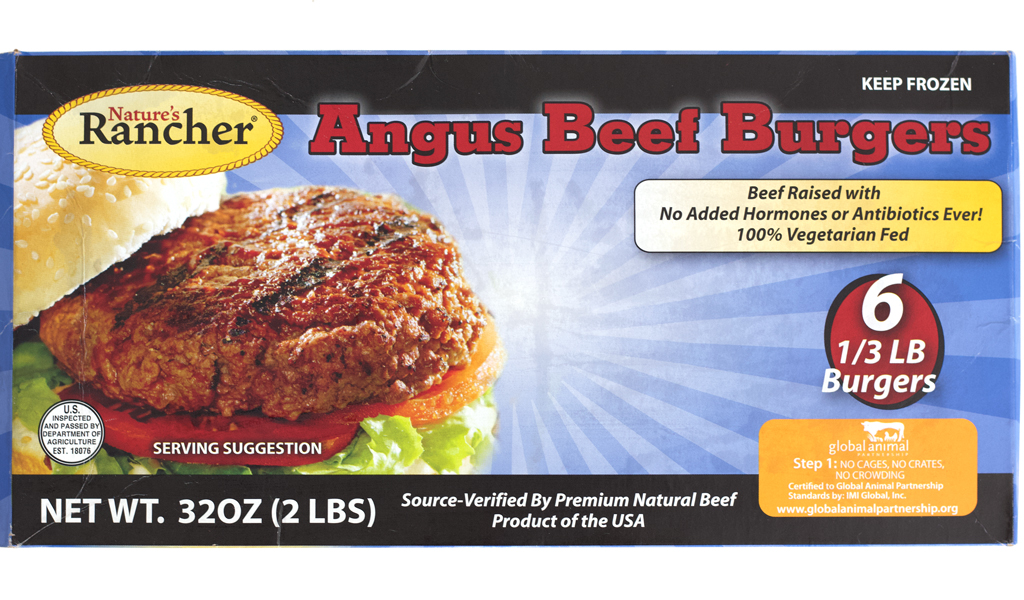 Nutrition (⅓-pound patty): 380 calories, 30 g fat (12 g saturated fat, 2 g trans fat), 100 mg sodium, 0 g carbs, 26 g protein
Appearance & Consistency: We liked the perfect disk-like shape of this patty. The beef has been processed a fair amount, so the meat is pretty small and tiny when you take a bite—which is certainly different than if you hand-rolled patties from fresh ground beef at home.
Taste: Let me just say: "wow." The testers were almost taken aback by how delicious this patty was. "It's unusual to take a bite of a burger and really taste the meat," said one burger-lover. This would certainly be the perfect patty for any toppings.
Eat This, Not That! Verdict: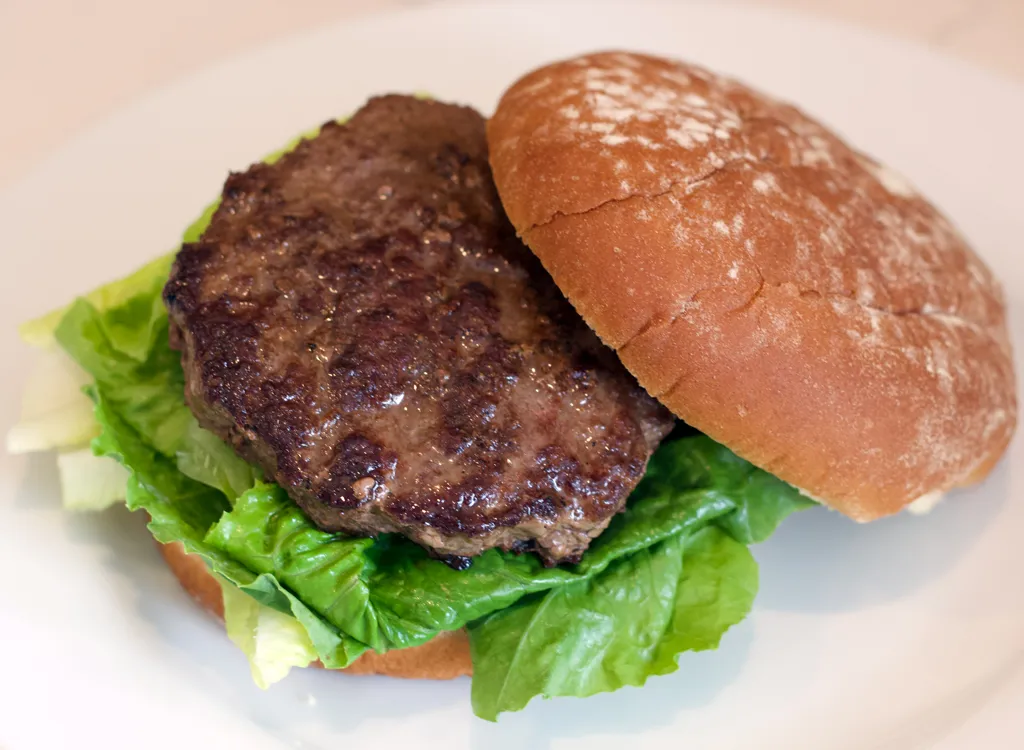 You'll have to head to Whole Foods to pick up our favorite all-beef frozen burger from Nature's Rancher. If you're looking for the best plain, versatile patty that you can dress up on your own, this brand's frozen burgers take the cake.
BUBBA Burger USDA Angus Beef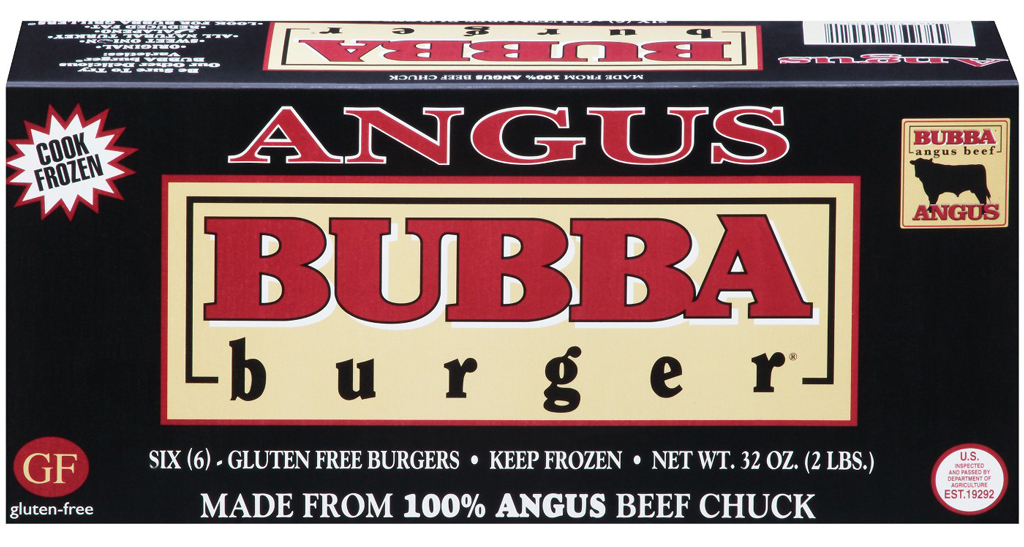 Nutrition (⅓-pound patty): 430 calories, 35 g fat (15 g saturated fat, n/a g trans fat), 90 mg sodium, 0 g carbs (0 g fiber, 0 g sugar), 26 g protein
Appearance & Consistency: The patties look to be intentionally shaped so that they aren't round, but that doesn't really affect the flavor. The texture of the meat pieces in the patty are the biggest and the closest to what you'd be cooking if you formed this burger from scratch. Due to the thickness of the BUBBA burger, this was the easiest to cook to a medium.
Taste: It tastes like a regular beef patty, which is pretty stellar considering it was frozen. The flavors aren't amazing, but definitely a reliable option.
Eat This, Not That! Verdict: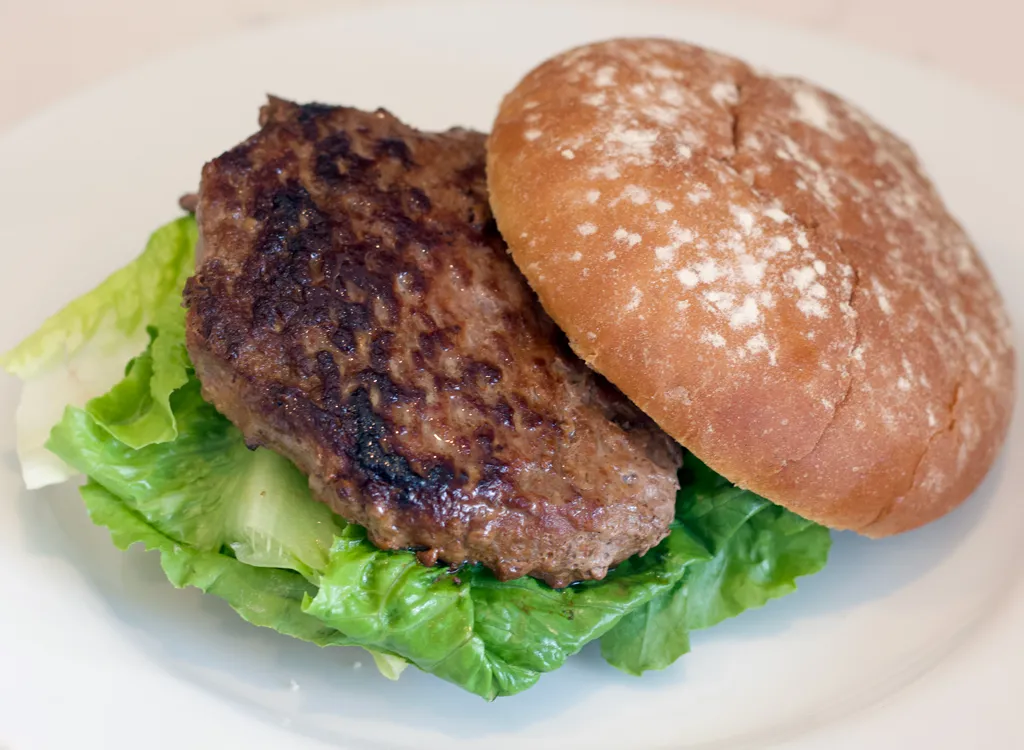 The BUBBA Burger is a solid choice for those of you who tend to overcook your burgers but prefer a medium-rare or medium patty. If you have trouble with cooking burgers, you might want to read up on these common mistakes when making burgers. While this pick didn't top our list of best frozen burgers, it's definitely worth the purchase if our #1 choice isn't in stock.
Moran's 85/15 Premium Angus Beef Patties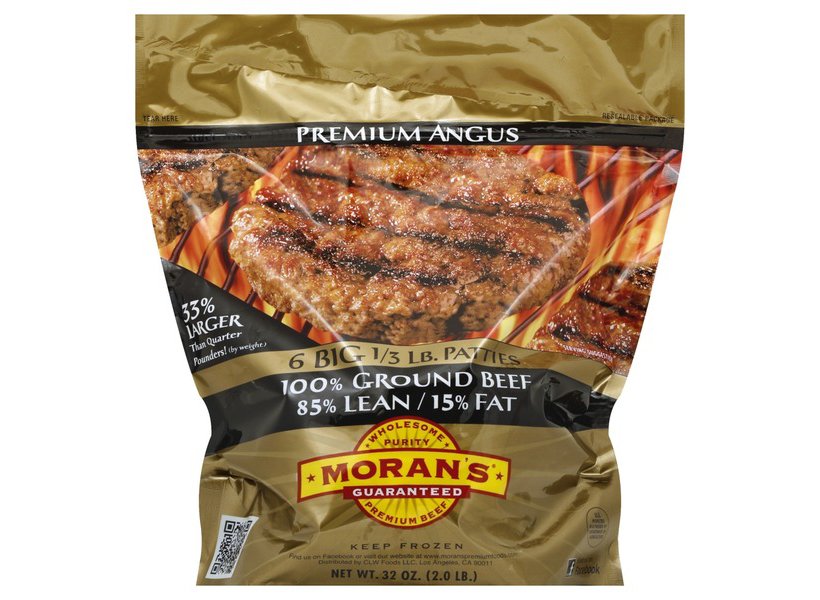 Nutrition (⅓-pound patty): 320 calories, 23 g fat (9 g saturated fat, 1.5 g trans fat), 100 mg sodium, 0 g carbs, 28 g protein
Appearance & Consistency: NOTE: Although the packaging proudly touts this patty is "33% larger," if you read the fine print, they're merely touting that, by weight, a third of a pound burger is actually 33 percent larger than a quarter-pound burger. Thanks, Moran's. That being said, this patty actually is much larger in diameter than any other patty despite being the same weight. This also means it was thinner than the other offerings for being the same weight and was very easy to overcook. It was made from finely-ground beef, and it leaked the most juices of the bunch when cooked.
Taste: Upon the first bite, my thoughts were "now this is a hamburger." So, in terms of flavor, Moran's definitely nailed it. And if we added some seasoning (we didn't for the taste test to level the playing field), this would be a decent burger.
Eat This, Not That! Verdict: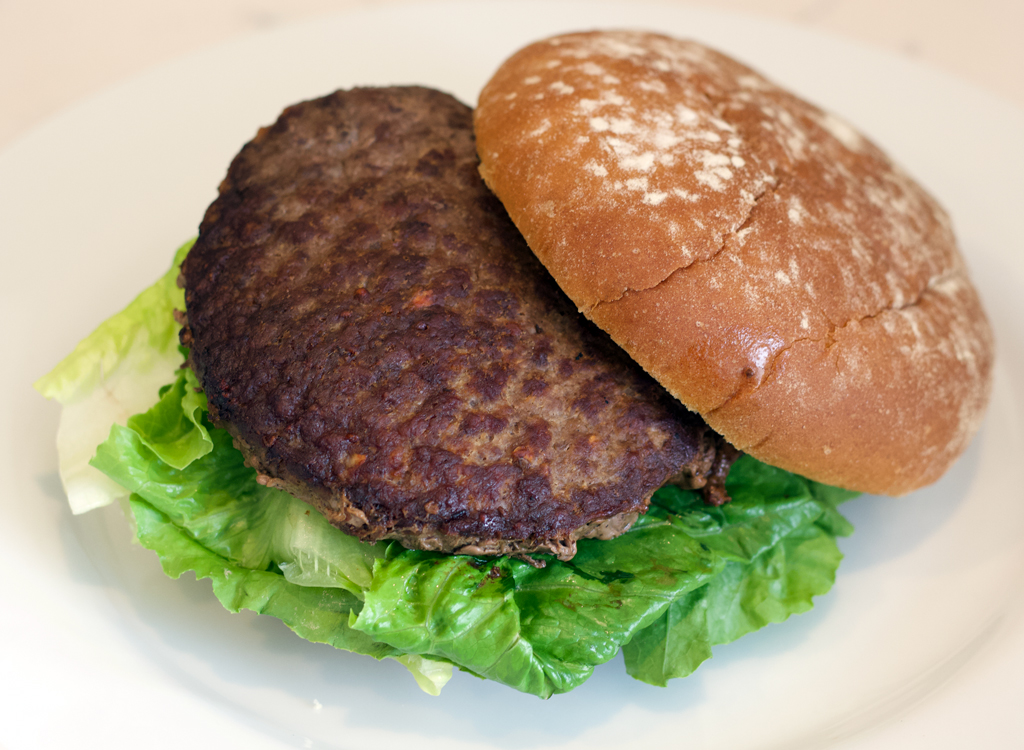 If you see Moran's at your local store, we'd definitely recommend it. The taste was on-point and the large patty was the perfect size for a bun. Our one issue was that the large, thin patty was very easy to overcook, which left us with dry meat when cooking for the same time as the other patties.
Open Nature Grass Fed 85/15 Angus Beef
Nutrition (⅓-pound patty): 320 calories, 23 g fat (9 g saturated fat, 1.5 g trans fat), 100 mg sodium, 0 g carbs, 28 g protein
Appearance & Consistency: Uncooked, this patty was the lightest-colored of the bunch, which struck us as odd. So light, in fact, that when we picked up the package at the grocery store, we thought we might have accidentally grabbed a turkey or chicken patty by mistake. As for the consistency? The meat pieces are very tiny—similar to what you'd find in a Slim Jim that's made from mechanically-separated meat. That odd texture wasn't pleasant to eat. Plus, it didn't give this patty the same mouthfeel as what you've come to expect with a burger.
Taste: Very gross. One person spat it out. Despite only being made from "Grass Fed Angus Beef," there's some odd taste in there that makes it taste very processed. It's off-putting and by far the worst-tasting of the burgers we tried.
Eat This, Not That! Verdict: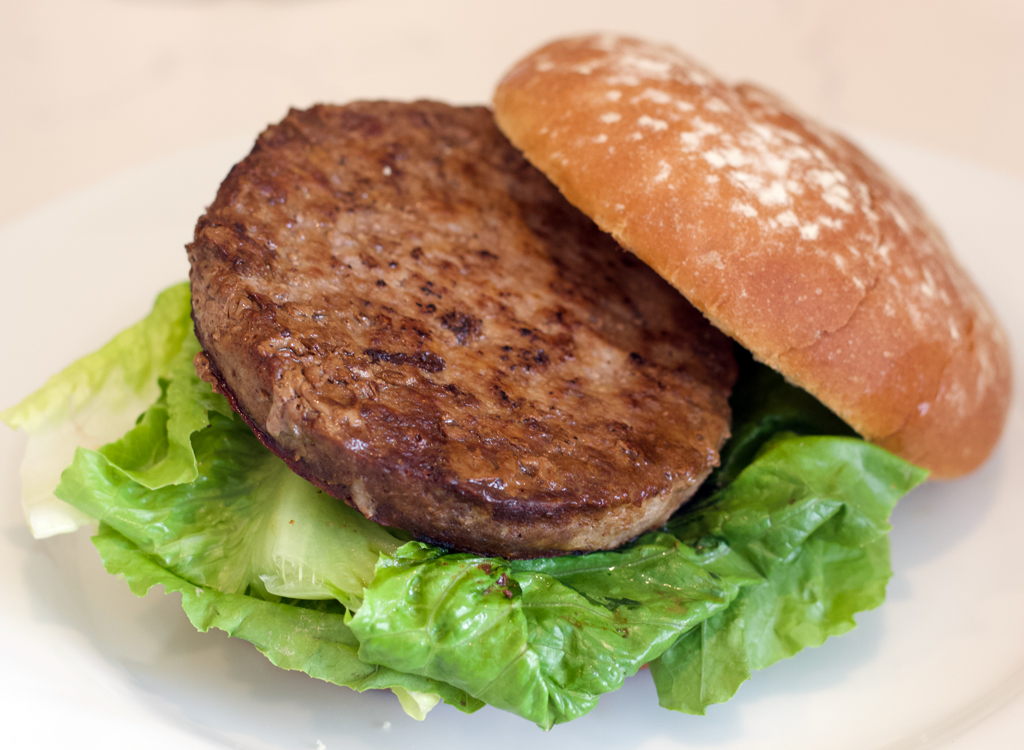 Safeway's Open Nature brand is their all-natural offering. The "Grass-Fed" (raised in Australia) label should not sway you to believe this beef is organic or of superior quality. The FDA does not regulate the term "Grass-Fed." Plus, Open Nature does not provide any information about how much grass the cattle are fed. Regardless of the semantics of the packaging, the point here is that the burger just doesn't taste good. And that's all you need to know.
What to make with frozen hamburger patties.
There are so many recipe ideas to try than a boring burger! Frozen beef patties are so convenient that you shouldn't limit their fate to be stuffed between a bun.
Try your hand with any of these fun, no-bun frozen burger recipe ideas:
Greek salad with Mediterranean meat: Eat Tribali's Mediterranean burger alongside a greek salad with cucumber, tomato, red onion, and feta cheese
Pizza burger: Use your frozen patty as the base for high-protein pizza! Top with marinara sauce and mozzarella right after you flip the patty. Put a little water in the pan and top with a lid to help melt the cheese.
Salisbury steak: Pair your frozen patty with some gravy, sauteed mushrooms and egg noodles.
Olivia Tarantino
Olivia Tarantino is the Managing Editor of Eat This, Not That!, specializing in nutrition, health, and food product coverage.
Read more about Olivia