We Tried Taco Bell's New Buffalo Chicken Nacho Fries—Here's Our Honest Review
Everyone say (buffalo) cheese!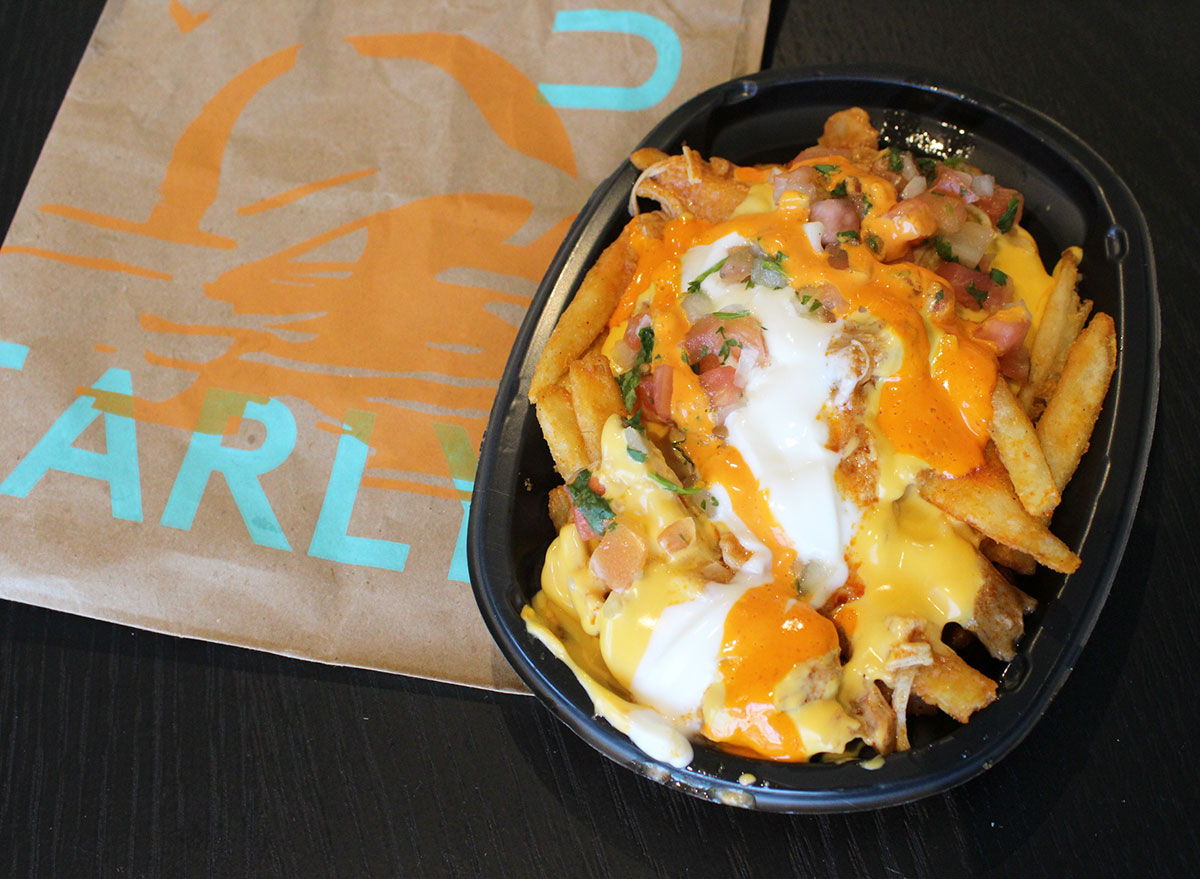 Taco Bell's Buffalo Chicken Nacho Fries hit menus nationwide today and we couldn't wait to dip our fingers into the latest saucy (and also slightly spicy) dish. To be clear, we didn't go into this taste test thinking the fries would upstage our own favorite buffalo chicken dip recipes, but we still wanted to sample them for ourselves.
Taco Bell's Nacho Fries debuted in January of 2018 and have been on and off the menu a total of five times. And each time this option reappears on the menu screens of Taco Bells everywhere, the flavors seem to have progressively become hotter in temperature. Anyone remember the spicy steak rattlesnake fries from last year that were coated in a combination of nacho cheese and creamy jalapeño sauces? How about the steak Reaper ranch fries, which allowed customers to get a taste of the infamous heat that the California Reaper pepper mercilessly packs?
For the latest edition of the nacho fries though, Taco Bell really dialed back on the heat. But before we disclose our review, here's a rundown of everything you can expect from the new menu item.
So, what exactly is on the new nacho fries?
When you order a regular Buffalo Chicken Nacho Fries Box from Taco Bell, you get the company's signature seasoned French fries as the base, topped with all the traditional TB nacho toppings. These toppings include pico de gallo, reduced-fat sour cream, and hot melted nacho cheese sauce. But it doesn't end there. The fries are then sprinkled with shredded cheddar cheese and bits of chicken. Finally, the whole thing is drenched in a tangy buffalo sauce. Sounds too good to be true, right? Well, you'll see.6254a4d1642c605c54bf1cab17d50f1e
How about the taste? Were the Buffalo Chicken Nacho Fries actually good?
Honestly, we were a bit underwhelmed. For starters, the chicken seemed to be absent. It's possible we received a very small portion from the restaurant we went to, but it's also worth noting that when we did stumble upon a piece here and there, it was always a too-large chunk that we had to manually shred with a fork.
Don't get us wrong, though—there was an initial wow factor kind of response from the peanut gallery after the first bite. We all agreed that the flavor was spot on, it's just the chicken part that was subpar. This is definitely an indulgent dish, so we're glad that we shared it among a few people because we would have probably gotten stomach aches had we each ordered our own. It's definitely a menu item that's meant for two, at least.
The buffalo sauce mixed with the sour cream without a doubt elevates the overall flavor, however, we found that the kick from the buffalo was missing. We also thought this menu item felt as heavy as eating a few loaded potato skins rather than a basket of lighter, cheesy fries. As for the texture, several of us thought the fries were a bit too soggy and almost damp rather than crispy.
Overall, we won't be ordering this limited-edition menu item again. While we enjoyed the flavor, the lack of chicken coupled with the soggy texture of the fries was a big let down for us.
How much do the Buffalo Chicken Nacho Fries cost?
If you still want to try them for yourself, you can order the newest nacho fries a la carte for $2.99, or as a part of a box meal—alongside a five-layer beef burrito, a crunchy taco, and a medium soft drink—for $5.49.
Ann Marie Langrehr
Ann Marie is the Social Media Editor for Eat This, Not That! running the brand's social media accounts.
Read more about Ann Marie