What It's Really Like to Eat and Drink at a Taco Bell Cantina—Photos
We went to see what makes these next-level restaurants so special—and if they live up to the hype.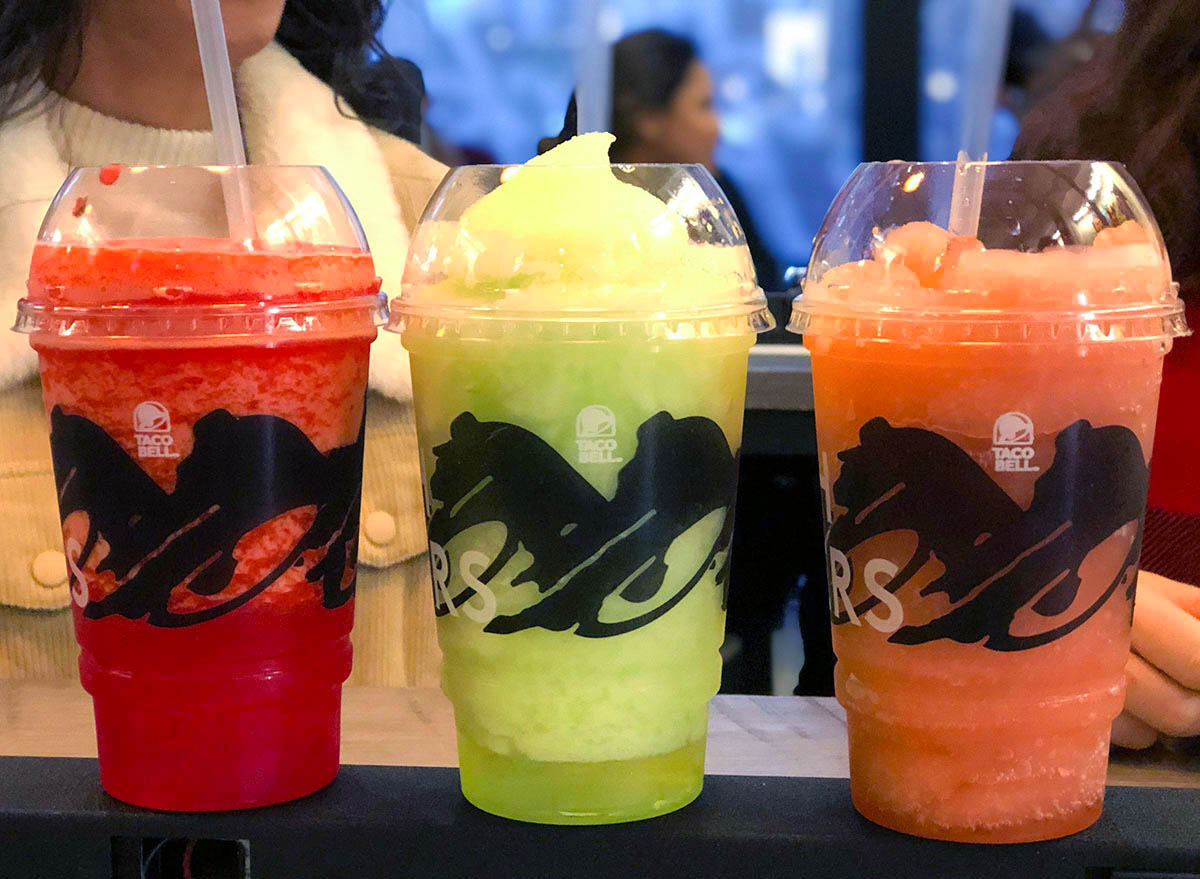 Around the country, Taco Bell has expanded to building Cantinas, which include all your favorite Taco Bell items, plus alcohol and tapas-style menu items. We decided to see what all the hype was about and if the addition of alcoholic beverages and new menu items was worth the trip to a Taco Bell Cantina.
The overall vibe at Taco Bell Cantina paired with its trendy decor, beer taps, touchscreen ordering stations, and open kitchen concept makes this a dining experience, unlike any other fast food restaurant you will find today.
What was surprising was that the open kitchen concept makes you feel more of a restaurant setting and less fast-food-feel. If you've ever wondered what goes into your Crunchwrap Supreme® in the back of your usual Taco Bell, you can go watch it be made after placing your order.
Where are the Taco Bell Cantina locations?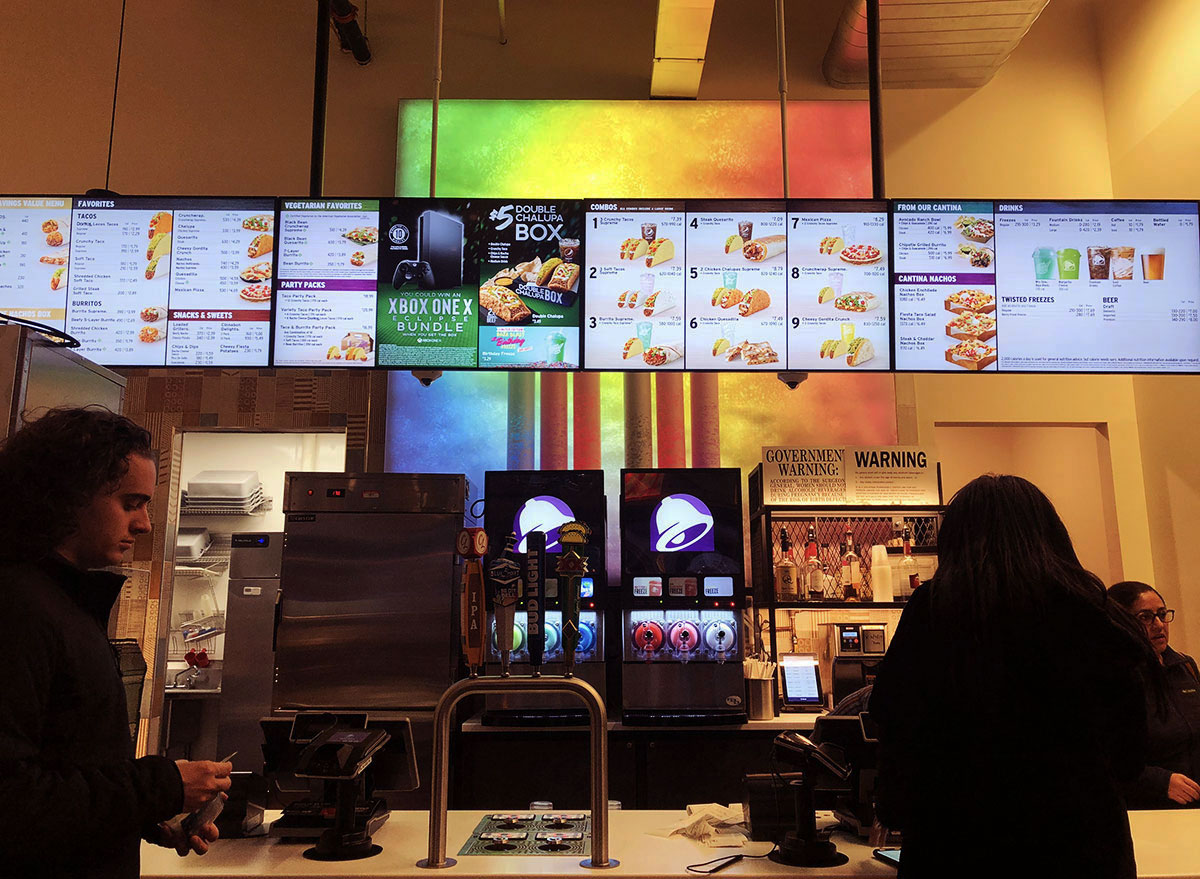 6254a4d1642c605c54bf1cab17d50f1e
There are three types of Taco Bell restaurants:
Taco Bell: Has a normal menu, drive-thru, and classic decor. This is the one you've seen most often
Urban Inline Taco Bell: Exists in a city and has a more modern restaurant design, an open kitchen, a custom menu, and shareable appetizers, but no drive-thru and they do not serve alcohol.
Taco Bell Cantina: Has all of the same qualities as Urban Inlines, but they serve alcohol.
On Aug. 2, the franchise announced plans to open 300 more Urban In-Line and Cantina concept restaurants and they plan to operate 1,000 international Taco Bells by 2022. By the end of this year, there will be around 500 internationally.
While Taco Bell doesn't specify where Cantina locations are specifically, the following locations were pulled from a site built by avid Taco Bell consumers. Between the Urban Inline and Cantina locations, there are currently 48 locations—and growing. Currently, there are 4 in Florida, 2 in Texas, 16 in New York, 1 in Connecticut, 1 in Virginia, 3 in Ohio, 1 in North Carolina, 1 in Colorado, 2 in Arizona, 2 in Nevada, 7 in California, 1 in Wisconsin, and 7 in Illinois.
Here are the food and drinks we tried
Along with the normal Taco Bell menu, you'll find a Taco Bell Cantina specific menu including new food items, meals to share, alcoholic freezes, and even beer. We tried three of the Taco Bell Cantina-specific foods, as well as three boozy drinks:
Chicken Enchilada Nachos Box: $6.79
Avocado Ranch Bowl (with chips and guacamole): $5.99
Chipotle Grilled Burrito (with chips and guacamole): $6.99
Party Punch (with rum): $7.69
Cantina Margarita (with agave wine): $7.69
Berry Frozen Rosé: $7.69
The drink prices will vary by type of added alcohol, and how many shots are added. The price given is the baseline price for the drink. Prices may vary based on location.
Here's what we thought item-by-item.
Chipotle Grilled Burrito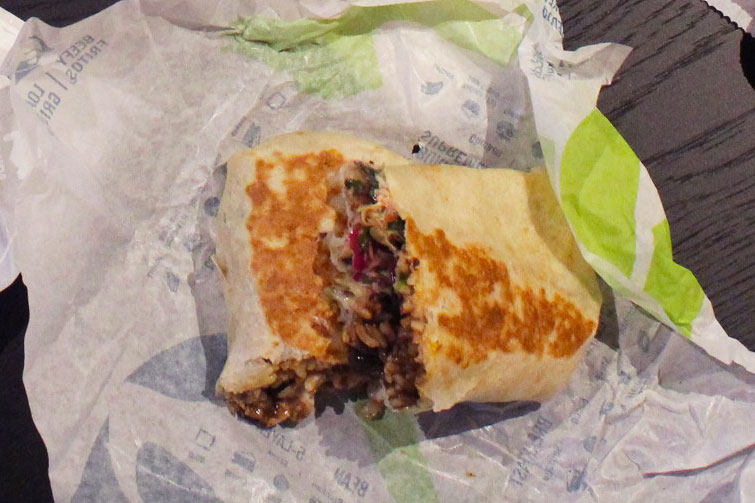 Cantina's Chipotle Grilled Burrito is filled with grilled steak, seasoned rice, black beans, creamy Chipotle sauce, purple cabbage, iceberg lettuce, and pico de gallo. Out of all the burritos we've tried from Taco Bell, this one definitely ranks high. The chipotle sauce paired nicely with the rice, giving it a creamy texture without overwhelming you with sauce. It also had a lot more fresh veggies than your typical Taco Bell item and felt more on par with Chipotle's burritos. We liked the crunch of the cabbage and that ultimately made it feel fresher than a regular fast-food burrito.
Chicken Enchilada Nachos Box
The Chicken Enchilada Nachos Box came with hefty amounts of cheese, the perfect dollop of sour cream, and a delectable red taco sauce on top, which all tasted incredible put together. We also had a perfect amount of shredded chicken on top of our mountain of chips.
Avocado Ranch Bowl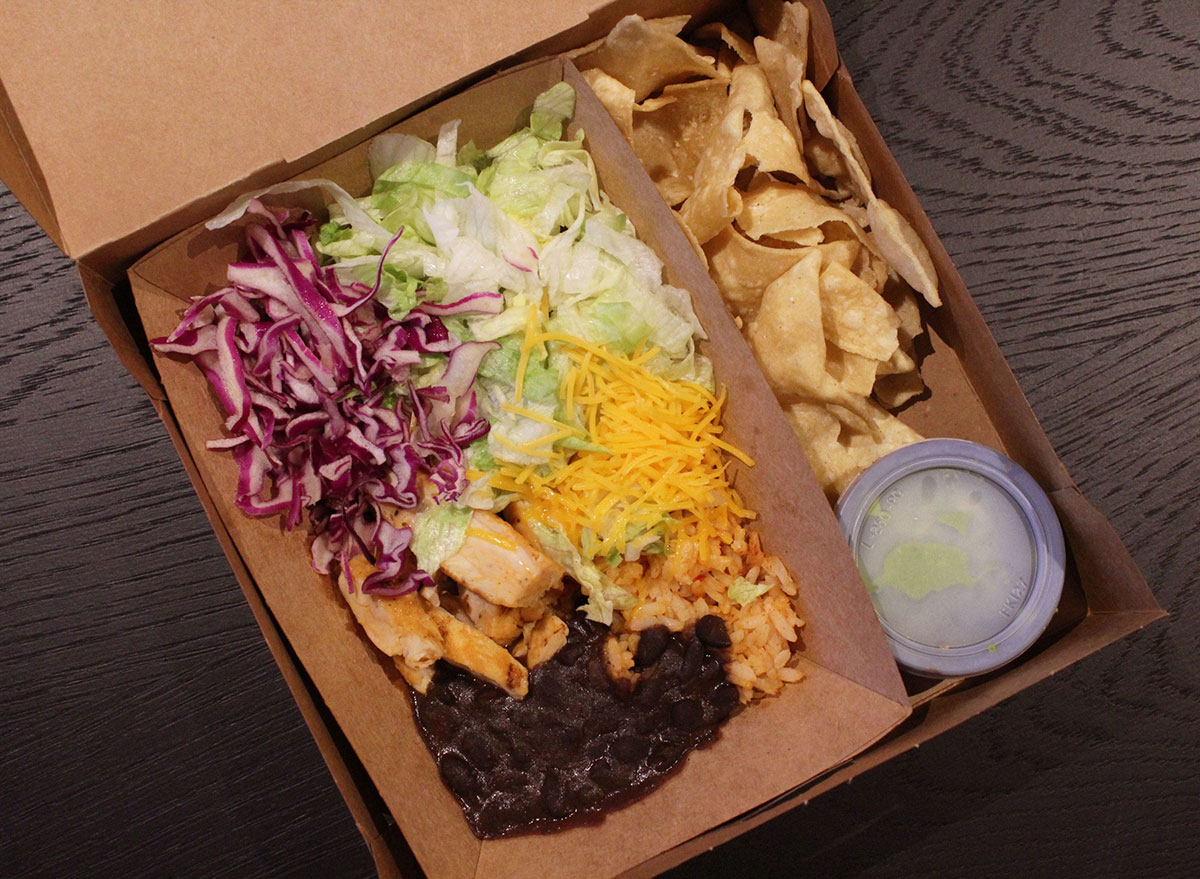 This stadium-style tray with a side of chips and guac was a huge downer. The "bowl" itself consists of homestyle-seasoned grilled chicken (onion, garlic, pepper, and a hint of chili pepper), black beans, purple cabbage, iceberg lettuce, and pico de gallo all served over seasoned rice and topped with an avocado ranch sauce. The bowl itself costs $5.49; for an extra buck you can swap in grilled steak, and for another dollar, you can add on a large drink.
Even though the bowl had fresh ingredients, they were soggy and limp compared to the freshness we experienced from the Chipotle Grilled Burrito. The bowl also came with chips and guacamole, which also didn't impress. The guac was way too bland and watery, and we preferred to eat the chips alone.
The cocktails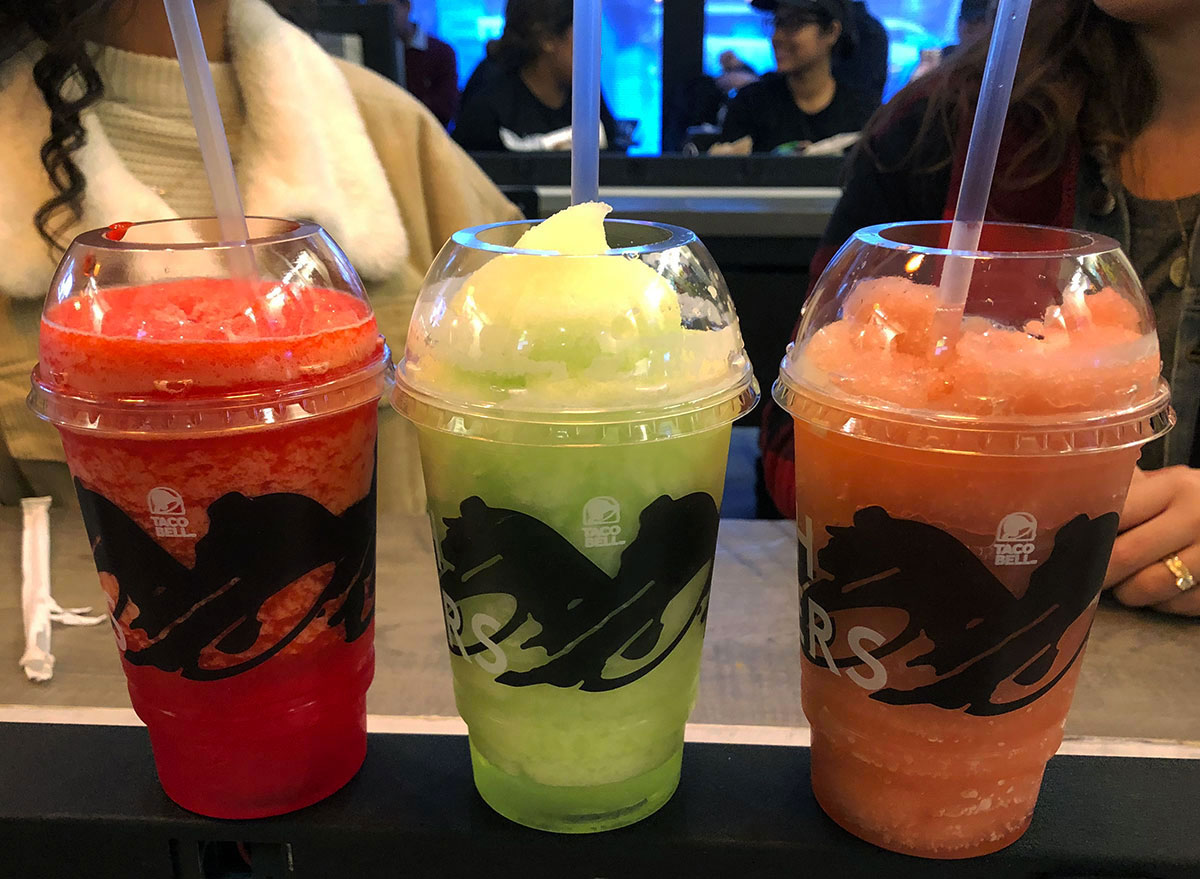 These twisted frozen treats were delicious. The Party Punch was a bit too sweet; we found it hard to finish the whole thing. The sweetness dangerously covered up the two shots of rum we ordered so all we could taste was the artificial cherry flavor.
The Cantina Margarita had agave wine added to it, but it tasted very strong and had tequila undertones. A classic taste, and one we would happily order again.
However, our favorite was the Berry Frozen Rosé. The texture was fizzy like soda and had a perfect balance of sweet and bitter rosé tones. Each Frozen twist was perfectly blended, but if you let it sit too long, the frozen ice and alcohol start to separate.
The drinks cost $7.69 each, and these were hefty portions, so we were satisfied with the purchase.
Bottom line: Would we visit Taco Bell Cantina again?
If you want a more pleasant, clean, and upscale-feeling fast-food experience, a Taco Bell Cantina is definitely something you should try at least once. We loved our experience, and we will definitely be back for our favorites: Cantina Nachos and a Chipotle Grilled Burrito, paired with a Berry Frozen Rosé. Taco Bell Cantinas have set the bar very high for other fast-food restaurants wanting to modernize and offer more upscale offerings.
Ann Marie Langrehr
Ann Marie is the Social Media Editor for Eat This, Not That! running the brand's social media accounts.
Read more about Ann Marie