Best & Worst Menu Items at Taco John's
If you're not sure whether to go with the Combo #4 or the Combo #8, we've got your answer.
If you are craving some quick Tex-Mex, Taco John's can hit the spot like few other chain restaurants. Since its founding in 1969, this incredibly convenient option serves up a plethora of tacos and burritos custom-tailored to the American palate. While the restaurant features some delectable items, many options from the Taco John's menu pack in enough fat and salt to throw off your eating regimen for the day.
With a menu that is packed full of red meat and fried offerings, navigating the Taco John's menu in search of healthy choices seems like a traversing a nutritional minefield. Have no fear, as we have circumnavigated the Taco John's menu with the help of Lindsey Pine, MS, RDN, CSSN, CLT, and discovered which options will bolster or bust your diet.
Tacos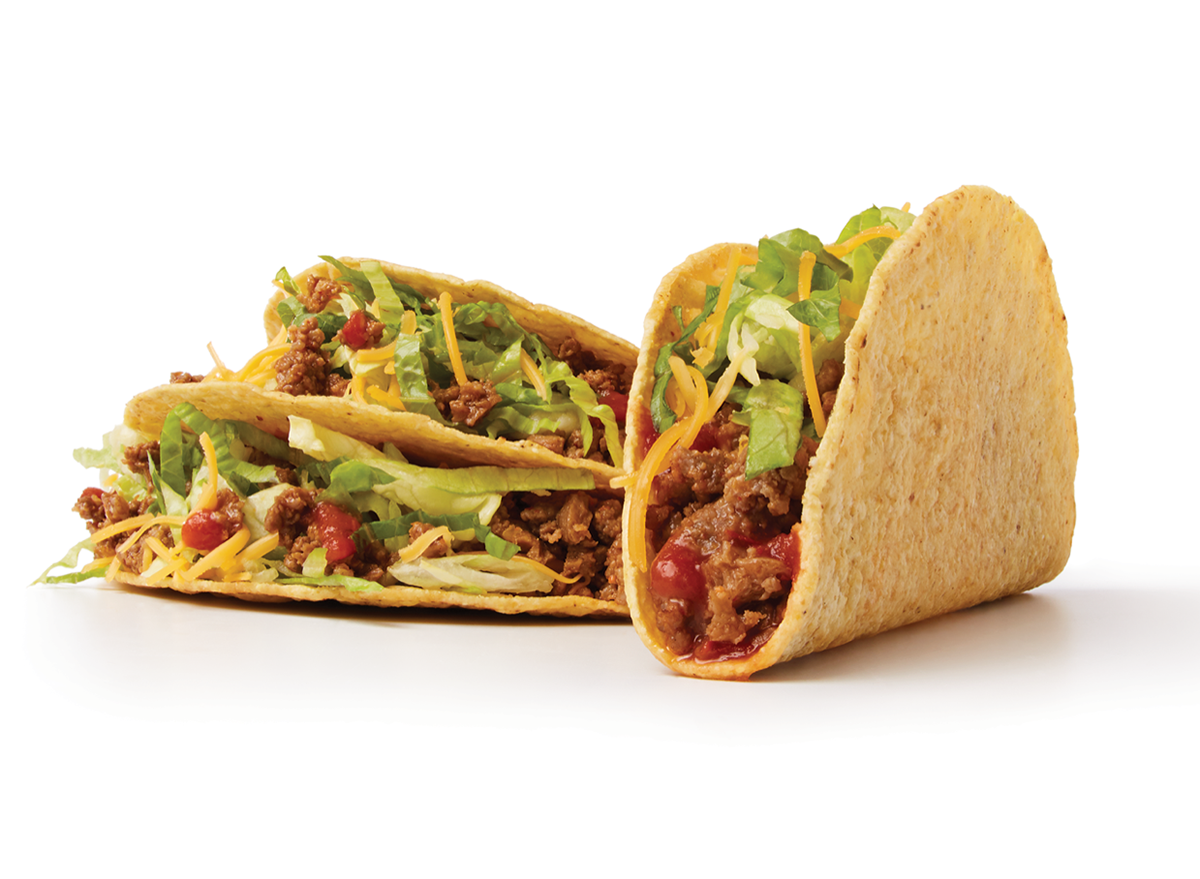 170 calories, 10 g fat (4 g saturated fat), 290 mg sodium, 11 g carbs (2 g fiber, 1 g sugar), 9 g protein
If you need a quick pick-me-up that won't break your diet or your wallet, go ahead and try the Crispy Beef Taco. With only 170 calories per taco, this option supplies just enough energy to keep you moving without slowing you down. If you limit yourself to two or three of these tacos for a meal, you can keep your diet on track.
With "11 grams of carbohydrates, plus two grams of fiber thrown in there, a couple of these tacos can fit into your day," says Pine. Plus, each taco packs in nine grams of protein.
Worst: Stuffed Grilled Taco—Beef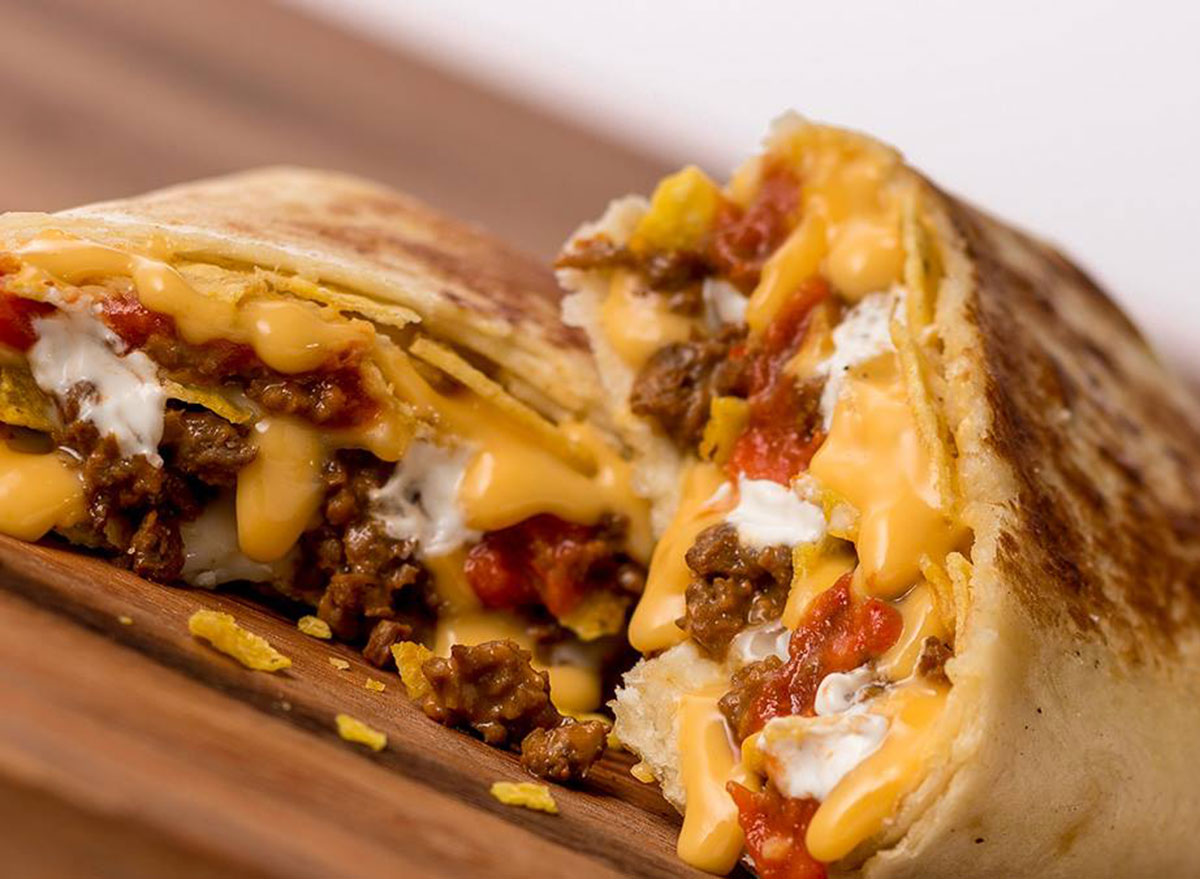 540 calories, 25 g fat (9 g saturated fat), 1,040 mg sodium, 60 g carbs (5 g fiber, 3 g sugar), 19 g protein
This calorie bomb of a taco won't do your diet any favors, packed with almost 400 more calories than the Crispy Beef Taco. "Each one of these tacos brings a whopping 540 calories, 59 grams of carbs, and 1,040 milligrams of sodium," says Pine. "The sodium content is equivalent to 91 potato chips, and that's only for one taco!"
Burritos
360 calories, 10 g fat (4.5 g saturated fat), 830 mg sodium, 54 g carbs (8 g fiber, 3 g sugar), 14 g protein
"I like this under 400 calorie burrito because it contains a great amount of fiber (8 grams) and 14 grams of protein from a very underrated ingredient: beans," says Pine. "Beans are so nutritious and not only do they contain protein and fiber, but they also contain tons of vitamins, minerals, and phytonutrients."
With a solid combination of iron, protein, and fiber, it is hard to beat this burrito weighing in at only 360 calories. While there is some fat, the beans act as the major protein and help the saturated fat content lower than the other burritos on the Taco John's menu.
Worst: Chicken Grilled Burrito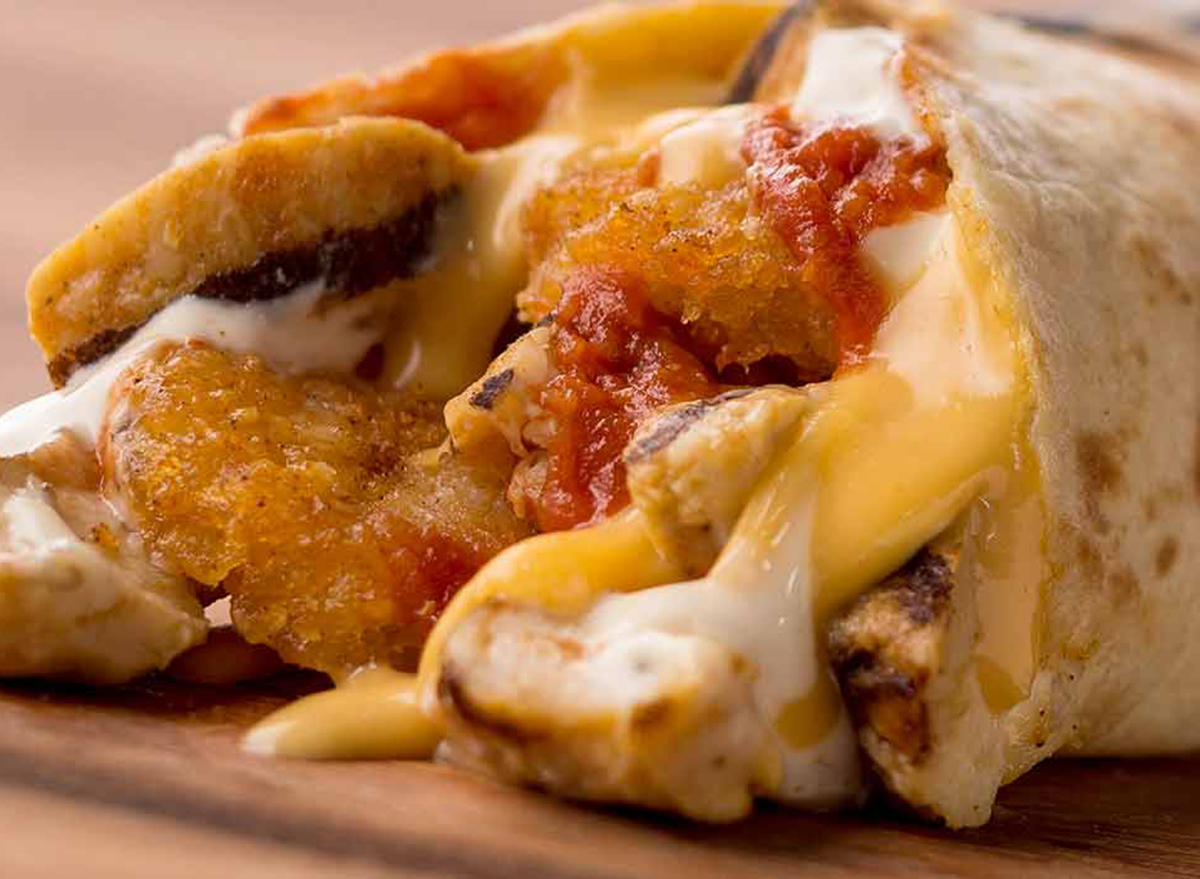 580 calories, 28 g fat (10 g saturated fat), 1,590 mg sodium, 53 g carbs (4 g fiber, 3 g sugar), 27 g protein
You may assume that a red meat option would take the cake when it comes to destroying your diet, but when it comes to burritos at Taco John's, that's actually not the case. "A chicken burrito may sound like the healthier option, but this menu item contains something that we should completely avoid: trans fat," says Pine. "Trans fat increases our bad cholesterol (LDL) and decreases our good cholesterol (HDL). I'm not crazy about the 10 grams of saturated fat or the 1,590 milligrams of sodium, either."
This chicken grilled burrito packs in over a teaspoon of salt, and it includes as much fat as a deep-fried doughnut. If you want to keep your heart healthy, opt to skip over this burrito.
Specialties
Best: Mexi Rolls, 4 piece (without Nacho Cheese)
370 calories, 21 g fat (6 g saturated fat), 390 mg sodium, 30 g carbs (4 g fiber, 0 g sugar), 14 g protein
These petite fried rolls are similar to Tex-Mex flavored egg rolls, and you can even order them in different sizes to keep your portions under control. "At 370 calories and 14 grams of protein, this pick isn't too bad," says Pine. "However, I don't like that it contains trans fat. Considering how high restaurant food can be in sodium, 390 milligrams for this item isn't too bad."
While they are deep-fried, the fact that each order includes several means they can be shared easily, helping you limit your calorie intake. If you have a group to split these with, these will be your best bet on the specialty section of the Taco John's menu.
1,090 calories, 67 g fat (21 g saturated fat, 1 g trans fat), 3,300 mg sodium, 98 g carbs (14 g fiber, 3 g sugar), 24 g protein
One of the more insidious options at Taco John's comes in the form of the Potato Oles, a side dish that uses tater tots as a base.
"This item contains over 1,000 calories! You could have an entire home-cooked meal, probably with dessert, for that amount of calories," says Pine. "The 21 grams of saturated fat is likely the max you should be eating in an entire day if you're eating somewhere around a 2,000 calorie a day diet. 21 grams is equivalent to eating three big pats of butter. I really don't like the trans fat that it contains as well. Plus the 3,300 milligrams of sodium for this one meal is way more than what's recommended per day. The sodium recommendation per day is about 2,300 milligrams and even less if you are at risk for or have high blood pressure. 3,330 milligrams is like eating almost 12 pickle spears in one sitting."
Breakfast
Best: Jr. Breakfast Burrito—Bacon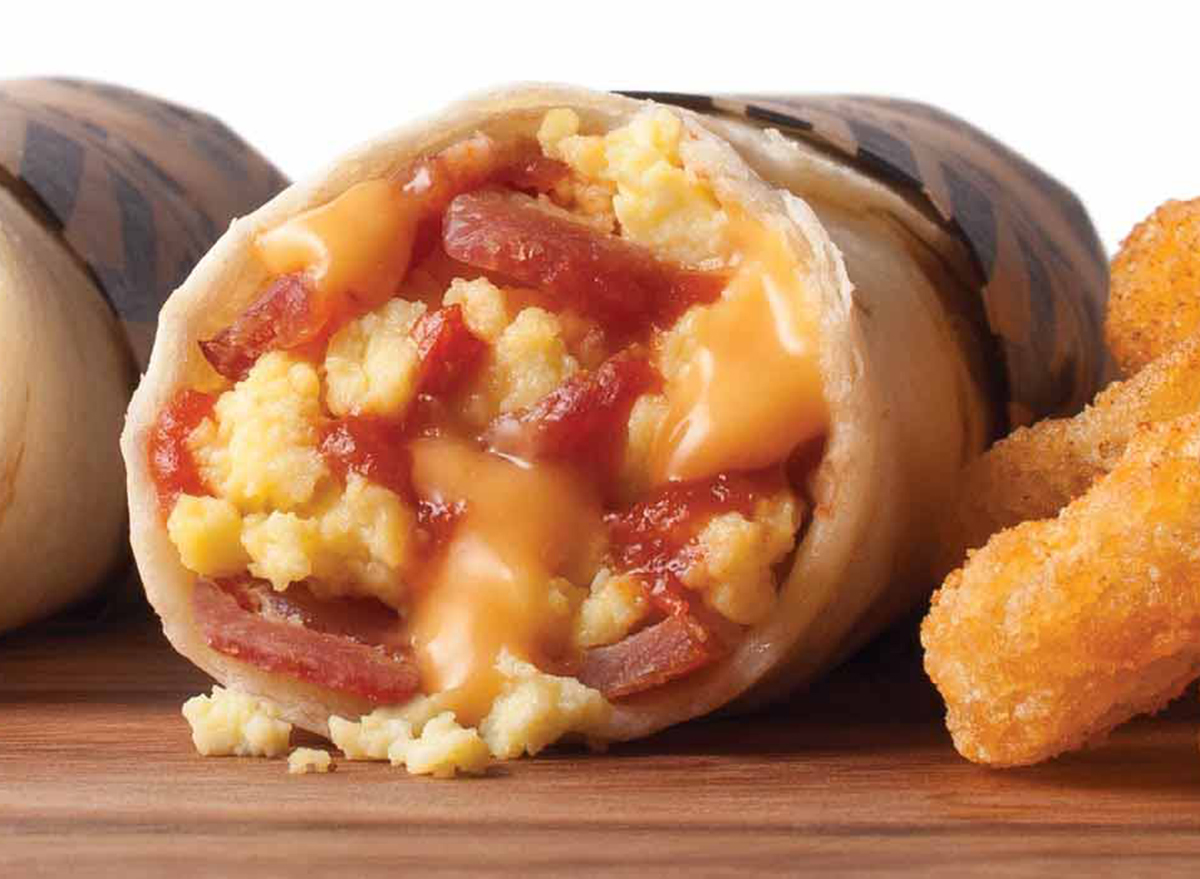 190 calories, 8 g fat (2.5 g saturated fat), 510 mg sodium, 19 g carbs (2 g fiber, 2 g sugar), 10 g protein
When it comes to a Taco John's breakfast, nothing can beat the Jr. Breakfast Burritos when it comes to portion control. The bacon variation is a great choice if you want to start your morning with a protein boost and fairly little sodium. "It's nice when restaurants offer a smaller portion of food since restaurant sizes can often be too large," says Pine.
At only 190 calories, this is a pretty simple meal to order that you can feel good about. Pair it with a coffee or diet beverage to limit your sugar intake, and you will be sure to not feel sluggish later in the day.
Worst: Potato Oles Scrambler—Regular Sausage
1,190 calories, 79 g fat (24 g saturated fat), 3,360 mg sodium, 88 g carbs (9 g fiber, 5 g sugar), 31 g protein
On the opposite end of the breakfast spectrum lies the Potato Oles Scrambler. "If you start off your day with this burrito, you'll be consuming a large chunk of your total daily calories all in 1 meal at 1,190 calories," says Pine. "The saturated fat at 24 grams and sodium at 3,360 [milligrams] are pretty obscene and more than an entire day's worth of those nutrients. At 79 grams of total fat, that would be the equivalent of eating 26 Oreo cookies."
This option guarantees to leave you in a food coma that you might not shake off all day.
Combos
Best: Combo #4—Sirloin Steak Taco Bravo with 20 oz Diet Pepsi and Small Potato Oles
780 calories, 38 g fat (9.5 g saturated fat), 2,100 mg sodium, 174 g carbs (6 g fiber, 3 g sugar), 21 g protein
Selecting a healthy combo meal at fast food joints can be a tough line to walk if you need to stick to a diet. Luckily, the Taco John's menu has several combo options that won't break your wallet or waist, and Combo #4 will help keep your diet on track.
While the salt levels are a bit high, the calories in the meal keep to a minimum thanks to the diet soda and the lean sirloin steak taco bravo. "If you absolutely need a side of fried potatoes with your taco, definitely choose the small portion," says Pine. "At 780 calories for a whole meal at a type of establishment like this, you won't break the bank. However, don't make it a daily habit!"
Worst: Combo #8—Meat and Potato Beef Burrito and Soft Beef Taco with 20 oz Mountain Dew and Small Potato Oles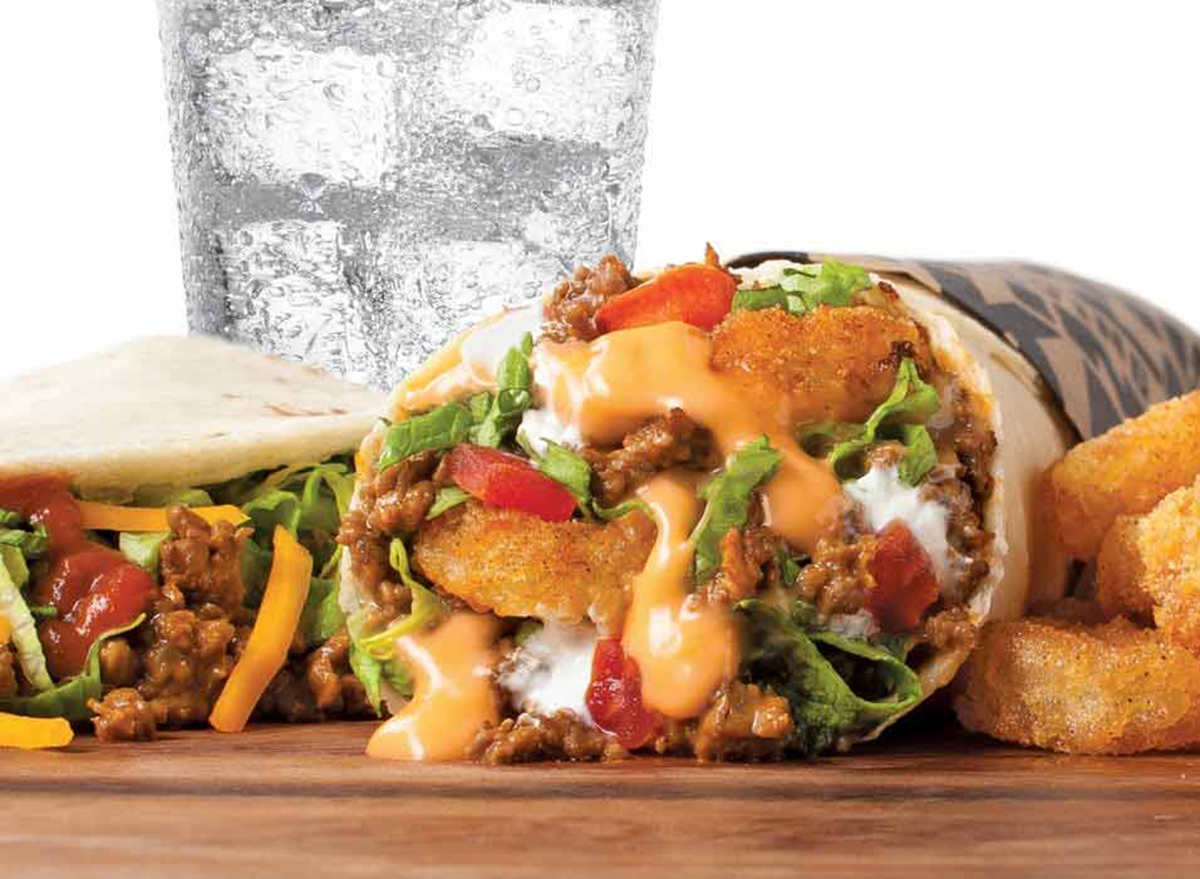 1480 calories, 61 g fat (17 g saturated fat), 3,180 mg sodium, 204 g carbs (15 g fiber, 78 g sugar), 31 g protein
"The food isn't the most concerning part for me in this combo," says Pine. "It's the 145 grams of sugar in the 20-ounce Mountain Dew. That's just an insane amount of sugar for one beverage. According to the American Heart Association, the daily max for added sugars for men is about 36 grams and 24 grams for women. That 20-ounce soda is the equivalent of eating 36 sugar cubes straight up."6254a4d1642c605c54bf1cab17d50f1e
Sides
Best: Side Salad (without dressing)
40 calories, 2.5 g fat (1.5 g saturated fat), 50 mg sodium, 3 g carbs (1 g fiber, 2 g sugar), 2 g protein
When you are dining out, plain salads usually have a nutritional upper hand. When you want something extra, they can fill you up while keeping your diet intact.
"When in doubt, go with the vegetables when you need a side," says Pine. "Most Americans don't get nearly enough veggies each day. Just be mindful of the amount of dressing that you add since the 40 calories for the salad don't include dressing."
To keep the fat, calories, and sodium to a minimum, make sure to ask for the dressing on the side.
860 calories, 49 g fat (11 g saturated fat), 2,490 mg sodium, 94 g carbs (10 g fiber, 1 g sugar), 9 g protein
As one of the biggest nutritional scourges on the Taco John's menu, a large order of Potato Oles finds its way yet again into the "worst" grouping of available options. "The large Potato Oles contain [860] more calories than you'd probably have in a typical entrée," says Pine. "You've also just maxed out your daily limit of sodium with the 2,490 milligrams that it contains."
Even though this side clocks in with more calories than many entree items and a teaspoon of extra salt, it will still leave you just as hungry in a matter of hours.
Desserts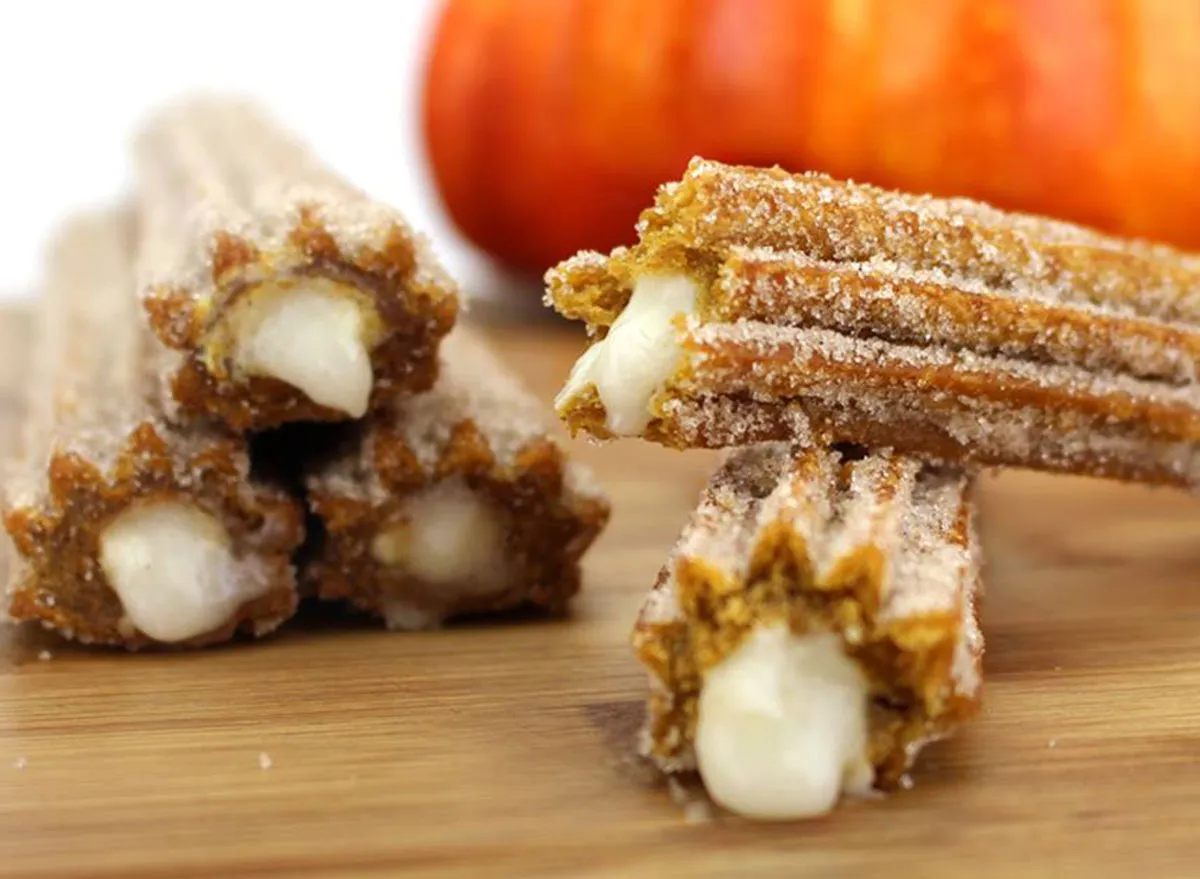 200 calories, 9 g fat (4.5 g saturated fat), 170 mg sodium, 29 g carbs (4 g fiber, 10 g sugar), 3 g protein
With only two available dessert options on the Taco John's menu, choosing the healthiest sweet option can seem like a coin flip. Luckily, the churros at Taco John's come out ahead. If you just order one, have no fear. Each churro only contains 200 calories, so you can indulge in one and still keep your diet on track.
"The churro is the better pick because it has half the amount of sugar as the donut bites at 10 grams versus 21 grams," says Pine.
Worst: Mexican Donut Bites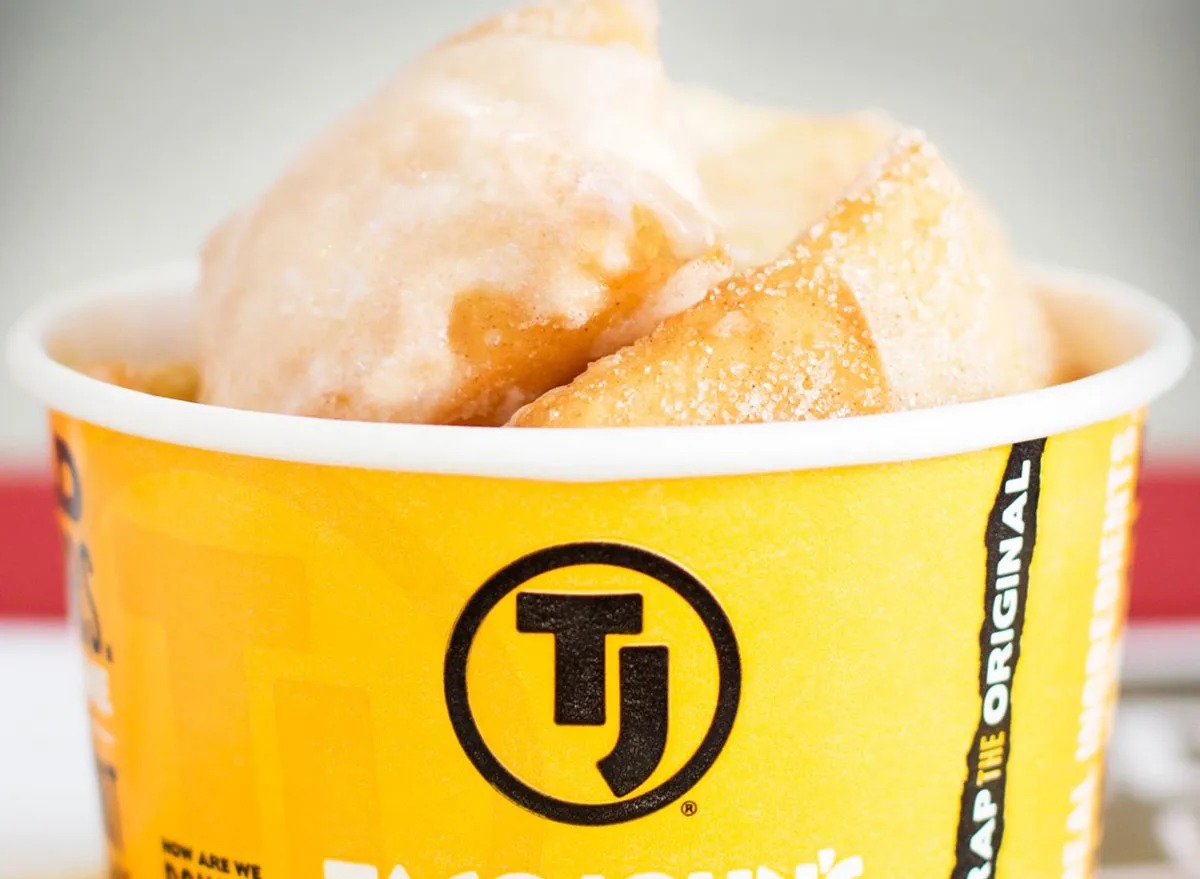 290 calories, 12 g fat (3 g saturated fat), 220 mg sodium, 47 g carbs (4 g fiber, 21 g sugar), 4 g protein
"With 290 calories and double the amount of sugar as the churro, you probably don't this dessert on top of the other food you order at Taco John's," says Pine. The Mexican Donut Bites won't do your waistline any favors. While they pack in about half the fat of a regular donut, they contain almost an extra 100 calories compared to the churro. If you want a dessert and have to make the choice, pass these over.