This Is the Best Homemade Tartar Sauce Recipe
Planning on serving some fish for dinner? Whip up this easy homemade tartar sauce for dipping!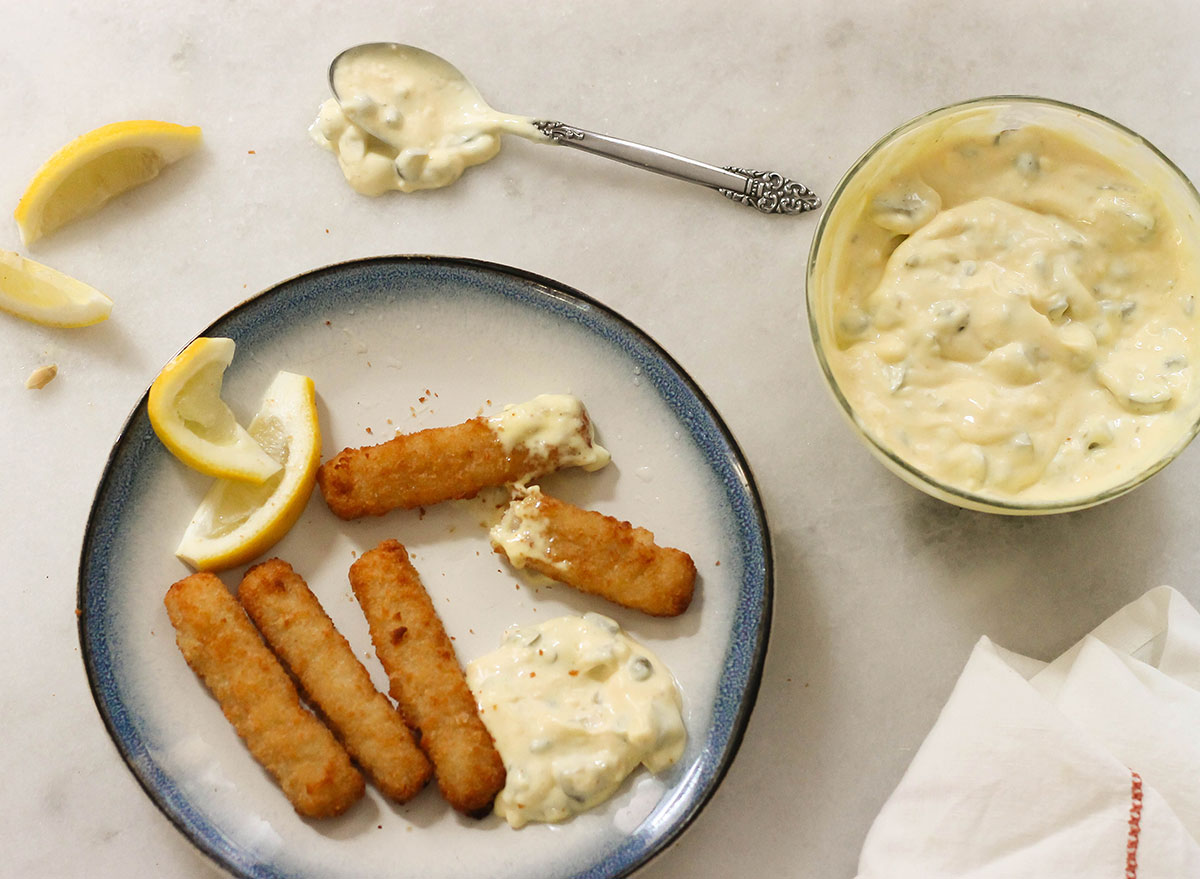 If you order any type of fried fish dish—whether that be fish and chips or a fish filet on a sandwich—I can almost guarantee that it's served with a generous helping of homemade tartar sauce. Which means if you plan on making a fish recipe for an easy weeknight dinner, here's how to make the perfect homemade tartar sauce to pair with it.
The base of a tartar sauce starts with mayonnaise and capers, so if anything, you need to have those two ingredients to get started. However, if you want to enhance the flavor with more add-ins, there are a few different routes you can take.
First, you can keep it savory. Mix in the mayonnaise, mustard, capers, lemon juice, salt, and pepper with this sauce. It will give you that flavor without tasting too sweet.
However, the sauce I've created sits a bit on the sweeter side. I find that some of the best tartar sauces I've ever tasted had a touch of sweetness in them, hence why I decided to add just a small amount of sugar into the bowl. Between that and the sweet pickles, you'll have a sweet sauce that won't be overpowering to the salty, crispy fish sticks.
Another easy trick for sweet tartar sauce is simply throwing in a tablespoon of relish instead of the sugar and sweet pickles. This will give the tartar sauce that desired sweetness without adding the extra sugar or doing all of that chopping up of the pickles.
Serve the fish and homemade tartar sauce with slices of lemon. Freshly squeezed lemon on that salty fish, along with the sweet tartar sauce, is a delectable combination that can't be beat.
Makes 10-12 servings
Ingredients
1 cup mayonnaise
1 tsp mustard
2 sweet pickles, chopped fine
1 tbsp capers, drained and chopped
1 tsp lemon juice
1 tsp sugar
salt and pepper to taste
How to Make It
Chop up the sweet pickles into extra fine bits. If you would rather have a chunkier tartar sauce, chop the pickles into thicker chunks.
Do the same for the capers.
In a medium bowl, mix together all of the ingredients.
Serve on the side with fish sticks, or spread on a fish sandwich.
RELATED: Easy, healthy, 350-calorie recipe ideas you can make at home.6254a4d1642c605c54bf1cab17d50f1e