How Texas Roadhouse Quietly Became America's Biggest Steakhouse Chain
Here's how the chain continues to dominate.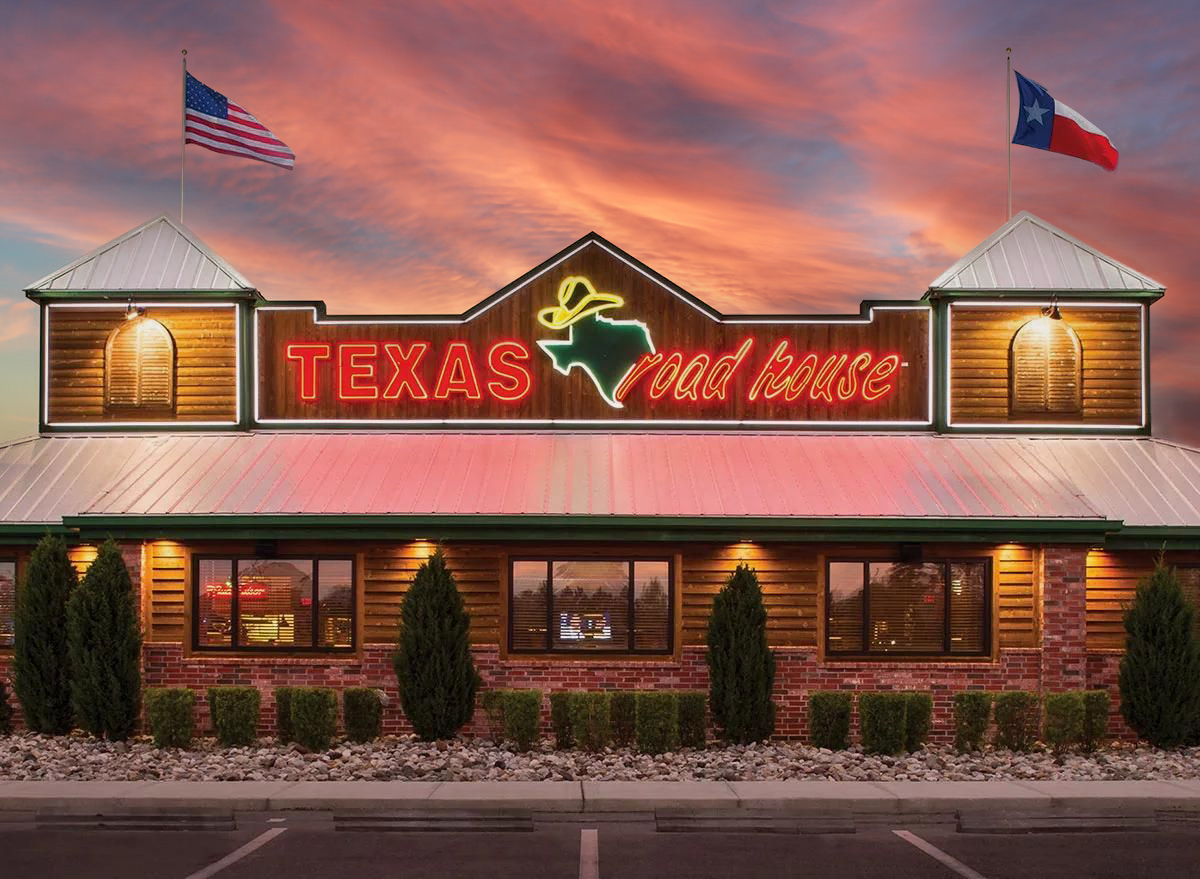 What comes to mind when you think of America's iconic steakhouse chains? You're probably immediately thinking of popular ones like Outback Steakhouse, LongHorn Steakhouse, or Ruth's Chris. One steakhouse chain that has quietly risen to the top of the industry is Texas Roadhouse.
Founded in 1993 in Clarksville, Ind., Texas Roadhouse now has over 697 locations in 49 states and 10 countries—making it the largest steakhouse chain in the United States. Texas Roadhouse's communications manager Amanda Norton says that in 2023, the chain plans to have 25 to 30 Texas Roadhouse and Bubba's 33 company restaurant openings. Texas Roadhouse has averaged more guests this year than ever, with average weekly sales at a record high of $146,000—and traffic is up 10% year over year. About the brand's skyrocketing success, CEO Jerry Morgan says "I think it's about our execution and about the quality of the product that we're putting on the plate," he said to Restuarant Business Online.
That counts for a lot. But how exactly did Texas Roadhouse quietly become America's biggest steakhouse chain? Here are seven reasons you'll be seeing a lot more of this chain's "legendary steaks" in the future.
RELATED: 7 Strict Rules Texas Roadhouse Workers Have To Follow
Low prices are part of the business model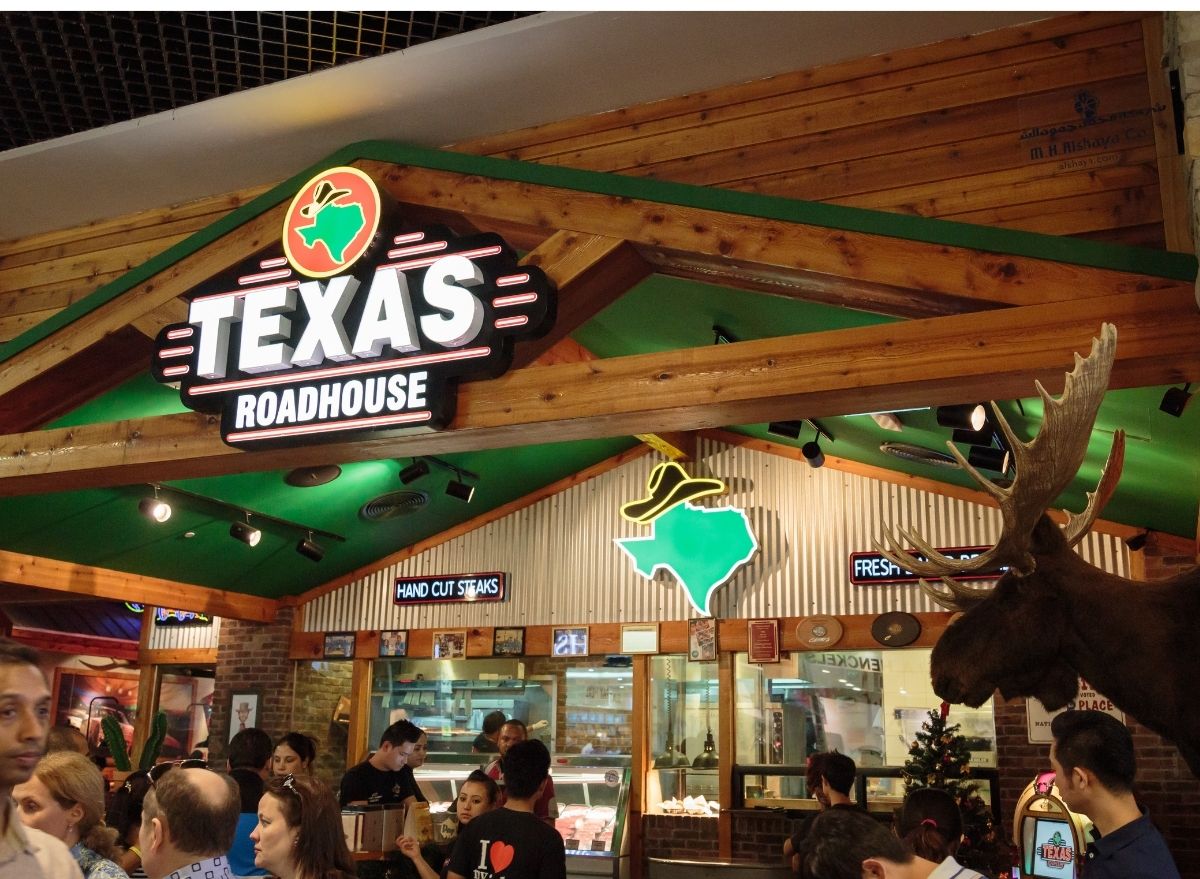 Traffic is key for Texas Roadhouse, which has a business model that is focused on getting people through its doors—and lots of people at that. It does this by keeping its prices on steak fairly low. The restaurant will even sell steaks often for below market value just for that reason. This cuts into potential profits, but the company does it in order to secure additional business in terms of volume.
The chain continues to generate positive traffic, despite some of its competitors reporting negative trends. In the first seven weeks of the year, average store sales were up an astounding 15.8% compared to 2022, and the company served more guests in the first seven weeks than in any other period in its history. Michael Bailen, the senior director of investor relations and financial analysis at Texas Roadhouse, said that traffic accounted for 10% of that, while the rest came from pricing.
The introduction of Roadhouse Pay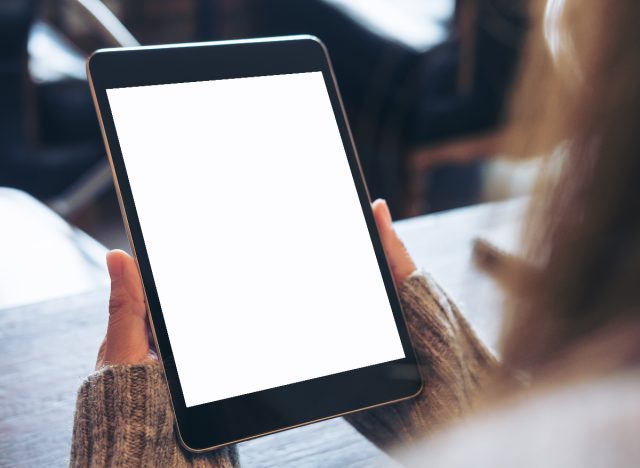 Over 600 of the chain's locations now offer something called Roadhouse Pay. This allows guests to pay their bills and leave when they'd like via tablets. Texas Roadhouse also boasts new kitchen display systems, however, that initiative is still in the early stages. The majority of diners who've used the system say they liked it, says Chief Information Officer Hernan Mujica.
Servers also make more money with Roadhouse Pay. The tablets prompt customers automatically to add a tip of 20%—and tips are about 3% higher when guests pay that way. Texas Roadhouse unveiled the feature at 400 additional restaurant locations last summer. Customers can also use the tablets to take surveys, buy gift cards, play games (which also cost money), and sign up for Texas Roadhouse's VIP Club.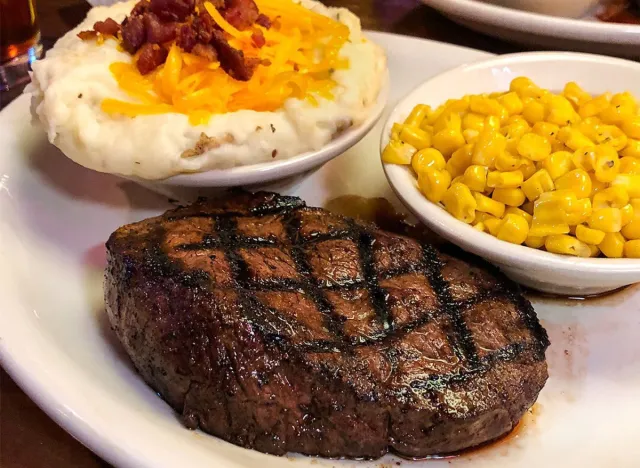 One of the restaurant's strict rules is that add-ons are always offered from your server. For instance, you'll be asked how you'd like your steak cooked, but you'll also be asked if you want cooked mushrooms and onions. If you order a baked potato you'll be asked if you want it loaded with cheese, bacon, and sour cream. When you order a salad you'll be asked if you want croutons and cheese, you get the idea.  All of these little add-ons will tack on a small but significant increase to your overall bill. Your server is required to ask each time for that reason.
With each restaurant typically serving over 5,000 guests a week and over 300,000 meals sold per day across the restaurant, those add-ons add up. This Reddit thread with commentary from current and former Texas Roadhouse staff confirms that servers are encouraged to upsell at the restaurant. "Always ask if they want to try the hand-cut steaks or fall-off-the-bone ribs, fresh-baked bread, and made-from-scratch sides. Make sure you ask for smothered, loaded, and kickers (for margaritas)," said one commenter. "Upsell, upsell, upsell!!!!" said another.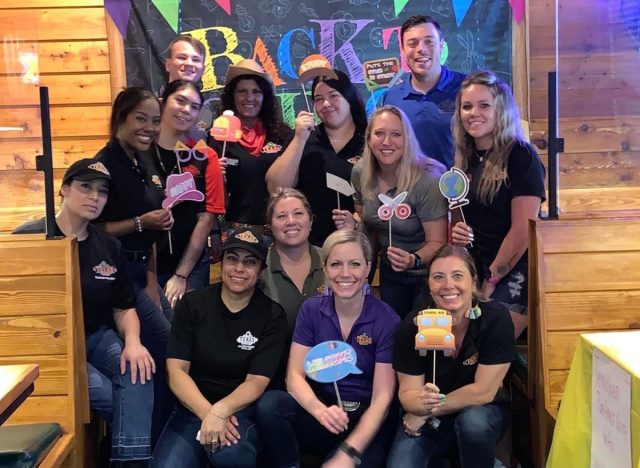 In a time when restaurants are notoriously having trouble finding labor, Texas Roadhouse is actually increasing staffing levels, according to the company's executives. The restaurant has been staffed to the necessary levels needed in order to manage higher volumes.6254a4d1642c605c54bf1cab17d50f1e
Executives noted that technology offerings account for traffic increases, but they also make life easier for the company's servers, which has likely contributed to increased staffing levels. For instance, the aforementioned Roadhouse Pay allows customers to pay at their table without waiting for a server and enables restaurants to turn tables faster. 
This increase in labor is an important component when it comes to maintaining positive guest counts, executives noted on the earnings call. "We've seen an increase [in staffing] and turnover is going down and we know the quality of people hired and retention is going to increase our productivity and that will help drive down our labor percentage, which is what we are working on right now," said new president Gina Tobin to Nation's Restaurant News. "As our staffing levels have come up and we get the tenure and people are more experienced, productivity goes up and they become more efficient and faster, all of that leads to stronger traffic," she added.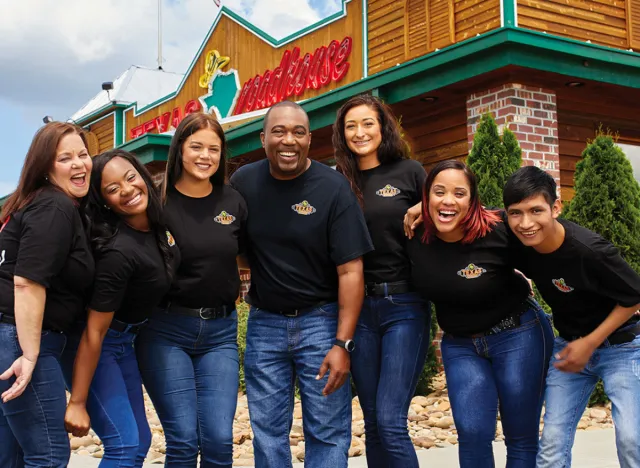 Texas Roadhouse is known for its lively and fun atmosphere. From the line-dancing servers to the irresistible fresh rolls and honey-cinnamon butter that customers can snack on while they wait for their food, the restaurant is designed to be a fun and enjoyable experience for people of all ages.
It's also a great place to work, as the restaurant's late founder Kent Taylor created a culture that persists to this day. It's reported that he spoke to everyone from his CEO to the dishwasher, all of whom are referred to as 'Roadies.' In short, Taylor created a company where every person had a stake in its success. 
A thoughtful expansion strategy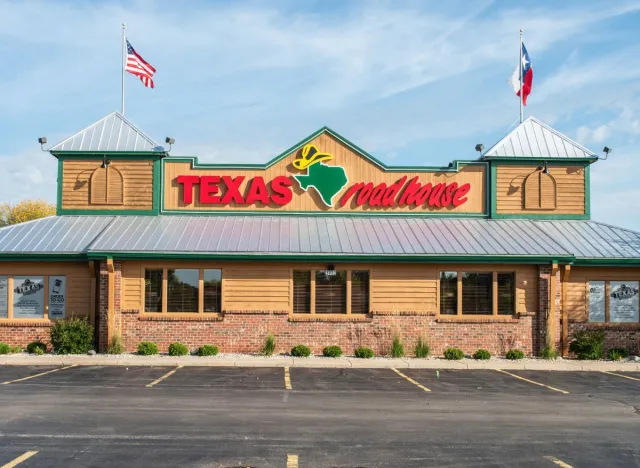 Texas Roadhouse has been strategic when it comes to its expansion strategy. With a goal of expanding to 900 locations, it has focused on opening new locations in areas with high demand for casual dining options, while also targeting areas with a strong military presence. This has allowed it to continue growing while maintaining a strong connection with its customer base.
Success in smaller markets has also contributed to Texas Roadhouse's massive expansion. The chain originally focused on medium-sized cities. However, in recent years the restaurant has edged into smaller markets with populations between 40,000 and 60,000. And that's been a winning been a winning bet for them. "We changed that number because we do see the upside, and the success in some of the smaller communities that we've been able to go in really allowed us to up that number," CEO Jerry Morgan said of the growth plans during an earnings call.