I Meal-Prepped with Texas Roadhouse—and It Saved Me Money & Time
Turns out you really can turn to this super popular steakhouse chain for some easy weekday meals.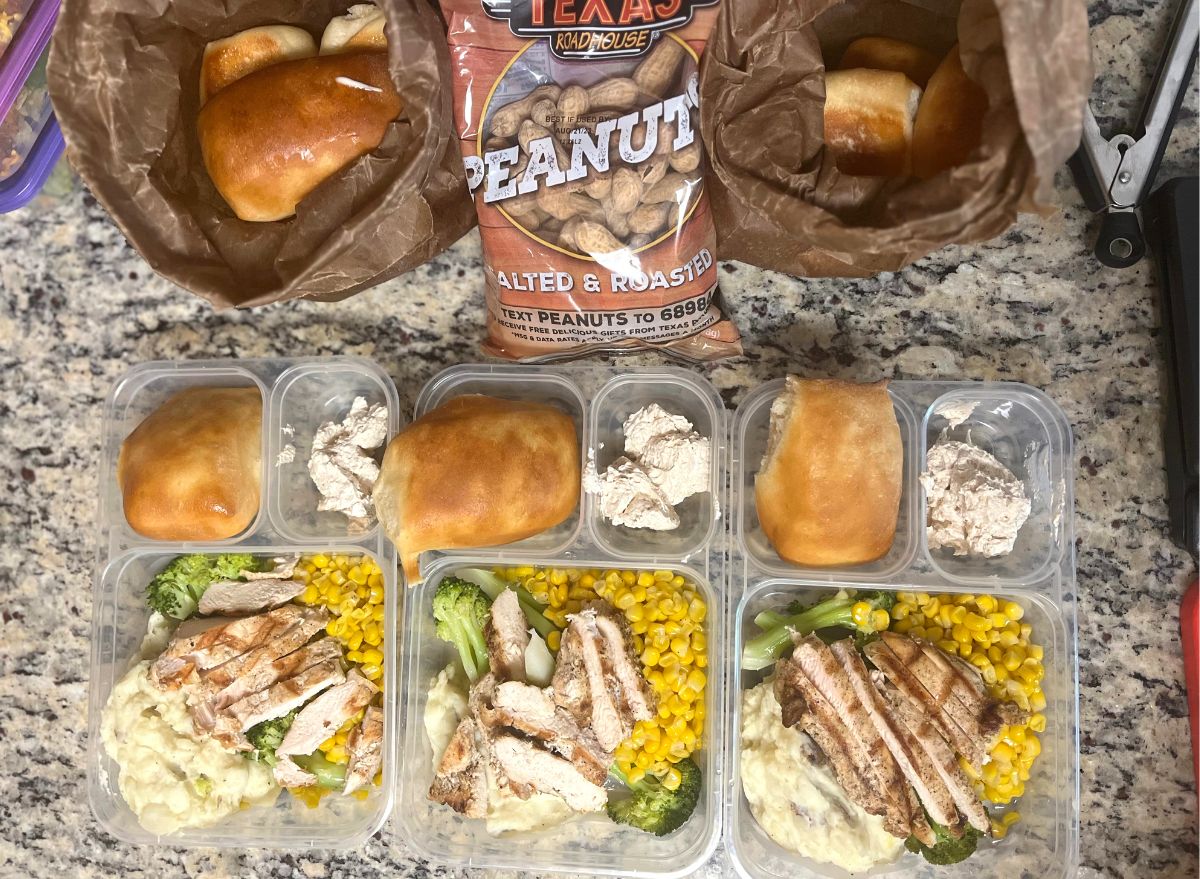 Making lunch or dinner every day of the week can be an annoyance at best, and a downright mission impossible at worst, which is why many of us turn to weekend meal prepping. But even that is labor-intensive. You have to shop for the ingredients, wash, dry, and prep them, and cook several different things when you'd rather be spending time with family or relaxing with your favorite TV show. But there's a shortcut that's been growing in popularity on social media: meal prepping with takeout from your favorite restaurant.
One TikToker recently demonstrated her meal prep using takeout from Texas Roadhouse, and the idea seemed like a great value. She made use of one of the chain's Family Packs to prep four lunches and three dinners for the week, all for just $30! "I don't have to cook, and this was still cheaper than going to the grocery store," she said at the end of her video—which definitely piqued my interest.
I wondered if there was actually enough food for all these delicious meals and whether the value would actually hold up. So I decided to put the hack to the test and picked up the Grilled Chicken Family Pack myself. Most importantly, I wanted to know if these meals would taste good by the time they're being consumed.
Here's how it went!
What I got in the Grilled Chicken Family Pack
Texas Roadhouse Family Packs section is one I would generally skip over, but this is the secret value spot, according to TikTok. Word is this section varies significantly from location to location so check out your local Texas Roadhouse for its offers.6254a4d1642c605c54bf1cab17d50f1e
The section has meals designed for families with a variety of main dish choices, ranging from grilled chicken for $29.99 to 12-ounce ribeyes for $64.99. Each pack comes with a large house or Caesar salad, and two sides. The house salads are hearty and packed with veggies, eggs, cheese, and tomatoes. You get two dressings, but you can ask for an extra free of charge. For the two sides, you get a choice of buttered corn, green beans, mashed potatoes, seasoned rice, or steak fries.
With the Grilled Chicken Family Pack, I ordered the house salad with mashed potatoes and corn as my sides. In the comments section, I asked for broccoli to replace the corn since broccoli wasn't offered but I prefer it.  You can also add beverages and sides of shrimp or ribs for some extra cash. This place sure loves to upsell!
What came was exactly what was ordered and more! I ended up getting both the corn and broccoli, for no extra charge, plus two bags of Texas Roadhouse's delicious house-made rolls with the famed cinnamon honey butter. I got 12 rolls in total—and yes they were hot. Plus, when I went to pick up my order at the convenient pick-up window, the woman asked if I wanted a bag of the chain's famous peanuts.
Everything looked about the same as in the viral TikTok video, with the exception of the salad, which looked a little smaller—a big factor in getting as many meals out of the deal.
Making the meals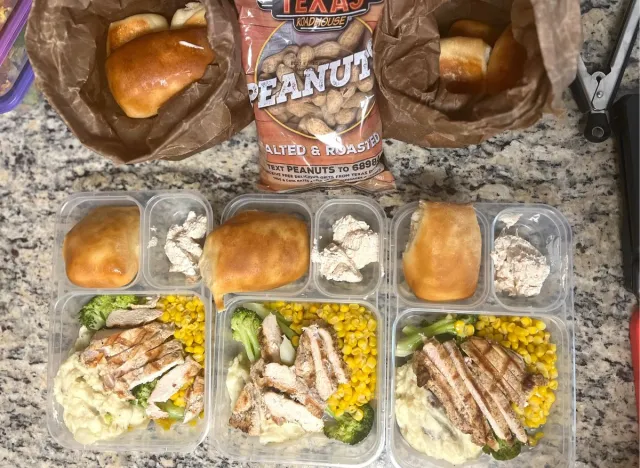 Considering what I got, I knew I could turn the components into three salad lunches and three chicken and veggie dinners. There was no way I was getting four salads out of the house salad. I weighed the chicken and it was a little over a pound, so each of the six meals would have about three ounces of meat. That was a little light for a meal, but with the rolls and extras, it would be filling enough (and you'll also be less likely to overeat.)
First, I sliced the chicken breasts and divided the slices into six equal portions. For the chicken and veggie dinners, I added a scoop of mashed potatoes, a few stalks of broccoli, and some corn. Over that, I laid a few slices of chicken. I added a roll and some cinnamon honey butter on the side. For the lunches, I divided the salad into three portions, added the dressing to the side, and then added in a roll.
All in all, these looked like six filling dinners and lunches, and at $5 a pop didn't seem too bad considering what I've been spending on DoorDash these days.
How it all tasted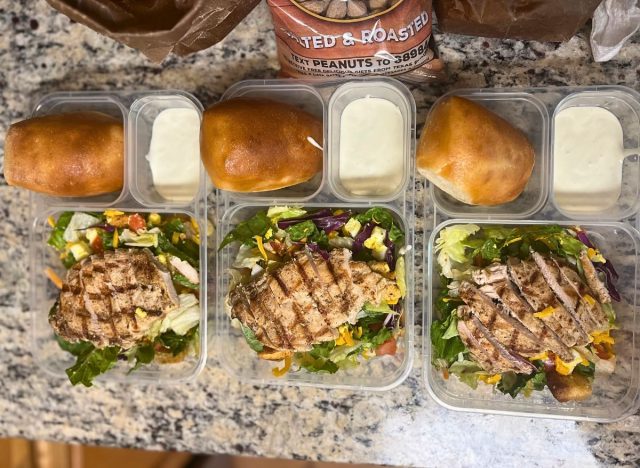 Of course, all these beautiful meals don't really matter much if they don't taste good. Here's what I thought of my creation.
The Dinners
The look: All of these ingredients were easy to portion out. The chicken seemed moist and delicious. I should have opted for gravy on the side, because the chicken looked a little bare, and plus it was free. Texas Roadhouse offers both traditional gravy and cream gravy as options. Overall, I'm sure I would be happy enjoying this meal once a week, but maybe not three. I found myself dreaming about the ribs or the ribeyes.
The taste: While I wouldn't say that these were my favorite meals of all time, they were good for what they were. The chicken was smoky and kissed with perfect grill marks. The mashed potatoes were surprisingly light and had chunks of red potato mixed into the creamy mash. The corn was tasty and the broccoli was surprisingly flavorful and not cooked down to mush. The rolls, of course, were delicious, fluffy, and subtly sweet with a fantastic super-thin crust. The cinnamon honey butter turned the rolls into a pretty decent low-key dessert.
These prepped dinners held up well for three days, but again, probably needed a little gravy to keep them moist beyond day two. My suggestion, if you have a spouse or partner, would be to split the dinners the night you get the family pack and enjoy the lunches at work for three days of the week.
The Salads
The look: The house salad at Texas Roadhouse is a typical steakhouse salad, meaning it's more packed with cheese and egg than actual vegetables. But, the mixed greens were very crisp and there was red cabbage scattered about for some texture and antioxidants. I ordered blue cheese dressing because the chain has a stellar one, but obviously, this isn't the healthiest option. They also have a third dressing for what looked like no extra cost, so get the third if you are planning to meal prep.
The taste: While the salad could have used some cucumbers and red onion, it was very tasty. The crisp lettuce, bites of chopped tomato, and red cabbage were refreshing next to the sprinkle of cheddar cheese, bits of egg, and creamy dressing. The smoky chicken was, again, a hit.
One commenter on the viral Tiktok video said that the salad would be mushy after three days, but it wasn't, the lettuce was still crisp and fresh. After two days, the chicken did get a little dry, or maybe I just got bored. Overall, I could definitely eat this salad a few days a week to replace takeout or delivery since most days I opt for a salad for lunch.
So, is Texas Roadhouse meal prep a good deal?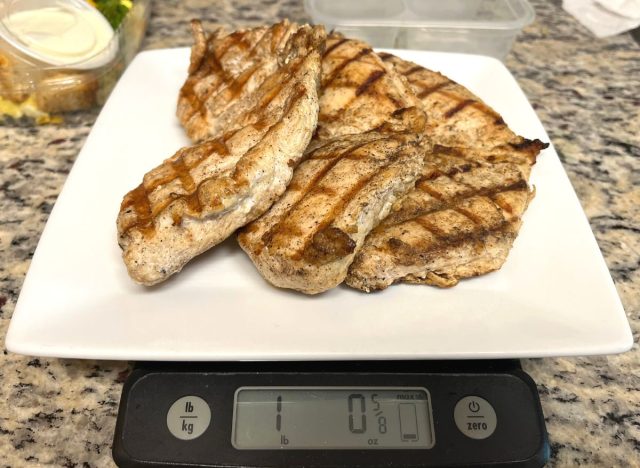 When comparing my meals to delivery, they are definitely a deal. My local diner has a house salad without chicken for $10, if I add $4 for the chicken and then pay for taxes and delivery, I am up to around $20 for a similar meal. The prepped Texas Roadhouse salads are smaller, but they taste better with the chain's smoky grilled chicken. The dinners tasted very homestyle and it is unlikely I'd get anything like that from a restaurant, and again, I'd be spending at least $10-15 per meal.
However, this deal doesn't exactly stack up to the prices at the grocery store. A pound of chicken costs a little less than $5 (less if on sale) in my area, and I could also grab lettuce, a few potatoes, canned corn, and broccoli for under $30. But . . . then I wouldn't get those house-made rolls, the cinnamon honey butter, and all that precious time back. So while it's conceivable that I could make some chicken, mashed potatoes, veggies, and a big salad for about the same price, or maybe a little less, sometimes I just don't want to, and then I resort to expensive delivery.
I can see myself taking advantage of this offer to meal prep a couple of times a month. If I used it to cut delivery down to one or two days a week, I would be saving about $50-60 a week. Maybe then I could occasionally trade up to some sirloin for a treat.