The #1 Holiday Food at Trader Joe's
It's the holiday season, and Trader Joe's is ready for it.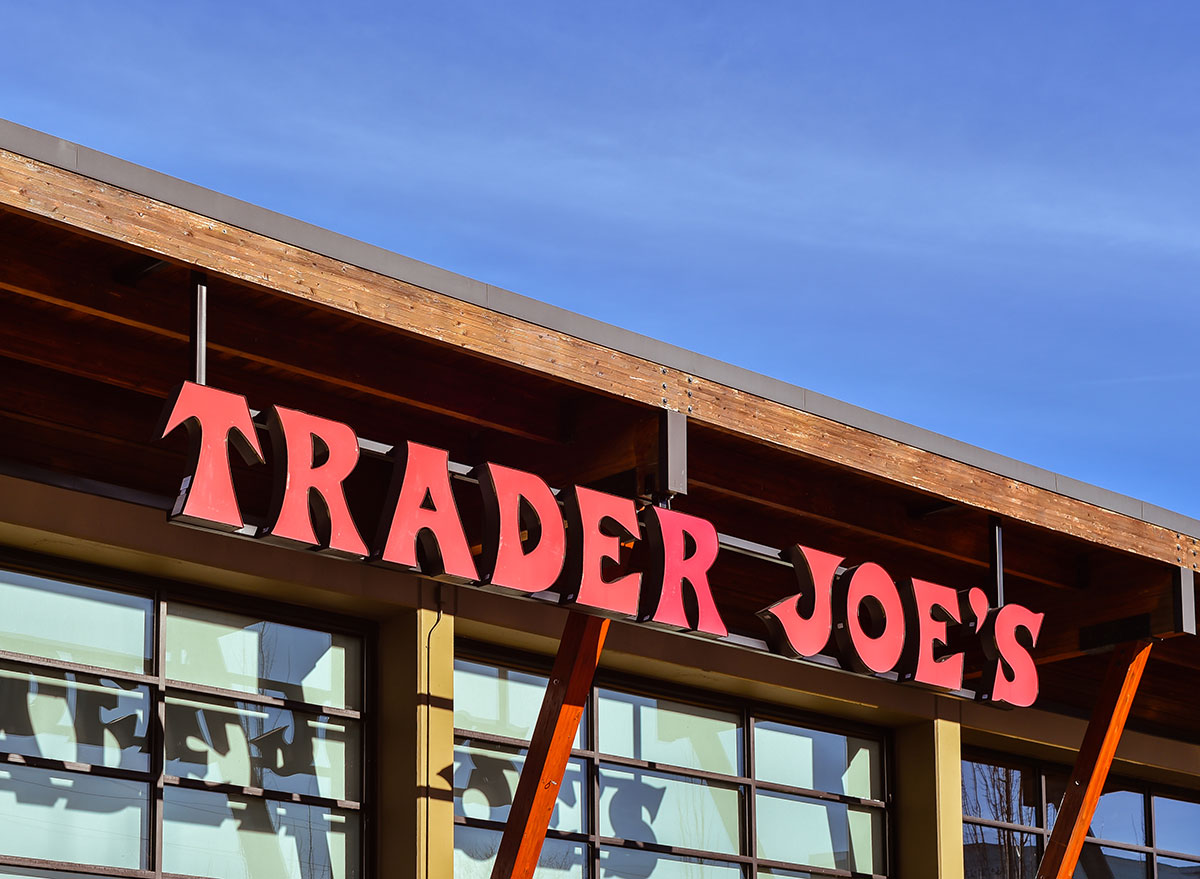 If you're the type of fall-weather enthusiast who hangs Halloween decorations on October 1 and counts down the days to pumpkin spice lattes, chances are that Thanksgiving is a pretty big deal in your house. And what better way to mark the holiday than by stocking up on some Thanksgiving foods from Trader Joe's?
Trader Joe's has everything you need to make the most of this magical season, and the store is constantly rolling out new specialty fall items at the chain's everyday unbeatable prices. From Autumn Maple Coffee to Pumpkin Spiced Ginger Brew, these autumnal faves will make any meal feel like a feast.
And for more, don't miss these 15 Classic American Desserts That Deserve a Comeback.
Pumpkin Chocolate Chunk Oatmeal Cookie Mix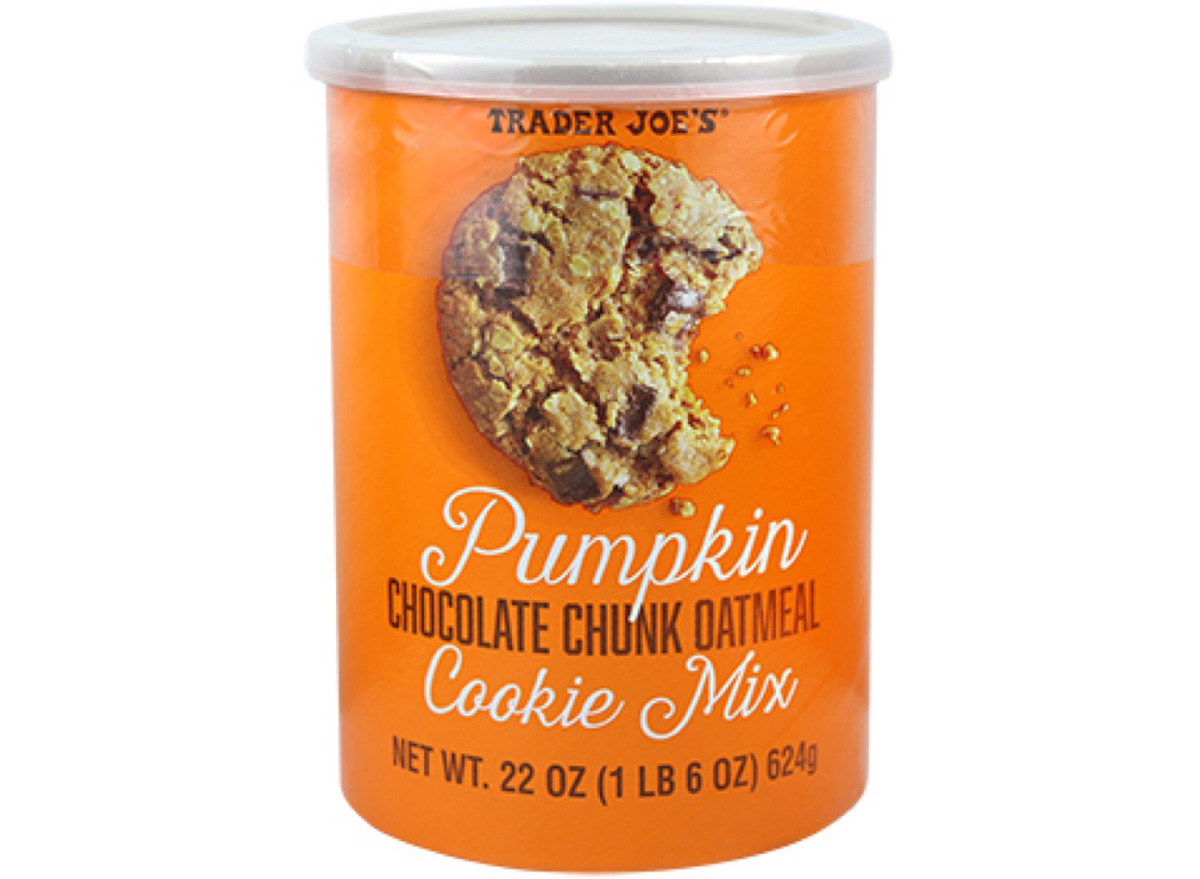 Trader Joe's has the pumpkin market cornered. They've got pumpkin soups, pumpkin bars, and a whole lot more. But if you make a point of buying just one of these things, make it the Pumpkin Chocolate Chunk Oatmeal Cookie Mix. There's nothing cozier than walking into a home smelling of freshly baked cookies, and these confectionaries capture the essence of fall in every rich, gooey bite.
Autumn Maple Coffee
Yes, you'll enjoy the Trader Joe's Autumn Maple Coffee. But you know who will appreciate it even more? Whichever family member wakes up on Thanksgiving morning at 8 a.m. to help you figure out how your oven works. This holiday of marathon cooking isn't for the faint-hearted, and given that most families throw their festivities in the early afternoon, you're going to need to get an early start. Make sure it includes this delicious seasonal blend to get your cooking team in the Thanksgiving spirit.
Frozen Riced Cauliflower Stuffing
Love stuffing, but want to avoid filling up on a heaping plate of carbs? This cauliflower-based alternative skips the breadcrumbs but retains everything you love about Thanksgiving's most beloved side dish: a rich and savory, herb-infused flavor and a moist, fluffy texture. This particular blend is made with vegetable stock instead of chicken or turkey stock, meaning it's also vegan-friendly!
Maple Streusel Bread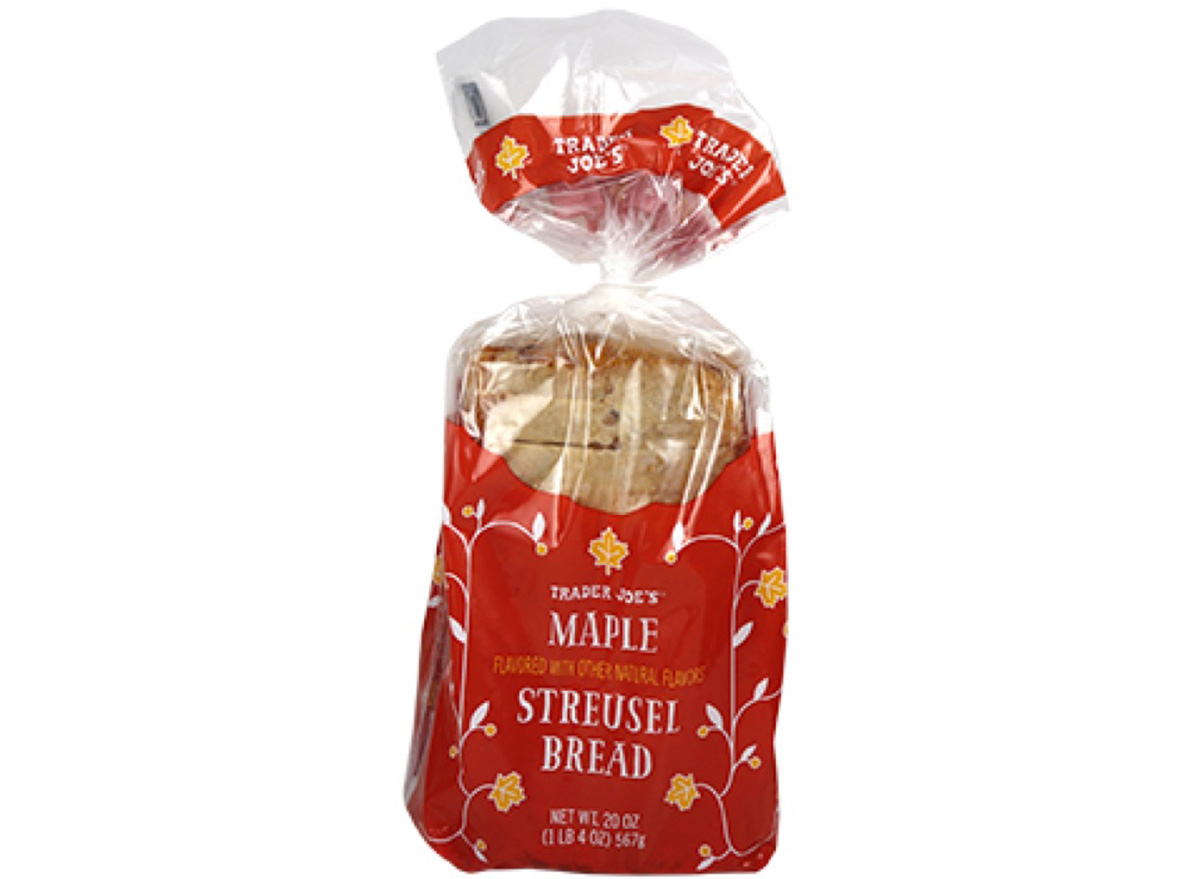 Not all Thanksgiving products need to be saved for Thanksgiving day itself. Trader Joe's Maple Streusel Bread is the perfect way to gear up for the holiday's festivities, as early as the first leaves begin to turn. Toast it and spread on some salted butter for an extra decadent treat! The crumb and icing topping elevate this sweet, flavorful bread from your standard slice.
Fresh Cranberry Orange Relish
If you're the traditional type‒a real cranberry sauce purist‒TJ's has got you covered. But if you're up for a little more adventure this year and looking to branch out into a new flavor profile, the Fresh Cranberry Orange Relish is the way to go. It adds a citrus twist and a sweet-yet-tangy kick that takes the whole meal up a notch.
Spiral Sliced Uncured Hams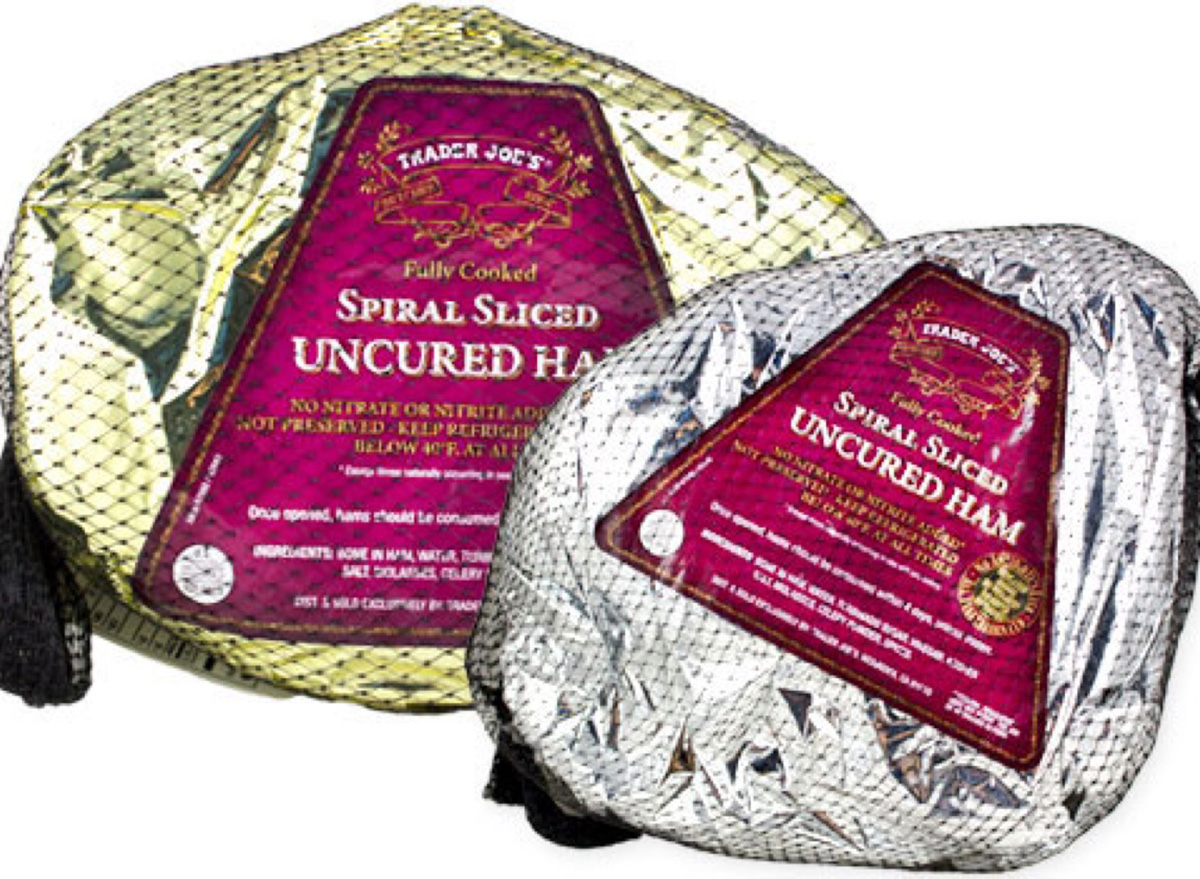 You don't need the internet to tell you to buy a turkey for Thanksgiving. Instead, we're here to remind you that it's not the only option for the big day, and in fact offering something else may be a welcome change after years of predictable Thanksgiving meals. Trader Joe's Spiral Sliced Uncured Hams are antibiotic-, nitrate-, and hormone-free, not to mention vegetarian-fed and kept out of crates. If you're not up for six hours of hand-wringing over a turkey or simply want to offer a second option, this could be the solution for you!
Mashed Sweet Potatoes With Pecans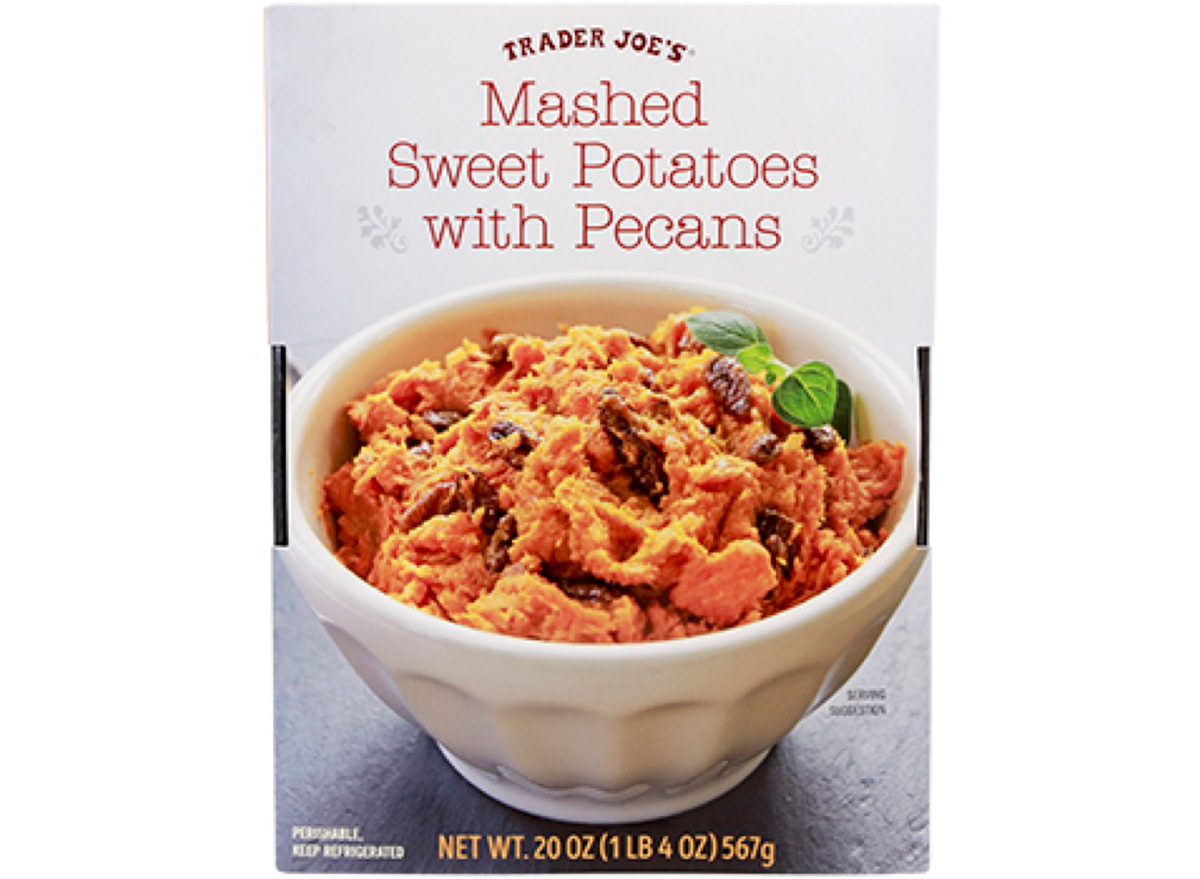 Cooking for Thanksgiving is a behemoth task, especially if you insist on doing everything from scratch. That's why there's absolutely nothing wrong with cutting a few corners here and there, freeing you up from the kitchen to actually enjoy your time with family—not to mention freeing up your stovetop burners, which are prime real estate on Thanksgiving Day. A box of Trader Joe's Mashed Sweet Potatoes With Pecans takes just three minutes to heat up and tastes as rich and delicious as if you'd peeled, mashed, and seasoned the potatoes yourself.
Cornbread Mix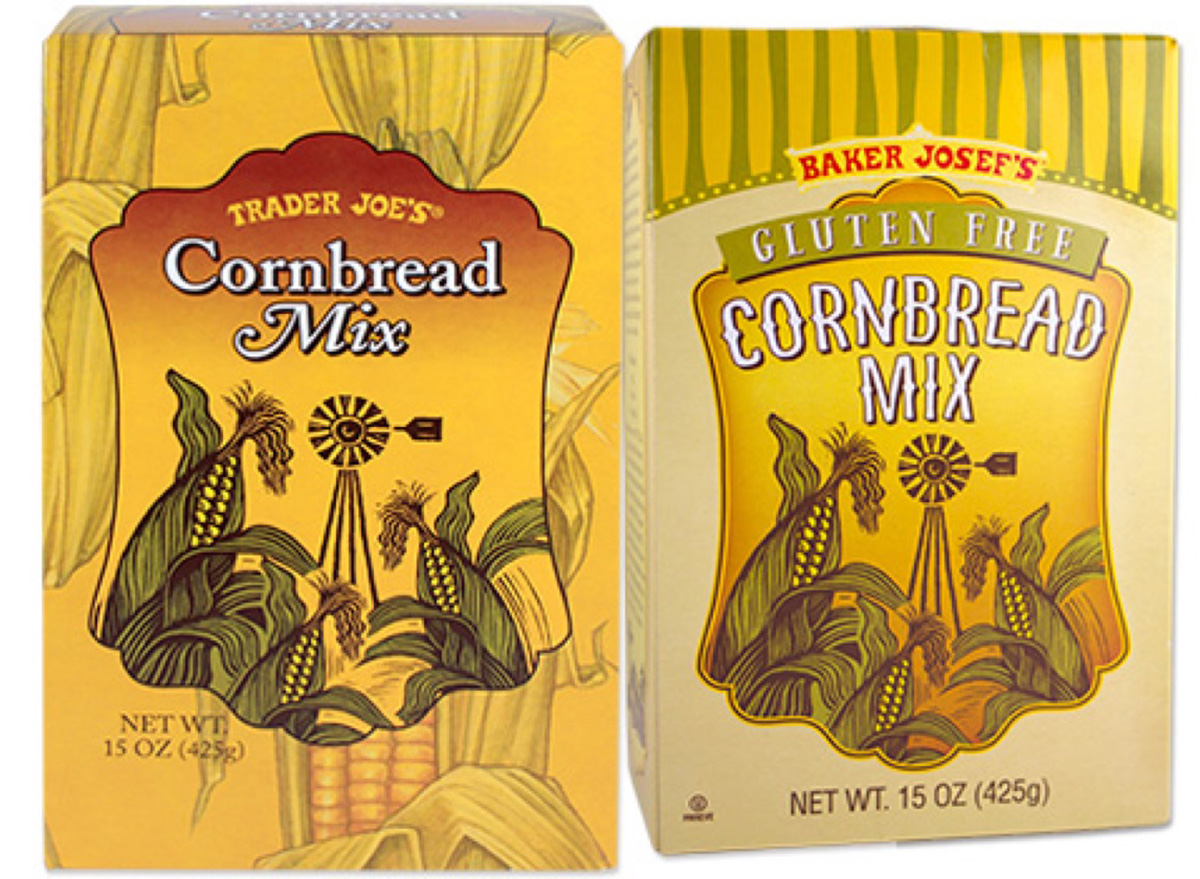 Cornbread may not take center stage on Thanksgiving, but make no mistake: It matters that you get it right. Instead of risking a dry, grainy loaf, you can ensure a moist, cakey consistency by using TJ's Cornbread Stuffing Mix. The premade mix is ready in just 30 minutes and is as close to fool-proof as possible. Enjoy a warm piece fresh from the oven with some salted butter, a drizzle of honey, or both!
Pumpkin Pie Spiced Ginger Brew
If you've never tried a Mule made with Trader Joe's Pumpkin Pie Spiced Ginger Brew, you're missing out. This holiday favorite can be served alone as a virgin drink for all to enjoy or with a dash of added alcohol for the grown-ups at the party. Made with a fizzy apple cider and ginger purée base, the ginger brew has a brooding, aromatic flavor that reveals hints of cardamom, nutmeg, cinnamon, and clove.
Pumpkin Bisque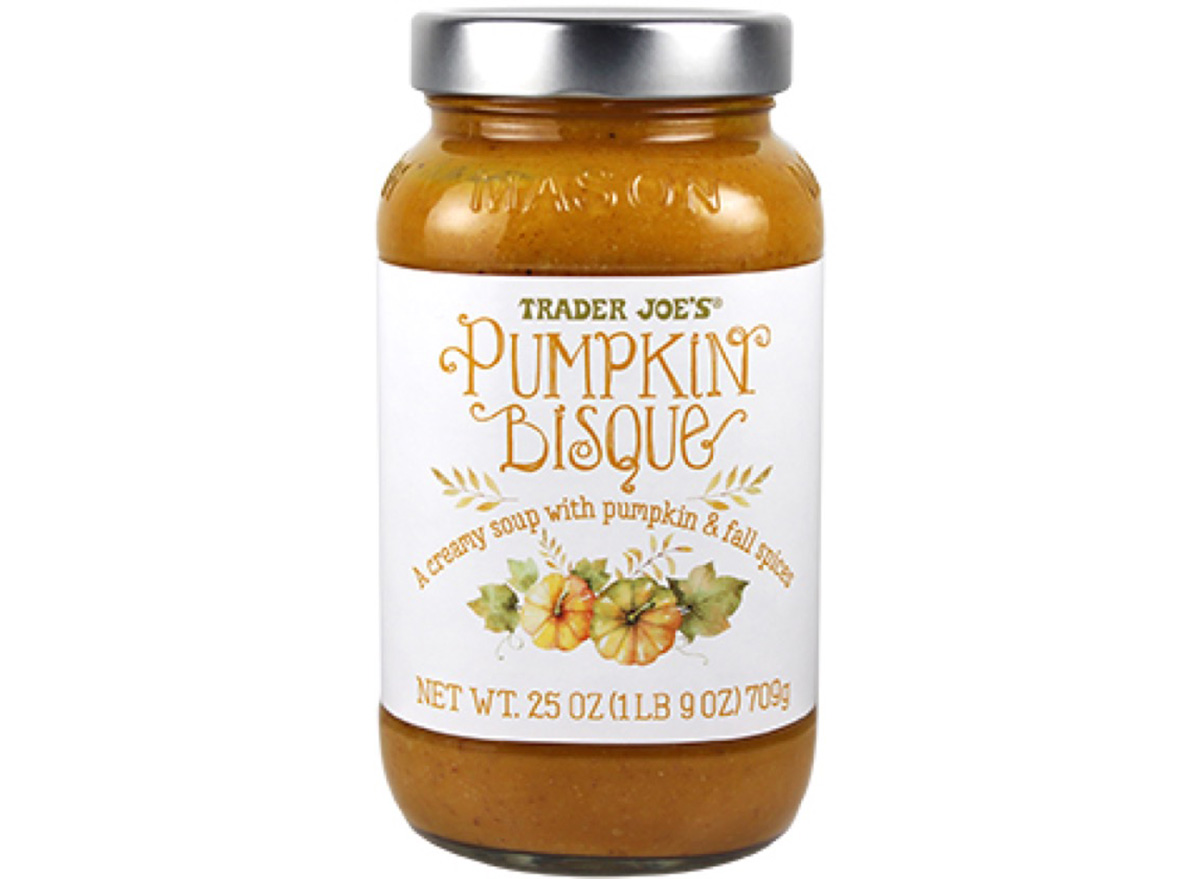 Rich and creamy, nutty and savory, Trader Joe's Pumpkin Bisque is a multidimensional soup that's about to be your new favorite fall meal. This is gourmet comfort food you can keep on hand in your pantry, sure to hit the spot on those chilly autumn days. Stock up for the winter before they're gone!
Riced Cauliflower and Butternut Squash Risotto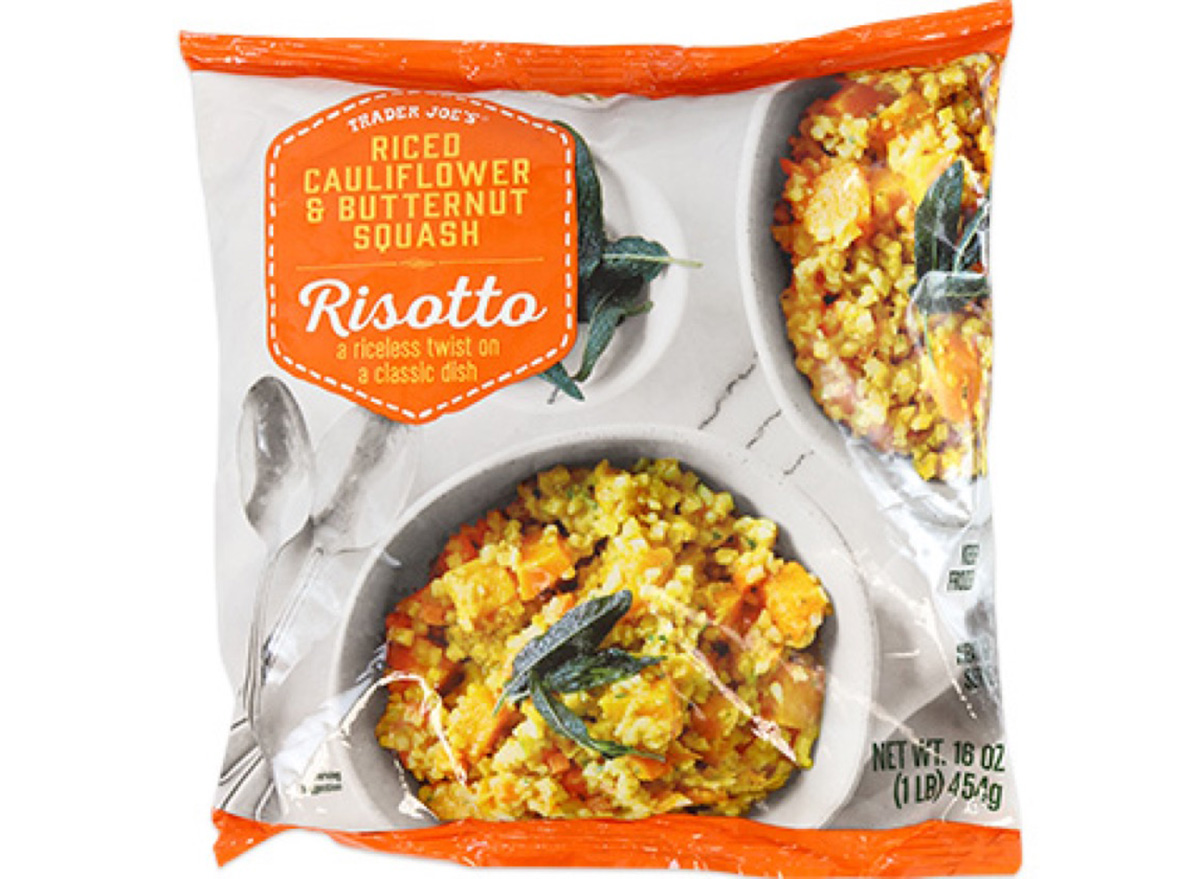 Looking for a filling, fuss-free meal that combines all the best fall-harvest flavors? Look no further than the Trader Joe's frozen section. The Riced Cauliflower and Butternut Squash Risotto packs all the punch of a butter-herb risotto but skips the rice base for a low-carb alternative. This hearty blend of cauliflower, carrots, butternut squash, garlic, and cheese works perfectly as a side dish, or it can shine on its own as the main attraction.
Creamy Spinach and Artichoke Dip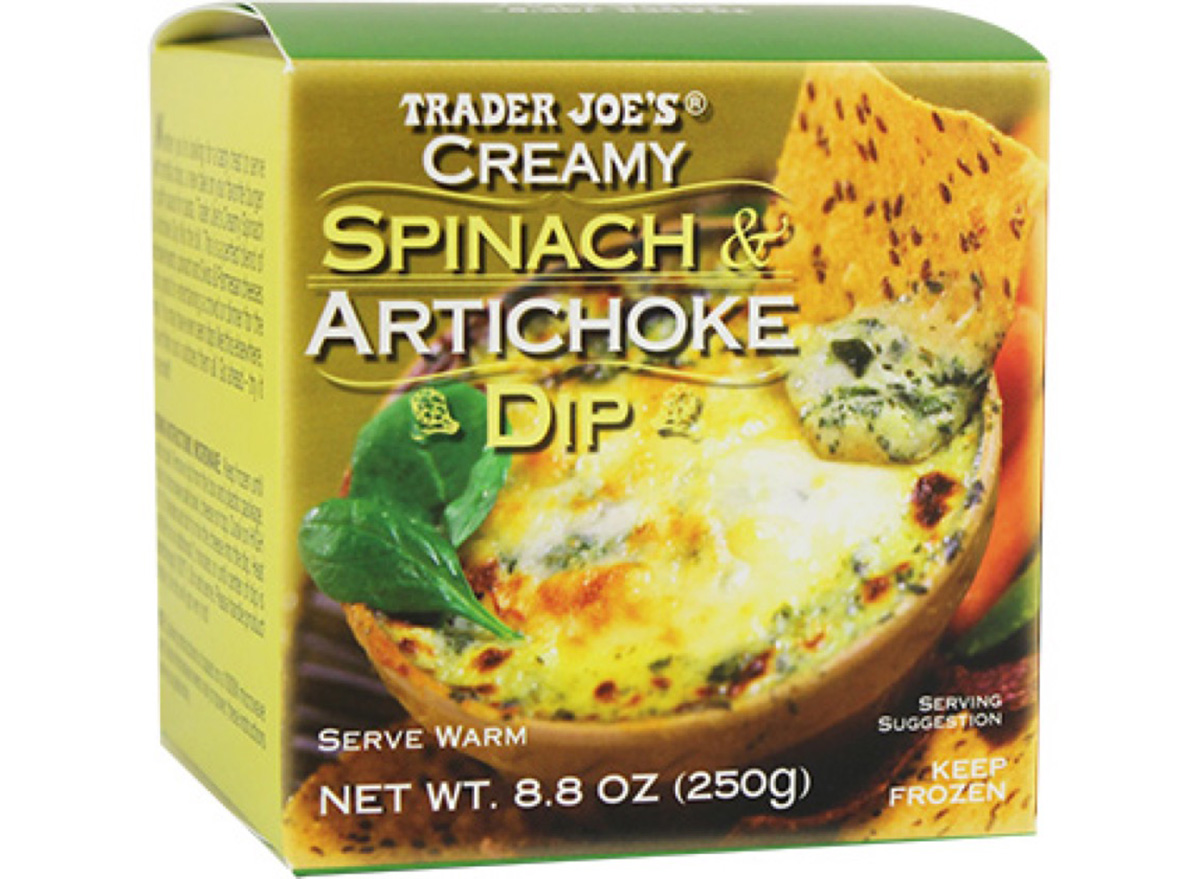 6254a4d1642c605c54bf1cab17d50f1e
Looking for a way to ensure that each of your family members has something to be thankful for? Serve up an appetizer of Trader Joe's Creamy Spinach and Artichoke Dip with slices of toasted baguette. Job done! Melted Swiss and parmesan top off an already decadently creamy texture, but with all that spinach and chopped artichoke, you'll be able to look the other way.
Spiced Cider
This one's a no-brainer: fall is synonymous with cider! Trader Joe's Spiced Cider happens to be a particularly bright, tangy, tasty type‒free of added preservatives, colors, flavors, and sugar. Add a steaming hot mug of cider to your daily ritual and snuggle in for the season.
For more, check out these 108 most popular sodas ranked by how toxic they are.