5 Thanksgiving Restaurant Deals That Could Be Cheaper Than Cooking at Home
Higher turkey prices and inflation could actually make eating out more reasonable.
The Thanksgiving holiday is all about sitting down with our loved ones and enjoying some delicious food. More specifically, no Thanksgiving meal is complete without the turkey! But could eating at a restaurant or ordering one of their great deals actually be cheaper this year?
Unfortunately, the American Farm Bureau Federation reports turkey prices are up considerably in comparison to just last year. A mixture of across-the-board price inflation, supply chain issues, and the avian flu have combined to make this year's quintessential holiday family meal notably more expensive.
"Other contributing factors to the increased cost for the meal include supply chain disruptions and the war in Ukraine," AFBF Chief Economist Roger Cryan explained in a AFBF press release. "The higher retail turkey cost at the grocery store can also be attributed to a slightly smaller flock this year, increased feed costs and lighter processing weights."
While Cryan believes there should be enough turkeys to go around this year, he does caution there may be regional shortages in states where the avian flu was detected earlier this year.
Let's use some numbers to illustrate just how much pricier Turkey Day has become this year. The AFBF estimates Thanksgiving dinner (including sides) in 2022 will cost about 20% more than it would have in 2021. More specifically, while the average cost of a Thanksgiving dinner for 10 people this year is estimated at $64.05, just last year that figure was $53.31. Going back even further to 2020, a 10-person Thanksgiving meal only cost an average of $46.90.
Many readers won't be all that surprised to read these numbers. Inflation and soaring prices have been the story of 2022, but while grocery prices have jumped by about 13% this year, average restaurant prices have only increased by 8.5%.
These inflationary price discrepancies between grocers and restaurants have created something of an opportunity for restaurants looking to attract more customers this Thanksgiving. Many major restaurant brands are offering savings promotions emphasizing greater value this week in an attempt to draw in more holiday business.
Here are a few great Thanksgiving restaurant deals that may be cheaper than cooking at home this holiday.
Boston Market is offering customers a number of pre-prepared Thanksgiving meals, including both ready-to-eat, hot meals and chilled, fully-cooked meals that are "ready when you are."
Customers can choose from a wide variety of main courses (turkey, ham) and sides (mashed potatoes, vegetable stuffing, apple pie, etc). Averaging around $12 per person, these meals can feed up to 12 people (or 6 people for smaller get-togethers).
"When our online ordering was made available for pre-orders, we saw a significant increase in traffic and we're continuing to see strong numbers of orders. We know Thanksgiving is a time when families want to sit around the table and not worry about having to choose whether or not to have dinner at all, so we made sure our prices were comparable, if not less than, the price of making dinner at home. We're definitely promoting our value relative to grocery store prices and other competitor prices," Joseph Alvarez, senior vice president of sales, catering and community relations at Boston Market, told Nation's Restaurant News.
Restaurant chain Bob Evans has brought back its Farmhouse Feasts just in time for Thanksgiving. Described as a "complete holiday dinner to go," these holiday options start at $12.49 per person, and can feed up to 10 people.
Starting at $69.99, shoppers can choose between turkey, ham, or pot roast for the main course, along with tons of tasty sides like macaroni & cheese, dinner rolls, and pumpkin pie. The Holiday Hot Meal To Go promotion, priced at $85.99, comes with both Slow Roasted Turkey and Hickory-Smoked Ham. This meal is available for curbside pick-up, carry-out, or delivery this entire week.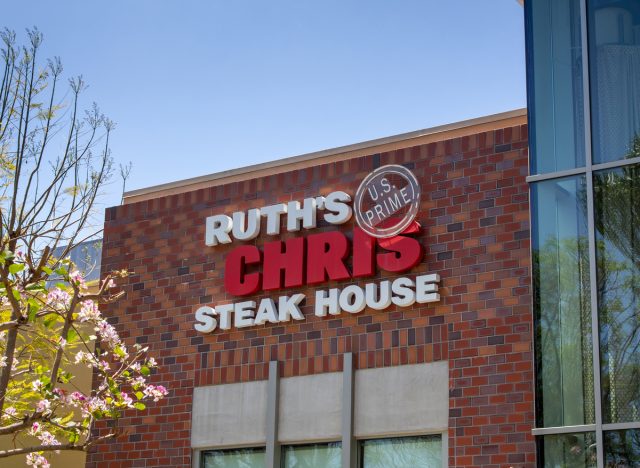 A seminal steakhouse usually associated with fancy occasions and savory steaks, Ruth's Chris is jumping into the Turkey Day promotion game this year, offering take-home holiday dinners and sides starting at just $35.
Guests can decide to dine out and visit their local Ruth's Chris this Thanksgiving, where they'll be offering a traditional holiday meal starting at $44 for adults and $17 for children. The meal will feature Sliced Oven Roasted Turkey, Sausage & Herb Stuffing, Homemade Turkey Gravy, and Cranberry Relish. And that's not even mentioning included starters and sides like lobster bisque, creamed spinach, and pumpkin cheesecake.
If you're looking to grab some gourmet goods to go this holiday, a pre-prepared full meal for pick-up is available for $175 and serves four adults. Alternatively, holiday sides to go like a caesar salad or sweet potato casserole start at just $28. Both full meals and individual side orders are available for pick-up between 12-4 PM on 11/23.
The upscale casual dining chain Kona Grill is offering both dine-in and take-out Thanksgiving options this year between November 24th-27th. Guests can order a Macadamia Nut Crusted Turkey Breast with miso mashed potatoes, sautéed green beans, shoyu cream sauce, and ginger-yuzu infused cranberry sauce for just $34.
Meanwhile, a roasted turkey for kids costs $16, and a pumpkin pie is listed at the same price. In the mood for a holiday cocktail? Try the Pumpkin Spice Old Fashioned for $14.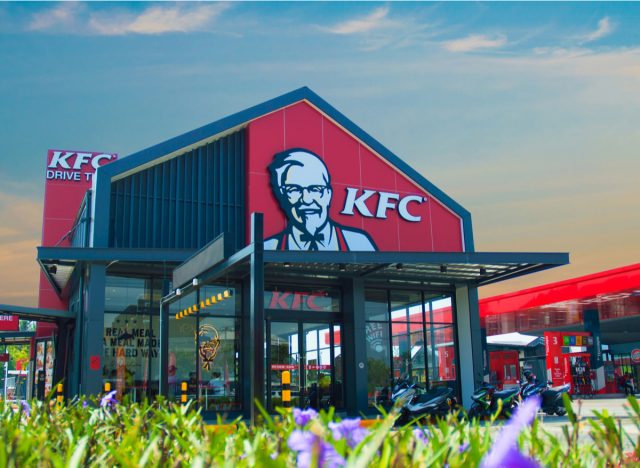 If you were never a big fan of turkey to begin with, maybe you want to try a different bird this Thanksgiving. KFC recently announced the return of their holiday buckets earlier this month. These either 12-piece or 16-piece meals will come with as many as 6 free cookies, 3 large sides, and 6 biscuits as well. Even better, it comes packaged in a special edition "Sharing is Caring"-themed holiday bucket.6254a4d1642c605c54bf1cab17d50f1e
Additionally, the $5 KFC Famous Bowls, a fan-favorite featuring crispy chicken, mashed potatoes, sweet corn, and homestyle gravy have returned just in time for the holidays.
"The holidays and KFC go hand in hand. There's no better way to satisfy a craving for comfort and connection than by sharing a bucket of KFC with family and friends," said Nick Chavez, CMO, KFC U.S, in a press release. "Our holiday bucket with free cookies and $5 Famous Bowls are two gifts that are sure to feed the joyful moments that surround this season."
John Anderer
John Anderer is a writer who specializes in science, health, and lifestyle topics.
Read more about John