The #1 Worst Drink You Should Never Order at McDonald's
You won't be "lovin'" this menu item at the beloved fast-food chain after you see its calorie count.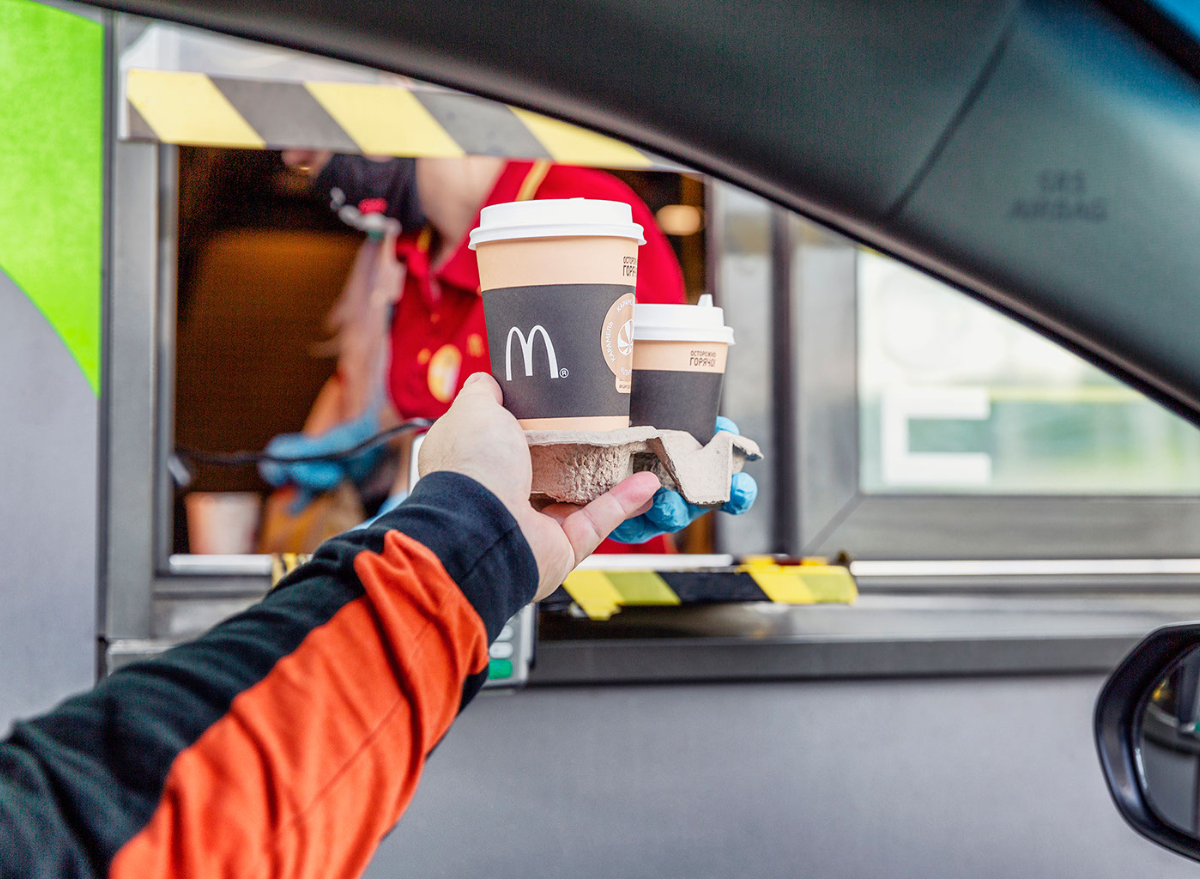 Fun fact: McDonald's isn't just known for its burgers. The leader of fast food also has a wide-ranging, thorough beverage menu that helps diversify its options.
From a bevy of sodas and iced teas to lemonades, milkshakes, juices, fruit slushies, milks, and smoothies, the chain also has its McCafe menu, which boasts everything from coffee to macchiatos, cappuccinos, lattes, americanos, iced coffees, frappes, and hot chocolate.
Unfortunately, many of these menu items aren't so good for your health. McDonald's conveniently (and transparently) lists ingredients, dietary, and nutritional information for all of its offerings on its official website, but even then, it may be tough to decide which is the healthiest—and unhealthiest—drink option at the chain.
While there are many barometers by which to gauge what is the "best" or "worst" drink to order from a health perspective, we've ranked the unhealthiest McDonald's beverages in terms of the calories (these are all are over 300+), sugar, and fat content contained in a small serving size. (Don't worry, there are enough under-300-calorie options left on the chain's menu.)
Read on to see which drink is best to avoid the next time you take a ride through the McDonald's drive-thru. And for more, check out the 112 Most Popular Sodas Ranked By How Toxic They Are.
Hot Chocolate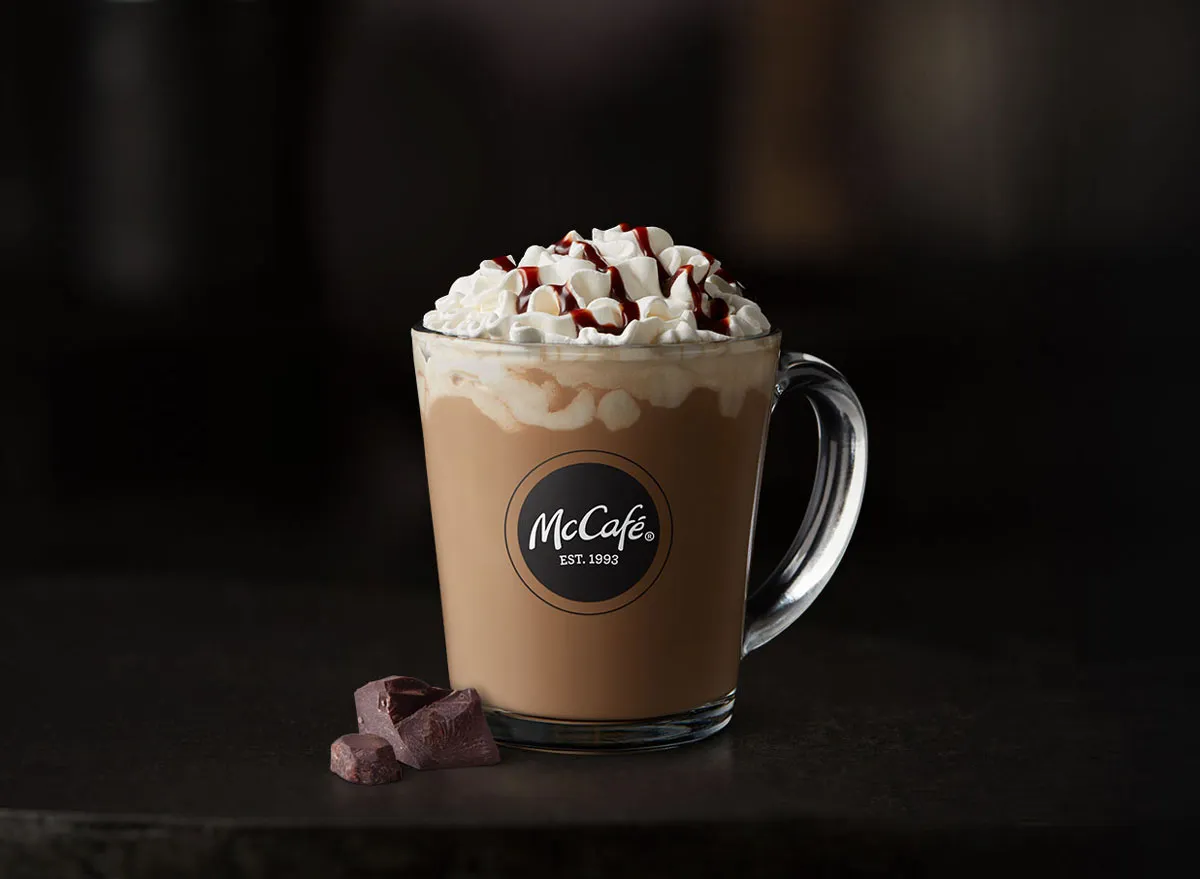 370 calories, 14g fat (8g sat, 0 trans), 170mg sodium, 52g carbs (1g fiber, 48g sugar), 11g protein
We know, this one is a bummer. Hot chocolate epitomizes comfort and nostalgia, but unfortunately, McDonald's version has 370 calories in a small and a bunch of sugar.
What's more, the sodium content is 7% of your daily value. As The Harvard School of Public Health notes, our bodies truly only need about 500 milligrams of daily sodium, but many people consume up to as much as 3400mg of sodium per day.
Related: 11 Controversial Secrets About McDonald's Menu Items
Mocha and Caramel Frappés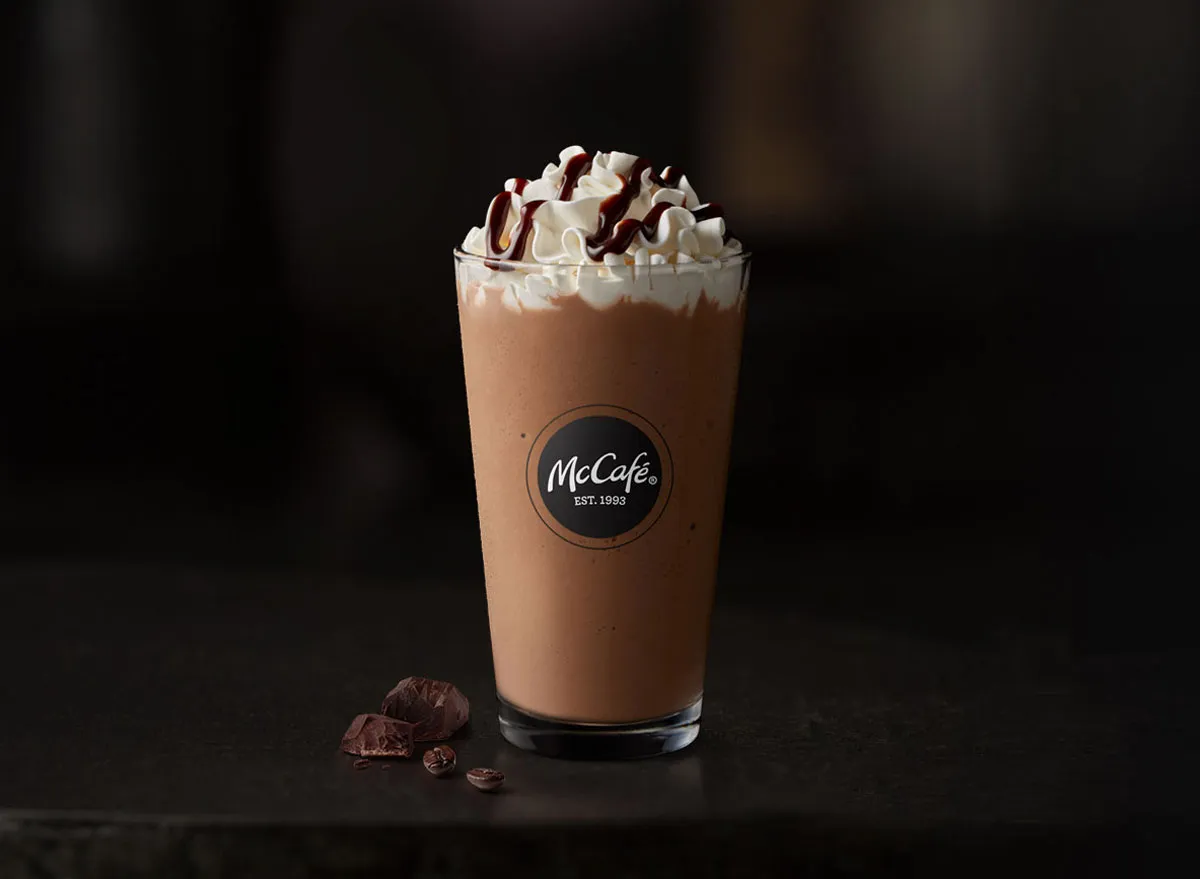 Mocha: 420 calories, 17g fat (11g sat, .5g trans), 120mg sodium, 60g carbs (1g fiber, 56g sugar), 7g protein
Caramel: 420 calories, 17g fat (11g sat, 1g trans), 125mg sodium, 60g carbs (0g fiber, 55g sugar), 7g protein
McDonald's Mocha and Caramel Frappés are actually tied when it comes to caloric content at a whopping 420 calories in a size small—plus, a high amount of fat (22% of your daily value) and far too much sugar for a drink order.
Related: Sign up for our newsletter for more of the latest healthy eating news.
Vanilla Shake
510 calories, 13g fat (9g sat, .5 trans), 220mg sodium, 84g carbs (0g fiber, 55g sugar), 11g protein
The "healthiest" of McDonald's shakes, the Vanilla Milkshake packs a bit fewer calories than its menu relatives, but only by an infinitesimal amount: It has 1 gram less fat and 10 fewer calories than other milkshakes.
It also has a staggering 84 grams of carbohydrates, which is about 1/3 of your recommended daily intake, according to Mayo Clinic.
Chocolate Shake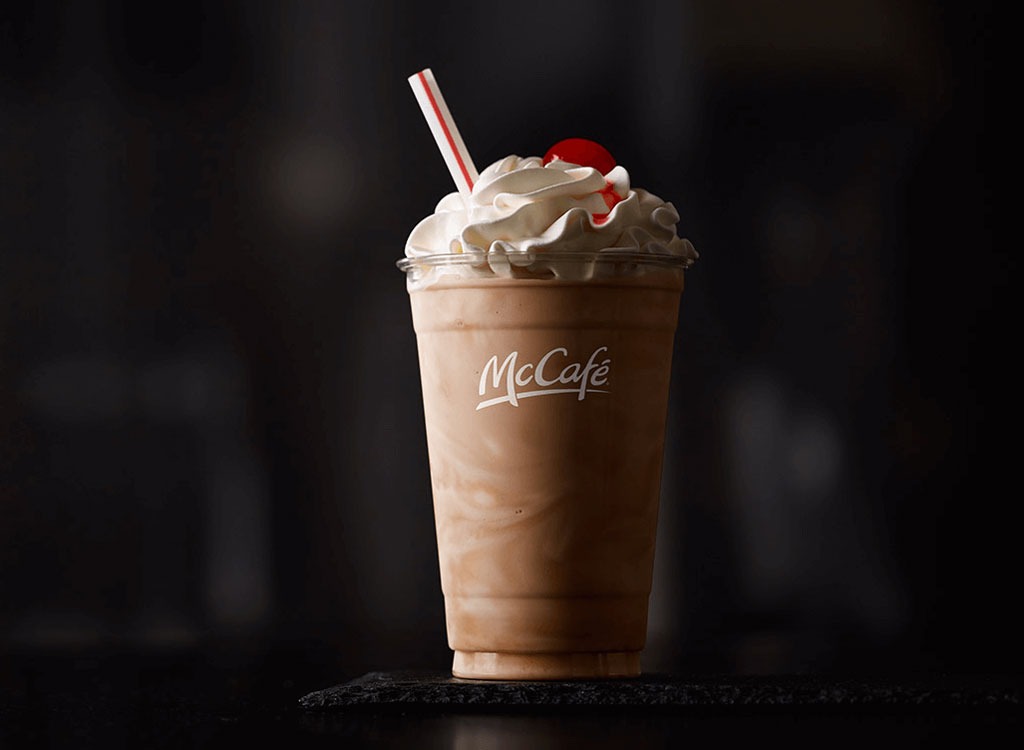 520 calories, 14 g fat (9 g saturated fat, 0.5 g trans fat), 250 mg sodium, 85 g carbs (1 g fiber, 67 g sugar), 12 g protein
Taking a gander at the ingredients, it's clear that the Chocolate Shake is made with lots of problematic add-ins, from corn syrup and guar gum and even carrageenan in the whipped cream. (Previous research has linked carrageenan with various gastrointestinal and colonic ailments.)6254a4d1642c605c54bf1cab17d50f1e
And finally, the #1 worst drink you can order at McDonald's is…
Strawberry Shake
530 calories, 14g fat (9g sat, .5 trans), 190mg sodium, 87g carbs (0g fiber, 65g sugar), 11g protein
Interestingly enough, the Strawberry Shake pulls ahead and is actually the most caloric beverage on the entire McDonald's menu. It's made of "creamy vanilla soft serve, blended with strawberry syrup and topped with whipped topping," according to McDonald's site. The small size boasts a whopping 530 calories, 14 grams fat, and 65 grams sugar—accounting for 50% of your daily saturated fat intake.
Clearly, this milkshake is one you shouldn't be sipping on regularly.
For more, check out McDonald's Best & Worst Menu Items, According to RDs.