Top Chain Restaurants in America Graded By Health
Here's a number you should keep in mind: 43. That's the percentage of calories you're going to eat this year that will come from restaurants, catering companies and other folks who, unlike you and your mom, don't really care very much about your health. So you'd better plan to be extra vigilant yourself.
And that's hard to do at a restaurant, where every meal feels like a special occasion, and where splurging comes naturally. In fact, a 2014 study in the journal Public Health Nutrition found that people eat an average of 200 more calories on days when they eat a restaurant meal than they do when they eat every meal at home.
Unfortunately, the majority of Americans eat at restaurants every day or two. In fact, in a recent Eat This, Not That! magazine poll, one out of every three respondents said they'd eaten from a restaurant within the last 24 hours. That makes dining out about as "special" as taking a shower.
That's why Eat This, Not That! put 65 major chain restaurants under the nutritional microscope—for both your benefit and that of your family. To separate the commendable from the deplorable, we calculated the total number of calories per entrée. This gave us a snapshot of how each restaurant compared in average serving size—a key indicator of unhealthy portion distortion. Then we rewarded establishments that offer fruit and vegetable side-dish choices, as well as whole wheat bread. Finally, we penalized places for excessive amounts of trans fat and menus laden with gut-busting desserts.
We call our findings the Eat This, Not That! Restaurant Report Card. Did your favorite restaurant make the grade? Find out, and keep your waistline toned and tight—in record time—with these essential 7 Best Foods for Rapid Weight Loss!
It's easy to see why it took Applebee's so many years to release its nutritional information. The 1,540-calorie Riblets Platter and the 1,830-calorie 4-Cheese Mac with Honey Pepper Chicken Tenders are just a few of the little nightmares lurking on the menu. The bright spots include the steaks and the ever-expanding 550-calorie-or-less "Have It All" menu, but even that has some serious sodium issues.
Survival Strategy: Skip the meal-wrecking appetizers, pastas, and fajitas, and be very careful with salads, too; more than half of them top 1,000 calories. Concentrate on the excellent line of lean steak entrées, or anything from "Have It All."
Eat This: Northern Walleye, 690 calories, 36 g fat (13 g saturated), 1,770 mg sodium
Not That!: New England Fish & Chips, 1,970 calories, 136 g fat (24 g saturated), 4,180 mg sodium.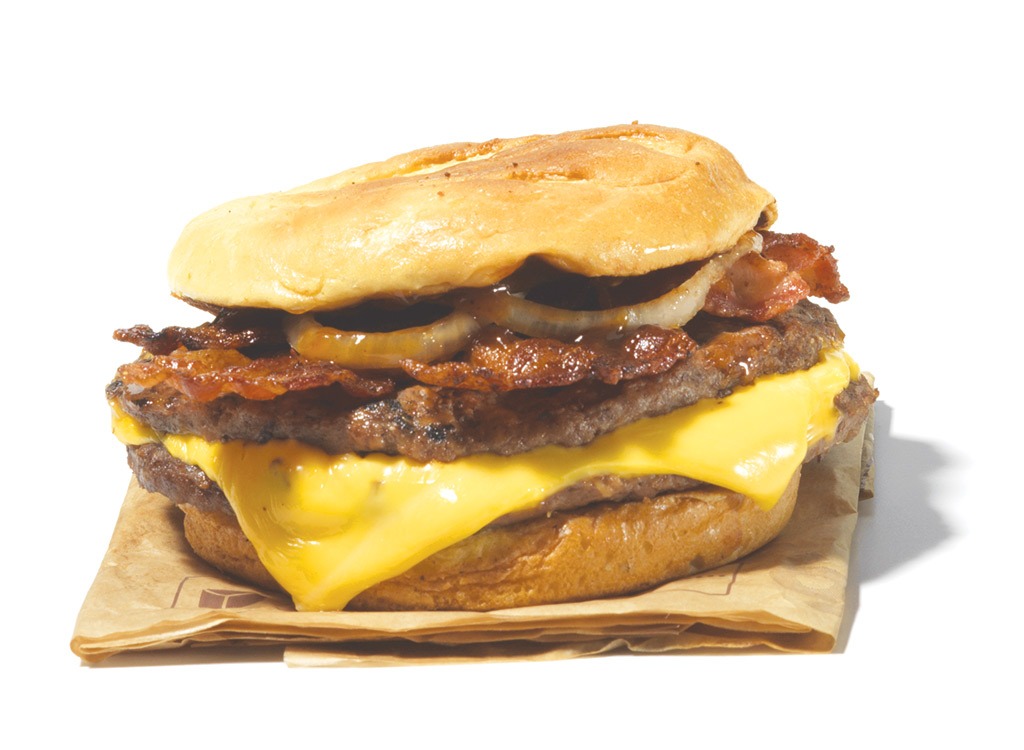 BK invites you to "Take a Break from Boredom." You will definitely not be bored when you look down in panicked horror at the bathroom scale. The rule of thumb at Burger King is to be suspicious of anything that was invented after Taylor Swift was born: Newfangled options like 400-calorie wraps, sugar-loaded smoothies, and coffee drinks with nearly as many calories as a Whopper only make eating well more difficult. Thankfully, standbys like the Whopper Jr., basic hamburgers, and apple slices give you a way out.
Survival Strategy: Start your day with a Muffin Sandwich. For lunch, match the regular hamburger, the Whopper Jr., or the Tendergrill Sandwich with apple slices and water, and you'll escape for about 700 calories.
Eat This: Bacon Cheeseburger Deluxe, 290 calories, 14 g fat (6 g saturated), 720 mg sodium
Not That!: A.1. Ultimate Bacon Cheeseburger, 810 calories, 49 g fat (22 g saturated), 1,400 mg sodium. And now that you know what foods to avoid, get the flat tummy you've always wanted with another essential report: 14 Ways to Lose Your Belly in 14 Days! 6254a4d1642c605c54bf1cab17d50f1e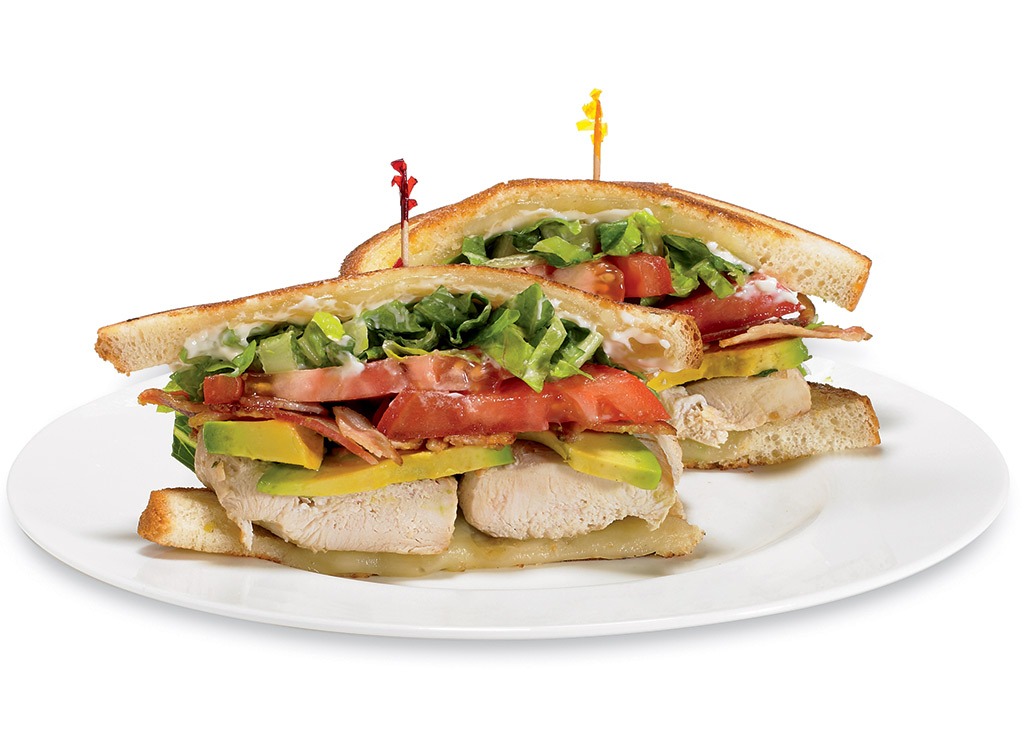 The Cheesecake Factory stands nearly alone in its brazen refusal to reveal what's really in its food. And for good reason: In a recent survey of the most caloric restaurant foods in America, Cheesecake Factory scored 5 of the top 10! It made some progress when it introduced its SkinnyLicious menu, but most entrées still come with quadruple-digit calorie counts. Once again, the Cheesecake Factory retains the title of Eat This, Not That!'s Worst Restaurant in America.
Survival Strategy: Your best survival strategy is to turn your car around and head home. Failing that, skip pasta, specialties, combos, and sandwiches at all costs. Split a pizza or a salad, or look to the SkinnyLicious menu.
Eat This: Herb Crusted Filet of Salmon, 700 calories, N/A g fat, 380 mg sodium
Not That!: Grilled Chicken and Avocado Club, 1,400 calories, N/A g fat, 2,100 mg sodium.
We've always commended Chipotle for the integrity of its ingredients and the flexibility of its menu. And recent addition of a vegan protein option, Sofritas, in some of its outlets is a big nutritional step forward. But this burrito bar could still do a lot better. After years of telling people to avoid the meal-wrecking chips (570 calories), flour burrito tortillas (300 calories), and vinaigrette (270 calories), we have a challenge for Chipotle: Offer a smaller version of your belly-busting burrito.
Survival Strategy: Chipotle is all about customization. With fresh salsa, beans, lettuce, and grilled vegetables, you can get a nutritionally solid meal. Choose a bowl over a burrito, skip the white rice and sour cream, and you'll do just fine.
Eat This: Soft Corn Tortilla Tacos with Steak, Cheese, Lettuce, and Fresh Tomato Salsa, 530 calories, 14 g fat (7 g saturated), 750 mg sodium
Not That!: Burrito with Steak, Black Beans, White Rice, Cheese, Sour Cream, and Roasted Chili-Corn Salsa, 1,090 calories, 40 g fat (15 g saturated), 2,165 mg sodium.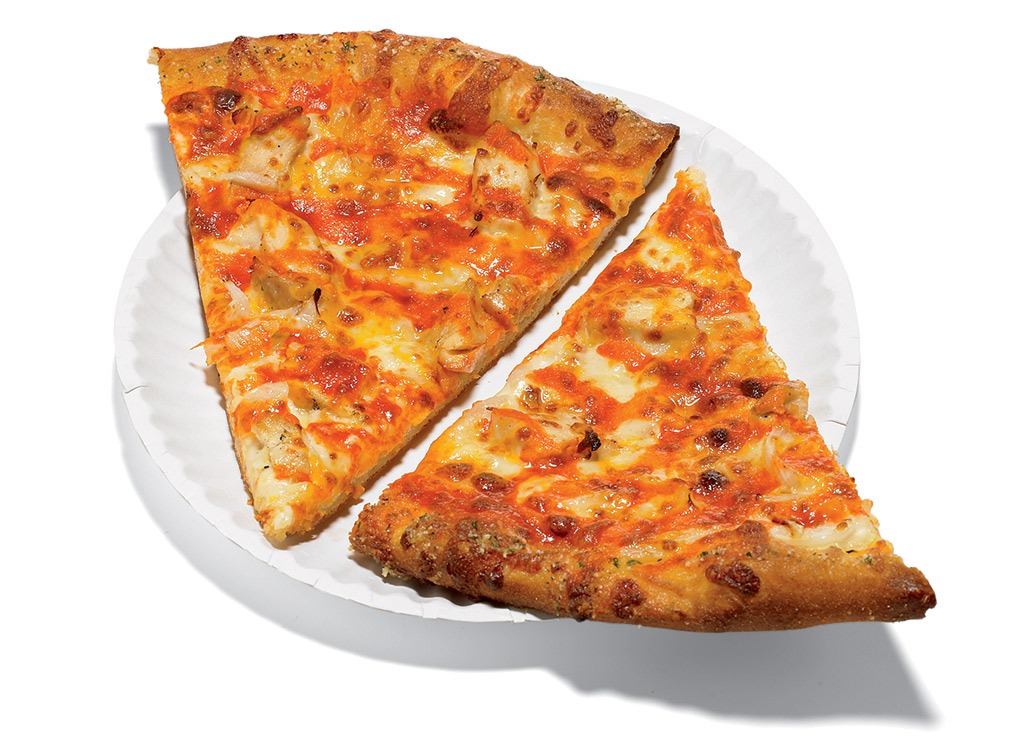 Domino's has been busy these past few years, first successfully rolling out bolder sauce and better seasoned dough, then adding the new Artisan line of pizzas, which, along with the Crunchy Thin Crust pizzas, provide some of the lightest slices in America. But there is still plenty of trouble afoot at the pizza juggernaut—namely, a line of high-calorie specialty pies and breadsticks and Domino's appalling line of pasta bread bowls and ovenbaked sandwiches.
Survival Strategy: The more loaded a pie is at Domino's, the fewer calories it tends to pack. That's because more vegetables and lean meats mean less space for cheese. It doesn't hold true for greasy meats, so choose wisely.
Eat This: Thin Crust with Grilled Chicken and Roasted Red Pepper Pizza (2 slices, large pie), 430 calories, 20 g fat (7 g saturated fat), 900 mg sodium
Not That!: Hand Tossed Crust Buffalo Chicken American Legends Pizza (2 slices, large pie), 700 calories, 34 g fat (17 g saturated), 1,760 mg sodium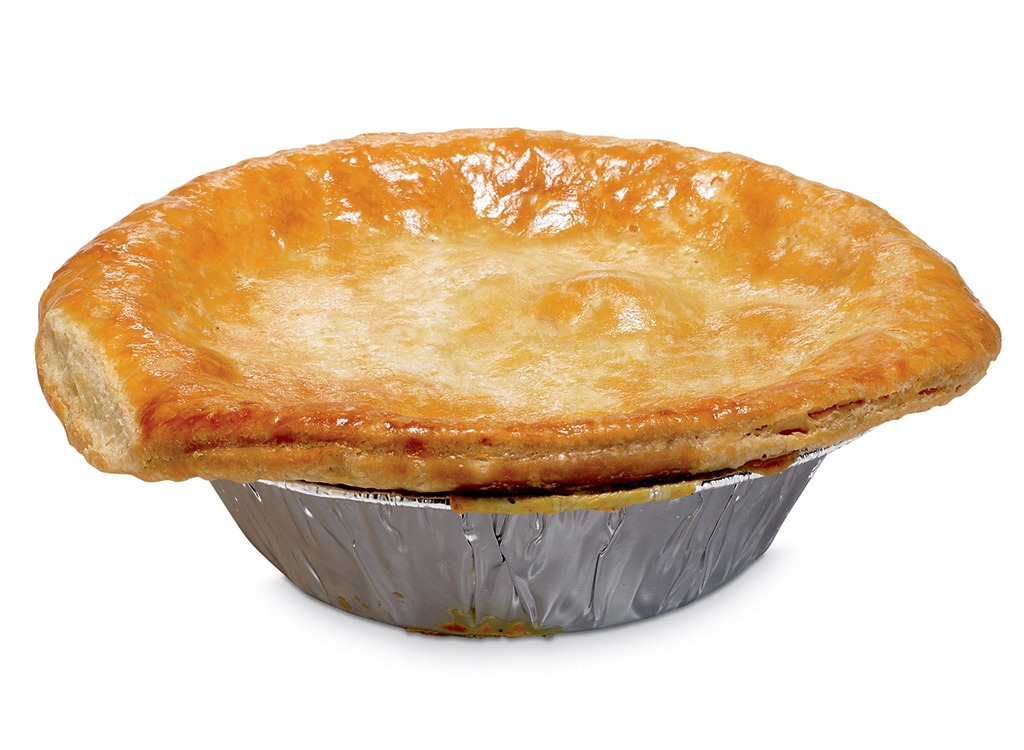 Hold on a second! KFC gets a B+? Surprisingly enough, KFC has more than a few things going for it. The menu's crispy bird bits are offset by skinless chicken pieces, low-calorie sandwich options, and a host of sides that come from beyond the fryer. Plus, the fact that KFC has stuck with its grilled chicken line shows that it's determined to cast aside the Kentucky fried nutritional demons of their past.
Survival Strategy: Avoid the bowls and pot pies, and choose your chicken smartly: The difference between an Original Recipe breast and an Extra Crispy is 170 calories; order Kentucky Grilled and you'll save another 100 calories. Then adorn your plate with one of the Colonel's healthy sides.
Eat This: Original Recipe Chicken Breast with Coleslaw, 490 calories, 24 g fat (4.5 g saturated), 1,310 mg sodium
Not That!: Chunky Chicken Pot Pie, 790 calories, 45 g fat (37 g saturated), 1,970 mg sodium. And hey, want to burn fat from your belly first? Don't make these 5 Mistakes That Prevent Weight Loss!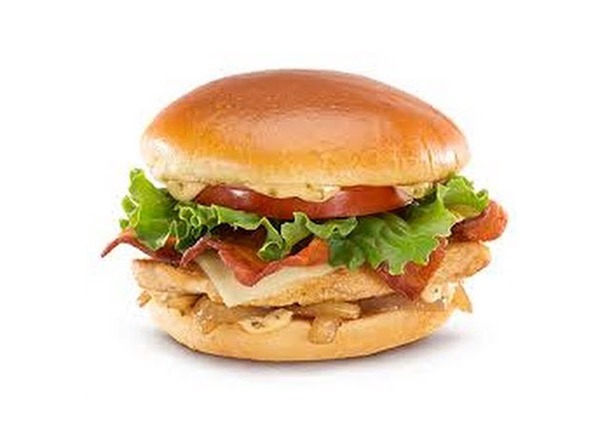 The world-famous burger baron has come a long way since the publication of Fast Food Nation—at least nutritionally speaking. The trans fats are gone from its oils, the number of calorie bombs has been reduced, and there are more healthy options, such as salads and yogurt parfaits, than ever. Still, too many of the breakfast and lunch items still top the 500-calorie mark, and the dessert menu is a total mess.
Survival Strategy: At breakfast, look no further than the Egg McMuffin—it remains one of the best ways to start your day in the fast-food world. Grilled chicken and Snack Wraps make for a sound lunch. Splurge on a Big Mac or Quarter Pounder, but only if you skip the fries and soda.
Eat This: McChicken, 370 calories, 17 g fat (3.5 g saturated), 650 mg sodium
Not That!: Premium Grilled Chicken Bacon Clubhouse Sandwich, 610 calories, 26 g fat (9 g saturated), 1,720 mg sodium.
In an attempt to push the menu beyond slices, Pizza Hut expanded into pastas, salads, and something called a P'Zone. Sound like an improvement? Think again. Those calzone-like P'Zones packed more than 1,000 calories each. The salads aren't much better, and the pastas are actually worse. The thin crust and Fit 'N Delicious pizzas offer sub 200-calorie slices and the bone-in wings are a solid start to any meal. Combine those elements and you'll do just fine.
Survival Strategy: This is not the place for pasta. A pan of Chicken Alfredo packs more than 1,000 calories. The key to the Hut lies in the crust: Pan Pizzas cost you 80 more calories per slice over Thin 'N Crispy, and 40 more per slice than the Stuffed Crust.
Eat This: Buffalo State of Mind Thin 'N Crispy Pizza (2 slices, medium pie), 400 calories, 14 g fat (7 g saturated), 1,420 mg sodium
Not That!: Buffalo State of Mind Original Stuffed Crust Pizza (2 slices), 660 calories, 24 g fat (12 g saturated), 1,940 mg sodium. And fill up, but don't fill out: Use these Eat This, Not That!-recommended 10 Daily Habits That Blast Belly Fat!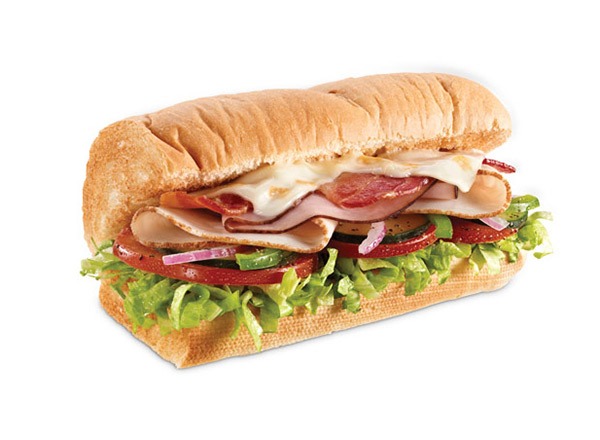 Subway is the first major fast-food chain to carry avocado (now available at breakfast, too), and all the heart-healthy fats found within, in every one of its 26,688 US stores. And in 2014, the chain removed the creepy plastic dough conditioner azodicarbonamide from its breads, and upped its level of whole grains. If Subway weren't already America's healthiest chain, it certainly is now.
Survival Strategy: Trouble lurks in three areas at Subway: 1) hot subs, 2) footlongs, 3) chips and soda. Stick to 6-inch cold subs made with ham, turkey, roast beef, or chicken. Load up on veggies, and be extra careful about your condiment choices.
Eat This: Steak and Cheese Toasted Sandwich (6") and Veggie Delite Salad, 525 calories, 11 g fat (4.5 g saturated), 1,105 mg sodium
Not That!: Turkey Italiano Melt (6") and Veggie Delite Salad, 794 calories, 26 g fat (9 g saturated), 1,565 mg sodium. Speaking of choices, blast belly fat—without exercise—and with these 11 Eating Habits That Will Uncover Your Abs!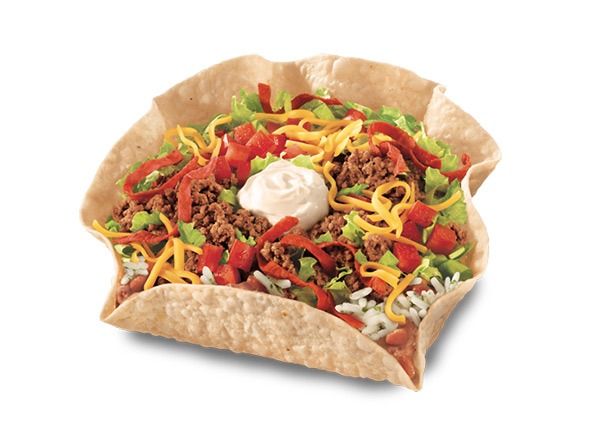 "Taco Bell breakfast" is sort of like "ax murderer babysitter." It's an inherently bad idea, proven by the insane products the Bell brought out in its attempt to start charging you money earlier and earlier. Waffle Taco is all we have to say, really. But the Bell wasn't satisfied with ruining all three meals—the chain tried to invent the Fourth Meal, which is something you eat after a late night of doing whatever works up your appetite. Limit yourself to lunch and dinner, and keep the wee hours sacred.
Survival Strategy: Stay away from anything "smothered" or "XXL," and be skeptical of the salads. Instead, order any two of the following: crunchy tacos, bean burritos, or anything on the Fresco menu. Those items are why the Bell gets the B.
Eat This: Beef Gordita Supreme and Fresco Chicken Soft Taco, 530 calories, 16.5 g fat (6 g saturated), 950 mg sodium
Not That!: Fiesta Taco Salad with Beef, 770 calories, 41 g fat (10 g saturated, 1 g trans), 1,590 mg sodium
MELT UP TO 10 POUNDS IN ONE WEEK!
WITH OUR BEST-SELLING NEW DIET PLAN, The 7-Day Flat-Belly Tea Cleanse! Test panelists lost up to 4 inches from their waist! Available now in paperback!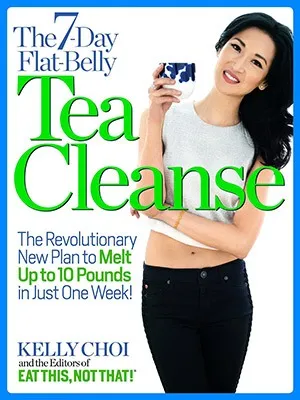 Eat This, Not That!
Inspired by The New York Times best-selling book series, Eat This, Not That! is a brand that's comprised of an award-winning team of journalists and board-certified experts, doctors, nutritionists, chefs, personal trainers, and dietitians who work together to bring you accurate, timely, informative, and actionable content on food, nutrition, dieting, weight loss, health, wellness, and more.
Read more about Eat This