Here's the New Rosé (in a Can!) Everyone is Gushing About
Truly Spiked & Sparkling elevated the rosé trend to the next level with its new, Instagrammable cans.
It's no secret why rosé is all the rage. The "it" summer drink is an approachable, slightly sweet, and fruity vino that doesn't overwhelm the palate like bold reds or crisp whites often do. So whether you're just getting acquainted with the aperitif or consider yourself a long-time connoisseur, we can all agree that rosé is the wine that appeals to many palettes.
However, no matter how enticing popping bottles may be, many of us set limits on festivities in fear of widening our waistlines. In fact, a survey of over 1,400 alcoholic beverage drinkers conducted by The Harris Poll on behalf of Truly Spiked & Sparkling showed that a whopping 50 percent of alcohol drinkers want a healthier alternative for rosé wine. So when we heard about a new way to drink rosé that's not frosé, our interest was beyond piqued.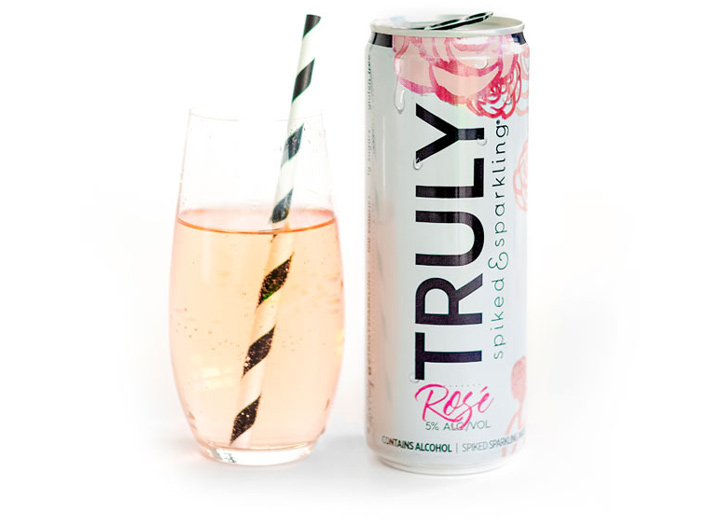 Truly Spiked and Sparkling—the makers of your go-to, low-carb alcoholic beverage—recently debuted Truly Rosé. The slim cans feature salmon-hued, bubbly water spiked with California Chardonnay grapes that lend it a subtle sweetness. One sip and you'll notice the bev's bright and airy citrus notes, reminiscent of a demi-sec rosé.
The best part? Like all Truly drinks, this new and on-trend offering boasts just 100 calories, 2 grams of carbs (1 gram of sugar), and 5 percent ABV per 12-ounce serving.
For comparison, according to the USDA, a 5-ounce glass of rosé would run you 126 calories, 6 grams of carbs (6 grams of sugar). That means you can crack open another Truly without too much guilt or craft a cocktail with Truly as your fruity yet low-sugar base for a hangover-free morning.
Another perk? This beautifully decorated can, adorned with scribbled roses in shades of pink and casual script writing, will only encourage you to grab a pack and bring it onboard your next summer adventure. (Instagram opp, anyone?) Whether you're sipping it perched on a rooftop bar or beachside with buddies, this is officially the new—and portable—way to rosé.
And if you've got a hankering for other fruity flavors, crush cravings with Truly's other effervescent flavors including Wild Berry, Grapefruit & Pomelo, Pomegranate, Colima Lime, Blueberry & Acai, Lemon & Yuzu, and Sicilian Blood Orange.